This Old House Saved!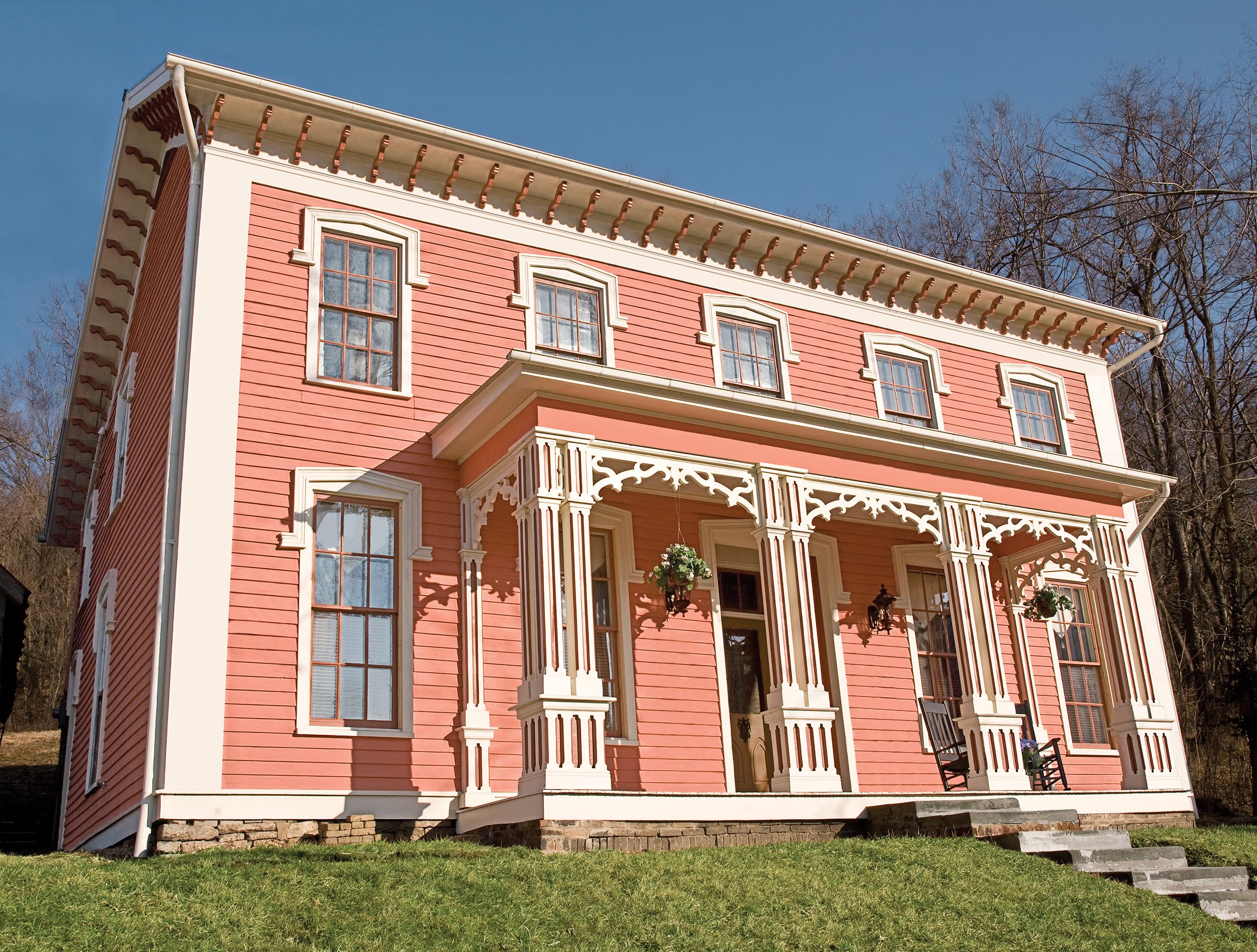 Vic and Cindy Young never planned on ending up back in Ohio. Sure, the Buckeye State was dear to their hearts—Vic grew up in Cincinnati, and Cindy spent many years in nearby Lebanon—but after moving to Colorado and then living abroad, the couple figured their heartland days were far behind them.
But when their four children ended up settling in the Midwest, coming home started to look like a pretty good idea. "We decided to find a place where they would all be able to come down in just one day to visit us," Vic says. But not just any place. They wanted a historic house in a historic town. And since Vic, a full-time restorer of old houses, was hankering for a new DIY project, it wouldn't hurt if the place were a fixer-upper, too.
SEE THE BEFORE AND AFTER PHOTOS
Before: Exterior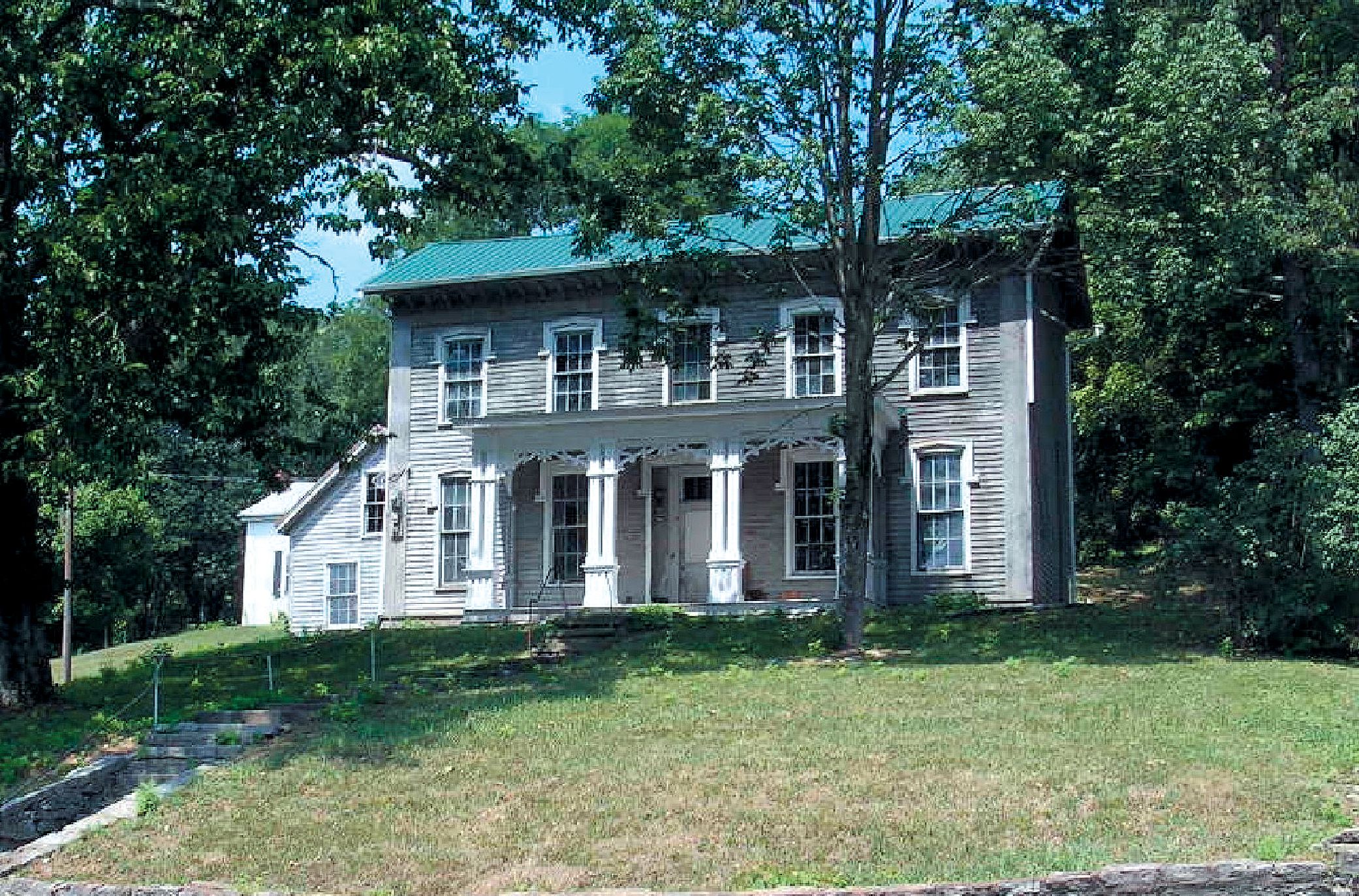 They got their wish with the property featured in our December 2005 Save This Old House column. Set atop a steep hillside overlooking the Ohio River in the town of Ripley, the 1840s Italianate had original double-hung windows crowned with drip lintels, Italianate columns flanking a wide front porch, and broad eaves supported by ornate brackets.
"It looked so forlorn up there on the hill," Vic recalls of the house, which had stood abandoned for decades. "There were more majestic houses to be found, but this one spoke to both of us."
Before: Porch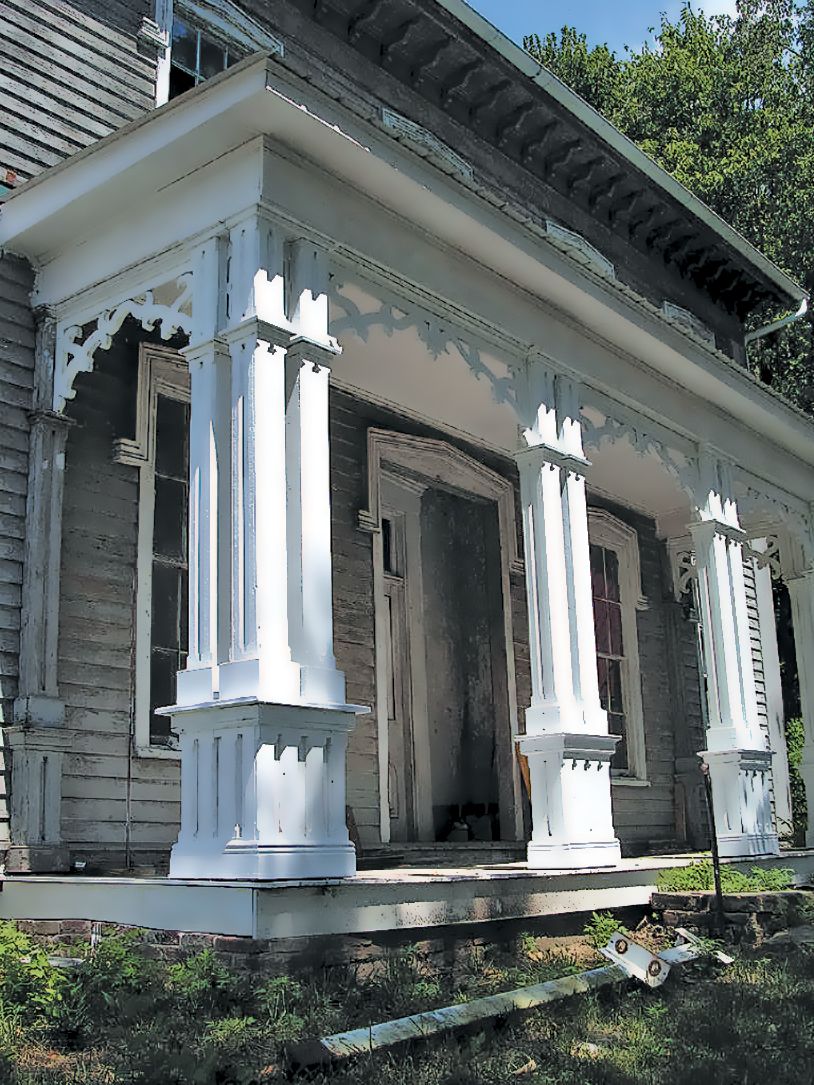 The house told the tale of a onetime boomtown, a vital port for the country's tobacco and pork markets before the railroads took over. Its 2,200 square feet encompassed three large rooms off a grand center hall downstairs, with a winding staircase leading to two ample bedrooms upstairs. Around a century ago, the house was carved up into apartments and a two-story ell, with a downstairs kitchen and an upstairs bath tacked on—apparently with an exterior staircase.
"One day I was working on the house, a 100-year-old woman came up to me," Vic says. "She told me she'd lived in it as a child and used to enter through a second-story back door."
Before: Brackets Under Eaves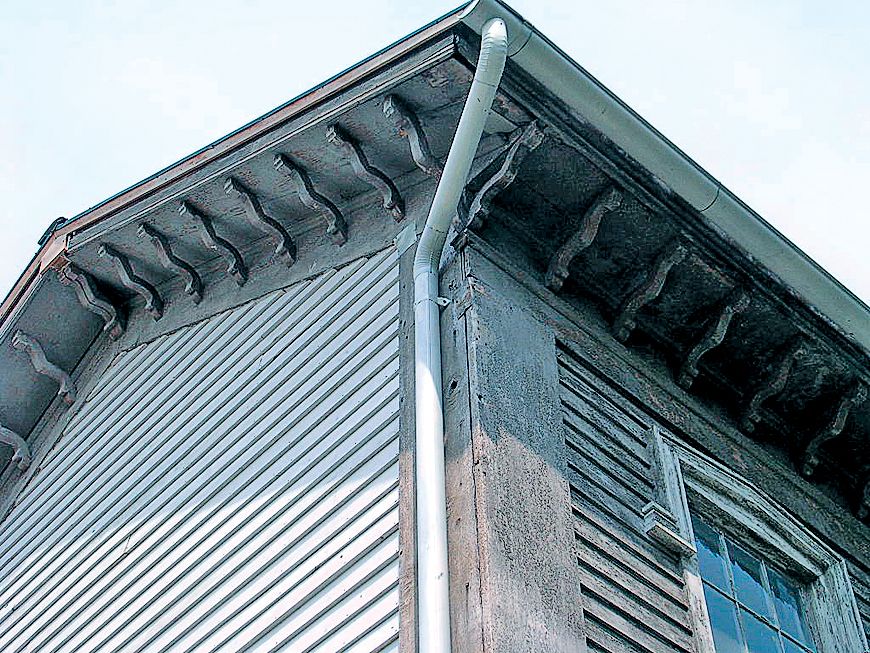 The house's final tenant packed up and left around 20 years ago. As time wore on, the paint chipped off, the plaster walls crumbled, and, in the mid-1990s, the roof caved in, sending the second floor crashing onto the first. The house stood empty and deteriorating for another decade before the town council finally condemned it and slated it for demolition.
Before: Staircase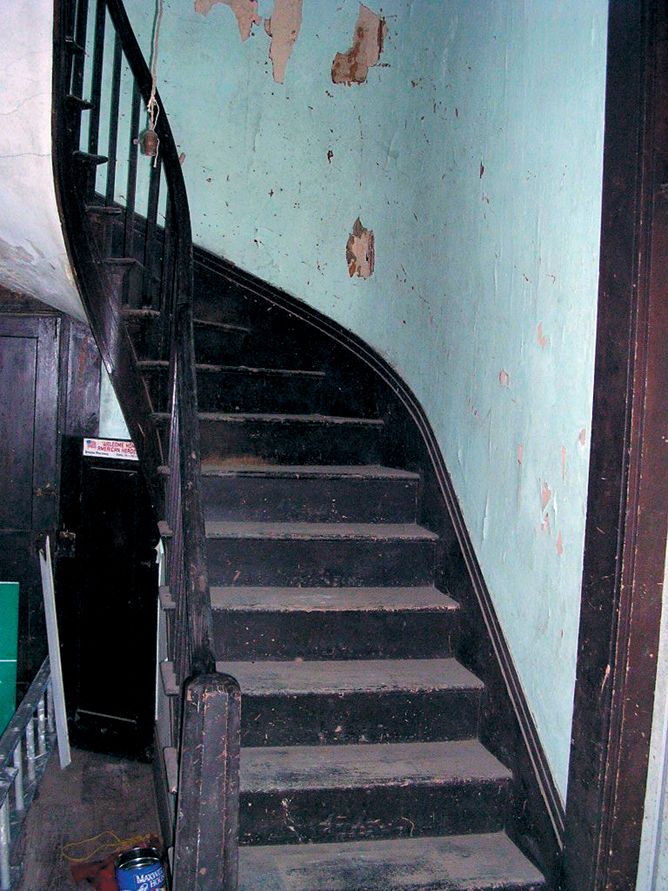 But just as the wrecking ball was set to swing, a group of Ripley residents formed a limited liability company, or LLC, to purchase the house. They rebuilt the second floor, installed a new roof, and put it back on the market, hoping the right person would come along and finish the job.
"They were very conscious of who they sold it to," Vic says. "Everone had to feel good about us, that we would stay the course and save this house."
After: Porch Columns and Brackets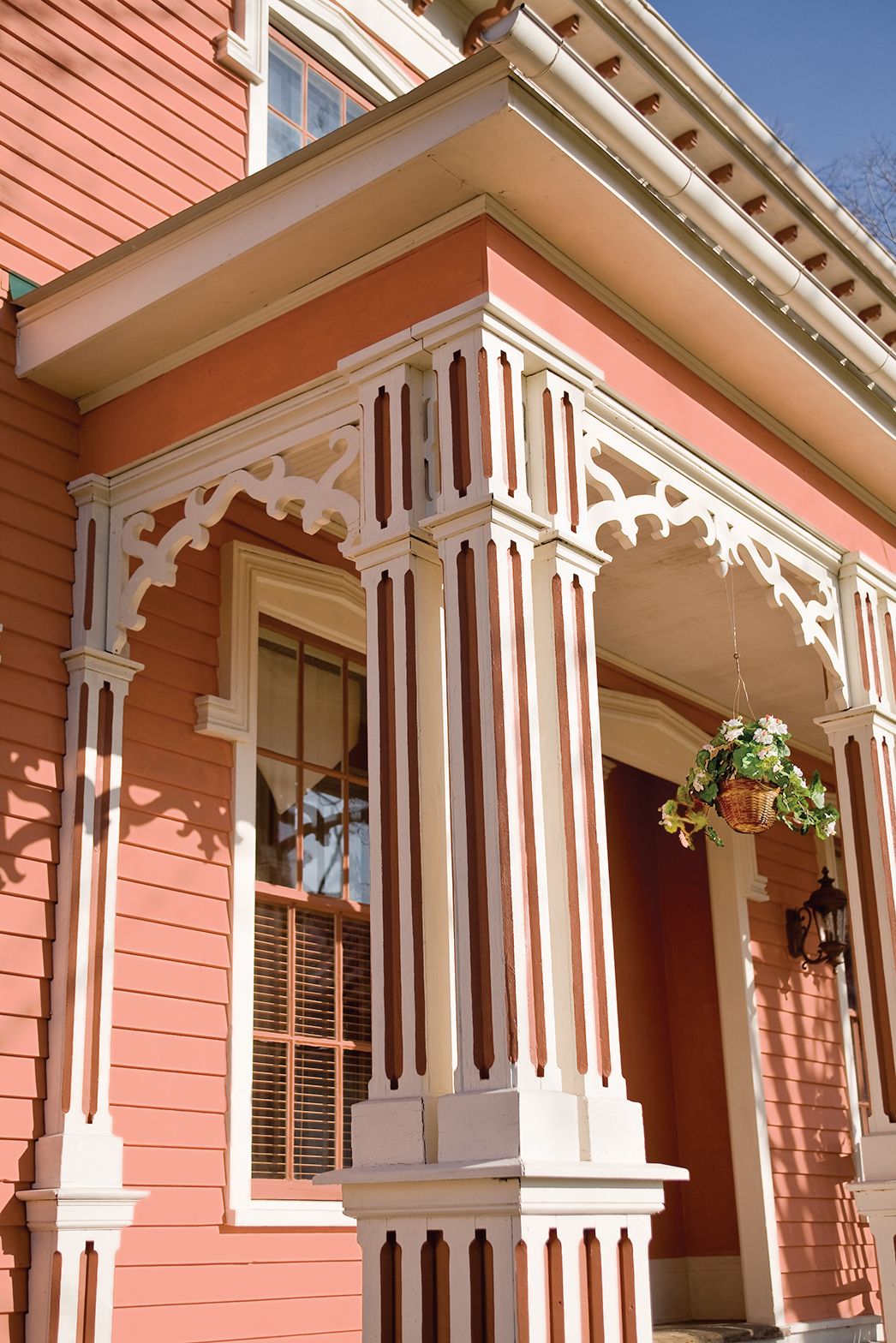 The first project Vic took on was restoring the original windows, which meant removing and reinstalling 217 individual panes of glass. Since many of them were broken, he consolidated the originals on the front of the house and used new panes in back. He then handcrafted replacements for the missing and damaged roof brackets and restored the old fireplace mantels.
Cindy says the "Terra Earth" color she chose for the exterior was controversial at first. "People though, 'Oh my God! It's pink!' But I think it has grown on them."
Staircase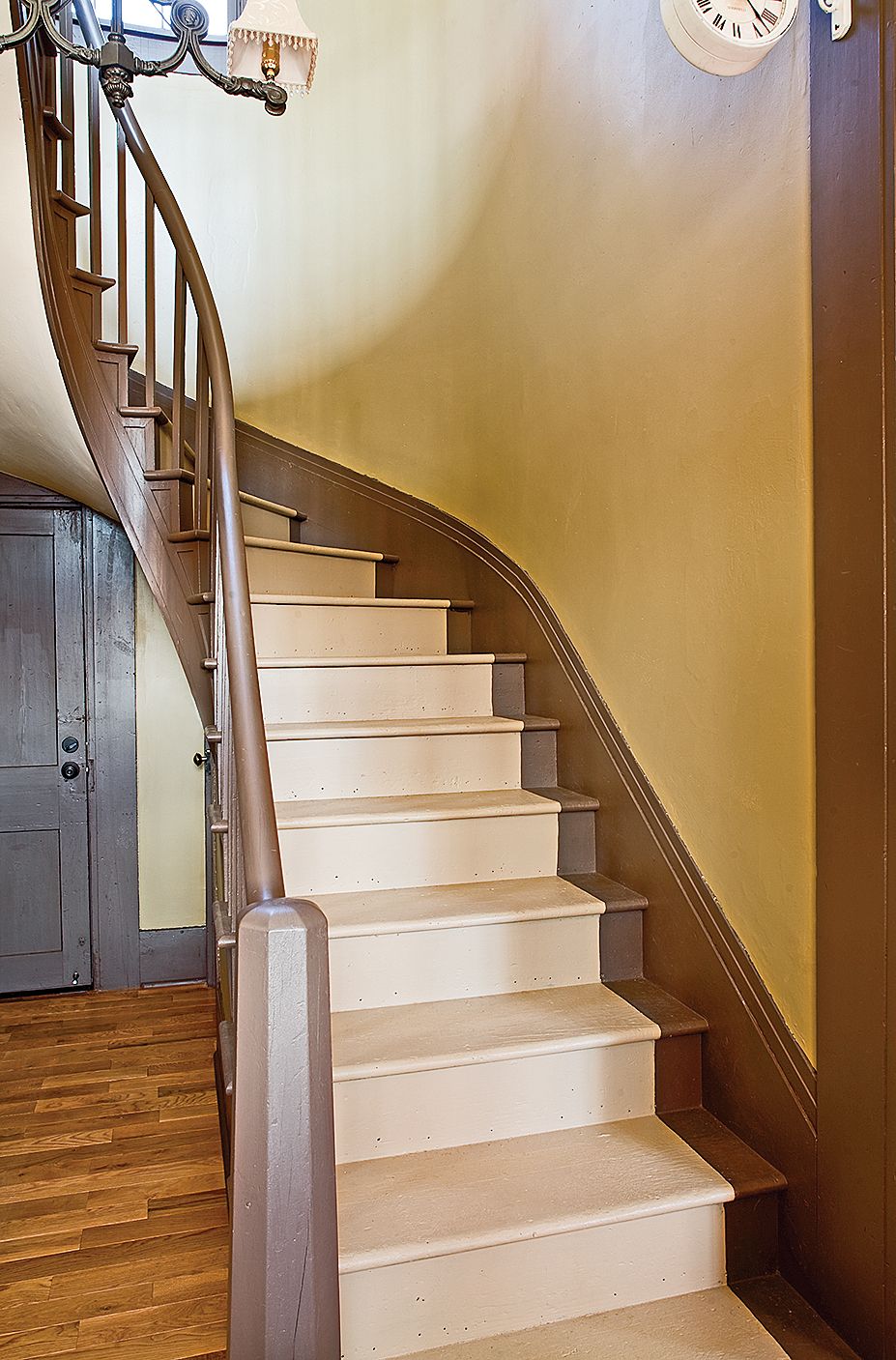 Other projects included replacing damaged poplar lap siding, refinishing the floors, and repairing the horsehair-plaster walls in the front foyer.
Instead of laying carpet on the original staircase, Vic painted a runner along the line where the old carpet was tacked down.
Living Room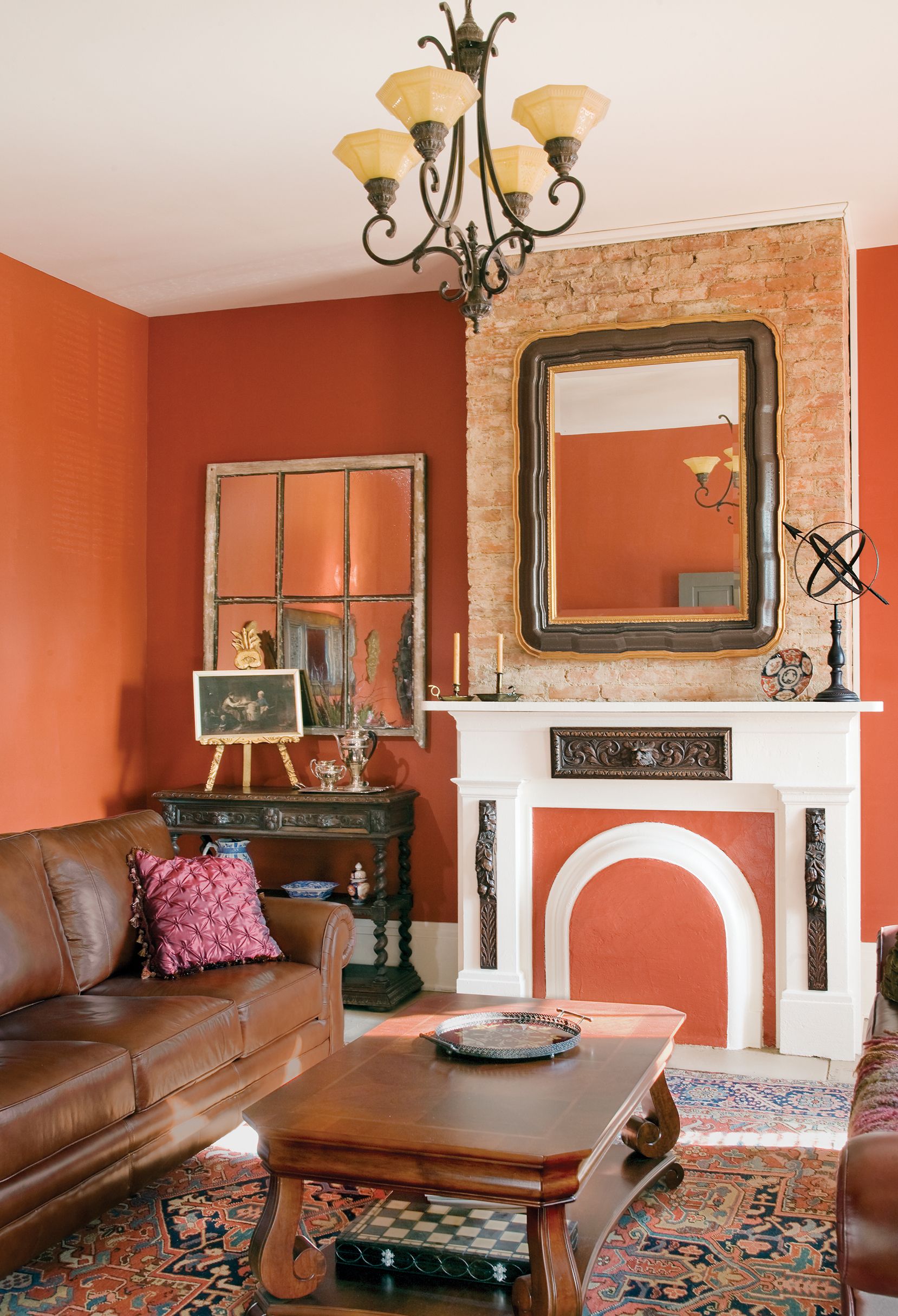 In a pile of rubble, Vic discovered a cast-iron fireplace cover and two of the house's original gas chandeliers, which he restored and electrified. What he didn't find was the house's original hardware, almost all of which was stolen during the house's long abandonment. "That was frustrating," he says.
Vic Young and Cindy call this room the "Gentleman's Quarter." Vic restored the original mantelpiece. Since the chimney that vents this fireplace had collapsed, he plugged the firebox with a concrete form that resembles the house's other fireplace covers.
Dining Room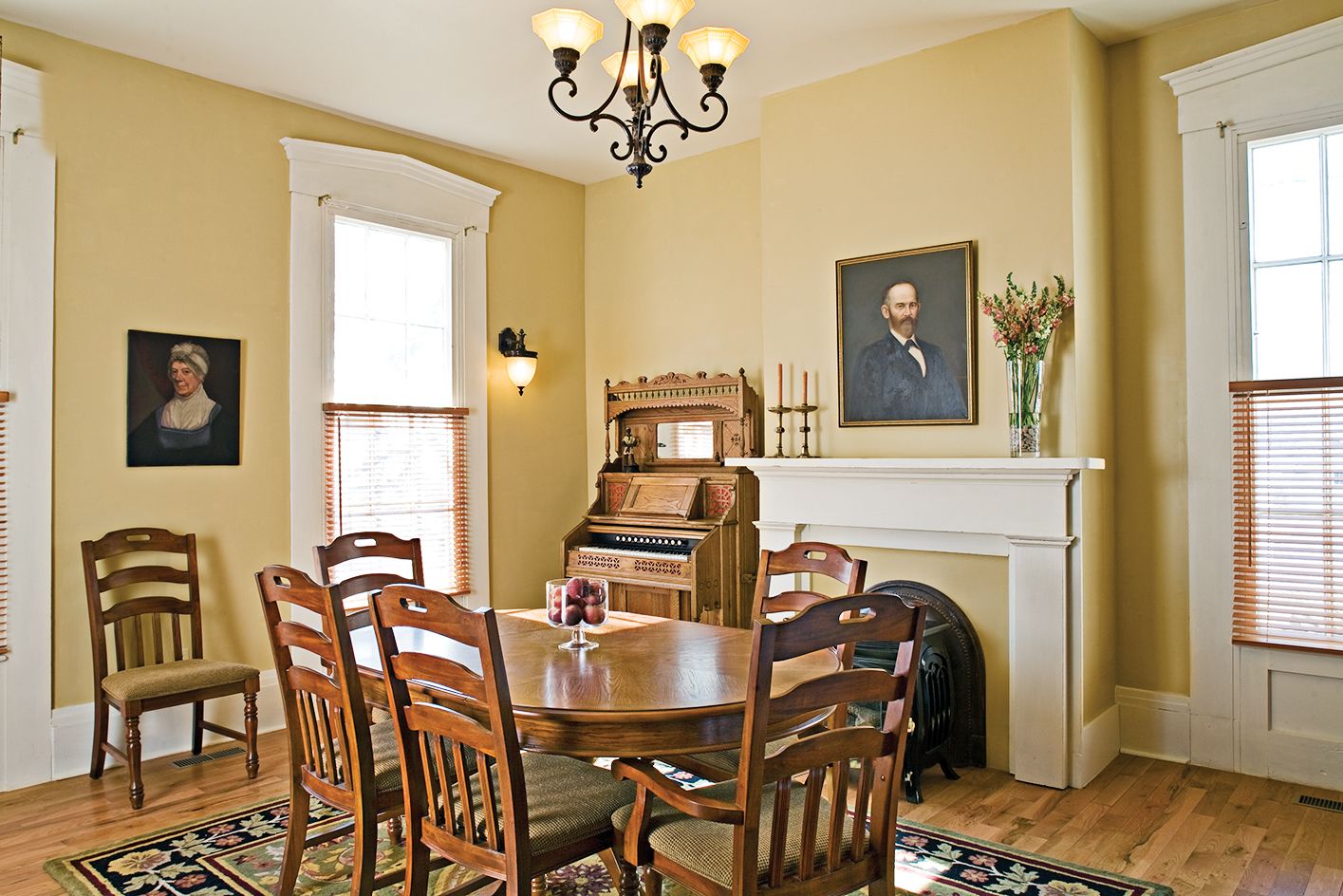 Remarkably, Vic, who learned his DIY skills from his father, did almost all of the work himself, occasionally relying on books, manuals, and back issues of This Old House. From his oldest son, Darren, he got help drywalling the 12-foot-high walls, which took three months to complete.
He also got support from the neighbors—particularly Jerry and Hylda Strange, part of the LLC that saved the house. During the year it took Vic to finish the project, he lived with the Stranges, rent-free, while Cindy, who works for a real estate company, stayed behind in Colorado.
Shown: In the dining room, Vic built a faux fireplace to conceal some gas lines, which run behind it.
Bathroom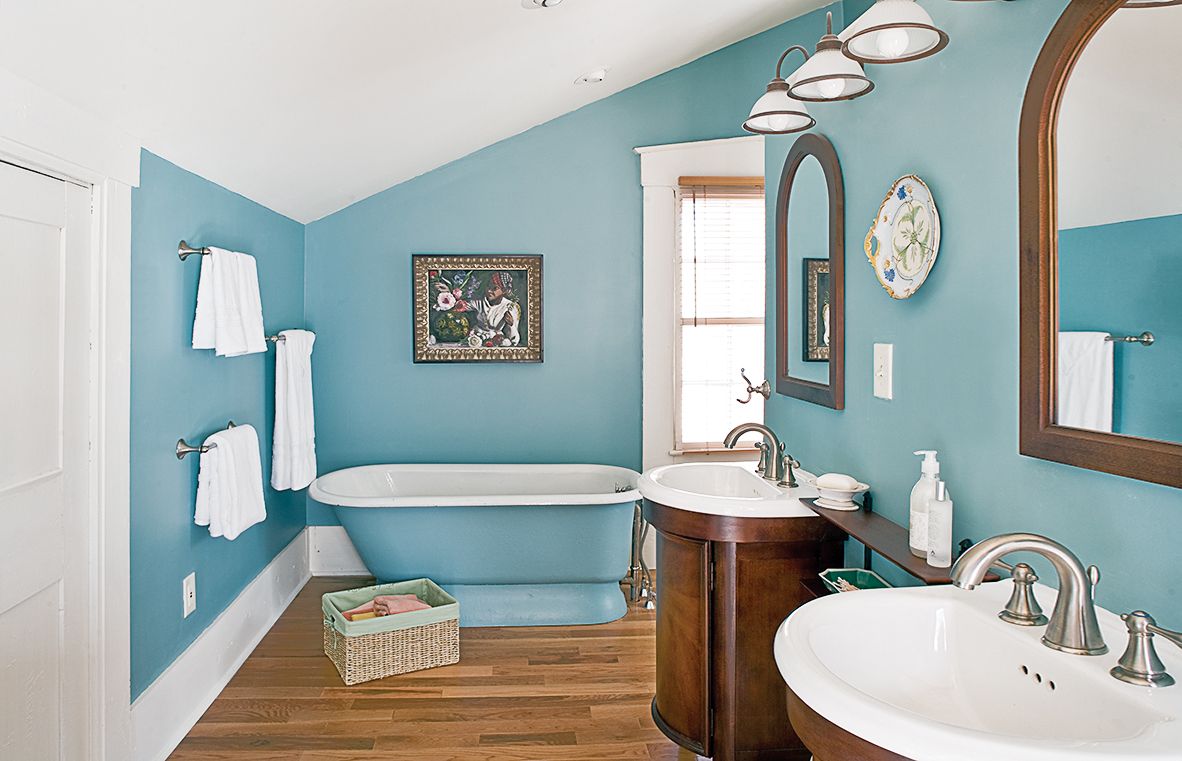 Vic also carved a large master bathroom out of the second floor of the ell addition. Now everything is just about done. Cindy has added her own touches via some creative interior decorating with an emphasis on period furnishings. The only thing Vic has left on his to-do list is restoring a rear outbuilding that he plans to use for additional bedrooms.
While the couple maintains their residence in Colorado, the Ripley house now serves as a family retreat and a gathering place during holidays and vacations.
Homeowner Vic Young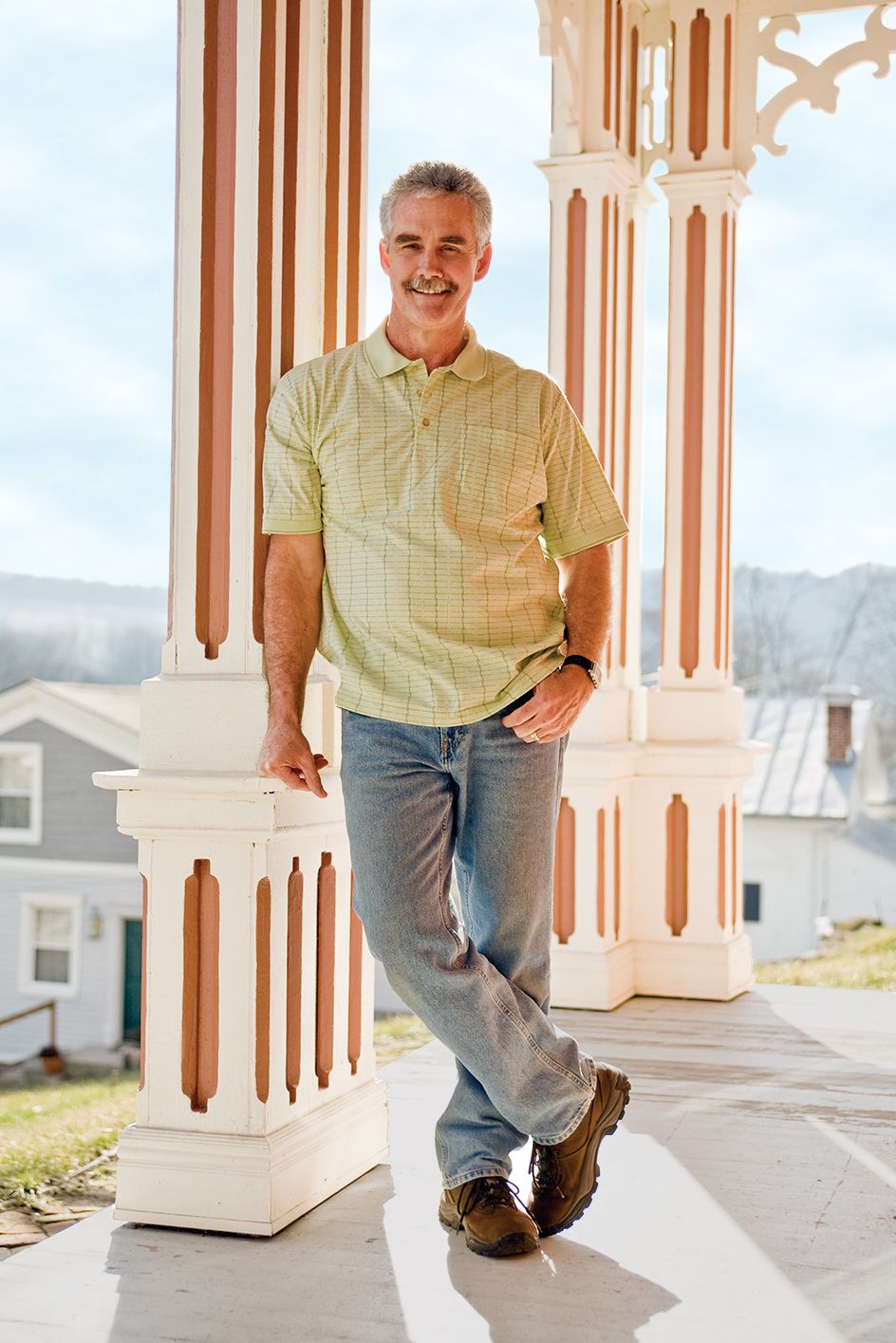 It took a lot of hard work to save this old house. But more than his own sweat equity, Vic credits people like Jerry, Hylda, and the entire community of Ripley for making the dream a reality.
"They wanted to help me succeed," he says. "If I hadn't had them, it would have been a different story."