Our Top Holiday Decorating Picks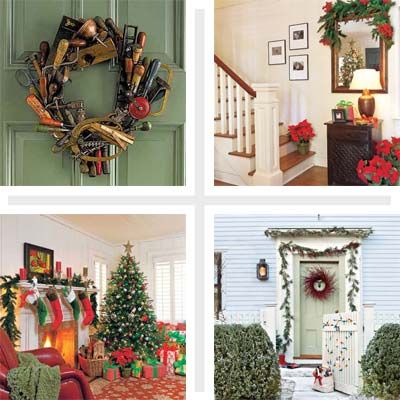 Decking the halls is even more fun when it's DIY, like much of what we see here at This Old House. That's why we hope you'll check out our favorite festive decor from issues past and be inspired to create your own colorful and creative holiday look.
This Old Red House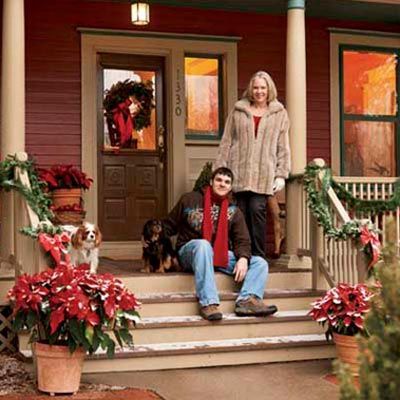 We were tickled red-and-green when we saw how homeowner Bunny Blaha and son Tyler Hixenbaugh tricked out their 1899 foursquare with colorful plants, garlands, and wreaths. She called her home, "Our Old Red House," and the rich red exterior color—mixed by Bunny herself—made a beautiful backdrop for draped evergreens and potted red poinsettias. Read on for more holiday home decorating ideas from Bunny.
Holiday Trim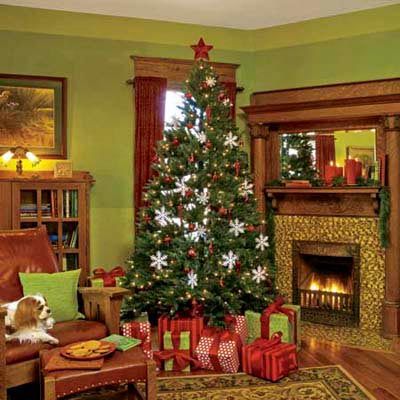 Bunny's living room dressed in its holiday best: We like how she played off the custom wall color and stuck with a mostly red-and-green theme, which complemented the oak baseboards and double-height mantel well. We also think the sparkling white snowflake ornaments make her tall tree stand out.
See the complete DIY renovation of This Old Red House.
Stately Decor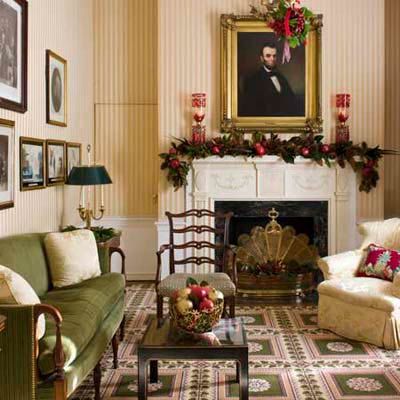 This room is especially dear to us, because we actually decorated it ourselves. The editors at This Old House helped make Blair House, the presidential guest house in Washington, D.C., festive for Christmas in 2009, making use of clever, low-cost ideas to create a holiday with a little history. In the Lincoln Room, the decorations TOH created drew from the Federal-style architecture of the original house and traditional trimmings used during the period. The pomegranate, magnolia-leaf, pine cone, and pheasant feathers together make a beautiful, natural garland to complement this grand mantel.
See all of the traditional decorating ideas.
Tin-Ceiling Tree Planter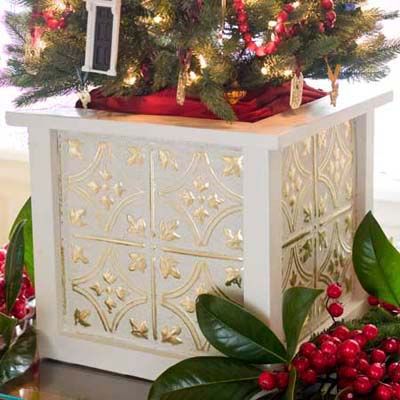 Rather than overwhelm the small Lincoln Room with a full-size tree, we placed a more modest one on a side table. Using a ceiling tile as inspiration, we built this planter box to hold the dwarf tree. See how we did it the step-by-step, How to Build a Christmas Tree Box.
Metal tile center panels, 24-inch square sheet, about $42; The American Tin Ceiling Company.
The Truman Study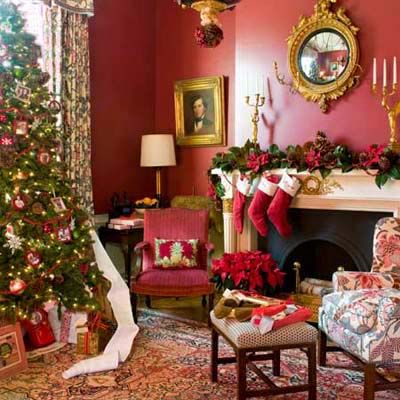 We also decorated the Truman Study at Blair House, named for the 33rd president, Harry Truman, who lived in the home with his family from 1948 to 1952 while the White House was undergoing an extensive renovation. Truman used the room during those years as his private "Oval Office."
This Old House outfitted the Truman Study to represent Christmas in 1951. Gifts from the period, vintage-style ornaments, and Truman memorabilia adorn the space, putting a retro twist on this festive room.
See all our traditional holiday decorating ideas here.
Warm Welcome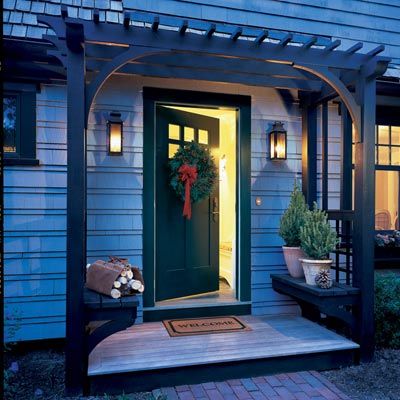 The cover of our December 2004 issue showed off one of our favorite cottage entries, welcoming visitors inside with the glow from its six-light door and flanking lanterns. We also love the built-in benches, which provide a place for guests to sit—or for fire-builders to rest logs.
Wood Shavings Wreath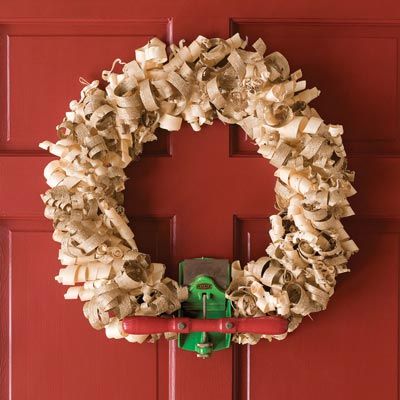 The carpenters among us really enjoyed this creative wreath made from recycled wood-shavings and a two-handed scaper-plane "bow," featured in our December 2008 issue. The pale wood stands out against this dark, red door and appeals a craftsman's sensibilities.
See more ideas for DIY wreaths!
Go Green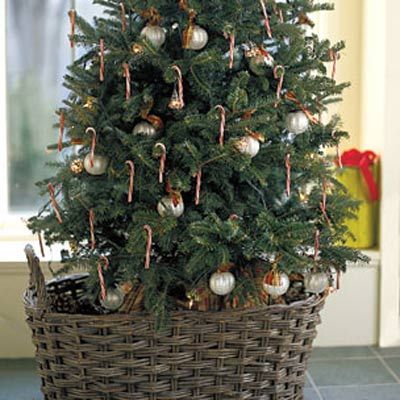 We've always liked table-top trees like this one from December 2004; they're a great way to extend the holiday spirit into every room. But you don't have to buy a whole extra set of ornaments. Instead, decorate them with size-appropriate ornaments, like the tiny candy canes on this tree.
Decorating a tree with a theme? See ideas for tool-themed tree ornaments!
Holly Berries and Pine Cones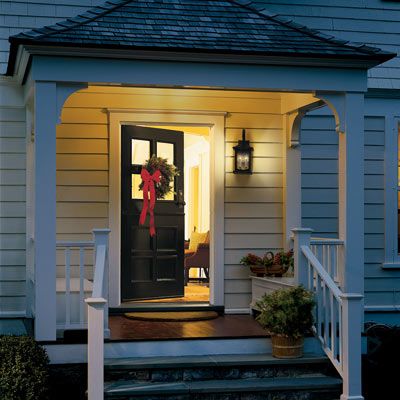 We love this wreath on our December 2005 issue because it is studded with bright red berries to match the large bow. Pine cones in a basket are an easy way to add a festive accent to a porch, and it doesn't hurt that you could probably find the supplies in your backyard.
Embellished Entry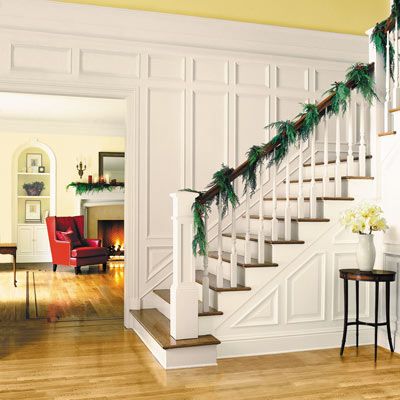 We always think a decorated foyer can be an extension of your wreath-welcoming front door, but there's no need to go overboard. The cover of our December 2007 issue shows how adding even a simple garland to a front hall banister can make the whole room look sophisticated.
Tool-Themed Wreath
Holiday wreaths can be as unique as the DIYers who hang them. Here at This Old House, we like tools. A lot. So, we attached beautiful antique tools to sturdy wire frame to make this unique holiday decoration.
If you plan on making a similar wreath, just be sure you take the weight of your materials into consideration when choosing forms, adhesives, and attachers. Floral wire works great for heavy "ornaments" like the tools we used.
See more ideas for DIY wreaths!
Staying Alive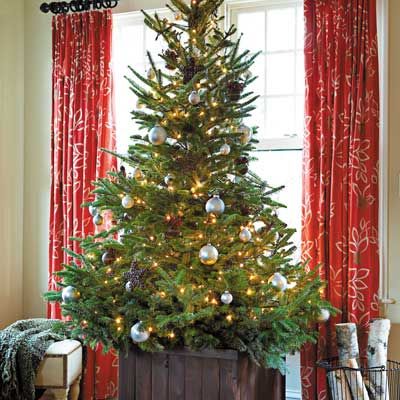 We're all about reuse at This Old House, so that's why we've often suggested getting a living Christmas tree instead of one that's been cut down. Not only is a live tree fresher—meaning it's more fragrant—but it's not as tippy as a cut tree in a stand. But we think the best reason to go with a living tree is so you can plant it after the holidays and decorate it for years to come.
See tips on how to choose a live Christmas Tree from This Old House landscape contractor Roger Cook.
Natural Materials for Craftsman Style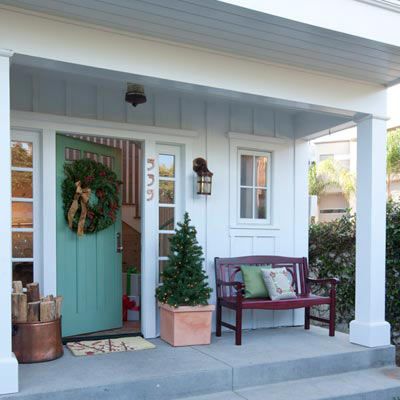 No matter what era house you call home, we suggest taking a cue from the Craftsman style's emphasis on natural materials, artisan handcraft, and simple, sturdy design. We love the way this entry gets holiday cheer from a wreath of fir, magnolia, and boxwood; a red-painted bench; a copper log holder; and other warm-hued accessories.
See how to create this Craftsman-style look for your own entry.
Making a Vintage Cottage Her Own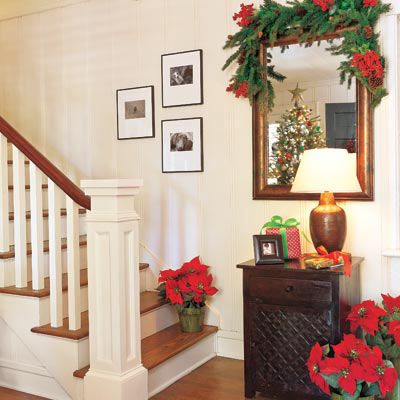 We wholeheartedly encourage DIY ambitions, and Susanna Shermer, a family doctor in Arkansas, shared her third whole-house renovation with us. She turned a plain and cramped home into a Craftsman-style cottage that became a festive place for her family and friends during the holidays. Here, the foyer is dressed up with poinsettias as a mirror reflects her tall tree.
See the whole renovation of her craftsman style cottage.
Warm Decor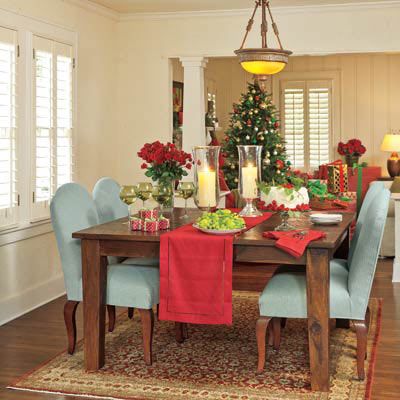 We love that you can see the tree in the living room from the connected dining room because Susanna wanted an open plan on the first floor. The red table runner on top and carpet beneath the rustic dining table adds warmth to the room.
See the whole renovation of her craftsman style cottage.
Custom Details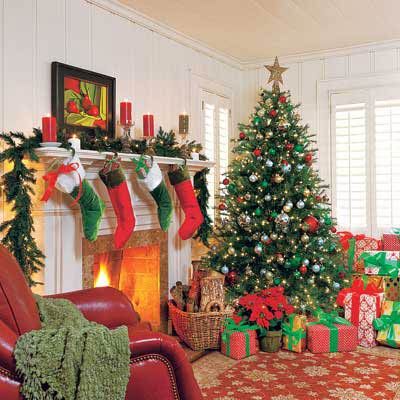 A stately mantel is practically begging for stockings, or garland, or both. Susanna's, which she designed herself, is adorned with red and green candles that coordinate with the stockings and the evergreens.
See the whole renovation of her craftsman style cottage.
Fun, Energy-Saving Lights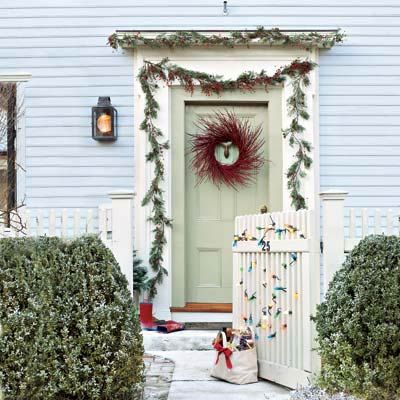 We're smitten with this colorful approach to decorating outside because it does double-duty: It looks welcoming, but it also saves on the electric bills. The strand of retro-style colored bulbs wrapped around the entry gate actually uses outdoor-rated LED bulbs, which are brighter and longer-lasting (up to 100,000 hours). Completing the scene are berries and greenery for a lighthearted twist on the traditional holiday welcome.
Shown: A 25-foot strand of outdoor-rated LED lights by GKI Bethlehem, about $20; 1000bulbs.com
See more easy upgrades to create a festive holiday home.
Ceiling Medallion Wreaths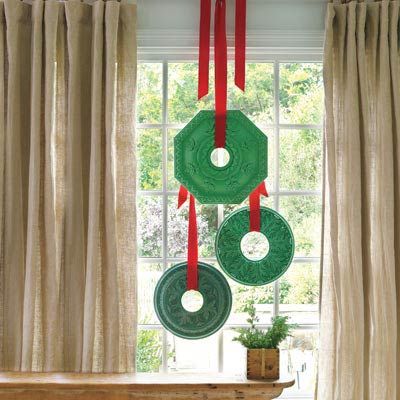 Ceiling medallions come in a variety of designs, from colonial-style rings to ornate Victorian-inspired flourishes—which is why we think they make great wreaths for the lover of architectural details. Here, we coated three lightweight polyurethane medallions (from $17 each; outwatercatalogs.com) in rich shades of green. Hung from red satin ribbon in a tidy group, they telegraph the same festive look as their leafy cousins—but will look just as good as they do now for countless seasons to come. To ensure coverage of all the medallion's "carved" details use an angled brush and two coats of latex paint.