Finding a Festive Fix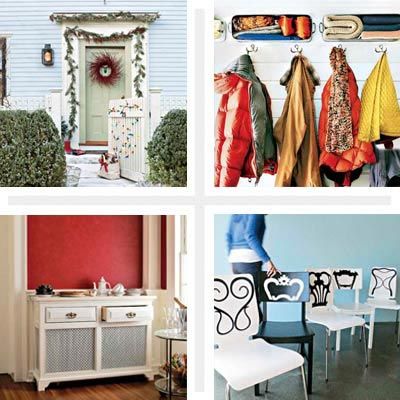 Getting your house ready to show off to holiday visitors can be a daunting task. To make all the prep less of a chore, we've gathered our best holiday decorating ideas and DIY home upgrades from the popular Home Solutions column of This Old House magazine! These quick and easy problem solvers are fun ways to turn any ho-hum house to a festive holiday home.
Fun, Festive Entry Lights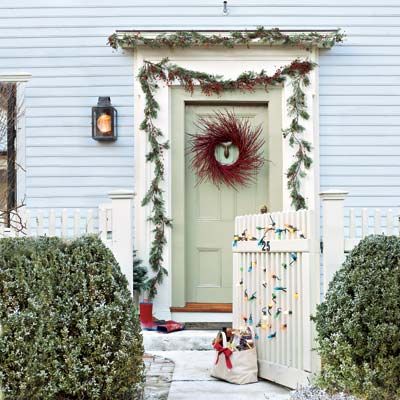 If the thought of icicle lights dripping from your roofline feels more ho hum than ho ho ho, try a fresh approach to decorating for the season. Wrap a strand of retro-style colored bulbs around your entry gate, mailbox, or portico posts like a kid would: in a casual, unstudied way. Use outdoor-rated LED bulbs for a brighter, longer-lasting (up to 100,000 hours!) glow. They'll also trim your electric bill, since they burn 90 percent less energy than incandescents. Plug them into an outdoor receptacle or fit an outdoor light fixture (that's not low-voltage) with a socket-to-outlet adapter. Complete the scene with berries and greenery for a lighthearted twist on the traditional holiday welcome.
Shown: A 25-foot strand of outdoor-rated LED lights by GKI Bethlehem, about $20; 1000bulbs.com
Sideboard Radiator Cover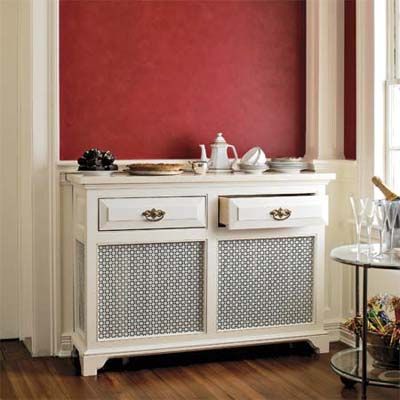 While entertaining in a dining room during, a buffet server comes in handy—if you have room for one, that is. Here, a radiator might have hogged the needed space. Instead, it's boxed out with a furniture-style cover, complete with bead molding; drawers lined with special inserts for storing silverware; and metal screening that lets heat escape. But the best feature, hands down: a marble top that keeps pie at the perfect serving temperature, much like the marble-topped kitchen radiators of yore. That's a lot more than any old serving station can do.
Hang Tubs for Wintry Gear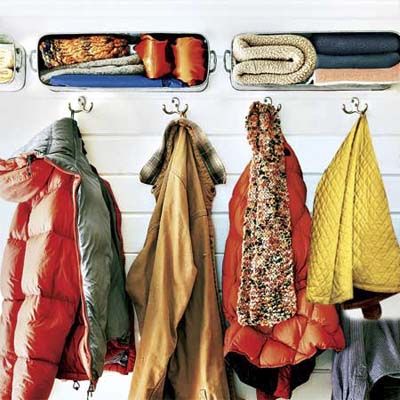 If there's no place to park them, scarves, gloves, and hats can become a tangled heap in your entryway, complicating matters for anyone on their way out the door. To store winter items that can slip off conventional shelves, mount galvanized-steel beverage tubs to the wall above a row of coat hooks. To hang them: Locate and mark the wall studs, then drill at least two holes for each tub, making sure one goes into a stud and using a toggle-bolt anchor in the other hole. Drill corresponding holes on the bottom of each tub, and use deck screws to fasten them to the wall. Check for level and adjust the tubs as needed. They'll add a touch of rustic charm in an entryway—and keep the party spirit alive for months to come.
Shown: Galvanized beverage tub, similar to shown, about $30; Personal Creations
Make Odd Seats Look Like a Set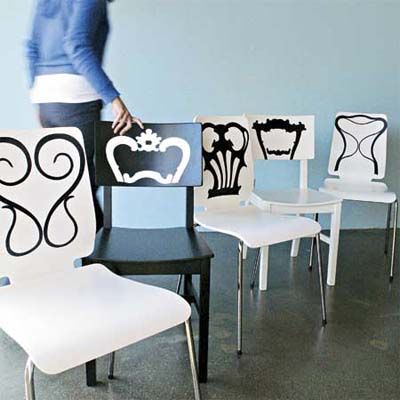 It's that time of year when you need more seats around the table at each holiday feast table. You will probably have to haul out your collection of mismatched chairs. Before the party day arrives, give orphaned chairs with flat backs a cohesive look with a coat of paint and decorative decals in dressed-up furniture styles. The decals go on in a few simple steps (just make sure the surface is clean and smooth before transferring the design) and peel off easily when the look wears thin.
Shown: Blik's Classic Chair Backs, about $30 for a set of six; Blik
Great Salvage Gift Idea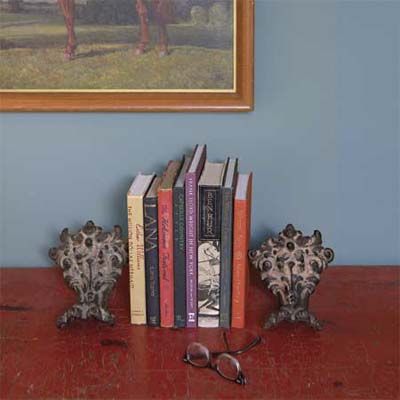 Looking for something small and affordable at the salvage yard? Decorative iron tub supports can be found at most such shops—and are far easier to recycle than the heavy vessels that once perched upon them. A matching pair like these ornate tiger claws costs about $50. Put them to work as bookends on your desk or give them as a gift to the book-lover on your list. To protect wood from scratches, stick felt cushions on the feet bottoms. Then put your own feet up and enjoy the ironwork's vintage charm.
Pro tip: To preserve the iron's patina and seal any lead paint, add a coat of clear acrylic finish.
Rekindle an Old Flame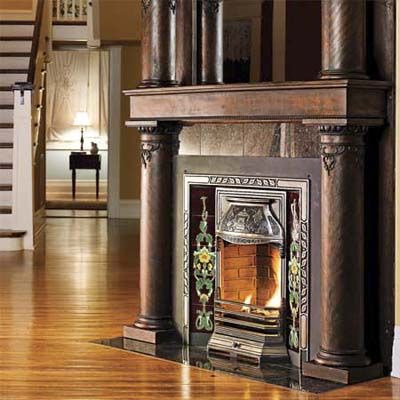 Using clay tile to reline an old chimney so that you can safely enjoy those nightly blazes will cost a few thousand bucks. At this house, a Victorian cast-iron gas insert—vented via a steel tube placed in the chimney and finished with tiled side panels—struck us as a stylistically fitting and economical way to keep the fire burning. The faux-brick firebox is made from heat-reflective ceramic that radiates warmth into the room instead of up the stack, keeping you even cozier.
Another bonus: No more ashes to scoop out. While installing an insert is a pro's job (find one at the National Fireplace Institute), enjoying the result is all yours.
Add an Easy Wallpaper Backsplash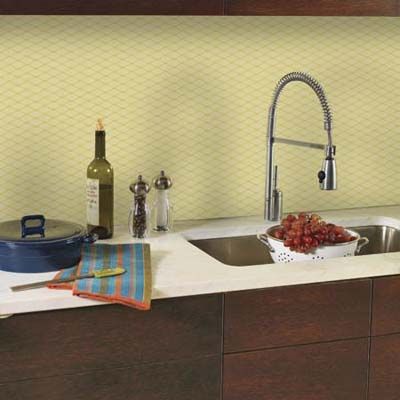 Replacing an outdated tile or stone backsplash before the kitchen gets too busy with holiday meal prep can set you back a pretty penny. For one that's easier on the wallet—and a cinch to revamp and clean—opt for wallpaper covered with ¼-inch tempered glass. Measure the backsplash area and cut out a cardboard template, marking the openings for electrical outlets. Bring the template to a glass fabricator so that they can cut a piece to size and polish the edges. After papering the wall, attach the glass by screwing down the outlet cover plates. Then run a bead of clear silicone sealant along the bottom and top edges and at the seams. Next time you update your kitchen, a new backsplash is just a quick switch of wallpaper away.
Shown: A geometric pattern works here because the paper is wide enough to be hung horizontally—no need to match seams. Antonina Vella Designs, about $63 per roll; York Wallpapers and Fabrics
Pretty Up the Place for Parties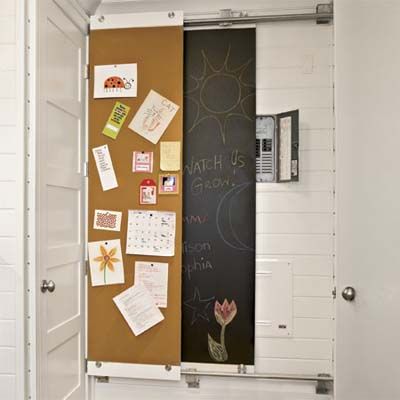 Electrical panels, thermostats, big switch plates—they're household necessities, but they're also eyesores that can thwart your decorating efforts. Using sliding display panels will keep them accessible but under wraps so guests won't have to see them. Make these panels with two-track hardware and wheels (available at Stanley Hardware), as shown, or use a sliding-door kit instead.
The How-to:
1. Pick up a kit with bypass tracks that are wall-mountable (also called "face-fixed"). Install the tracks above and below the area you wish to cover.
2. Cut two equal pieces of panel board to size. Coat one with chalkboard paint; cover the other with self-stick corkboard.
3. Use the door hardware to affix one panel to each track so that they can slide behind each other.
Reminder: Before you start, be sure you have enough space to slide the panels out of the way to access what's behind them.
Store Wine Under the Stairs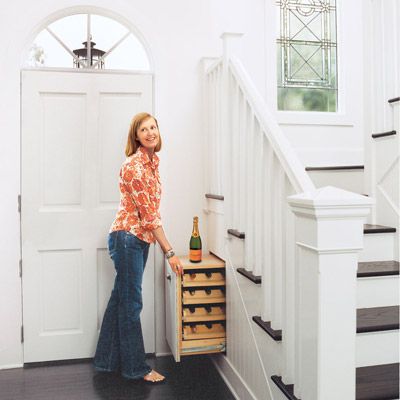 Some people have wizards living under their stairs; you can have wine. This nifty under-the-stairs wine-rack keeps wine out of the way but still convenient during a holiday dinner. The pull-out storage is a custom-built unit that holds up to 32 bottles. The beadboard front panel is the same piece cut out for the opening, so the cabinet blends seamlessly into the wall.
Inspired to do the same? First, make sure your stairs are self-supporting and that there's no hidden wiring or ductwork in the way. Once you're in the clear, construct a box to your specs out of ½-inch plywood. Then add slide-out shelves fitted with cutout fronts that cradle the bottles' necks—or simply fill the box with a prefab wine rack. Finish with heavy-duty glides and a decorative front panel or cabinet door.
Warm-Up with a Cheery Fire, No Chimney Needed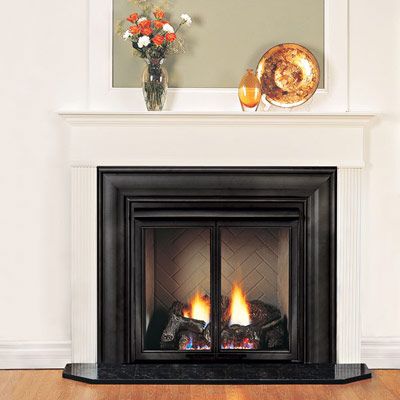 Sound like a pipe dream? Not with vent-free gas fireplace appliances. They hook right up to a gas line, go on with the flick of a wall switch or click of a remote, and provide real flames that burn much hotter and cleaner than traditional gas or wood-burning fireplaces. There's no need for a flue since fuel burns so efficiently; a sensor and safety valve ensure that carbon monoxide won't build up. Available as log sets, inserts, and full fireplaces in a range of sizes, there's an option to suit every home (for retailers, go to hpba.org).
Give the Gift of Personalized Decor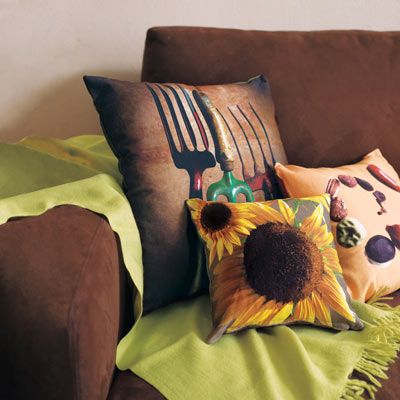 Create the perfect personalized gift with these thoughtful throw pillows! It's a snap to do: Take high-resolution digital photos (at least 150 dpi) of a favorite subject, crop them to your liking, then upload them to an online fabric printer, such as Spoonflower or Fabric on Demand. The company will transfer the images onto a material of your choice and either send you yardage to stitch up yourself or, in the case of the pillows shown here, supply the zippered covers. Either way, you've got a picture-perfect addition to any room.
Gussy Up a Claw-Foot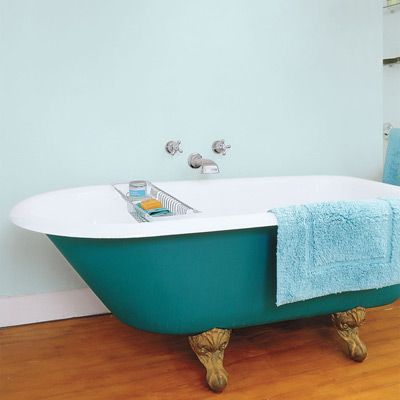 That old-fashioned cast-iron tub in the guest bath sure is impressive—unless your antique soaker's exterior has taken a beating over the years. You can refresh an old tub (or just introduce an unexpected splash of color) with an affordable can of paint. While reglazing the interior's porcelain is a project best left to the pros, you can easily refinish the outside of your tub in less than a day.
The How-to:
1. Scrub the surface with a stiff wire brush, removing any flaking paint.
2. Using a natural-bristle brush or 4-inch foam roller, apply an oil-based primer formulated for metal. Let dry 6 to 8 hours, and brush on a bright, oil-based enamel or epoxy. (Avoid latex paint, as it can cause your tub to rust.)
3. If a second coat is needed, wait 24 hours before applying. Then get set to soak in your bathing beauty.
House-Parts Trimmings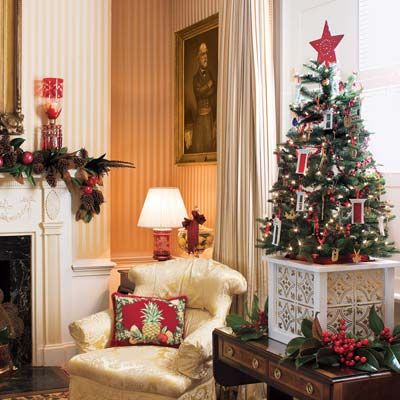 Even a small table-top tree can make a big statement if you set it inside a box clad with tin ceiling tiles. Place a tree like this one in a secondary party room, away from the main event. Party guests will take the cure that there's room to roam, and your house will fill out with revelers. For an added old-home touch, trim the tree with keyhole hardware and dollhouse doors and windows ties with ribbons.
Get full step-by-step instructions for How to Build a Christmas Tree Box like the one shown here.
Build a Window-Arch Console Table for a Welcoming Entry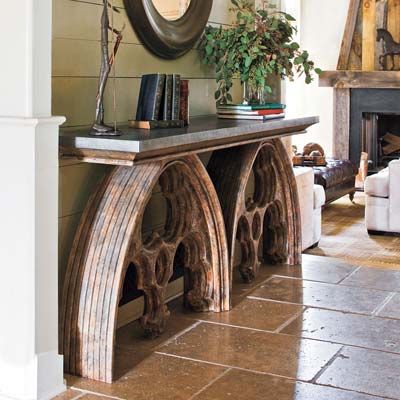 Give guests extra space to put down drinks with a console table that has true one-of-a-kind appeal. Support the bluestone and wood top with some sculptural finds from a salvage yard—like the weathered Gothic arches used here.
The How-to:
1. Look for heavy, arched wood window frames or garden ornaments at your local salvage yard; if the arches aren't thick enough to support your table top, screw two together.
2. Once you have a sturdy base, create the top by capping a 2x plank with decorative molding that features a beveled profile.
3. Adhere the board to the top of the arches with construction adhesive, shim it level around the peak of each arch, and fasten with deck screws. If your base is stone, you'll need masonry anchors and screws.
4. Top the plank with a bluestone step (available at a stone yard for about $10 per foot), cut to your desired measurements. Then complete the dramatic display by resting a few of your favorite finds on the console's top.
Keep Winter Wildlife Invaders Out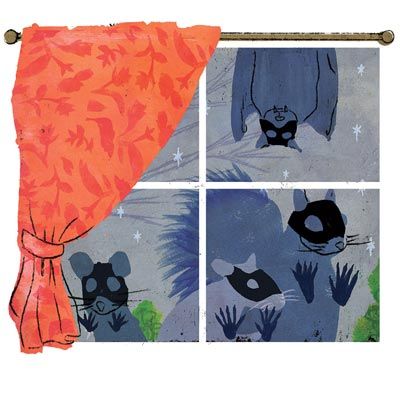 There's no worse time than the holidays to have unwanted house guests scurrying across your dining room floor. Unfortunately, fall and winter are prime pest invasion times. To prevent rodents and winged critters from breaking in, start by strengthening your home's vulnerable spots.
Follow these tips to Keep Furry Invaders Out.
Update Old Chairs with Paint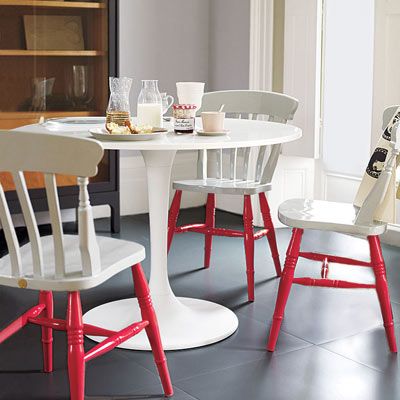 Transform even an ordinary dinner into a festive affair by perking up the legs of your dining chairs with a coat of cheerful color. Start by going over the legs with medium-grit sandpaper until they're as smooth as possible. Wipe away any dust with a tack cloth, then use a small brush to apply a coat of latex primer. Follow with two coats of latex paint in your desired hue; let dry completely between applications. If the legs feature detailed woodwork, avoid drips by painting with a side-to-side motion.
Revive a Coir Doormat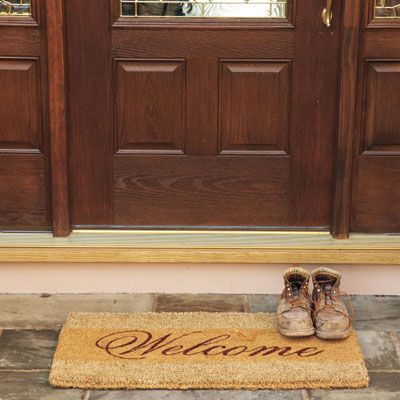 Give guests a warm welcome this holiday and prevent tracked-in dirt, too! If you've got a fiber mat that's starting to show wear and tear from this winter's boot traffic, bring it back to life with water and a broom. First, scrape off any caked-on mud with a spoon or knife, then hang the rug outside and beat it with the broom's handle. Use a stiff-bristle brush and water to clean any remaining dirt particles, and lay flat to dry. Keep up this maintenance and your mat can last up to six years.
Install a Tin-Tile Fireplace Surround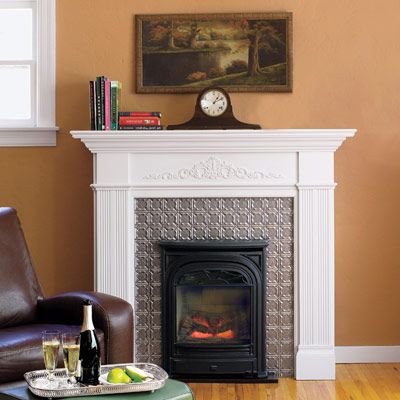 Who doesn't like gathering around the fireplace on a chilly holiday eve? Use leftover tin tiles from a backsplash or ceiling project to create an ornate, small-scale pattern highlighting the narrow space around the hearth. Cut the tiles to fit from large panels, then cover the surround with cement backer board and affix the tin with a heat-resistant construction adhesive.
TIP: Choose metal ceiling tiles with a small repeat so that you can cut them without ruining the pattern. Tin, $20 for a 2-by-4-foot sheet; classicceilings.com.
Upgrade a Closet to a Hidden Home Office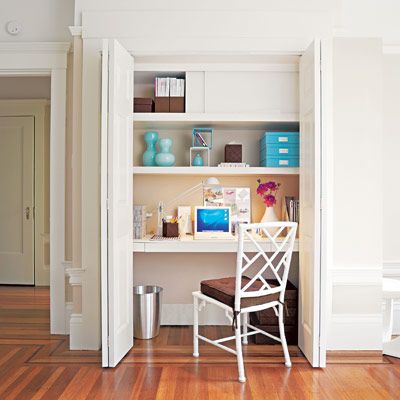 With winter upkeep to-do lists, lots of gift shopping, and the to-be-paid monthly bills, it is easy to feel disorganized during the din of holidays. This compact home office is a great DIY gift idea for yourself or a loved one. Carve one out from a seldom-used closet by removing the existing rod and following these tips:
The How-to:
1. Set shelves at least 1 foot apart and mount with standards, which can hold up to 70 pounds per foot. Try: Elfa's Driftwood and Platinum Office in a Closet, $232; containerstore.com.
2. Avoid clutter by stashing stationery and odds and ends in labeled, stackable boxes.
3. If your doors don't fold, take advantage of vertical real estate by screwing thin sheets of cork to their back sides for posting notes and bills.
4. Set your to-do lists in sight with a small, movable magnetic or dry-erase board. To make a one-of-a-kind version, prime and coat a piece of wood with blackboard paint.
5. Pick a narrow desk with slim drawers directly beneath the top for space-saving, easy-to-access storage.
6. Instead of installing a ceiling light, opt for a task lamp with an adjustable arm.
Be Bright When Hanging Lights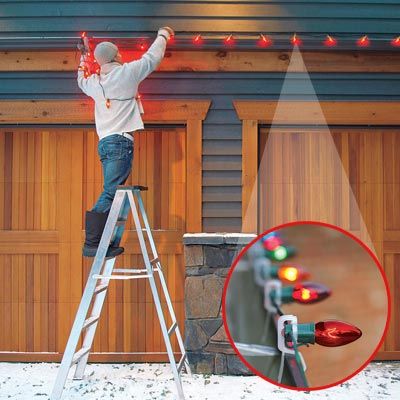 Instead of tacking down twinklers with staples (which can damage insulation around electrical wiring) or nails (which won't secure strands in high winds), opt for zip ties or plastic clips made especially for the job. Hook them onto gutters and shingles, and space them no more than 12 inches apart to keep swags neat, even in messy weather.
Our favorite fastener: Omni All-in-One Clip, $9 for 100; christmaslightsetc.com.
Inspect Your Oven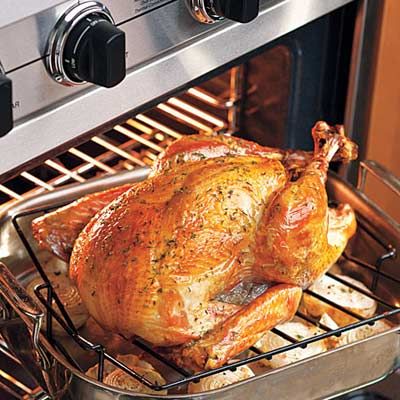 Get ready for the holiday cooking marathon with a quick oven checkup. If your appliance has a self-cleaning function, avoid using it right before making a major meal, as it can throw off the temperature gauge. And make sure the digital reading matches the cavity's actual temp with a tried-and-true analog oven thermometer. If it's off by more than 5 degrees, manually reset the display so that they're in sync. If the gap is more than 35 degrees, call a pro—it may be time for a new oven.
Spiff Up Carpets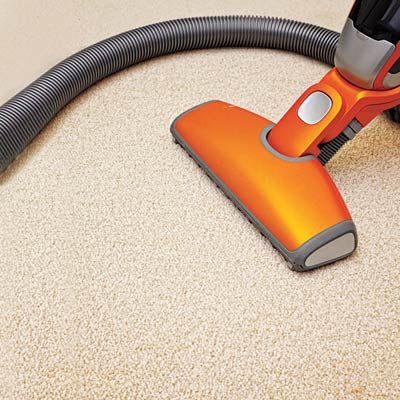 Guests trampling through your home throughout the season can make any host a scrooge if it results in dirty, stained carpets. To keep rugs looking fresh, follow these spot-cleaning tips.
The How-to:
1. Spray stains with an enzyme-based cleaner, which can tackle food and most mystery spots in high-traffic areas.
2. Blot with a sponge, avoiding a back-and-forth motion, as it can damage fibers.
3. Lift soap residue—which can attract dirt after it dries—with a steam cleaner filled with plain water. Or just blot with vinegar, then with clear cold water.
Prep a Guest Room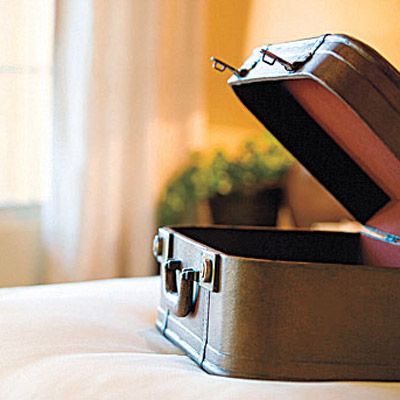 Treat out-of-towners to a hotel-worthy stay with these traveler-friendly tweaks:
1. Install wall hooks for towels, travel kits, and tote bags.
2. Clear 3 feet of rod space in the closet.
3. Free up 4 feet of flat surface on a window seat or low bookshelf for easy suitcase access.
4. Add night lights to hallways and the guest bath.
Hang Ceiling Medallion Wreaths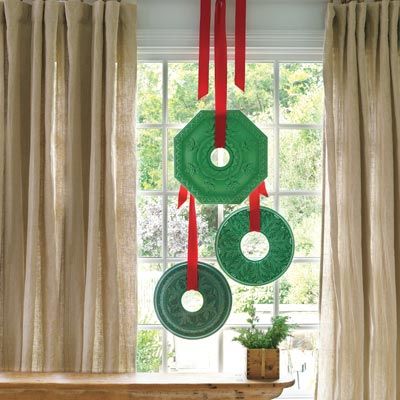 Let even your holiday decor reflect your home's architectural style by decking the halls with something that may already deck its ceilings: decorative medallions. Traditionally used to highlight chandeliers or pendant lights, these artistic adornments come in a variety of designs featuring everything from simple colonial-style rings to ornate Victorian-inspired flourishes. Here, we coated three lightweight polyurethane medallions (from $17 each; outwatercatalogs.com) in rich shades of green. Hung from red satin ribbon in a tidy group, they telegraph the same festive look as their leafy cousins—but will look just as good as they do now for countless seasons to come.
Ensure coverage of all the medallion's "carved" details with an angled brush and two coats of latex paint.