The Lincoln Room: Welcome to Blair House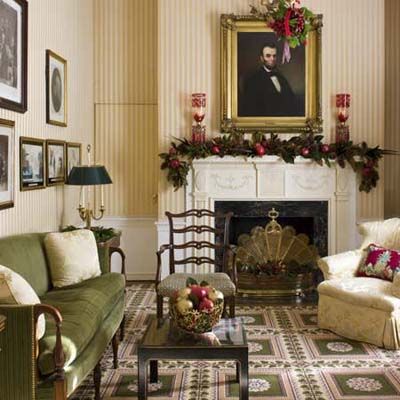 Across the street and just a few doors down from The White House on Pennsylvania Avenue sits Blair House, a line of four 19th-century townhouses that together serve as the guest house for foreign heads of state visiting the president. During one recent holiday season, the United States Department of State, which manages the use of Blair House, teamed up with the Magazine Publishers of America to decorate the rooms. Then they held a reception, hosted by Secretary of State Hillary Clinton, for the families of the Unaccompanied, Department of State employees posted to areas abroad that are too dangerous for their families to join them.
Six magazines participated, and This Old House took on two spaces in the house, one of which was the Lincoln Room just off the main hall of the original 1824 structure. The room is named for President Abraham Lincoln, who used to meet here with his friend and confidant, Francis Preston Blair. It is also here that in 1861 Lincoln asked Robert E. Lee to lead the Union Army in the Civil War. Lee, a native Virginian, refused the post and went on to take command of the Confederate Army. Portraits of both Lee and Lincoln hang in the room.
The decorations TOH created for the room draw from the Federal-style architecture of the original house and traditional trimmings used during the period.
Pomegranate and Magnolia-Leaf Garland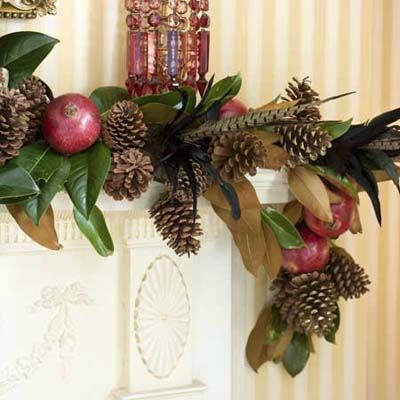 Pomegranates are traditionally a symbol of prosperity; Thomas Jefferson is said to have tried to grow them (unsuccessfully) at Monticello. Together with magnolia leaves, pine cones, and pheasant feathers, they make a beautiful natural garland to dress up a plain mantel or complement a grand one.
Garland custom made for This Old House by Lee's Flower and Card Shop, a Teleflora florist. Directions for making a similar one, using about $100 in materials, are available through POM Wonderful.
Pheasant feather bunch, about $5; Michaels.
Architectural Ornaments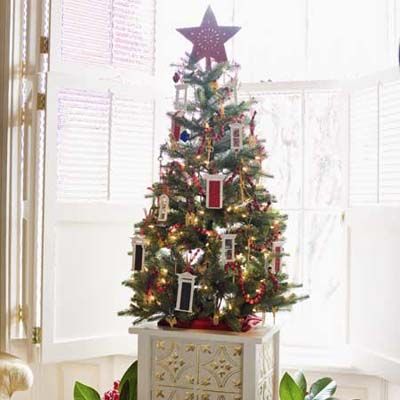 A 4-foot table-top tree sports ornaments that reflect the architectural details of the four houses and the hardware in the room.
Colorado Mountain Spruce artificial tree, about $239; Balsam Hill.
Keyhole-Cover Ornaments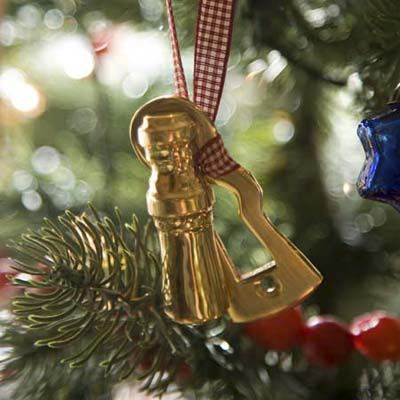 A keyhole cover that closely matches one found on the original rim lock on the room's door becomes a tree ornament with the aid of colorful ribbon. Additional ornaments on the tree include other styles of door-keyhole covers, skeleton keys, and furniture-keyhole covers matchinh ones on a secretary in the room.
Brass keyhole covers, various styles starting at about $2.90; brass skeleton keys, various styles starting at about $1.60; House of Antique Hardware. Ribbon, about $1 a yard; M&J Trimming.
Vintage-look miniature glass ornaments, about $11 for six; Shaker Workshops.
Dollhouse Doors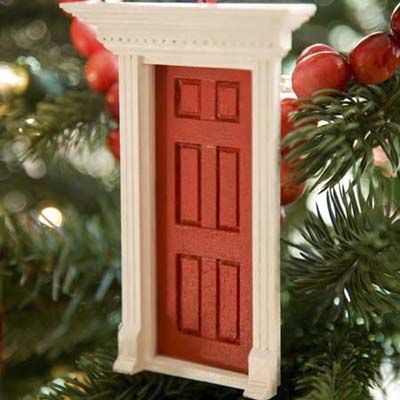 Miniature doors and windows originally made for dollhouses represent the many styles found on the townhouses of Blair House, which span several decades of archtectural style.
Yorktown 6-panel door, about $16; Houseworks Ltd.
Tin-Ceiling Tree Planter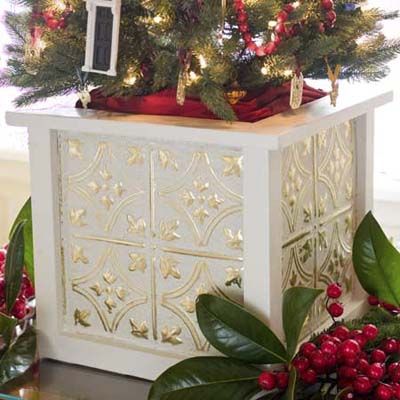 Using a tin ceiling tile as inspiration, This Old House senior technical editor Mark Powers created a planter box to hold the tabletop tree. See how Mark did it the step-by-step, How to Build a Christmas Tree Box.
Metal tile center panels, 24-inch square sheet, about $42; The American Tin Ceiling Company.
Punched-Tin Star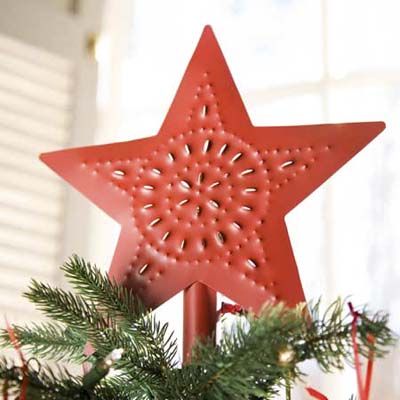 A red tin tree topper mirrors the tin at the bottom of the assembly.
Punched-tin christmas tree star, $25; Shaker Workshops
Medallion Wreaths
Two lightweight, plaster-coated foam ceiling medallions hang in front of the windows like Christmas wreaths. They've been painted on the cheap by mixing sample jars of traditional green paint into glaze to create the look of pine boughs.
Jefferson ceiling medallion, about $20; Fypon. Ribbon, about $3 a yard; M&J Trimming. Paint samples and glaze by Benjamin Moore.
Pineapple Wreath Hanger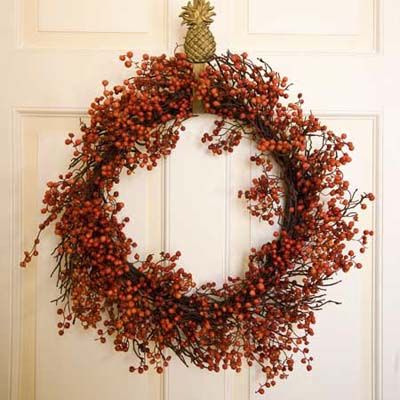 This over-door wreath hook has a pineapple motif; pineapples were symbols of hospitality in the late-18th and early-19th centuries and often appeared as adornment on trim or wallpaper.
Pineapple wreath hanger, about $19; Williamsburg Marketplace.
Fruit Display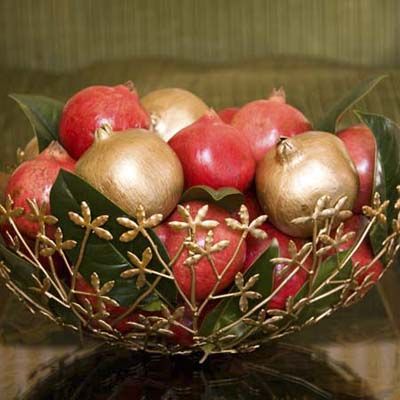 A bowl full of traditional fruits adds a pop of color to the elegant room.
Pomogranates, plain and gold-painted; POM Wonderful.
Gold wire mesh bowl with leaf motif, about $65; Decatur House Museum Shop.
More Pineapples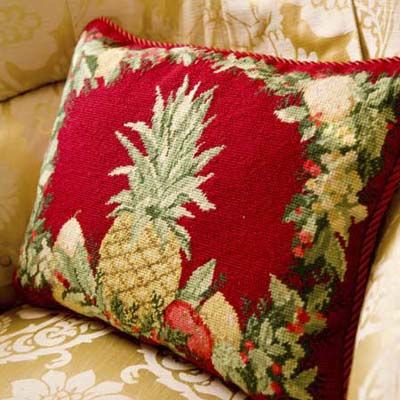 A welcoming pineapple theme on a needlepoint pillow brings a splash of holiday cheer to the neutral-toned furniture.
Festive fruits needlepoint pillow, $70; Williamsburg Marketplace.
Reds, Greens, and Flickering Candles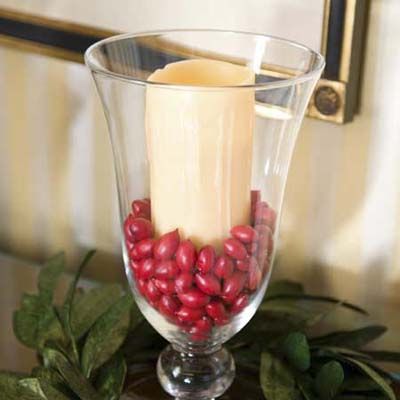 A bay-leaf wreath and faux wood berries bring Christmas color to a plain hurricane-glass candle holder. A flameless LED candle flickers like real but is safe to be left alone in a room—historic or not.
Wreath by Lee's Flower and Card Shop. Flameless beeswax candle, $14.40 for a 3-by-4½-inch pillar; Flameless Candles.
The Truman Study: Welcome to Lee House
In 1859, Francis Preston Blair built a house next door to his own for his daughter Elizabeth Blair Lee and her husband, Admiral Samuel Phillips Lee. The Truman Study is in what would have been the front parlor of that house, now integrated into the Blair House complex.
The room is named for the 33rd president, Harry Truman, who lived with his family in Blair House from 1948 to 1952 while the White House was undergoing an extensive renovation. Truman used the room during those years as his private "Oval Office."
This Old House decorated the Truman Study to represent Christmas 1951. Gifts from the period, vintage-style ornaments, and Truman memorabilia adorn the space.
Fireplace Adorned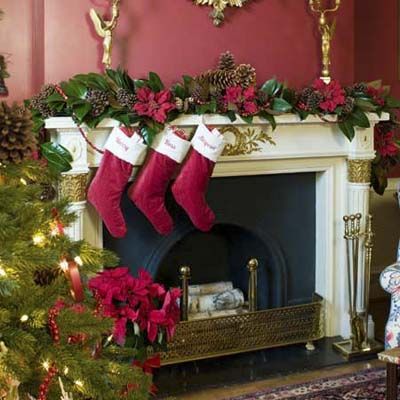 Natural garlands and embroidered stockings turn the mantel into a Christmas centerpiece.
Magnolia-leaf and pine-cone garland created for This Old House by Lee's Flower and Card Shop, Washington, D.C.
Stocking Stuffers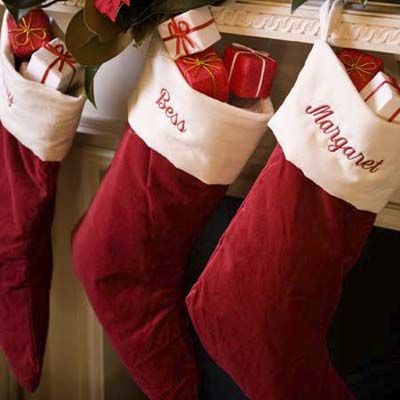 Festive Christmas stockings embroidered with the Trumans' names—Harry; his wife, Bess; and their daughter, Margaret— hang over the fireplace.
Velvet Stockings in red and ivory, about $15; Pottery Barn.
Tall Tree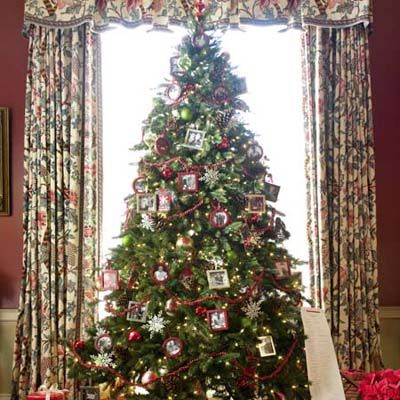 A Christmas tree displays vintage-style ornaments and Truman photographs found at the Library of Congress in Washington, and the Harry S. Truman Library and Museum in Independence, Missouri.
Nine-foot Vermont White Spruce artificial tree, about $950; Balsam Hill.
Gifts Galore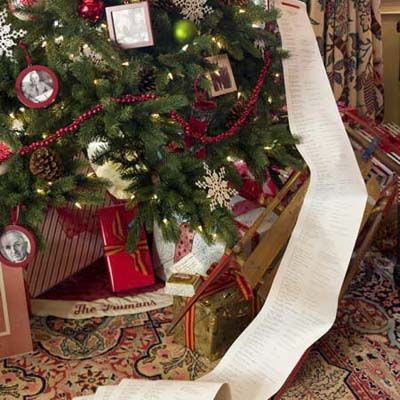 In 1951, Truman's secretary neatly typed a list of all the gifts the president received for Christmas from ordinary Americans. Recreated here, the list is more than 10 feet long.
Boxes and gift wrap, The Container Store. Gift ribbon, Kate's Paperie.
The Gift List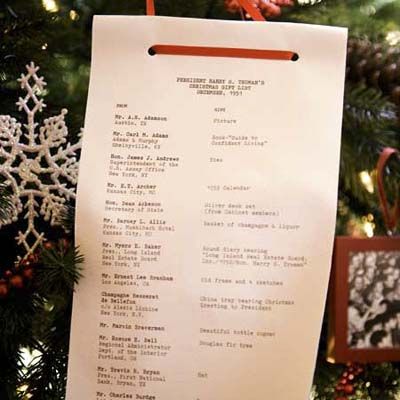 The typed-out, alphabetized gift list from 1951 would allow the president to send thank-you notes to the generous people who sent him and his family presents.
List courtesy of the Harry S. Truman Library and Museum.
Great Gifts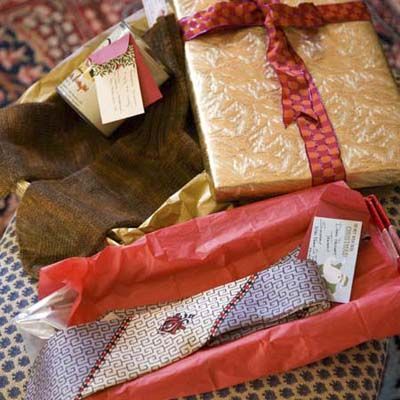 Some of the presents sent to the president included hand-knit wool socks from Canada, a can of Blum's hard candies, and many ties.
Socks courtesy of Kathleen Taylor, author of the Big Book of Socks. Vintage 1950s tie, collection of Edward J. Potokar. Gift wrap, tissue, and boxes, The Container Store. Vintage-inspired gift cards, Kate's Paperie.
Under the Tree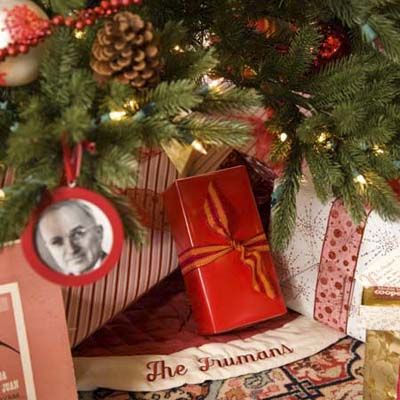 A personalized gift skirt creates a landing pad for the Truman gifts, including a pack of Cooper razor blades from one helpful citizen.
Velvet Tree Skirt, $89; Pottery Barn.
Famous Blair House Guests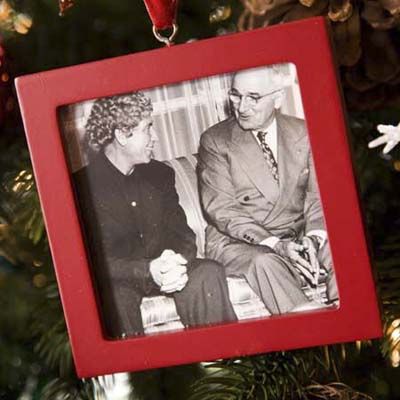 Framed photographs hanging on the tree recall the years Truman lived in Blair House, where he received many famous guests, including Winston Churchill and (shown here) Harpo Marx.
Keepsake Frame Ornaments, about $6 each; Pottery Barn Kids.
Glass Ornaments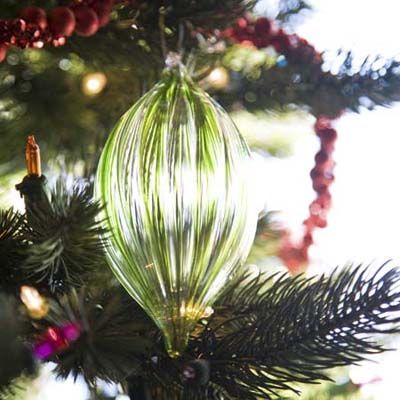 Vintage-style glass ornaments emulate the colorful bangles that were popular in the 1950s.
Green glass finial ornaments and ball ornaments, about $6; Midwest-CBK, available through Colonial Candle
Knitwear Ornaments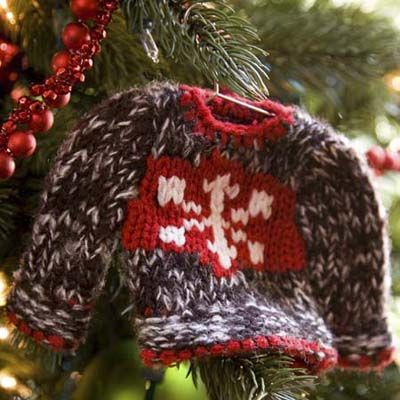 Hand-knit sweaters and stockings echo the socks and other gifts Truman received from needle-wielding fans.
Assorted knitted ornaments, about $9 each; Midwest-CBK, available through Colonial Candle
Let it Snow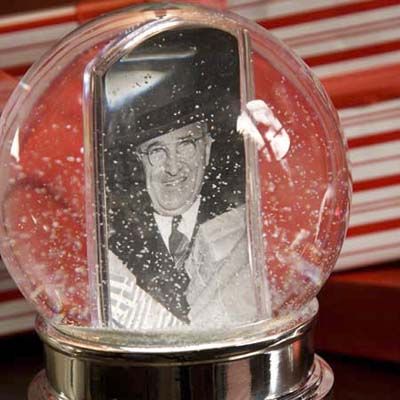 A snow globe with a frame insert is a clever way to display treasured family photos.
Photo snow globe, $31; Restoration Hardware.
Fruity Colors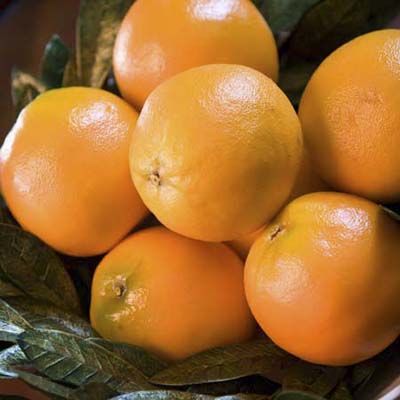 Faux oranges look identical to the real deal, but last longer.
Artificial oranges, $3.25 each; Zimmerman Marketplace.