Welcoming Window Seat: After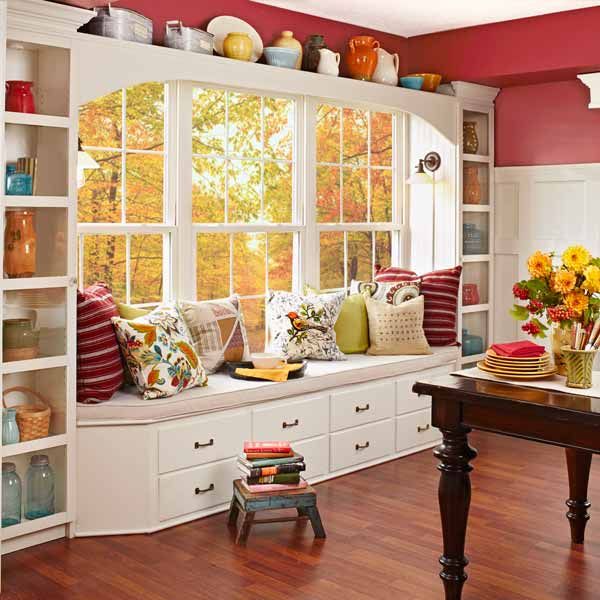 Melissa Thorn, Georgetown, Kentucky
"I always dreamed of having a window seat," says Melissa Thorn. "They're so quaint, and just what I imagine in a country cottage." Lucky for her, the expansive windows in her family's dining room—hidden behind stuffy formal drapery—were begging for just such a built-in to open up the room and highlight the garden view. Melissa got the project rolling by salvaging a bank of bulter's-pantry drawers (free!) from a nearby 1916 house that was destined for demolition. Once home, she found they perfectly spanned the windows and that two narrow prefab bookcases filled the spaces alongside. She used sections of medium-density fiberboard (MDF) and some 2x4s she had on hand to join the drawers and shelves and to create the seat. Up top, she framed the window with a wall-length shelf and an arch she built with wood salvaged from the same vintage home. Sconces discretely plug in just behind the drawers. After adding molding to the bookcases and top shelf and covering the sides of the bookcases with leftover breadboard, she painted it all white. Melissa sewed the seat cushion from foam bought on sale and two canvas drop cloths. Today the space is a sunny spot where the whole family likes to curl up with a good book or take in the outside view—exactly what she'd hoped for.
Shown: Bright white built-ins accent the window and provide an extra-wide seat to hang out on.
Welcoming Window Seat: Before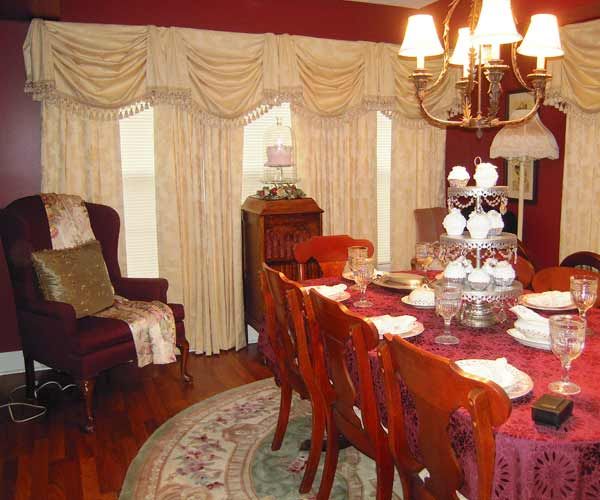 Shown: The space was overly formal and light-deprived.
The Project Tally
• Used a free set of drawers and two IKEA bookcases with doors as the skeleton of the built-in $240
• Joined the seat to the shelf units using leftover 2x4s and MDF $0
• Mounted a shelf and an arch built from salvaged wood $0
• Trimmed the shelf and cabinet tops with molding $18
• Covered the sides of the cabinets with her dad's leftover beadboard $0
• Added two yard-sale sconces $10
• Painted everything a warm white $35
• Made a cushion with on-sale foam and two canvas drop cloths $43
Total: $346
Elegant Gray-and-White Bathroom: After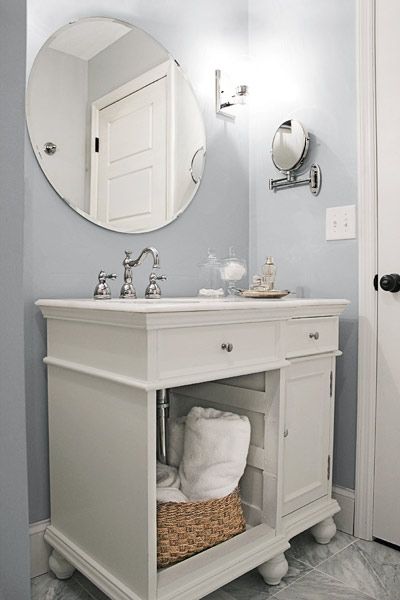 Jenna and Andrew LaFevor, Chattanooga, Tennessee
There was nothing wrong with Jenna and Andrew LaFevor's spare bath—in fact, everything worked perfectly. But it hadn't been updated since being built in the 1960s, and its once stylish touches were starting to look a little dated. After months of adopting a "we'll just live with it" attitude, Jenna and Andrew decided to give the space a style reboot. Gone are the ho-hum tile floors, replaced by Andrew with marble—a materials splurge, but affordable for the small room. They nixed the old toilet in favor of a big-box, low-flow model and added a new marble-topped vanity and a faucet bought at a discount at a clearance center.
Shown: A marble-topped vanity brightens the cool gray bathroom.
Elegant Gray-and-White Bathroom: Before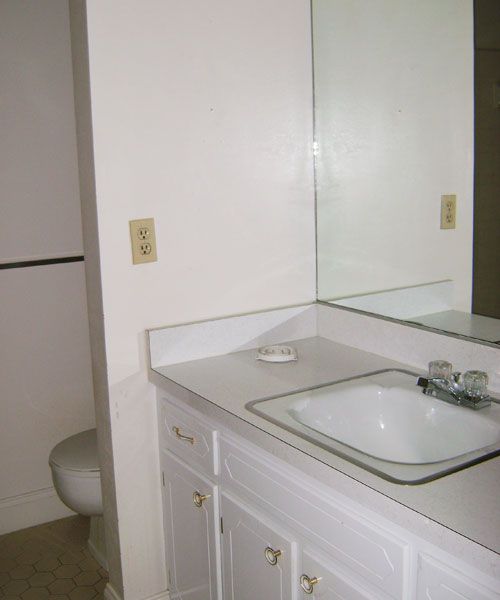 After a fresh coat of gray paint on the walls, the existing white cast-iron tub looked right at home, but old, mottled beige tile above it stuck out like a sore thumb. Since the tub was still in great shape, Jenna gave the ceramic squares a coat of durable white tile paint to bring the look in line with the rest of the room. After adding chrome sconces, and shelves above the toilet, Jenna couldn't be happier with the new space. "Now when you walk in," she says, "it's so relaxing."
Shown: The space's drab 1960s style needed a revamp.
Elegant Gray-and-White Bathroom: Finishing Details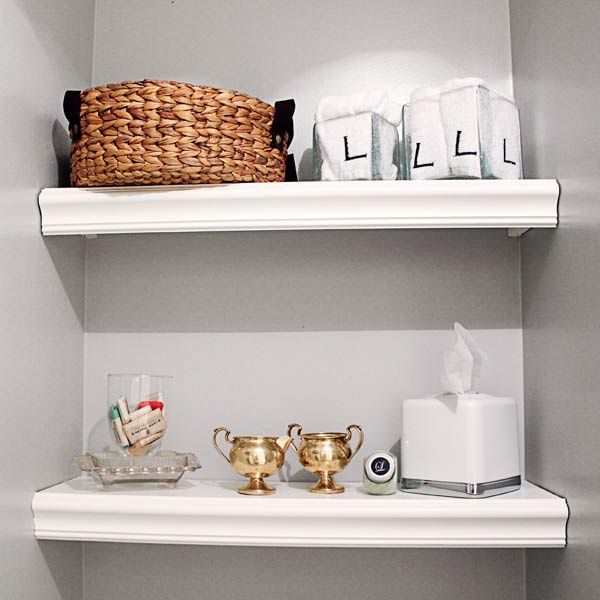 Shown: Floating shelves provide extra storage space.
The Project Tally
• Removed the old tile, then installed new marble floors $125
• Added a water-saving toilet from a big-box store $100
• Installed a marble-topped vanity from a discount center, plus a new mirror $230
• Had a pro friend move the wiring for the lights, then installed new sconces and an overhead fixture $190
• Painted the walls a soothing gray $25
• Refinished the shower tiles with specialty tile paint $40
• Installed floating shelves for extra storage above the toilet $15
Total $725
Cottage-Style Dining Room: After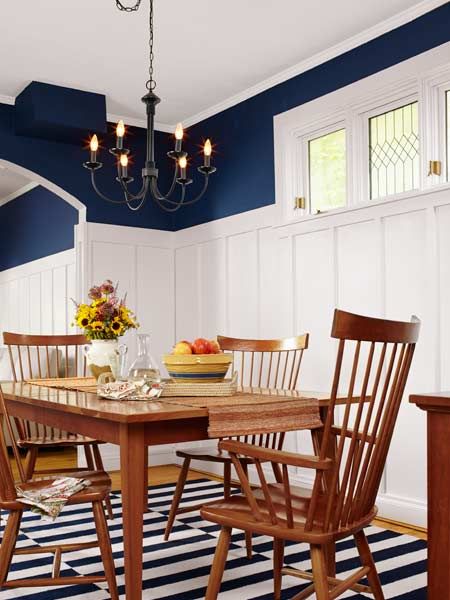 Linda Braden, Chicago
Linda Braden and husband Mike loved their 1890s house, despite the fact that it lacked many of the charming architectural features she had always expected in an older home. So when Linda decided to finally take the plunge and redo the dining space, a graphic navy-and-white rug snagged on clearance set the tone.
To complement the carpet, she painted the upper part of the walls navy and the rest clean white to set the stage for tall board-and-batten–style wainscot. Linda completed the look by adding preprimed medium-density fiberboard (MDF) 1x6s for the top rails and slimmer 1x2s for the vertical stiles, placing them about a foot apart. To beef up the almost nonexistent baseboards, Linda layered on MDF 1x4s and 1x2s finished with quarter-round molding. With the gaps caulked and the assembly painted, the wainscot was complete. She was so pleased with the results that she continued the look in the adjoining living space.
An electrician friend helped remove the old chandelier and install a new fixture at a discount. Finally, Linda used paint specially formulated for glass to give her window a leaded effect. Now, she says, the space seems to better fit the character of the house, "and the first thing we did was toast it with a sit-down family meal."
Shown: A fresh white board-and-batten wall treatment, a faux-leaded window, and a handsome new iron-look chandelier boost the cottage charm.
Cottage-Style Dining Room: Before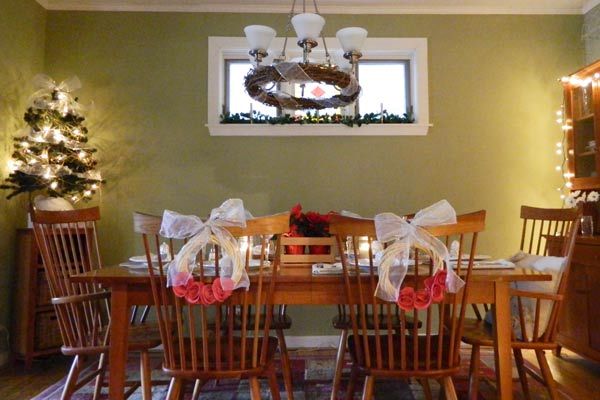 Shown: Blank walls and barely-there baseboards made for a dull dining room.
The Project Tally
• Bought a large navy-and-white rug on sale to inspire the new look $222
• Primed and painted in a navy-and-white scheme $80
• Added MDF for faux board-and-batten wainscot, and beefier baseboards finished with quarter-round molding $200
• Caulked gaps where boards meet the walls $25
• Hired an electrician friend to wire in a new chandelier $190
• Created a leaded effect on the window with specialty paint $11
Total $728
Built-In Storage Bed: After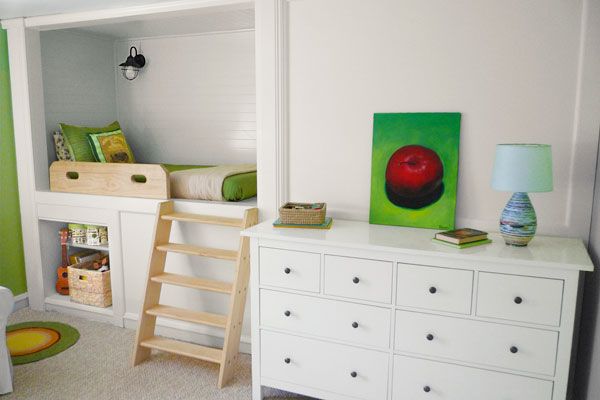 Rachelle and Shane Moes, Souderton, Pennsylvania
Once their twin sons outgrew their cribs, Rachelle and Shane Moes learned that big-boy beds presented a big-boy problem: namely, not enough space. While one of the twins' rooms in their 1927 Craftsman home was large enough to fit new full-size furniture, the other lacked legroom. So Rachelle and Shane decided to take advantage of the hidden square footage next to and behind the closet, tapping into an unused attic stairwell, to make room for a built-in twin bed with shelves at one end and below. With the help of visiting family, Shane cut out the closet's old plaster-and-lath walls and built the frame of the bed with old 2x4s found in the basement. They used plywood to create the mattress platform and frame the shelves below and at the end of the bed, then wired for new lights before lining the nook with beadboard. To frame the space, they cased the opening and added quarter round. After painting the assembly white, Shane built the guardrail and the ladder using stock and on-hand materials. "We wanted a space that would grow with our son," Rachelle says, "but for now, his favorite part is going up and down the ladder."
Shown: The new alcove sleeping area keeps the floor free for playtime.
Built-In Storage Bed: Before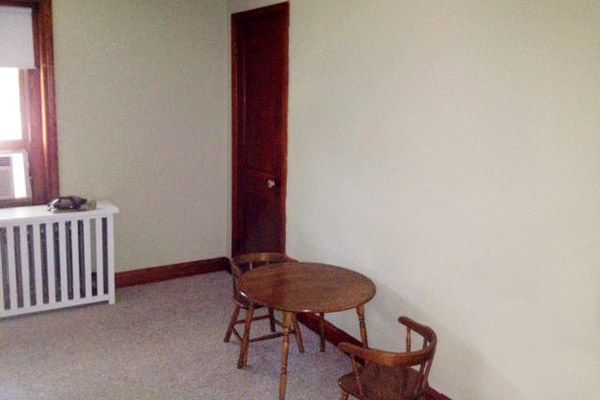 The tiny room couldn't accommodate adult-size furniture, and the skimpy closet offered impractical storage.
Built-In Storage Bed: Finishing Details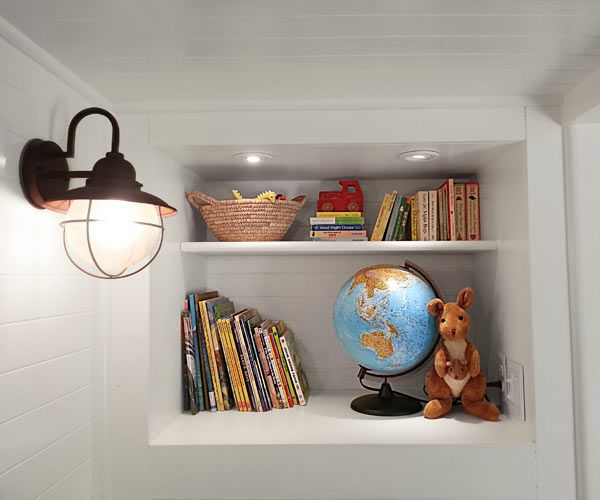 Shown: A book nook at the end of the bed showcases some of the old stairwell's original wainscot.
The Project Tally
• Opened up the alcove, then built a bed frame using scrap wood $0
• Added a plywood platform for the mattress and boxed out the shelves $50
• Paneled the alcove with beadboard $60
• Cased the opening and added quarter-round molding $400
• Painted the assembly in durable white semigloss $45
• Installed two sconces and two dimmable LED overhead lights $125
• Built a guardrail and a ladder from scrap wood and stair risers ripped in half $60
Total $740
Warmed-Up Living Room: After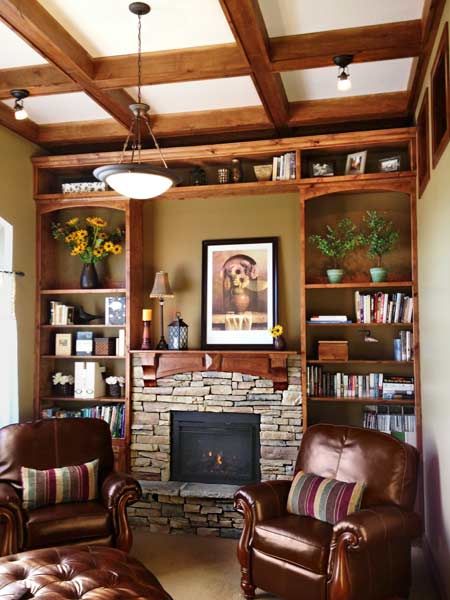 Dan and Kandi Herman, Herriman, Utah
The blank-box living room in Dan and Kandi Herman's house sat mostly empty for six years, serving only as a storage spot for old furniture. "We knew we wanted a cozy sitting room, but the only thing in here was a pendant light and a couple of chairs, so we didn't know where to start," Dan says. Inspiration struck when Kandi found a picture of a coffered ceiling, which Dan plotted out using plywood planks. Then he fashioned hollow beams by boxing out the plywood with alder scored on the cheap from a local supplier. At the far end, Dan built a feature wall of bookcases using plywood and alder, with open shelves above to create plenty of room for display, and covered cabinets down below to give the couple a place to conceal storage boxes. Between the shelves, he installed a slim electric fireplace and a stone-veneer surround. On top, Dan added an elegant arched mantel he created himself to match the one in the adjacent great room. To complete the look, he finished the space with hefty alder baseboards to tie ceiling and shelving together. Now, filled with natural wood and stone touches and lined with books, the room has become an inviting escape for bibliophile Kandi—just the place to kick back with a good read.
Shown: Storage-rich bookcases and a stone fireplace surround add warm Craftsman style, while the coffered ceiling ties the space together.
Warmed-Up Living Room: Before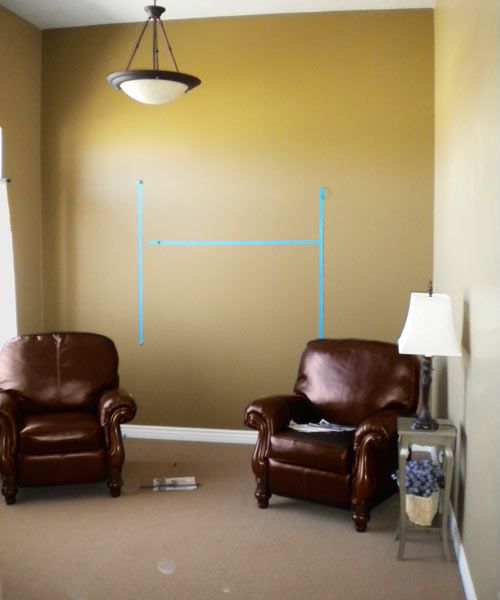 Shown: The mostly empty living room lacked detail.
The Project Tally
• Built the coffered ceiling using birch plywood and alder $250
• Assembled bookcases by facing plywood frames with alder $370
• Stained all the wood and gave it a coat of polyurethane $80
• Added hardware to cabinets $30
• Installed an electric fireplace insert $330
• Mounted stone veneer on cement board to create a rustic surround $280
• Added thick wood baseboards $60
Total $1,400
Vintage-Look Kitchen: After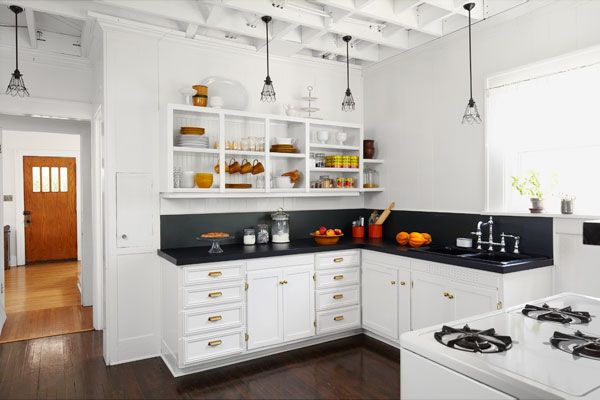 Katherine and Conan Fugit, Wichita, Kansas
Although it had good bones, Katherine and Conan Fugit's kitchen had a style that was all over the place. To give it a unified look, they decided to make a few cosmetic changes to boost its vintage vibe. After removing the drop-ceiling tiles, damaged by a leaky pipe above, they painted the exposed joists white for an airy look. The room's poorly placed three-light pendant also got the boot; instead, Katherine rewired to fit four small cage pendants that she made herself using stock parts from the hardware store. With the help of her parents, the couple scraped through five layers of vinyl and linoleum before uncovering wood floors they stained a rich dark brown. A coat of green chalkboard paint gave the white refrigerator a fresh look, and brass bin pulls warmed up the white cabinetry.
Shown: Dark wood underfoot and exposed joists above open up the space and highlight Shaker-style cabinets fitted with warm brass pulls.
Vintage-Look Kitchen: Before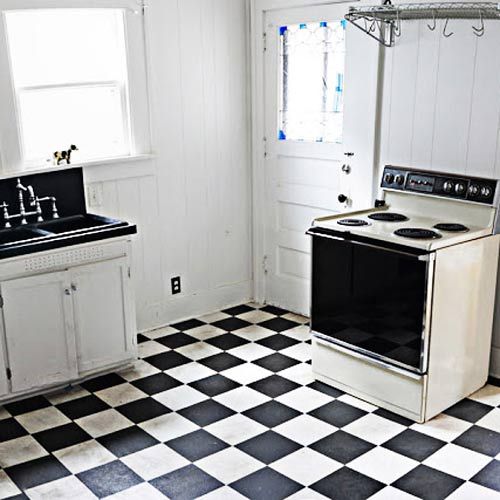 Katherine had her heart set on replacing the electric stove with a vintage model, but months of hunting proved fruitless—until a friend discovered a working vintage Roper for only $45 while riding her bike past a garage sale. The Fugits crowned it with a distressed shelf made from wood they found in their basement. "I had always said, 'If I ever remodel a kitchen, I'm going to remodel it around a vintage stove,' and it's my favorite part," Katherine says. "I stare at it every day!"
Shown: Vinyl floors and a drop ceiling dragged the kitchen down.
Vintage-Look Kitchen: Vintage Stove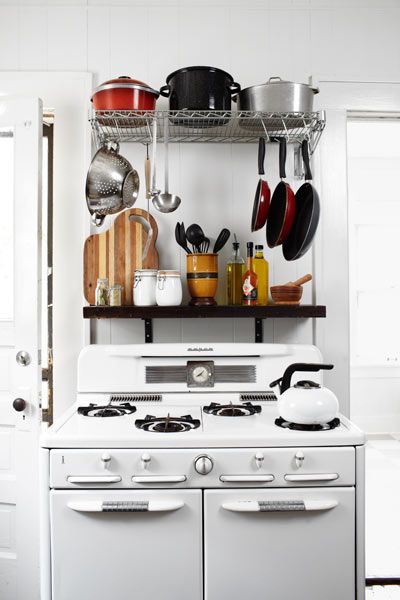 A new open shelf and an existing pot rack display cookware above the showstopping vintage stove.
Vintage-Look Kitchen: Chalkboard Fridge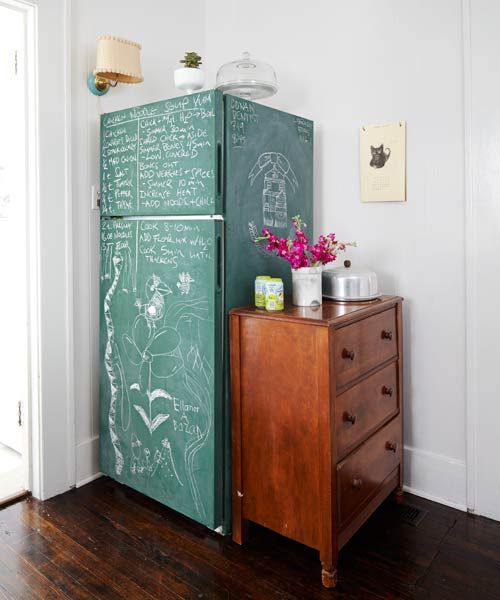 Shown: Notes and doodles cover the green-chalkboard–painted fridge; a small wood dresser provides space for odds and ends.
The Project Tally
• Opened up the ceiling, then painted the exposed joists, cabinets, and walls white $24
• Gave the cabinets new vintage-style hardware $89
• Took down the old pendant light, and rewired for new pendants made from off-the-shelf hardware $45
• Pulled up old vinyl and linoleum, and refinished the wood floors underneath $95
• Painted the old white fridge with green chalkboard paint $9
• Created a retro centerpiece with a stylish vintage stove $45
• Added a distressed-wood display shelf underneath the existing pot rack for cookware and accessories $7
Total $341
Stylish Laundry Space: After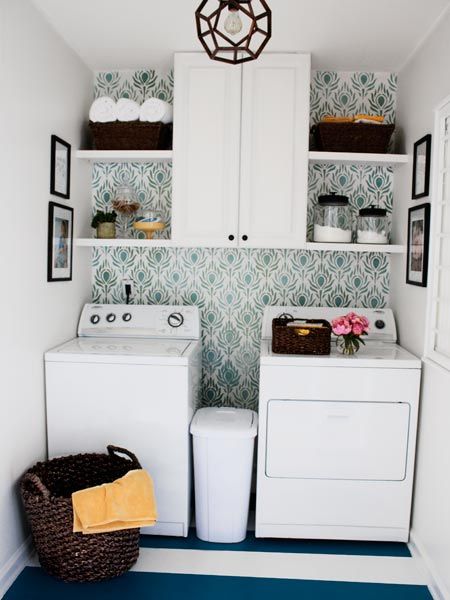 Kelly Marzka, Atlanta
It was the hardest-working room in the house, but Kelly Marzka's laundry room was a real drag. Previous owners had installed a popcorn ceiling, a wallpaper border picturing a hanging clothesline—"as if you needed to clarify what the room was for," says Kelly—and dingy vinyl floors that never really looked clean. A first-round spruce-up nixed the ceiling texture and the wall art, but the room still lacked both style and storage. Finally, Kelly decided it was time to bring the room's look and function up to snuff. She started by adding a flourish to the back wall using a stencil and a pretty pearlescent teal paint that she already had on hand. Her husband, Andy, installed a cabinet found at a garage sale and used leftover wood to create the shelves on either side for added storage. Knowing the vinyl floor had to go, but wanting to spend less than $1 per square foot, the couple ended up adding punchy stripes underfoot using durable porch paint. Above, they hung a homemade light fixture modeled after a designer piece. The finishing touch: a drying rack scored from a high-end store's clearance center at a quarter of the retail cost. Says Kelly: "It feels so fresh and organized—it's finally a place where I'm happy to do laundry."
Shown: A bold floor and a stenciled wall add a visual kick; the new cabinet makes room for supplies.
Stylish Laundry Space: Before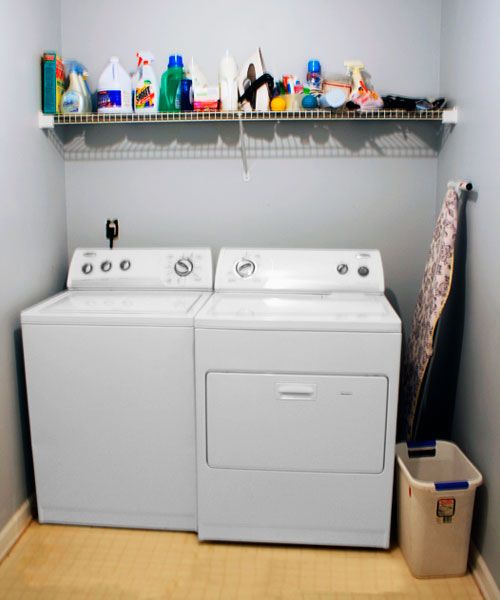 Shown: Even without the cheesy wallpaper border, the room was lackluster and storage-starved.
The Project Tally
• Scraped off the popcorn ceiling, removed a wallpaper border, and painted everything white $25
• Stenciled the back focal-point wall using materials she had $0
• Hung a yard-sale cabinet and scrap-wood shelves for storing supplies $20
• Made a designer-inspired light using on-hand poplar and a yard-sale pendant $8
• Revived the vinyl floors with stripes created with porch paint $62
• Mounted a drying rack scored at an outlet $25
Total $140