Small-Scale DIY for Holiday Flair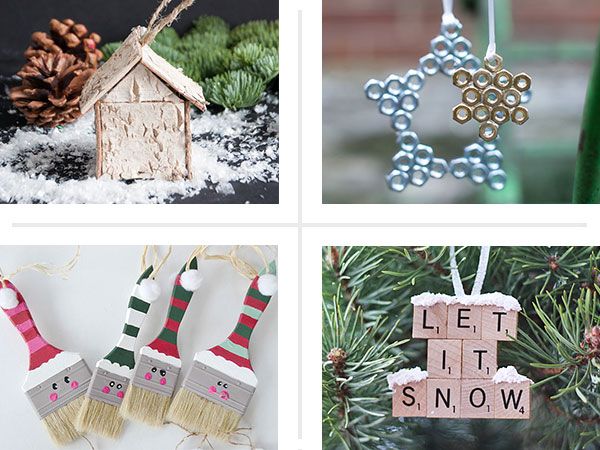 There's no need to possess a fine-arts education—or a full-fledged workshop—to add some homemade magic to your Christmas tree. From mod-style corner-bracket masterpieces to sculptural dowel-rod creations, these DIY and salvage ornament decoration ideas are sure to please. Read on for some genius ideas from our favorite bloggers.
Message Wood-Slice Ornaments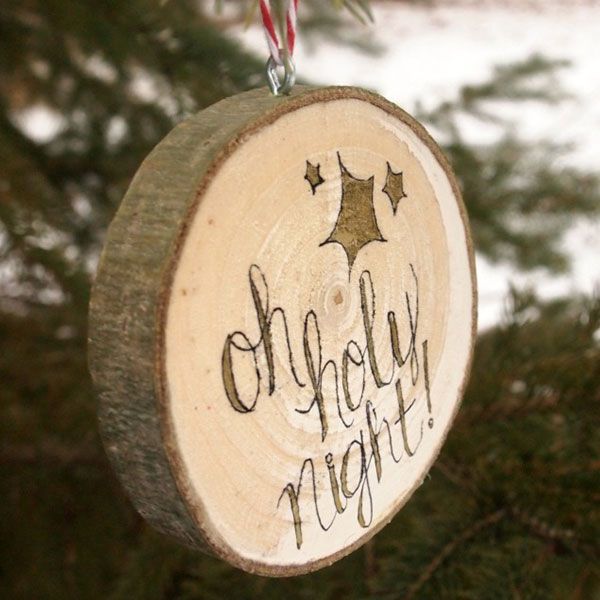 Easily personalize this charming DIY with your kid's name or a favorite Christmas verse, and then seal it with a coat of trusty polyurethane. Get the full tutorial on Becoming Martha.
Put extra slices to work on a matching DIY wood-slice wreath.
Birch-Cottage Ornaments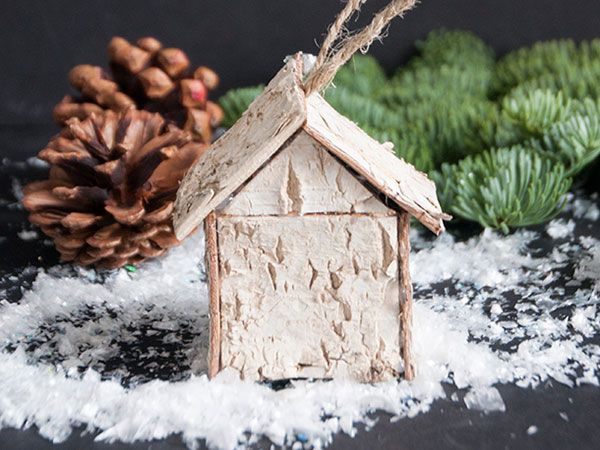 Give the standard holiday gingerbread house an update by building a mini version of your dream woodland cottage with birch sheets from a local nursery. See the detailed instructions for this DIY ornament decoration idea on Earnest Home Co.
Get more ideas for miniature houses from our favorite gingerbread houses ever.
Hex Nut Snowflake Ornaments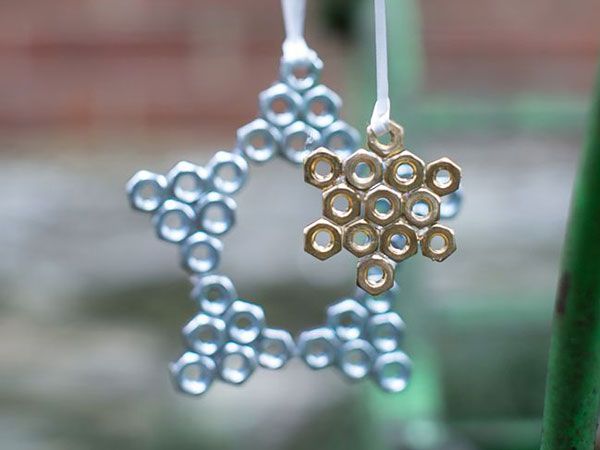 Dig through the bottom of your tool bag or pick up a pack of hex nuts the next time you make a trip to the hardware store for this undeniably This Old House-y ornament. Get the details on this and two other clever hardware-store DIY ornaments on Hello Natural.
Turn another hardware-store find into a wreath with our idea for a DIY tin-cap wreath.
Salvage Hose-Bib Handle Ornament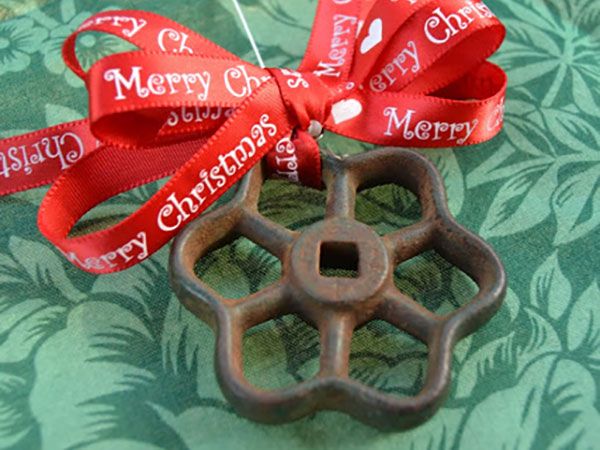 Track down an aged trinket at the salvage yard or in your basement to make this simple ornament that's big on character and small on effort. Check out other salvage-ornament ideas on The Homeless Finch.
Make every corner cheerful with our easy upgrades to create a festive holiday home.
Salvage Chandelier-Drop Ornament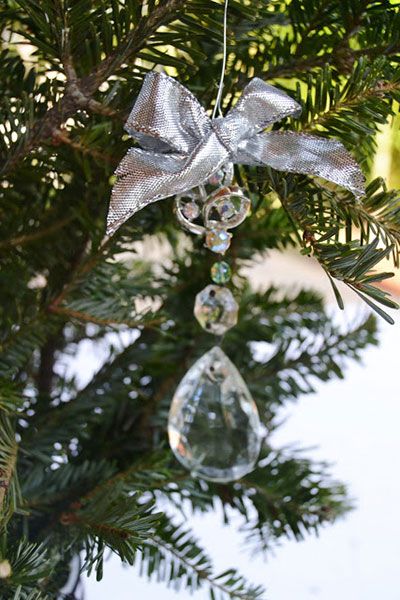 Score a deal on discarded chandelier parts and add some dazzle to your tree's branches by transforming a crystal chandelier drop into an ornament with a hook and ribbon. Read more about this salvage idea on The Homeless Finch, as well.
When the time comes to put away your decorations, read our smart ways to store holiday decorations.
Paintbrush Santa Ornament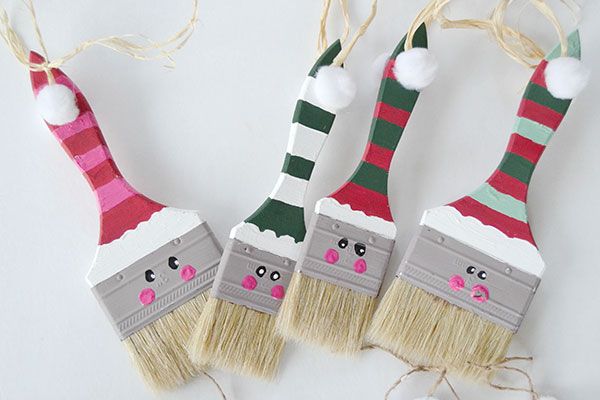 Invest in some dollar-store paintbrushes (or put a few old-faithfuls out to pasture) with this creative makeover. See the full paint transformation on My Creative Days.
Add another charming touch to your holiday decor with our step-by-step instructions for building a Christmas tree box.
Minimalist Leather Ornament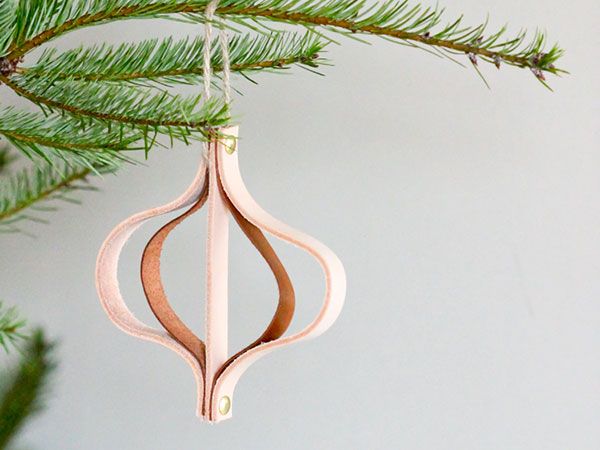 Transform leather scraps from other projects into this modern, kid-proof stunner. Read the instructions on Delia Creates.
Keep everyone safe during the holidays by learning about common holiday hazards and how to avoid them.
Industrial Wood and Fasteners Ornament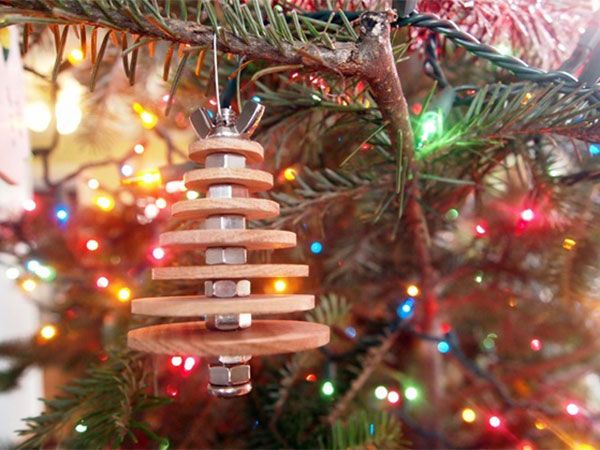 Put the metallic beauty of your favorite fasteners to work between wood disks under Christmas tree lights. See all the steps on Sawdust and Embryos.
Deck out your mantel with DIY smarts by following our video directions for making a magnolia-leaf garland.
"Let It Snow" Scrabble Ornament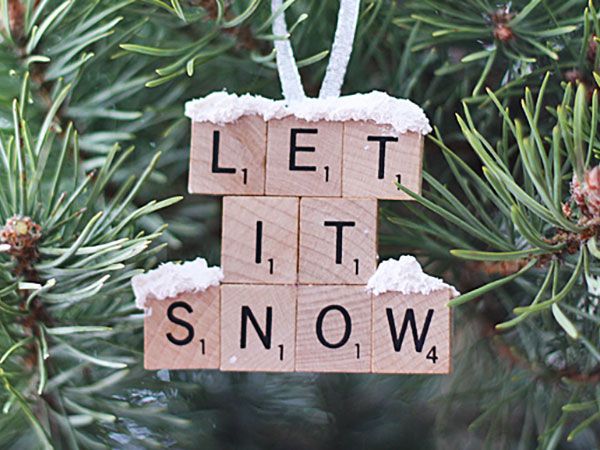 A Scrabble set that's a few tiles short can see better days in the form of cheerful ornaments—as long as you can spell out holiday phrases with the remaining letters. Get the full how-to on Crafts by Amanda.
Retire the Tannenbaum with dignity by checking out our reuse ideas for your spent Christmas tree.
Tree-Bark Star Ornament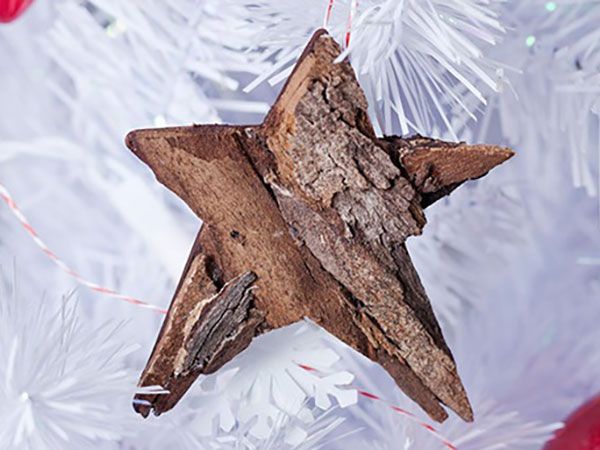 Hang on to bark scraps while chopping firewood or clearing your yard, and turn them into charming little stars. See other Scandinavian-style tree decorations on Tara Dennis.
Save a few stars to add a rustic touch to our guilt-free gift-wrapping ideas.
Cement Chocolate-Mold Ornament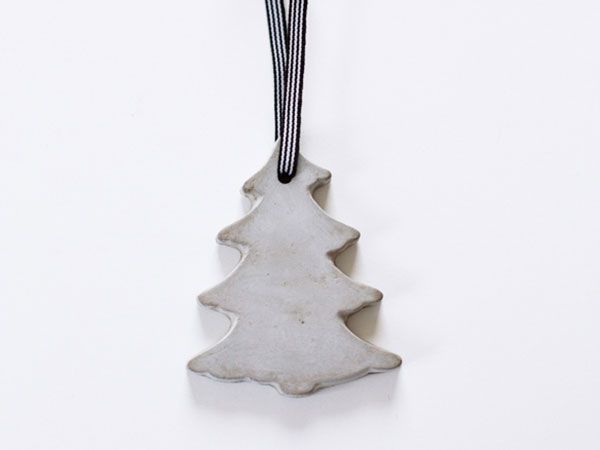 A little bit of concrete mix goes a long way in some plastic chocolate molds—or rubber ice-cube trays—toward creating the modern, weighty ornament of your dreams. Get the simple instructions on Fellow Fellow.
Add some more flair to your holiday room with our guide for creating a festive farmhouse dining room.
Dowel-Rod Cube Ornament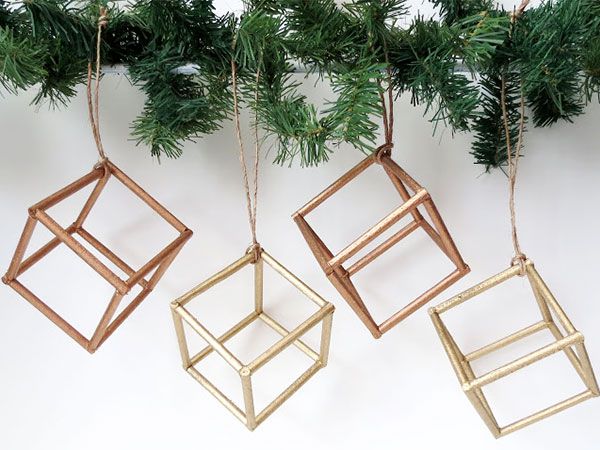 Give that spare dowel rod you unearthed in your workshop another life in the form of this modern Christmas tree bauble. Get the full how-to—along with a construction GIF—on Ohoh Blog.
Unlock the holiday spirit by making a skeleton-key snowflake ornament.
Twig-Tree Ornaments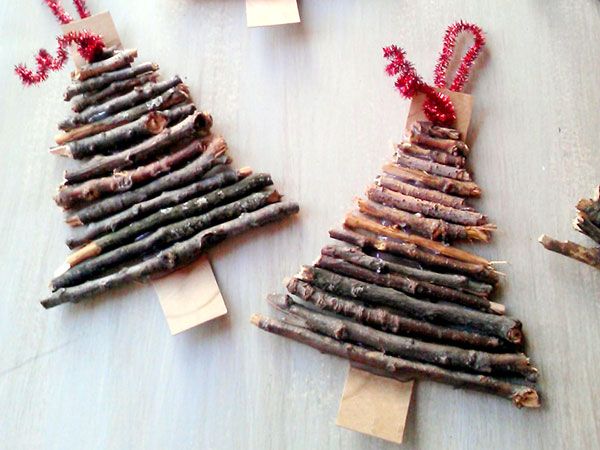 Bake a handful of kindling—to get rid of any bugs—then chop it up to put together some tiny trees to hang on your big tree. Check out the steps on StowandTellU.
Tiny critters in your woodpile aside, there are many other wintry dangers lurking. Heed these 13 ways the holidays can kill you.
Salvage Spindle Ornament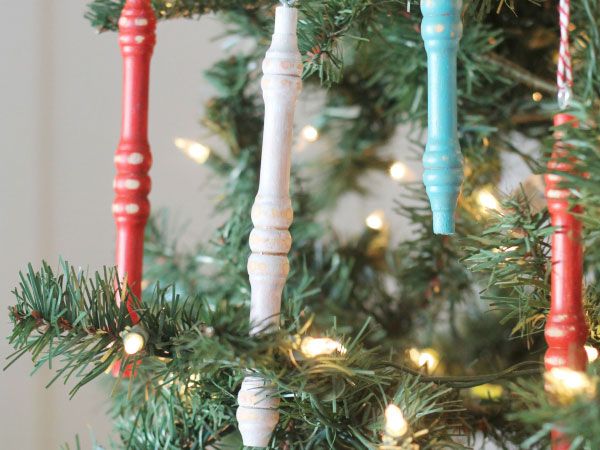 Put the beauty of salvage spindles front and center on your Christmas tree by painting them in bold, festive colors. Get the easy DIY on Lolly Jane.
Craft the perfect piece for that special someone with our DIY holiday gift guide.
Corner Brackets Ornament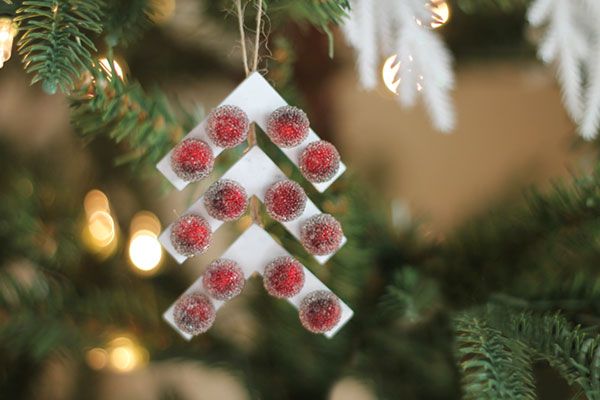 Trim your tree in mod style with corner brackets from the hardware store. See the simple tutorial on Thrifty & Chic.
Take your Christmas crafting to the next level with holiday woodworking plans for fun yard decor.
Paint-Chip Tree Ornaments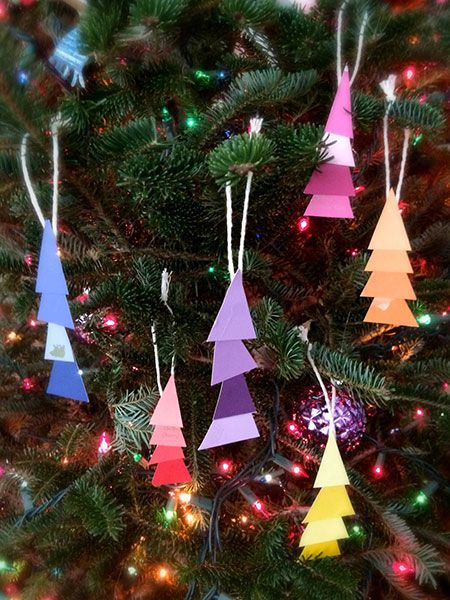 Pick up a few extra paint chips next time you're shopping for a project and recruit the kids to help create these cute ornaments. Read the instructions on Just a Little Creativity.
Get inspired for decking out every other corner of your house with our favorite holiday decorating ideas.