DIY Holiday Door Decor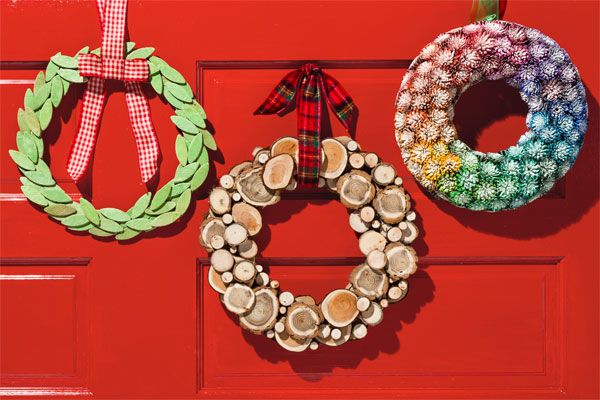 You don't have to spend a ton of cash on a fancy wreath to show you have holiday spirit. With a little ingenuity, some basic DIY skills, and inexpensive materials, you can create door decor that's festive and fun. Here are a few ideas to get you inspired.
Paper-Bag Wreath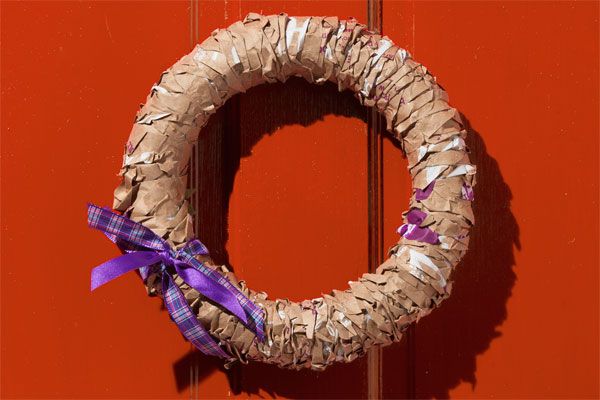 Show off your recycling chops this season by crafting a wreath out of a grocery bag. Just cut the bag into 1-inch strips and twist them. Layer the twisted strips on the wreath and glue them in place. Add a ribbon and you've got a multi-season wreath that's easy to make and even easier on your wallet.
Cost: $4
Time: 4-6 hours
Shopping List:
10-inch Styrofoam wreath form
Paper shopping bags
Glue
Ribbon
Rag Wreath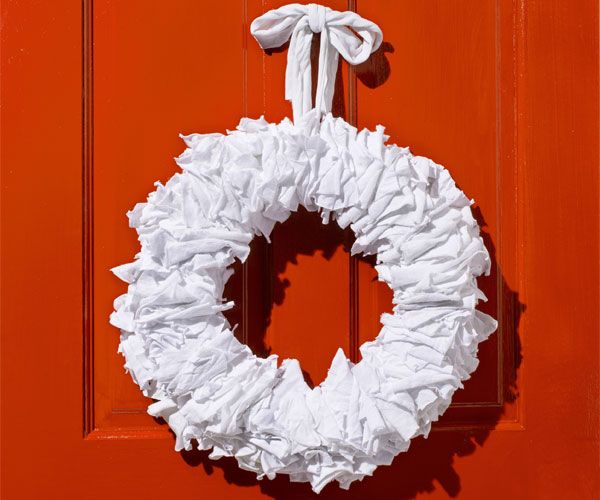 Old T-shirts and rags find new life in this simple wreath. We cut fabric into 4-inch squares and nailed them through the center of the square to the wreath form, bunching up the fabric. We love how the wreath resembles a fluffy cloud and is the perfect complement to a bold-colored door.
Cost: $9
Time: 1-2 hours
Shopping List:
14-inch Styrofoam wreath form
Old T-shirts and rags
Nails
Tin-Cap Wreath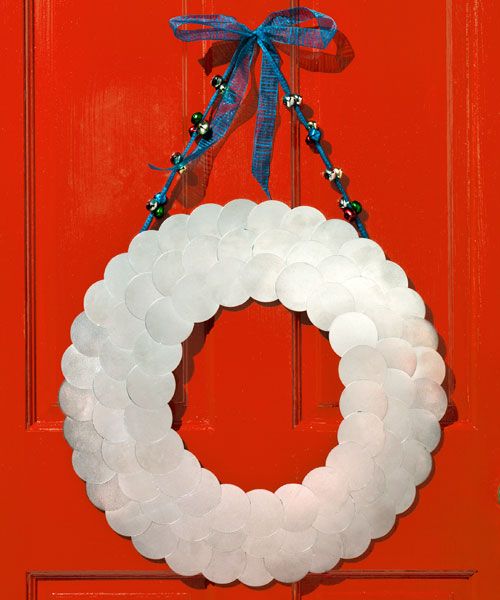 Found in the fasteners aisle at the home center, tin caps are sheet-metal circles used to increase the holding power of nails in roofing projects. Fanned out on a flat wreath form, they take on the look of silver ornament balls. Jingle bells and ribbon amp up the festive feel.
Cost: $16
Time: 1 hour
Shopping List:
Large flat wreath form
Two boxes of 1-pound tin caps from the home center
Glue
Small bag of jingle bells
Small length of ribbon remnant
Rainbow-Rosette Wreath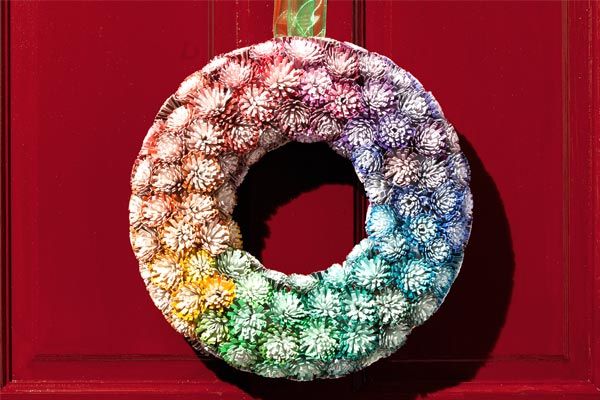 Made of paint-card samples that are intricately rolled up and then cut to form little rosettes, this wreath gets high marks for straight-up ingenuity. Here's the trick to making it: Fold the paint card in half lengthwise, make small fringe cuts all the way along the fold, and roll the card into a flower form. Set the rosette with glue, then glue the base of it to the wreath. You can decrease the cutting time by using fringe scissors, available at most craft stores.
Cost: $4
Time: About 10 hours
Shopping List:
10-inch Styrofoam wreath form
Paint-chip samples
Super glue
Paint-Chip Holly Wreath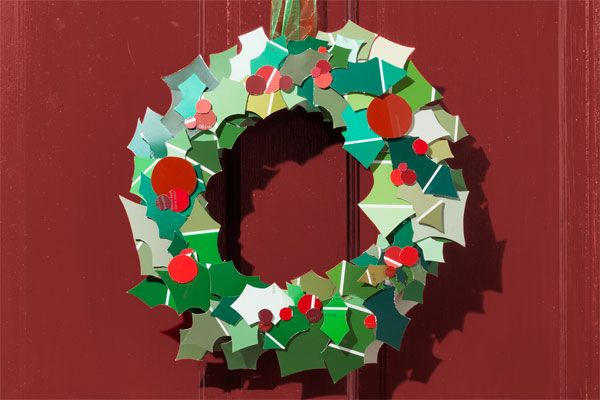 Who needs boughs of holly when you can make your own from a holiday palette of paint swatches? Here, red and green freebies from the paint aisle are cut to resemble holly leaves and glued to a small wreath form.
Cost: $4
Time: 2-3 hours
Shopping List:
10-inch Styrofoam wreath form
Paint chips in various shades of green and red
Glue
Sweater Wreath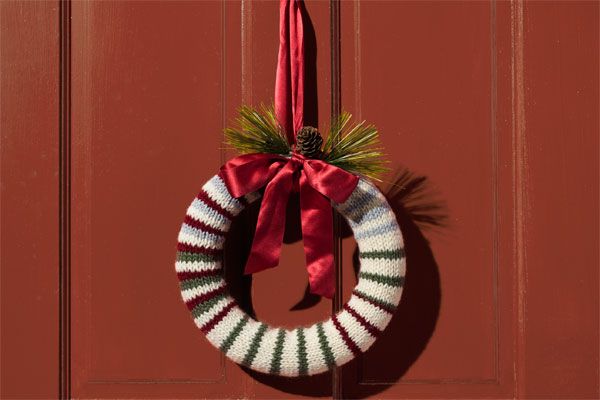 Bring a little warmth into your abode with this cozy wreath. The best part: You don't have to know how to knit to make it. Fake it with an old scarf or holiday sweater (sleeves are great for slipping around a wreath form). Just sew up the ends in the back and garnish with ribbon and pinecones.
Cost: $4
Time: 1 hour
Shopping List:
10-inch Styrofoam wreath form
Old sweater or scarf
Yarn needle and extra yarn to sew up the back
Ribbon or other seasonal trimmings
Wood-Button Wreath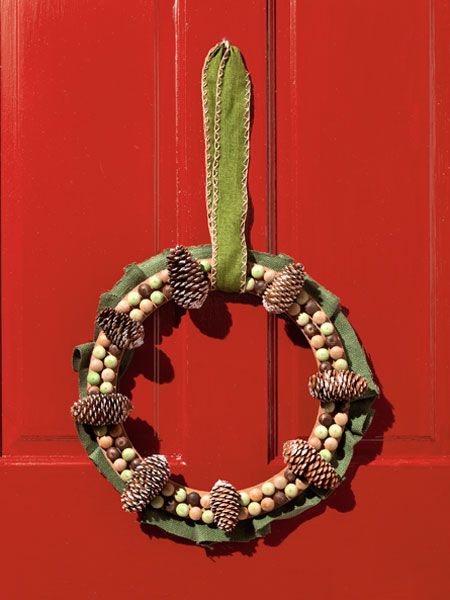 Found among the stair parts at the home center, wood button plugs can be a versatile craft material. We stained them in shades of brown and green for a forest-inspired palette—they kind of resemble acorn tops. Pinecone accents complete this woodsy wreath.
Cost: $10
Time: 2 hours
Shopping List:
Two boxes of wood button plugs
Various wood stains (Use what you have on hand.)
Small flat wreath form
Super glue
Pinecones
Burlap remnant
Ribbon remnant
Wood-Biscuit Wreath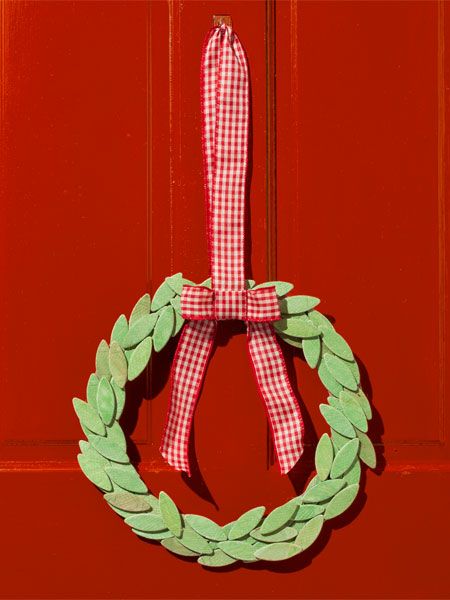 Most people look at wood biscuits from the hardware store and see little footballs. We think they bear a strong resemblance to leaves. Here we treated them with a green stain to emphasize their shape. A gingham bow brings out this wreath's country charm.
Cost: $11
Time: 3 hours
Shopping List:
No. 10-size wood biscuits
Small flat wreath form
Green wood stain
Super glue
Ribbon remnant
Scrap-Molding Snowflake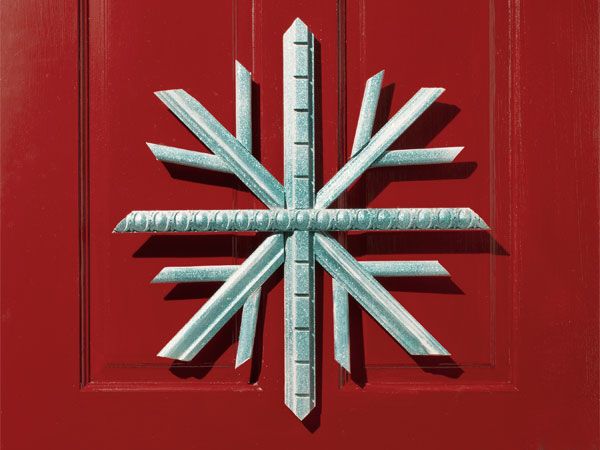 For this Frozen-inspired decoration, leftover molding scraps are transformed into a delicate snowflake with mitered ends, super glue, and milky white chalk paint. A coat of baby-blue glitter spray paint lends sparkle and gives it a wintry look.
Cost: $20
Time: 4 hours
Shopping List:
Molding scraps
Super glue
Sample pot of white chalk paint
Krylon Glitter Blast spray paint in Sparkling Waters
Wood-Molding Tree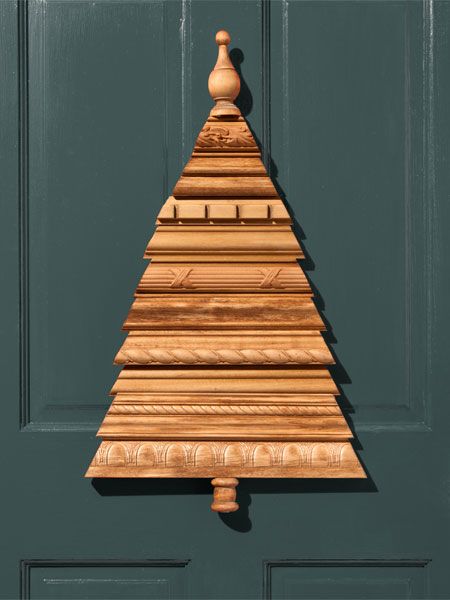 Leftover scraps of decorative molding can be more than just odds and ends in the workshop. With a few cuts of a miter saw and some wood glue, they can become an elegant tree decoration. We topped ours with a wood finial and used a bun leg from the home center for the base. A quick coat of stain finishes the look.
Cost: $15
Time: 3 hours
Shopping List:
Scrap molding
Wood finial
Bun leg
Wood glue
Stain (Use what you have on hand.)
Peppermint-Straw Wreath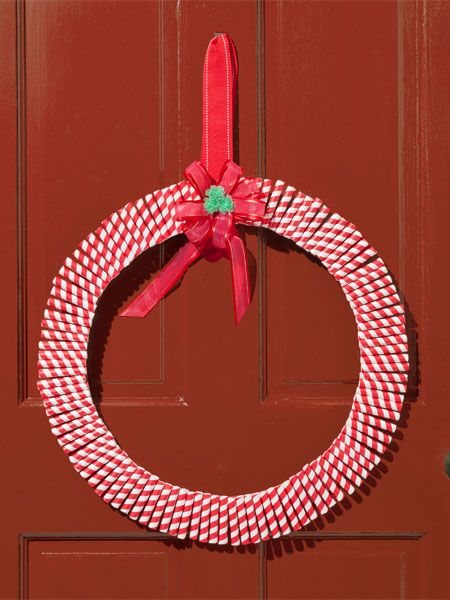 Red-and-white striped paper straws take center stage on this Candyland-inspired wreath. Just trim the straws to the size you want and affix them to a flat wreath form with a hot-glue gun. Add a bow and you've got a sweet holiday accent that's reminiscent of candy canes—minus the sugar.
Cost: $13
Time: 1 hour
Shopping List:
Two bags of paper straws
Large flat wreath form
Glue sticks
Ribbon remnants
Chevron Wreath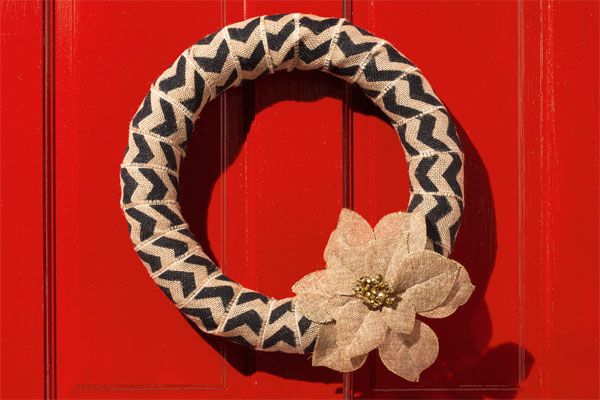 Just because something is neutral doesn't mean it's boring. Case in point: this chevron-print burlap wreath. The addition of a fabric poinsettia lends a seasonal touch without taking it over the top.
Cost: $17
Time: 15 minutes
Shopping List:
14-inch Styrofoam wreath form
Wide burlap chevron-print ribbon
Fabric poinsettia
Straight pins
PVC-Pipe Wreath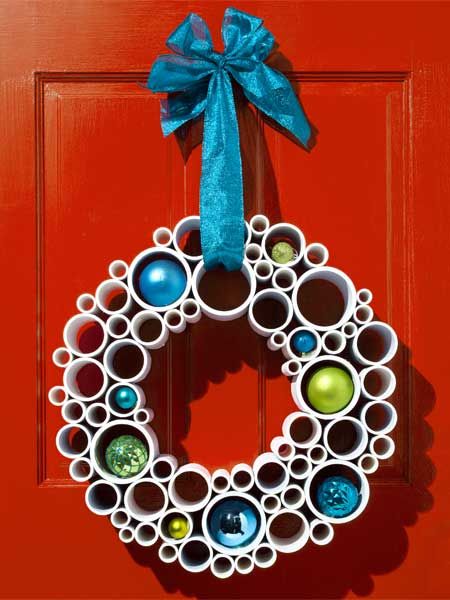 The classic holiday wreath gets a modern update in PVC pipe, an inexpensive material readily found at the home center, though ours was made from leftovers cut down with a miter saw. Ornaments placed inside pipe recesses lend a dose of color. Add an oversize bow and you've got a sculptural statement piece for the front door.
Cost: About $13
Time: 3 hours
Shopping List:
Leftover PVC pipe
PVC glue
Ball ornaments
Ribbon
Tin-Tile Sign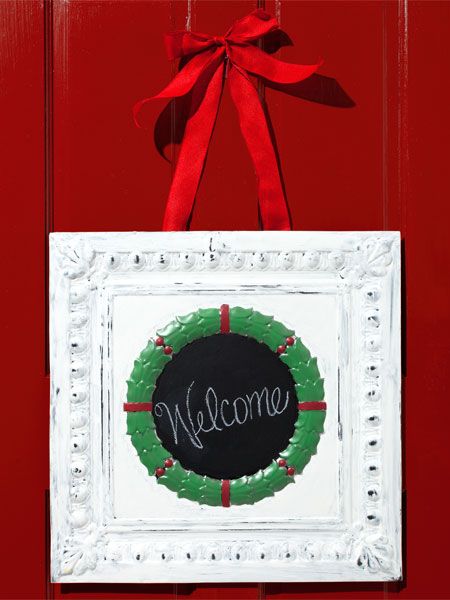 What better way to welcome friends and family than a seasonal sign for your front door? Here, we took an old tin ceiling tile, which happened to have a wreath motif (you can find similar designs at DecorativeCeilingTiles.net, starting at $9), and transformed it with red, green, and white paint. We added a few coats of blackboard paint to the inside of the wreath, then lightly sanded the rest for a slightly distressed look.
Cost: $15
Time: 4 hours
Shopping List:
Discarded tin ceiling tile
Leftover paint
Blackboard paint
Ribbon
Wood-Slice Wreath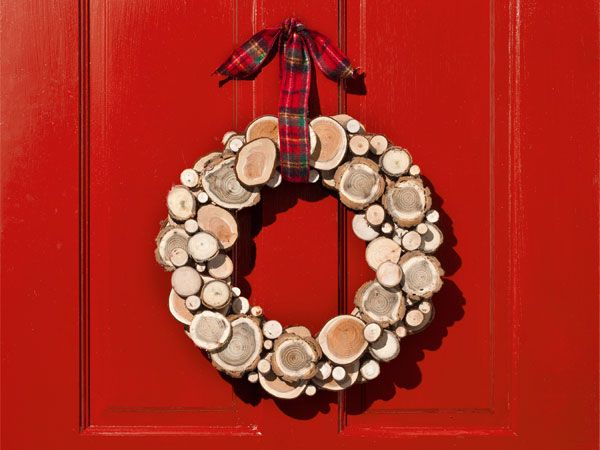 You can get more than a blast of fresh air from a trip to the backyard: You can find inspiration for a wreath. Trim small logs (1 to 4 inches in diameter) into ¾-inch-thick slices with a miter saw and mount them on a flat wreath. Wood slices are also sold in bags at craft stores and hobby shops. Plaid flannel ribbon lends a cool, rustic touch.
Cost: $12
Time: 3 hours
Shopping List:
Small logs
Super glue
Flat wreath frame
Ribbon
Ceiling-Medallion Wreath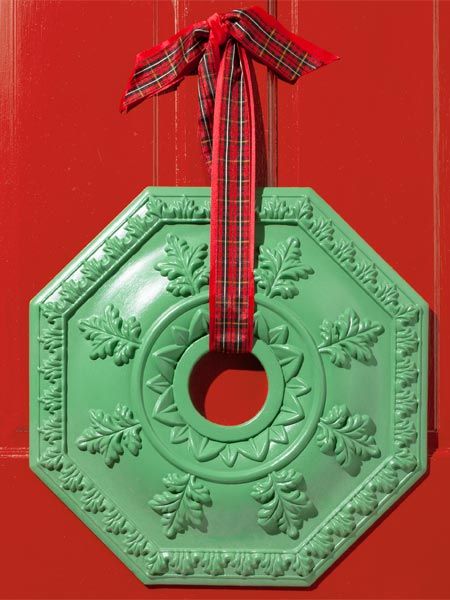 Traditionally used to highlight chandeliers or pendant lights, these artistic adornments come in a variety of designs (similar styles, about $14 and up; homedepot.com). Painted green and hung from a red-plaid ribbon, a medallion wreath gives off the same festive vibe as its leafy cousins but retain its good looks for countless seasons to come.
Cost: $20
Time: 1 hour
Shopping List:
Polyurethane ceiling medallion
Green paint
Ribbon