Expert Advice on Slashing Remodel Bills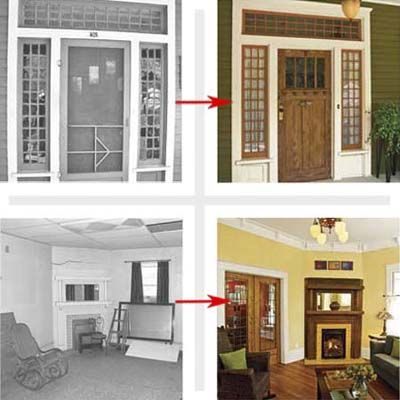 When serial house rehabber Kara O'Brien bought her first fixer-upper, in Atlanta, Georgia, she had to prove to her family that it was more than just a money pit. So she strapped on her tool belt and invested in a This Old House subscription and some DIY manuals. "I figured if you could learn recipes from books, you could learn how to fix things," she says. Kara also got her first lessons in resourcefulness, scouring ­salvage yards and flea markets for affordable, period-appropriate mantels and hardware. ­Having started Laughing Sun Renovations in 1997, she and partner Paula Rose now specialize in giving other people's bungalows and cottages the same custom vintage look without busting their budgets. Here, Kara shares some of her secrets.
Add Vintage Style With Salvage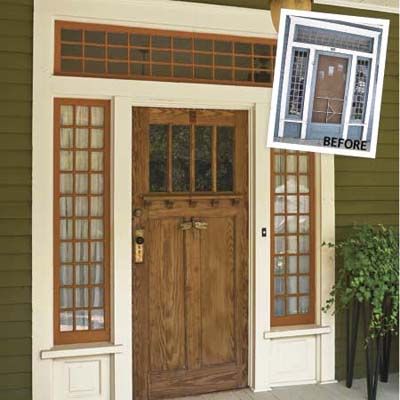 If you need to replace a door, don't automatically head to the home center. At salvage yards you can find pieces that were built to last, like this 1920s heart-pine door with recessed panels and divided lights bought for $500. You'll likely need to remove layers of paint and sand out wear and tear, but it's impossible to find that kind
of old-growth wood nowadays. A reproduction would cost $1,300.
Bonus Idea: Save on an expensive lockset by using a $75 porcelain doorknob and brass plate with an $8 mortised dead bolt.
Create Distinctive Trim With Stock Parts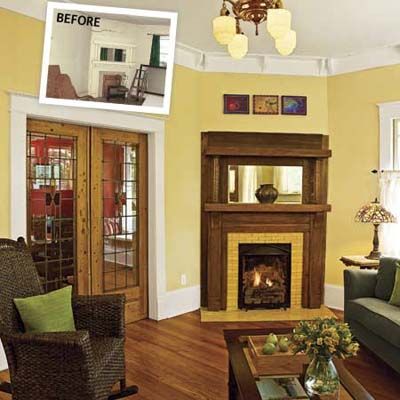 Adding simple woodwork details can make a major difference in a room—and can be done using low-cost lumber. For this living room's handsome cornice trim, Kara used salvaged baseboards and floor joists. Bought for $10 per board, she had to de-nail and remill them. But you can get the same look by running standard 1×8 lumber along the walls and 1×4 strips on the ceiling. Then install 1 5/8-inch-thick paint-grade brackets.
Bonus Ideas: Comb salvage yards for deals. These stained-glass pocket doors cost 80 percent less than new ones.
Look for good reproductions from unexpected places, like these $6 glass bulb covers from a home center.
Strip Away the Years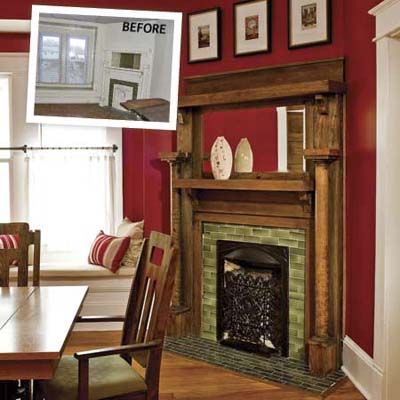 Ultimately, the best budget move is to buy an old house with lots of original details that can be restored with a bit of elbow grease. Of course, you can do it all yourself, but for larger pieces Kara likes to work with a refinishing pro. For $400, he will take apart a mantel, dip its pieces into chemical solvents, then power-wash, dry, and reassemble them. Afterward, Kara sands the woodwork and finishes it with an amber shellac like the one originally used in the 1920s. A similar mantel in new wood would cost $3,000.
Bonus Idea: Think out of the box. Kara swapped the hearth's ruined antique tile with marble floor tiles cut to fit.
Go for Batten-Style Wainscoting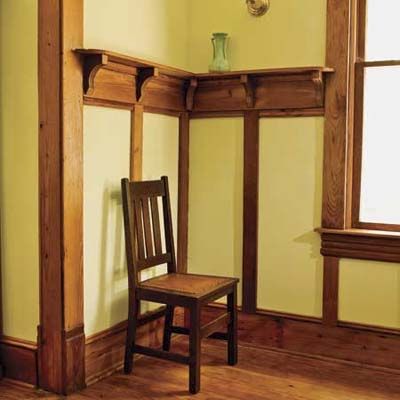 Chair rail—height paneling is a great way to add both traditional style and depth to a room. Get the look and feel for less by making a frame that turns your existing wall into a recessed "panel." In this dining room, wainscoting was created using 3¼-by-36-inch battens, 1×8 baseboards, cove molding, and grooved brackets holding up 8-inch-deep shelves—all out of less expensive salvaged wood. New wood paneling would cost about $3,500 more.
Opt for Paint-Grade Cabinets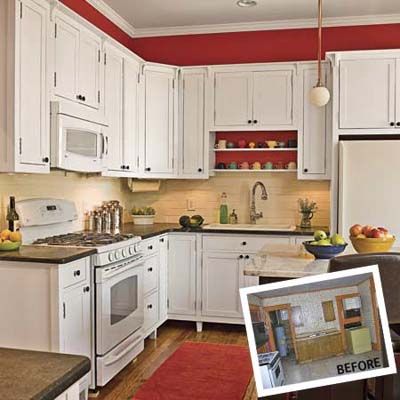 Offset the cost of detailed woodwork by doing it in paint-grade species like poplar or beech. Kara's trusted carpenter built this kitchen's furniture-look cabinets, complete with chamfered feet, cornice trim, and recessed-panel doors, for $13,000—about half of what they cost in stain-grade cherry.
Bonus Idea: Simple porcelain subway tiles, $1.25 per square foot, suit this kitchen just as well as costly art tiles.
Refurbish Rather Than Replace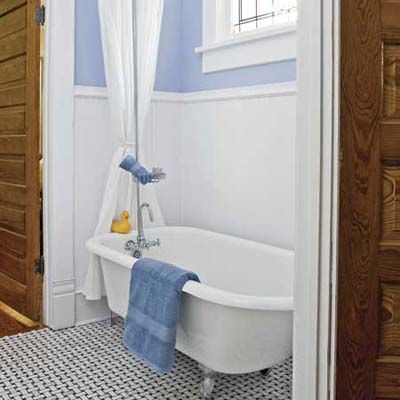 With quality pieces, you should invest in a professional refinishing job. It cost $700 to have this claw-foot tub sandblasted and reglazed. And while you can certainly get an acrylic drop-in for less, a new claw-foot made of the same cast iron could easily cost $1,900 or more.
Bonus Idea: Search the Web. This basket-­weave Carrara and black marble tile was just $9 per square foot on eBay.
Mix Old With Off-the-Shelf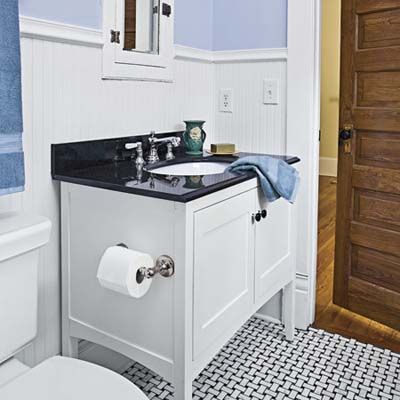 Cherry-pick your best source for any given piece, and don't feel compelled to pair like items. Vintage medicine cabinets like this one can be had for $25. Stripped and refinished, its original beveled mirror and beadboard back are details hard to find even in a $450 reproduction. Meanwhile, the granite-topped vanity, with classic flush inset doors and chamfered legs, was a $400 home-center find.
Bonus Idea: Reclaimed doors can go for as little as $10 but need to be cleaned, stripped, and shellacked.
Bargain for Stone-Yard Leftovers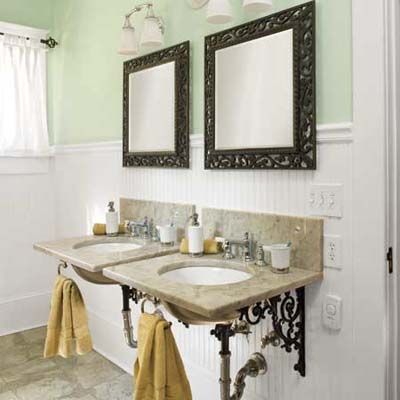 To build vintage-look wall-mount sinks like these, Kara first visits a local stone yard to see what scraps of marble or granite they might have left over from a larger job. Since there isn't much use for 22-by-28-inch slabs, you can usually talk the supplier into giving you a good deal on high-end materials, which they'll also cut to your specifications. Paired with vitreous china undermount sinks and heavy-duty cast-iron shelf brackets, these sinks cost $900 each to make. Similar manufactured versions can cost over $2,000.
The white Venatino marble used here costs one-third less than Carrara and has a similar look.
Scour Sales and Discount Suppliers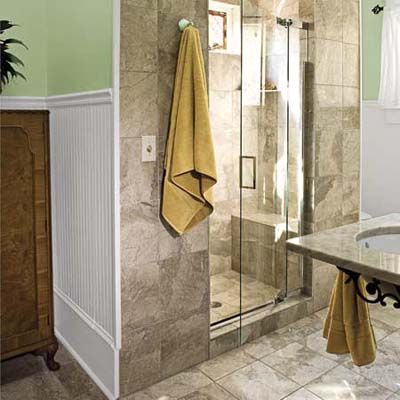 Rummaging through the clearance sections of home centers, tile warehouse outlets, and liquidator shops can yield some great finds, like this $1.79-per-square-foot marble tile that would normally be $8 per square foot. If you can't find enough of these affordable materials to do a whole room, however, one solution is to install stylish yet inexpensive beadboard on the rest of the walls.
Bonus Idea: Installing sheets of plywood beadboard, instead of real tongue and groove, saves both money and installation time.
This Pro's Go-To Sources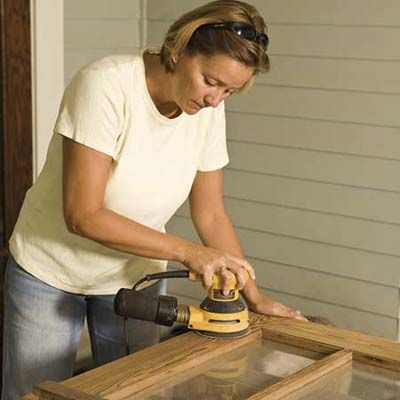 Here are a few of the people and places Kara O'Brien regularly turns to when tackling a remodel.
Tub refinisher: Mike Hildebrand, Surfaces Like New, Atlanta, GA; 770-639-6792.
Cabinetmaker: Greg Michael & Sons, Atlanta, GA; 678-592-1852
Salvage dealer: Steven Wheeler, One Stop Antiques, Marietta, OH; 740-374-9193.
Antique hardware: Scott Antique Market, Atlanta, GA;
Reproduction Plumbing: Signature Hardware; 866-855-2284.