Architectural Mirrors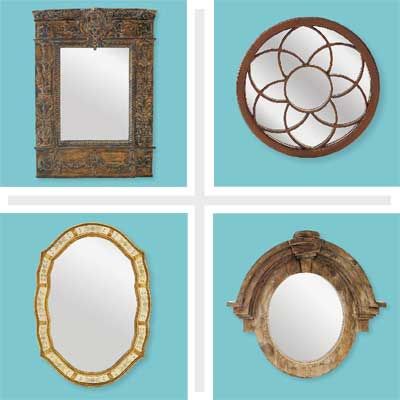 Before electricity became a household staple, mirrors were hung mainly to illuminate interior spaces, with large pier glasses installed between parlor windows or placed in foyers to channel light inside. They also doubled as ornamentation, inserted into sculptural 18th-century fireplace overmantels or surrounded by hand-carved gilded frames. Over the years, simpler profiles caught on, and a looking glass came to be considered essential in grooming areas of the house too, such as bedrooms and bathrooms.
Today a select group of mirrors is bringing eye-catching adornment into homes in a unique way: by borrowing shapes and details from architectural features, such as windows, doors, crown moldings, and ceiling medallions. Framed with materials from metal to salvaged wood, the 13 we've gathered here are so alluring they're sure to invite everyone's gaze.
TOH Pro Advice: "To hang a mirror heavier than 30 pounds, fasten a piece of ¼-inch plywood an inch shorter than the mirror's width to the wall, catching at least two studs. Then nail two D-hooks onto the plywood for the mirror's hangers. This will evenly distribute the weight." —Myron Pollack, owner, Pelham Glass Products
Gothic Quatrefoil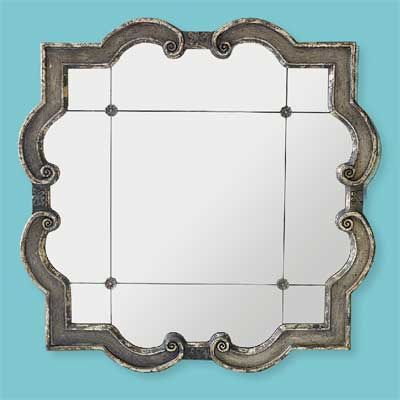 by Uttermost
Frame: MDF with resin rosettes and a distressed silver-leaf finish
Size: 36″W x 36″H
Try it: To add a warm glow over a living room fireplace or dining room buffet. About $319; Home Decorators Collection
Latticework Shine
by Worlds Away
Frame: White lacquered MDF
Size: 31½"W x 42½"H
Try it: Over an entry console or in a powder room—its glossy finish and generous size will brighten a small space. Its trellis design nods to Victorian-era garden-room walls. About $450; The Classy Cottage
Victorian Motifs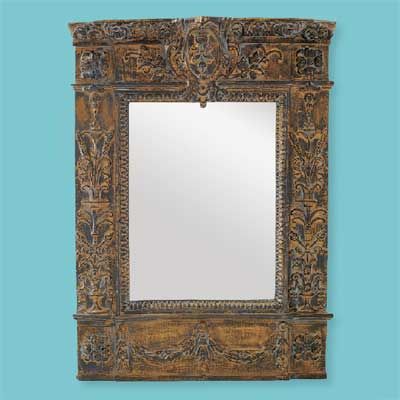 by Shades of Light
Frame: Pecan-shell resin with a warm brown finish
Size: 31″W x 42″H
Try it: In a foyer or sitting room, where its fancy friezework and mantel-inspired shape can inject some stately vintage charm. About $350; Shades of Light
Patterned Panel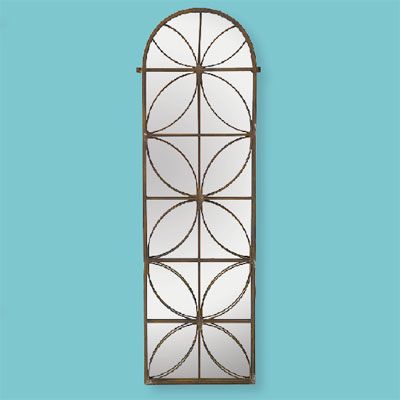 by Creative Co-op
Frame: Rust-painted iron
Size: 12½"W x 39½"H
Try it: In two pairs, flanking a plain window casing to dress it up. The frame's finish would also complement exposed brick walls. About $50; Bed Bath & Beyond
Leaf Motif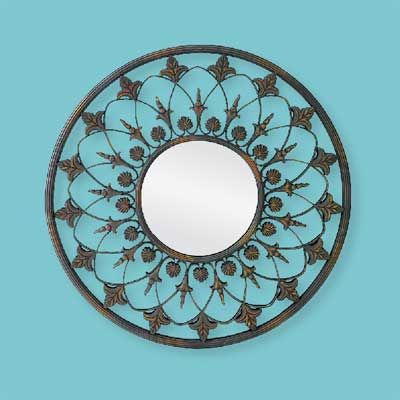 by BP Industries Inc.
Frame: Black-painted iron
Size: 36″W x 36″H
Try it: Across from a window overlooking your yard so that the round glass can draw the outdoors in. Its scrollwork was inspired by 19th-century fences. About $130; JCPenney
Light and Airy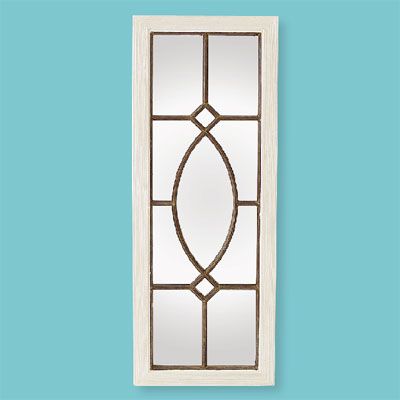 by Ballard Designs
Frame: Hand-painted polyurethane
Size: 16½"W x 42½"H
Try it: As one of several spaced across a sofa wall—the white trim tricks the eye into thinking they're windows. About $199 per set of two; Ballard Designs
Reflective Fanlight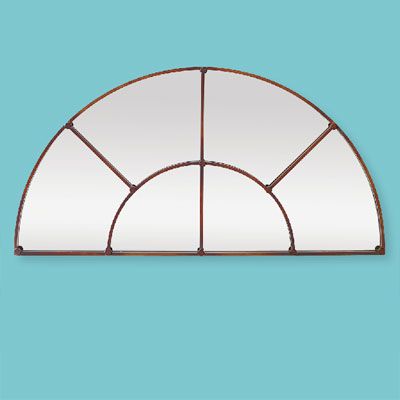 by Bassett Mirror Company
Frame: Metal with a bronze finish
Size: 48″W x 24″H
Try it: High on a wall near the peak of a vaulted ceiling, where it'll have the effect of a window. About $189; Home Decorators Collection
Beveled Beauty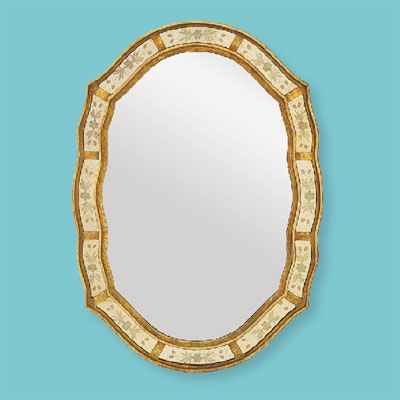 by Uttermost
Frame: Mirrored glass, MDF, and resin
Size: 243/10″W x 34 ¾"H
Try it: As a shapely accent in a master bedroom or bath, or over a foyer table. It would work equally well against pale paint or patterned wallpaper. About $219; Bed Bath & Beyond
Smoky Screen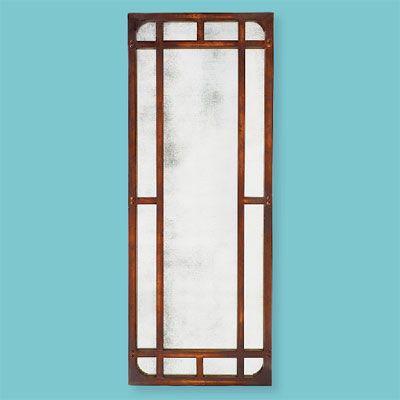 by Ballard Designs
Frame: Bronze-finished steel
Size: 16½"W x 42″H
Try it: As a handsome accent in a study or office. Its riveted panels and antiqued glass will evoke an old-world library. About $149; Ballard Designs
Cottage Charmer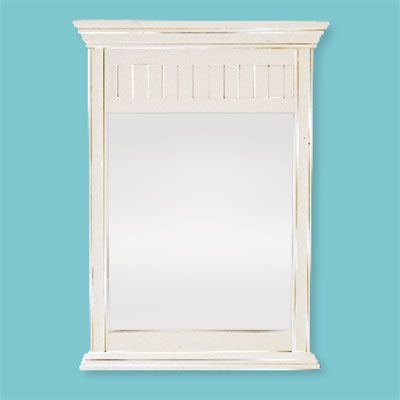 by Sagehill Designs
Frame: Solid maple and birch with a distressed white painted finish
Size: 30″W x 40″H
Try it: In a mudroom or bath with beadboard. The 4-inch-deep bottom shelf offers a handy perch for keys or toothpaste. About $280; Signature Hardware
Graphic Rosette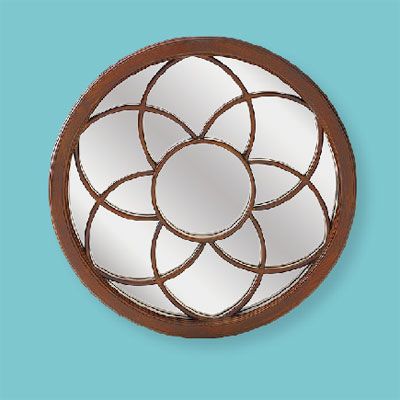 by Sedgefield by Adams
Frame: Lacquered solid basswood
Size: 24″W x 24″H
Try it: Hung at the end of a long hallway, where it can double as a faux window. Its rich finish and distinctive pattern make for a handsome focal point. About $278; Lighting by Lux
Weathered Window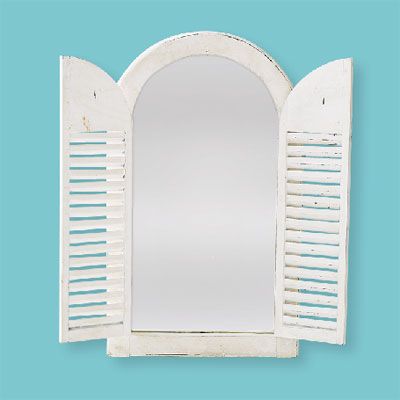 by Wisteria
Frame: Painted salvaged fir
Size: 24″W x 27″H
Try it: In a windowless powder room; its aged whitewashed look will wake up blank walls and reflect available light. About $119; Wisteria
Mansard Style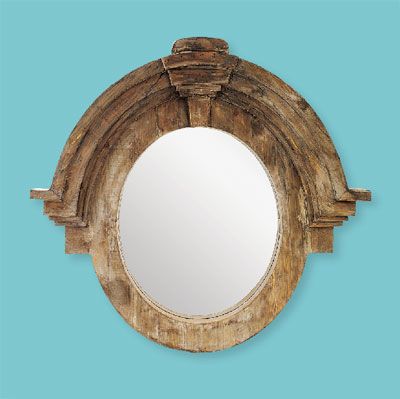 by Vagabond Vintage
Frame: Antiqued recycled pine
Size: 41½"W x 38″H
Try it: Above a weathered wood dresser in a spacious bedroom, where its dormer detailing can shine. About $349; Redefine Home