Kid-Friendly Bath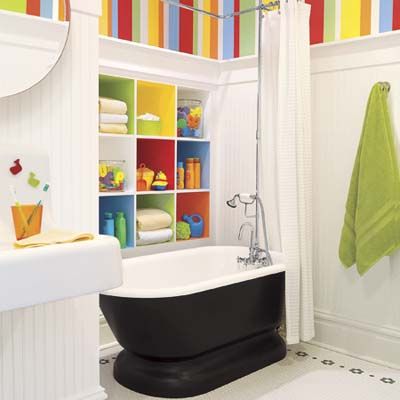 This pint-sized bathroom was carved out of a previously unfinished attic in Marcus and Kristin Moomey's 1885 home in St. Louis, Missouri. They compensated for the lack of natural light with touches of bright paint colors, big mirrors, and lots of white. They also managed to stay on budget while incorporating period charm.
See more of this Light and Bright Kids' Bath
A Well Divided Living Room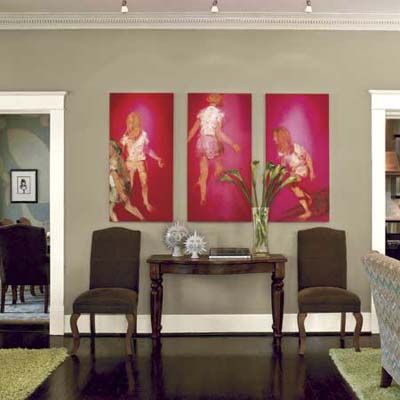 Separate areas have been designated and defined for TV and entertaining in this contemporary living room. A console table set off by bright artwork acts as the dividing line. The dining room, glimpsed through a doorway, plays off the same palette.
See details of this warm, bright 1920s bungalow
Melting-Pot Living Room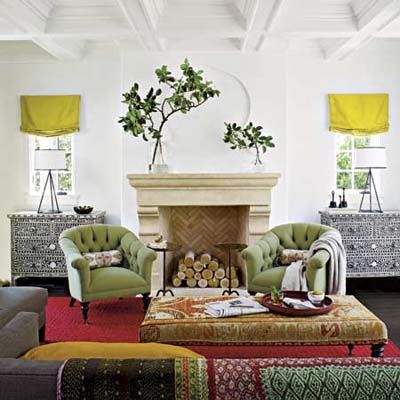 An artful mix of influences from around the world coexists peacefully in the living room of this Spanish Colonial Revival house in Los Angeles. Vibrant ethnic textiles are juxtaposed with classic furniture shapes, giving it the feel of a world traveler's den. With a base of neutrals, including tobacco-colored sofas and pure white walls, the strong hues and patterns don't overwhelm.
See additional ethnic-inspired living room ideas
Big Sky Country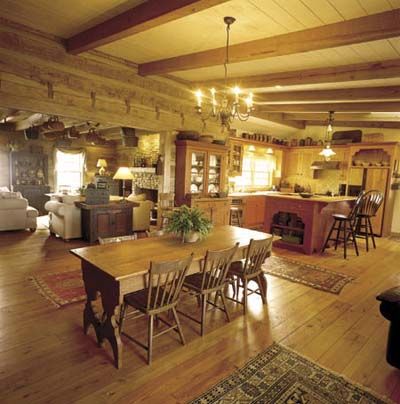 This country dining area is warm and rustic. It features baskets hanging from the beamed ceiling, heart-pine flooring, views of the living room's massive stone fireplace, and the kitchen's recycled-church-pew counters. The rough material—the original 1850s cabin—cost the owners only $1,000 before renovating.
See more of Our Favorite Dining Areas Ever
High Beams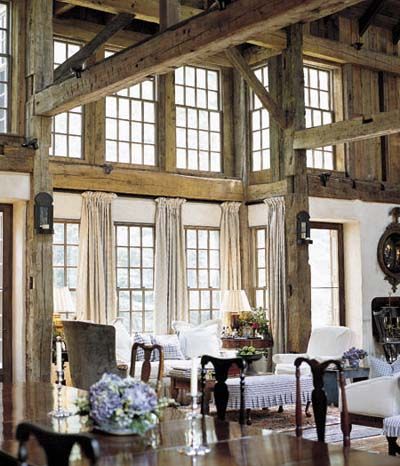 In this breathtaking dining room, diners sit beneath exposed bents, brackets and beams of a converted barn.
See more of Our Favorite Dining Areas Ever
Airy Bath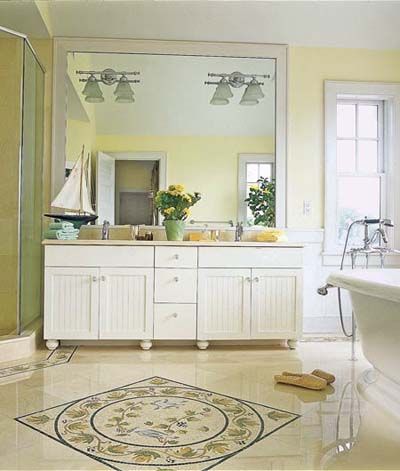 This generously sized bathroom features 14-foot ceilings, a pedestal tub overlooking Lake Montauk, a double vanity, and a glass-walled shower. Focal points anchor the open space. These include a 30-inch mosaic in the marble floor and the furniture-style vanity topped with a ceiling-height mirror that makes the room feel even bigger.
See more: An Airy Bath Provides the Ultimate Escape
Budget Kitchen Redo
Two TOH readers, Augie and Emmeline, found this granite-topped cart on Craigslist for just $75. The sleek flooring beneath it—375 square feet of ebonized bamboo—was leftover from a local job site. They paid $750, or half what it would cost to order the boards directly from the maker.
See details of this budget redo: We Redid Our Kitchen for $6,000
Bath Bumpout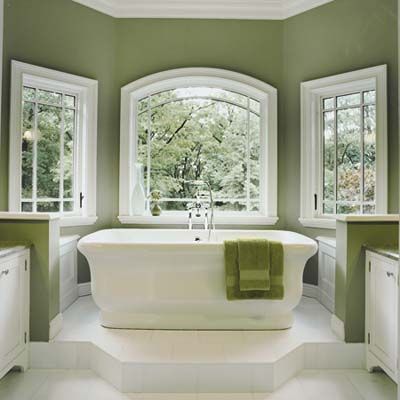 The owners of this sunlit master bath in Westchester County, New York, decided to update their leaky '80s-style bath with a modest bumpout. The added space allowed for twin vanities and a vaulted, windowed bay for a freestanding tub, positioned to maximize Hudson River views. The original section now holds a shower, a dressing area with custom cabinets, and a private toilet room.
See more: Bath Bumpout Adds Space With a Vintage Look
Bright and Cheery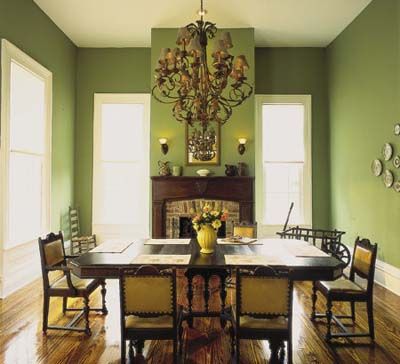 This moss green dining room takes its color cue from the late 19th century color revolution that did away with gloomy Victorian interiors (which were themselves a contrast to bright Georgian colors). The hue has a purer, or more natural, feel, in contrast to the deliberately darkened synthetic colors of the earlier fashion.
See other Bright and Cheery Rooms Inspired by Fall Colors
Bold Kitchen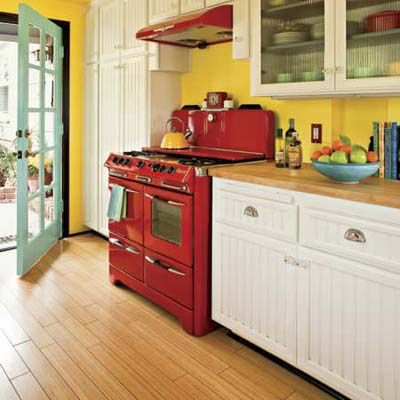 Nothing revives an old room like an energetic new color scheme. In Rich and Sue Linder's 1940s ranch house in Laguna Beach, California, a previous remodel left behind a washed-out white kitchen, save for the sensational 1945 stove Sue inherited from her mother. A carefully composed riot of colors—yellow walls, red pendants, a citron ceiling, and lime green wainscoting—makes the remodeled room as warm and welcoming as its 1940s stove.
See more of this Bold-Color Kitchen Makeover
Professor's Library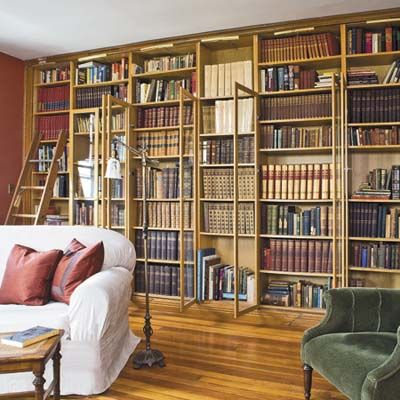 A pair of professors set out to restoring the architectural integrity of this 1897 brick row house—that was trashed by a rowdy fraternity. In an emptied third-floor bedroom, modified IKEA shelves ringed with vintage-style molding replaced a scrawled frat-house message. New bookcases store a collection of antique reference books and novels.
See more: From Animal House to Our House
Red Home Office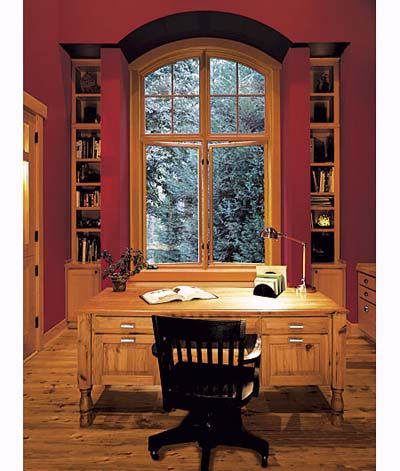 It seems like you'd be the only person in the world in this high-ceilinged, wooded Portland retreat in the midst of a forest. The spare, open space features a clean pine desk, alder floors, rich red walls, and a beautiful, large casement window.
See what you need for a basic home office
Vintage Kitchen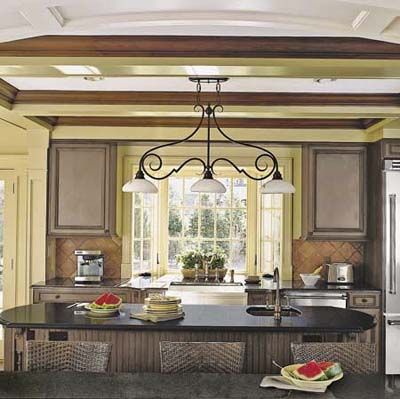 The new great-room kitchen in Brian and Judith Turner's 1926 Tudor Revival has lots of seating and open sightlines to neighboring rooms, as well as more than twice as many storage cabinets.
See more details of Reviving a Tudor Revival Kitchen
Functional Half Bath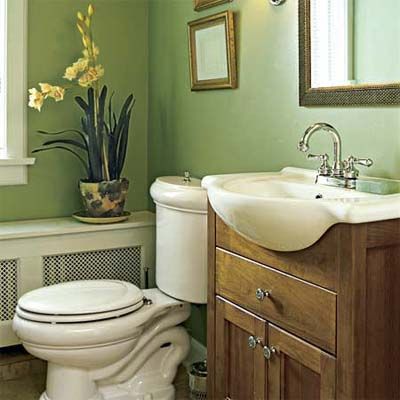 A half bath needs to contain, at a minimum, a toilet, a sink, and a mirror. Having an under-sink cabinet or another storage area for extra tissue paper, hand towels, and soap is convenient. This traditional-styled bath features a dresser-like vanity for extra storage.
See what you need to plan the perfect half bath
Outdoor Living Room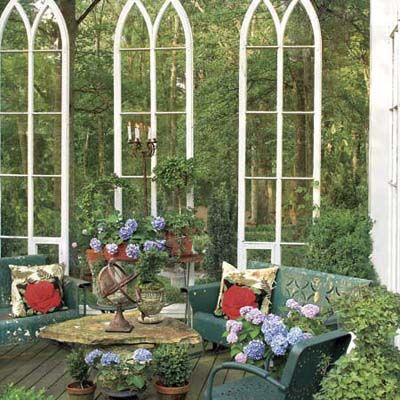 Garden walls really help a patio or deck feel like a room, whether they're made out of greenery, stone, or, more unexpectedly, the old church windows used here. Hung from rails set atop corner posts, they enclose a 16-by-16-foot deck, giving it the elegant air of a glass-lined conservatory. Homeowner Susanne Hudson, a garden designer, snagged the five 11-foot-tall finds for $90 each at a flea market.
See more: Create an Outdoor Living Room
Light, Bright Kitchen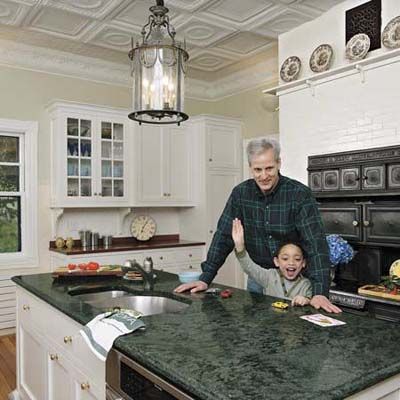 This period kitchen inside an 1883 Newton, Massachusetts home was redone to add function, storage, and better flow. The embossed metal ceiling, original iron stove, and pine floors remain from the original. In fact, without a close look, you might not know that a major renovation took place here.
See more details of this Elegant Old Kitchen Gets More Efficient
Timeless Kitchen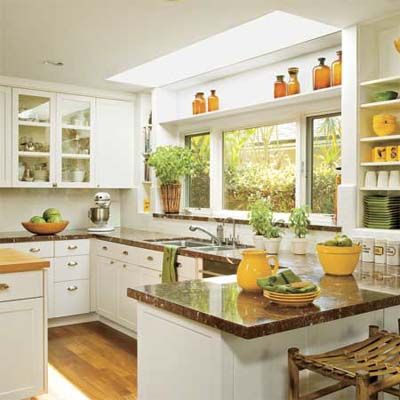 When the emphasis of a kitchen remodel is handsome practicality, the room can work hard for years without looking out of sync with the times. That's what the avid cook who owns the space shown here envisioned. The kitchen in her Manhattan Beach, California home was redone with a new square layout, classic white cabinets, and neutral stone counters.
See additional photos of this Simple Kitchen Design, Timeless Style
Master Bedroom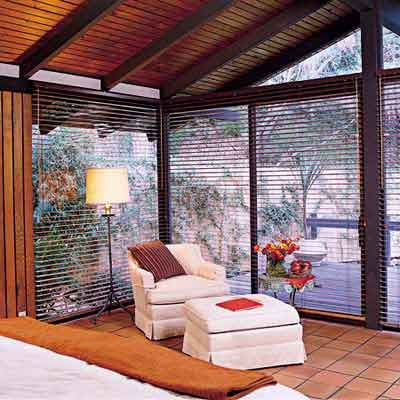 When architect Robert Lesnett found his dream lot, a woody three-quarters of an acre in West Los Angeles, and knew an add-as-you-go frame was a must for his young family. Twelve years after completing the house, he tested his plan, clipping off the south front corner and extending an existing corridor through the opening into a new 650-square-foot master suite. The new 27-foot-long addition got its own sturdy ridge beam.
See more details of The Forever Expanding House
Attic Suite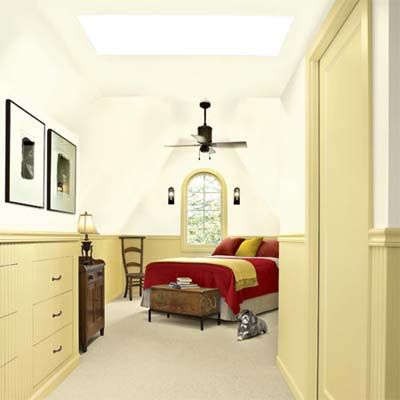 Alan Koch expanded the attic space in his 1933 cottage in Portland, Oregon by 100 square feet with a gabled dormer. His airy aerie makes the most of every square inch with smart space-saving details—like the closet pocket door that keeps the passage-way free and clear.
See more: Attic Becomes A Suite Retreat Upstairs
Outdoor Living Room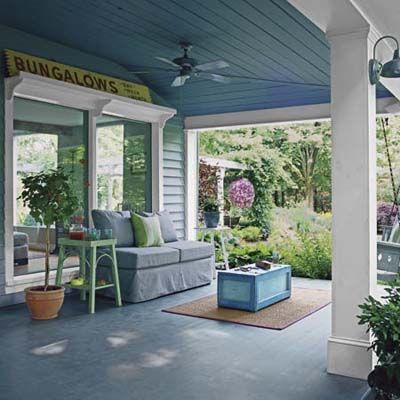 Spaces outside the house can be thought of the same way as the ones inside, transforming a property with versatile outdoor living areas, like the inviting porch shown here.
See other Rooms With a View