This handsome look comes at no risk since the rust won't damage the metal; it appears only where you lay an iron-laced primer. Once the top coat is applied, the primer corrodes to look like metal left out in the elements.
Step 1
Stir The Iron Paint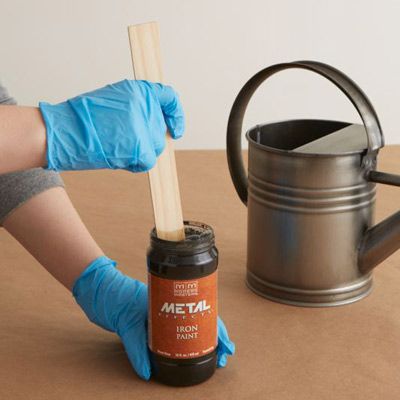 Mix the iron paint well by shaking or stirring to ensure that the iron particles are evenly distributed.
Step 2
Dab The Paint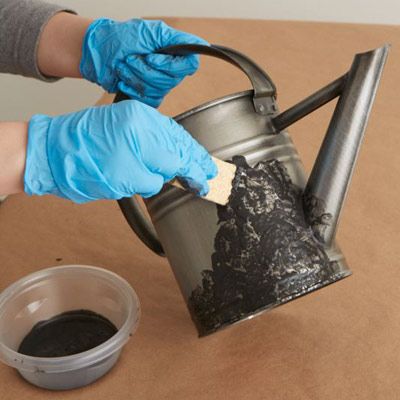 Wearing protective gloves, use a sponge to dab on thin coats of paint where rust would naturally occur, such as on the top and bottom rims, on drip lines, or on the spout. Once dry, dab on a second coat of paint. Use thicker coats to vary the texture.
Step 3
Apply The Rust Solution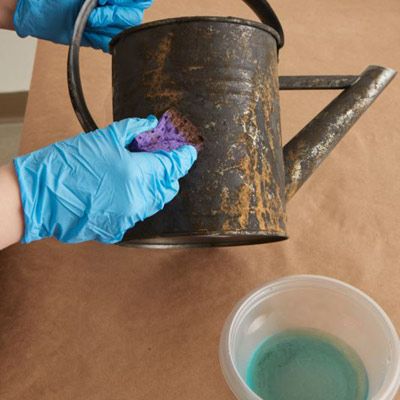 While the paint is still somewhat tacky (after about an hour), use a sponge to liberally apply the rust solution to the paint. You'll see the paint turn rusty, but the rest of the can will be unharmed. For an authentic look, we deliberately didn't clean up the rust drips on the can. Watch for the rust to start to form in about an hour; leave overnight for a full transformation.
Step 4
Seal The Surfaces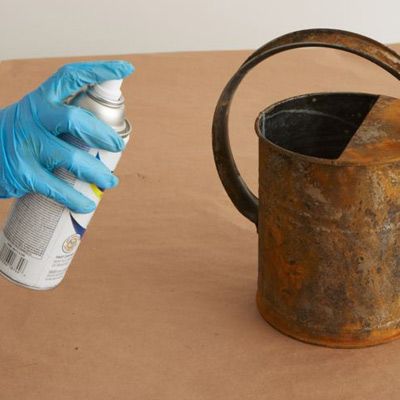 For outside use, seal the rusted surfaces with a top coat of clear sealer.