Dried flowers and winter fruit make a lovely, seasonal wreath. Denise Porcaro, owner and founder of Flower Girl NYC, shows you how to make one. We used a mix of bittersweet, eucalyptus, black elderberry, dried hydrangea, and, for bright colors, thistle and kumquats.
Step 1
Overview to Make a Grapevine Wreath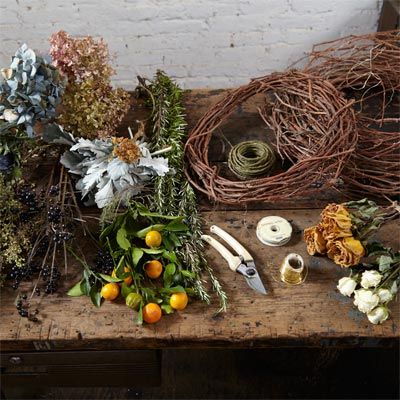 Loose, dried grapevines can be purchased directly from a florist; premade grapevine-wreath forms are sold at most hobby stores online for as little as $2 apiece. Most dried flowers and berry branches are available at craft stores and at online specialty shops, such as , but you can gather specimens from your yard; just snip them and hang them upside down until dry. Shop the supermarket aisle for winter fruit, like kumquats.
Step 2
Make the Wreath Base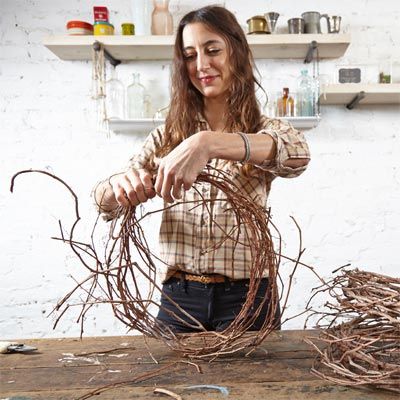 Start by twisting loose grapevines into a circle, following their natural curve. Tuck the ends of any wayward vines into the other vines. Continue twisting and tucking until you've formed a circle.
Step 3
Add Berries and Eucalyptus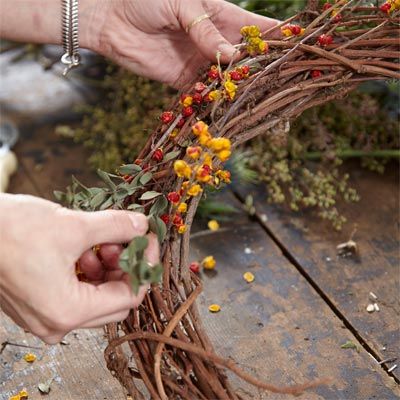 Snip off some bittersweet berries, leaving 2 to 3 inches of stem exposed. Slip them into the vines, tucking any loose stems out of sight. Follow with eucalyptus, placing the stems in the vines and securing with wire.
Step 4
Layer Flowers and Berries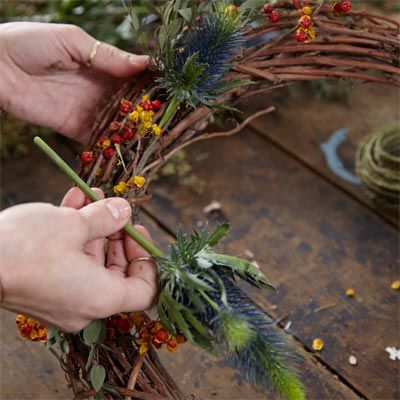 Place a thistle flower over the eucalyptus, securing it to the vine form with wire. Add the elderberries. For this type of wreath, place the flowers off to one side.
Step 5
Weave in Dried Flowers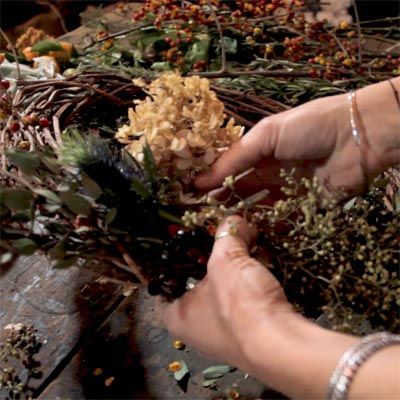 Work in some dried hydrangea, being careful not to crush or crumble the delicate blooms. Next, add a few kumquats to the mix, securing their stems with wire.
Step 6
Put On the Finishing Touches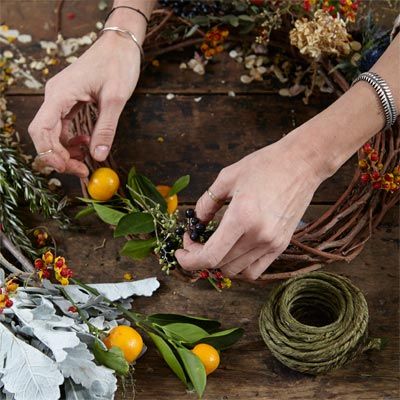 Wire the stems of a few more kumquats to the opposite side of the wreath as an accent. Add a sprig of bittersweet, and you're done.
Now you've got a rustic wreath that can stay up all season!