Back in Time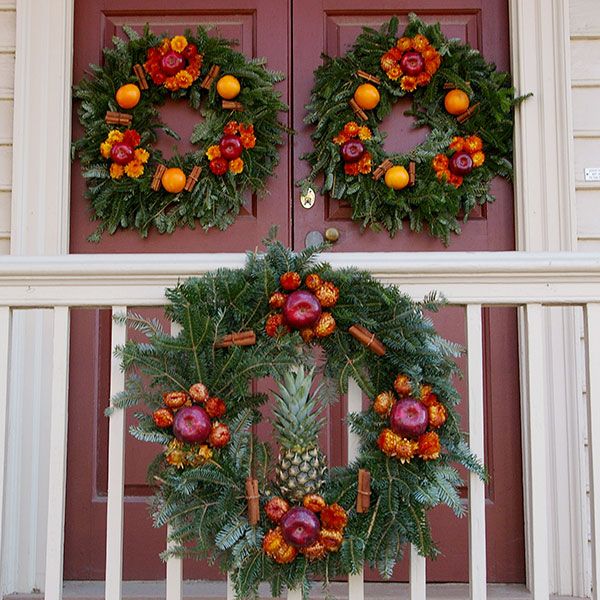 In the town of Colonial Williamsburg, costumed actors reenact scenes from history in the streets, and the buildings stand as true to their original designs as preservationists can deduce. Decorating for the holidays is no simple affair when historical accuracy is the goal. Hence, you won't find strands of twinkling lights or tinsel here. Instead, landscape designers spend the weeks leading up to Thanksgiving creating unusual and beautiful holiday greenery that fits right in with an 18th-century aesthetic.
These handcrafted pieces adorn the town to the delight of more than 150,000 visitors. A unique mission behind the designs is the team's driving force. "I feel like it's our responsibility to create something that people can't see anywhere else in the world," says landscape design supervisor Susan Dippre, who begins planning for the holiday season around July. "We know they're coming to celebrate Christmas with us here, and we want to meet their expectations and then exceed them."
Designs from Nature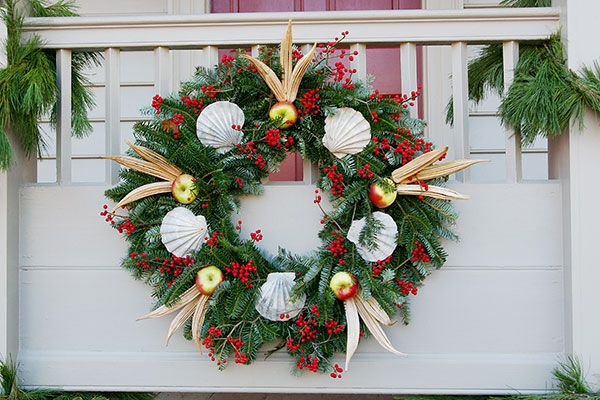 The elaborate designs wouldn't have been seen in the 18th century—historical documents suggest that holiday decorations, if any, were minimal. But in order to create a festive experience for a 21st-century audience, the team sources items that would have been familiar to the people of the period: shells from the nearby James River, as shown above; a string of coffee beans; or colorful dried native plants, for example. Despite the limited choice of materials, Dippre says her designers surprise her every year with the new things they think up.
Telling a Story
The designers incorporate everyday objects into their designs to tell a story about the places where the wreaths are displayed. Above, dried flowers spill out of tin cups to emulate foaming tankards of ale at a local tavern. Oyster shells nod to what might have been on the menu.
Made to Last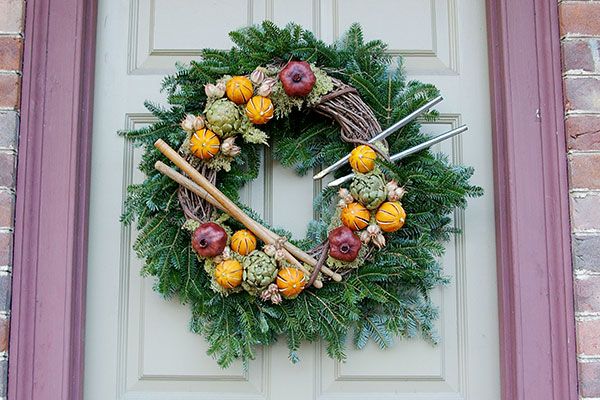 Using everyday objects also allows the wreaths to last longer. When Colonial Williamsburg started decorating for the holidays in the 1930s and 1940s, Dippre says, the season lasted only about a week. Now, the designs need to stay fresh for up to two months. Even so, many wreaths will have to be completely replaced at least once, as well as needing periodic touch-ups. On the music teacher's door above, drumsticks and tin whistles are tucked in a design of dried artichokes, pomegranates, and oranges.
Dedicated Designers
The designers are so committed to keeping the wreaths in tip-top shape that they send a team around the historic area early every morning of the season armed with spare lady apples, dried quince slices, cinnamon sticks—anything they might need to make a repair on the spot. To them, it's worth the effort to preserve such an authentic look.
A Challenge for DIYers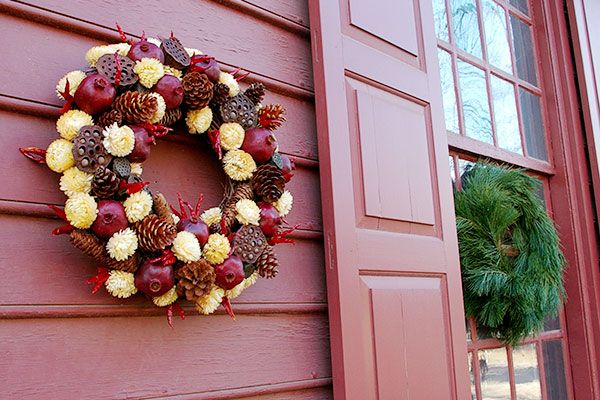 Dippre advises DIYers trying to re-create these wreaths to devise a color palette as a first step, then choose materials based on what would fit in with that scheme. Sketch out the design before getting started. Dippre suggests beginning with something asymmetrical—perfectly symmetrical wreaths are surprisingly difficult to execute, she says, even for her. Above, pomegranates, strawflowers, and cones from the Virginia pine complement the color scheme of their backdrop, Wetherburn's Tavern.
Keep Everything in Place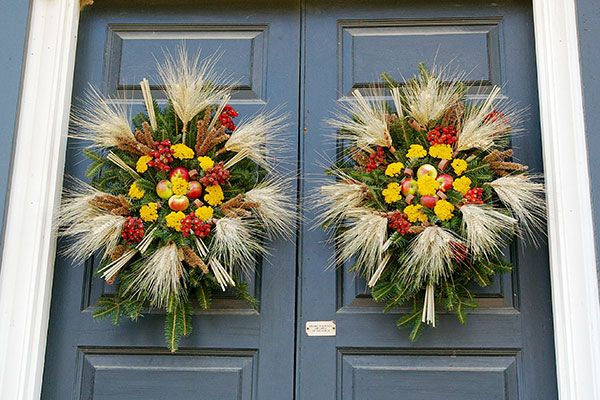 One of the design team's secret weapons? Floral picks. Hot glue can let go depending on the weather, Dippre says, especially if there's a sudden swing in temperature. Floral picks have wire on one end, which is wrapped around the stem of the plant, helping to keep flower heads and other objects tightly secured and upright.
Keep Away Pests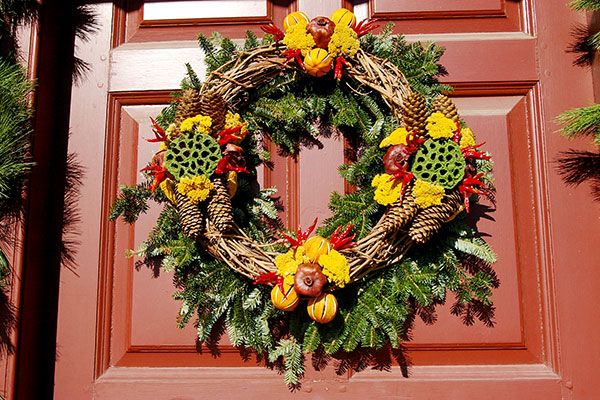 Red chili peppers help ward off the squirrels and birds that often feast on the decorations—another reason the wreaths aren't coated with any kind of acrylic or preservative. Dried lotus seedpods, which typically are brown, are coated with green moss for a colorful twist.
A Welcoming Design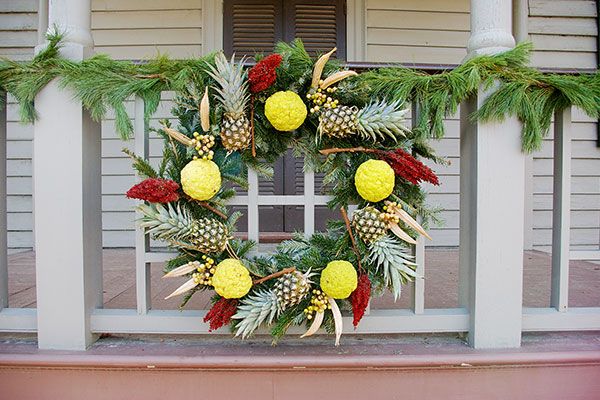 A sign of hospitality, pineapples can be seen throughout the historic district. Dippre sources miniature ones like these from other parts of the country, since they are easier to work with. Osage oranges (a lesser-known but beautiful fruit), okra pods, and sumac make up the rest.
A Wreath with Flair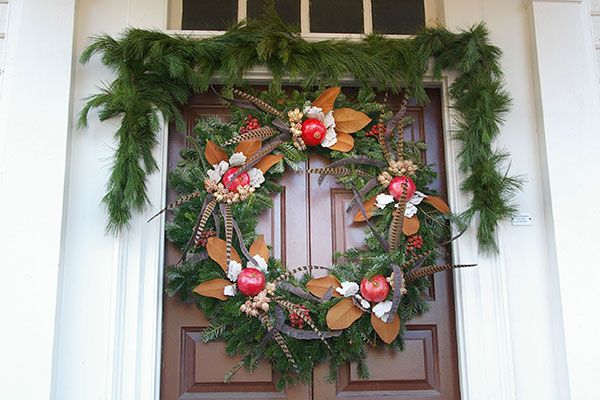 Cinnamon-colored magnolia and white quaking aspen leaves are layered to look like flowers, while pheasant feathers provide another level of texture.
A Playful Ornament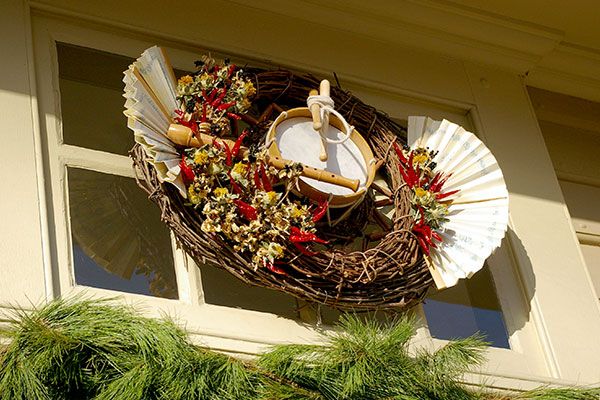 The William Pitt Store, where the wreath above is displayed, is a toy shop, so the designers went inside and purchased a drum, a recorder, and a couple of fans to bedeck this arrangement. Alongside the toys, it features yellow safflowers and blackberry lily, already dried to stand up to the sun in its south-facing location.
A Wreath Fit for a Hatter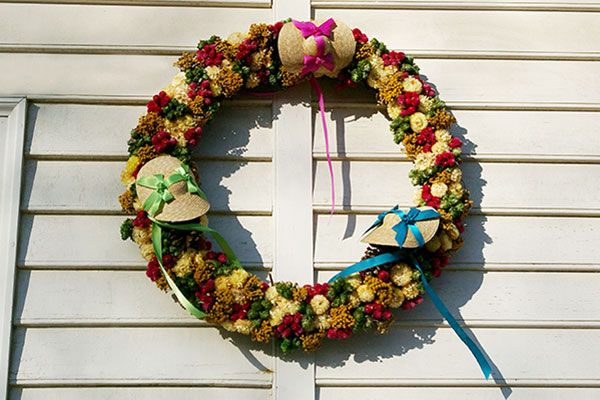 Outside the milliner's shop, a wreath is decorated with doll-sized straw hats in honor of the trade. Dried hops, strawflowers, and pansies make up the body.
Varied Materials Add Texture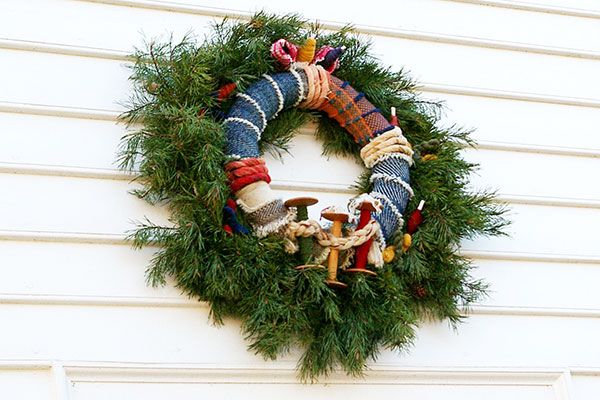 Fabric wrapped around a straw base is accented with old wooden spools above the weaver's shop. Setting it on a bed of evergreen, as shown, is a simple way to add volume, Dippre says. The evergreen is easy to switch out midway through the season when it needs freshening up.