Project details
Skill
1

out of

5
Easy
Easy, but requires some elbow grease
Shiny brass gets an uneven, darkened patina with a naturally vintage look. A chemical reaction rapidly oxidizes unlacquered brass for a realistic finish.
Step 1
Strip Any Coating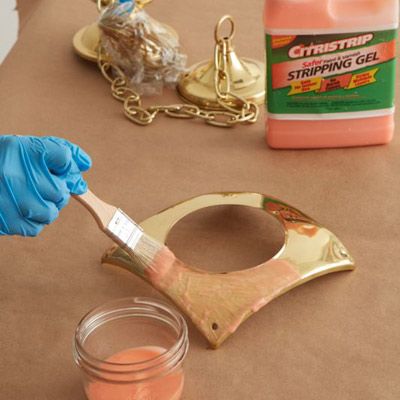 If your item is lacquered, you'll need to remove this coating first. Tape off wires or wrap them in plastic ahead of time. Wear protective gloves and eyewear while working with paint stripper. Brush the paint stripper onto the fixture to loosen the lacquer. We used Citristrip, a mild stripper, because its thick consistency makes it easy to apply and its orange color makes it easy to spot on the brass.
Step 2
Wipe Off Stripper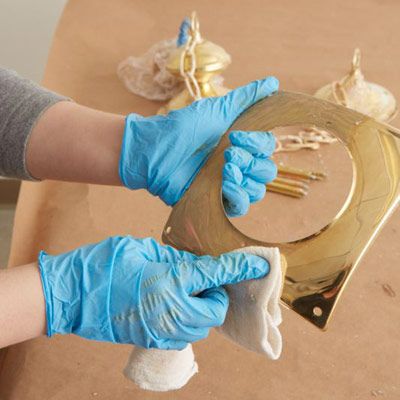 After 1 to 2 hours, wipe the stripper off the brass with a damp rag, rinsing where possible. Be careful not to dampen any electrical parts.
Step 3
Scrub The Surface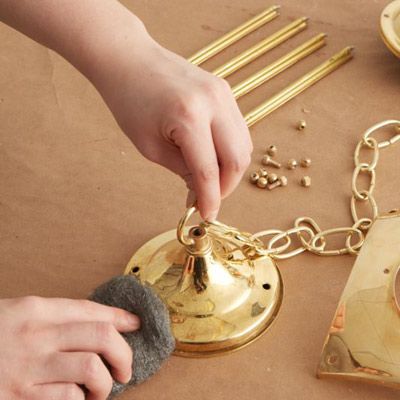 Scrub the brass with fine steel wool to remove any remaining coating. Watch for a paler tone, which indicates that the spot is free of lacquer. Wipe with a dry rag to remove any debris.
Step 4
Apply The Darkener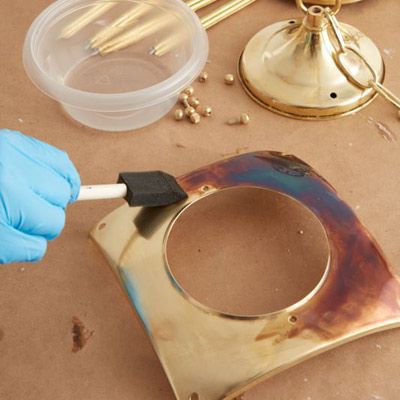 Wearing protective gloves and eyewear, use a foam brush to coat the exposed brass with darkener. You should see the surface start to change within 10 seconds. If there are spots that are not shaded to your liking, scrub with steel wool and reapply.
Step 5
Remove Excess Solution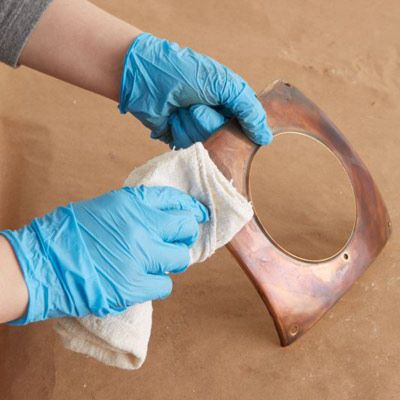 Rinse the piece or wipe with a damp rag to remove any excess solution.