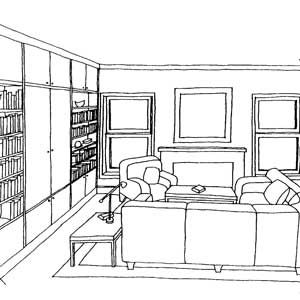 We just got a big flat-screen television, and now it's the dominant design feature in our family room. What can we do to better integrate it into the space?
The average television is on a staggering seven hours a day. That's a fact of American life that I, as an architect, have to incorporate into the design of any home I'm working on. When planning a family room, one of the first things we do at my firm is ask about your lifestyle and viewing habits, because that tells us how much prominence to give the TV.
Assuming viewing habits in your household are average, the trick is to design a space that allows for pleasant, comfortable watching while ensuring that the room also serves its other purposes. The best way to do that is with a flexible seating arrangement (see illustration). In this example, a sectional sofa offers ample seating for TV watching or gathering around the coffee table for a good game of Scrabble, and the easy chair can be turned around for quiet reading by the fire. What we want to avoid is turning the family room into a home theater, where everyone just stares at the television without interacting.
1. A Multipurpose Floor Plan
Since the idea of the family room is to bring everyone together in one multifunctional space, here are a few of my tricks for setting up a television without disrupting the inclusive environment. Placement. Keep the TV at a 90-degree angle to the main windows. That way, it doesn't interfere with anyone's ability to look over and enjoy the views. (It also helps cut down on glare, a common problem with daytime watching.) Screen size. The best TV isn't necessarily the biggest one you can afford. What you want is one that's the right size for your space. The general rule is a viewing distance of roughly two to three times the screen diagonal. So a 40-inch screen, for instance, is best viewed from about 7 to 10 feet away.
Acoustics. Carpeting and drapes filter out some of the rumbling bass of film sound effects but can absorb a little too much from music. So the best approach here is to stake out a middle ground. Since the room will be used for entertaining as well as for TV watching, some sound-deadening fabric is a good idea, but don't carpet the room from wall to wall and cover every window with heavy draperies. Lighting. Since this is a multifunctional room, you'll want dimmable lighting (if any at all) for movie watching, soft light for entertaining, and task lighting for reading and homework. I like to put recessed overhead lights on a dimmer, ample reading light by every chair, and fixtures around the periphery of the space for accent lighting.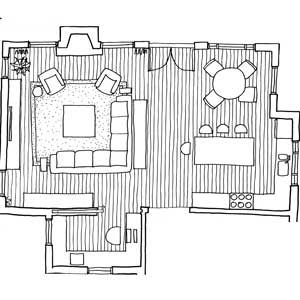 2. Hang It or Hide It?
One nice thing about flat-screen TVs is that, unlike old picture-tube TVs, which can be space-hogging monstrosities, these look good even when they're turned off and don't necessarily need to be hidden behind expensive custom cabinets. But if you think your family will gravitate like drones to the television if it's in plain sight, then I recommend housing it in an entertainment center, as in the illustration on the previous page. Audio and video components can be concealed behind doors, where they're easily accessible but don't create visual clutter.
If you do decide to mount the TV on the wall, you'll need to keep any other components in a cabinet below (see illustration, right) and run the wires behind the wall. For a more customized look, at least one manufacturer has started to offer picture frames, in a variety of styles and finishes, specially made to fit its flat screens.
3. Out of Sight, Out of Mind
If your family is in the minority that watches television infrequently (or is trying to cut down), I'd suggest keeping the set out of the family room altogether and instead moving it into a separate space that can also double as a den or study area. In this scenario, the television shares a room filled with books and is given a warm, cozy feel perfect for occasional I Love Lucy marathons. I would close off the space with a solid wood door to keep it acoustically and psychologically separated from the rest of the home.
Warren Freyer is the principal of Freyer Collaborative Architects, a 10-person firm in New York City specializing in residential design and technology.