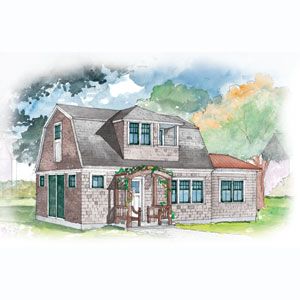 A hot topic in the field of residential architecture is "universal design" — defined as the user-friendly design of products and environments for people of all ages and abilities. The concept was a big influence at the TV house project in Concord, Mass., where an 1894 barn was converted into an "in-law" apartment for septuagenarians Jaqueline and Len Buckley.
Though our aging population is a main force behind the trend (the number of U.S. citizens 65 years of age or older will nearly double to 62 million between now and 2020), universal design isn't just for older people. "Our mission is to be able to create homes that we can share with family and friends as we go through life together, even if one of us breaks a foot while skiing," says Leslie Young, director of design at The Center for Universal Design, in Raleigh, N.C. As more and more architects design "barrier-free" homes, product manufacturers are responding with better-looking fixtures and fittings — from more attractive grab bars to wheelchair-height cabinetry — that don't evoke an institutional setting.
Here are some of the elements that architect Holly Cratsley incorporated into the Concord cottage:
• Extra-wide doorways with no thresholds throughout, and flush appliances in the kitchen, for a wheelchair-friendly floor plan.
• Lever handles on doors instead of hard-to-turn knobs.
• Lighting that is ample, but not glaring, to serve older eyes.
• A ground-floor plan that converts easily into full-time living quarters. The living room becomes a master bedroom with the addition of doors. The powder room converts to a full bath by accommodating a wheel-in shower.
For more about universal design, contact The Center for Universal Design at 800-647-6777 (V/TTY) or /www.design.ncsu.edu.