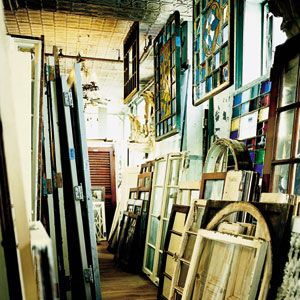 If a double-hung is the workhorse of the window world, with its sliding sash to let in air and shut out rain, then a fixed-in-place fanlight, eyebrow, or circular window is the show pony. Such accent windows are meant to catch the eye: topping a paneled wood entry door, winking from below an undulation in a shingled roof, or tucked under the eaves in a front gable.
The window types do share similarities, though. Just as the number of divided lights or panes in a double-hung helps you discern the difference between a Georgian-style house and a Greek Revival, an accent window's shape and intricate pattern—formed by wood muntins or metal caming—can define a house's architectural heritage.
Designs of early American windows were driven primarily by the availability of glass and the technology for making it. In the 1700s, the majority of glass was handmade in England. Imports were expensive, and panes were often small. So small, in fact, that in order to fill a typical window opening, they had to be grouped together in a wooden or metal grid.
By the end of the Civil War, American factories began to turn out larger and higher-­quality panes that allowed for greater diversity in textures, patterns, and shapes, as well as more affordable prices. Catalogs followed with mass-produced windows to dress up Victorian-era houses. In one, a circular sash with a ­center clover design, for instance, was one of 12 offered for use in the gable ends of Queen Anne, Gothic Revival, and ­Shingle-style ­houses.
Though typically sold as stationary units, hinged ­accent windows were also touted as a way to add ventilation above doors, alongside fireplaces, and in powder rooms, cellars, and attics. Diminutive ones also had special attributes, according to the 1927 Universal Millwork Catalog. "Small sash greatly improve the architectural appearance of a home by breaking up blank spaces in which an ordinary window cannot be placed."
The use of accent windows came to a halt after World War II as Americans abandoned such ­flourishes in favor of Modern minimalism. Ranch houses of the 1950s and 1960s had low-pitched roofs and rambling facades punctuated with enormous ­single-pane picture windows.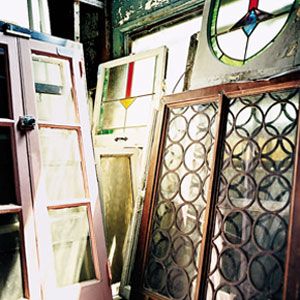 Today, the trend of building new houses based on traditional architectural styles along with the need of many old-house owners to replace damaged sash have revived the market for historical window patterns. Various manufacturers make reproductions, but for a ­diverse selection of period originals—often selling for less than new, and undoubtedly possessing more character—you'll have to visit your local salvage dealer.
Among the offerings at Evan Blum's five-story Demolition Depot in New York City is a late-19th-century transom with leaded and beveled glass. The window once crowned the entrance of a Queen Anne?style mansion in Cleveland, Ohio, but today it might be installed at the top of a large pass-through built between a kitchen and dining room to let in extra light and add drama to what would otherwise be a ho-hum home improvement. This one-of-a-kind transom costs $7,500, but Blum sells builder's-supply-catalog varieties for less than $300.
Metal casements with diamond-shaped divided lights were popular on Tudor-style ­houses from the '20s and '30s, but today they make great cabinet doors. "Instead of refacing old cabinets with new doors, just select nice windows with vertical hinges and attach them to the existing boxes," says Blum. "It'll change the whole look of your kitchen." He also recommends stacking casements, which he sells for about $100 a piece, one on top of the other and framing them vertically between wall studs to create a partition that delineates space without blocking light. Other projects might include replacing the old glass in a fanlight with mirrors and hanging it on the wall, or suspending a sidelight in front of a plain double-hung to obscure an unsightly view.
Old windows get a bad rap these days for not being energy efficient, says Blum, who encourages his customers to use them inside the house, where thermal values aren't a factor. "But there are lots of clever ways to use old windows instead of trashing them. ­Only uncreative minds fill the dump."
Block the view not the light
To screen an unsightly view from their dining room windows, Virginia homeowners Edward and Colleen Morche knew there was a better solution than closing the curtains. Instead, they hung salvaged Art Nouveau sidelights within the existing windows' interior framing to refocus interest on the stained and leaded glass while still letting in plenty of sunlight.
The Morches nailed picture hooks into the sidelights' vertical wooden stiles at top and bottom. They then secured four auger screws in the existing double hungs' top jamb and four in the stool. Steel chains fasten the sidelights to the screws. "I was worried about letting my kids run around by the windows," says Edward. But by attaching the sidelights at their four corners, the couple ensured the safety of both the windows and their children.
—Caitlin Grogan