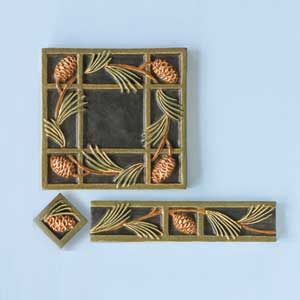 For truly one-of-a-kind tiles, many companies will create custom pieces on request. Here are tips for getting started:
• Gather together references of the designs and colors you like. Companies will work from photographs, sketches, scraps of wall-covering, even a teapot lid.
• If you don't have a pattern in mind but want something historically accurate, ask if the company has an archive of traditional motifs for you to choose from.
• Schedule enough lead time. Generally, it takes four to six weeks to create any handmade tile, custom or not.
• Get samples. If you're having a custom mural created, ask for a life-size sketch that you can tape up to the wall and live with for a while. For custom colors, get a variety of samples in the color family to see how they look at different times of the day before making your final decision.