The fireplace was long ago rendered obsolete as a primary home heating source, yet it remains a favorite gathering place. A flickering fire—wood or even gas—is a comfort, and an invitation to relax.
But the hearth has also endured because of the wooden mantel that typically frames it. A mantel serves not only as an architectural anchor in a room but as a functional shelf on which to display prized possessions. That's why so many of them still grace the parlors, dining rooms, and bedrooms of old houses even when the fireboxes have been walled over to eliminate drafts.
For every surviving example, of course, there are dozens that were torn from walls during reckless remodels. Luckily, many discarded mantels have ended up at architectural salvage yards, where renovators can now buy them to restore what may have been removed by a previous owner or to add period detail to a new house.
Before 1700, humble settler cottages had combination heating and cooking hearths topped with a heavy timber shelf to support the masonry above it. But by the early 1700s, fireplaces with decorative wooden mantels—mostly simple paneled frames—were warming other common areas as well as bedrooms in colonial homes. More ornate ones with hulking overmantels, pedimented tops, and picture moldings, which were inspired by European pattern books, could be found in urban mansions and sprawling country estates.
Throughout the 18th century, mantels were typically painted to hide the fact that they were made with inexpensive wood or with more than one material. A simple poplar mantel, for instance, might have been decorated with applied flower motifs made of a plasterlike substance called gesso. It was also the fashion in the late 1700s to faux-finish mantels with a painted wood-grain pattern, says Elizabeth Cromley, a professor of architectural history at Northeastern University in Boston.
Elaborate mantels (both painted and stained) were also popular during the Victorian era—about 1860 to 1900—when millwork companies offered affordable mass-
produced versions that mimicked the handcarved designs previously available only to the rich. Middle-class houses of the time featured high-style mantels made of birch and maple with intricate scrollwork in the legs and multitiered shelving in the overmantel.
By the turn of the 20th century, the pared-down aesthetic of the Arts and Crafts movement streamlined mantel design, and clear finishes were used to emphasize the grain of quartersawn oak. "The visual interest came from the material itself, not any applied ornament," says Cromley. Like Victorian-era mantels, these could be ordered from millwork catalogs.
What to Look For
Among the most plentiful vintage wood mantels at salvage yards today are the mass-produced ones made after 1860. These were easier to remove than earlier handmade pieces, which were often attached to wall paneling or even built-in seating. Expect to pay between $250 and $400 for a simple, paneled pine farmhouse mantel; Victorian-era, Colonial Revival, and Arts and Crafts models with mirrored overmantels cost between $700 and $3,000, depending on condition, ornamentation, finish, and wood type.
In choosing a mantel, consider the age and style of your house. A mantel with squared-off corners, fluted pilasters, and dentil moldings under the shelf, for instance, would befit an 1840 Greek Revival. If you're not sure of your home's style, try to match details on interior moldings with those on a vintage mantel.
When scouring the salvage yard, bring a tape measure and the dimensions of your existing firebox opening. Most local fire codes require that combustible wooden mantels be installed no less than 6 inches above and to the sides of the opening. And woodwork placed within 12 inches of the firebox cannot project out more than 1/8 inch for each 1-inch increment from the opening. So it may be easiest to limit your search to larger mantels with slim profiles.
Of course, none of these safety issues matter if you don't use the mantel on a working fireplace. "A lot of people want them for headboards," says Andrew Berry, manager of The Brass Knob Back Doors Warehouse in Washington, D.C. "All you do is mount the mantel on the wall and slide the bed into the opening." A twin mattress fits most mantel openings, usually about 40 inches wide. For a full- or queen-size bed, fill the opening with an upholstered panel and position the bed in front of the mantel—often about 60 inches wide from side to side. For a creative twist on the bathroom mirror, Berry suggests putting a beveled mirror in the firebox opening of a shorter mantel, and then mounting the piece over a long vanity. Even without a fireplace, a vintage mantel adds depth and texture to a plain wall, creating a welcome focal point, just as it has for centuries.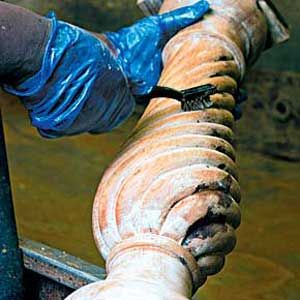 How to Strip Old Paint
Some of the paint on a salvaged mantel is bound to be lead-based, so you'll need to use a chemical stripper. (Sanding and heat guns release toxic lead dust and fumes.) Bob Reed, owner of the Stripping Workshop in Washington, D.C., recommends a methylene-chloride stripper such as Kwik Marine Paint & Varnish Remover—it works quickly and doesn't alter the wood's natural color or soften it, as lye-based strippers can. Because the fumes are noxious, work outdoors and use a respirator. Strippers can also burn, so wear long sleeves, pants, chemical-resistant rubber gloves, and goggles; spread a plastic drop cloth under your work table to catch the mess.
•Brush stripper on small sections, moving in one direction. When the paint softens, it's ready for removal.
•Gently scrape off paint, starting with details. For curved moldings, Reed uses a wood-carving tool called a Sloyd knife. A steel scratch awl and brass-bristled brush work best in crevices. Use a putty knife on flat surfaces. (For stubborn sections, apply as many coats of stripper as needed.)
•Wipe wood with a sponge soaked in mineral spirits. This removes wax residue (an additive in the stripper).
•Let dry; sand with 150-grit paper to give wood enough tooth to hold a new finish. Check with your local hazardous-waste office for how to safely dispose of the paint-filled drop cloth.
Where to Find It
Mantel dealer
The Brass Knob Back Doors Warehouse
Washington, DC
202-265-0587
Paint stripping and finish carpentry
The Stripping Workshop
Washington, DC
202-544-1470