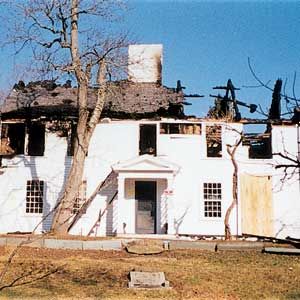 "No way," declared Norm Abram.
This Old House's master carpenter stood in the charred living room of a burned-out saltbox in Ipswich, Massachusetts, shaking his head at the prospects for making it livable once again. But when Norm delivered his assessment to the owner, Charles "Chubb" Whitten, the 40-year-old industrial property developer just smiled. Compact and muscular, and a buzz-saw of a man—"I'm Type A-plus," he says cheerfully—Whitten had already decided to rebuild his circa-1720 house when Norm and Steve Thomas dropped by in the spring of '98 to size it up as a potential TV project. He listened politely to Norm's rationale: Not only would the renovation take far longer than the show's six-month production schedule, it was most likely doomed to fail. "I worked a fire job once, and swore I never would again," Norm told him. "You'll never get the smell out.… Pull it down and start over."
But even as Norm demurred, Whitten squinted at a blackened chestnut beam and imagined himself sawing off the lumpy black char. Now, just one year after the show passed on the project, Whitten stands triumphant in his restored post-and-beam living room. He points at the meticulously plastered ceiling. "A year ago, you could see right through to the sky from here, " he says. "We lost most of the house, but now it's better than new."
And the smell? "None," says Whitten, and he's right: Throughout the 4,200-square-foot house, once again a glory of hand-planed beams, pine paneling, and tightly mitered trim, not a whiff of smokiness remains. In the living room, only the tang of fresh wax on the newly laid floorboards hangs in the air.
"This whole experience proved that you should never give up on something just because it looks hopeless," says Jane Alaimo, Whitten's ex-wife. The remark bears not only on the reconstruction effort, to which she devoted many long hours herself, but to the couple's relationship: She and Whitten had already begun a reconciliation before the fire, which the ordeal helped strengthen.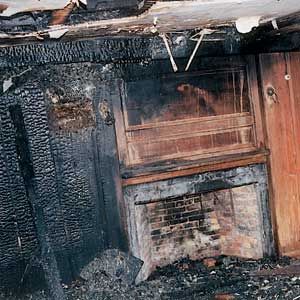 Whitten was on a skiing vacation in Utah when the blaze broke out. It was
March 1, 1998, and, following a soak in the hot-tub, his house-sitter and four of her friends had heaped a dozen four-foot logs in the living-room fireplace, and luxuriated in front of it before heading upstairs to bed. But while they slept, the blaze grew. A wooden lintel over the hearth—which had seen, and survived, tens of thousands of fires over nearly three centuries—ignited and sent flames up through an interior wall and into a pair of second-floor closets. Smoke roused the sleepers, who dashed onto the lawn.
"Within two minutes of their getting out, the whole place was roaring," says Whitten. Flames burst through the roofs of both the original saltbox and its circa-1900 gambrel addition. Trucks from three towns dumped water on the blaze for eight hours. When the last flame was doused, the entire roof was either black or gone, the second floor was a charred shell, and the first floor had been devastated both by fire and by water that buckled the maple flooring and soaked the plaster. "Basically, the upstairs was gone. Add in the water damage, and 70 percent of the house was ruined," says Whitten.
By pure coincidence, Alaimo, 36, was spending the night at a friend's house nearby. The fire was still roaring when a neighbor called with the news. Alaimo rushed to the house. "She -basically took charge," says Whitten; she even went inside with a fireman to retrieve her ex-husband's fishing logbook, which contained a lifetime of notes and remembrances. Then she put in a call to Whitten, who immediately flew back.
Wasting no time on recriminations or regrets, Whitten tore into the house with characteristic gusto, prying loose and stockpiling any remaining usable pine paneling, wide-plank floor boards, and old clay brick. "Jane and I tossed about 55 tons of material into the Dumpster, but we also saved quite a lot," Whitten says. "The plan was to incorporate the salvage into a new house that we'd build on the site. But as we kept removing material, going up and down the stairs, I started thinking, 'Hey, maybe we can rebuild this thing.' After about a week, I was sure."
Which is when Doubting Norm entered the picture, although he was far from the only skeptic. "Everyone said I was nuts," recalls Whitten. Mike Doiron, who signed on as the general contractor, remembers his first visit to the site: "My overwhelming inclination was to run away screaming."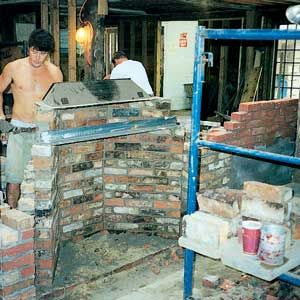 But Whitten brought relentless optimism, energy, and tenacity to the task, as well as two other big pluses: a $575,000 full-replacement-cost insurance settlement, and his experience in construction. "I know how to manage a project," he says. "The Boston real estate market was getting crazy anyway, so I took a year's leave of absence to do this."
Working with three crewmen, Whitten and Doiron continued hoarding every scrap of reusable material. "We were pretty psycho about saving everything we could," says Whitten. "I wanted to be true to the house." But as the men attacked with crowbar and reciprocating saw, they found nasty surprises daily, sometimes hourly. "The house was burned above and rotted below, and the space in between was all torn up by earlier remodeling efforts," says Doiron. "When previous owners wanted to add bathroom plumbing and a beam was in the way, they'd just cut through it or take it out."
Since buying the house in 1992, Whitten had updated the plumbing, heating, and electrical systems, but he'd never found the time or money to fix the foundation. "Under the living room, it was just four or five big boulders sitting on the ground. There was no footing and no crawl space at all," says Doiron. "The whole house was sinking around the fireplace, and there was dirt just two inches under the living-room floor. We dug it out with shovels and five-gallon buckets." After jacking up the house, Whitten poured a concrete foundation, complete with crawl space, for the living room, then rechinked and repointed the granite foundation under the rest of the house.
From the start, Whitten was confident he could vanquish the residual smell, which, as Norm had noted, is where most burn-renovations fail. "My industrial construction background really helped on that one," says Whitten. "You're supposed to scrape off the char by hand, but that takes too much time. I had one of my guys come in and sandblast for six weeks. There was sand everywhere, but it really worked great." After each charred framing member or wall panel had been blasted back to clean wood—or as near to it as possible—painters sealed the surface with shellac to encapsulate any remaining odor.
With the foundation solid, the second floor torn off, and the smell sealed in, Whitten and Doiron began rebuilding the upstairs frame. "We decided what could stay and what had to go based on common sense and advice from a structural engineer," says Doiron. Using red oak beams brought in from western Massachusetts, Doiron, Whitten, and timber framer Robert Weatherall began grafting a new structure onto the old, creating a forest of posts to gird the new roof and its 27-foot-long rafters. After framing the upstairs, the trio worked their way through all the rooms of the first floor. "Every wall in the house except the front wall of the first floor was either replaced or repaired," says Doiron.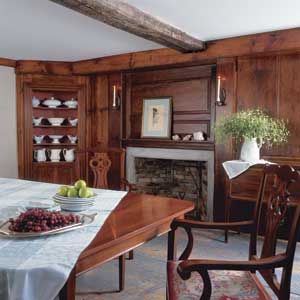 Throughout the job, Whitten shunned almost all modern construction materials; the house is a paean to 18th-century technology and -aesthetics. One example: Though the sheathing—sandwiched between the clapboards and the plaster walls—is invisible, Whitten and Doiron made it entirely of inch-thick pine boards rather than plywood. That's anachronistic enough, but they also fastened those boards to the framing with cut nails, exactly like the ones used in the original construction.
"That's just nuts," says Whitten proudly.
"But we were both into it," adds Doiron with a grin. "We kept thinking, when some guy tears this place apart 100 years from now and tries to date the construction, this will really confuse him."
With the skeleton and sheathing in place, the men moved on to the daunting finish work. Doiron, though a veteran of dozens of major renovations, had never tackled an interior quite this challenging. He recalls reassembling the front stairs. "I laid out a zillion random, unmarked pieces on the living-room floor and stared at them for 45 minutes before I started. I had to match them nailhole by nailhole." Whitten caresses a hand-carved pine banister: "We just had to keep these stairs."
That reverence for history guided virtually every decision. When laying the wide-plank oak and pine floors, Whitten and Doiron carefully placed the most-worn boards on the paths between doorways to reflect what 290 years of foot traffic might have done. Many windows are new, but they're glazed with antique mouth-blown glass. The window screening is old-fashioned bronze net. It glows gold in the late afternoon sun, but in a few years the salt air from nearby Ipswich Bay, Whitter predicts, "will make it green up nicely." Throughout the house, wherever he couldn't replace visible woodwork with a piece from his personal salvage stash, Whitten used reclaimed wood purchased from a Vermont dealer to get the appropriately aged look. New pieces were treated to look old.
Despite his obsession with historical accuracy, Whitten did install some modern materials and systems, such as R—19 insulation in all the exterior walls and radiant floor heating in the kitchen and exercise room. "This house was so drafty. We always froze in winter," he says. "But now that it's all closed in and insulated, the place stays warmer with four radiators than it used to with 20."
Construction ended in March 1999, almost exactly a year after the blaze, and Whitten, ever the hard-charging project manager, spent only $15,000 more than he got in the insurance settlement. "The whole thing was a positive experience," he says. "Before it burned, the house needed a good $200,000 in work, and who knows when I would have gotten to it? Now all of that and more has been done."
Another positive result transcends honey-toned patinas and hand-planed woodwork: As Whitten and Alaimo worked side by side to bring back the house, they also began reconstructing their relationship. "Rebuilding the house was very metaphorical," says Alaimo. Will she be moving back in with Chubb? "We're talking about it," she says.