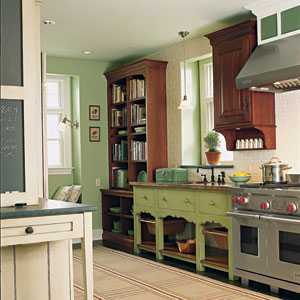 Old house in need of new kitchen — sound familiar? Sure — and as problematic as it is familiar, especially if you're like homeowner/architect Bill Martin and you want to preserve the aesthetic of a late-19th-century house while building a state-of-the-art cooking space. His solution: Mix it up, which is what he and his wife, Jackie, did when they enlarged the kitchen in their 1895 Westwood, New Jersey, home. "We wanted a look and style that would be compatible with the soul of the house," says Bill of the side-hall Colonial Revival they keep period with a blend of antiques.

When the couple decided to bump out the existing dark, cramped kitchen, they considered placement. "Putting an addition on the side limited square footage but was more in keeping with the house than building out to the rear with a great room/deck plan," says Bill.

Inside, the Martins wanted an eclectic look that suggested that the kitchen had evolved with the house: a blend of furniture pieces and built-ins with different paint and stain finishes. The plan nodded to technology with a Wolf range for Jackie, a serious cook and former cookbook editor. To integrate all of this without disaster, they gave their idea file to local kitchen designer Alan Asarnow.

"They didn't want it to scream 'new,'" says Asarnow, who hired custom cabinetmakers and suggested stone and copper countertops, ebonized oak floors, and a subway-tiled backsplash that covered the whole wall, as it would have in a house of this era."Now," says Bill, "when people come to visit, they ask, 'Where's the addition?'"