Made from one of the hardest minerals on earth, quartz countertops are arguably the most durable option for kitchens. They're also some of the most eye-catching. They come in a wide variety of colors, including fire-engine red and apple green, as well as earthy browns, blacks, and creams, with sparkles and veining for the look of granite or marble. But unlike natural-stone slabs, which are mined, these slabs are engineered in a factory.
Is Quartz is Better Than Granite?
Their primary ingredient is ground quartz (about 94 percent), combined with polyester resins to bind it and pigments to give it color. For some designs, small amounts of recycled glass or metallic flecks are added to the mix. The resins also help make these counters stain and scratch resistant—and nonporous, so they never need to be sealed. Compare that with granite, the reigning king of high-end countertops, which typically requires a new protective top coat at least once a year.
In the past, the biggest knock against quartz was that it lacked the patterns and color variations you get with natural stone. But that's a moot point now, with all the manufacturers offering multihued slabs with enough flecks, swirls, and random patterning to make them almost indistinguishable from the real thing.
They were once available only with a polished finish; now you can get one with a honed, sandblasted, or embossed treatment. So if it's the look of matte limestone, textured slate, or glossy granite that you want, there's a quartz countertop for you. Read on for help picking one to match your budget, your cooking and cleaning needs, and your style. We'll go over the pros and cons of quartz countertops so you can make the best choice.
How Much Do Quartz Countertops Cost?
Expect to pay about the same as you would for natural stone, around $60 to $90 per square foot, including installation.
How are Quartz Countertops Made?
Natural-quartz crystals are mined, then ground into a dust or an aggregate that's fused with resin binders under intense heat and pressure to form a solid slab. Pigments added during the process impart color to the countertop.
Key Questions Answered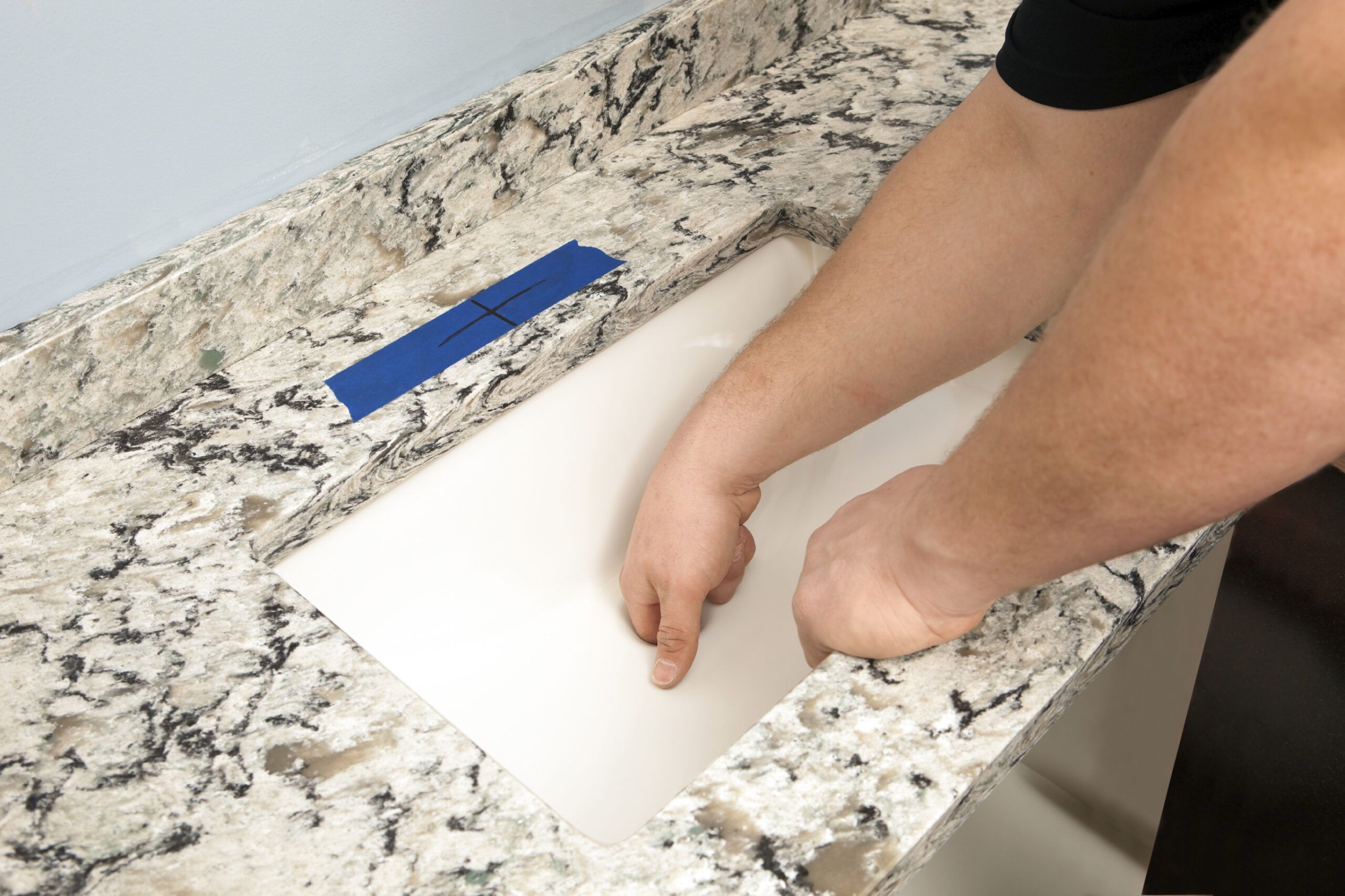 DIY or hire a pro?
Like natural stone, quartz slabs are very heavy. And though the added resins make them more flexible, they, too, can crack if not properly handled. Work only with certified installers.
Where can you buy it?
Order through kitchen-design showrooms or from home centers and big-box stores, such as The Home Depot, IKEA, and Lowe's.
How long do they last?
For as long as you have your kitchen. Quartz countertop manufacturers provide warranties ranging from 10 or 15 years to lifetime, depending on the company.
Is a Quartz Countertop Right for You?
Here are the pros and cons to consider when deciding to go with quartz.
Pros
It's low-maintenance.
Unlike natural stone or wood, it never needs to be sealed. Just wipe with soapy water for daily upkeep. Surface stains can be removed with a gentle cleansing scrub. Avoid scouring pads, which can dull the surface, and harsh chemicals that could break down the bonds between the quartz and resins.
It's antimicrobial.
Resin binders make quartz counters nonporous, so stain- and odor-causing bacteria, mold, and mildew can't penetrate the surface.
It's design-friendly.
Some makers offer jumbo slabs for uninterrupted runs of countertop. But even with standard slabs, typically 60 by 120 inches, the seams can be almost imperceptible; added resins allow cleaner cuts without chipping as stone does. The resins also make quartz more flexible than natural stone, allowing fabricators to bend and shape it into sinks or the sides of a curved island. And it's versatile enough to be used on floors and walls—fabricators can even cut the slabs into standard tile sizes.
Cons
It's pricey.
Compared with DIY options, such as wood, laminate, and concrete, which can cost less than $10 per square foot, quartz, like granite, is expensive—about $60 to $90 per square foot, including installation. Acrylic solid surfacing, another competing option, costs about $40 to $80 per square foot installed.
It can't take extreme heat.
Quartz counters are heat and scorch resistant, but only up to a point. Most manufacturers say their products can handle up to 400 degrees F, but a sudden change in temperature or sustained heat from a pan left on the counter may cause the surface to crack. To be safe, always use a trivet or a hot pad.
It can't weather outdoor use.
Install it outdoors in an uncovered area, and you'll void the warranty. Direct sun beating down on it day after day can cause colors to fade or the countertop to warp or split over time. Currently, none of the major manufacturers offers an outdoor-approved quartz counter.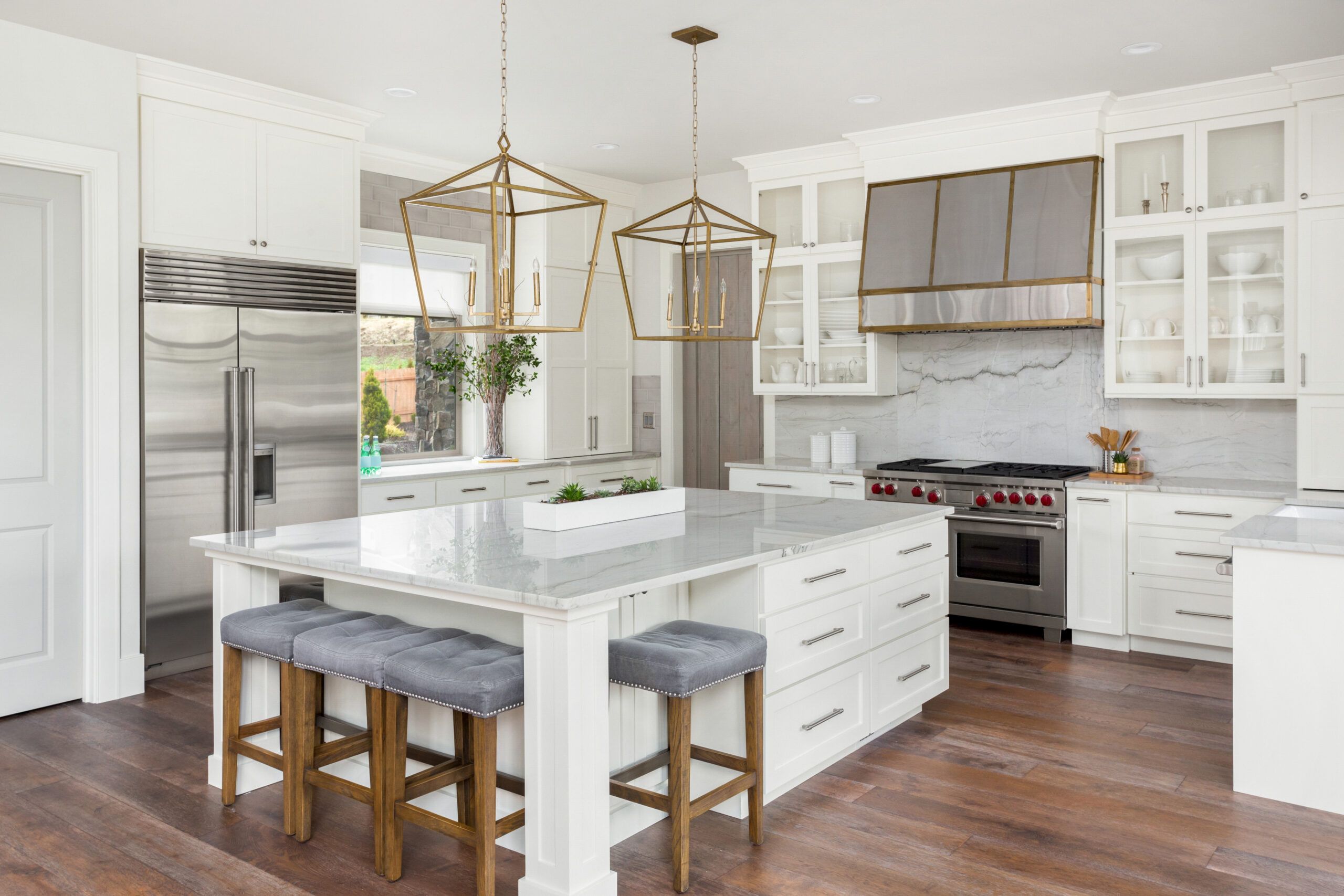 Quartz Countertops Buying Guide and Timeline
1. Compare Colors and Prices
Shop around to compare colors and prices. Some quartz makers sell exclusively through big-box stores; other slabs are available only through independent kitchen and bath showrooms.
2. Select Your Brand and Color
Pick your brand and color, and set up a time for a fabricator to visit your home to take measurements and make a template of the tops of your base cabinets.
Unless you are keeping existing fixtures, you supply the dimensions for the sink and faucet cutouts as well as any drop-in appliances, such as a cooktop.
3. Get Price Quotes and Place Your Order
Get a price quote and place your order. Once the fabricator knows the complexity of the installation, including the edge profile, number of slabs, and cutout details, they can quote the actual cost of the entire job.
4. Wait (About a Week)
Wait, but not too long. Assuming your base cabinets are in and your kitchen is otherwise complete, the fabricator can get the slab from the distributor or direct from the manufacturer and shape it to your specs in about a week.
If you're using multiple slabs, consider asking the fabricator to get them from the same manufacturing batch to ensure the best possible match.
5. Schedule Your Installation
Schedule the installation. The fabricator lays the slab directly on top of cabinets; in general, no plywood underlayment is required. It's held in place with silicone-based construction adhesive, and any seams between slabs are filled with color-matched epoxy resin.
Undermount sinks are installed with clips (and sometimes wood braces) that attach to the underside of the countertop. Expect installation for a typical kitchen to take from a few hours to a day.
Pick Your Color and Pattern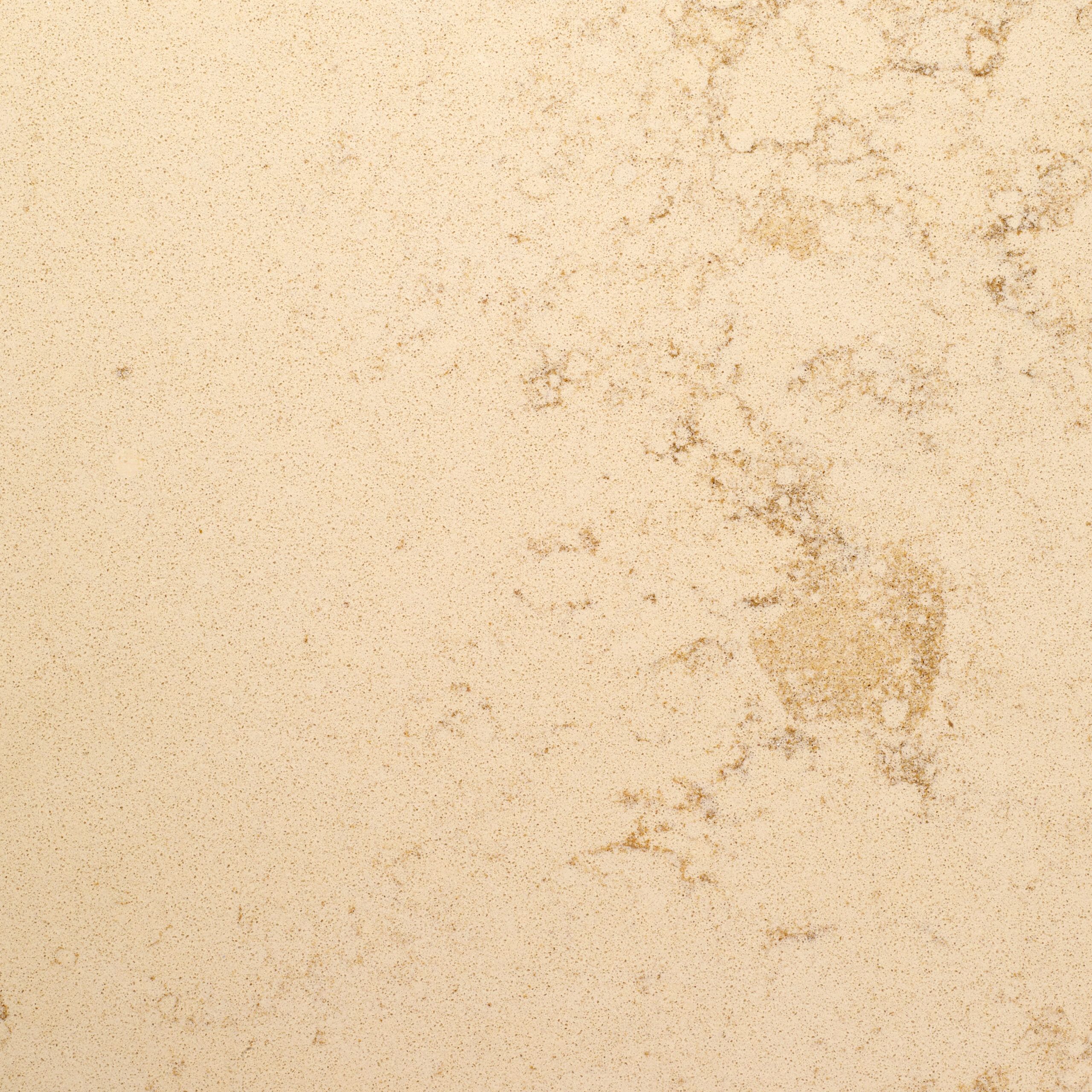 Crema Marble
Brown veining against a sand background. Giallo Michelangelo, Zodiaq by Dupont, about $60-$100 per sq. ft.*
*All prices include installation.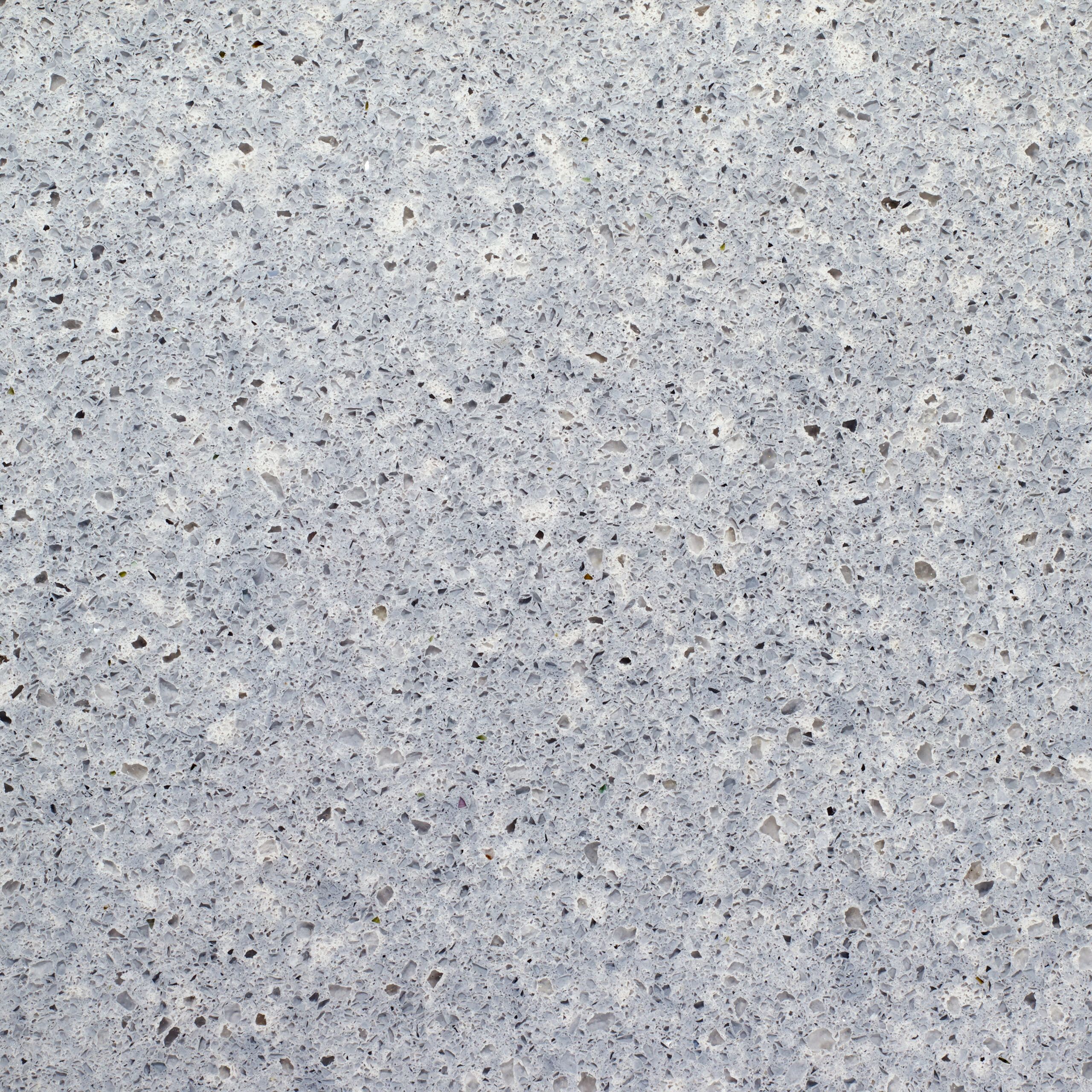 Watery Hue
Recycled-glass flecks glisten in a blue-gray base. Calm Springs, Zodiaq by Dupont, about $60-$100 per sq. ft.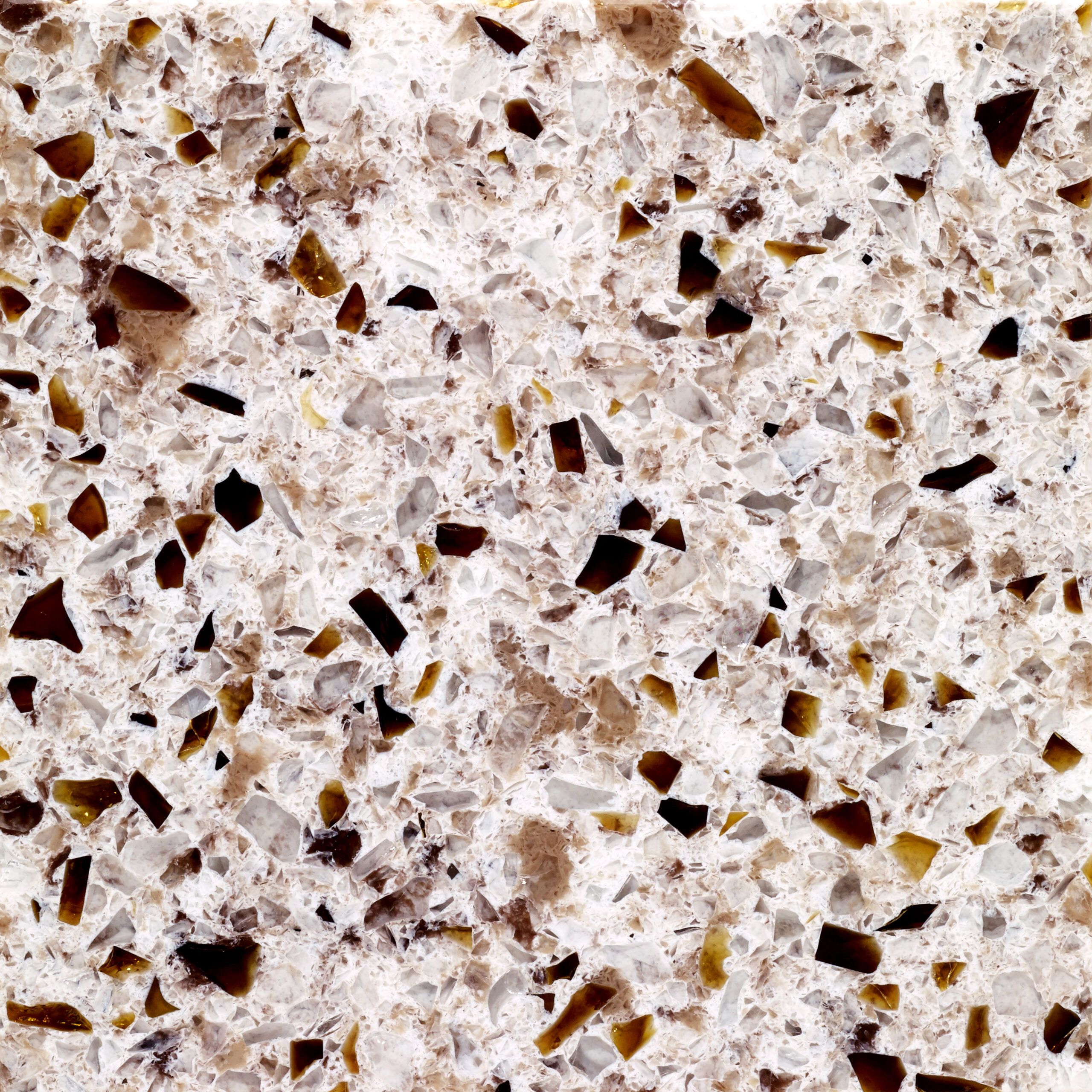 Terrazzo Effect
Earthy recycled-glass particles add sparkle. Forest Snow, Eco by Cosentino, about $62-$78 per sq. ft.; ecobycosentino.com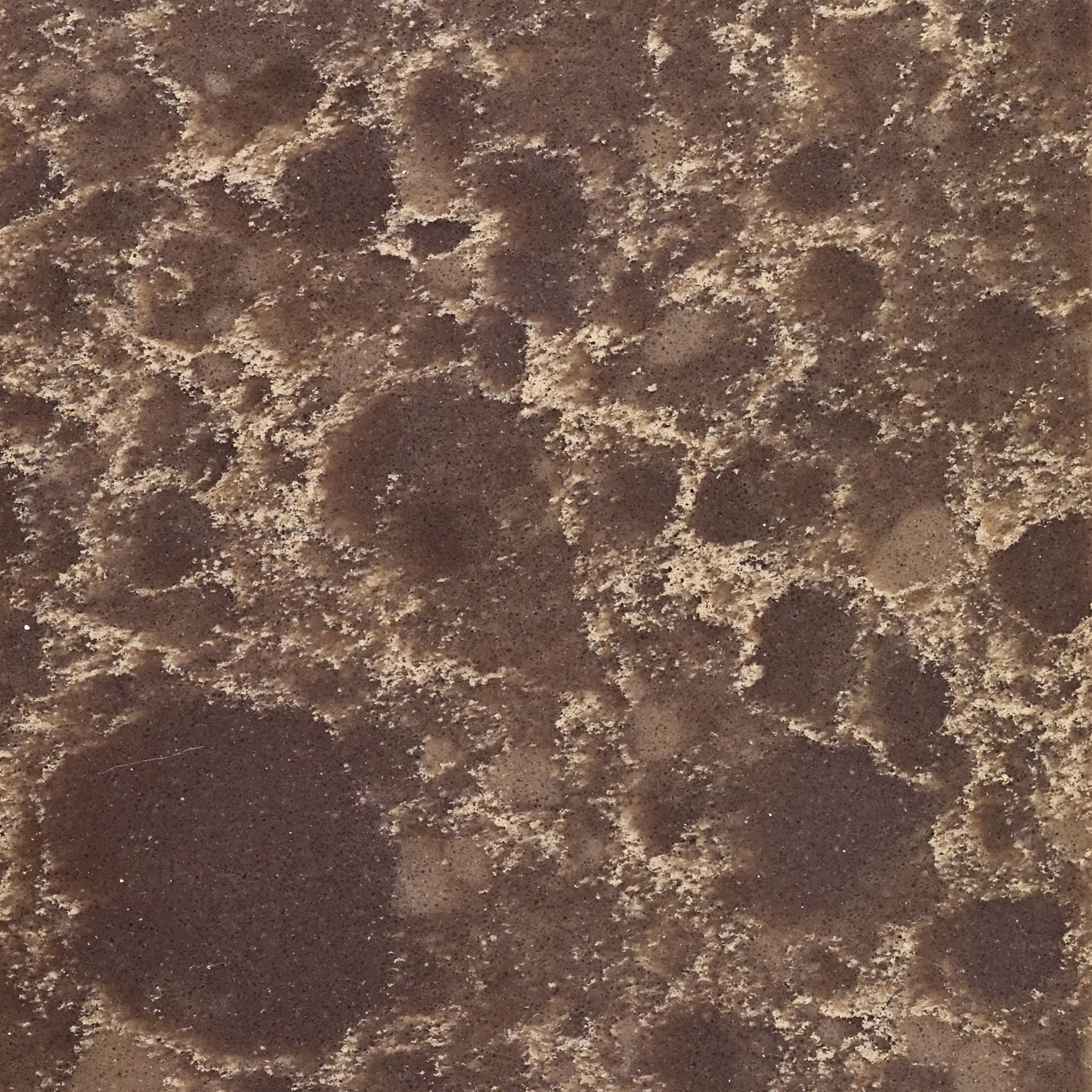 Tone on Tone
Tan watermarks speckle a brown base. Vintage Limestone, Viatera by LG, about $67-$72 per sq. ft.; lgviaterausa.com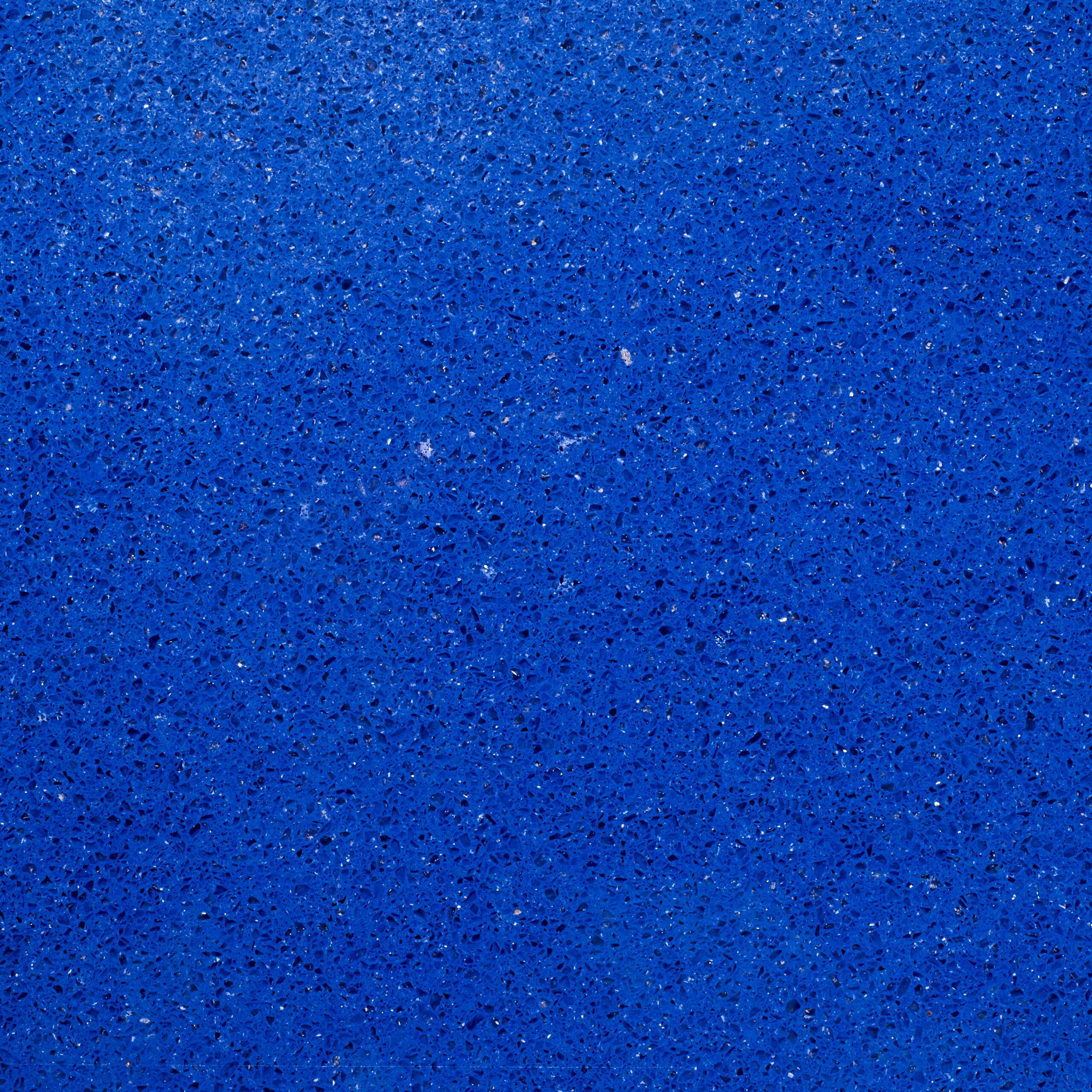 Cobalt
Vibrant blue highlighted with translucent particles. Celestial Blue, Zodiaq by Dupont, about $60-$100 per sq. ft.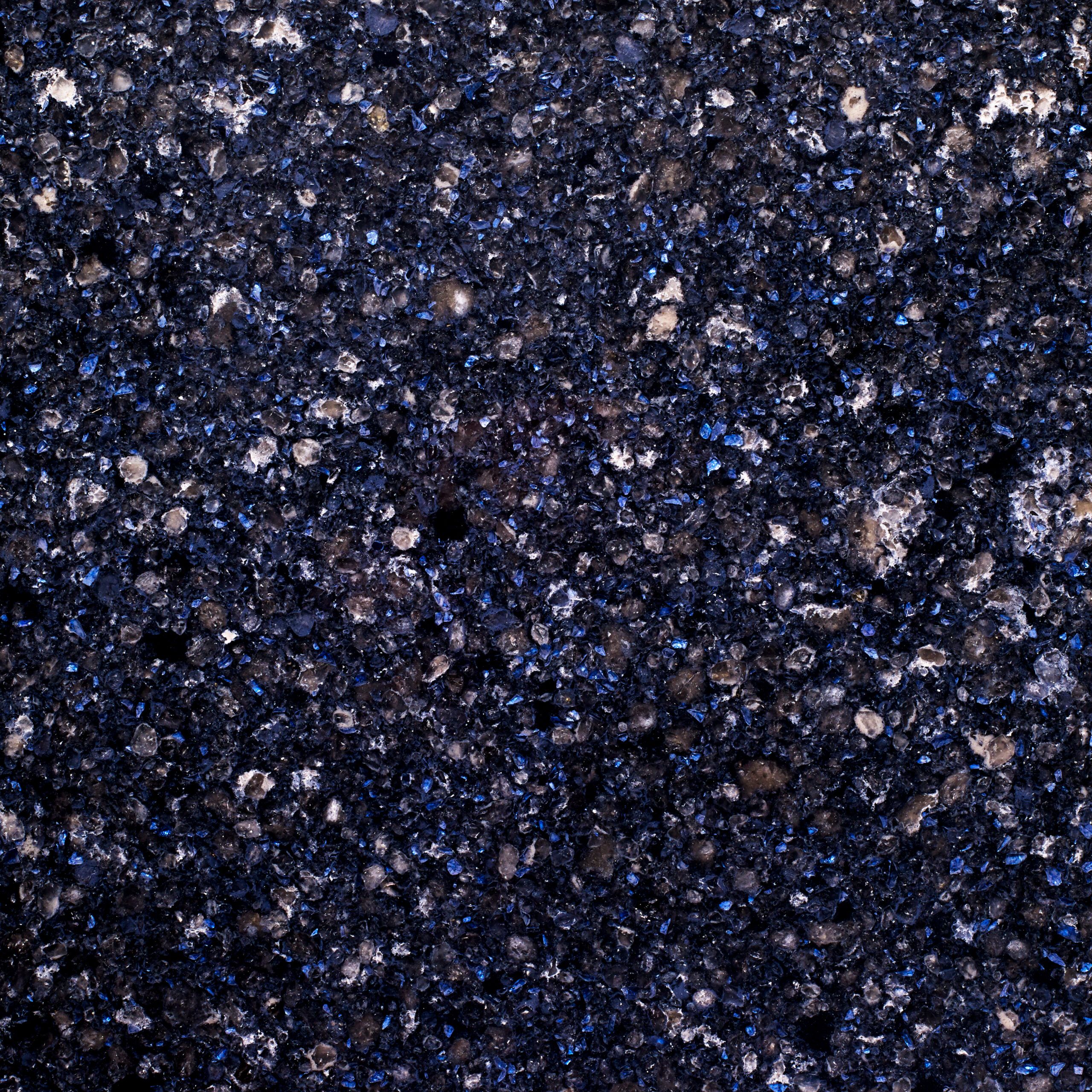 Crystallized
Small iridescent blue and charcoal flecks. Waterford, Cambria, about $75-$80 per sq. ft.; cambriausa.com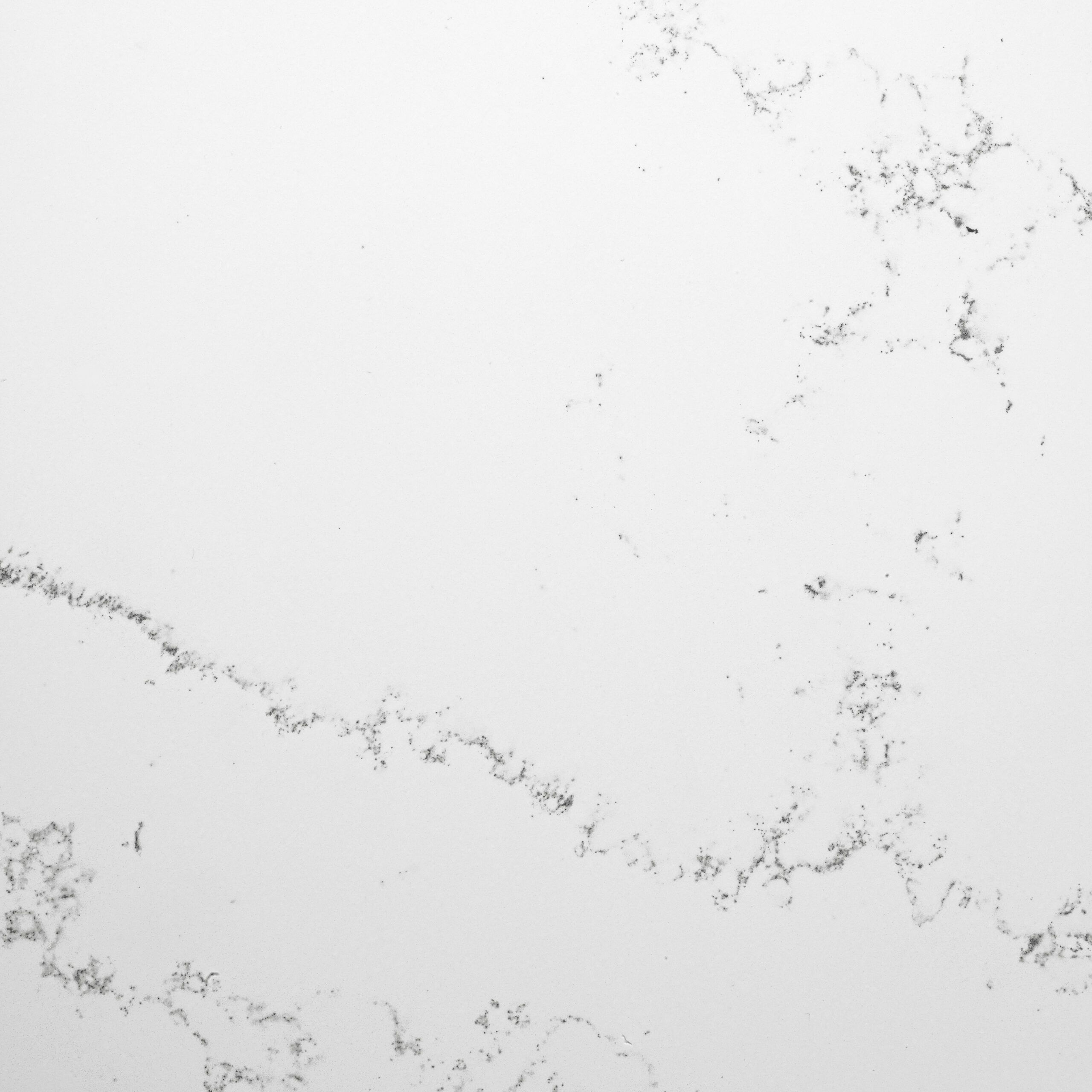 White Marble
Gray striations for the look of Carrara. Tranquility RU613, HanStone, $55-$95 per sq. ft.; hanwhasurfaces.com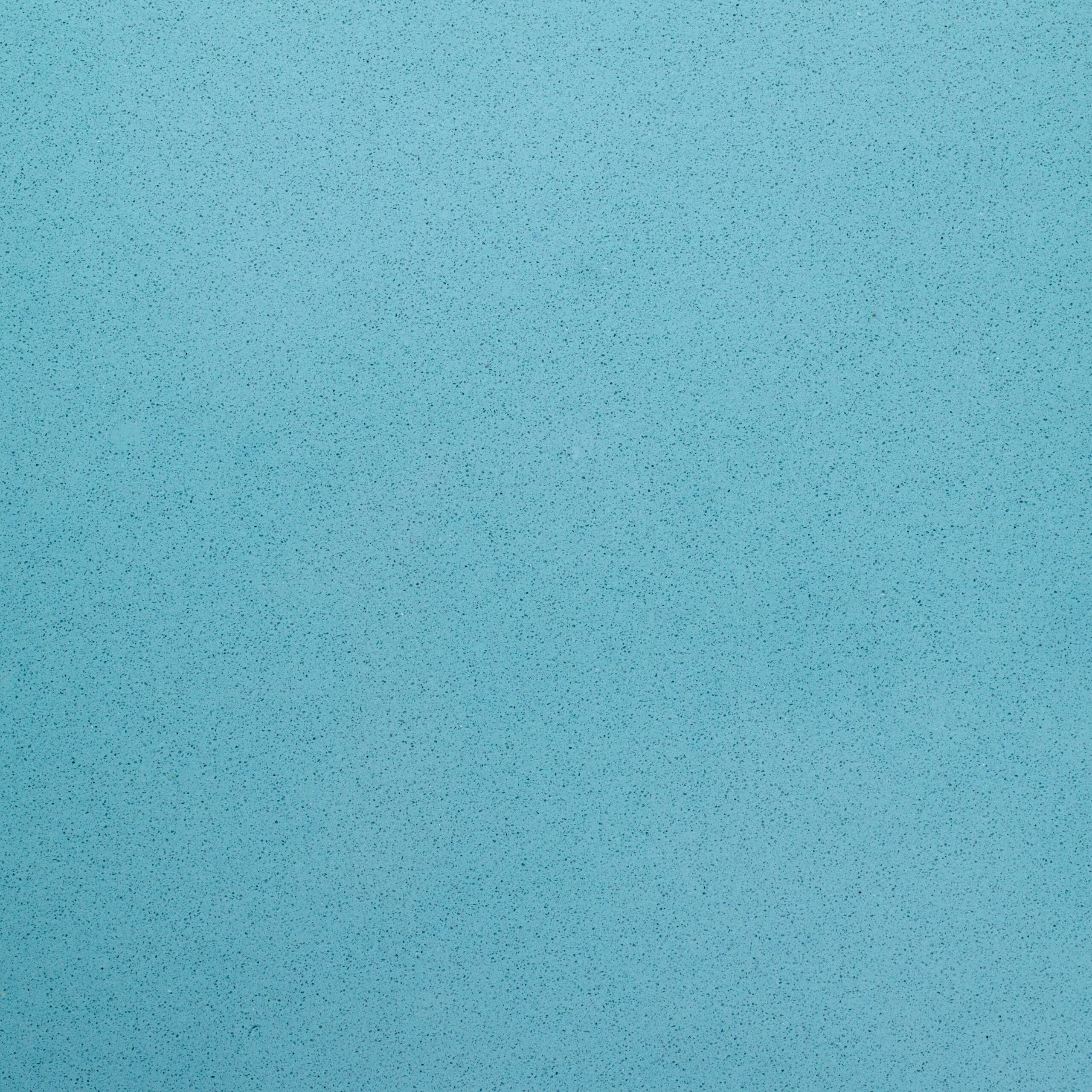 Cool Tone
Solid turquoise with a contemporary feel. Slice of Ice CW102, HanStone, about $55-$95 per sq. ft.; hanwhasurfaces.com
Travertine Style
Reddish-brown lines mimic veining. Ivory Wave MV620, HanStone, about $55-$95 persq. ft.; hanwhasurfaces.com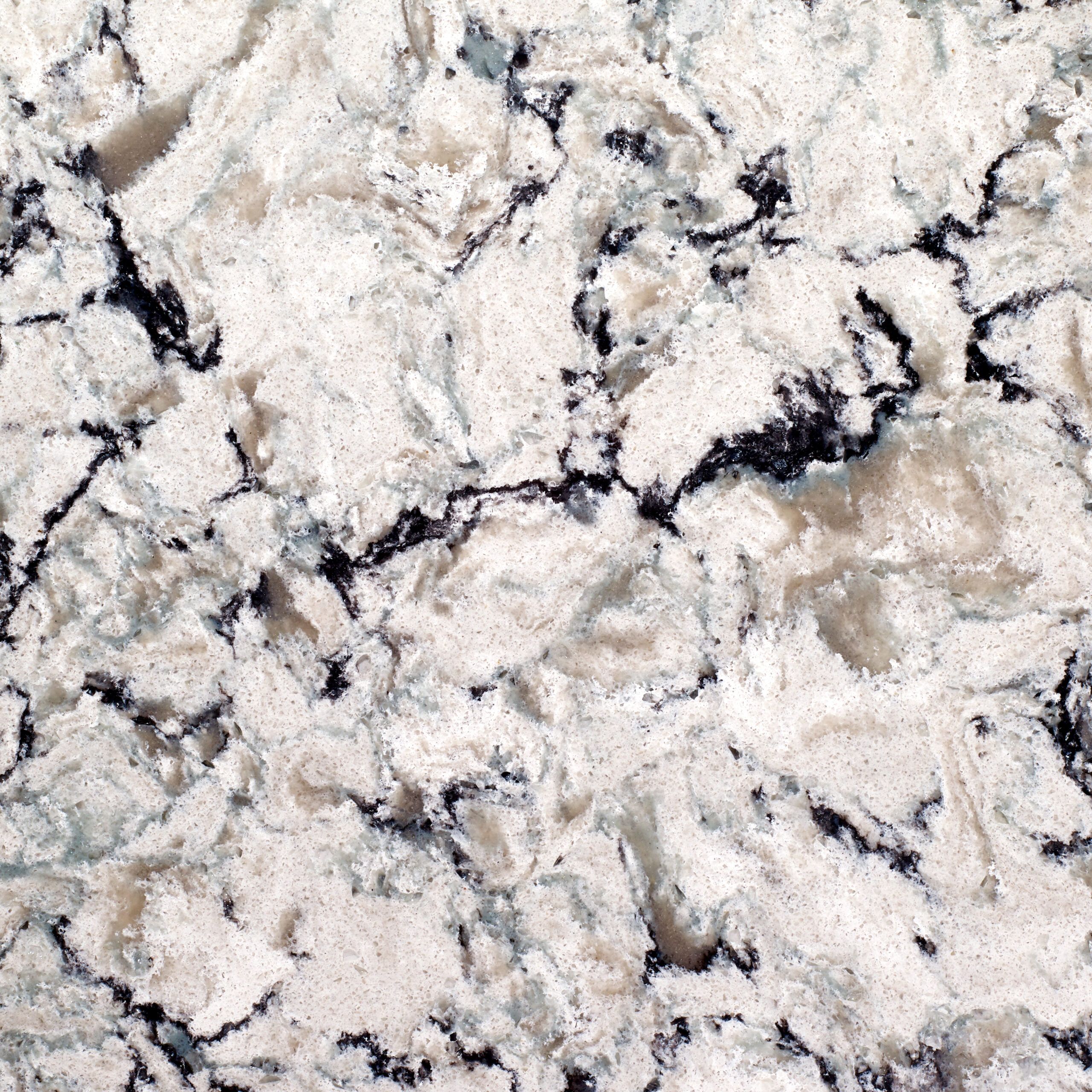 Bold Swirls
Black and gray-blue streaks against taupe and cream. Praa Sands, Cambria, about $75-$80 per sq. ft.; cambriausa.com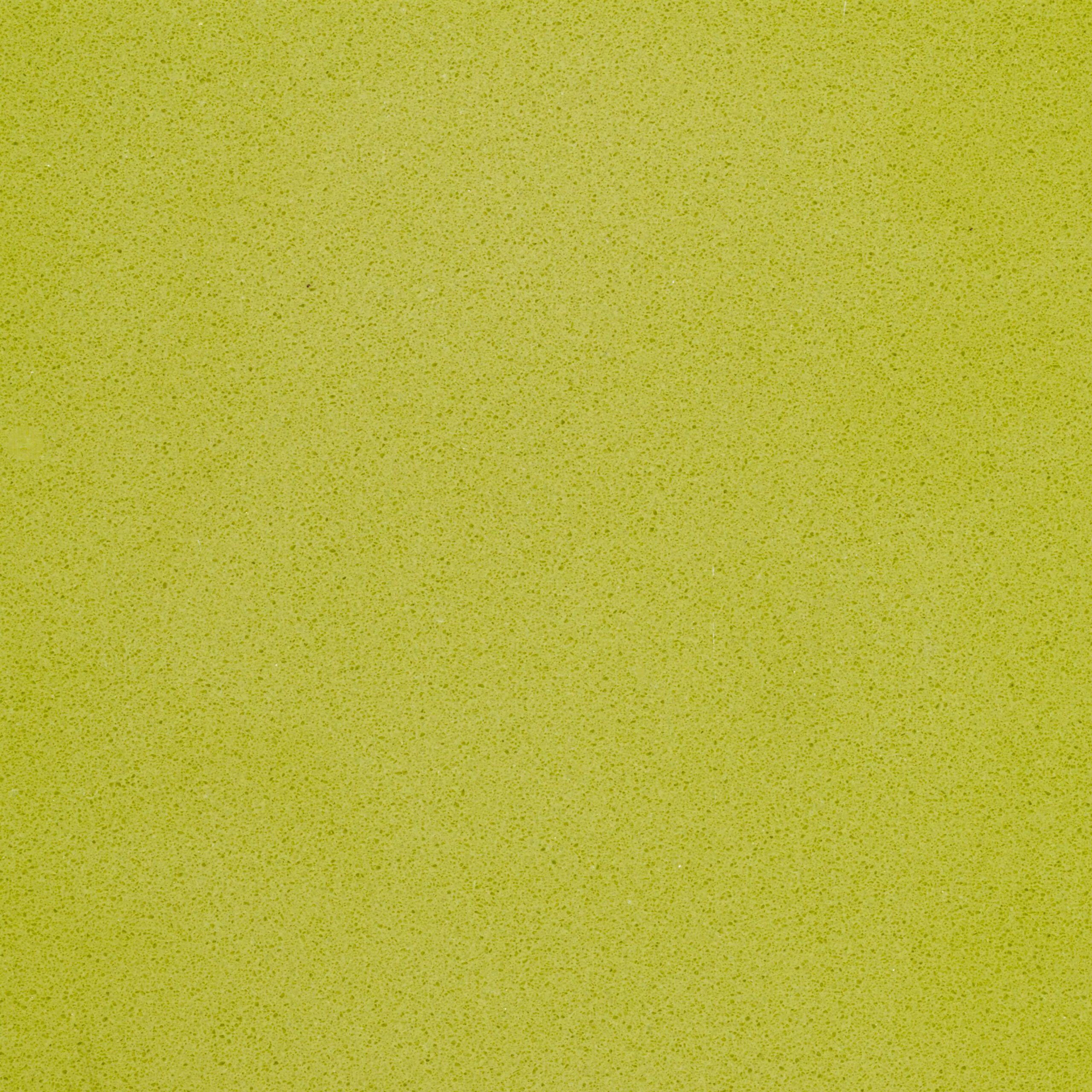 Crisp Green
A lively solid. Green Fun, Silestone by Cosentino, about $54-$74 per sq. ft.; silestoneusa.com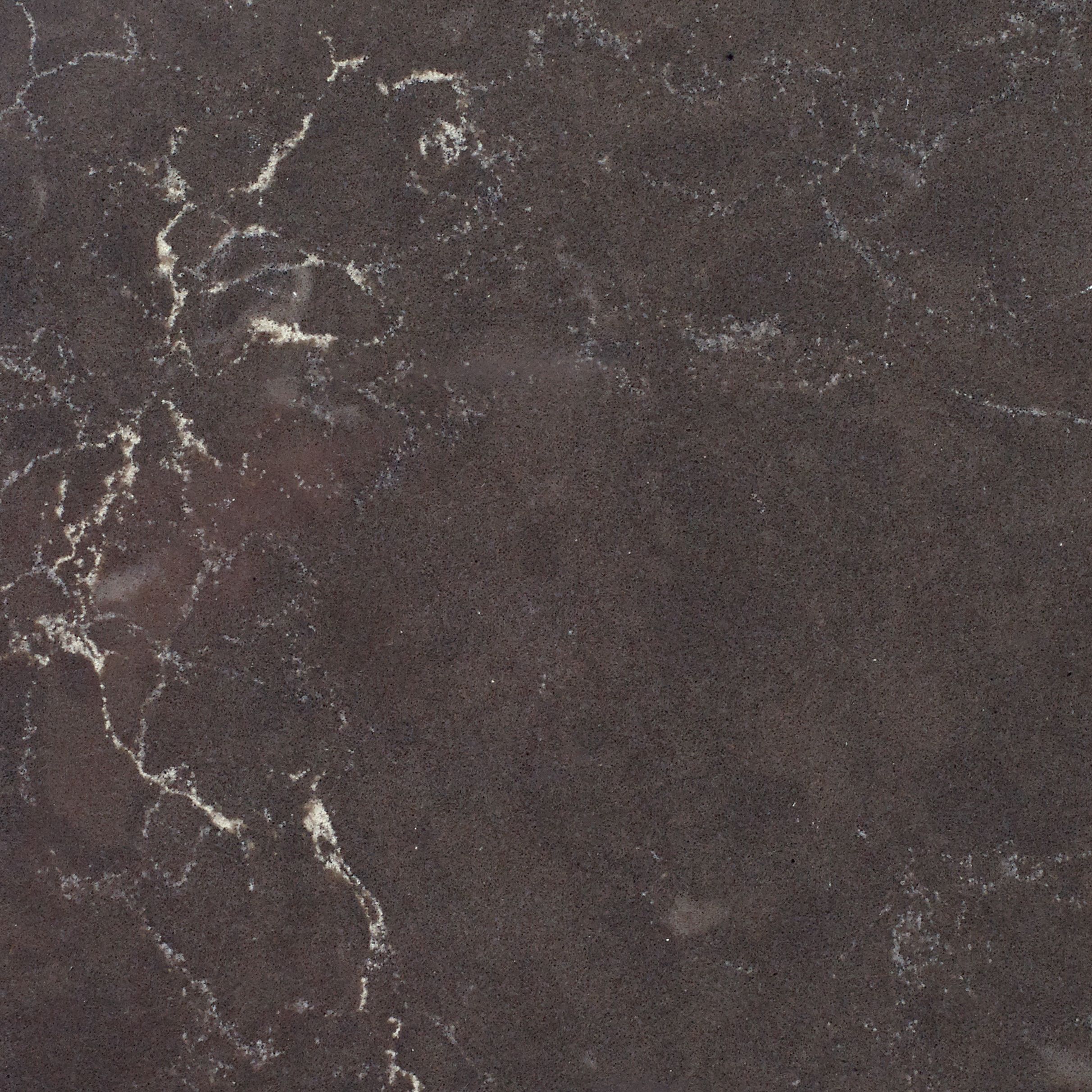 Warm Gray
Subtle cream veins look nature-inspired. Piatra Grey, Caesarstone, about $65-$85 per sq. ft.; caesarstoneus.com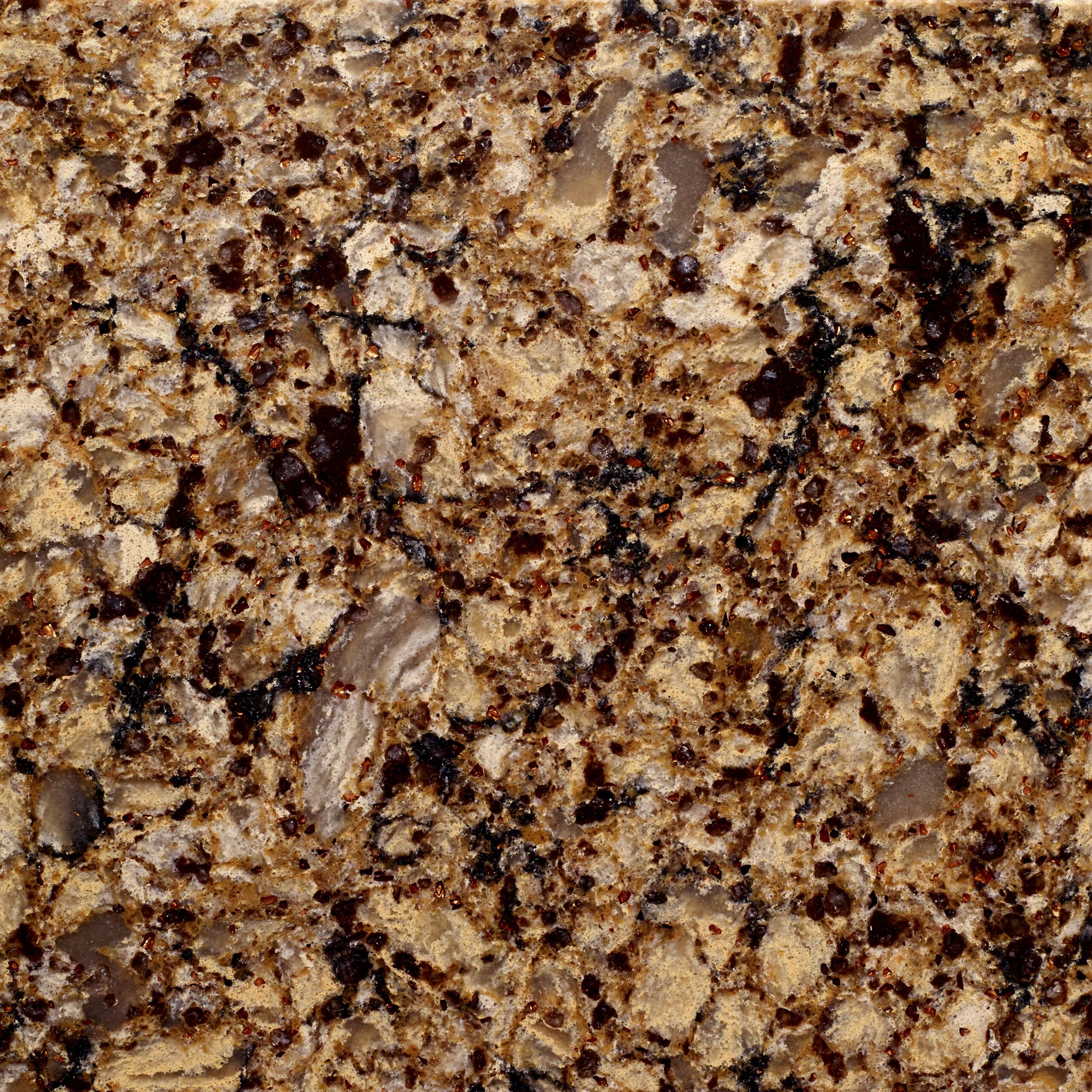 Earthy Speckles
Granite-like veins and light-reflecting crystals. Canterbury, Cambria, about $75-$80 per sq. ft.; cambriausa.com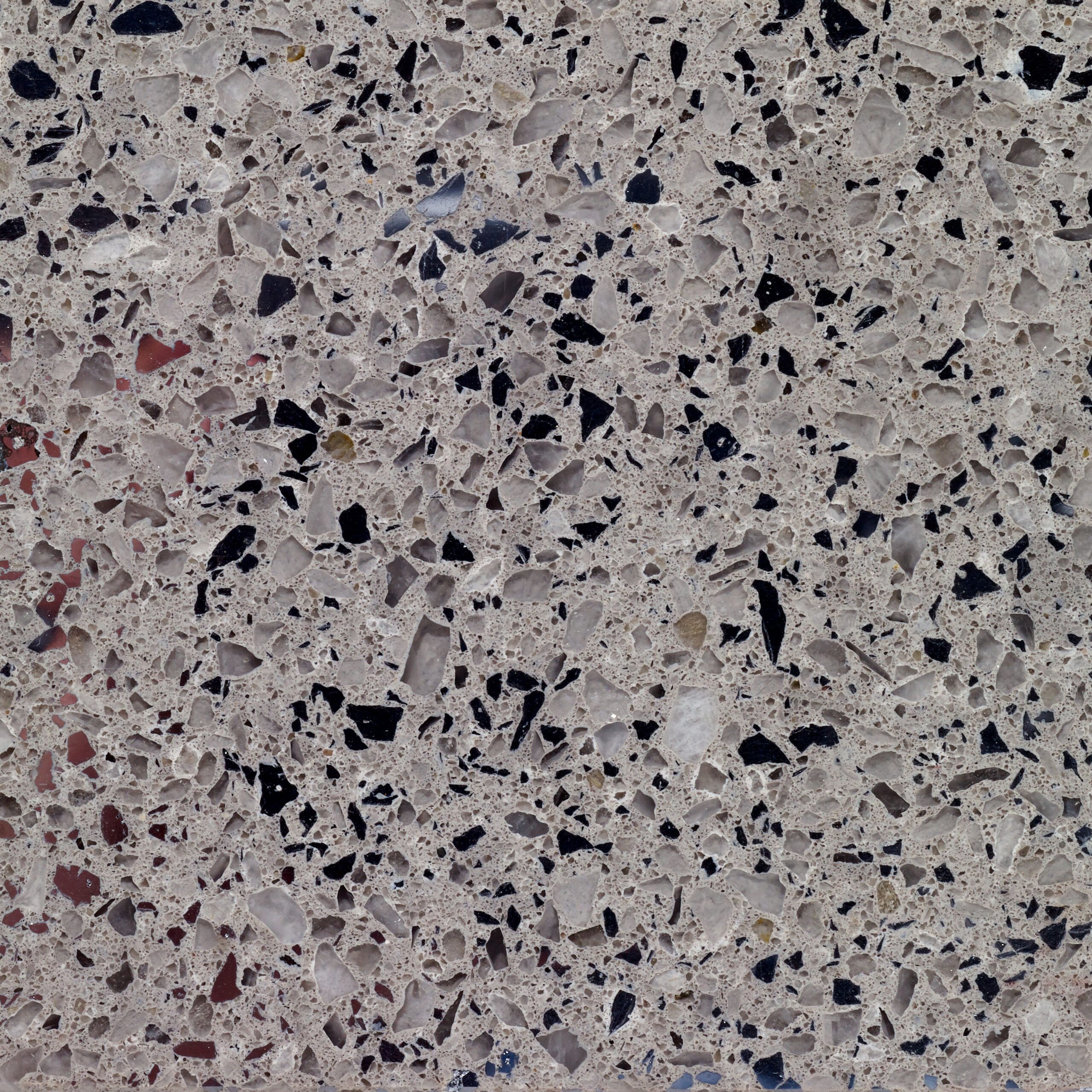 Polished Steel
Metallic flecks impart shine. Chrome, Silestone by Cosentino, about $70-$89 per sq. ft.; silestoneusa.com
Pebbled
Gray-toned particles and swirls on white. Atlantic Salt, Caesarstone, about $65-$85 per sq. ft.; caesarstoneus.com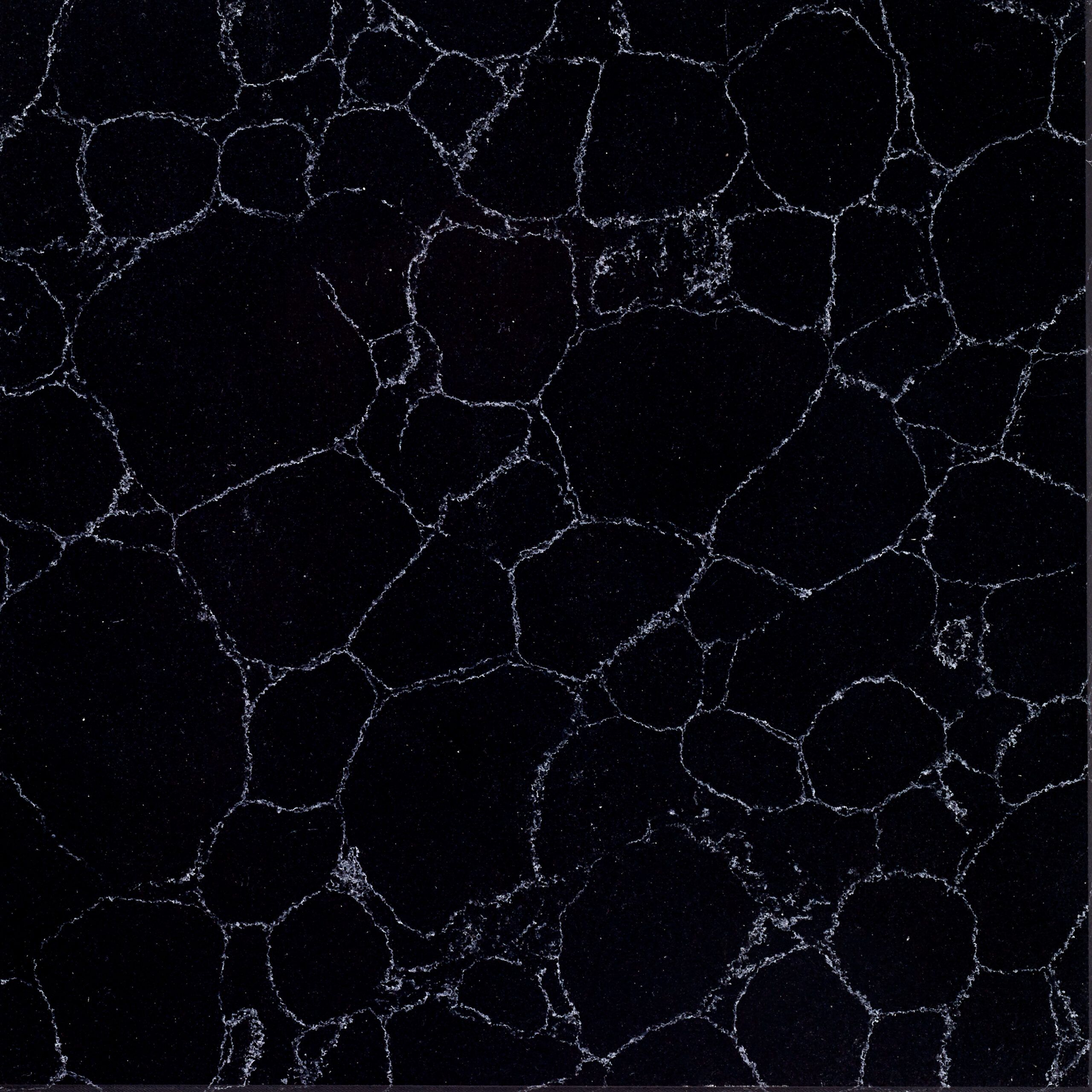 Subtle Striations
Thin white lines overlay a jet-black base. Black Knight 1620, Caesarstone, about $65-$85 per sq. ft.; caesarstoneus.com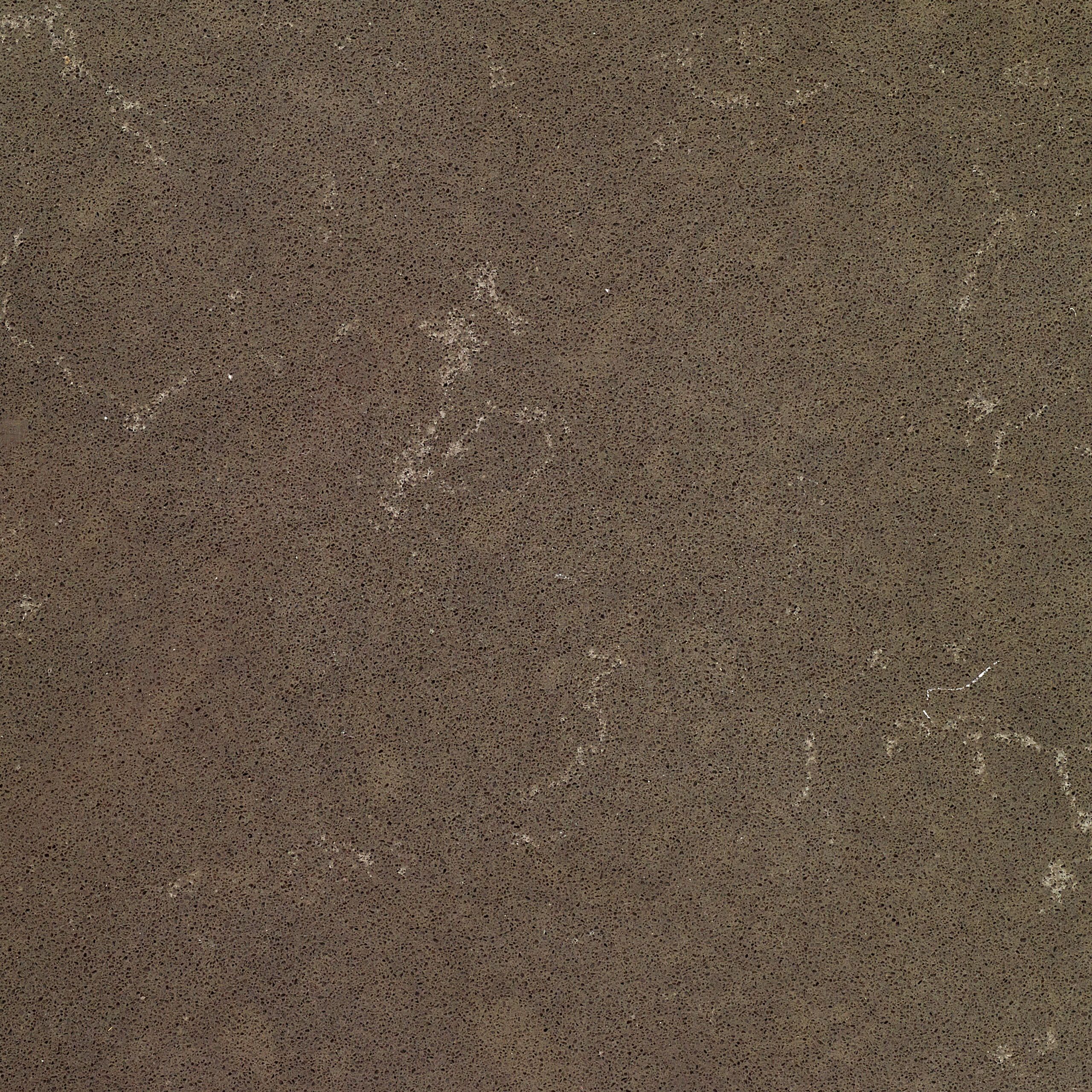 SoapStone-Like
A matte-finish warm gray. Altair, Silestone by Cosentino, about $54-$74 per sq. ft.; silestoneusa.com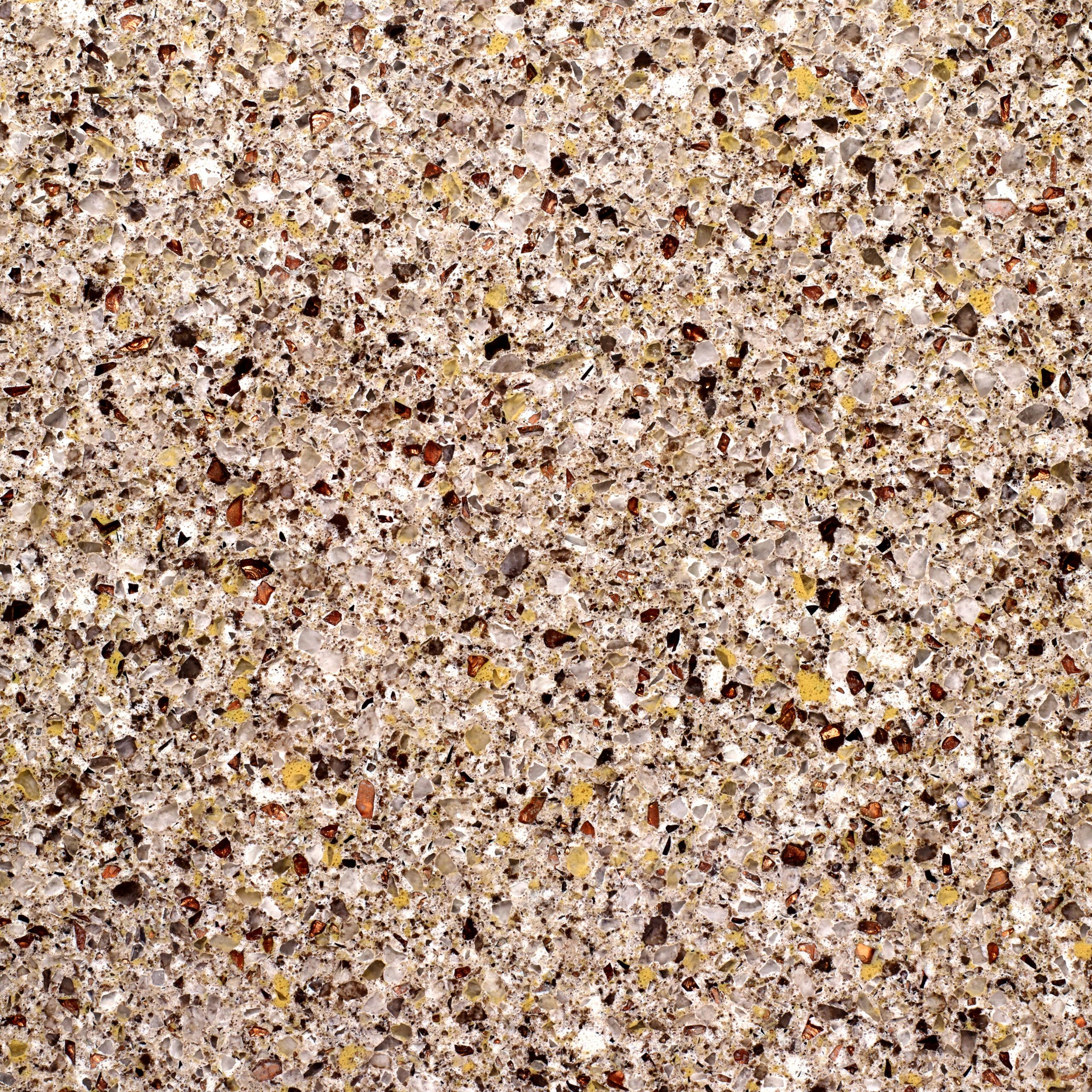 Metallic Chips
Copper-colored flecks add depth. Mariposa Buff MV410, Samsung, about $50-$60 per sq. ft.; staron.com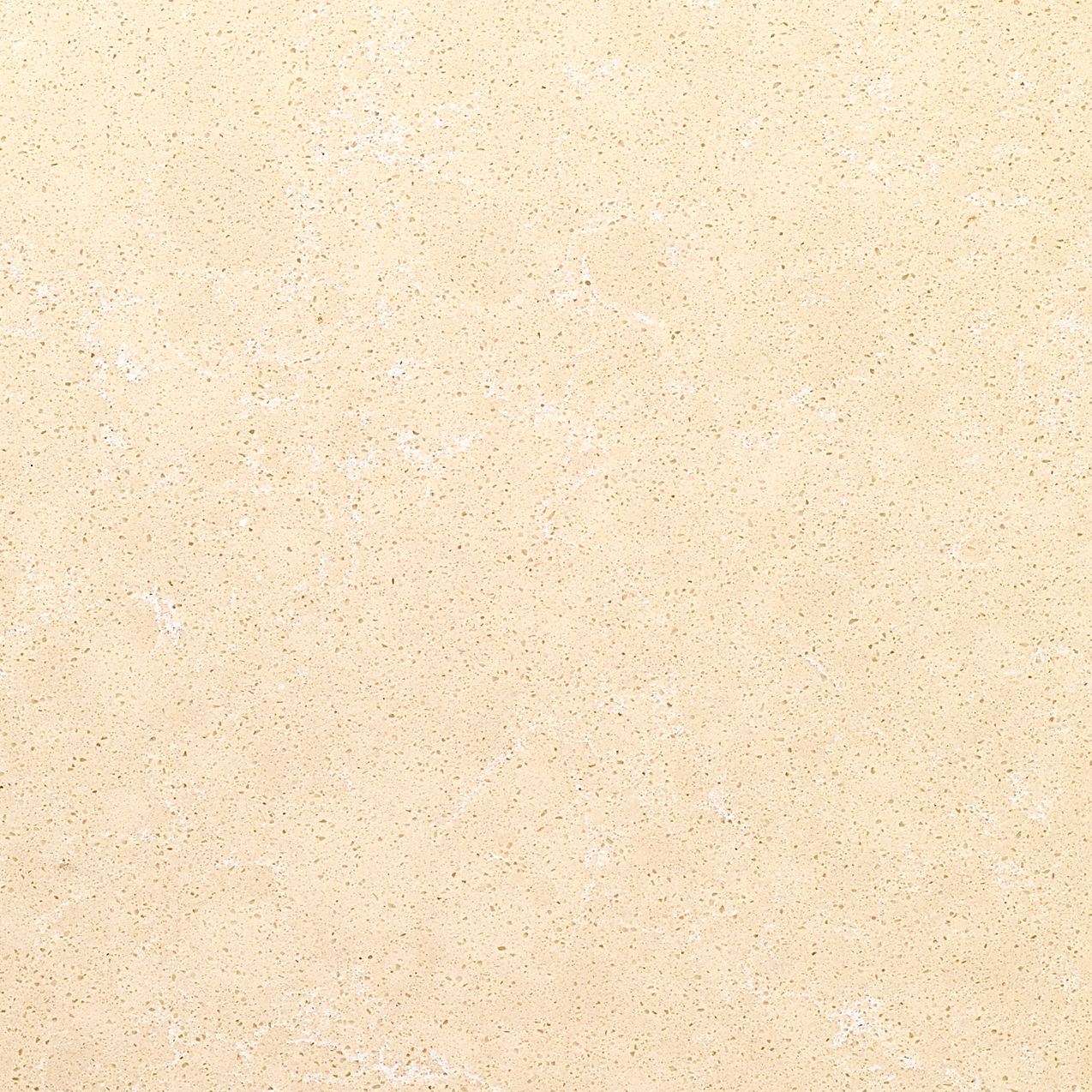 Warm Neutral
This sandy hue has faint color gradations. Sugar Storm, Viatera, about $67-$72 per sq. ft.; lgviaterausa.com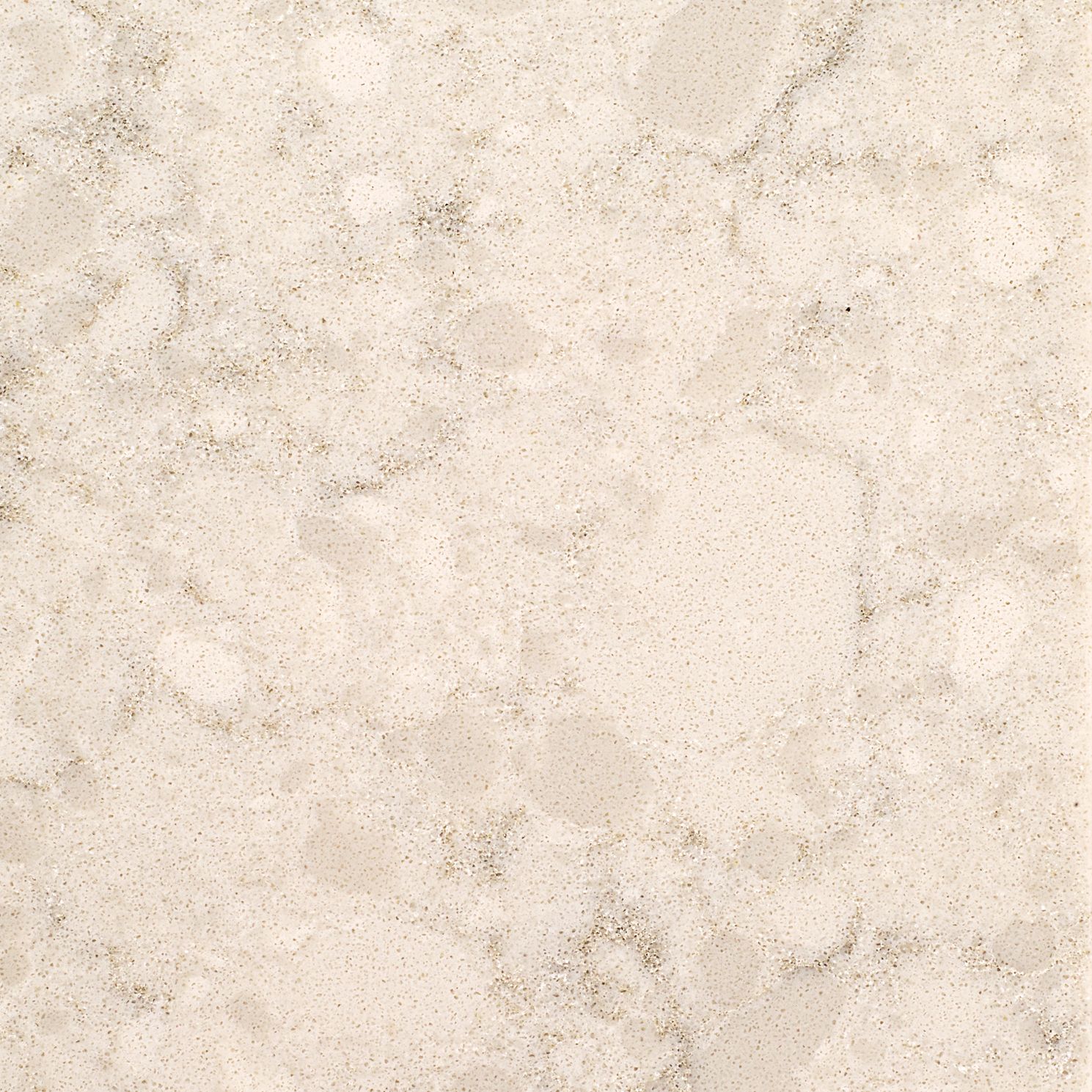 Light Limestone
A granular texture imitates fossil and shell fragments. Natural Limestone, Viatera, about $67-$72 per sq. ft.; lgviaterausa.com
Geode Look
Like a slice of blue mineral chunks. Ocean Palace 1550, Caesarstone, about $65-$85 per sq. ft.; caesarstoneus.com
Rare Jewels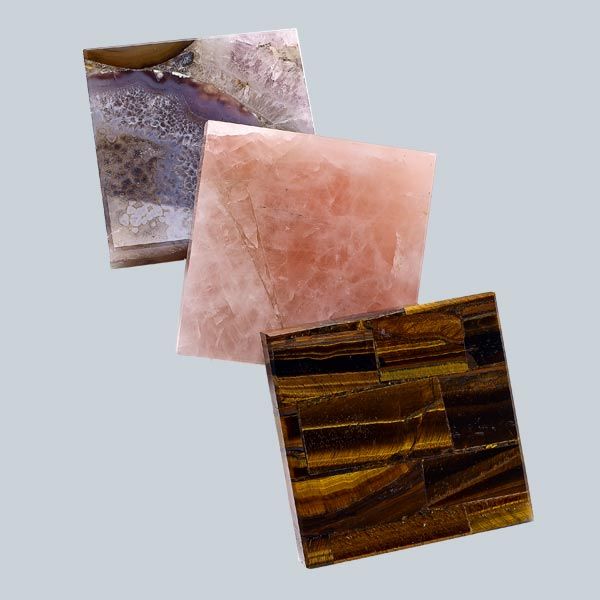 It doesn't get much more luxurious than a semiprecious-stone countertop formed from real slices of colorful quarried crystals, such as agate and amethyst. Added resins work like a glue to bind the gems together into a continuous countertop while also making it stain and scratch resistant. These opulent tops would add a dramatic look to a small kitchen island, a built-in bar, or a powder-room vanity.
Shown: Concetto Collection in Brown Agate, Rose Quartz, and Tiger Eye, about $400 per sq. ft.; caesarstoneus.com
The Finishing Touch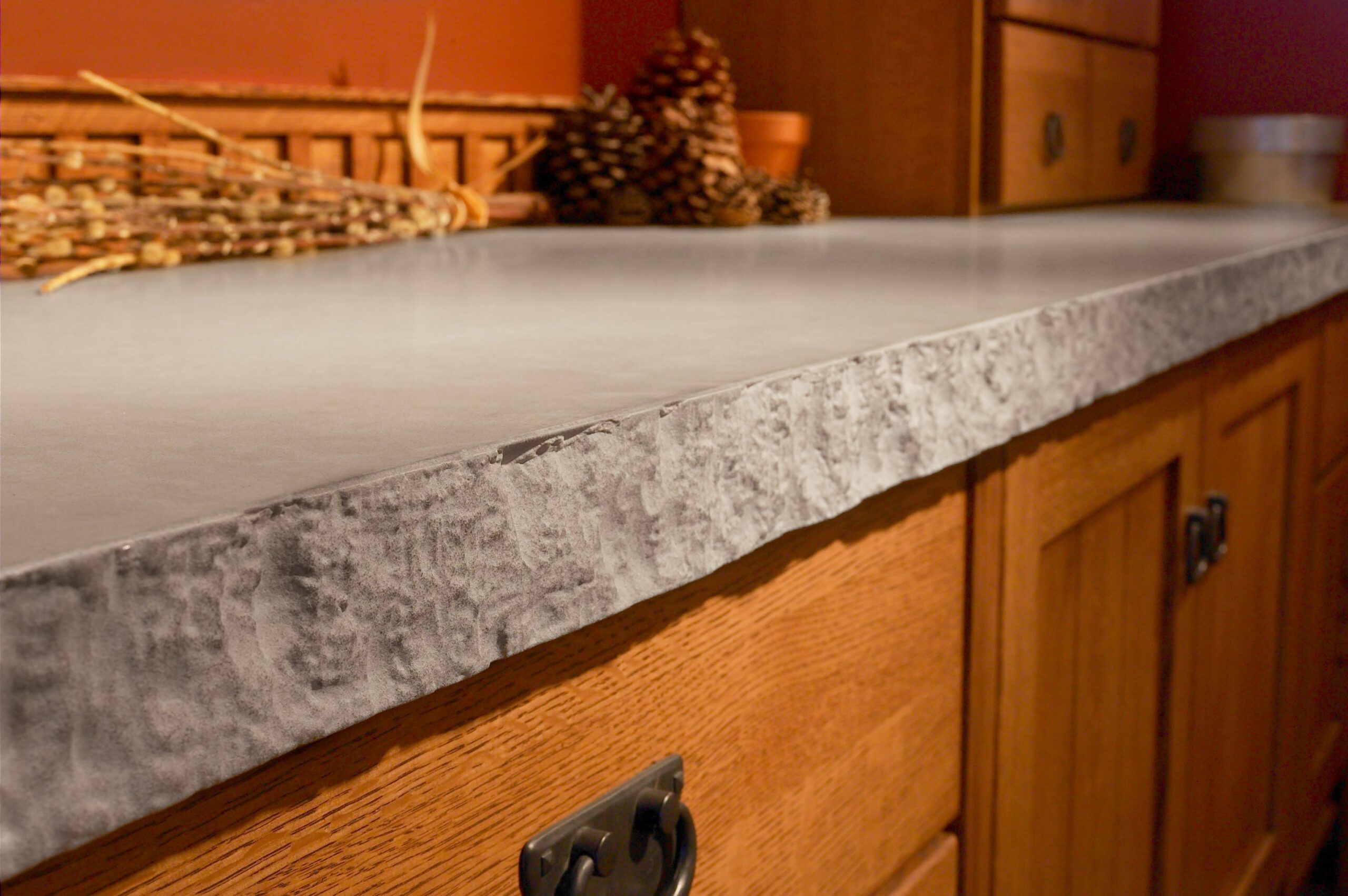 Just about any edge profile that you can get with stone can be replicated with quartz. The standard eased edge, slightly rounded over so that there aren't any sharp angles, and the more fanciful ogee, which resembles an S curve on its side, are two of the most popular treatments.
Your fabricator will help you select an edge that suits your kitchen's style and the countertop's thickness—typically ½, ¾, or 1¼ inches—and will shape the profile using a template provided by the manufacturer. Fabricators can also do custom designs, such as a chiseled, raw edge (shown) or a gently cascading three-level waterfall-style profile. Keep in mind that the more complex the edge, the higher the cost.
Shown: Desert Limestone with chiseled edge, about $65-$85 per sq. ft.; caesarstoneus.com
Quartz Countertops to Suit Every Style
Relaxed Farmhouse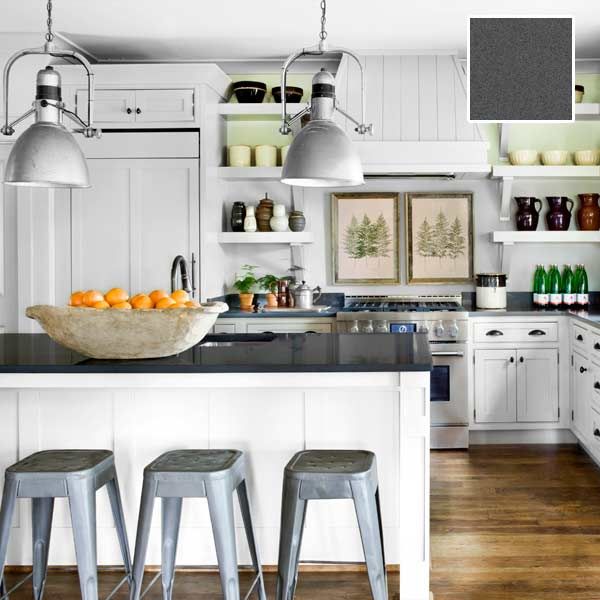 This slate-gray countertop has a muted, lived-in look to match the zinc stools and the weather-beaten-steel pendant light. Open shelves and painted cabinets with bin-pull drawer hardware add to the kitchen's homey appeal.
Shown: Fieldstone, about $75-$80 per sq. ft.; cambriausa.com
Streamlined Modern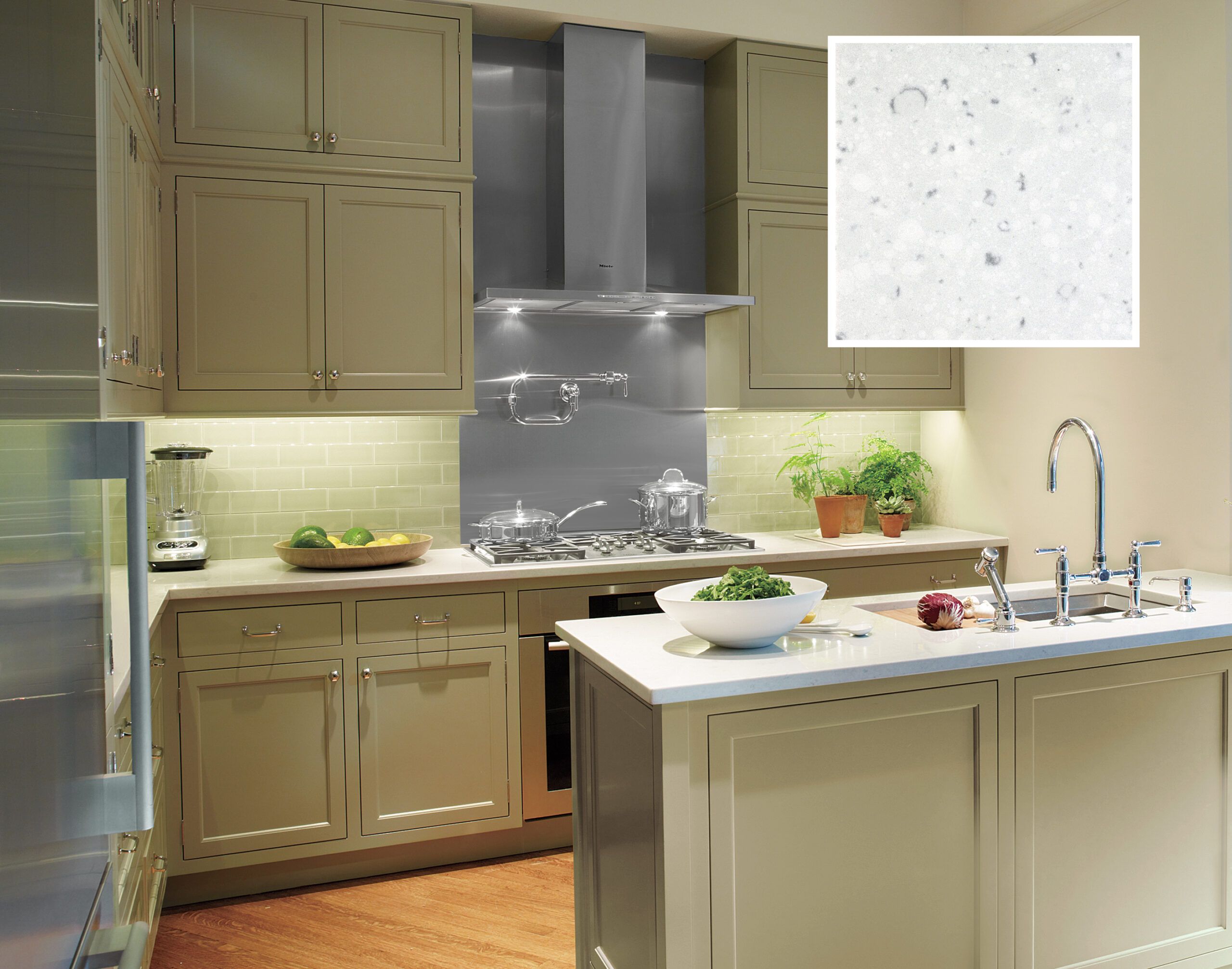 A white countertop with subtle gray veining, a glossy finish, and a simple eased edge makes a crisp contrast with the green-painted cabinets and sleek stainless-steel fixtures and appliances.
Shown: Misty Carrera, about $65-$85 per sq. ft.; caesarstoneus.com
Earthy Traditional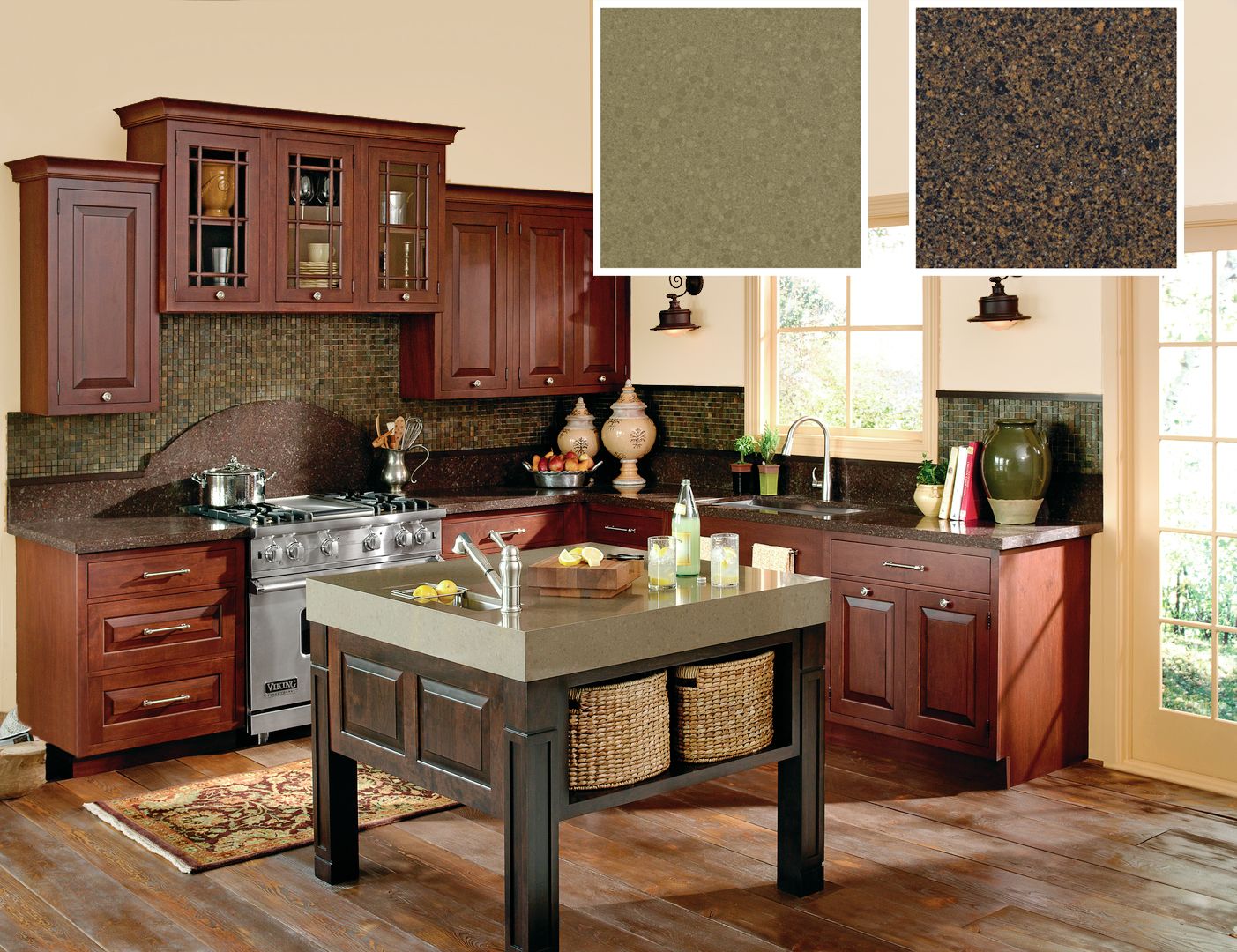 Two warm countertop colors complement the stained wood cabinets. A washstand-style curved backsplash behind the range adds a vintage note. On the island, a 5-inch mitered edge profile gives the work surface a chunky, furniture-like look.
Shown: Nottingham (perimeter), and Sussex (island), about $75-$80 per sq. ft.; cambriausa.com
Timeless Elegance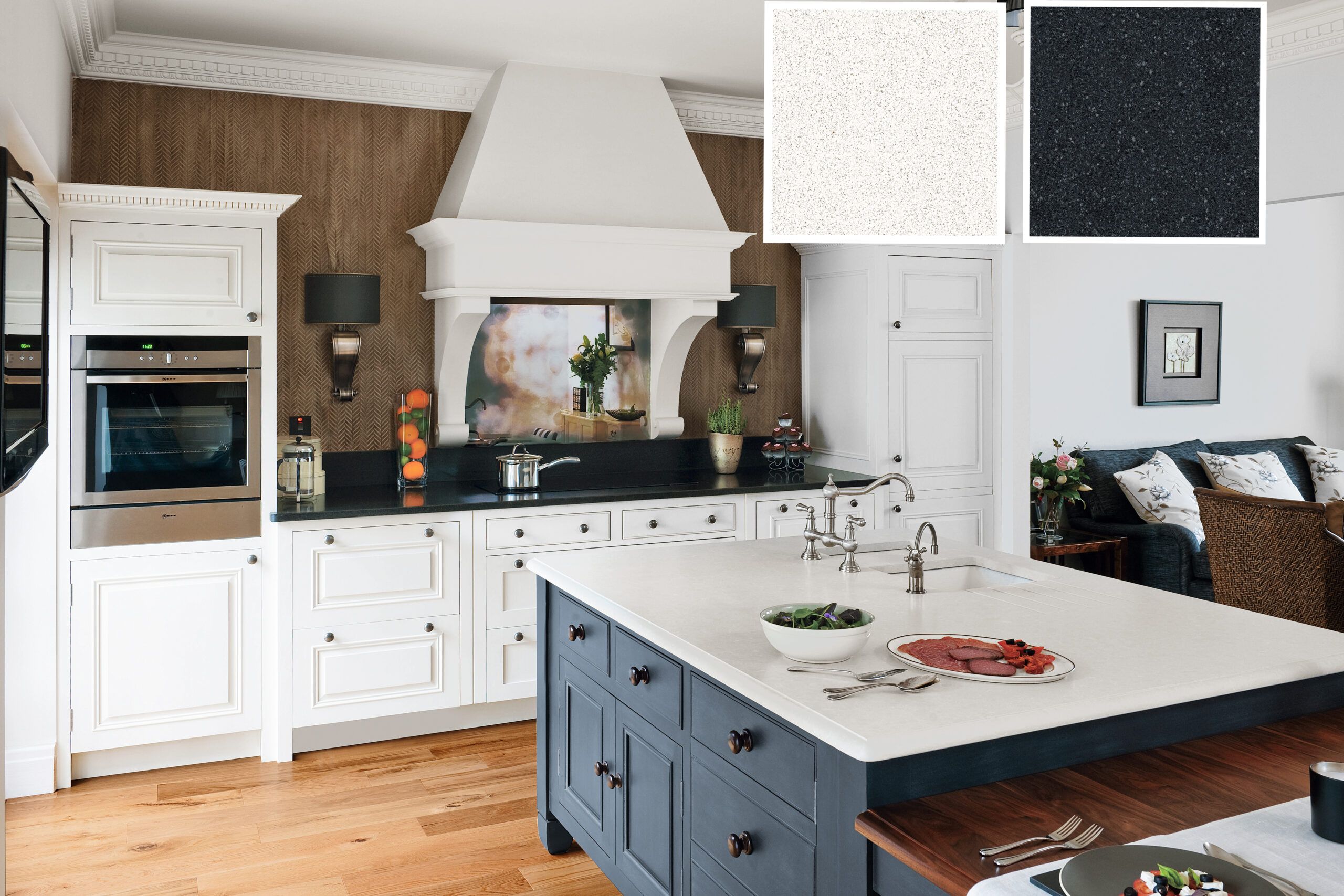 A black-and-white color combination is always a classic. Here, the dark countertop pairs with the lighter perimeter cabinets. The contrasting scheme is reversed on the island, where an ogee edge profile adds an extra dose of sophistication.
Similar to shown: Zodiaq Galaxy Black and Cloud White, $60-$100 per sq. ft.
Prefab Options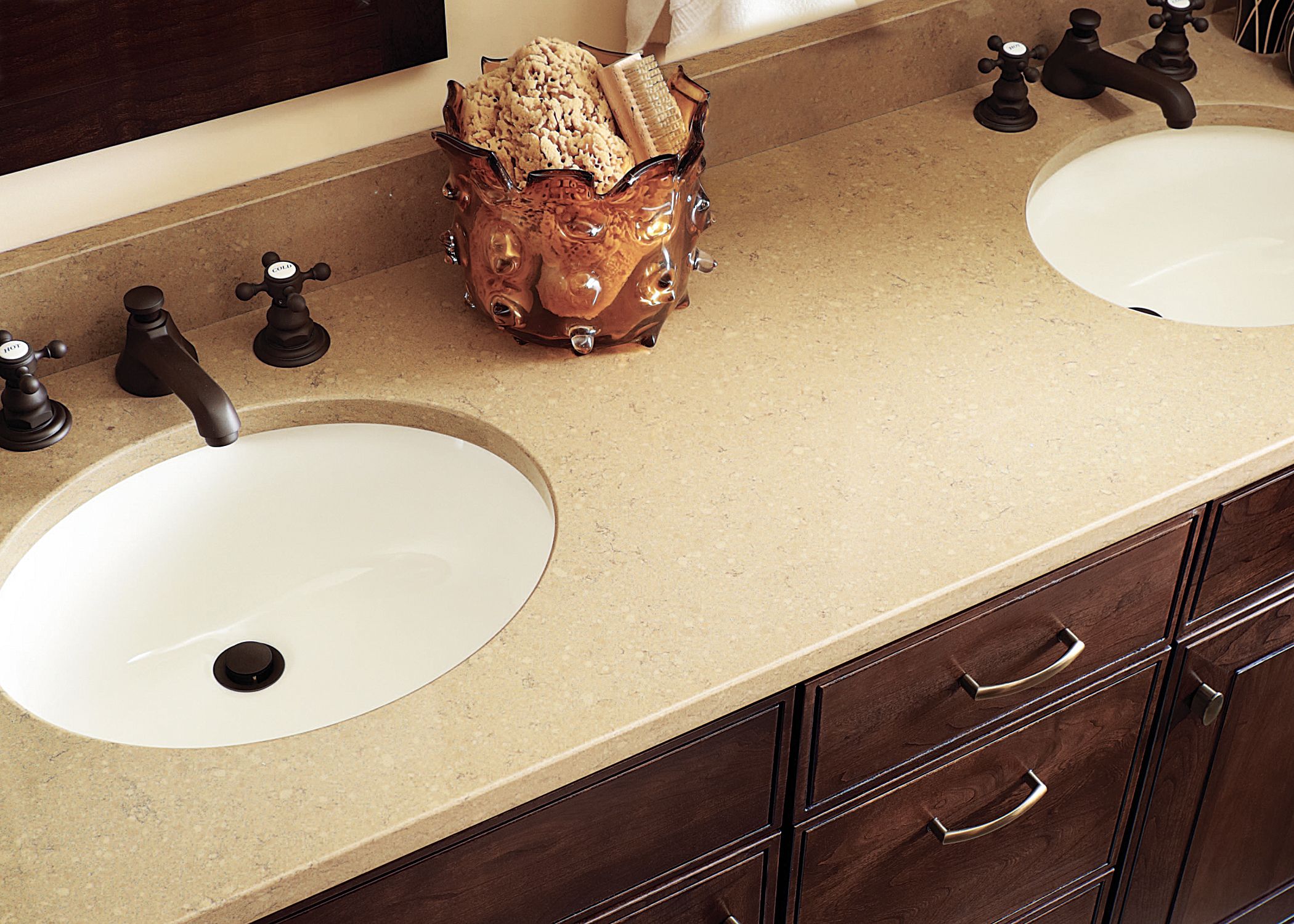 You won't find ready-made slabs for kitchen counters, but home centers now offer smaller bathroom vanity tops with faucet drillings and undermount-sink cutouts. Expect to pay $350 to $900 for a vanity top, depending on the size and color.
Home-furnishings manufacturers are also catching on to the pluses of quartz. Room & Board offers dining, cocktail, accent, and counter-height tables with five different quartz-top options and a choice of bases.
Get a custom-look vanity for less by wedding a prefab counter (sink included) with a stock cabinet.
Shown: Solieque Bisque Baroque, from $640; homedepot.com
Bonus: Beyond The Kitchen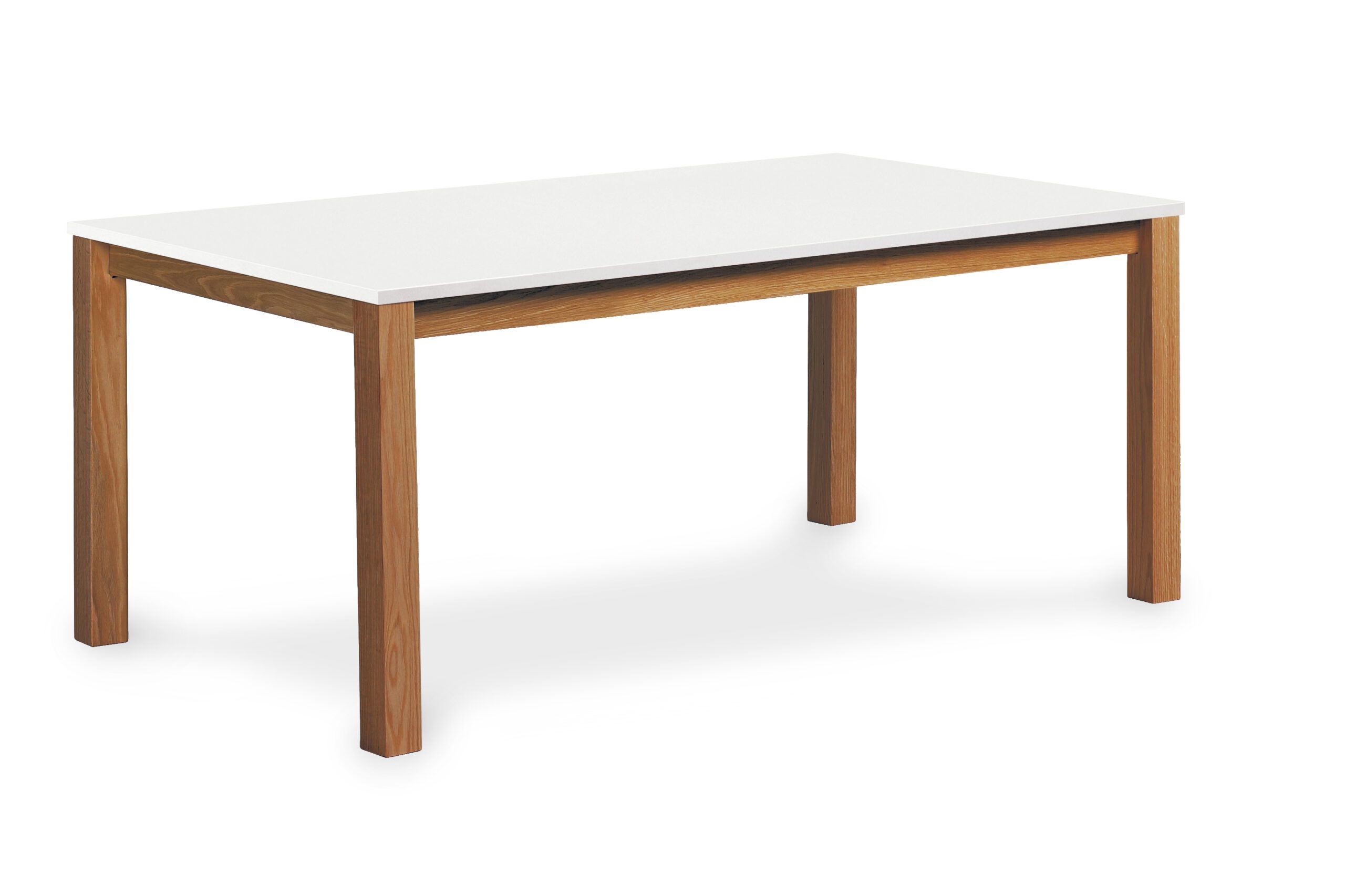 You aren't just limited to using quartz in the kitchen, check out these smart and unique use-cases.
Mix and Match
Mix and match quartz tops and wood bases for an updated farmhouse table.
Shown: Linden walnut table with white quartz top, from $1,700; roomandboard.com
Tub Deck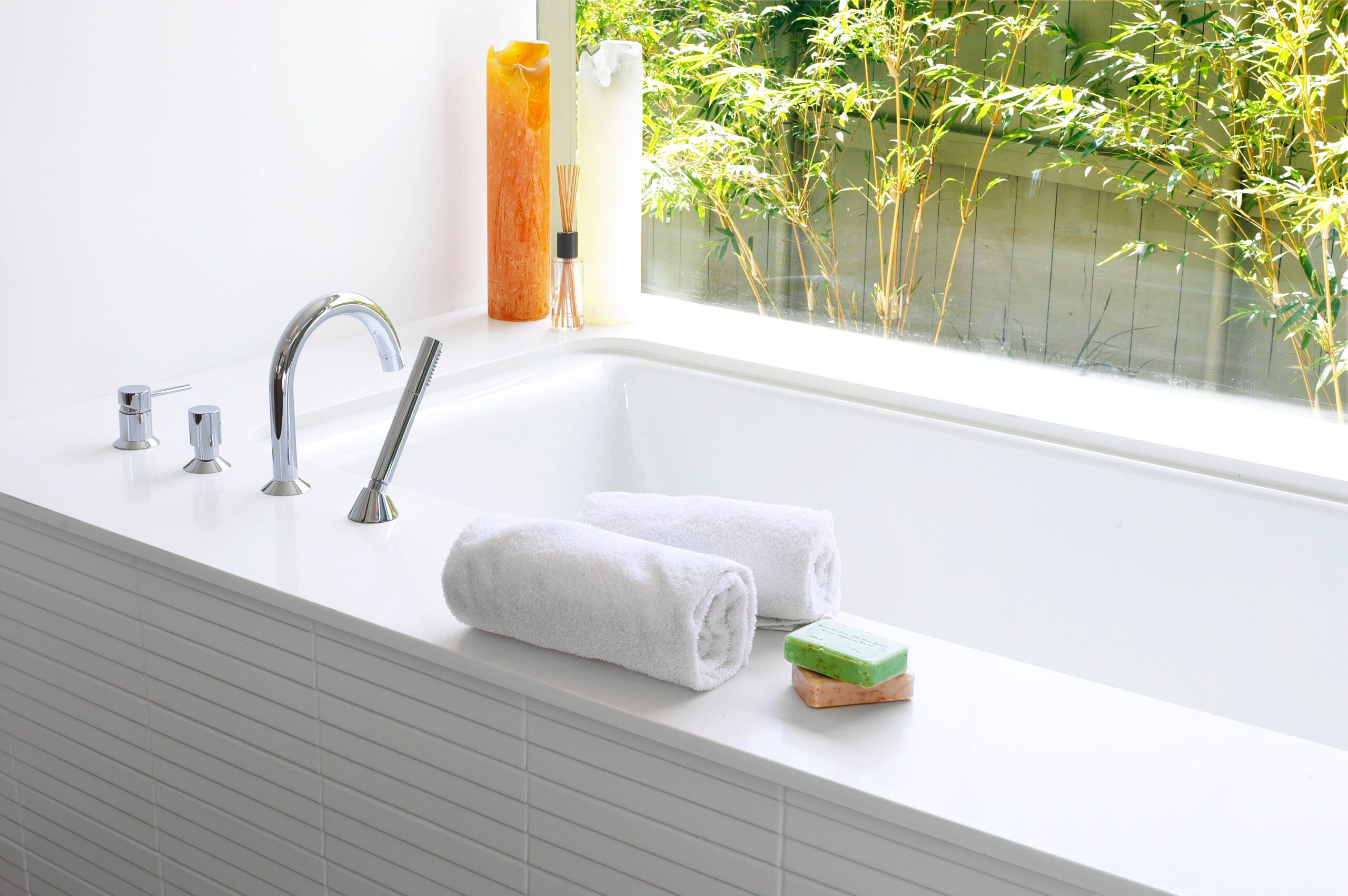 Unlike marble, quartz won't be marred by an errant splash of bath oil.
Shown: Blizzard, $65-$85 per sq. ft.; caesarstoneus.com
Laundry Counter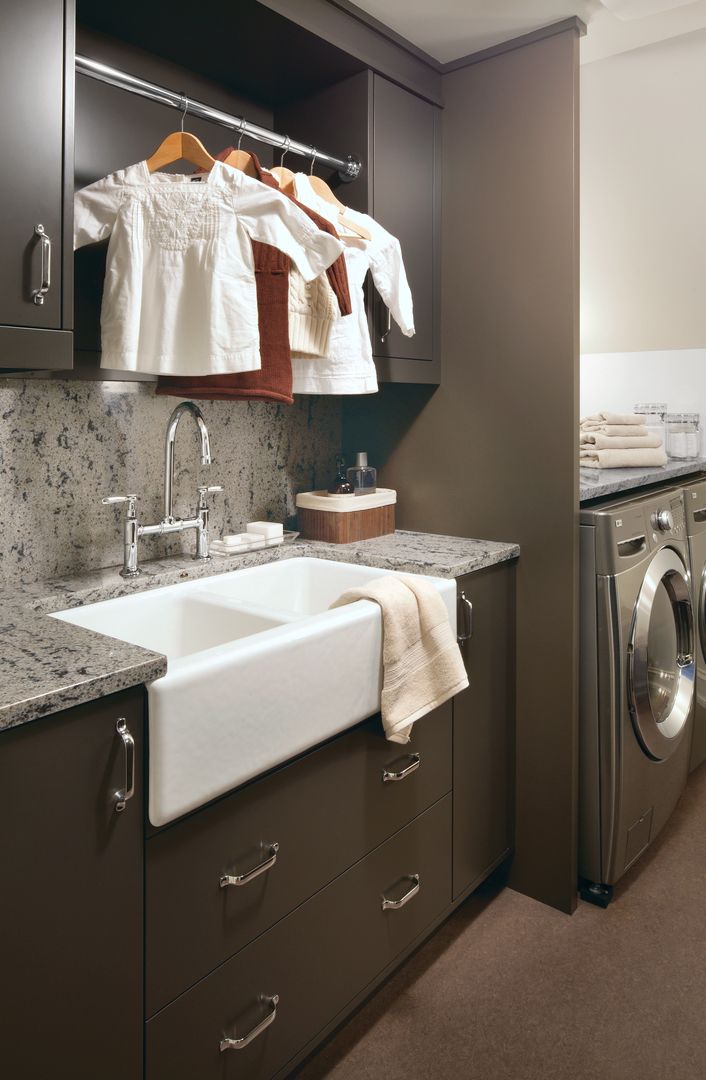 Quartz is antimicrobial, so it won't harbor bacteria from soiled clothes. Just be sure to clean up bleach spills quickly to prevent damage.
Shown: Brentwood, $75-$80 per sq. ft.; cambriausa.com
Shower Seat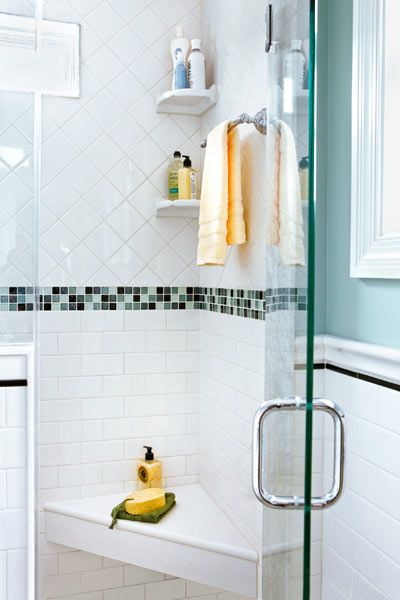 In a fully tiled shower, a corner seat crafted from a quartz remnant means fewer grout lines to keep clean.
Similar to shown: Ultra White, $67-$72 per sq. ft.; lgviaterausa.com
Dining Room Server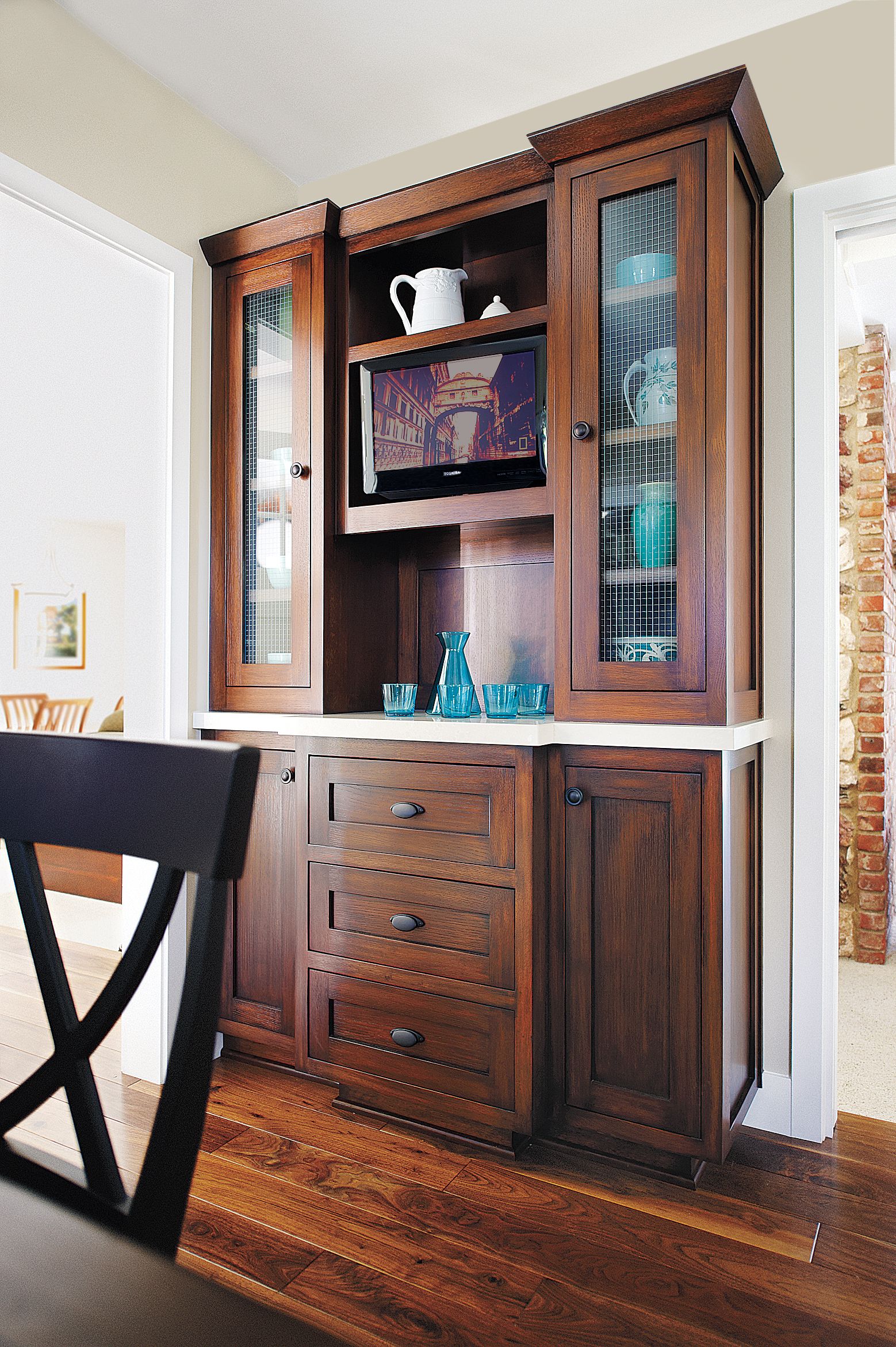 You can stop worrying about red-wine rings; because quartz is nonporous, vino can't penetrate it.
Similar to shown: Tranquility, about $55-$95 per sq. ft.; hanwhasurfaces.com
Fireplace Surround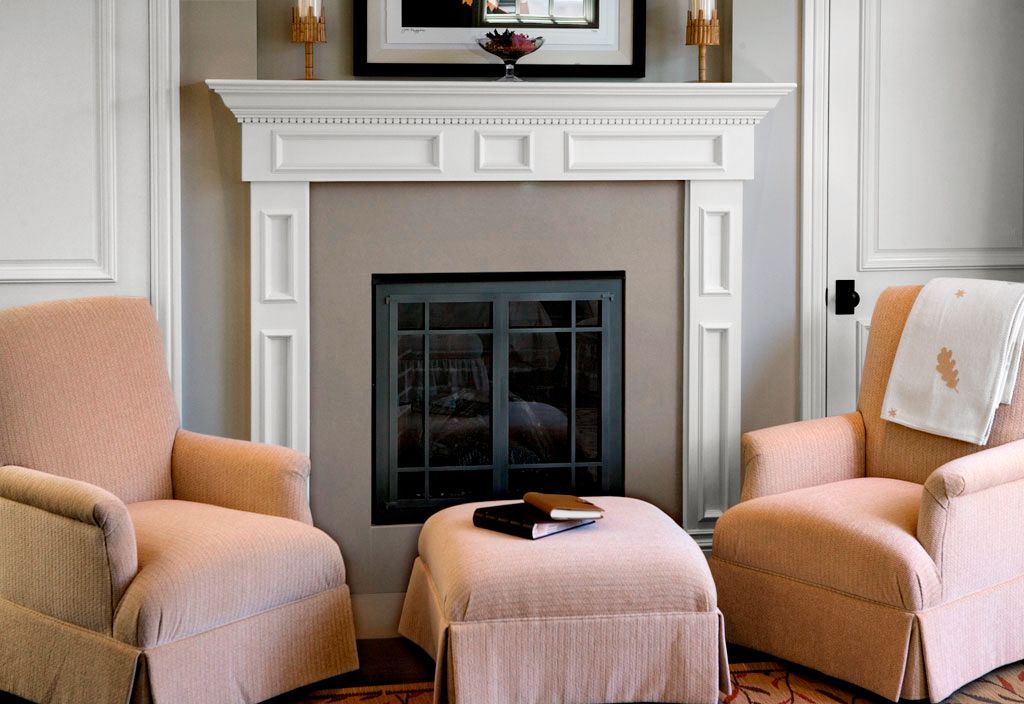 Quartz can withstand very high temperatures as long as the heat is indirect. So go ahead and surround your firebox with it.
Shown: Concrete, $65-$85 per sq. ft.; caesarstoneus.com
Bedside Table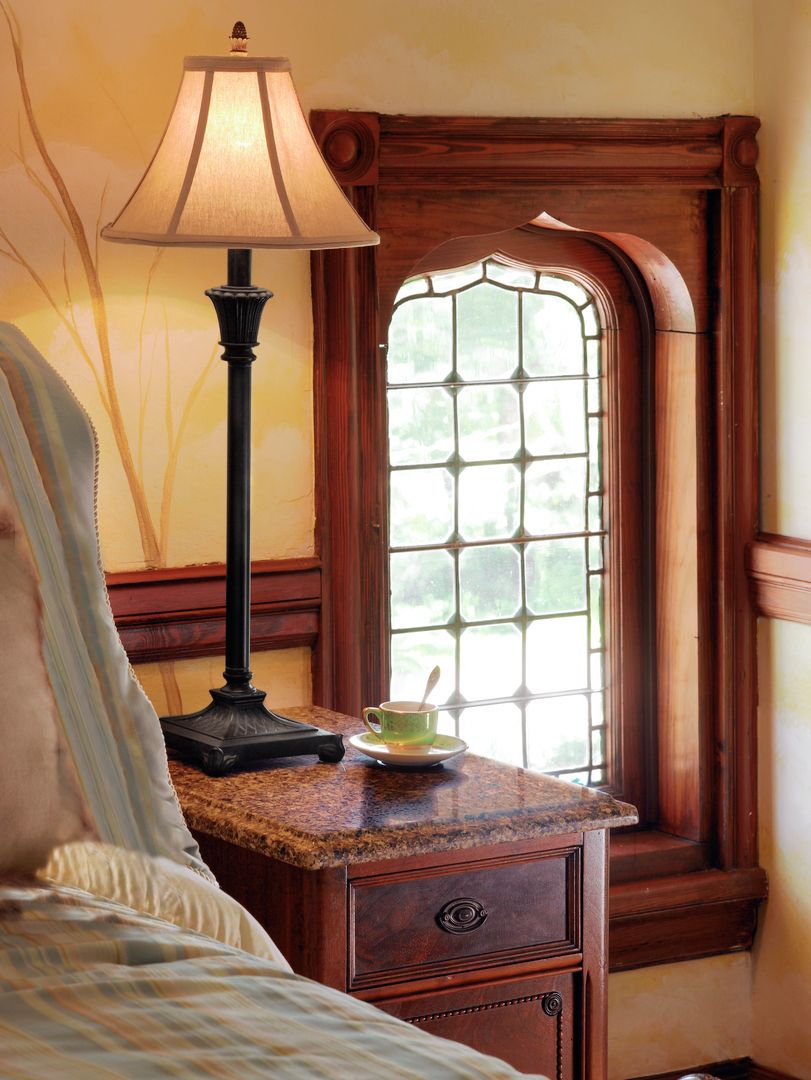 By topping your nightstand with quartz, you won't need a coaster to keep morning coffee or tea spills from staining.
Shown: Ashford, $75-$80 per sq. ft.; cambriausa.com