How can I update my kitchen cabinets without replacing them?
If you're looking to reface, refurbish, or refresh your kitchen cabinets without a major overhaul, this list is for you. We've rounded up 10 ways you can do this with some standard tools, straightforward installations, pre-made kits, and more.
1. Paint Kitchen Cabinets
Your cavelike kitchen feels that way because the dark cabinets have sucked all the light out of the room. But a brighter makeover doesn't necessarily mean replacing those gloomy boxes with all-new ones. As long as the frames and doors are structurally sound, you can clean them up and brush on a fresh coat of paint—and within a weekend take that kitchen from dreary to sunny.
For full step-by-step instructions, shopping list, and tools list, see How to Paint Kitchen Cabinets.
Here are some different techniques to give your kitchen cabinets more personality:
Crackle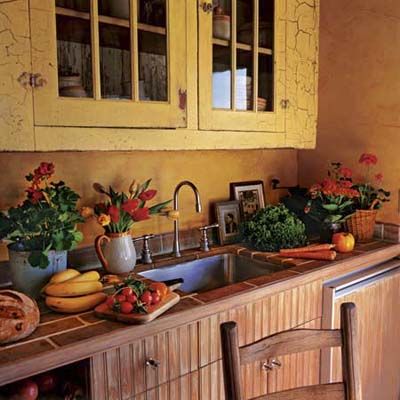 Color changes everything. But color with a little flair can change the style of your cabinets from plain and simple to shabby chic, rustic, provincial, or modern. Here are a few of our favorite faux finishes that can spice up your kitchen's style.
This weathered finish comes from a special "crackling glaze" available at paint stores. Apply the glaze over a dry base coat, brushing in only one direction (thick for large cracks and thin for fine cracks). Let it dry, then finish with a flat top coat of the base color, brushed on perpendicular to the glaze. The paint will start to form cracks as it dries, a process that takes about an hour.
Distressed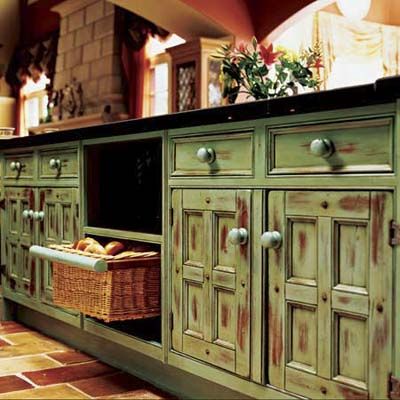 Whether it's simply worn or truly beat up, this rustic finish is made up of layered colors and spattered dark paint (to mimic fly specks). When the paint is dry, you can "distress" the finish by hitting it with a chain and lightly sanding in the spots where cabinets get the most use to reveal the colors underneath.
Antiqued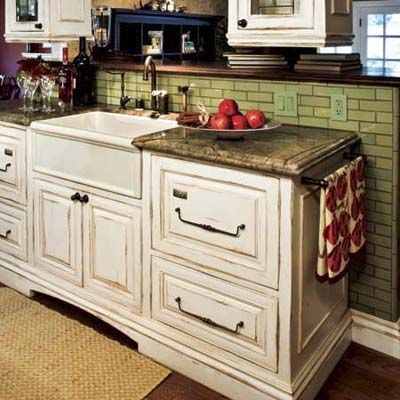 This provincial look evokes a slowly aged surface. Speed the aging process by dipping the tips of a paintbrush in a color lighter than the cabinets, dabbing the excess onto a cloth until the brush is almost dry and lightly grazing the surface of detail trim, corners, or seams.
High Gloss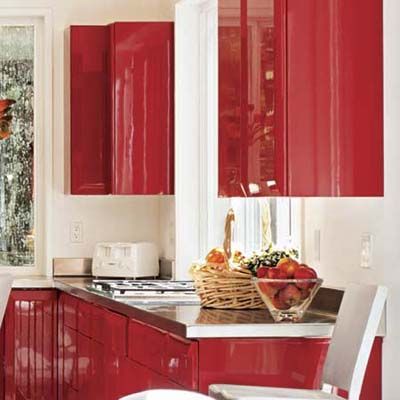 Not only will a high-gloss finish repel dirty fingerprints better than any matte (and it's easier to wipe clean), it will also simulate the look of metal or glass in a modern setting. To shine up your smooth cabinets, paint a high-gloss clear acrylic varnish over your final coat to add depth and effect a glassy finish
2. Reface Kitchen Cabinets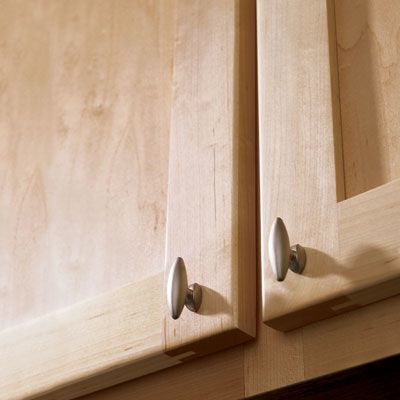 That sweet old woman you bought your house from is truly wonderful—really, she is—especially the way she gave out homemade cookies during the holidays. But, that kitchen where she baked them—it's ugly. What's old may be new again, but those grease-caked, kid-scratched cabinets have to go.
We're not saying you must gut and rebuild. Instead of spending, say, $5,000 on new cabinets, save some serious cash and reface the ones you have for under $1,000. It's amazing what a little veneer and some new doors can do to brighten an aging space. Both are available through woodworking companies, and some manufactures offer peel-and-stick veneer to make the task simpler. Just be sure to measure twice and cut once. Work carefully, and your kitchen will look brand-new in no time.
For full step-by-step instructions, shopping list, and tools list, see How to Reface Kitchen Cabinets.
3. Install a Pull-Out Cabinet Shelf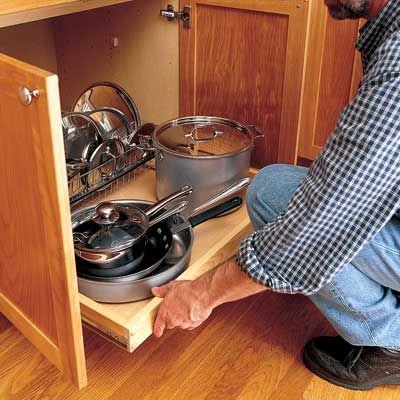 Make the most of your kitchen's existing storage space by installing a pull-out shelf in one—or all—of the base cabinets. The shelf resembles a shallow drawer that glides out for easy access to items stored in the back of the cabinet.
Our shelf was built for a standard 24-inch-deep by 33-inch-wide base cabinet, but its design is adaptable to virtually any size cabinet. It has a 1×4 pine frame and ¾-inch birch plywood bottom. If you're only building one or two shelves, you can save some money by going to a home center or lumberyard that sells quarter or half sheets of plywood. And in most cases, they'll even cut the plywood to your dimensions.
If you've never attempted a woodworking project as seemingly complex as this one, don't worry. TOH Master Carpenter Norm Abram created a simplified, straightforward design that can be easily constructed with ordinary tools.
For full step-by-step instructions, shopping list, and tools list, see How to Install a Pull-Out Cabinet Shelf.
4. Put in Undercabinet Lighting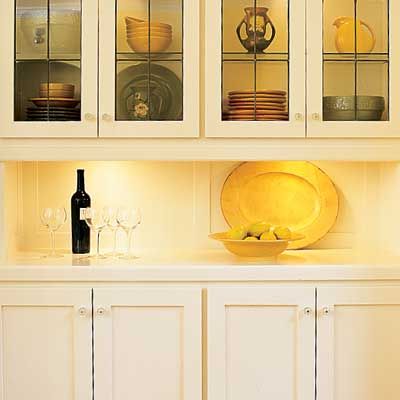 There's a missing element in most American kitchens, and it's not a $7,500 range or a 4-acre refrigerator. No, it's simply good lighting. The hidden fixtures of undercabinet task lighting, which are fairly easy to retrofit beneath upper wall cabinets, bathe the countertop in bright white light—a boon for everything from dicing veggies to reading recipes.
Connect the fixtures to a dimmer switch, and you also have the key to dramatic accent lighting or a night light for midnight snackers. If you're a bit tentative about working with electricity, don't worry. This installation is simple and shock-free, as long as you cut the juice at the breaker box first.
For full step-by-step instructions, shopping list, and tools list, see How to Install Undercabinet Lighting.
5. Build a Butcher Block Island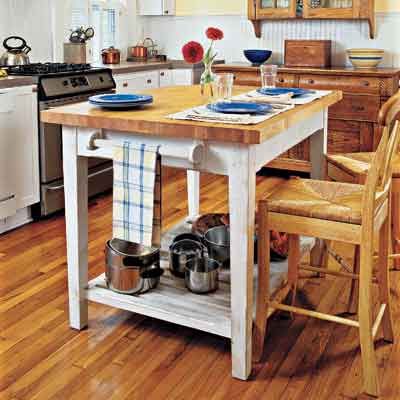 If you're going for homey and cozy in your kitchen, skip the built-in cabinet-base island and instead make the central work area a furniture-like table with a butcher-block counter. Because these thick wood-slab tops have their edge or end grain exposed, they are stronger than wood laid on the flat. That means they resist warping and nicks better than laminate and almost as well as stone.
Butcher-block islands mimicking 19th-century worktables are perfect for toning down the coldness of stone counters and metal appliances in modern cook spaces. You can bring this classic aesthetic to your kitchen by constructing a prep island from easy-to-buy materials or choosing one of the dozens of styles available through retailers and furniture makers.
For full step-by-step instructions, shopping list, and tools list, see How to Build a Butcher Block Island.
6. Build a Sideboard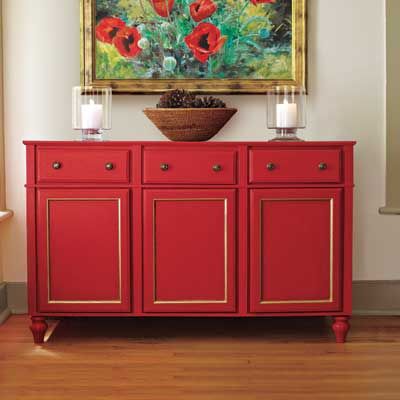 Dishware, serving pieces, table linens—a sideboard packs a whole lot of storage space into a relatively small footprint, making it a handy addition to any household. A sturdy, high-quality one can leave a thousand-dollar dent in your finances, but as TOH general contractor Tom Silva demonstrates, you can enhance a few stock kitchen base cabinets with molding, furniture feet, and knobs to produce a handcrafted piece for a fraction of the cost of buying one ready-made.
Opt for unfinished 15- or 18-inch cabinets fitted with doors and operable drawers (not the fake drawer fronts used for sink cabinets) and take a day to put all the pieces together. Your handsome creation will turn heads at dinner parties for years to come.
For full step-by-step instructions, shopping list, and tools list, see How to Build a Sideboard from Stock Cabinets.
7. Build a Window Seat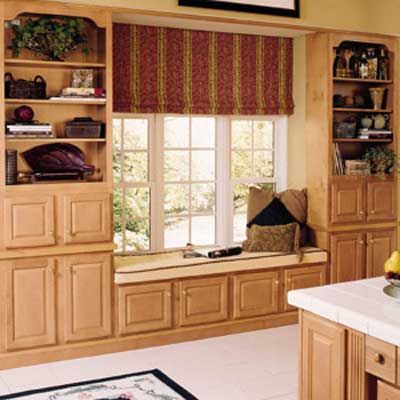 As attractive as window seats are, only a few older homes with deep dormers seem to have them. And adding a window seat has always been considered impractical. First, you need a niche that features a window. Then, the seat has to be custom-built by a cabinetmaker or trim carpenter to fit the exact width and sill height of the window. Not surprisingly, this approach is expensive and time-consuming.
This simple, do-it-yourself approach provides both the "niche" and the window seat, and an abundance of storage space. This seat was built under a 6-foot-wide kitchen window, but its design can easily be adapted for any size window in almost any room. The seat is made up of six kitchen wall cabinets and two 48-inch-tall bookcase units, which are trimmed with decorative crown molding. The window seat itself is composed of two 15-inch-tall, over-the-refrigerator cabinets set side-by-side.
For full step-by-step instructions, shopping list, and tools list, see How to Build a Window Seat.
8. Add a Plate Rack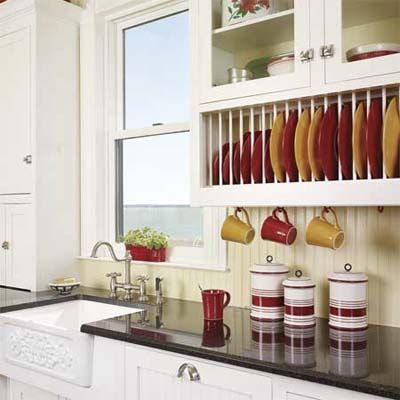 You could leave your dishes tucked away behind closed doors. Or, if they're interesting and vibrant, you could create a place to display them, freeing up precious storage space and adding a splash of color to your kitchen.
See how to make simple slotted storage from a kit, in Stylish Kitchen Upgrades from DIY Kits.
9. Add Cabinet Crown Molding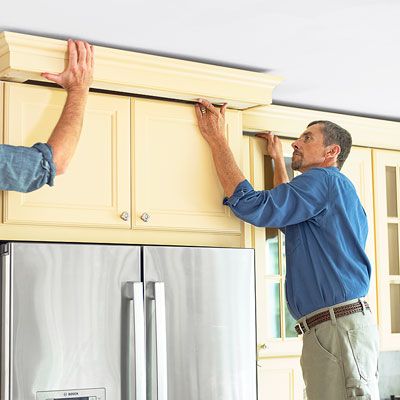 Nothing screams, "I spent lots of money on custom cabinets!" like crown molding. The trim transforms your kitchen storage into a seamless design.
Make adding extra personality to your cabinets simpler by mounting molding on a hardwood frame that sits above cabinets. Using a frame allows for doing the detail work on a bench—much easier than from a ladder—then you can attach the crown from the back side, so there are no nail holes to fill. Once the frame and crown are attached, you install the whole assembly in one go.
See how to nail the clever trick, in How to Install Kitchen Cabinet Crown Molding.
10. Add Storage With More Kitchen Cabinets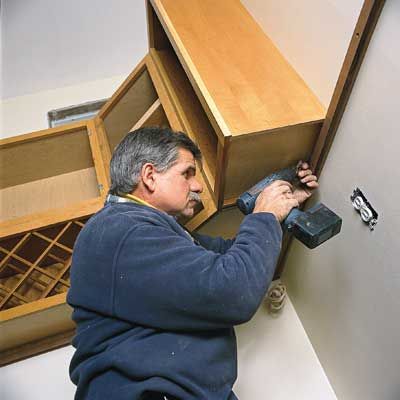 When This Old House contractor Tom Silva started his carpentry career over 35 years ago, he often built the kitchen cabinets he installed for his customers. "Back then, it was still cost-effective for small shops to build them," he recalls. "Today, manufacturers assemble them faster and more economically than we can."
The goal is to take this collection of boxes and bring them together to make a beautiful piece of built-in furniture. The basic installation sequence is straightforward: You want to get everything straight, plumb, and level. But more often than not, the room itself lacks those attributes. Not to worry! We can help you get the job done right.
For full step-by-step instructions, shopping list, and tools list, see How to Hang Kitchen Cabinets.