If you build it, they will come. A fire pit is a destination, drawing families with kids armed for a marshmallow roast and adults wanting to enjoy cocktails and conversation into the cool of the evening—it's a wonder how any backyard party ever got along without one. What started as a rudimentary steel ring to simply contain the flames has morphed into a category of functional design that can enhance any outdoor setting.
Today, fire pits come in a wide range of sizes, materials, and styles. Choosing the right type depends on how frequently you'll use it, where you plan to put it, your budget, and your local code, which can dictate size—or whether one is allowed at all.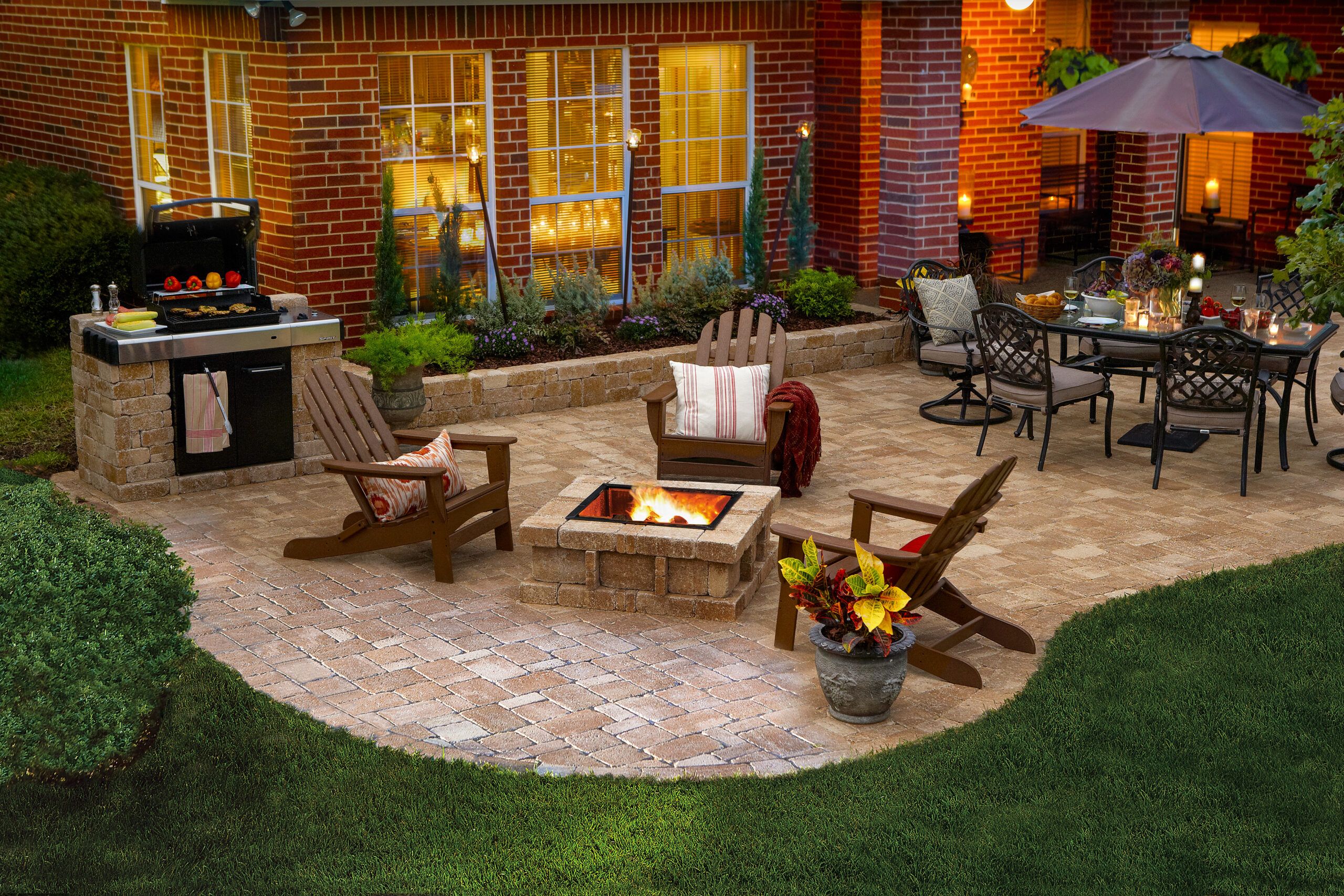 Some homeowners swear allegiance to a crackling wood fire (and are willing to deal with the smoke and ash that come with it), while others may find the ease of flipping a switch for instant (and more controllable) flames a greater draw. Most fire-pit styles look at home on a corner of the lawn, but when incorporated into a patio, those made from tumbled concrete pavers or mortared masonry may blend better with existing stonework.
Ready to get your flame on? Read on to find out which type of fire pit matches your budget and entertaining style.
Anatomy of a Kit Fire Pit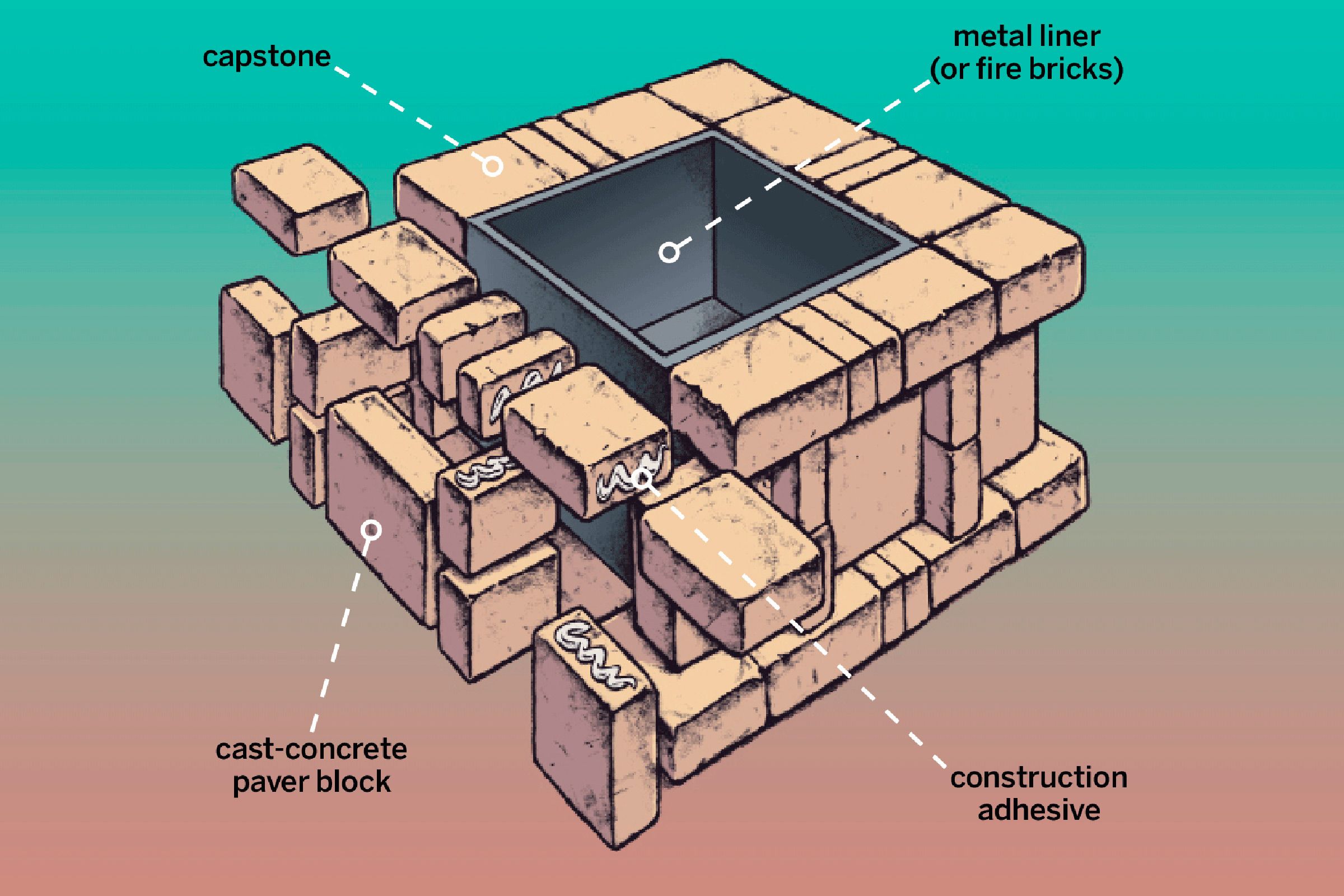 Putting together a kit of concrete paver blocks is a DIY-friendly way to get the look of masonry without having to cut stone or mix mortar. The blocks are held together with construction adhesive around a fireproof liner that protects them from high heat.
Fire Pit Basics
How much do fire pits cost?
You can get a 28-inch steel wood fire bowl for as little as $30; most propane-burning versions start at about $100. Paver pit kits start at $400 for a 46-inch fire pit; custom masonry at around $2,400 for a pit of similar size.
DIY or Pro?
Bowls are lightweight and easy to set up. A paver kit is a satisfying project for DIYers with a strong back. But building a fire pit with stone or brick and mortar is best left to a mason.
Are they kid-safe?
It's common sense that you should supervise little ones around open flames. Keep fires small, and know that even after the flames go out, fire pits remain burning hot.
Upkeep?
Clean metal with soap and water, dry well, and store out of the elements to keep rust at bay. Scrub masonry with a paver cleaner, and use a masonry sealer to prevent staining. Treat gas burners like a grill: Keep the burner clean and check it each season for even flames. Use a cover to keep water or snow from collecting.
Fire Pit Styles
Your choice of fire pit depends on price range, the look you like, and where you want to put it.
Off the shelf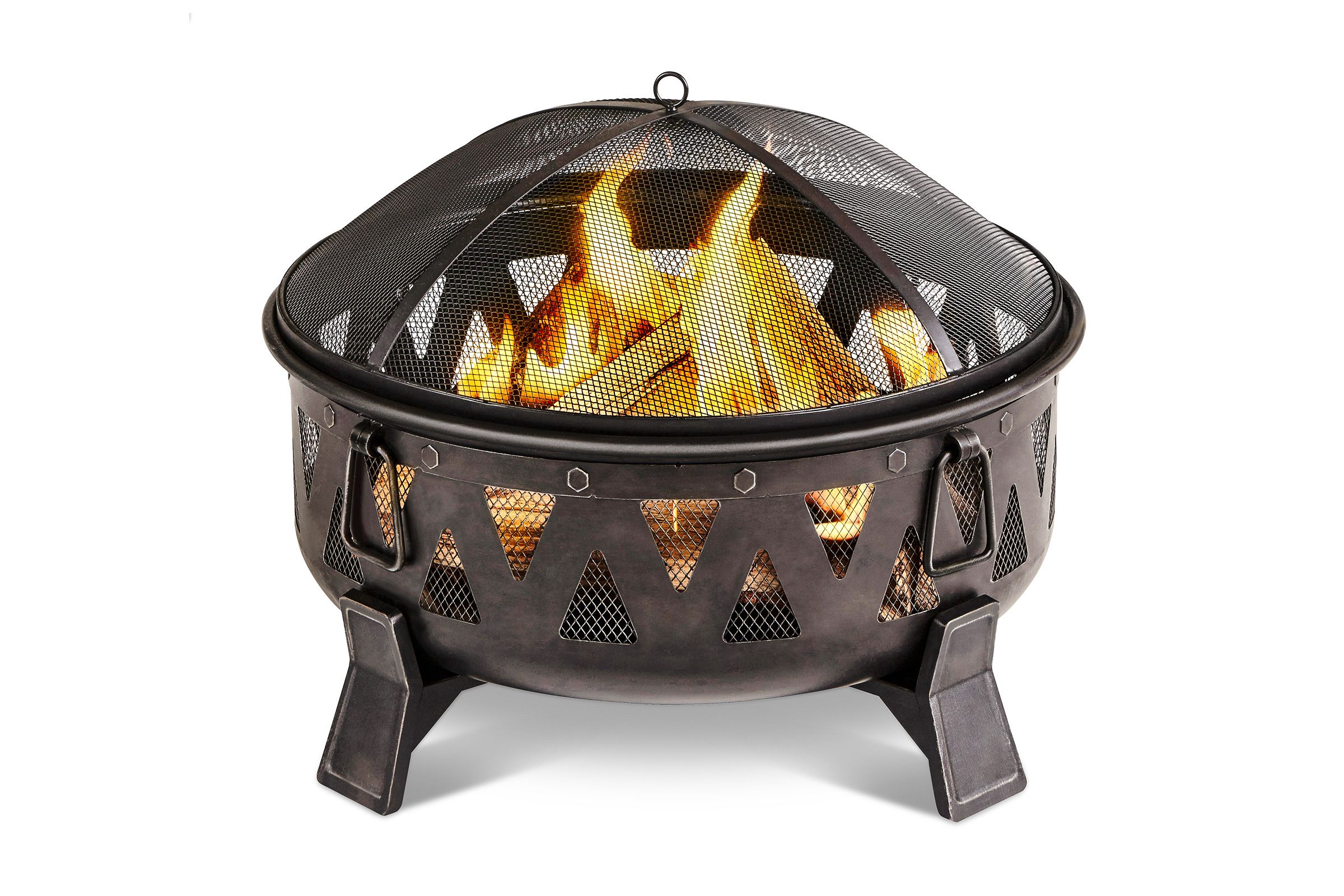 PROS: Metal bowls are strong, lightweight, often portable, and budget-friendly. Propane burners are often taller, with a square base to hide the tank. Less common are fire-resistant, metal-lined composites meant to mimic masonry (from $200) or fiber-reinforced cast concrete (from $700). Expect to find wood-, gas-, and gel-burning options.
CONS: If the finish on steel is scratched, the bowl will rust. Ashes should be removed after each burn. Fiber-reinforced concrete is expensive—and heavy.
DIY block kits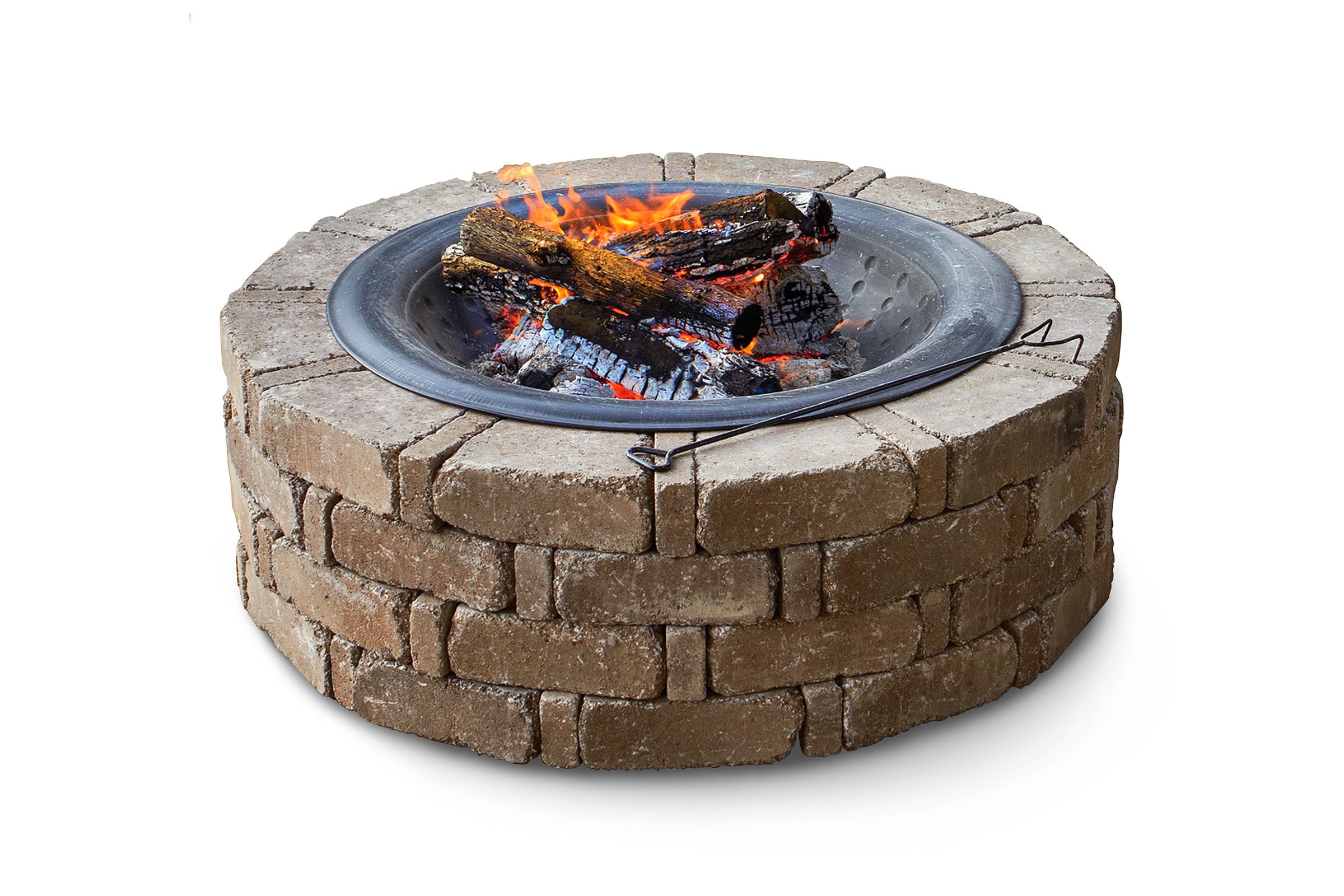 PROS: It's masonry made easy: Tumbled cast-concrete blocks in earthy colors come together without cutting and can match an existing paver patio. Low-maintenance concrete won't scratch, is easy to clean, and may be treated to resist UV fading.
CONS: A small kit can include about 70 pieces of stone, making installation time longer than with a metal bowl. Most are designed to burn wood, so you'll need a separate burner for propane (or gas), fire rock to hide it, and a spot to stash the tank (or the expense of running a gas line).
Note: This specific product is no longer available at Home Depot.
Custom masonry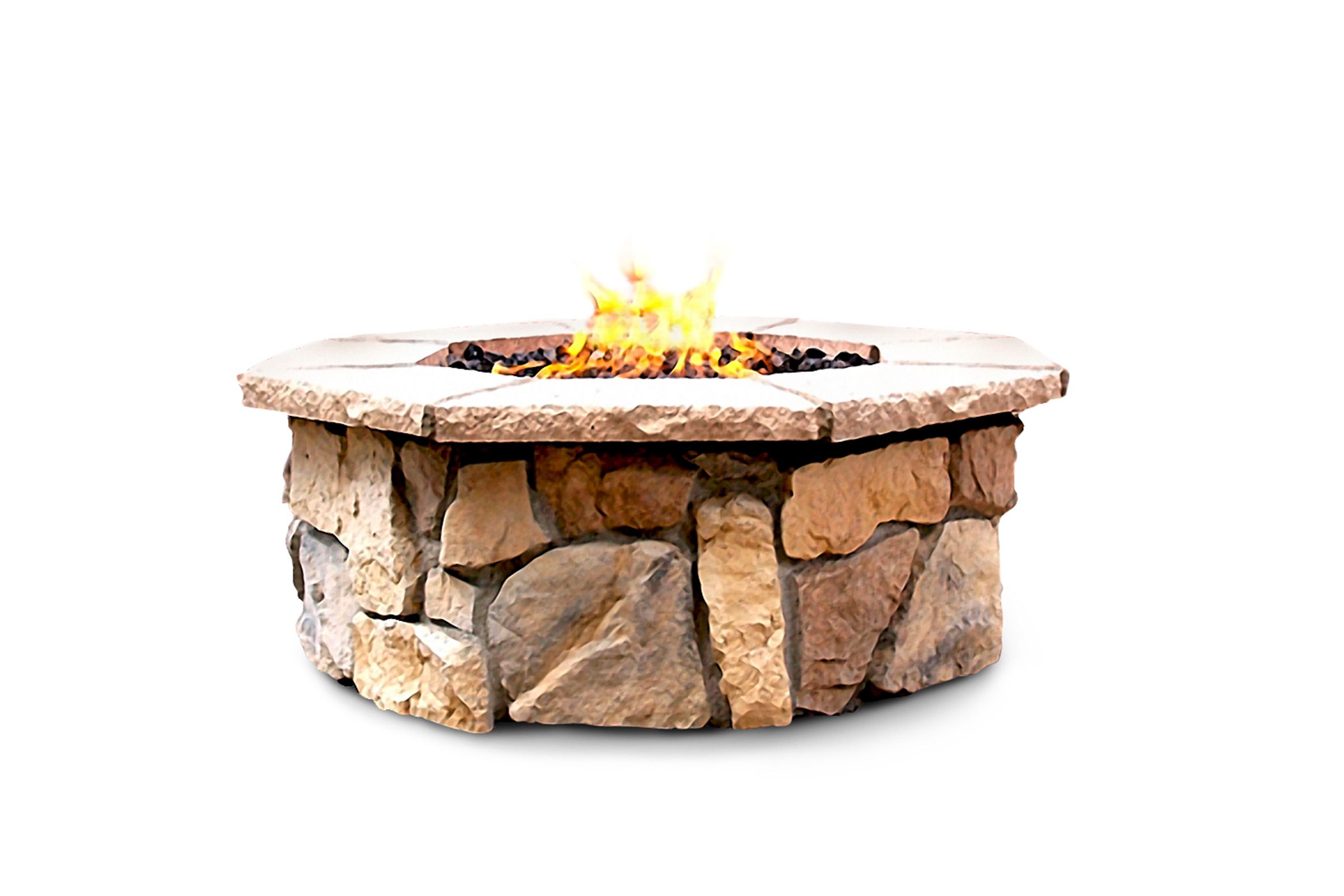 PROS: Offers the chance for a one-of-a-kind design tailored to your space. Can incorporate more textures and colors than concrete or metal. Can be built on an existing patio and echo stone used on the house. Should last as long as the house—assuming that it drains well. Can be designed to burn wood or propane, or gas with the addition of an underground pipe.
CONS: These heavy, semipermanent structures generally aren't suitable for decks. Expensive—these start at around $2,000, and go up from there.
Choosing Your Heat Source
Wood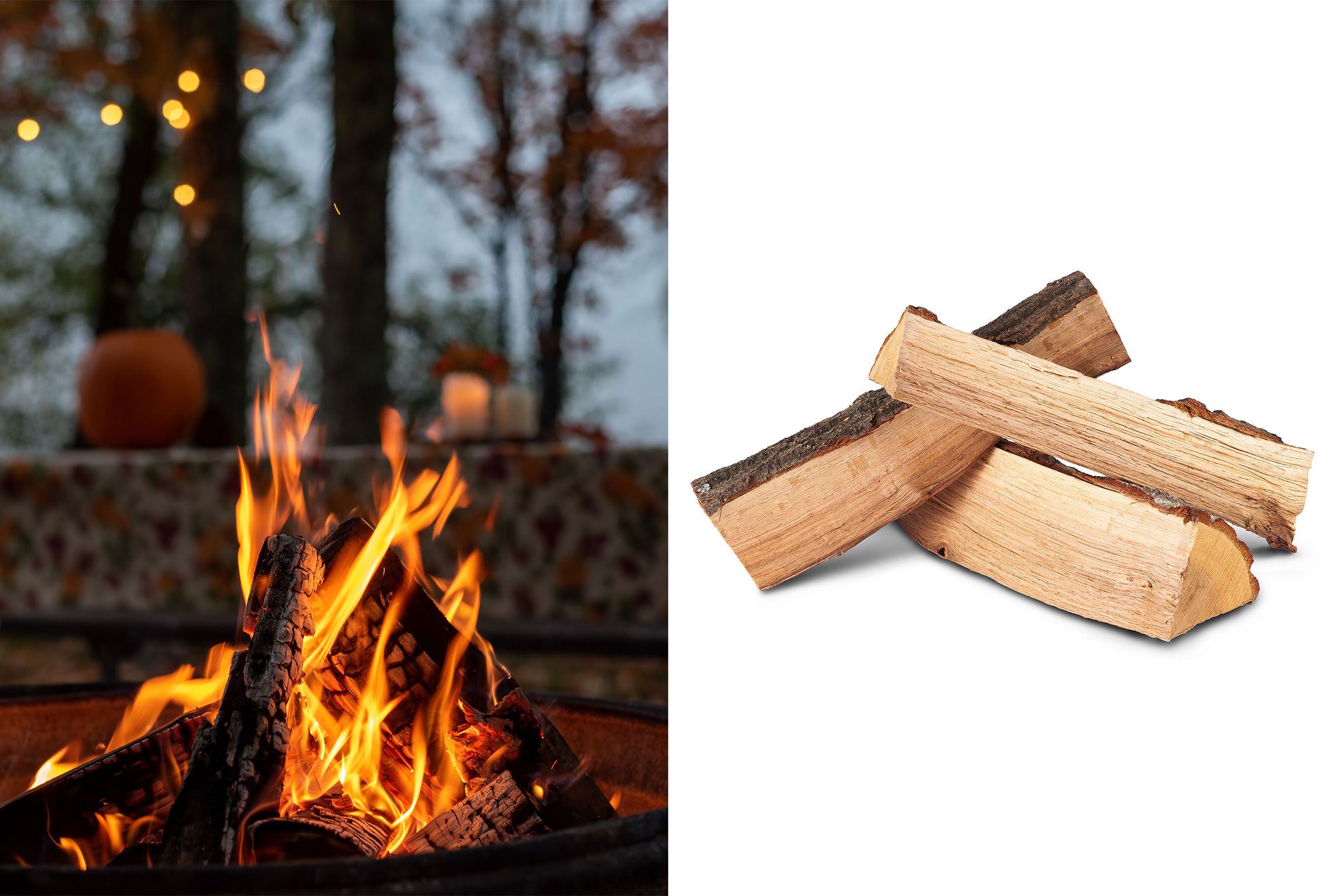 Readily available and easy to burn when properly seasoned, wood produces bright orange-yellow flames as it crackles and pops. Dense woods like hickory and oak generate the most BTUs. Because they can produce a fire larger than a gas burner, wood pits are usually the best choice for the most heat.
To some, wood fires smell as good as they look, but to others, the smoke and particulates they emit go beyond a nuisance to a health hazard. Wood smoke can trigger asthma attacks and bronchitis, and is especially dangerous for those with lung disease. So be a good neighbor: Don't position a pit where it will send smoke close to nearby homes, and consult your local building and fire departments for safety codes on wood fires.
Gas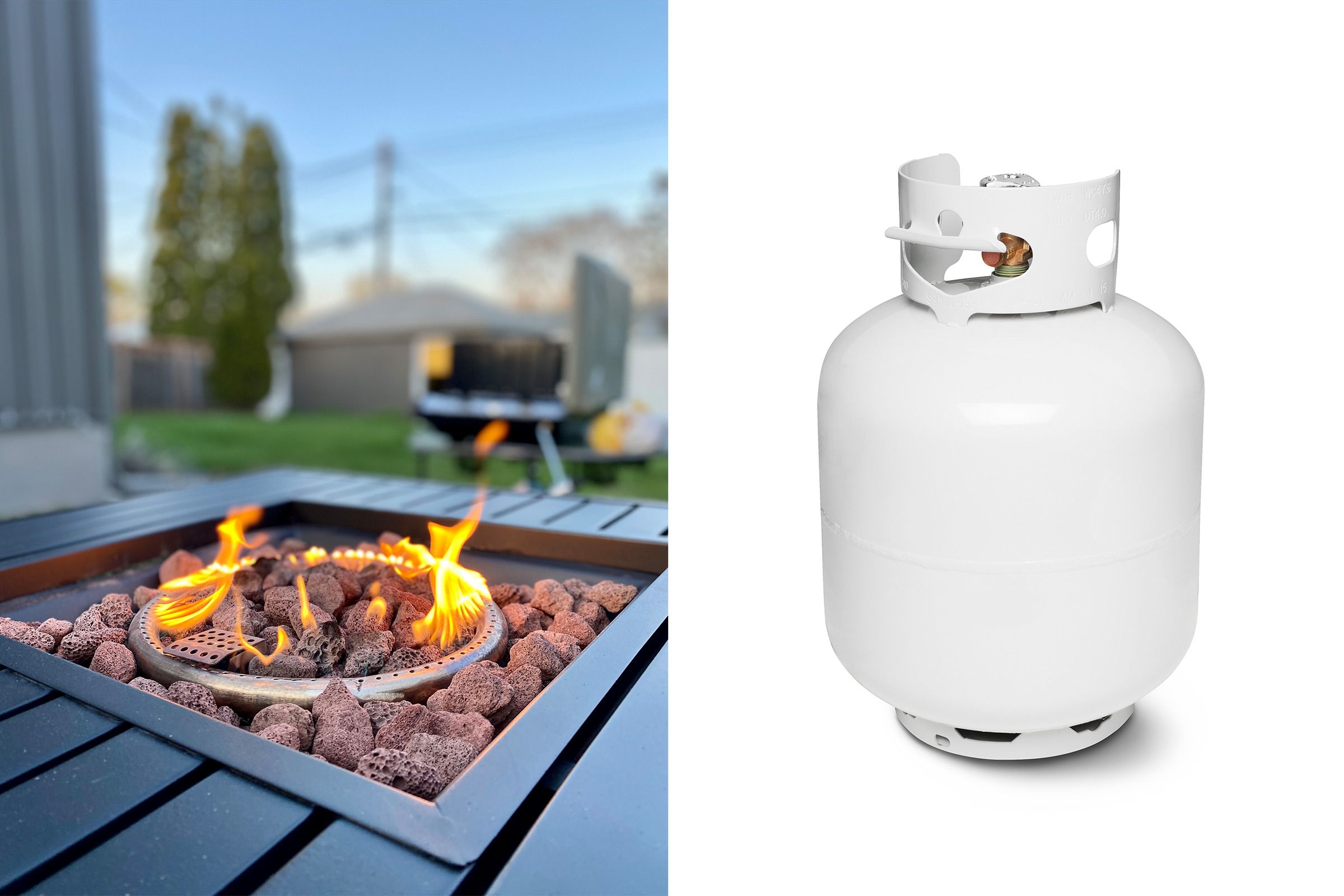 Easy to use with virtually no maintenance, propane- or natural-gas-burning fire pits generally yield 40,000 to 60,000 Btus. Like a gas grill, the flames can flicker blue if pipes become clogged, and the flames never roar as large as a wood fire. Natural gas requires a pro to run a buried supply line.
Gel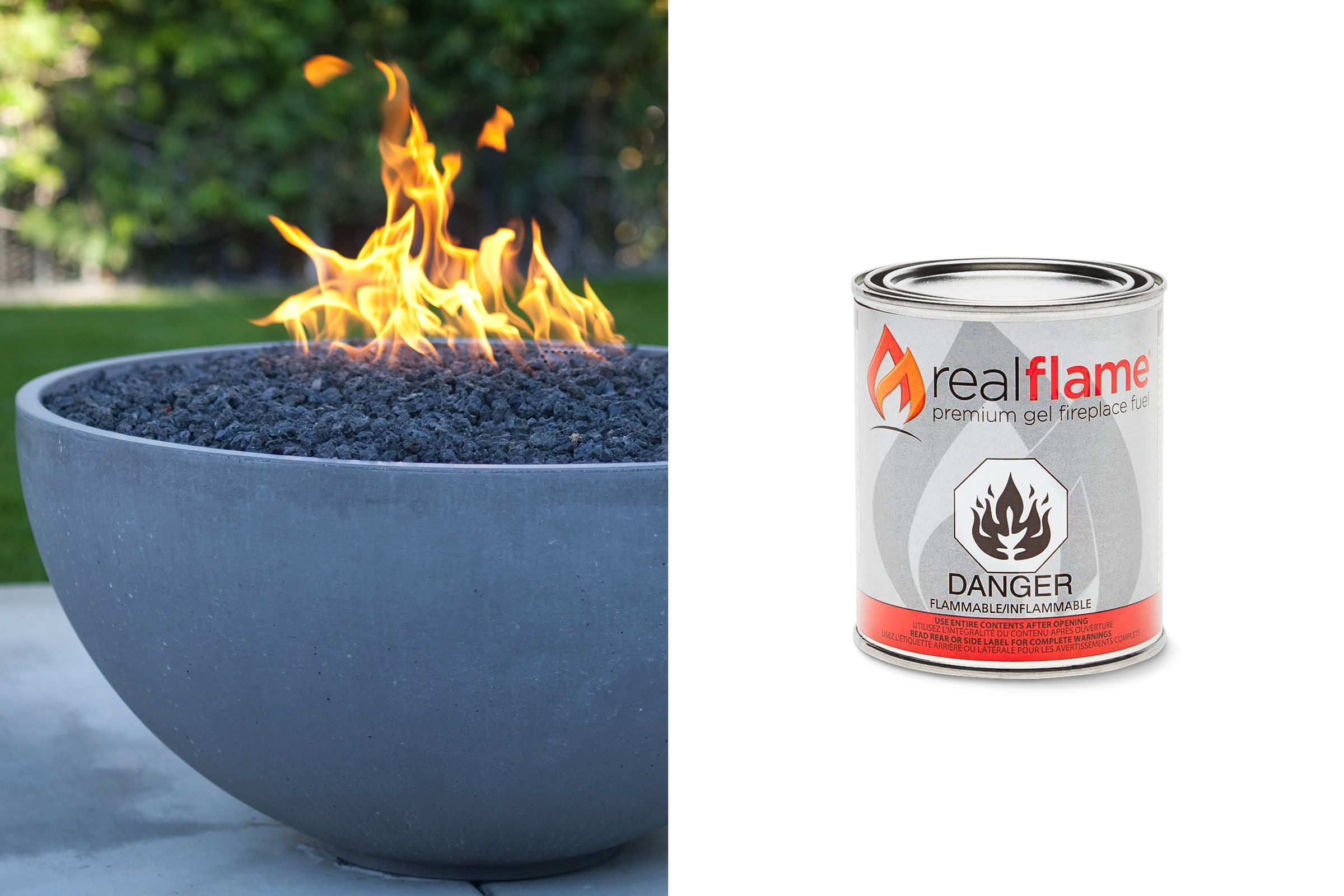 Cans of alcohol gel fuel—a mix of isopropyl alcohol, water, salt, and binders—yield yellow flames that last up to 3 hours with 3,000 Btus. Liquid ethanol, or pure alcohol, yields thinner, orange-yellow flames, needs about 15 minutes to warm up, and provides 4,000 to 5,000 Btus and about 5 hours of burn time.
Know the Numbers: Fire Pit Placement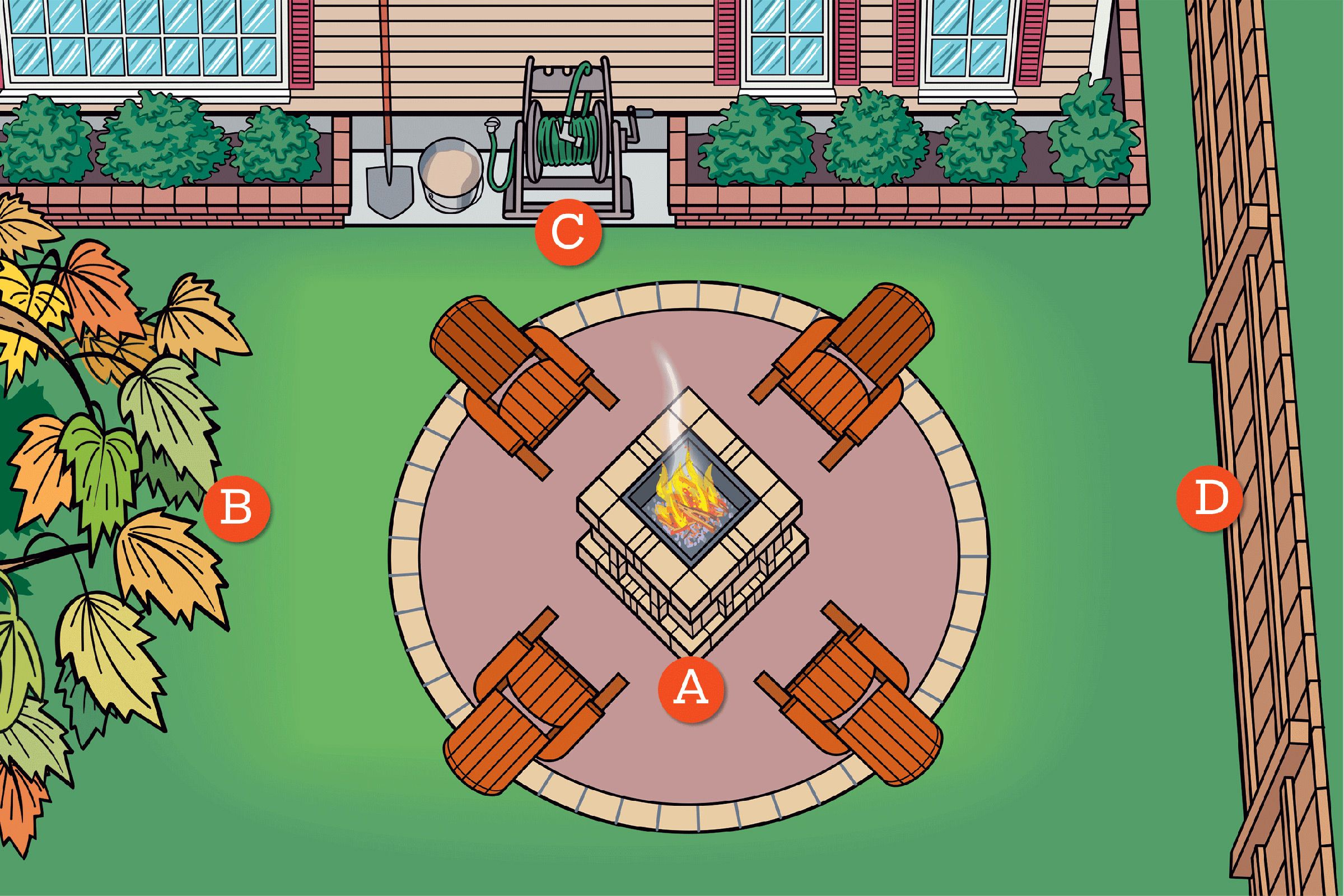 Keeping flames away from a house is a no-brainer, but there are other clearances you need to know before you light up a fire pit. Your fire or building department's local ordinances trump any directions fire-pit makers supply. Here are some guidelines.
A. Keeping a fire pit's walls low—say, no taller than 2 feet—helps to discourage building huge wood fires. At- or below-grade pits are inherently more dangerous.
B. Most fire-safety guidelines suggest keeping an open fire at least 10 feet away from any overhanging tree branches or nearby shrubbery.
C. Place a fire pit at least 10 feet from the house, and keep a garden hose with a sprayer—and the water on—a bucket of dry sand, or a fire extinguisher nearby.
D. The fire should be a minimum of 10 to 25 feet from the property line; check your local code. Keep it the same distance from fences, garages, or sheds.
How to Safely Put Out a Wood Fire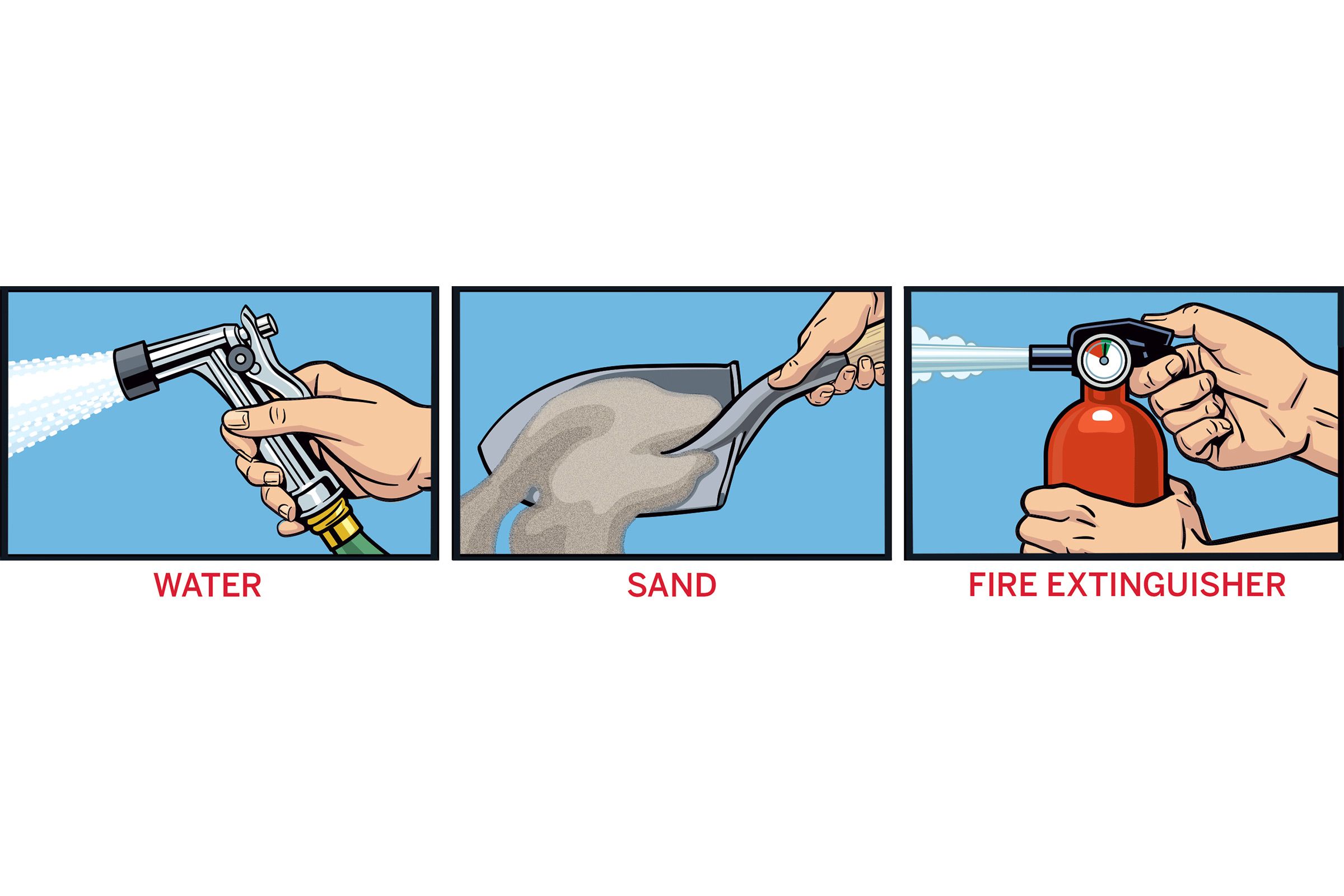 Here are three ways to extinguish the flame.
WATER: Keep a garden hose nearby with the sprayer attached. Know beforehand if your pit can handle a dousing, which can cause cracking. Not sure? Stick with sand.
SAND: Sand works by smothering flames and won't create hot steam the way water will. Shovel dry sand onto embers, spreading them in an even layer as you go.
FIRE EXTINGUISHER: In an emergency, reach for a dry-chemical fire extinguisher with a multipurpose (Class B or C) rating. Most have a range of just 6 to 10 feet.
Burn time
Ensure safety and comfort by running through this checklist before every fire
Before: If you're burning wood, avoid gusty weather—someone will always be dodging a face full of smoke. Check the legs on metal bowls for rust and stability. Keep logs shorter than three-quarters of a fire bowl's diameter; burn only dry, well-seasoned wood. Got a gas burner? Make sure all vents are clear. Light gel canisters with long matches or a grill lighter. Have a plan for snuffing out a fire before lighting up.
During: A good rule of thumb: Keep the top of the flames about as high as the walls of the fire pit, and have a spark screen on hand. Keep children and pets a safe distance from flames.
After: Extinguish the flames or turn off the gas. Later, remove wood ash to a metal bucket with a lid. Once a fire pit has cooled completely, protect it from the elements with a cover.
A Scorch Solution
Most metal fire bowls are painted black to prevent discoloration. But after years of use, the finish can fade, especially if you're burning wood. Touch up the finish and cover rust spots—or give the inside of a masonry fire pit a uniform black coating—with spray paint designed to handle temperatures up to 1,200°F.
Protect Your Deck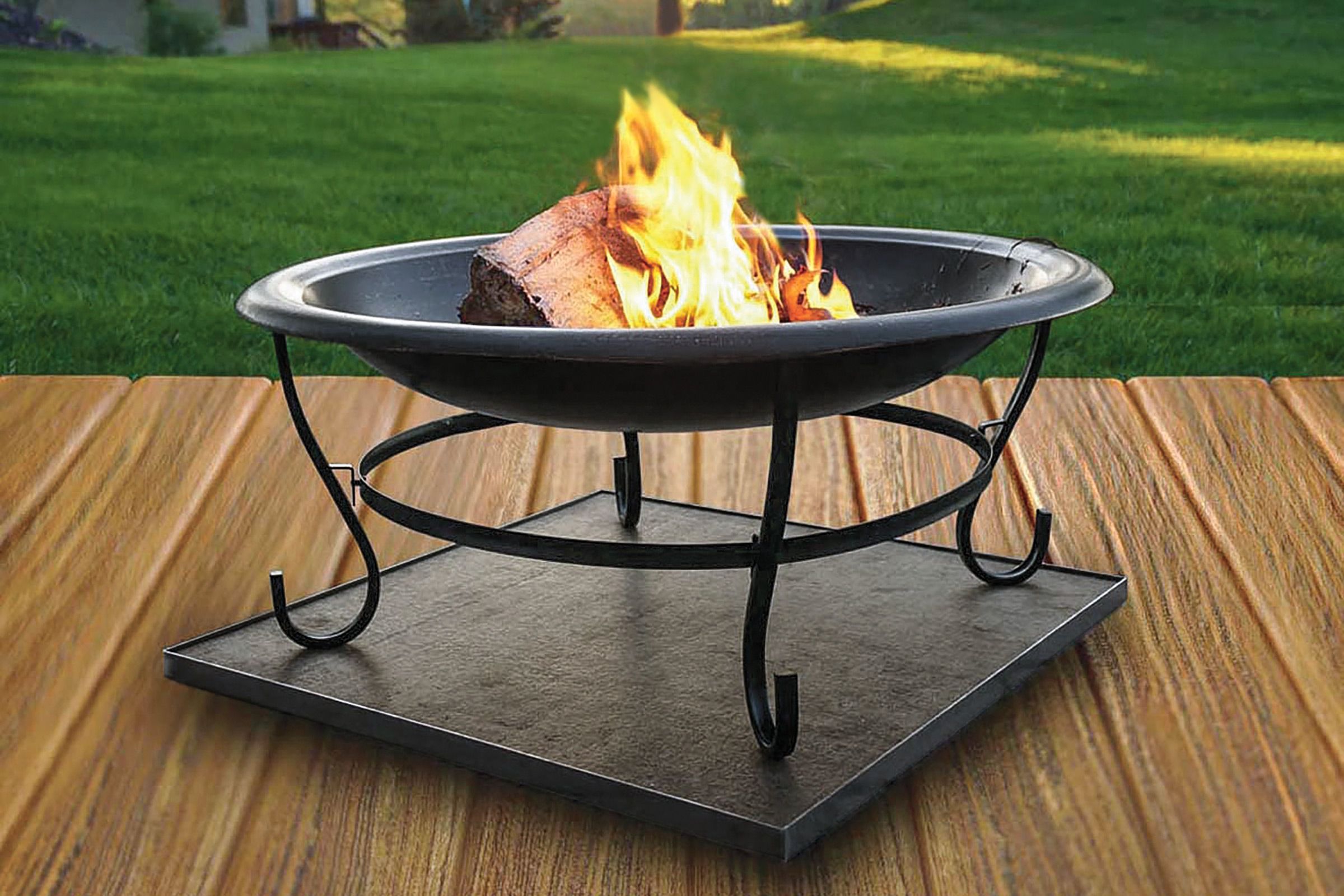 A fire screen can contain errant sparks and embers on a wood deck, but composite decking needs to be protected from the bowl as well. A metal fire pit can reach up to 800°F, pushing 200° to 400° of radiant heat onto decking; plastics soften at 176° and melt between 250° and 350°. A thermal barrier can prevent high heat from warping composites. DeckProtect (shown) is an aluminum tray, perforated for drainage, that contains flameproof basalt rock-fiber insulation. Choose one the size of the fire pit's circumference to fit between the legs or, better yet, with all four legs on the mat.
Handy Fire Pit Tools
Poker
A fire poker will help you get the most from a wood-burning fire—safely. Longer than most fireplace pokers, a 4-foot model made from ½-inch-square steel offers greater reach, yet weighs only 4 pounds.
Tripod grill
Go beyond s'mores and set this tripod over a wood-burning pit that's up to 34 inches wide. The 22-inch grate will hold up to 20 pounds of burgers and dogs.
$48; Amazon
Hinged spark screen
Slide open half of the dome to add logs or reposition them, then close it to contain flying sparks.
$270; Amazon
Fire dome
Cover and protect the gas burner on a fire table or snuff out the dying embers of a small wood fire with this handmade cover.
Fireplace Design Ideas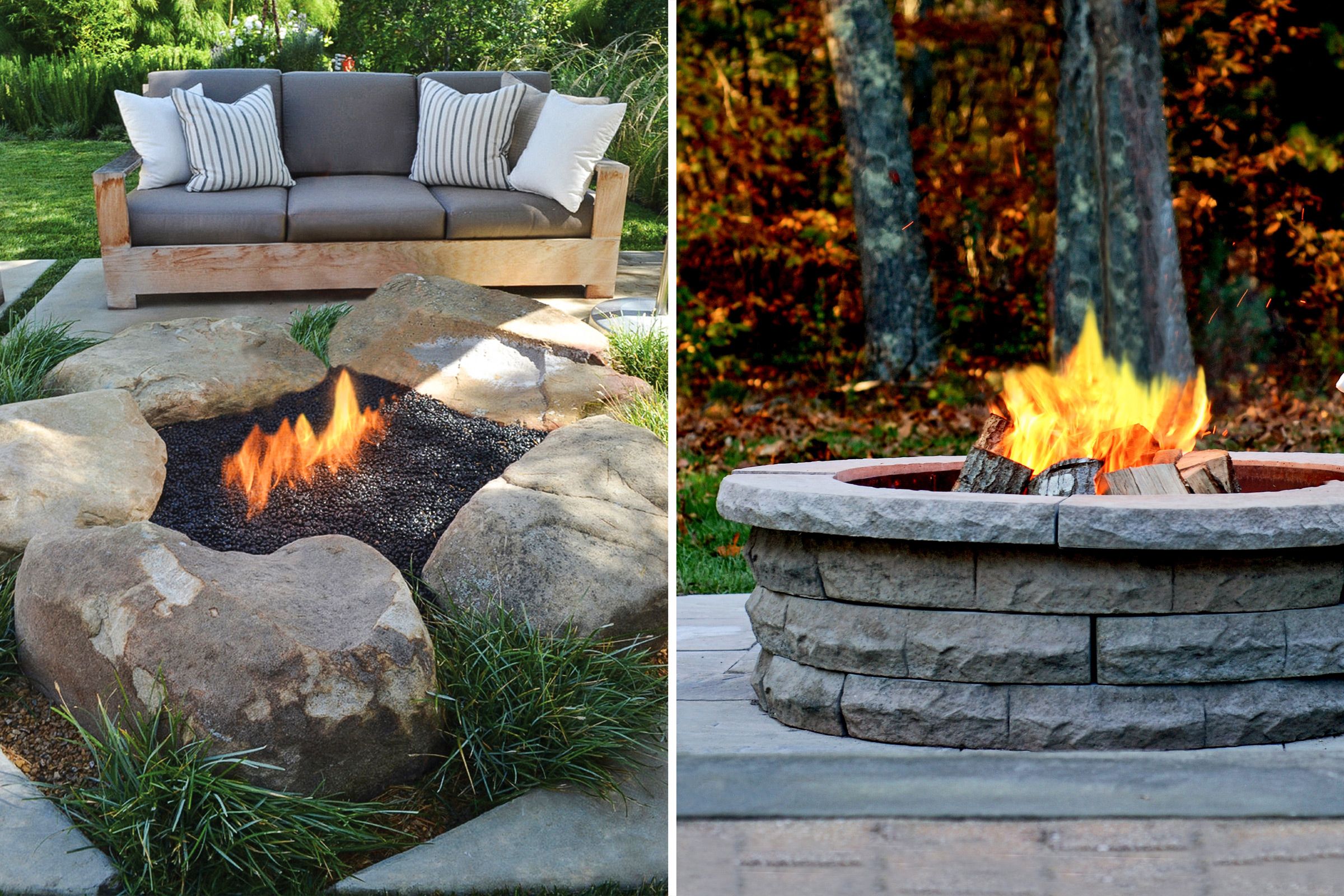 Rock on
From rustic rings of boulders to reinforced-concrete bowls, fire pits come in an array of materials and styles.
A gas burner can turn nearly any masonry well into a fire pit—like this custom-built ring of boulders. Black fire glass covers the burner, adding drama to the flames.
DIY style
Assembling these 40-pound cast-concrete blocks creates a nearly 4-foot-wide fire pit. The rugged face of the concrete, and its color, suggest hand-cut stone.
Table talk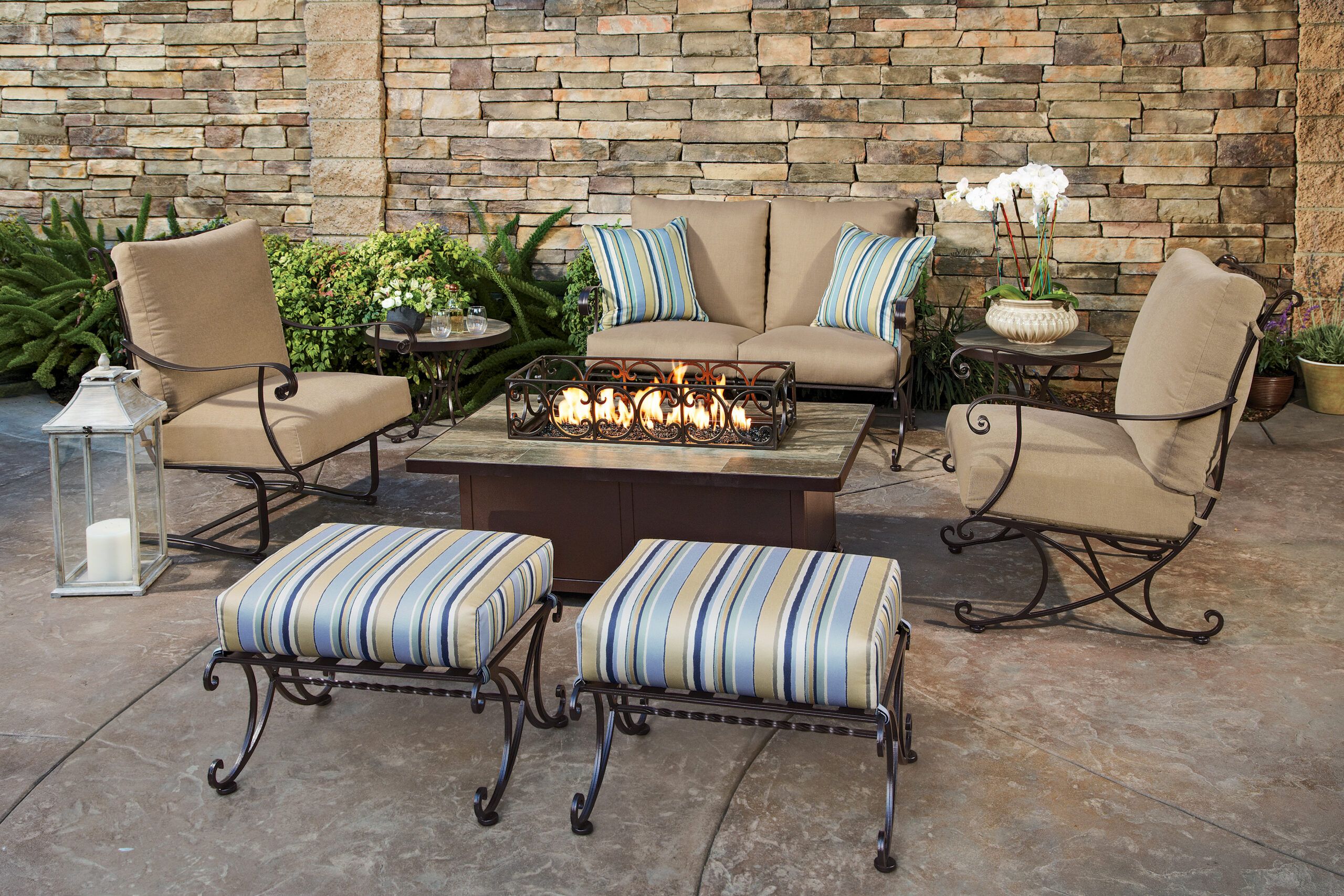 Configured as a coffee table, a fire pit does double duty. Powered by propane (or natural gas), it starts up with the flick of a switch and offers a wide tile perimeter to hold drinks while flames flicker behind an ornamental steel barrier.
Hollowed out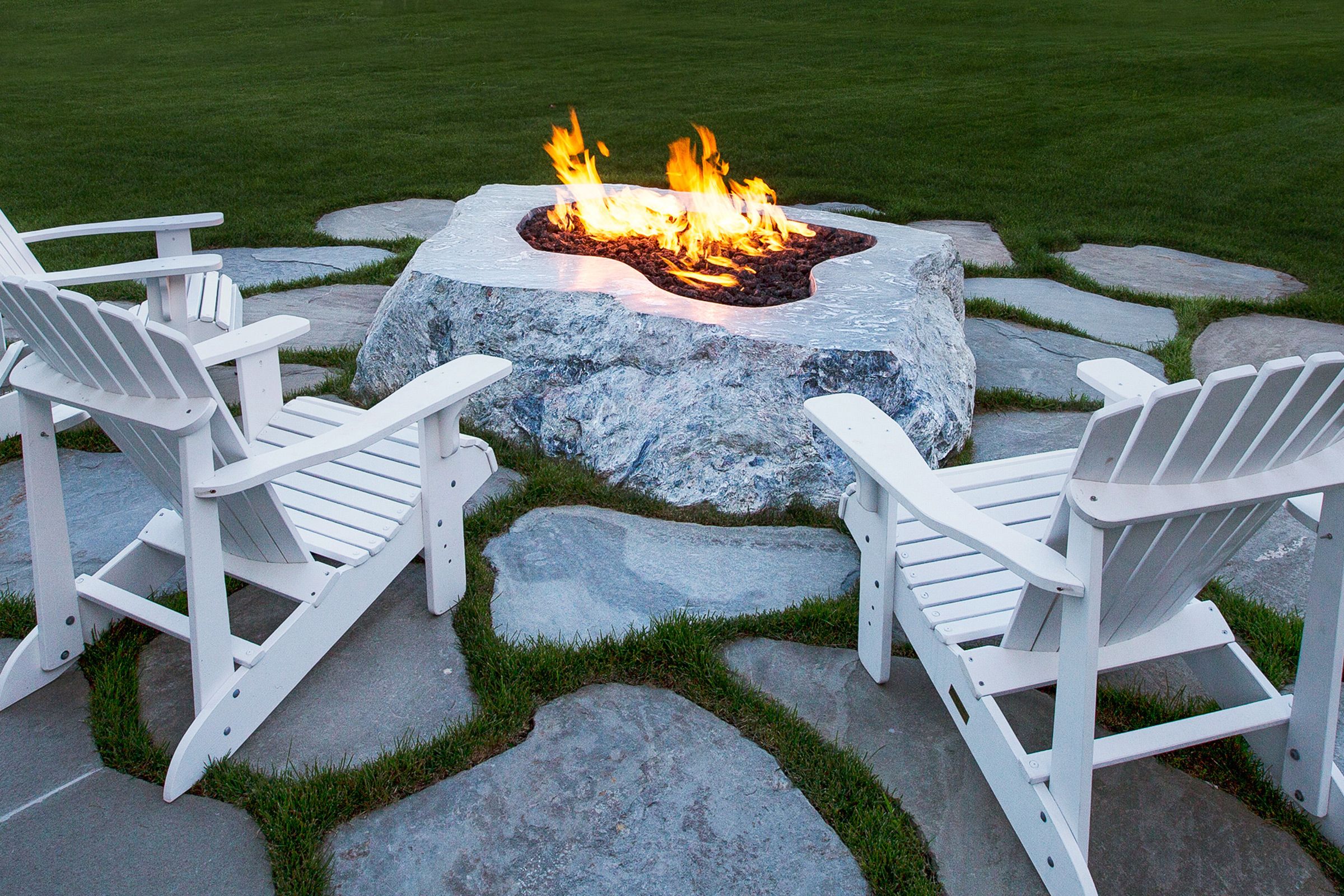 A patio of irregularly shaped tumbled bluestone echoes the form of this custom pit: a massive granite boulder that's been drilled out to create a shallow bowl to hold fire rock and a burner—gas is piped in from underneath.
Cast stone bowl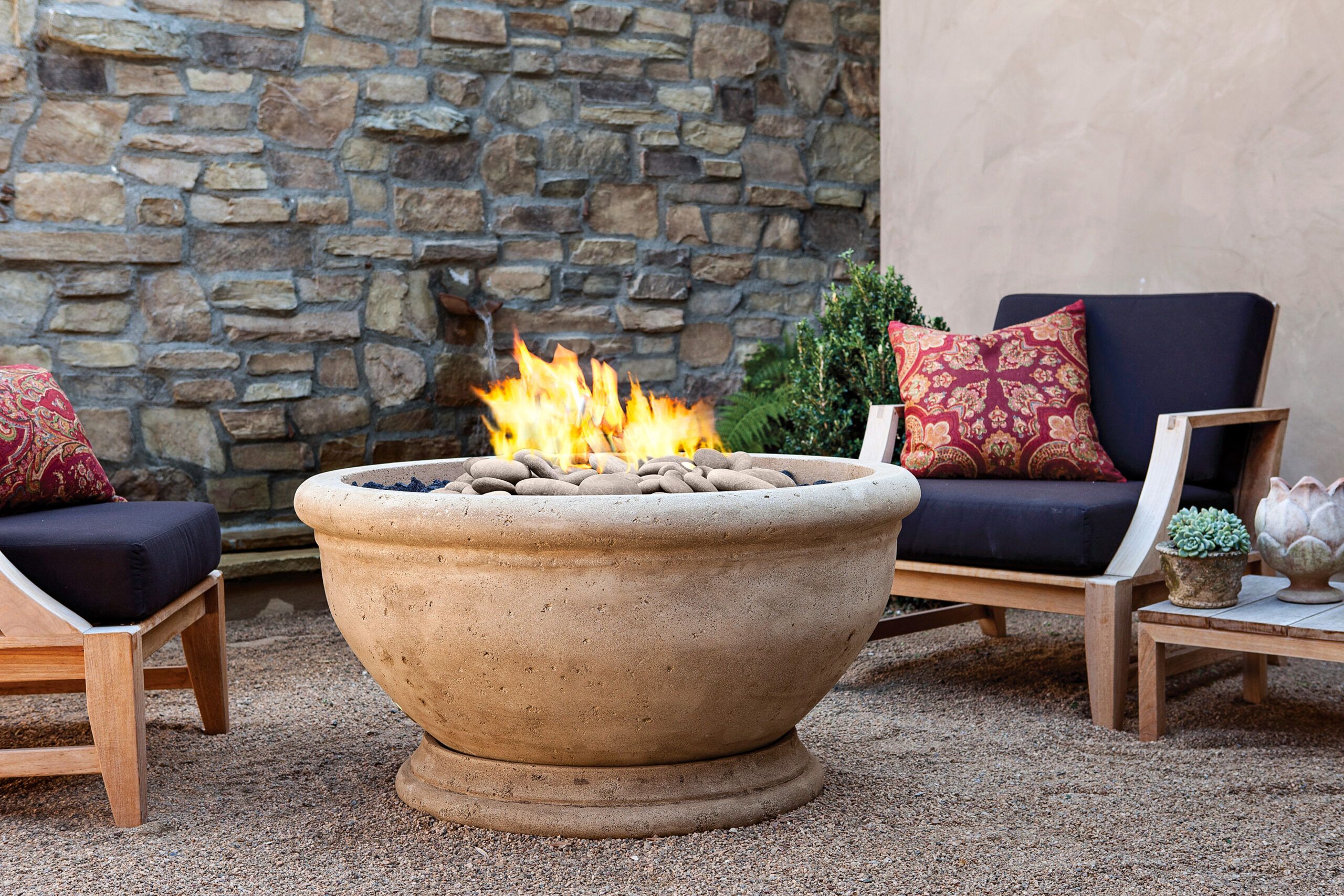 The elegant shape of this concrete bowl suits a variety of outdoor-room settings. It sits over a gas pipe, or connects via a hose to a propane tank.
Block by block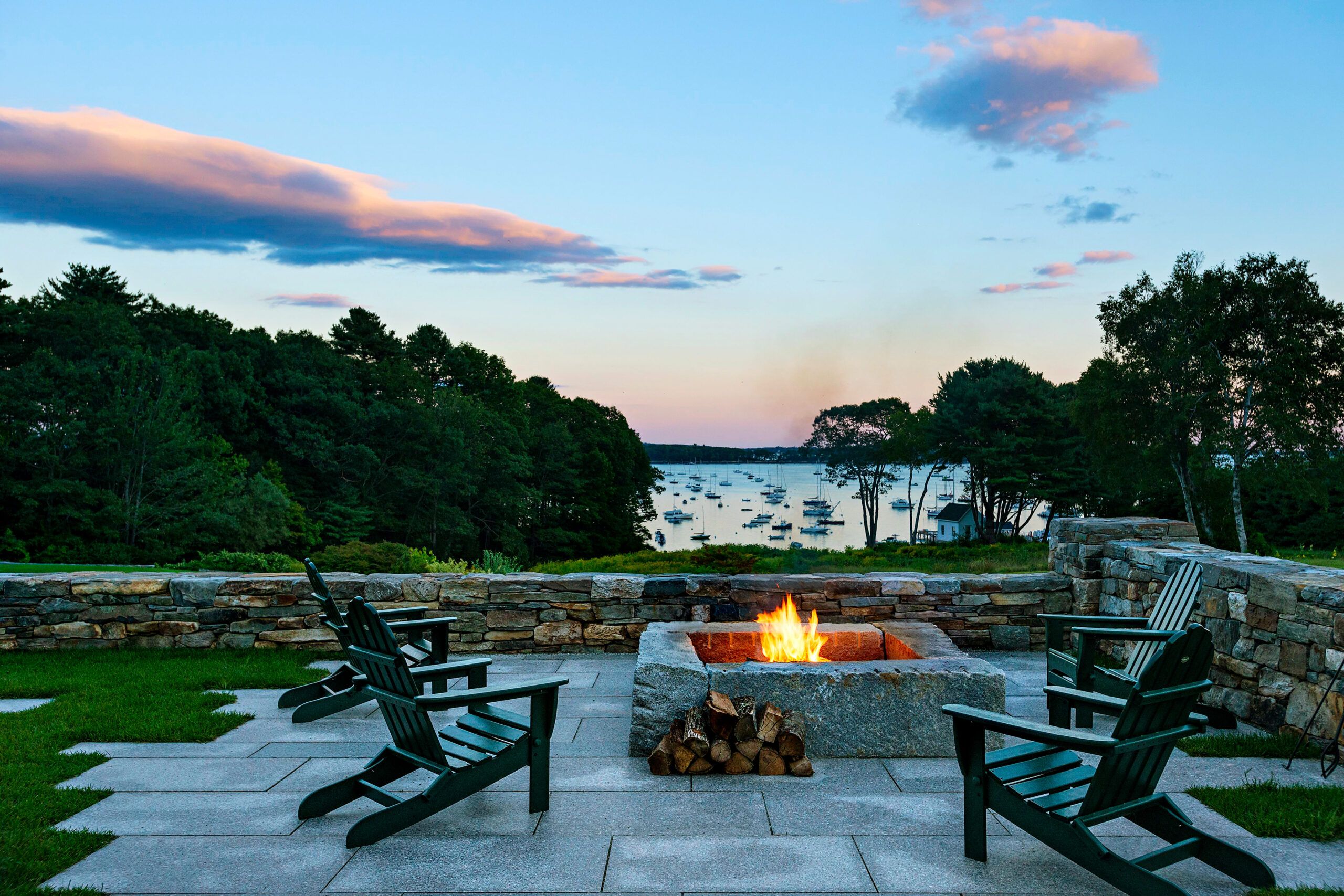 Simple butt joints allow the rugged faces of these granite blocks to steal the show. Their colors repeat those found in the custom cut-stone patio and retaining wall that surround them.