Have a humdrum porch? A basic patio or a neglected deck? Some simple additions—a hanging swing, mood lighting, a vintage find or two—are all it takes to transform an ordinary outdoor space into an open-air living room that adds value and comfort to your home year-round.
Outdoor Room Design Ideas
1. Rustic swing
Encourage guests and family members to sway on a slatted-wood porch swing. This one is hung with sturdy ropes, rather than chains, for a natural look. Make sure the rope is rated to hold at least 600 pounds, and check regularly for wear.
2. Mood lighting
Candle lanterns hung from a hook in the ceiling or placed on tables or railings lend a subtle nighttime glow. They're also easy to move where you need them and require no wiring.
3. Indoor appeal
If your porch is covered, bring living room furnishings, such as this wool rug and rocker, outside. Set back from the porch's open edges, they'll be safe from the weather.
4. Patios
To turn a basic concrete or stone pad into an inviting outdoor room, start by creating a sense of enclosure—your home's exterior walls or even a row of potted plants will do the trick—and, ideally, some overhead protection. Then use colorful accents to add personality.
4. Dramatic entrance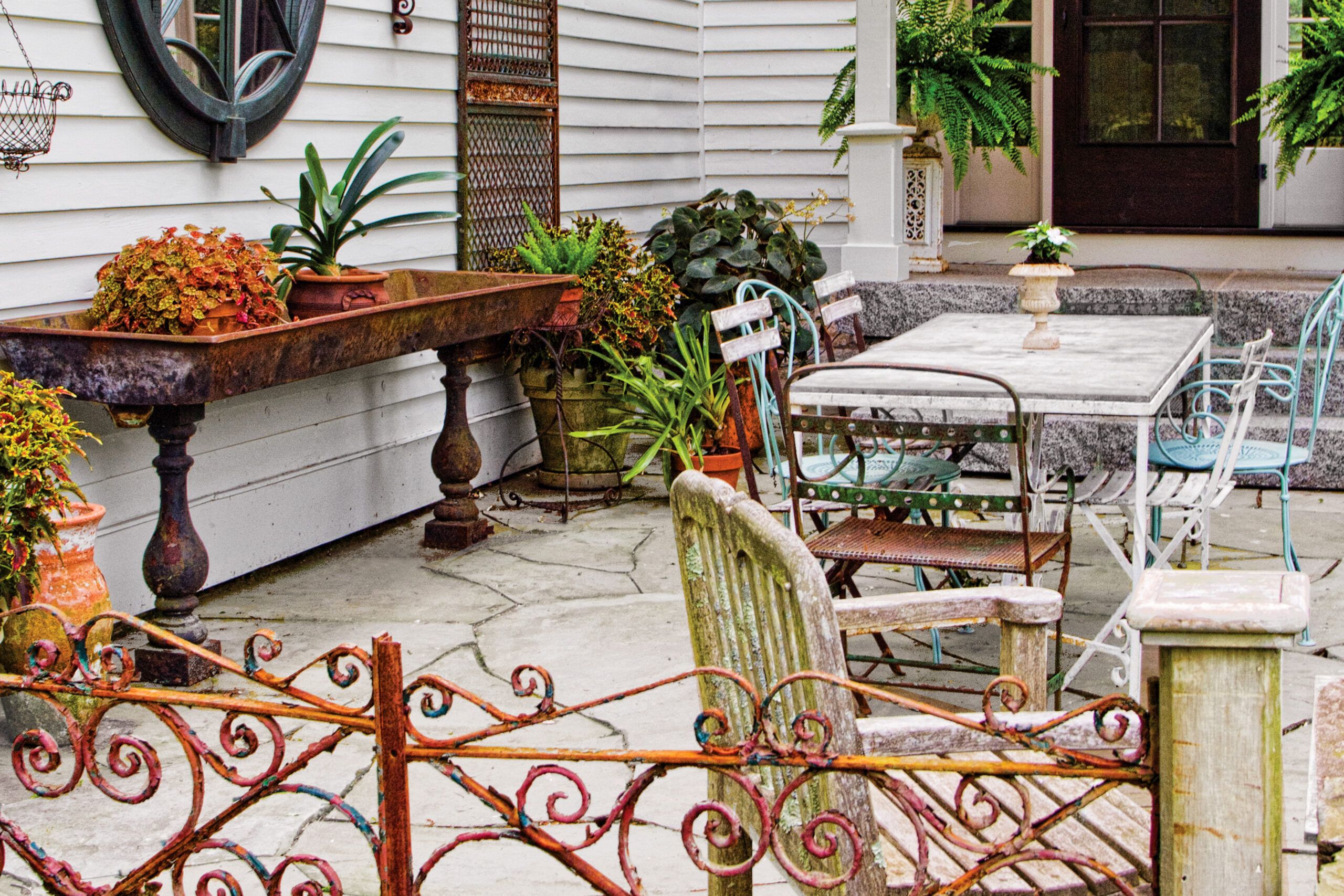 Hinge an old garden gate between a pair of wood posts to define your patio entry. Ornate wrought-iron gates like this one are about $75 to $250 at salvage yards, a fraction of the cost of a new, hand-forged gate.
5. Dual-purpose planter
Perch a metal farm trough atop chunky balusters to create a raised planter or, filled with ice, a party-perfect bar. Vintage troughs like the one here can be pricey, so pick up a new trough that will develop a patina over time.
6. Mirror, mirror
Reflect light and create the illusion of a window into another room with a wall-hung mirror. Make your own by fitting a cast-off divided-light window with mirror glass.
7. Green canopy
Grow climbing vines, such as grapes, over an existing pergola to provide extra protection from the sun and rain.
8. Bold backdrop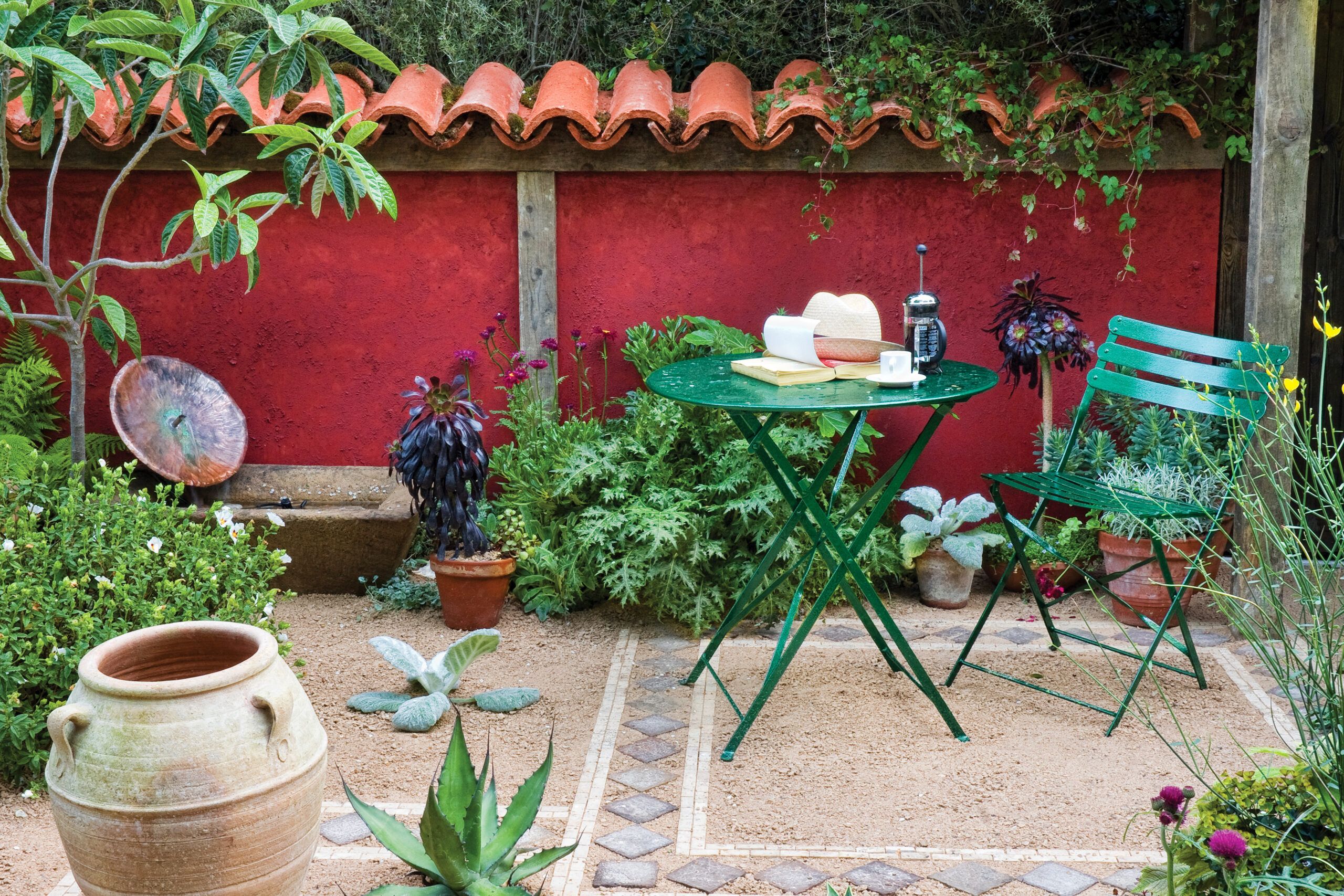 Turn a blah wall into a focal point. Red stain and barrel tiles give this concrete garden enclosure a Southwest feel.
Marley Roof Tiles in classic red, about $5 each; Northern Roof Tiles
9. Container plants
A small patio becomes a verdant oasis with potted plants. Low-water options, such as sedum and Russian sage, require little care.
10. Paver grid
Give a thrifty pea-gravel patio a style boost and create activity-specific zones by edging areas with pavers.
About $5 per square foot; at home centers
11. Living arch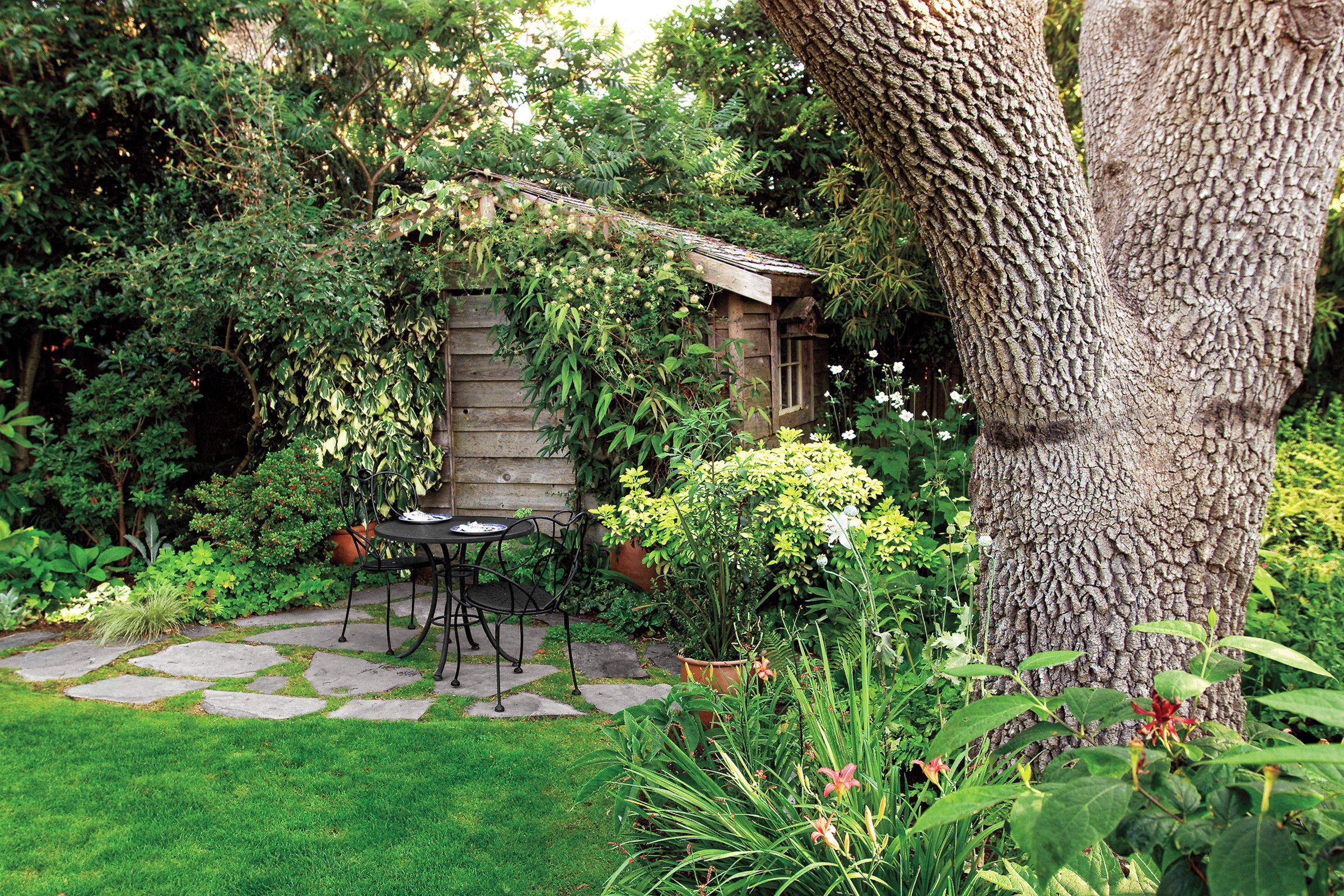 Create an arbor with plants trained up the side and out onto the overhanging eaves of a shed or outbuilding. Anchor plants, and contain aggressive species, by growing them in pots.
12. Flagstone floor
A dozen stones arranged in a free-form pattern can easily turn a small patch of grass into an intimate dining area. Grow grass between the stones (shown) or choose a traffic-resistant groundcover. Flagstone prices vary by type, but expect to pay about $3 to $6 per square foot at stone yards.
13. Impromptu table for two
A bistro set is inexpensive and small enough to fit on a tiny patio. Choose sturdy but lightweight sets for maximum movability.
14. Front-entry courtyard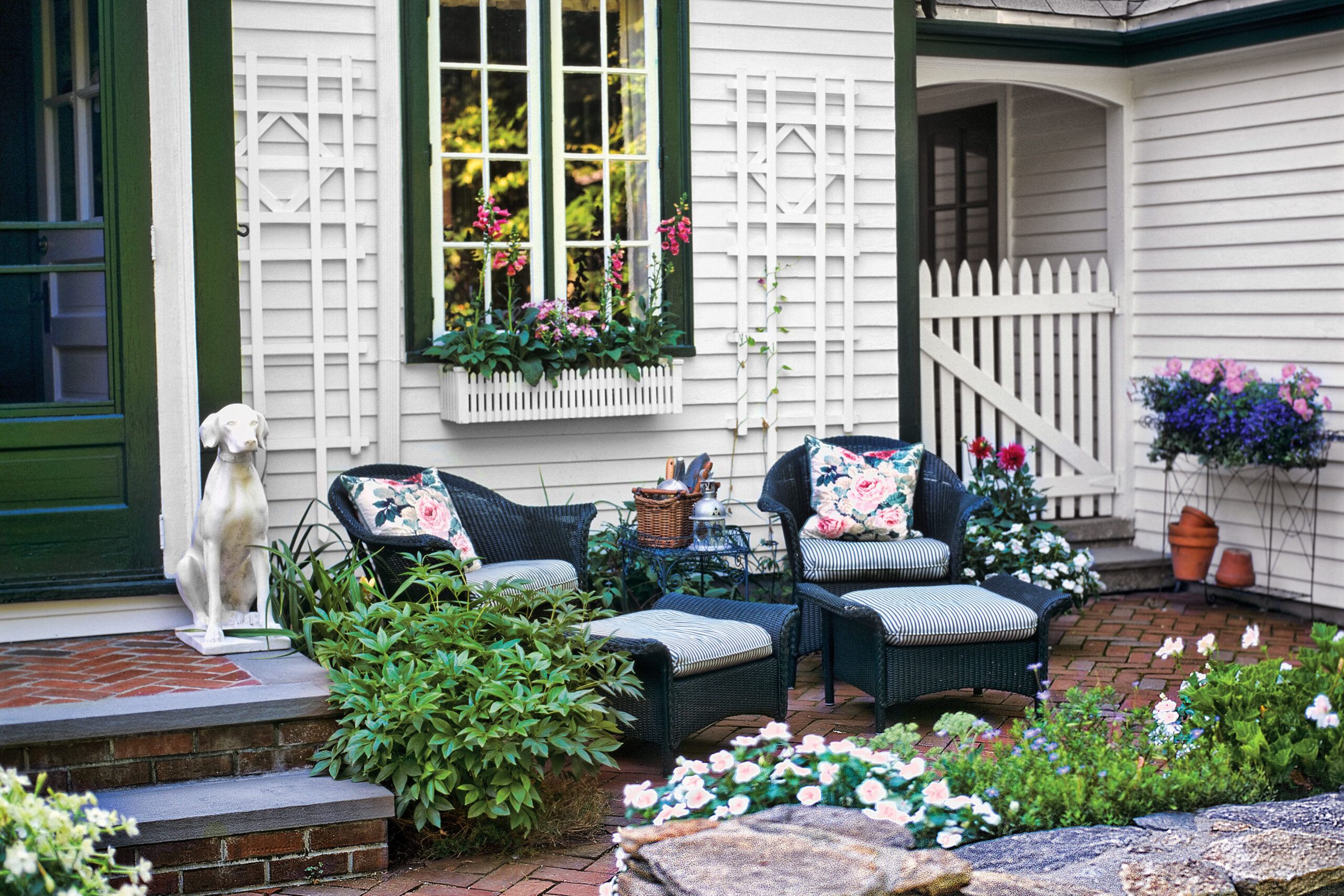 Carve out a seating area in the front yard by enclosing a swath with a DIY sitting wall made from mortared fieldstone.
About $300 per ton, enough for 60 square feet.
15. Herringbone brick floor
This zigzagging design helps lock bricks in place and is more dynamic than the typical running bond. Make the pattern with any rectangular brick or paver.
16. Walls with dimension
Add texture to siding with trellises, and draw attention to windows with boxes filled with bright blooms.
17. Decks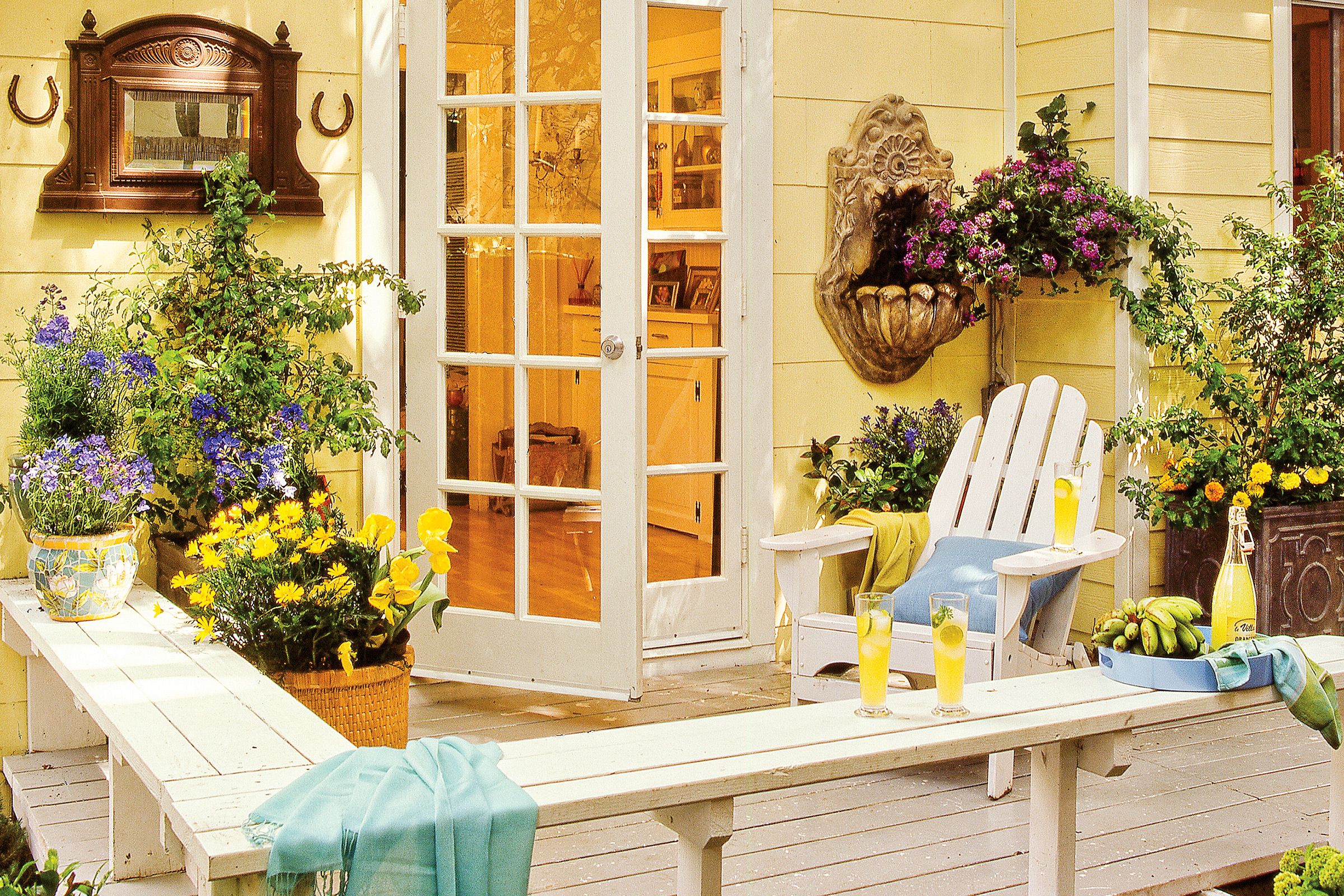 Taking your deck from dull to dramatic can be as simple as integrating colors, materials, furnishings, and plantings that smooth the transition from indoors to out.
17. Bench border
If your deck is low enough not to require a railing, build a bench around the perimeter to provide seating and a sense of enclosure. You could build a version on just one side using leftover deck boards for the seat and pressure-treated 26s (about $5 for an 8-foot board; at home centers) for the supporting structure.
18. Stained to match
Use paint or stain to seamlessly match your outdoor elements with one another.
19. Wall art
Add a furnished feel by hanging ornaments, such as a fountain, on your home's exterior wall.
20. Bright and cheery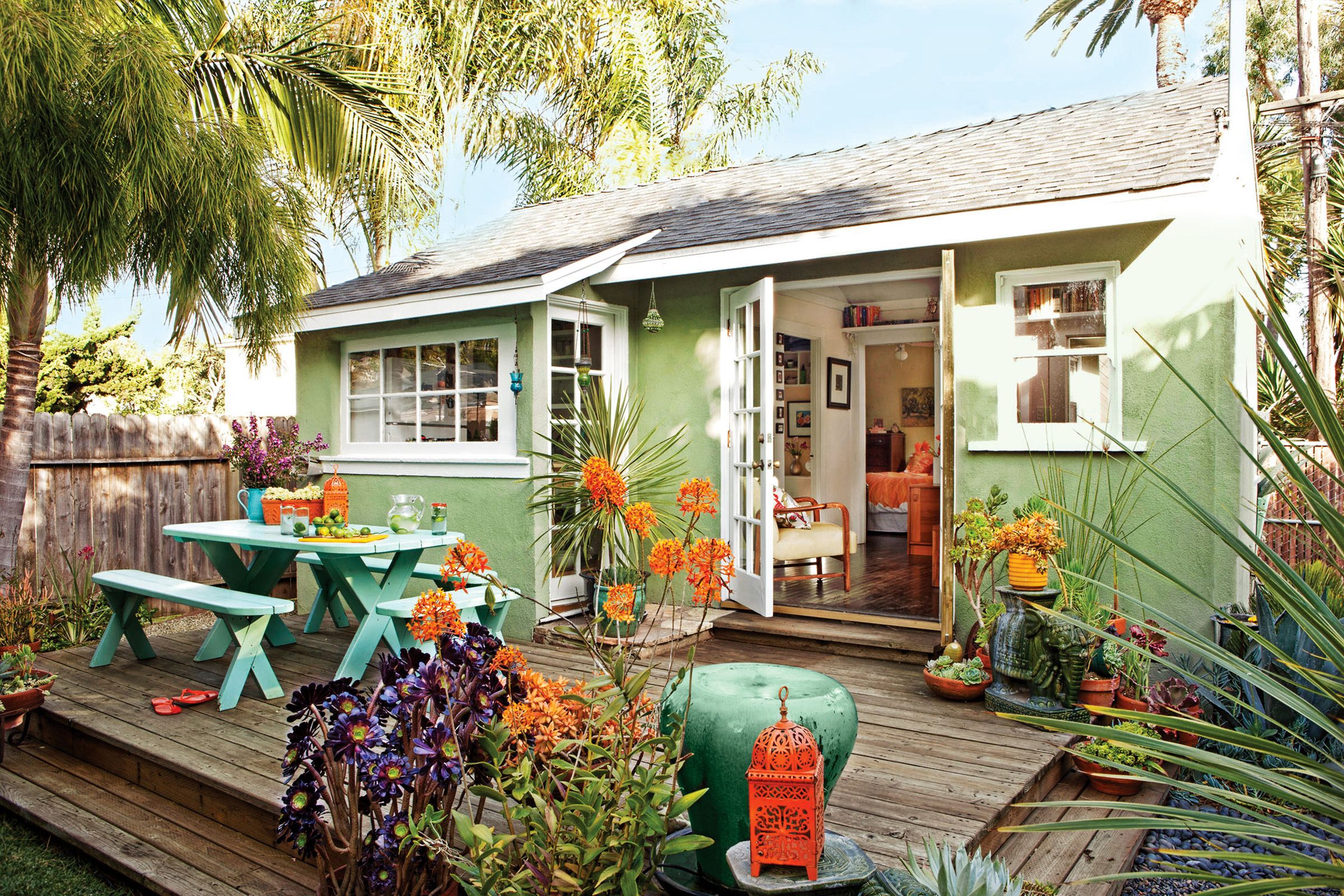 Make a big impact in a small space with intense color. Here, a turquoise-painted picnic table and coral-colored accents make an energetic combo.
Table paint: Behr's Premium Plus Ultra Exterior Semi-Gloss Enamel in Spring Stream, about $36 per gallon; The Home Depot
21. Lots of levels
Create the illusion of greater space by keeping the eye moving up and down. A stepped deck design like this is one way to do it, but you can also create levels by clustering tall and low container plants and ornaments together.
22. Soothing sound
Turn an urn, a birdbath, or a pretty pot into a gurgling fountain. All you need is a water pump to fit inside (Beckett 60 GPH Submersible Fountain Pump, about $18; The Home Depot), a GFCI outlet to plug the pump into, and a basin below where the water can collect and be recirculated.
23. Lattice panels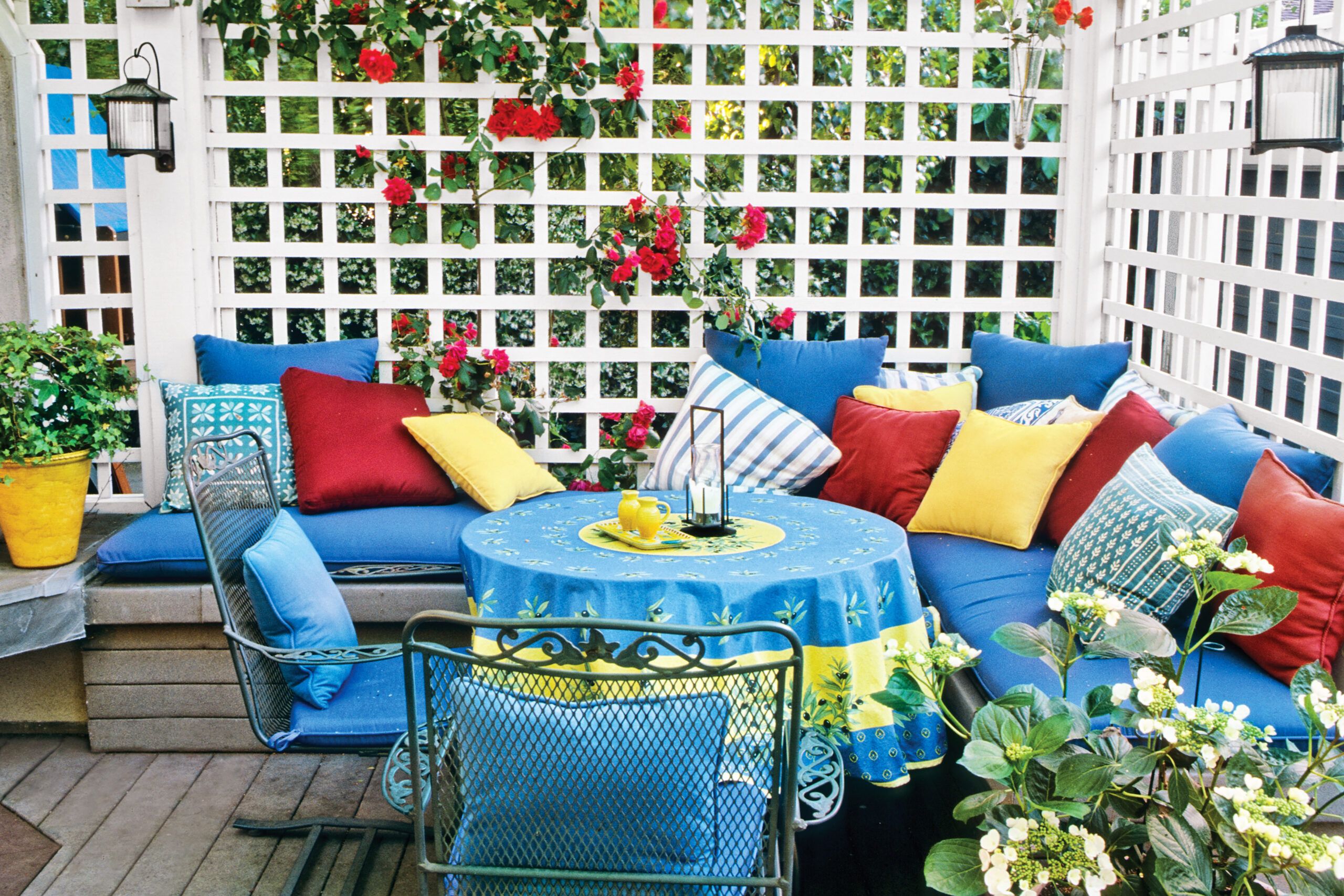 Screen wind and lend privacy to your deck with thrifty treated-wood or plastic lattice walls. Flowering climbers soften their look and add color.
Similar to shown: Master Mark 2-by-8-foot plastic lattice panel, about $15; Ace Hardware Superstore
24. Soft surroundings
Top an existing built-in banquette, such as this corner unit, or a storage trunk with cushions and throw pillows to create relaxed seating. Look for weatherproof fabrics so that you won't have to bring everything inside at the threat of rain.
25. Easy canopy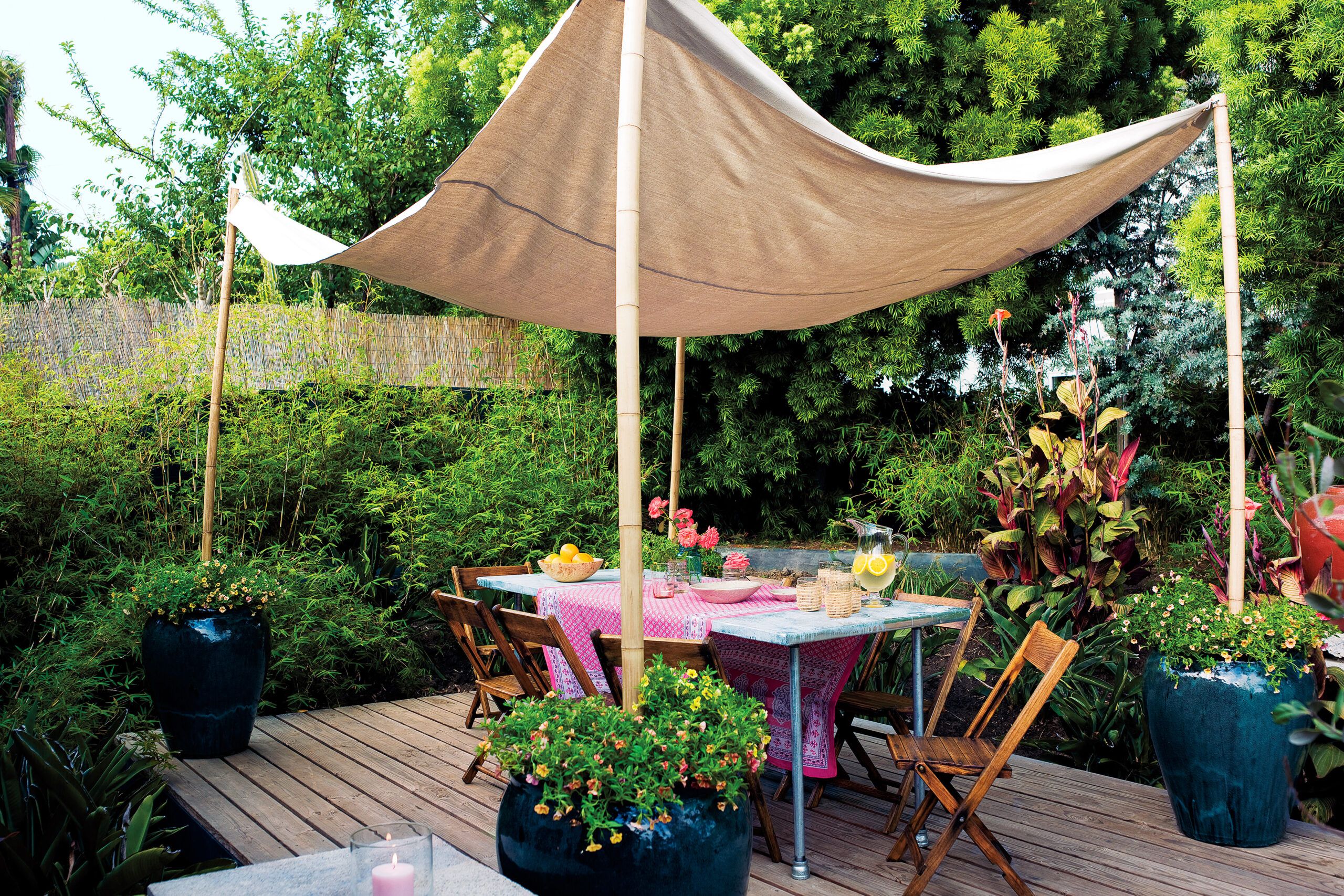 Erect a "roof" by draping a canvas drop cloth between four bamboo poles anchored in heavy planters.
Similar to shown: Super Heavy Canvas Drop Cloth, 9 by 12 feet, about $20; Amazon.
26. Repurposed table
For an industrial-chic look on a budget, co-opt commercial kitchen gear. Try a stainless-steel prep surface that doubles as an all-weather dining table.
27. Movable seats
They're not just for extra party guests. Wood folding chairs are stylish and simple-to-stow everyday seats.
28. Porches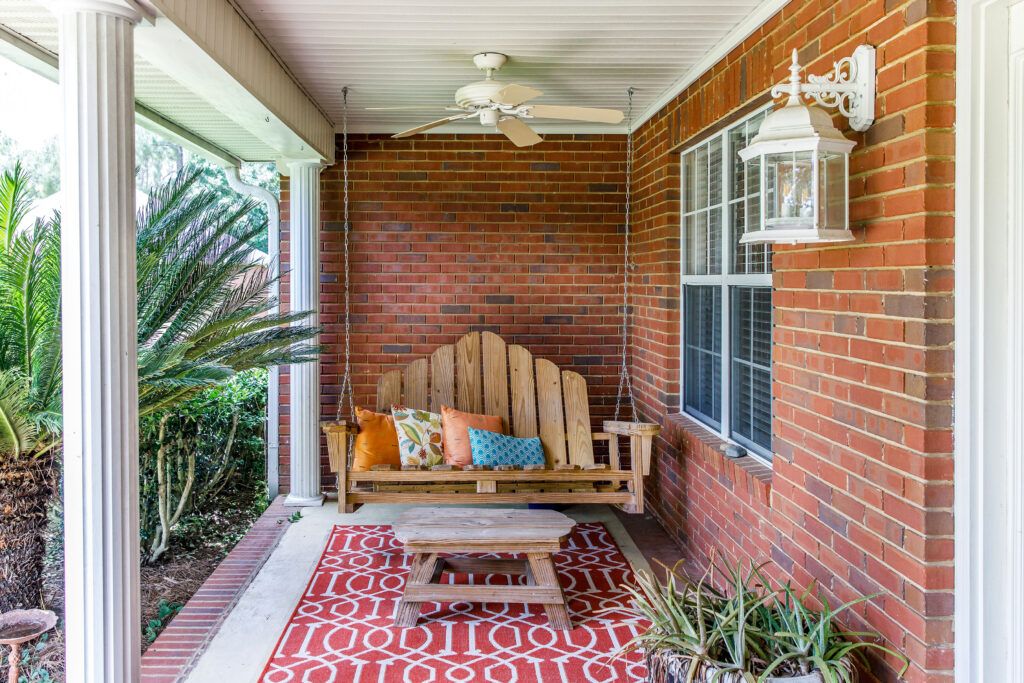 The key to comfort on the porch, whether it's off the entry or an upstairs master, is outfitting it to take advantage of the shade, views, and privacy it can offer. Just pick colors and furnishings to suit the style of your house so that the porch feels like an organic extension.
28. Surfaces with patina
Preserve a weathered painted finish rather than strip it. Mottled concrete floor and ceiling can add unmistakable vintage appeal.
Seal old paint under a water-based clear coat appropriate for the material. About $20 to $30 per gallon; at home centers
29. Pleasing opposites
If your backdrop is rough or rustic, add a hint of formal elegance, such as this manicured boxwood in a classical urn, for a balanced and purposely eclectic look.
30. Hanging baskets
Pretty up and add privacy on the porch by strategically hanging planted baskets from the eaves. For maximum impact, choose lush and trailing plants.
31. Shutter divider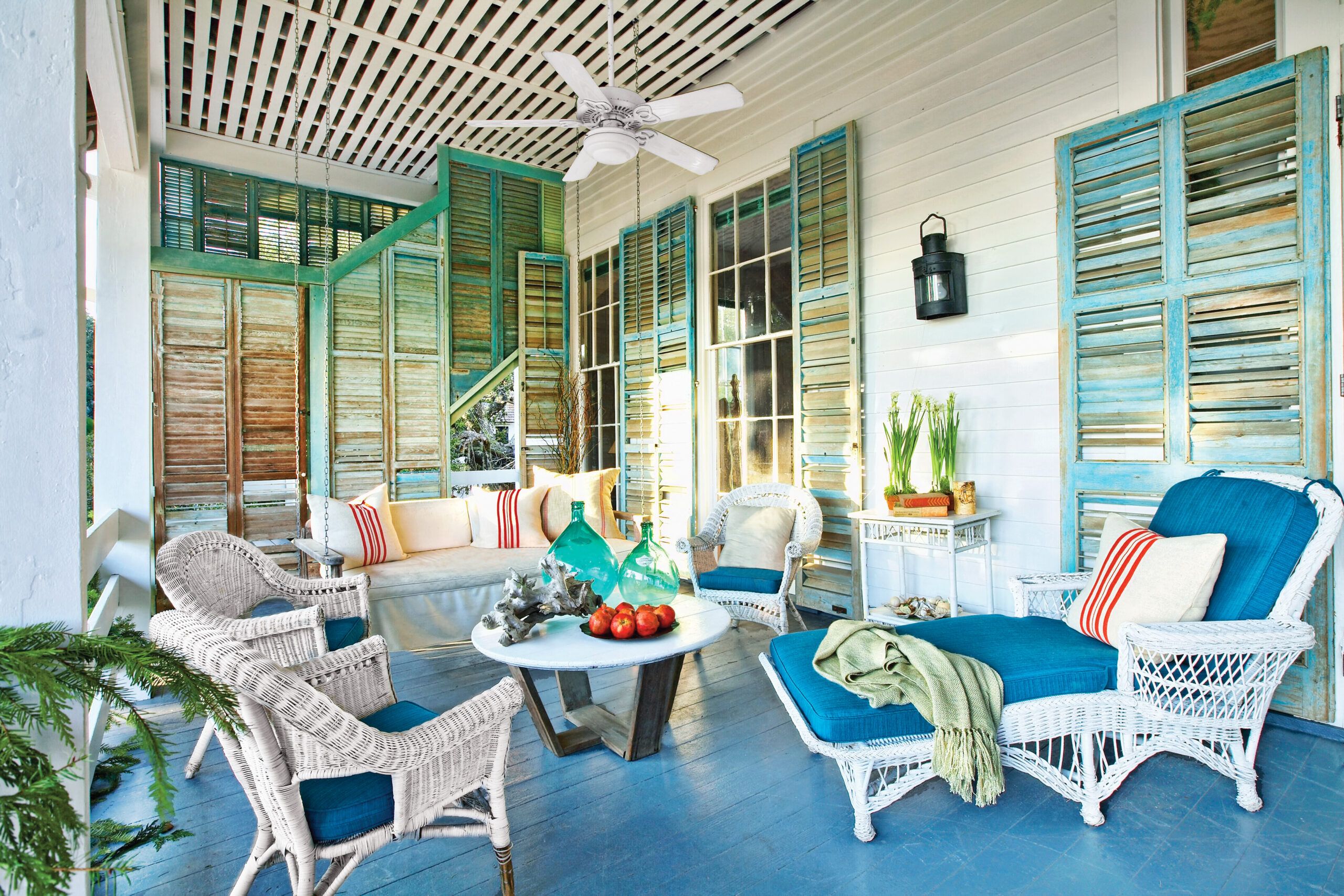 Use salvaged shutters to form a richly textured partition. This one sections off a large upstairs porch.
Find louvered pairs at flea markets for about $25.
32. Air supply
Install a ceiling fan to cool your porch and keep bugs at bay. This fan, with its built-in light, also adds an ambient overhead glow at night.
33. Soothing palette
Cool tones, like the watery blues on the porch floor and seat cushions, create a serene effect.
34. Evergreen screen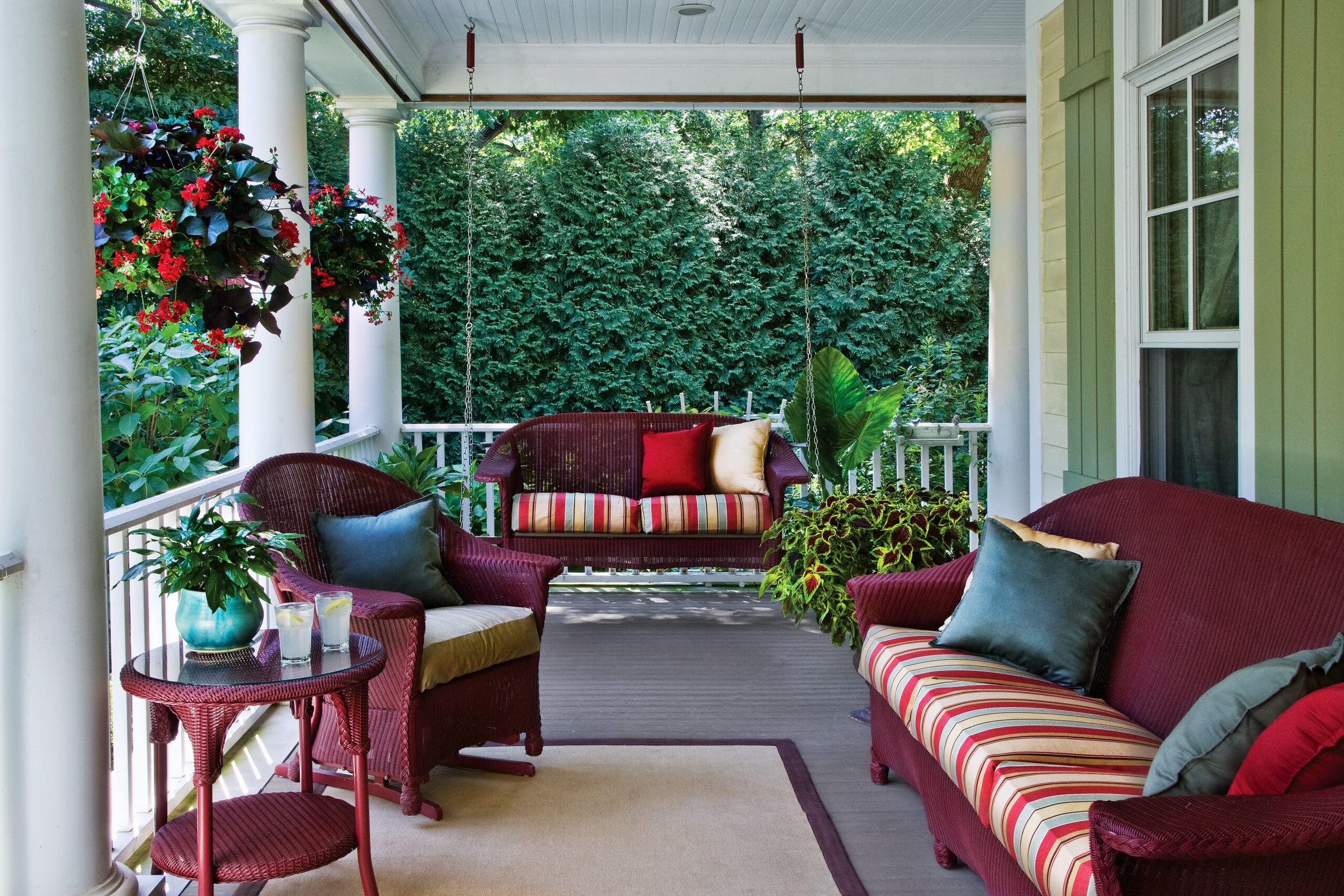 If proximity to neighbors is an issue, plant a row of evergreens along the exposed side of the porch.
35. Coordinated colors
Get a manicured look with a controlled color scheme. Here, all the furniture is the same shade of cranberry. And the upholstery, pillows, and rug echo the cranberry, as well as the home's muted green shutters and khaki body color.
36. Stylish synthetics
For low-maintenance furniture that looks new longer, choose materials that stand up to the elements. Resin wicker looks and feels like its traditional cousins but tends to cost less, and you can simply hose it down when it gets dirty.
37. Rope hammock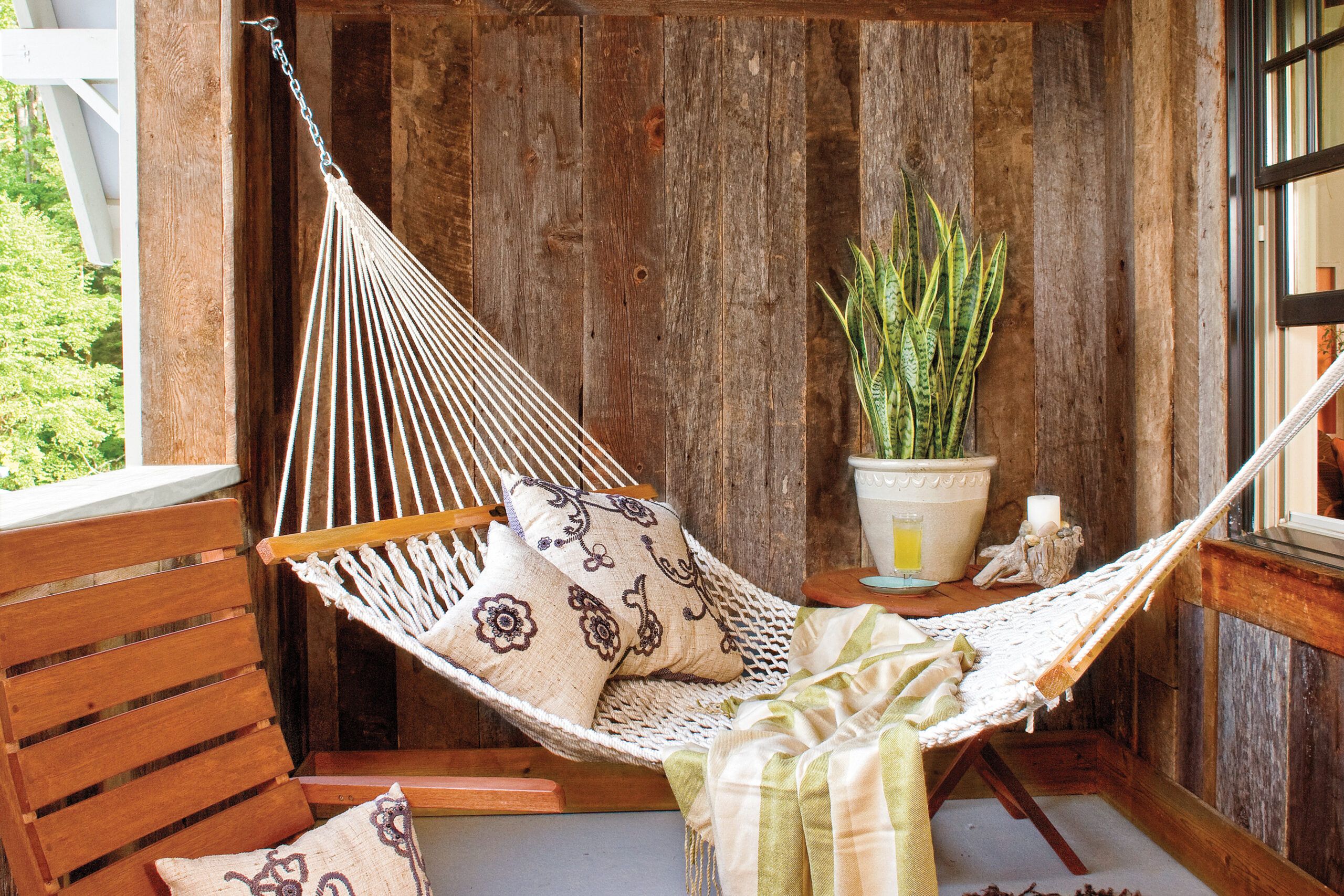 String one up and rock yourself to sleep. Use galvanized threaded eyebolts to secure it to wall studs, and leave room to sway.
Similar to shown: Cotton Hammock, about $60; Amazon
38. Hanging bed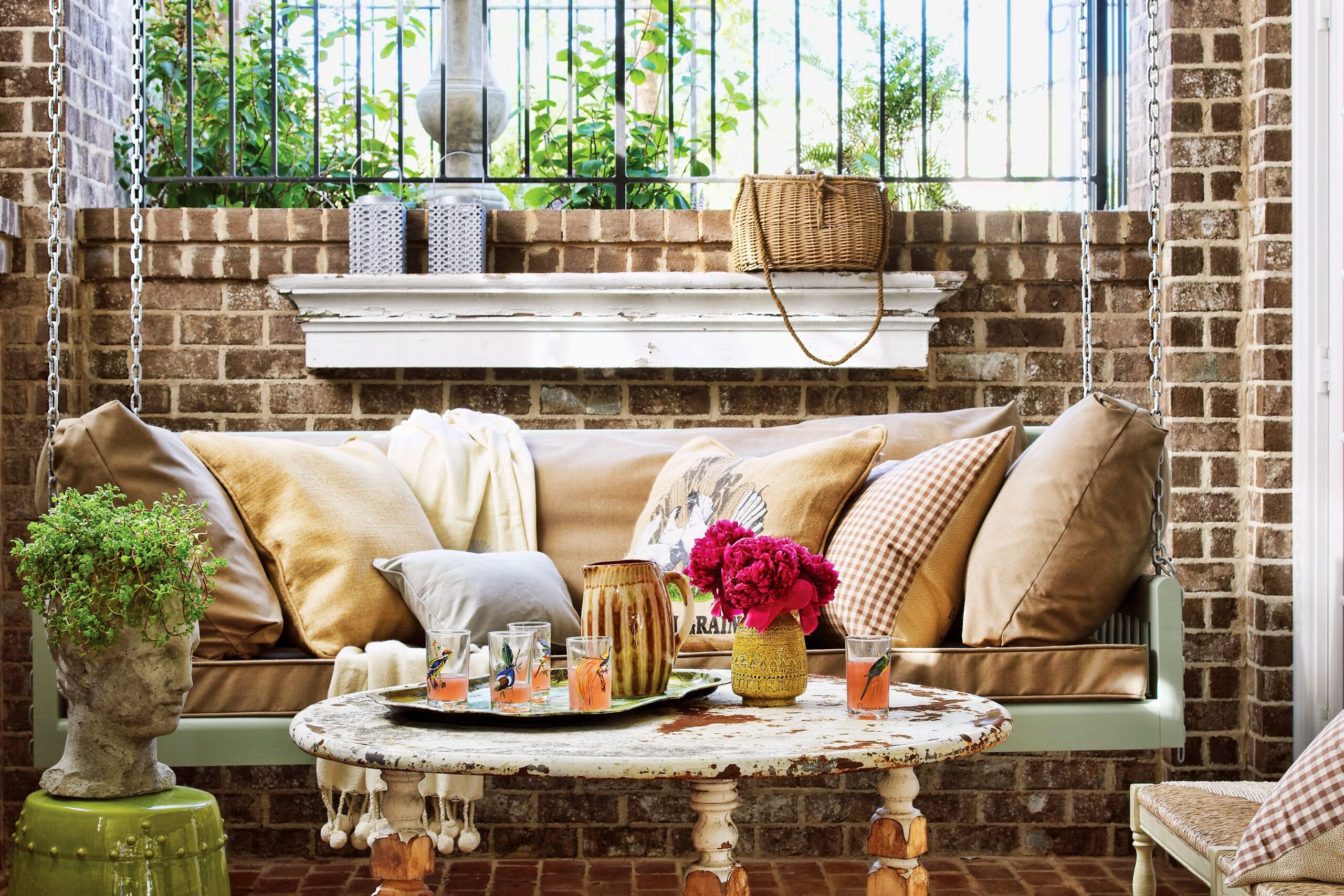 It's like a porch swing only deeper and easier to stretch out on. Rather than buy a bed swing, available with or without a backrest, make a wood platform for a twin mattress and suspend it with chains.
39. Laid-back lounger
Prop pillows against the arms and a cushion on the seat to turn a backless bench into a daybed.
Similar to shown: Generous 4-foot Backless Teak Garden Bench with Scrolled Arms, about $400; Plow & Hearth