A garden is only as good as the time you take to enjoy it. After all those hours you spent toiling in the flowerbeds, you deserve some respite. For maximum viewing pleasure, position yourself on a seat that complements all the natural aspects.
Whatever the layout of your outdoor space—a mere postage stamp or sprawling acres—these seating options will give you a breezy view of your gardening skills put to work. Here are 12 outside seating ideas that will improve your yard appeal and increase your capacity for entertaining.
Keep-It-Simple Garden Bench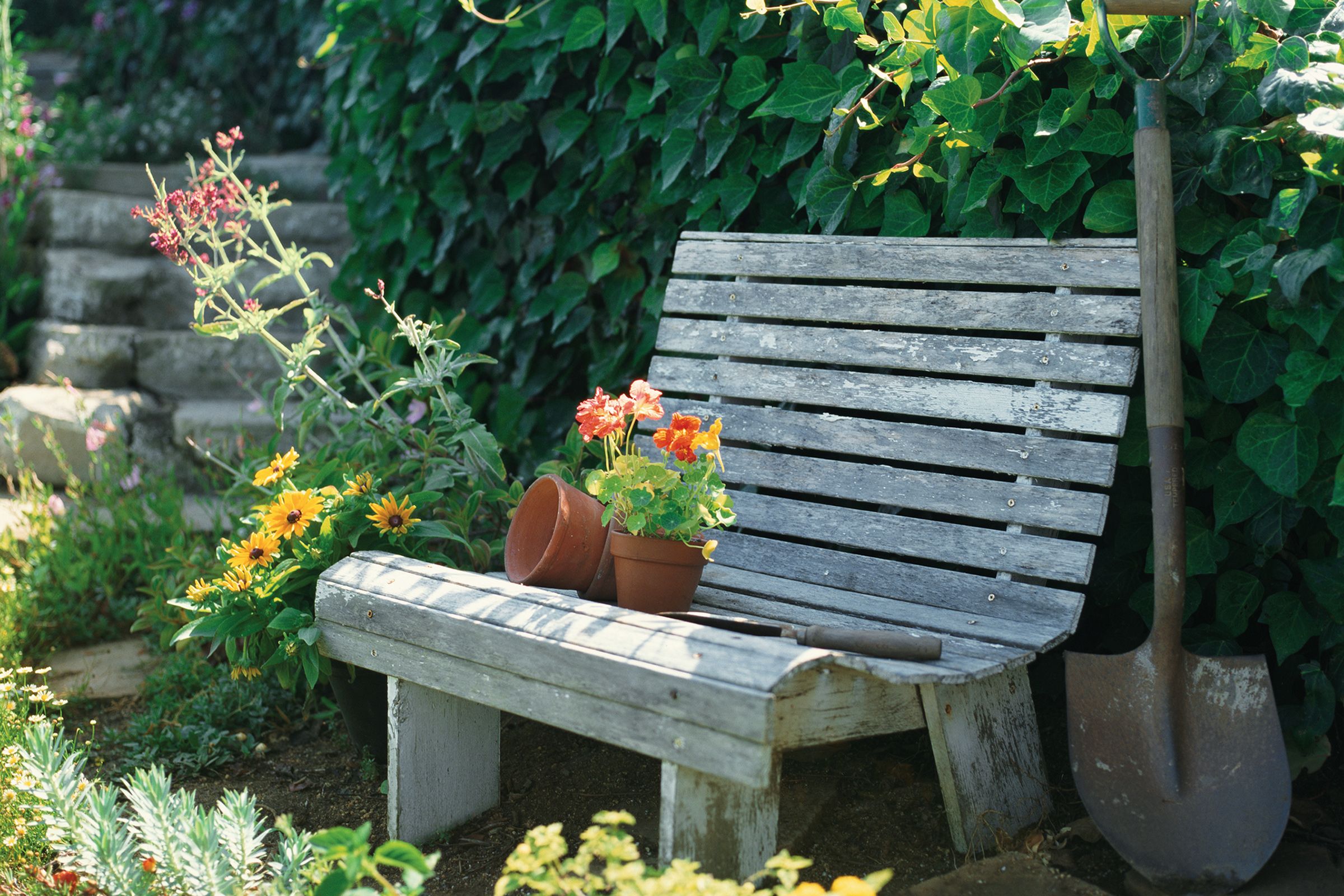 There's hardly a better spot for taking in the results of your outdoor sweat equity than a classic bench nestled among the greenery. Put aside some gardening time to explore this no-frills project, Build a Garden Bench.
Find out more about reaping the benefits of your hard work with ideas for sectioning off private spaces in Creating a Secret Garden.
Make your outdoor rooms a reflection of your personal style with cues from 18 Tips for Decorating Your Garden.
Tree-Hugging Bench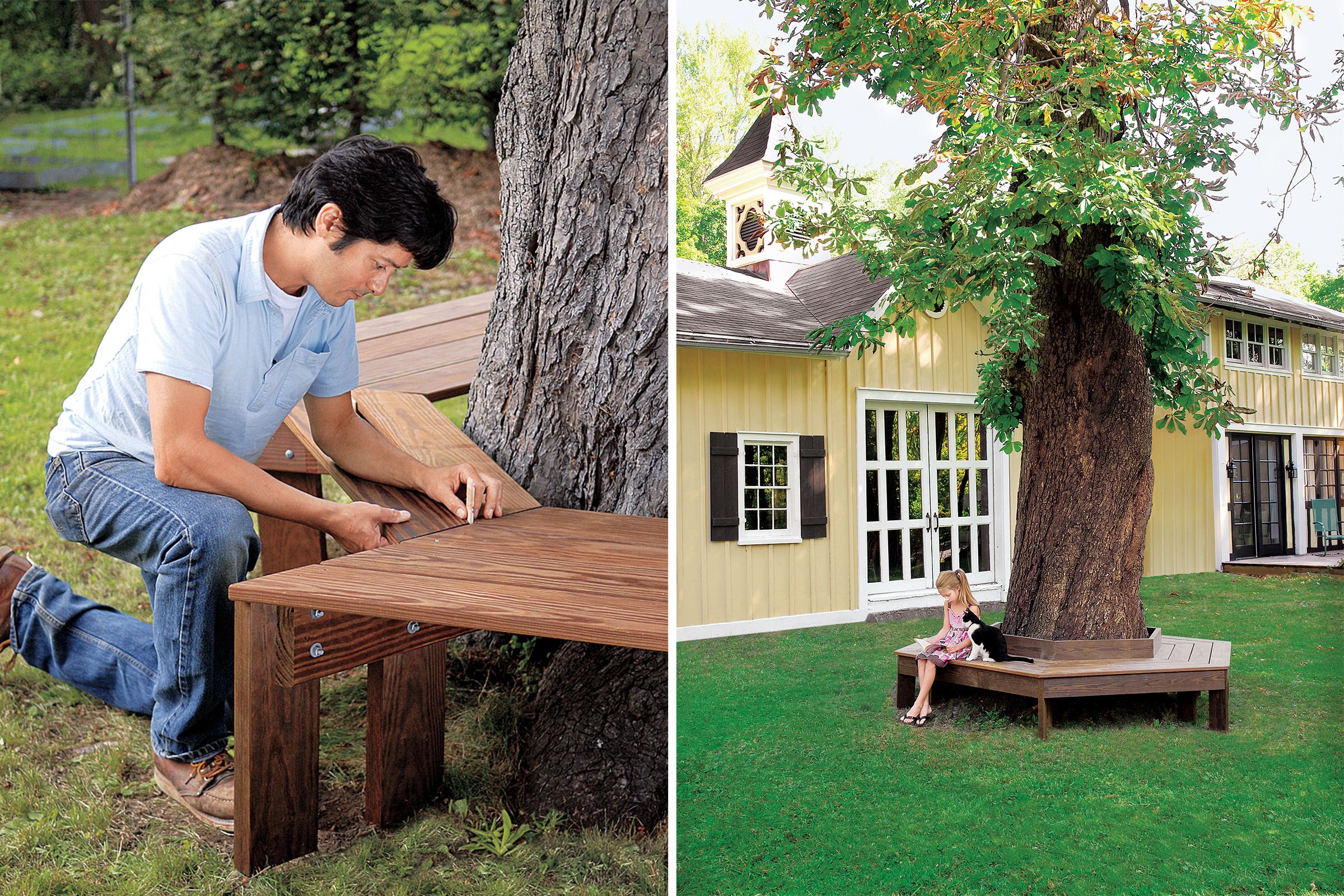 Build a restful place in the shade of your favorite tree with this attractive backyard fixture. Get details on the decay- and termite-resistant wood This Old House senior technical editor Mark Powers used to Build a Tree Bench.
Cast a few more shadows for outdoor enjoyment with our guide, All About Shade Trees.
Make your yard's new addition look like it's been there for years with our easy steps in How to Give Wood a Sun-Bleached Tone.
Dining Chairs to Stylish Bench
Spend an afternoon putting your basic carpentry skills to work with this dining chair hack. A pair of vintage chairs becomes a lovely entryway perch in the how-to, Build an Outdoor Bench From Dining Chairs.
Give guests another DIY project to admire by Creating an Entry Bench With Pipe Fittings.
Make over an existing entry bench by following our directions on Creating a Pickled Finish on Wood.
Thrifted Iron Bistro Set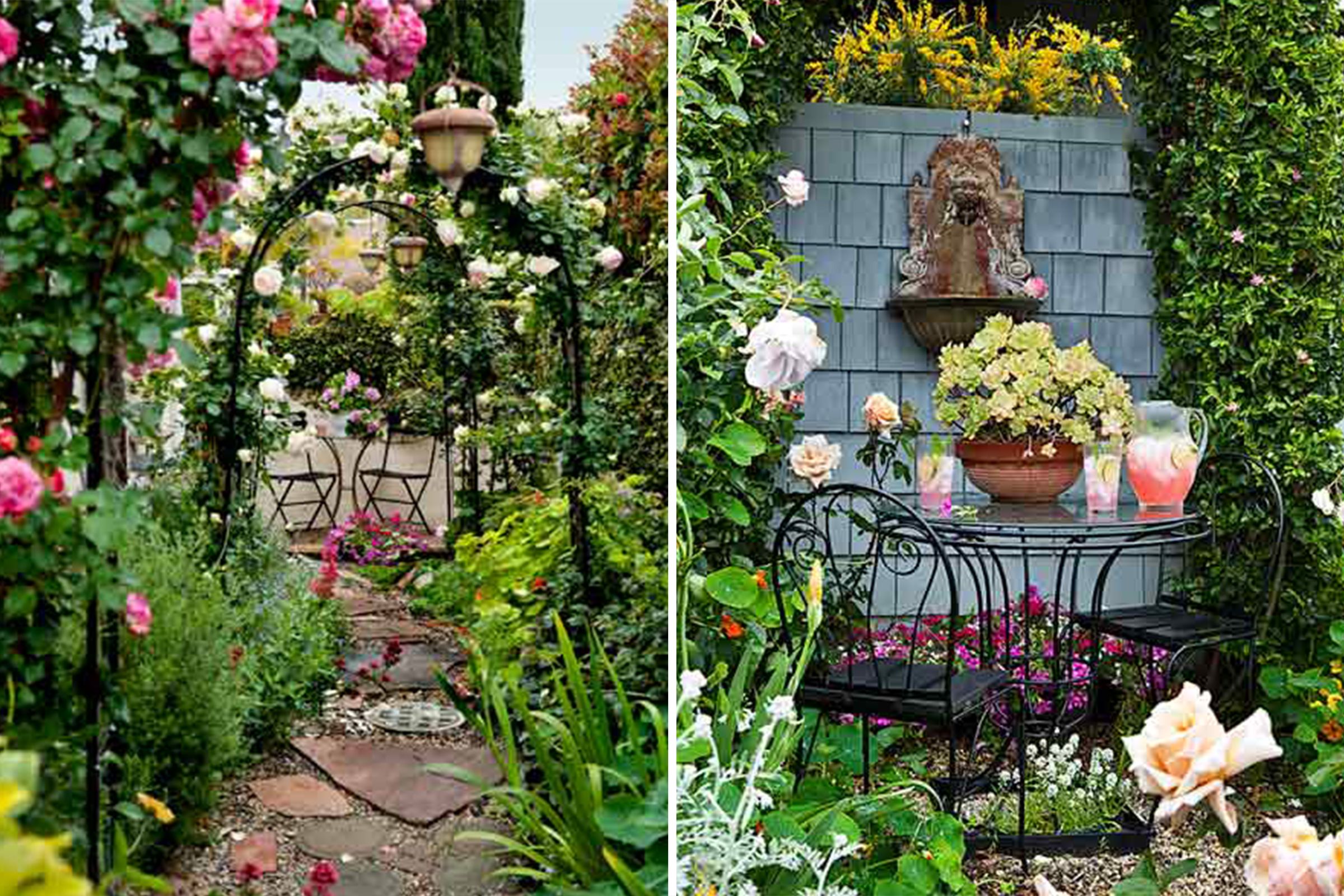 For those who prefer to purchase outdoor seating outright, the options are limitless. A couple of TOH readers found this charming iron bistro set on eBay. See other affordable ways to furnish the garden of your dreams in Garden Beauty on a Budget.
Explore chair sets, daybeds, canopies, and more in 37 Ways to Upgrade Your Outdoor Rooms.
Secret-Compartment Storage Bench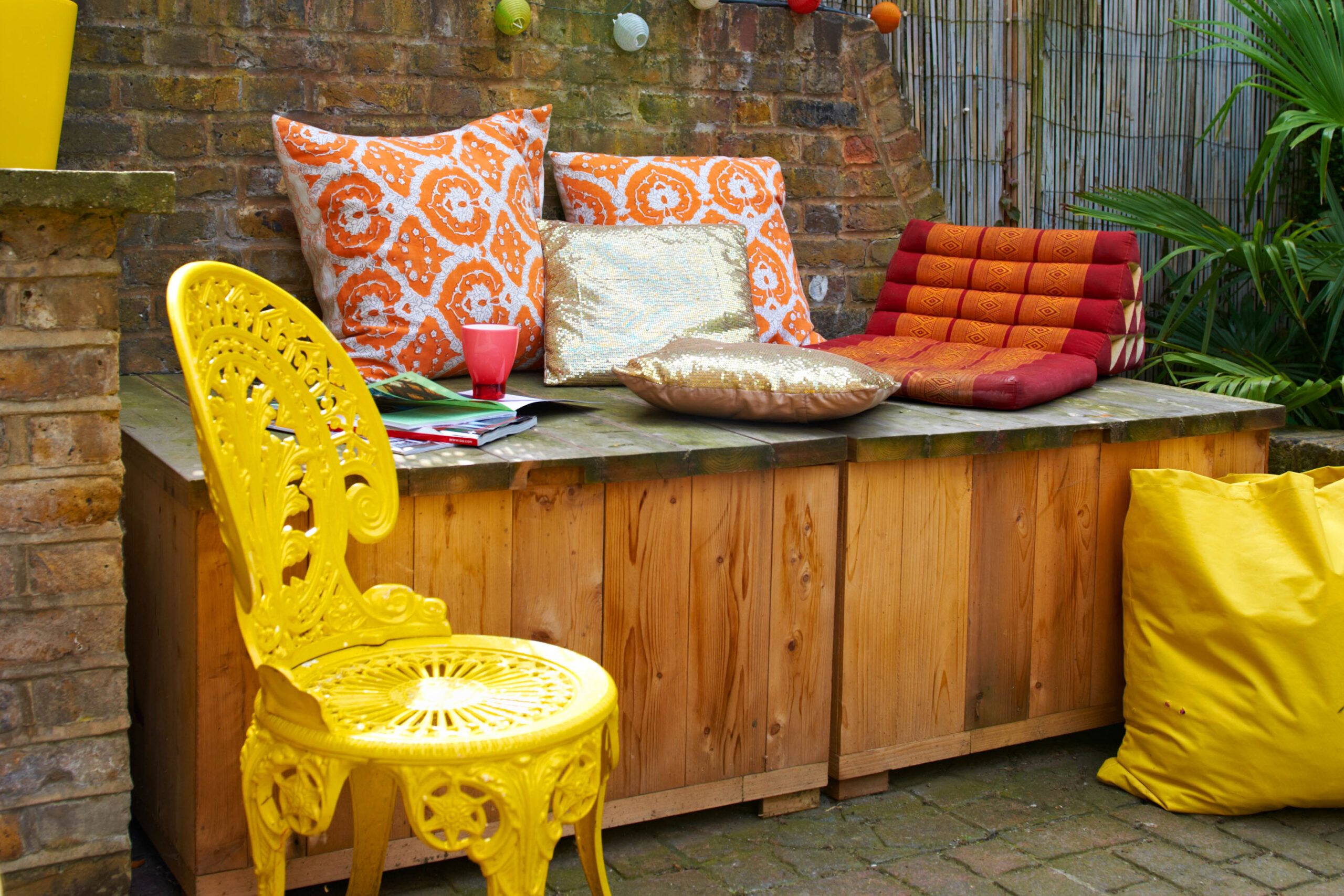 All gardeners have items they prefer to hide, like a well-worn—but sturdy—garden hose or pair of gloves. Guests won't suspect they're sitting mere inches above your tools when you Build a Garden Bench With Hidden Storage.
If you're OK with airing your dirty gardening tools outdoors, visit the salvage yard and Build a Spigot-Handle Garden Tool Rack.
Keep your larger goods safe from the elements in a Garden Tools Shed.
Find more places to stash your stuff in 37 Ways to Add Storage to Every Room.
Boastful Planter Bench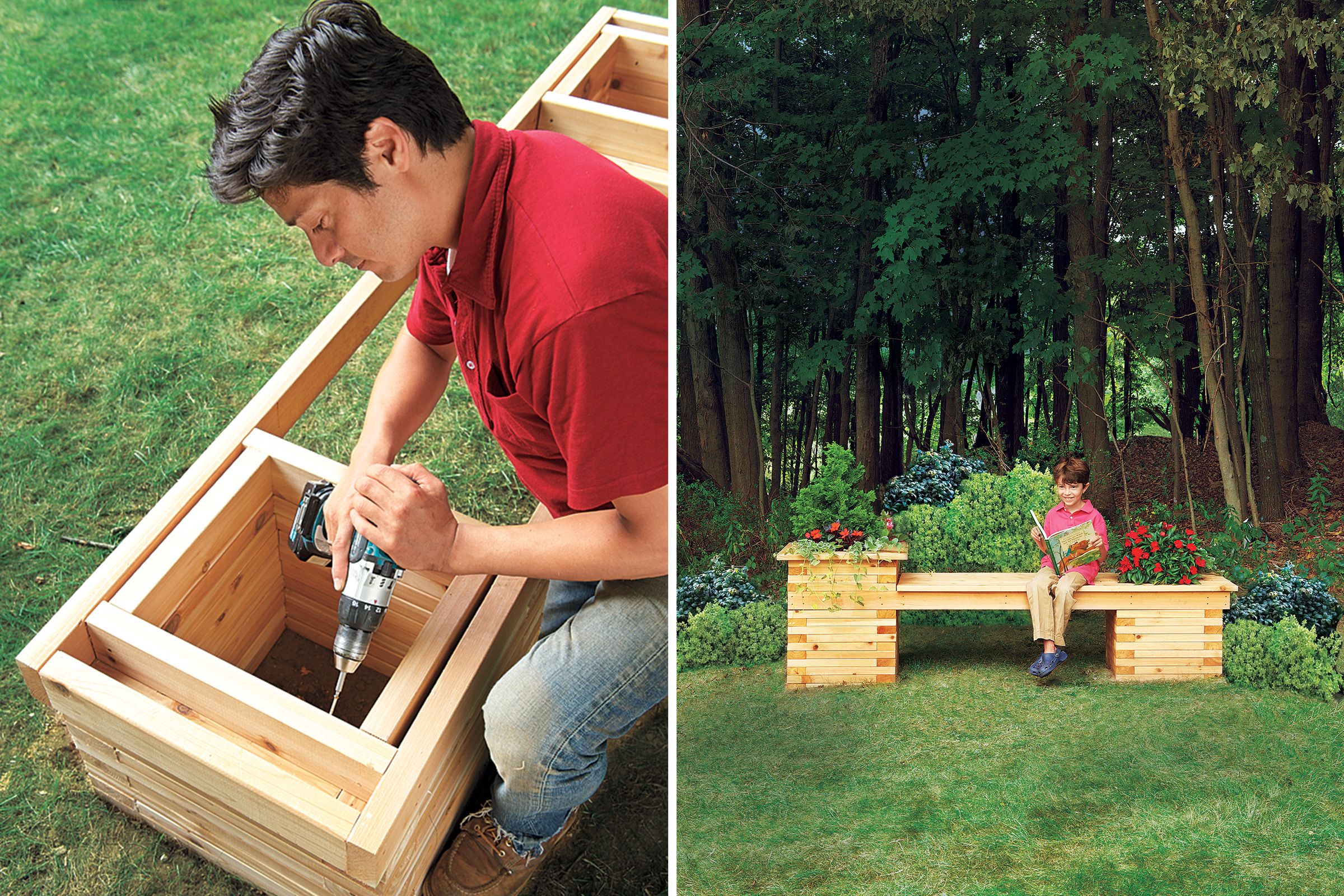 Give an empty corner of your yard an all-in-one eye pleaser with a bench built to contain beautiful flowers. See how rot-resistant cedar lumber and lap joinery safeguard the structure against pressure from tree roots in How to Build a Planter Bench.
Go mobile with your new garden fixture and Make an Herb Planter From a Wagon.
Take notes as gardening expert Carrie Kelly and landscape contractor Roger Cook discuss gardening on a small scale in How to Create a Container Garden.
Classic Westport Chair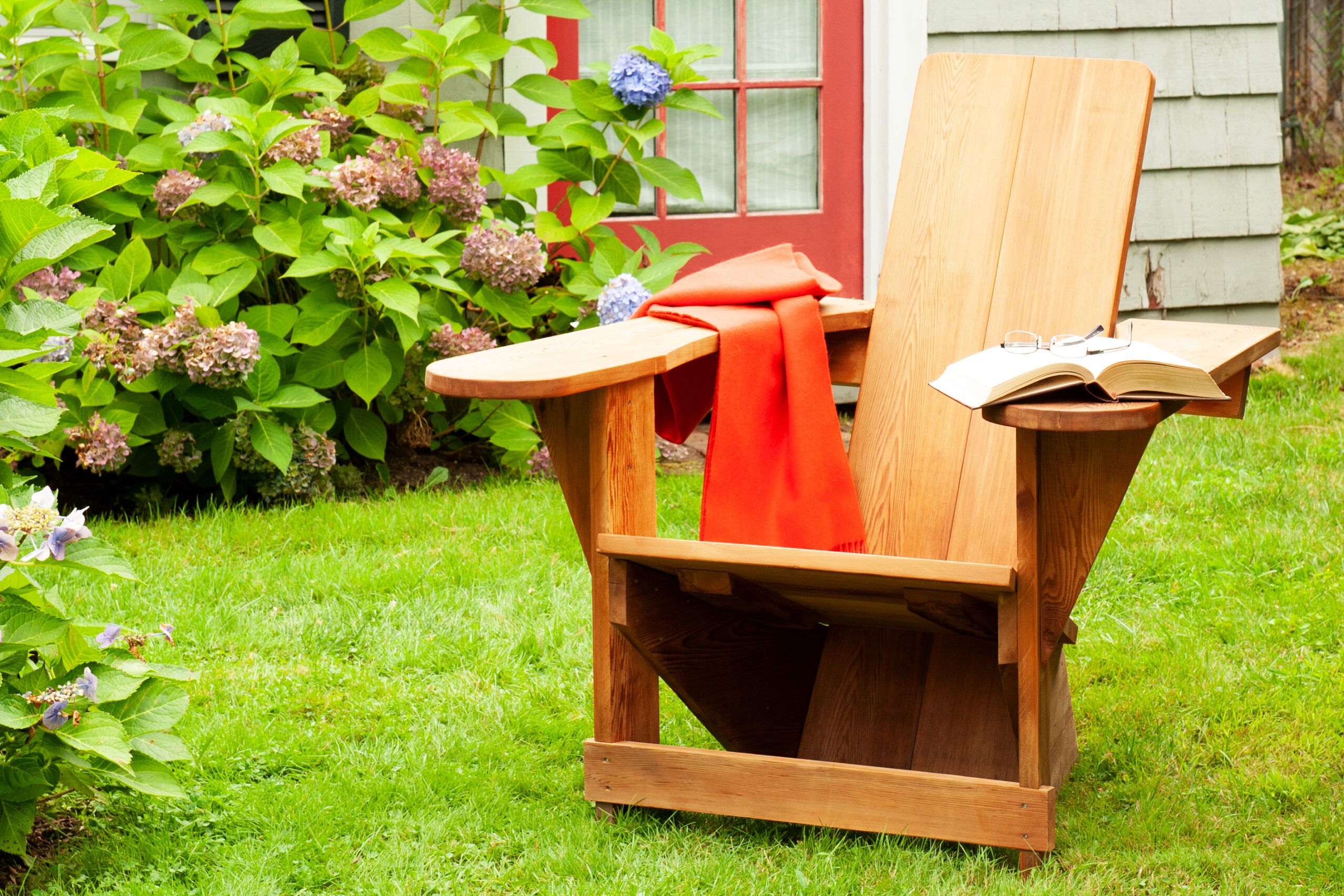 Some looks never go out of style. This predecessor to the Adirondack chair (see next slide) is an attractive, ample lounger constructed of stock cedar. Add some single-seating panache to your garden with our tutorial on How to Build a Classic Westport Chair.
Step up your existing patio furniture with our quick steps on How to Repair Aluminum Patio Chairs.
Roomy Adirondack Chair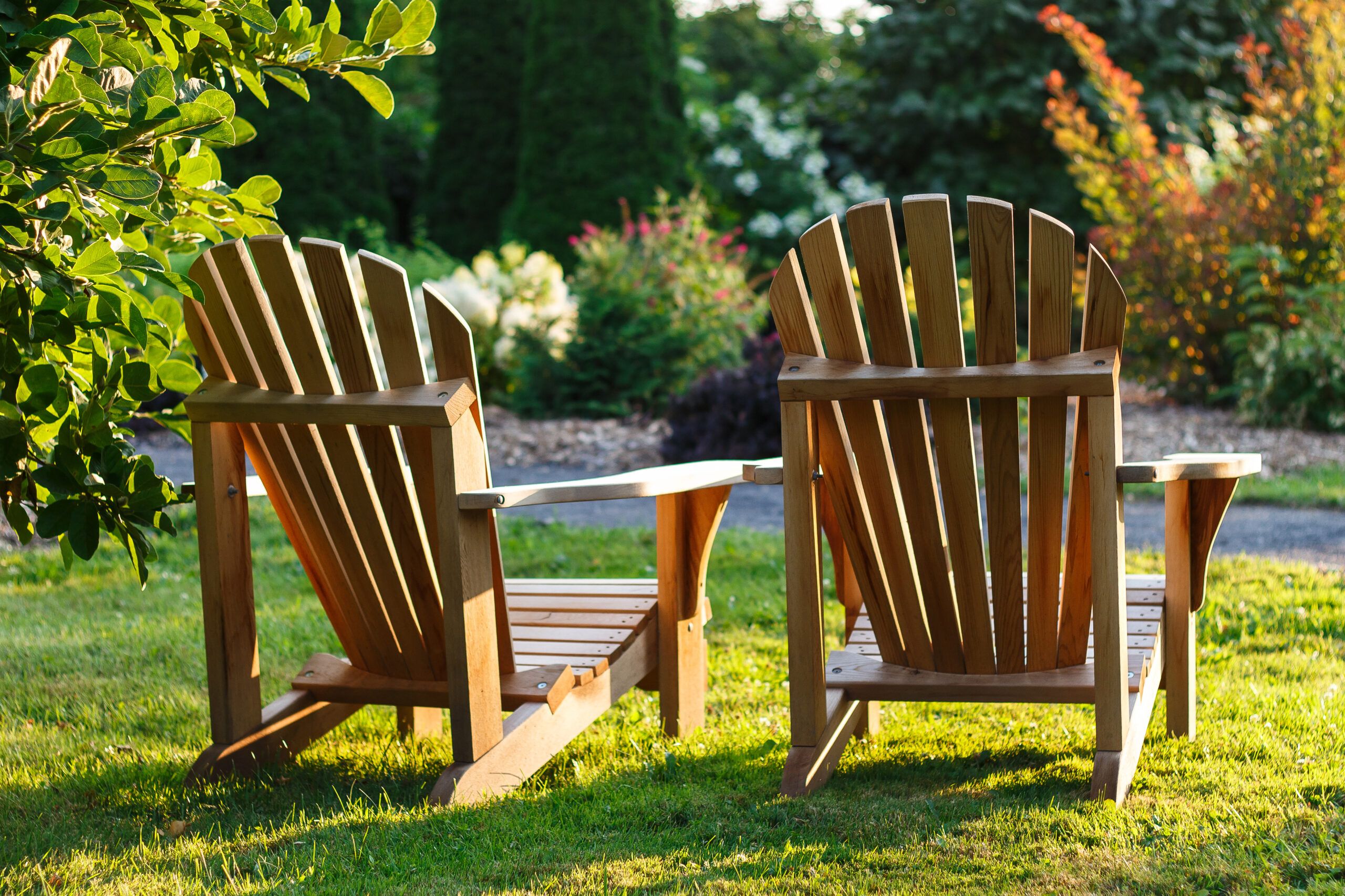 Sit back and relax: This seat's classic fan back and generous armrests make for a fine afternoon recline. Ditch the need for outdoor cushions and follow our tutorial on How to Build an Adirondack Chair.
Double-Duty Cedar Compost Bench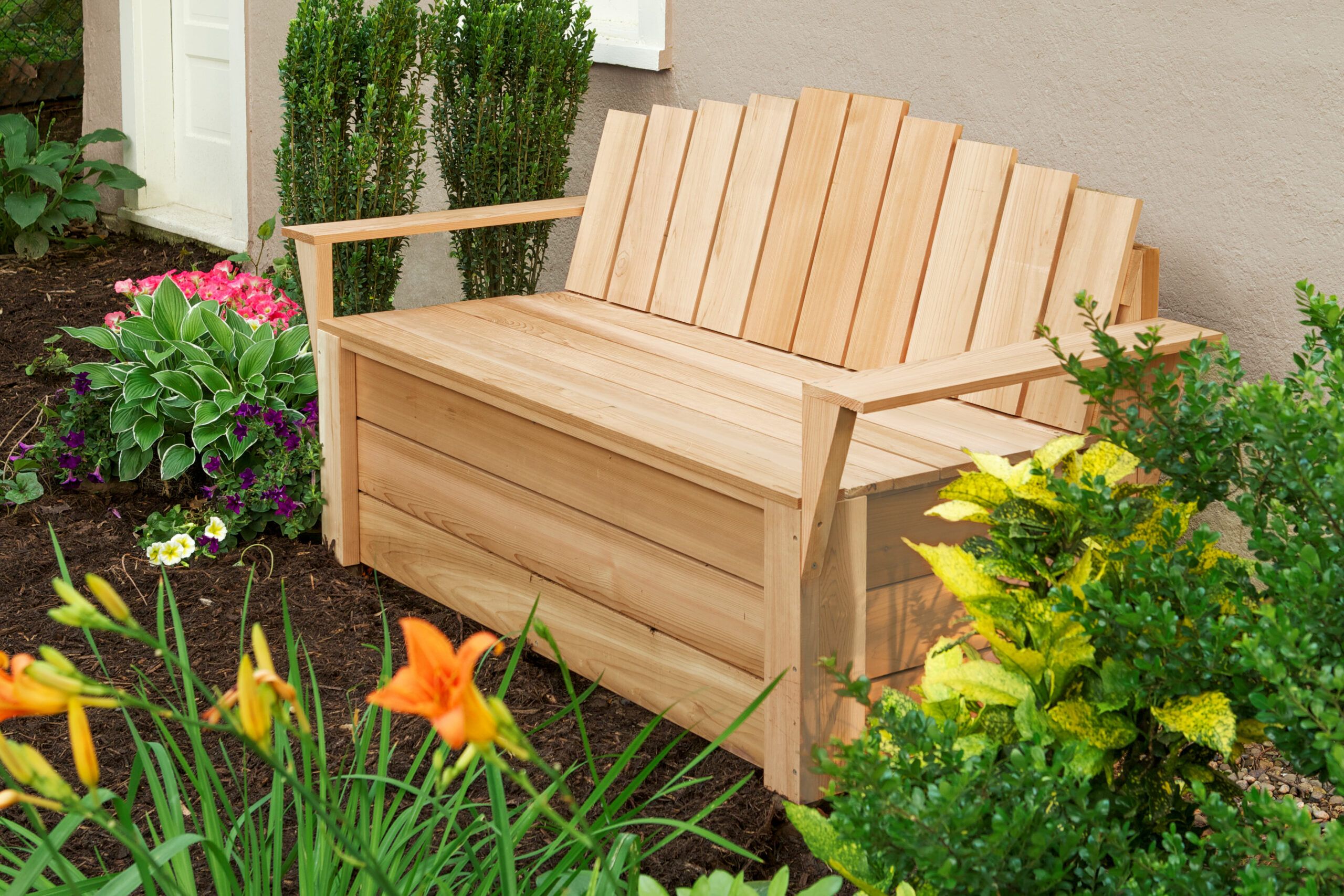 Inspired by benches spotted at the Brooklyn Botanic Garden, this handsome bench has a secret to hide. The open-bottomed design doubles as a sneaky compost bin. Follow along as TOH contributor Christopher Beidel shows How to Build a Cedar Compost Bench.
Put your compost pile to good use with Roger Cook's steps on How to Make and Use Compost Tea.
Picnic Table and Chairs Fit for Entertaining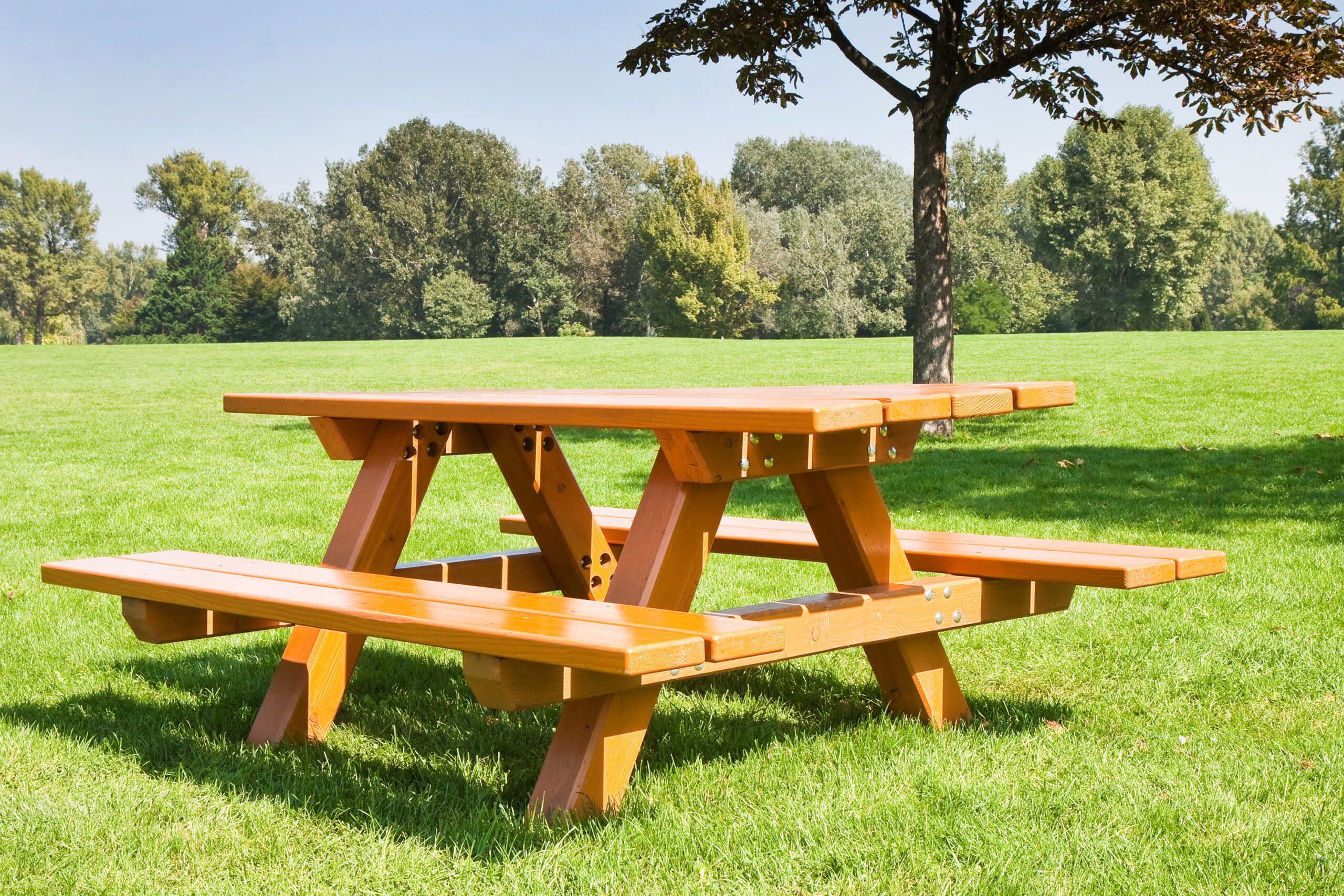 This upgrade of the classic family-barbecue staple features a trestle-and-slat design so handsome it will win praise even when it's not in use. Prep your favorite new entertaining fixture in time for warm weather by following the steps featured in How to Build a Picnic Table and Benches.
Outfit the rest of your backyard for grilling with 10 Smart Ideas for Outdoor Kitchens and Dining.
Go Big With an Arbor Bench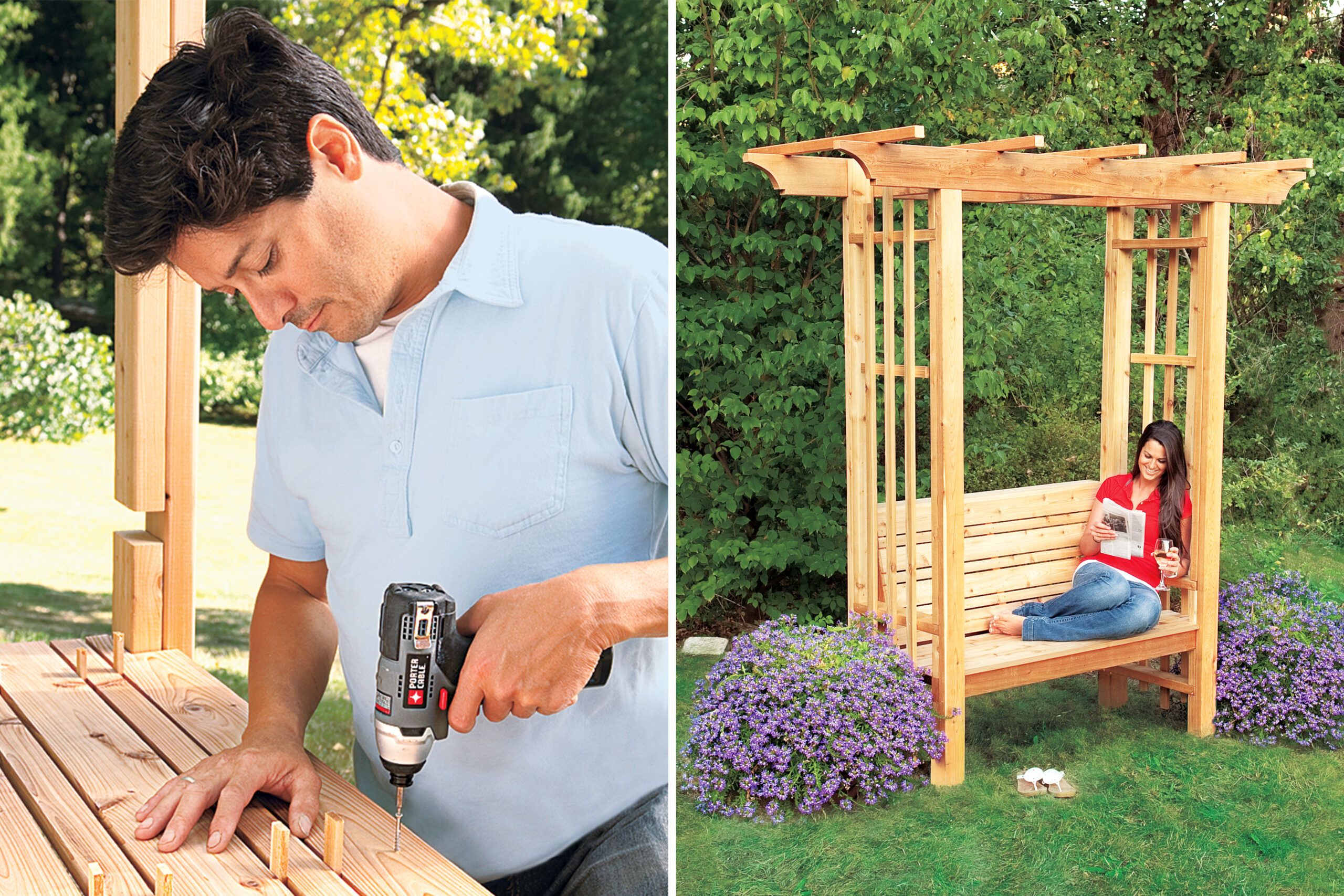 Extend your leisure time in your quaint English-cottage-style garden by adding a place to park yourself with a favorite book. Create an architectural feature and the perfect outdoor reading spot by Building an Arbor Bench.