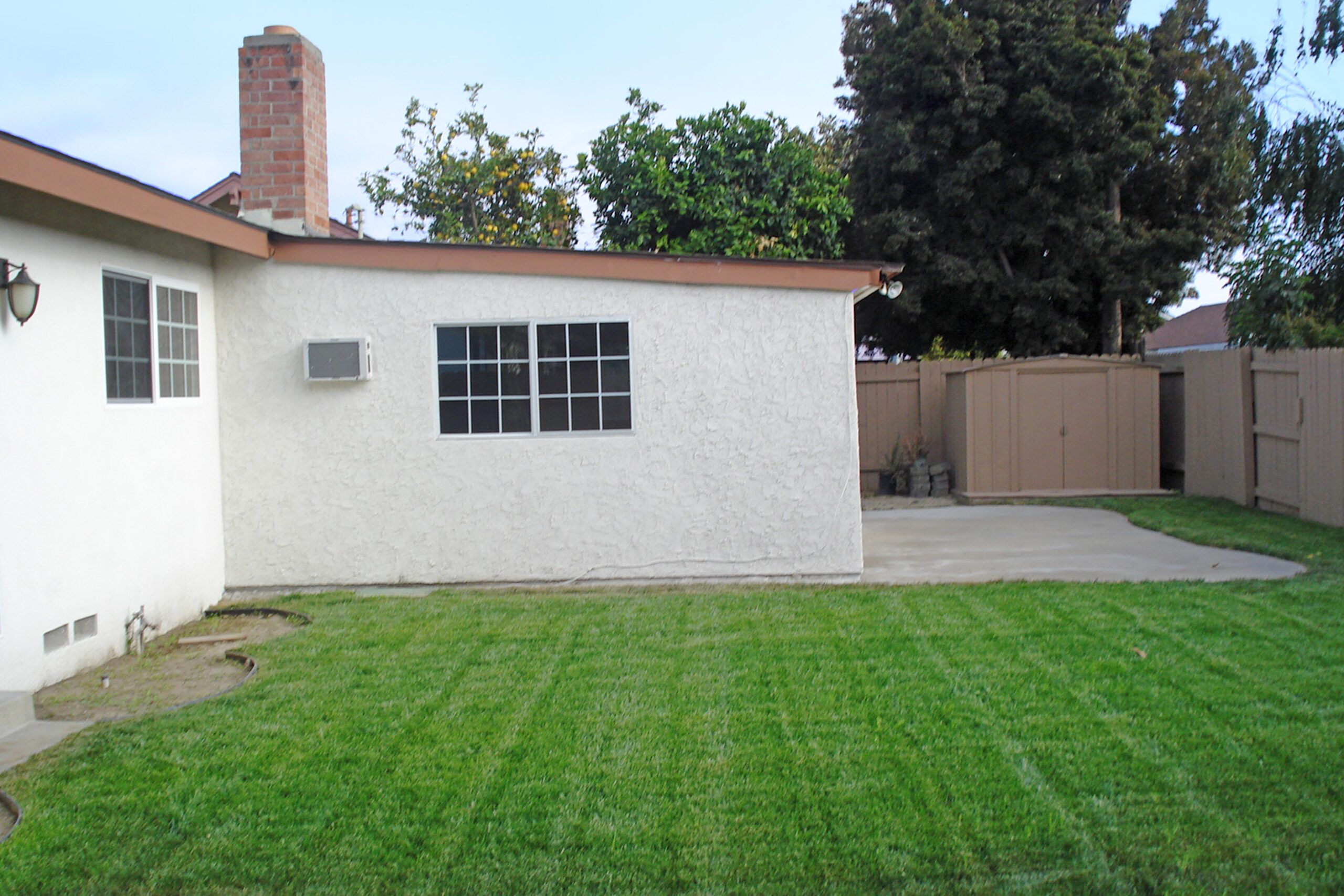 When it comes to transforming a backyard, most DIYers do it over time—add some plants one year, follow up with hardscaping the next—until the space is complete. It's the rare homeowner who formulates a plan, then executes it like clockwork. But This Old House reader Juan Zetino did just that after spending about a year designing his ultimate yard.
Back in August 2009, Juan and his wife, Vicky, moved into their first house: a stucco ranch in Camarillo, California, about 15 miles from the naval base where he is stationed. The home's interior was move-in ready for the family of five, but the backyard wasn't as welcoming. "The yard was plain," he says. "No one went out there to hang out."
As a Seabee, a member of the construction arm of the Navy engineering corps responsible for building military fortifications, Juan is skilled in carpentry and bridge engineering. He planned to redo the yard before a scheduled deployment to Guam that coming March, but a Christmas Day phone call changed things. Three weeks later he was in Afghanistan's northern Balkh province for the start of his first stint there. The backyard would have to wait.
After: An Inviting Escape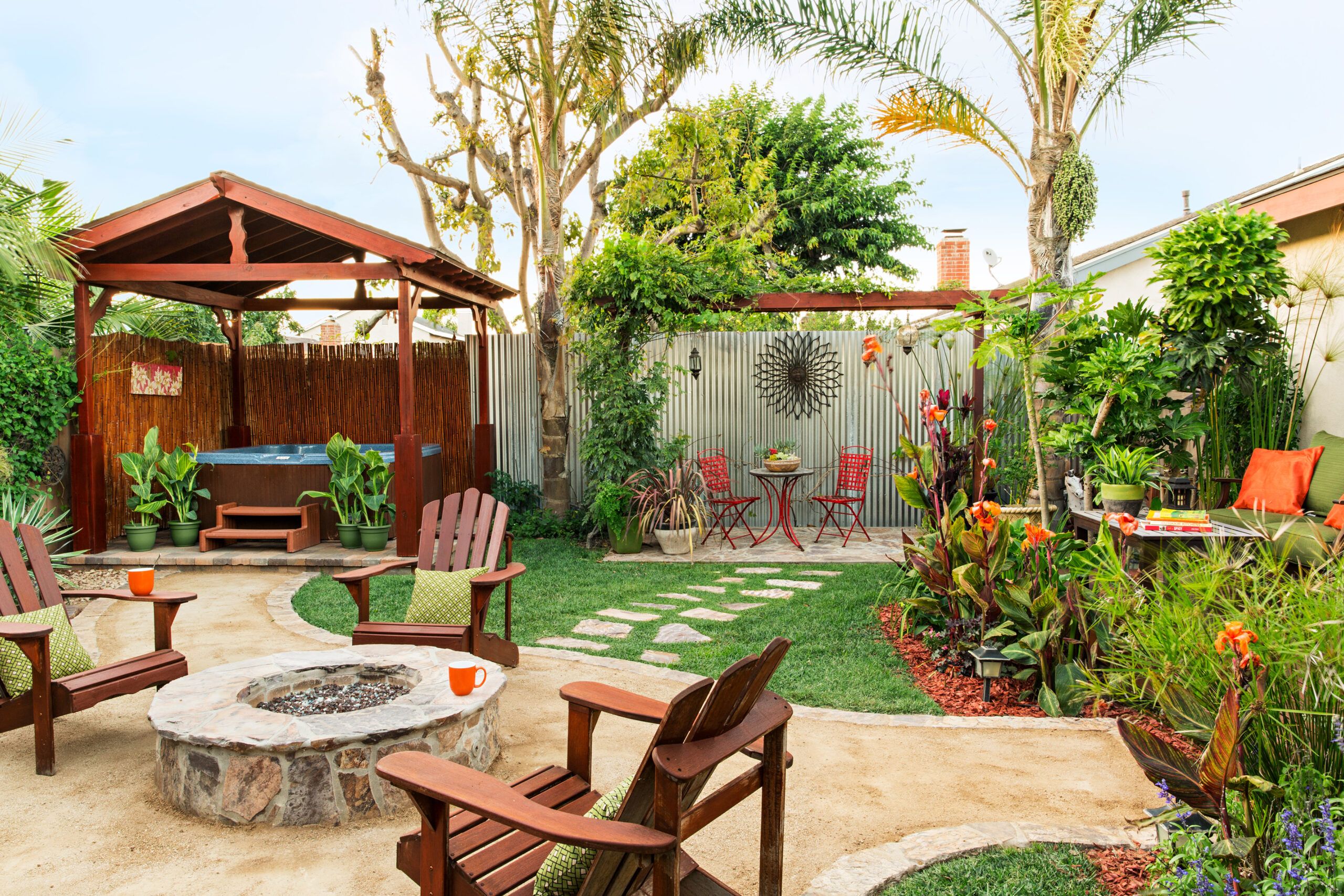 In between laying out and building Army and Marine bases overseas, Juan spent his downtime with magazines like This Old House, looking for ideas to turn the yard into a space where he could catch up with his family stateside. Ten months later, he returned with "a 70 percent plan that, after I got back to the house and walked through the yard, became about a 90 percent plan," he says, in military building terms. The design was short on lawn, because the kids spend their time on bikes and skateboards out front, but big on activity-specific zones that would make the most of the wide and shallow 75-by-30-foot yard.
Mugs: Crate & Barrel
Green pillows and green cachepots: The Home Depot
Meet the Homeowners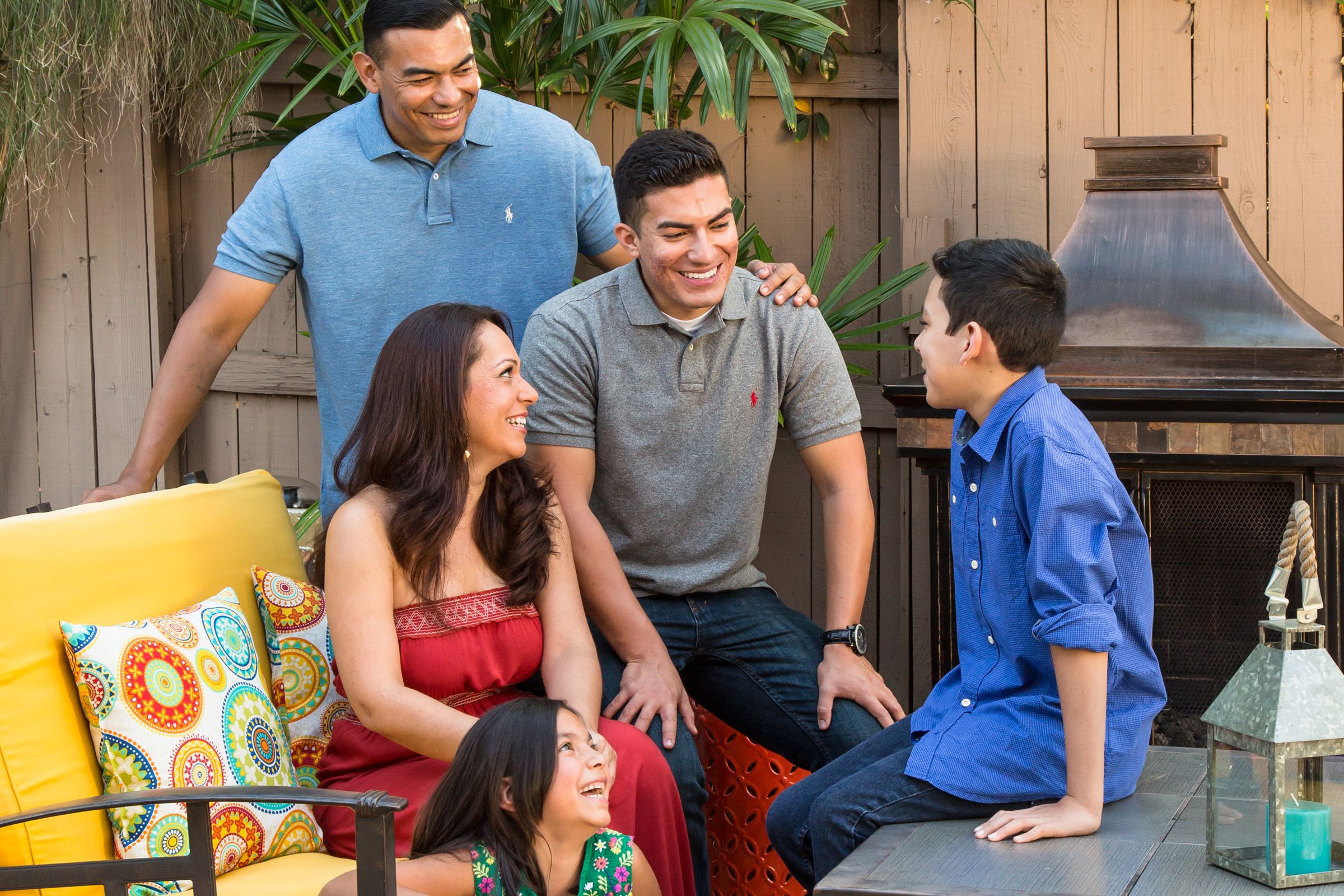 Juan's sketch began with an outdoor room with a kitchen, and a fire pit to take the chill out of the evening air, which averages about 60ºF in their area. Defined by a 12-by-15-foot paver patio below and a redwood pergola above, the room is tucked into a corner with easy access to the family room.
A gas fire pit ringed with Adirondack chairs is the perfect spot for post-meal marshmallow roasts year-round. Nearby is a hot tub to help ease workweek stress. A few steps away, a smaller flagstone patio with an arbor holds a café table and chairs, providing extra seating for entertaining. On family movie nights, they hang a portable projector screen from the patio's arbor.
Cumaru Deck for Relaxing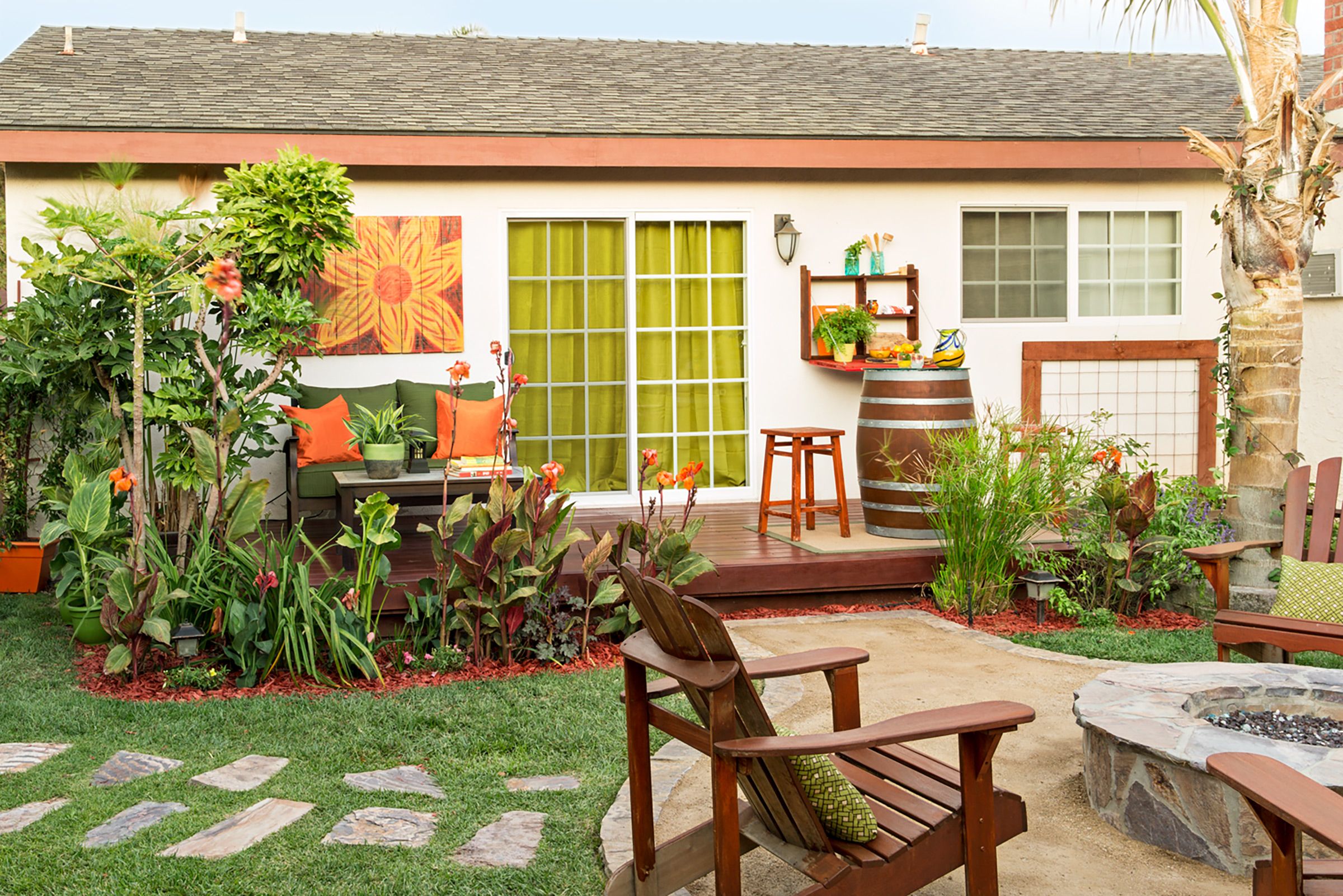 Juan has plenty of building experience as a Seabee, from working with steel studs—like the ones he used to frame the outdoor kitchen—to finishing interiors. But for this job, he also called in some backup. After hiring contractors to install gas lines for the outdoor kitchen and lay the paver patio—work they finished in days—Juan and his older son, Jessie, built the redwood pergola. After that he started on the hot-tub area before moving to the flagstone fire pit.
Private, Sheltered Hot Tub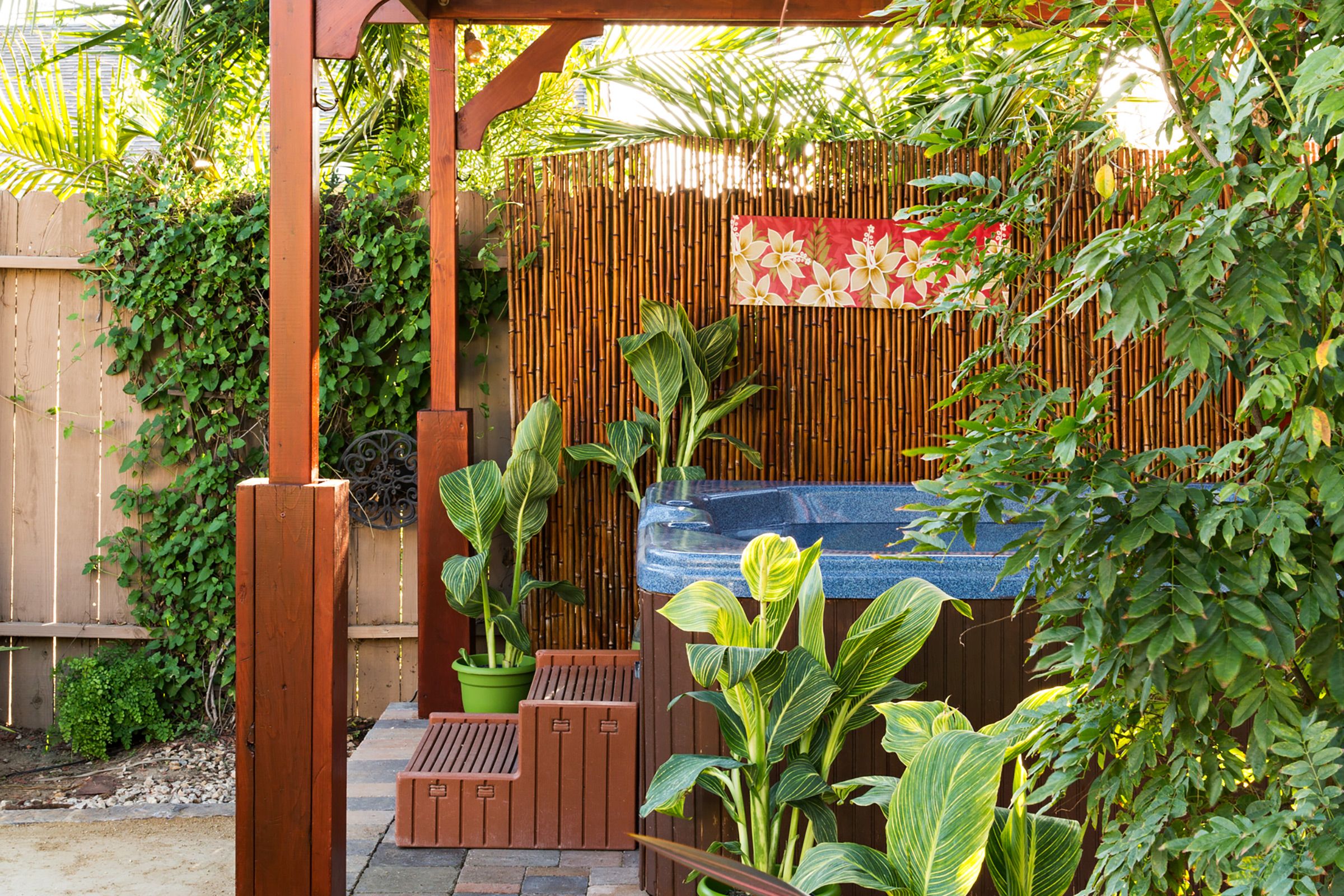 Over a dozen weekends and a few week-long vacations in the eight months that followed, Juan and his family finished room after room. His younger son, Carlos, helped stain the deck, the pergola, and the arbor, while Vicky kept an eye out for outdoor furniture within their budget.
He and Alyssa, the couple's youngest child, planted the deck perimeter with canna lilies; then he searched garden centers for jasmine, plumeria, birds of paradise, and kangaroo paws to give the yard a tropical feel. Compared with the hundreds of pounds of stone and wood that he added, the plants often proved even more troublesome. He had to replant the cannas—he'd underestimated their mature size—and muscle the 20-foot-tall queen palm trees into the backyard on a dolly.
Peaceful Fountain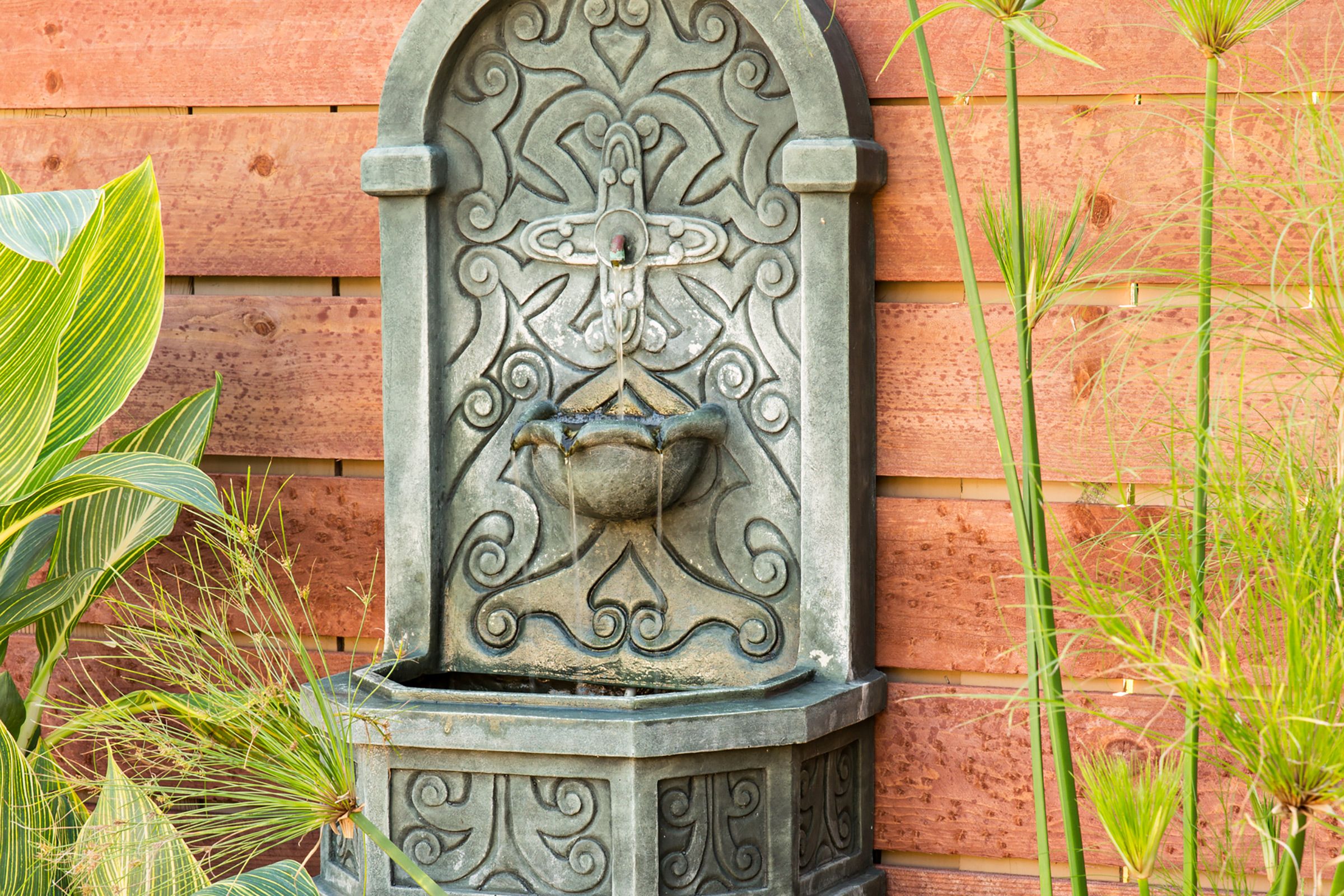 While the project came together in the end as planned, the Zetinos continue to improve upon it. This year they added a vegetable garden with eggplant, squash, tomatoes, and peppers. And Juan just upgraded the redwood pergola with Edison-style outdoor lights. What once was empty lawn is now a lively gathering place. "Since I'm overseas a lot and get homesick," Juan says, "I wanted a space, away from TVs and phones, where my family could catch up when I'm home. Now we're in the backyard all the time."
Wine Barrel Bar Table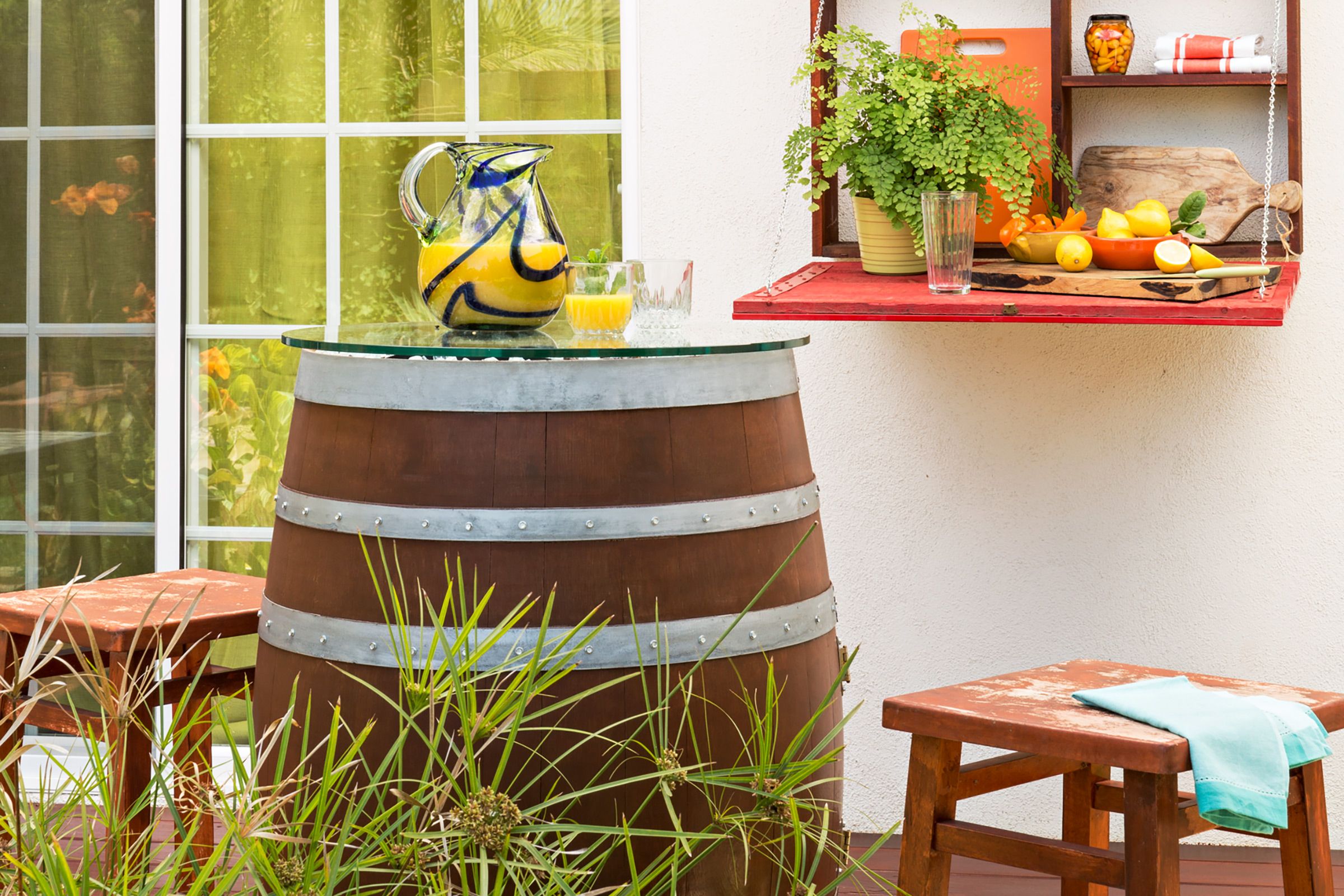 Juan picked up the wine barrel this past spring while visiting a vineyard and found inspiration in TOH's fold-down "Murphy bar." Watch our how-to video.
Murphy Bar for Easy Serving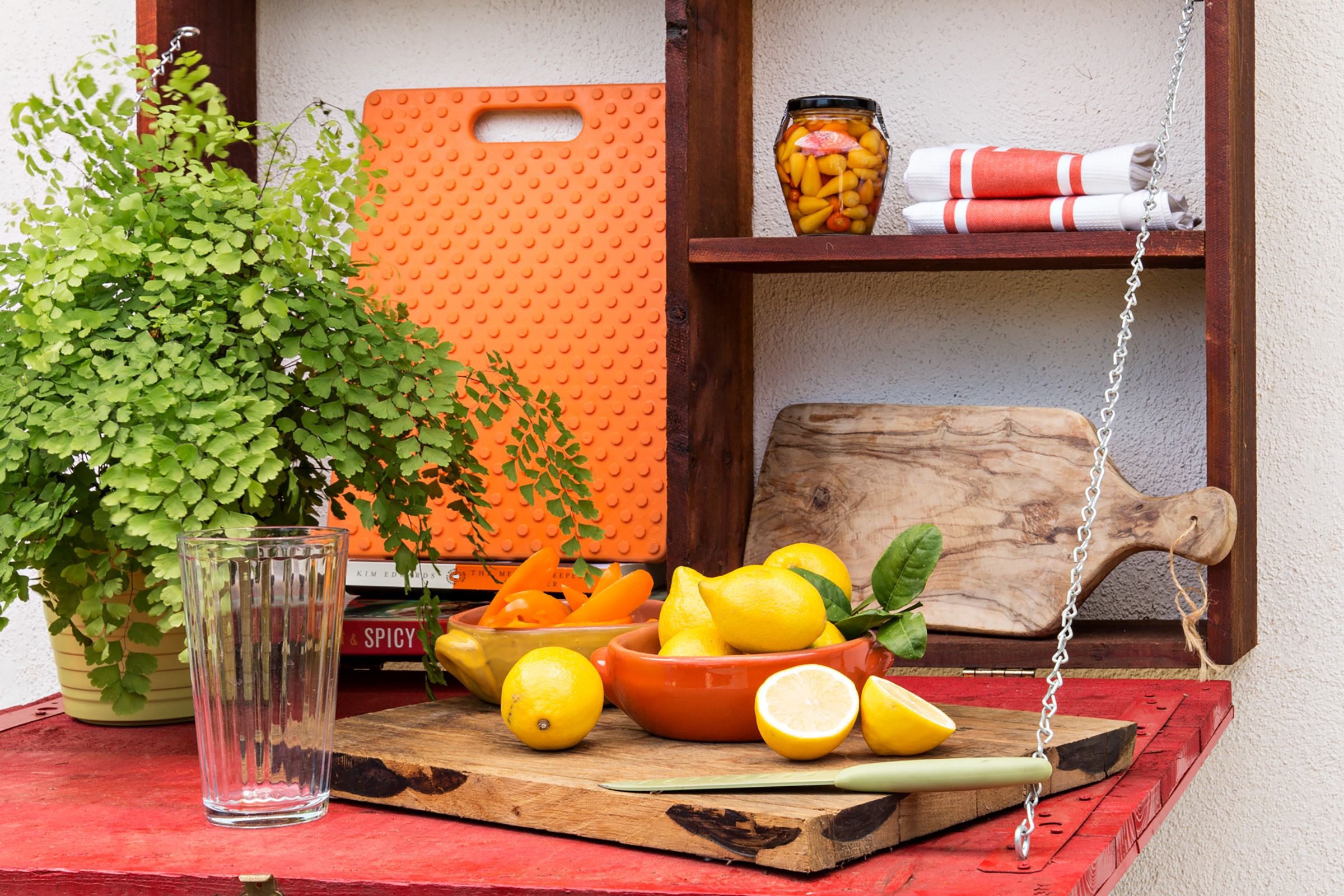 The fold-down Murphy bar's simple frame houses nearly everything the Zetinos need for serving wine and appetizers.
Cutting board: Bed Bath & Beyond
Ball jars: Michaels
Barbecue Smoker for Weekend Meals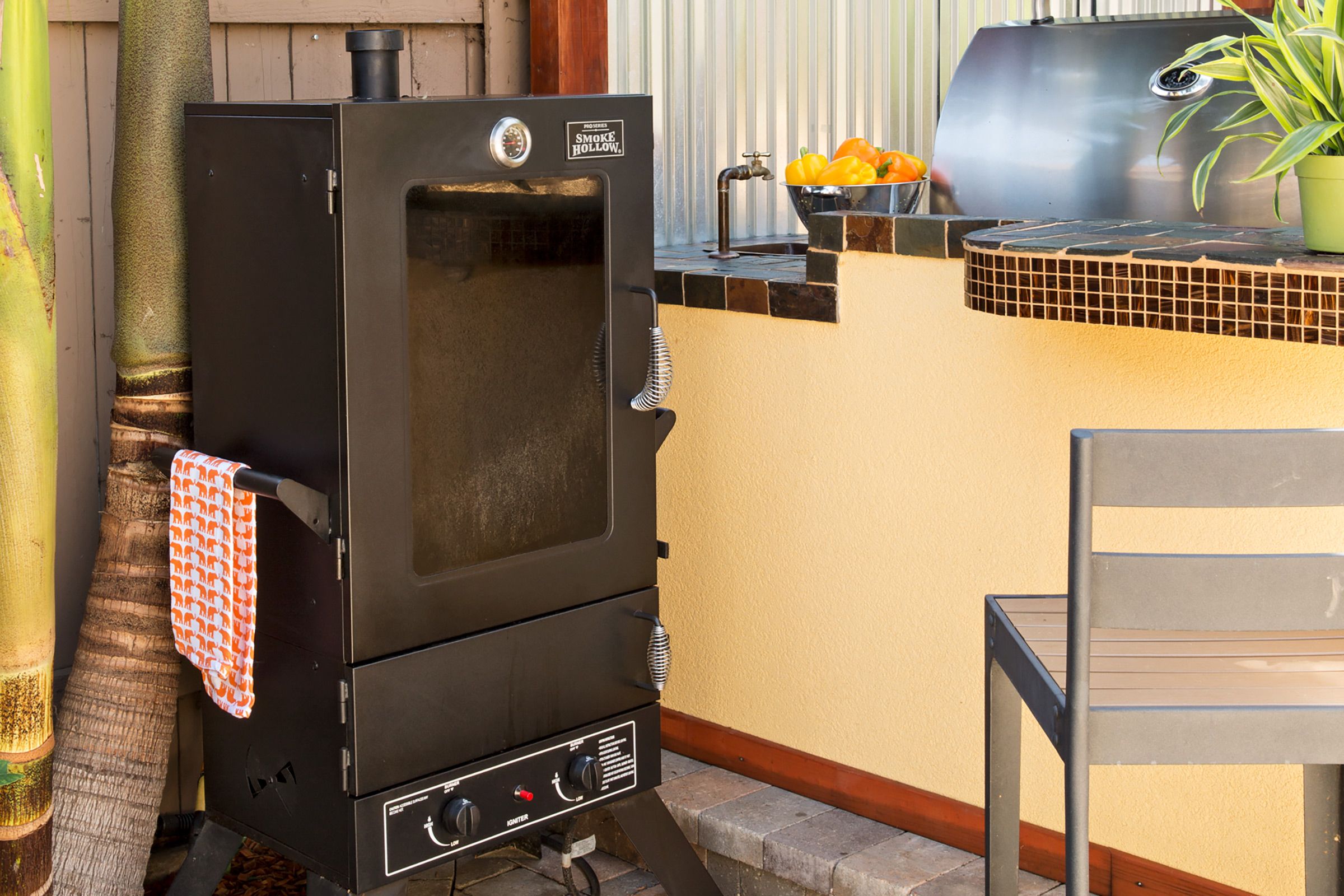 For quick weekday dinners, the family uses the grill. But come weekends, the barbecue smoker, the newest addition to the yard, sees a lot of action.
Dish towels: HomeGoods and Pottery Barn
Accessible Outdoor Kitchen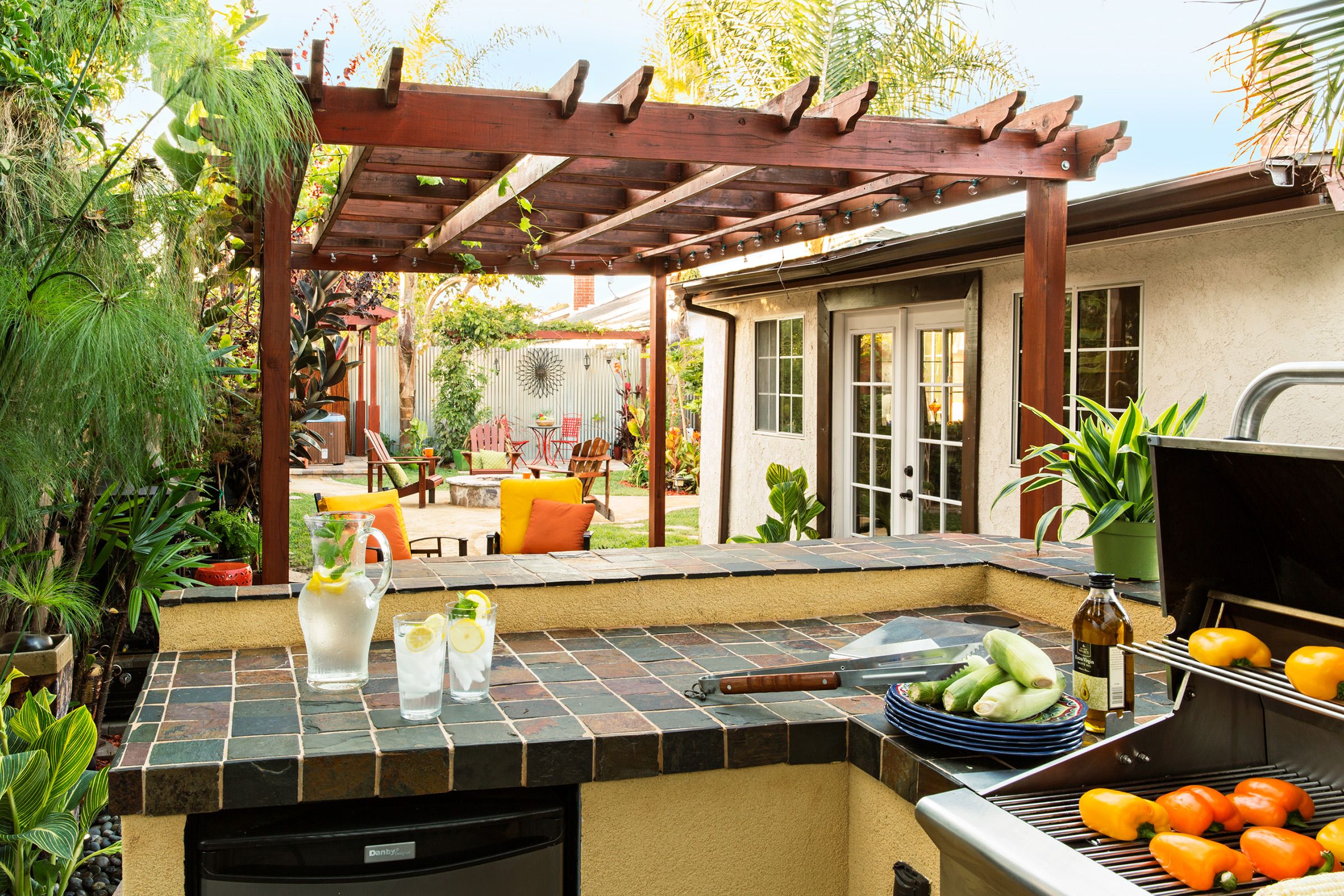 For larger parties, the Zetinos open the French doors connecting the main patio with the family room inside.
Sturdy Outdoor Kitchen Island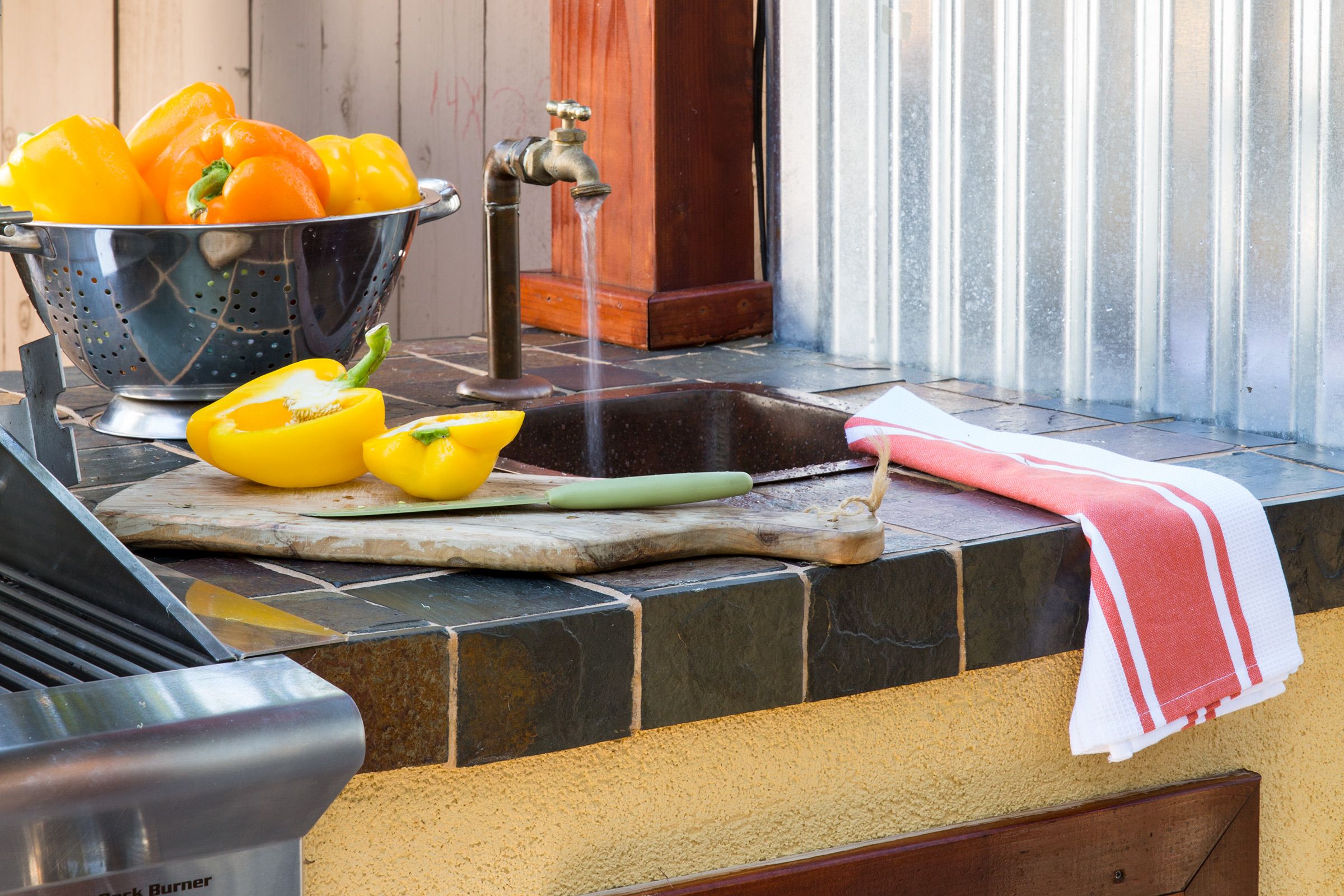 The first thing Juan added to his design was this outdoor kitchen, which features a grill, a sink, and an undercounter refrigerator. Working with galvanized-steel studs, he framed the island around the plumbing, sheathed it with cement board, then added a stucco finish that matches the house. The redwood door provides easy access to the water shutoff.
Backyard Plan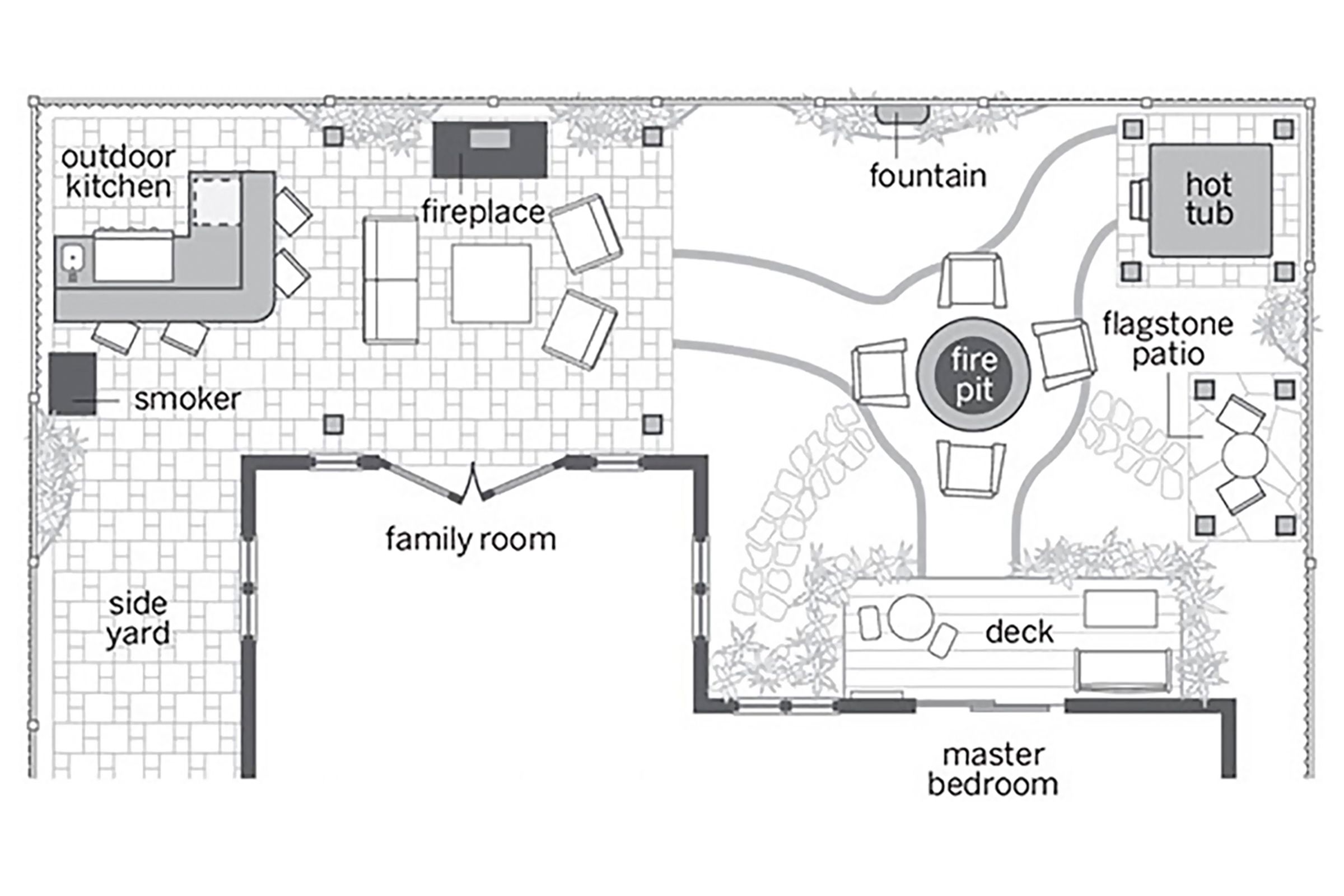 Several outdoor rooms are scattered around the yard and are unified by a decomposed-granite path.