For the cost of one summer trip, you can create a relaxing summer oasis right in your own backyard. Read on for our top 17 DIY backyard getaway ideas. But, be warned: A yard this cool means that friends and family will come knocking. Whether or not you let them in, of course, is entirely up to you.
Summer DIY Projects
Get Started With a Fire Pit
Our How to Build a Fire Pit project is certainly a reader favorite. No matter the season, DIYers love the idea of an open flame for roasting marshmallows and late-night hangouts. Just make sure you're careful when you light up.
Install an Outdoor Ceiling Fan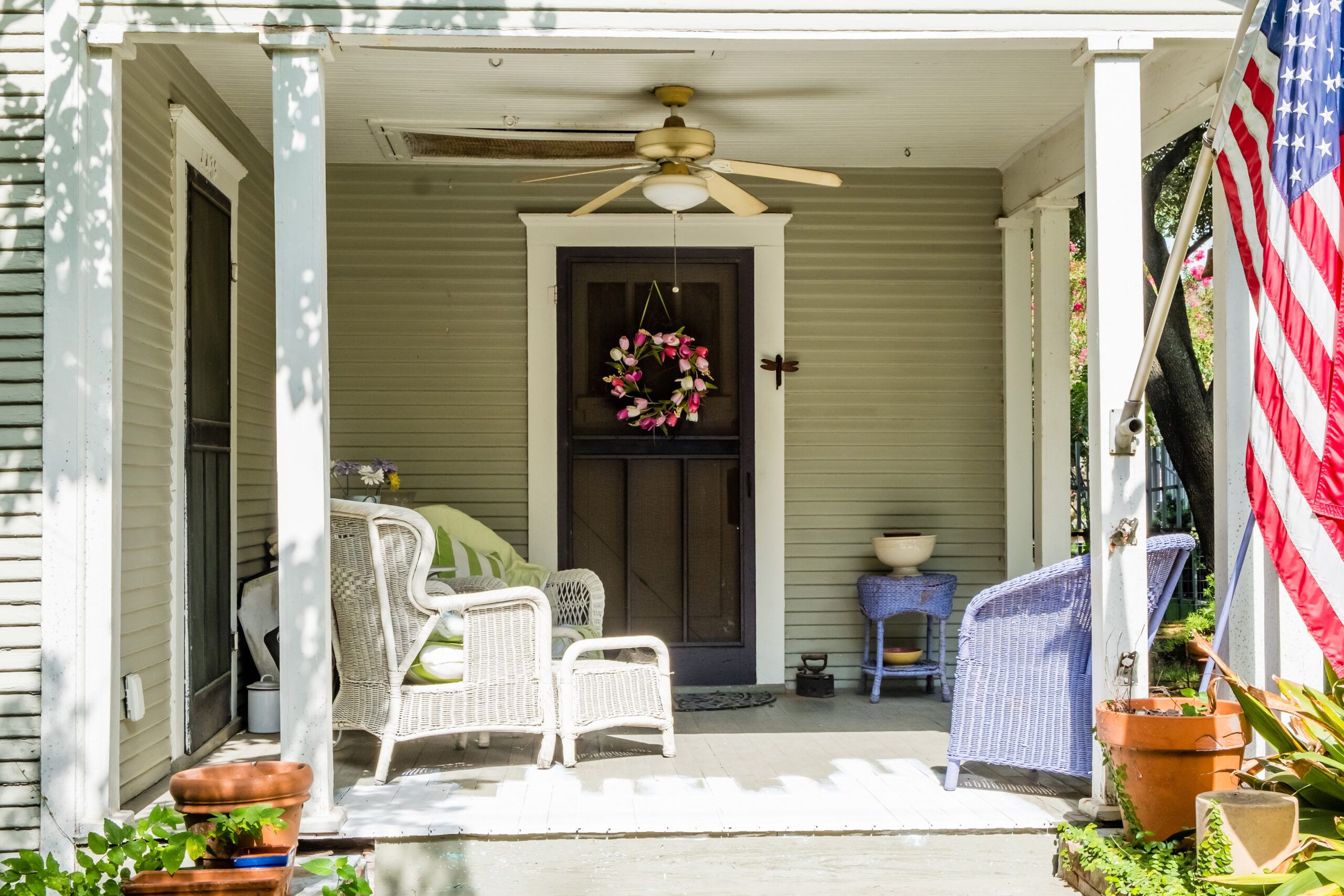 Take a few indoor comforts with you when you go outside this season. Create your own cool breeze with a porch ceiling fan. And, don't limit yourself to outdoor furniture that's hard plastic. Go for plush, weatherproof seating and brightly-painted end tables. While you're at it, throw down an outdoor rug, a few planters, and a coffee table. Now, just look at all the livable space you just added to your house for the summer. Take a tour of the rest of this outdoor space.
Hang a Porch Swing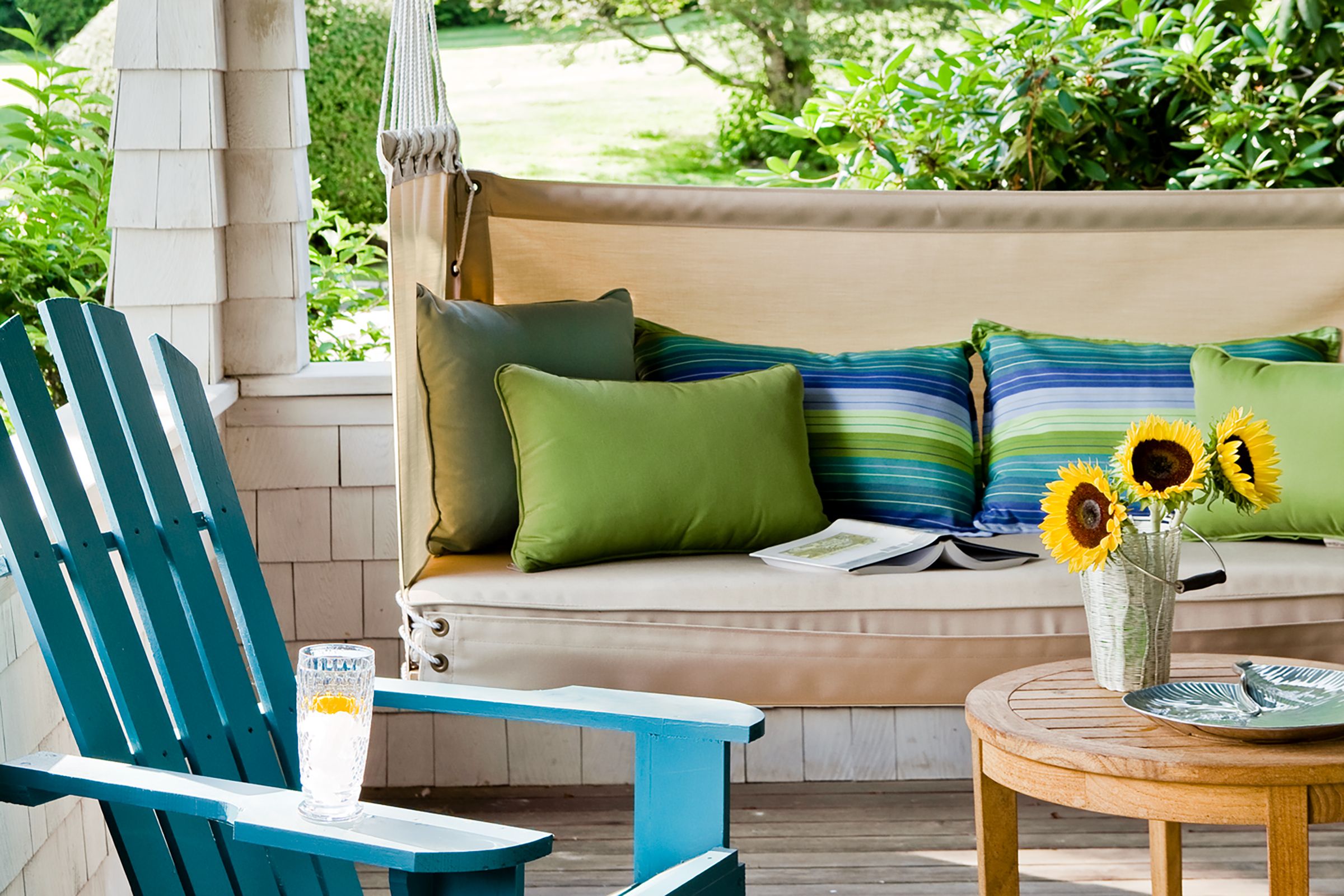 If there's no swing on your porch, you're doing porches wrong. Hang one like the York Harbor Porch Swing by Penobscot Bay shown here, or channel your inner carpenter and assemble one from a DIY kit. You'll learn the strongest, safest way to hang it at that last link, too.
Add Privacy With Pretty Fences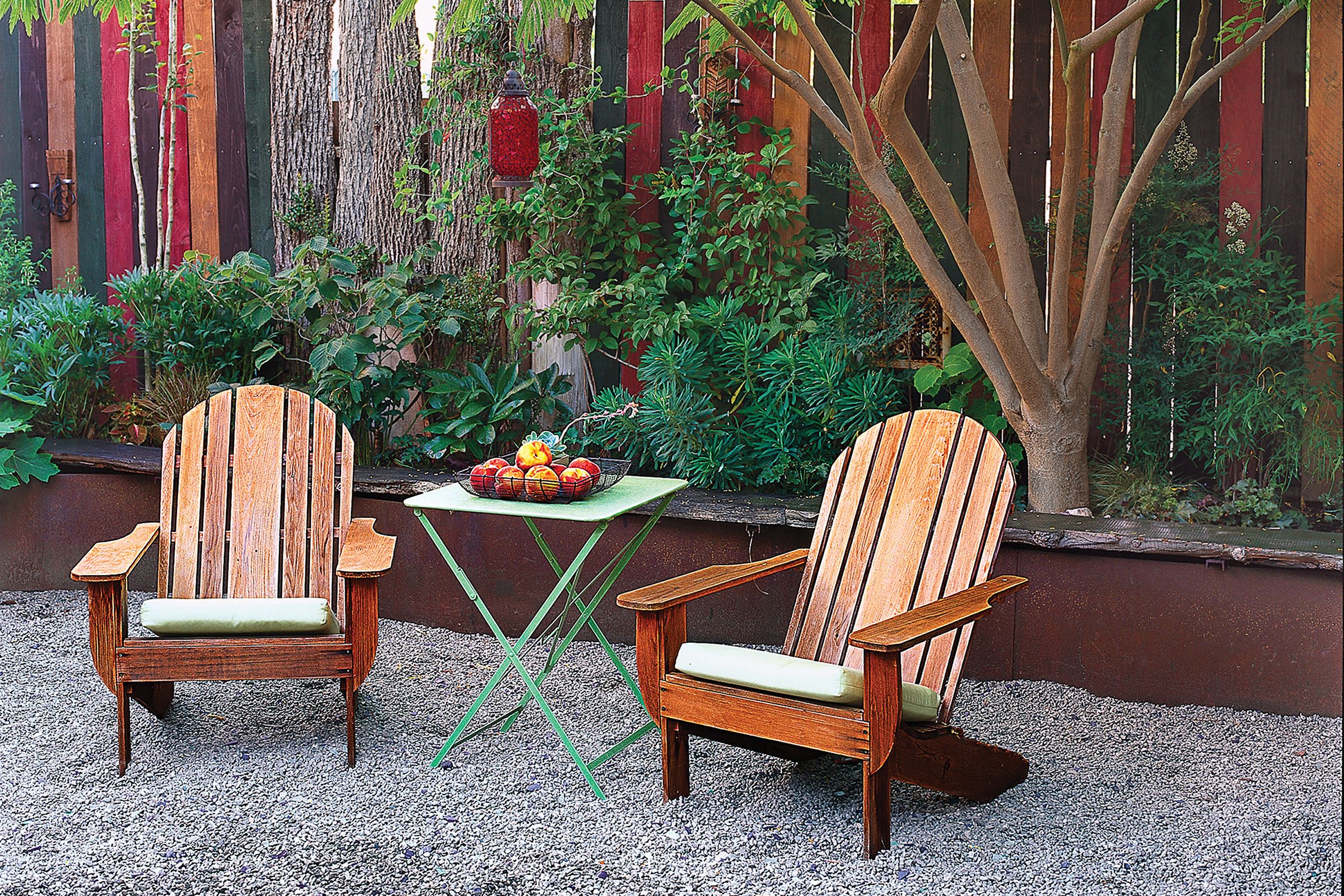 Noisy (or just nosy) neighbors? Lucky for you, there are plenty of ways to make your yard a more private retreat. Shown here, staggered wooden boards create a one-of-a-kind privacy fence softened by shrubs and shade trees. (That takes care of visual barriers, but you can even reduce noise pollution with water features. More on that later.) See the aptly titled 10 Ways to Add Privacy to Your Yard for more ideas.
Hang a Hammock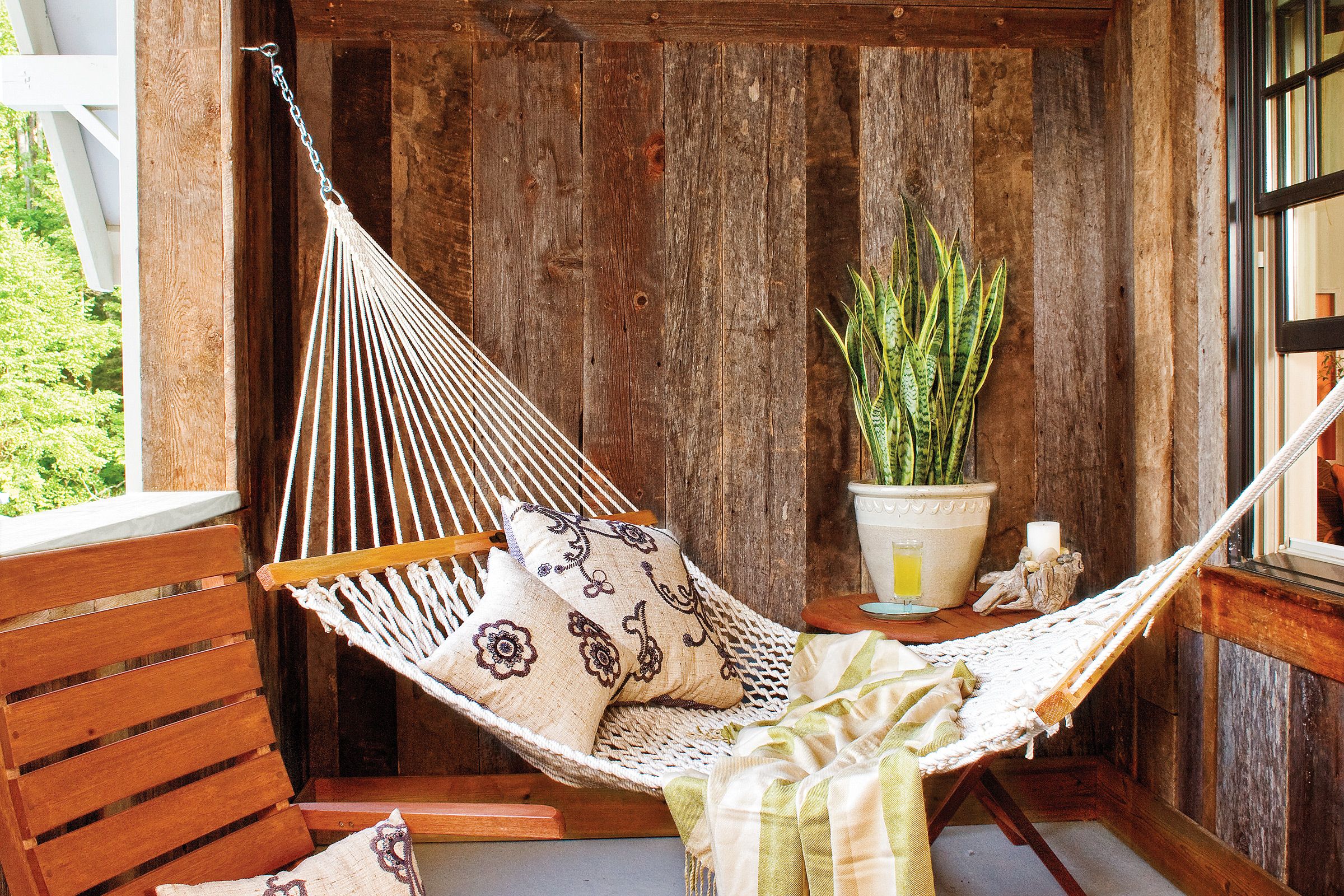 We don't have to sell you on this, do we? Hang it right, then sway yourself into the best nap ever. The end.
Similar to shown: Cotton Hammock, about $109; L.L.Bean
Use Water Features to Create Soothing Sounds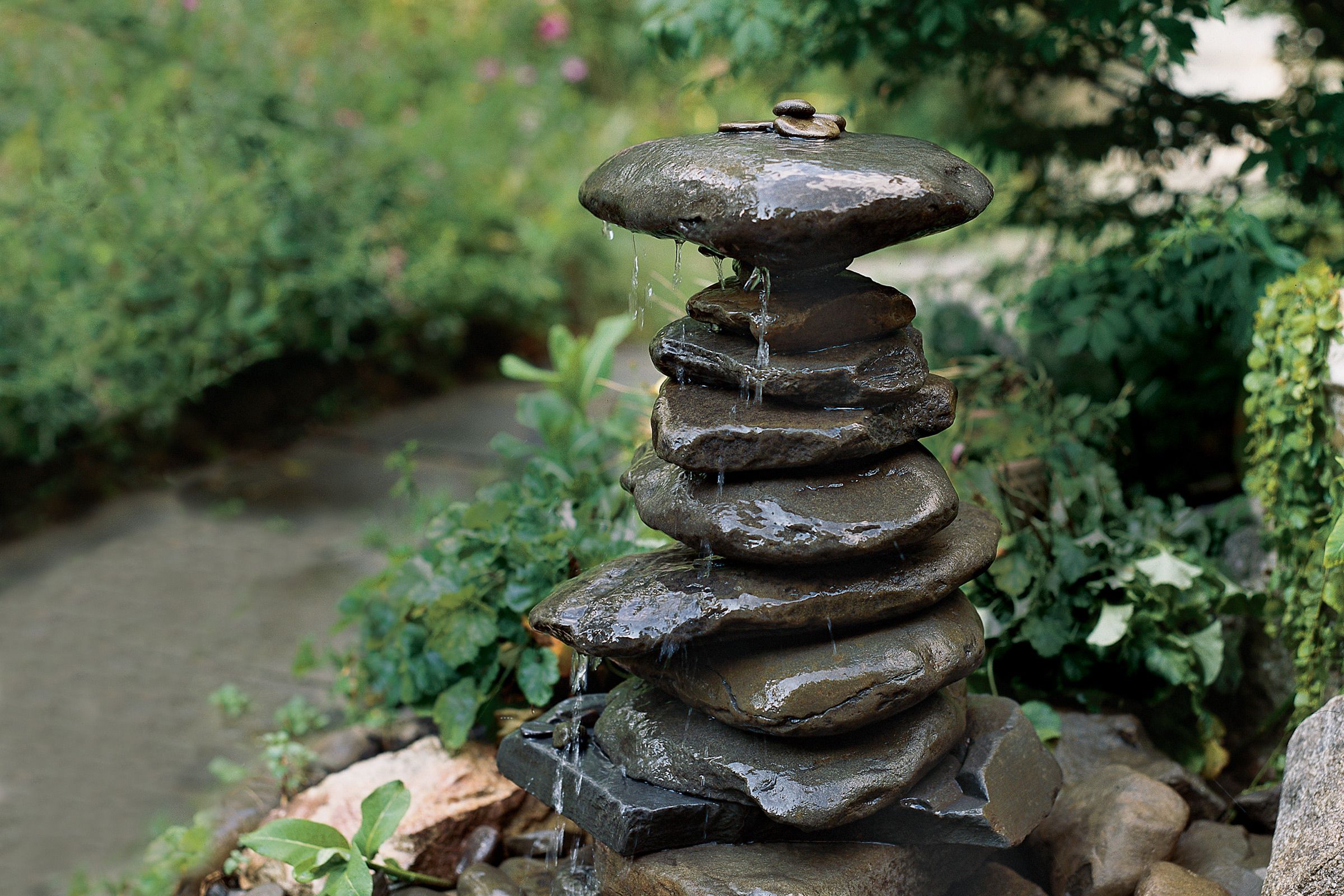 We mentioned earlier that adding a fountain to your backyard can mask unwanted sounds like passing traffic or noisy neighbors. It's easy enough to make one out of just about anything, including a salvaged urn or a stack of rocks (shown).
Add a Garden Arbor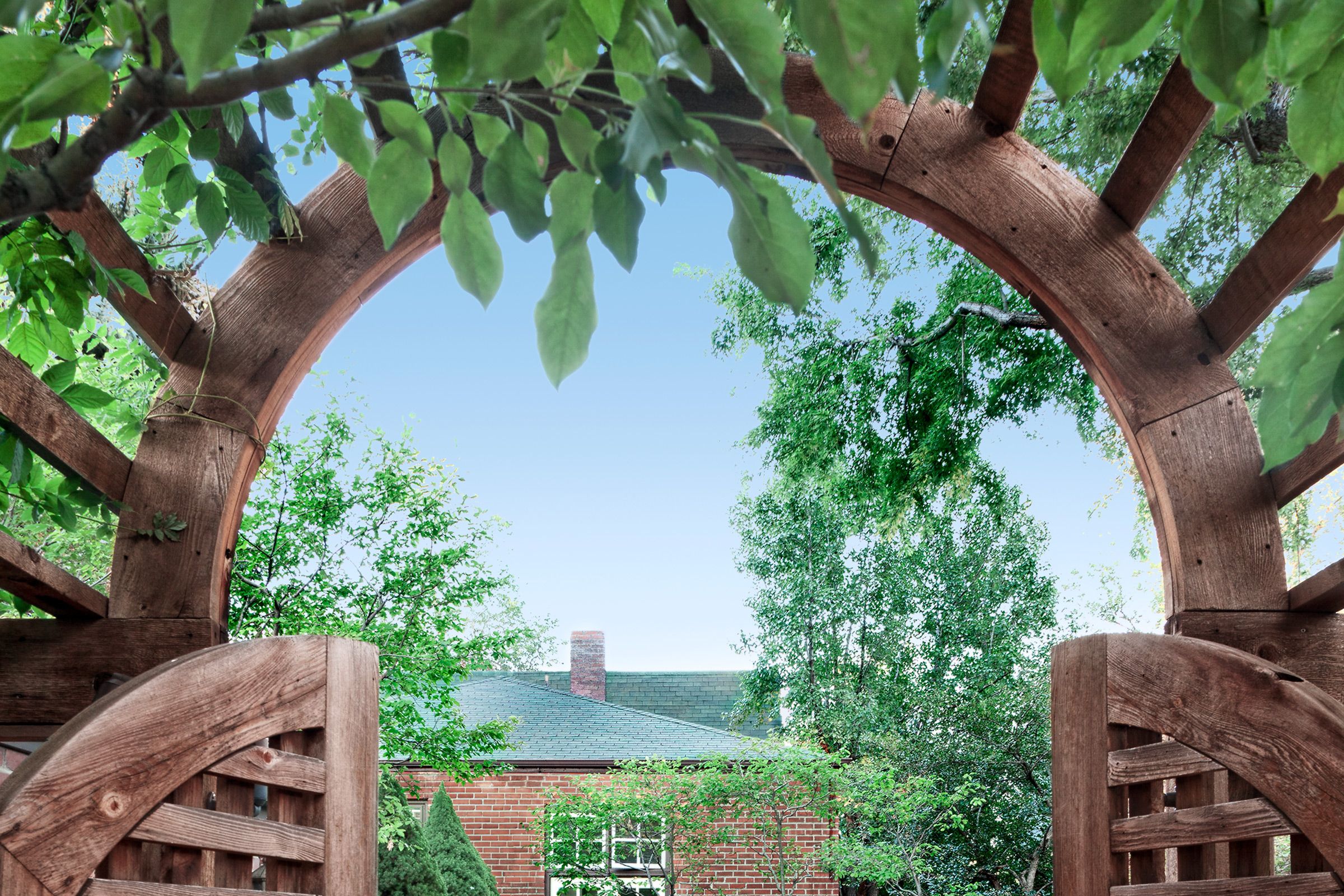 Mark entrances to secret gardens and create Instagram-worthy vignettes with a garden arbor. Shown here, an arched arbor covered in rambling wisteria marks the entry to a backyard from a back alley.
Dine Alfresco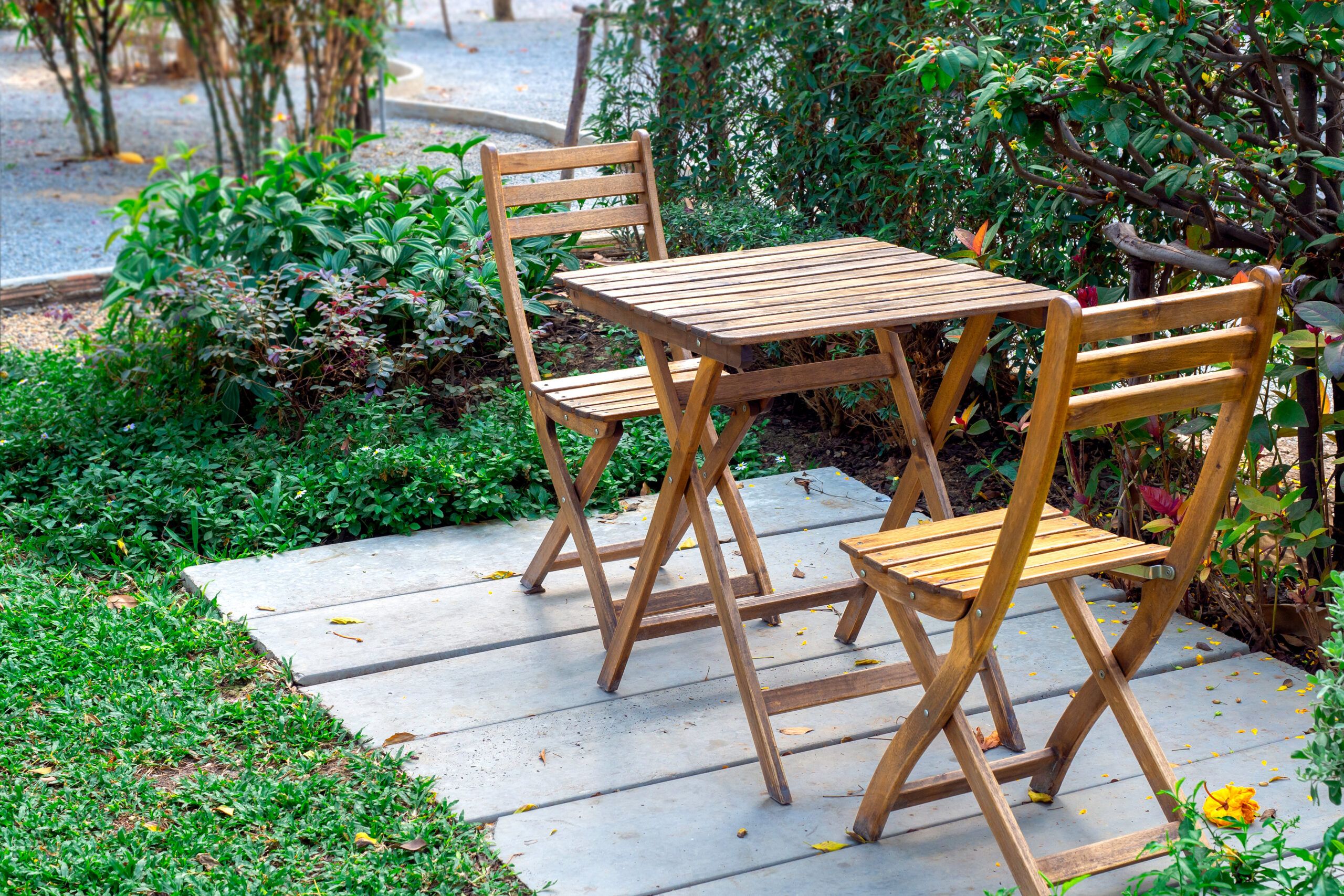 Set up a bistro set for brunch with your sweetie. Unpainted wood sets like this one may require annual sealing with a penetrating oil, such as teak or tung oil, to maintain their luster.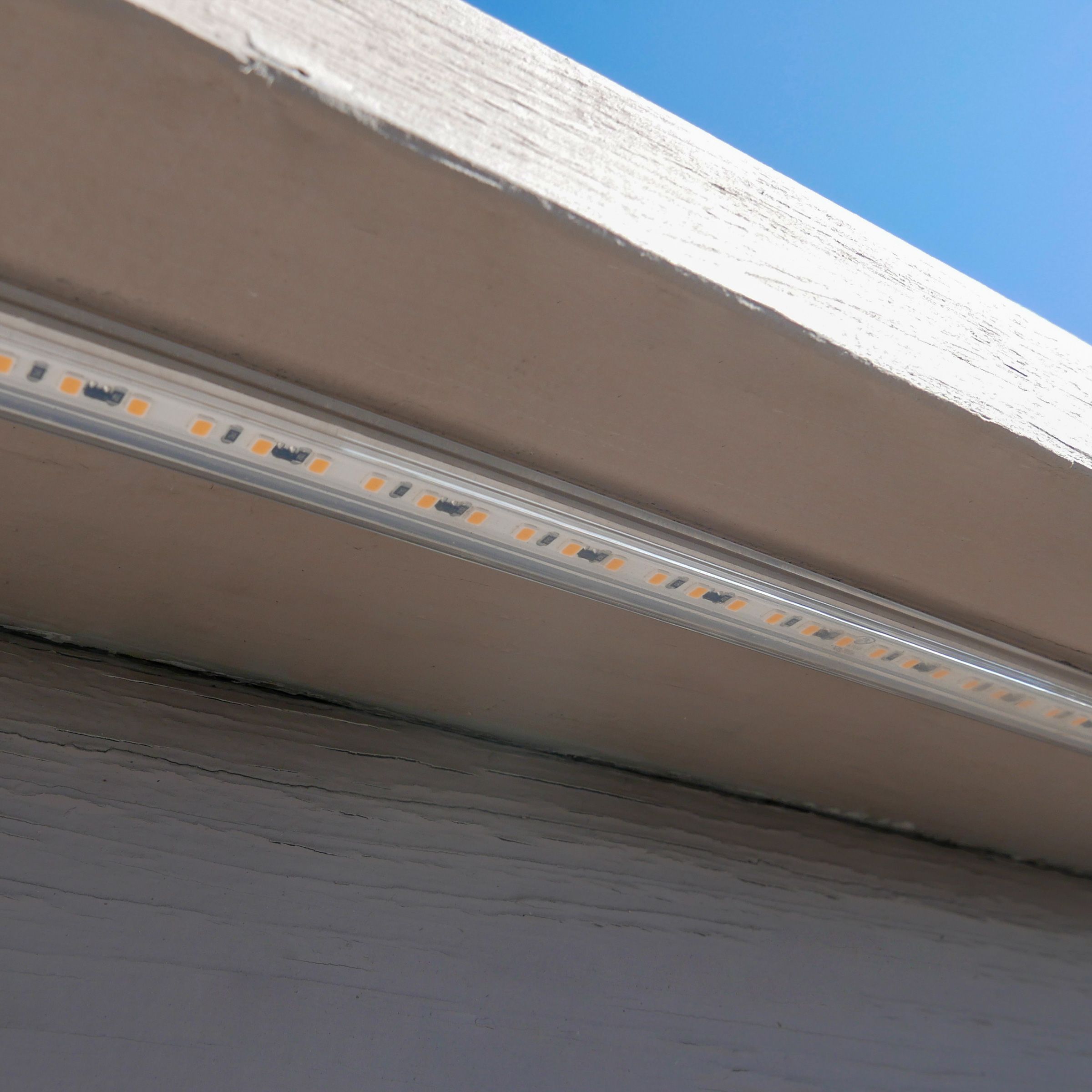 Make Shade with a Canopy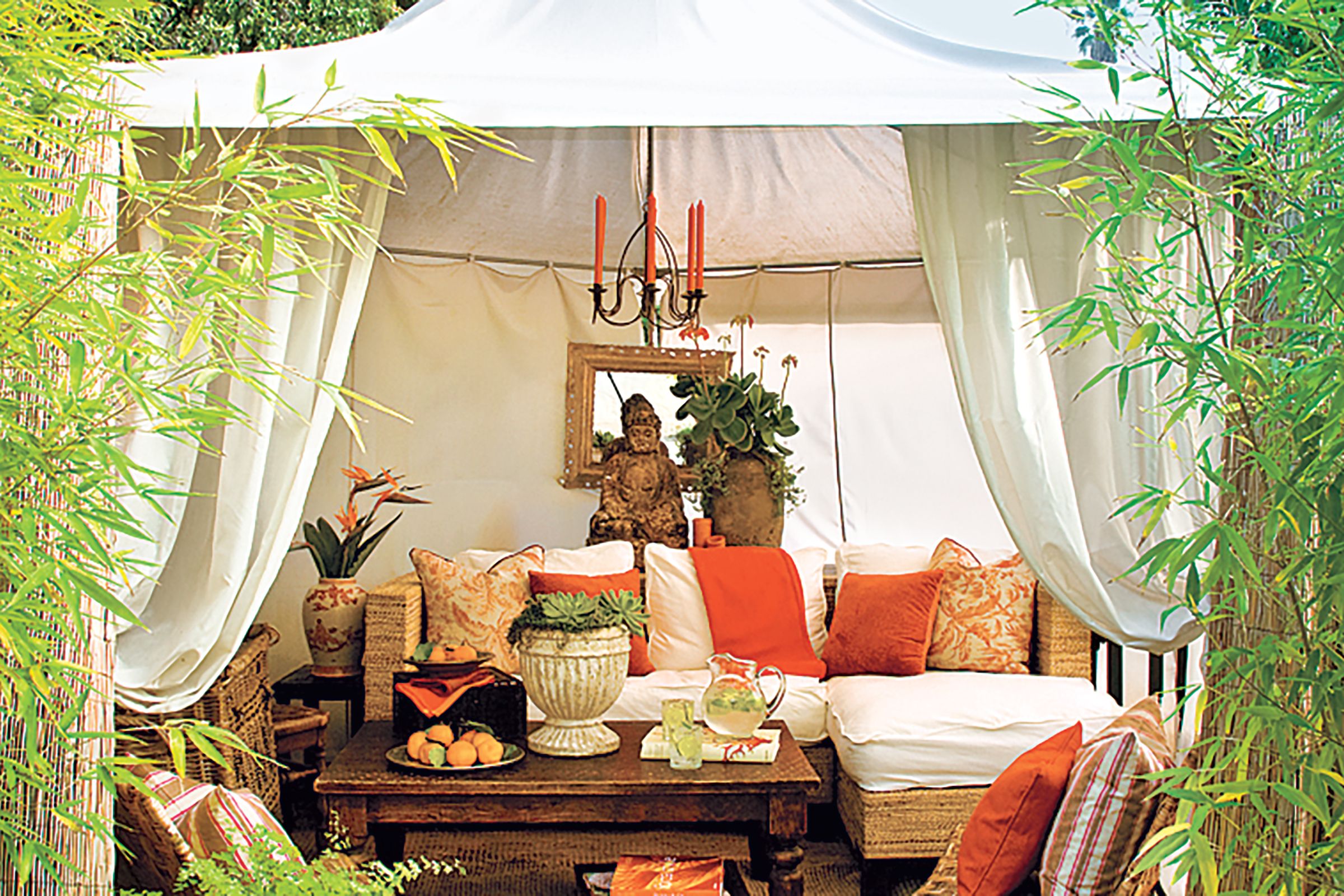 Create a glamorous hideaway just steps from the back door with a pop-up gazebo.
Bring the Bar Along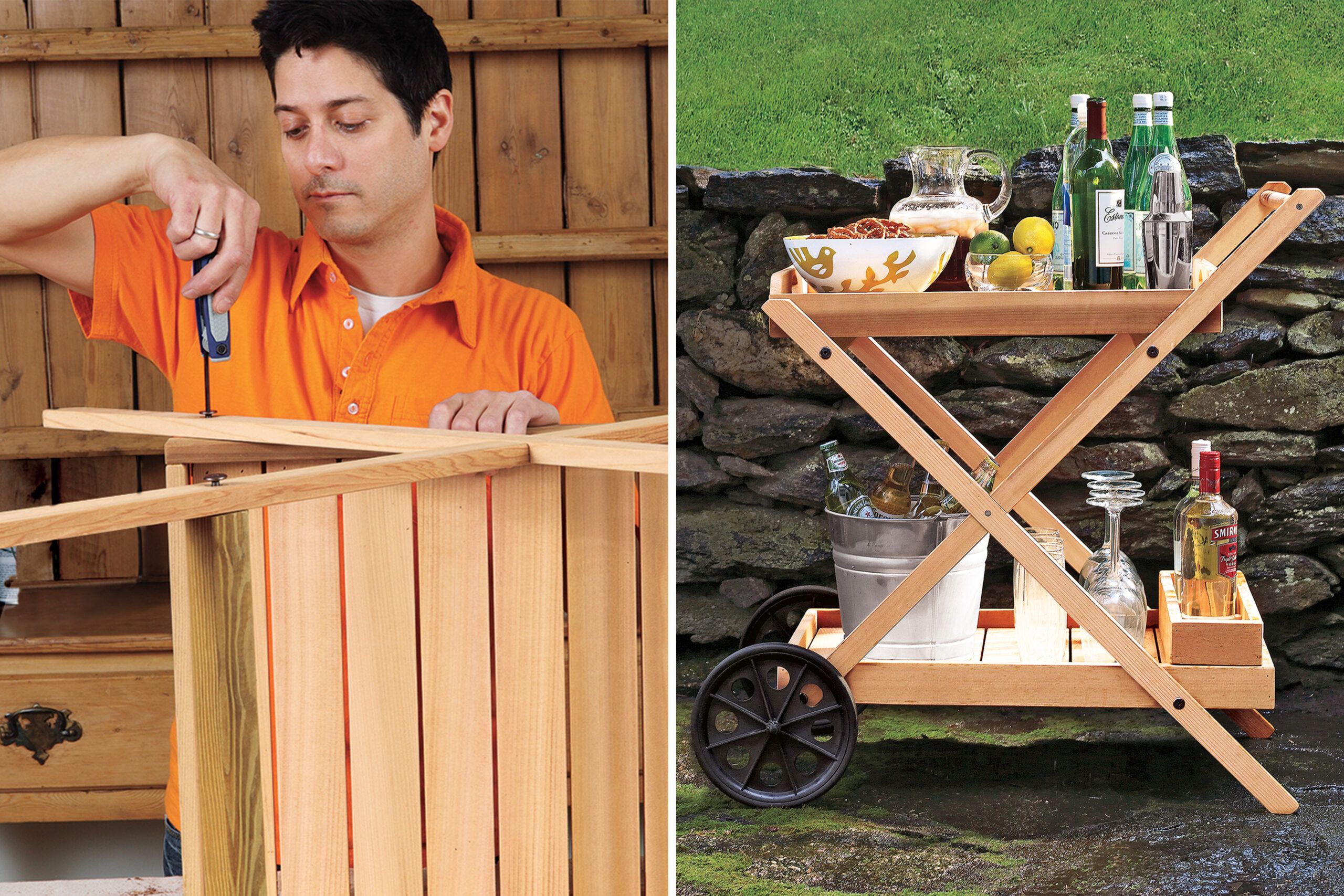 Keep the staycation going! Limit trips back to the house with a well-stocked bar cart. You can build this one in just a few hours.
Add a Florida Spring-Fed Tub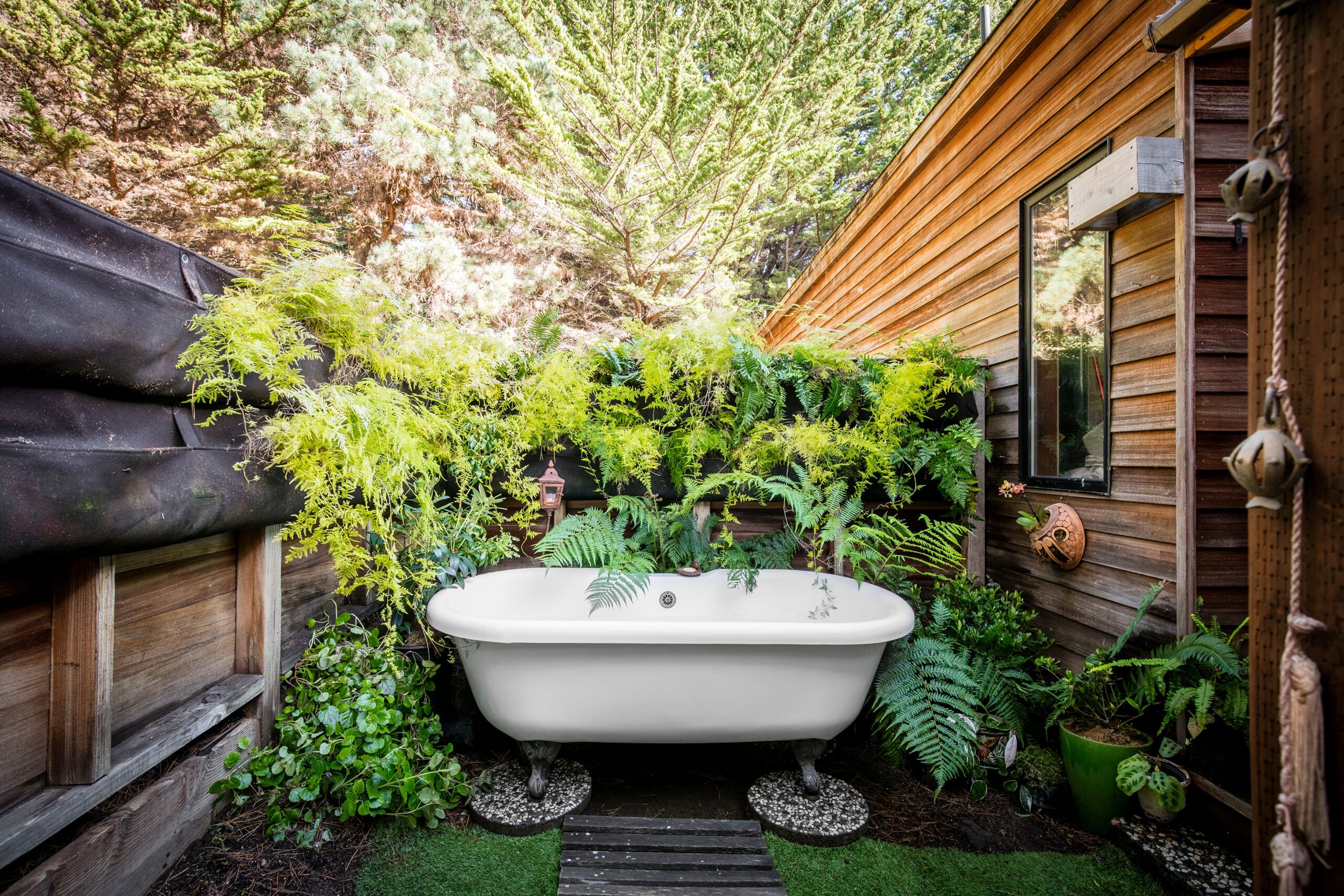 If you're more of a soaker than a swimmer, consider repurposing a vintage clawfoot bathtub as a stylish plunge pool. Just fill with water from a hose.
Similar to shown: Cast iron clawfoots like the one shown here start at about $250 at your local salvage yard.
Another Way to Warm Up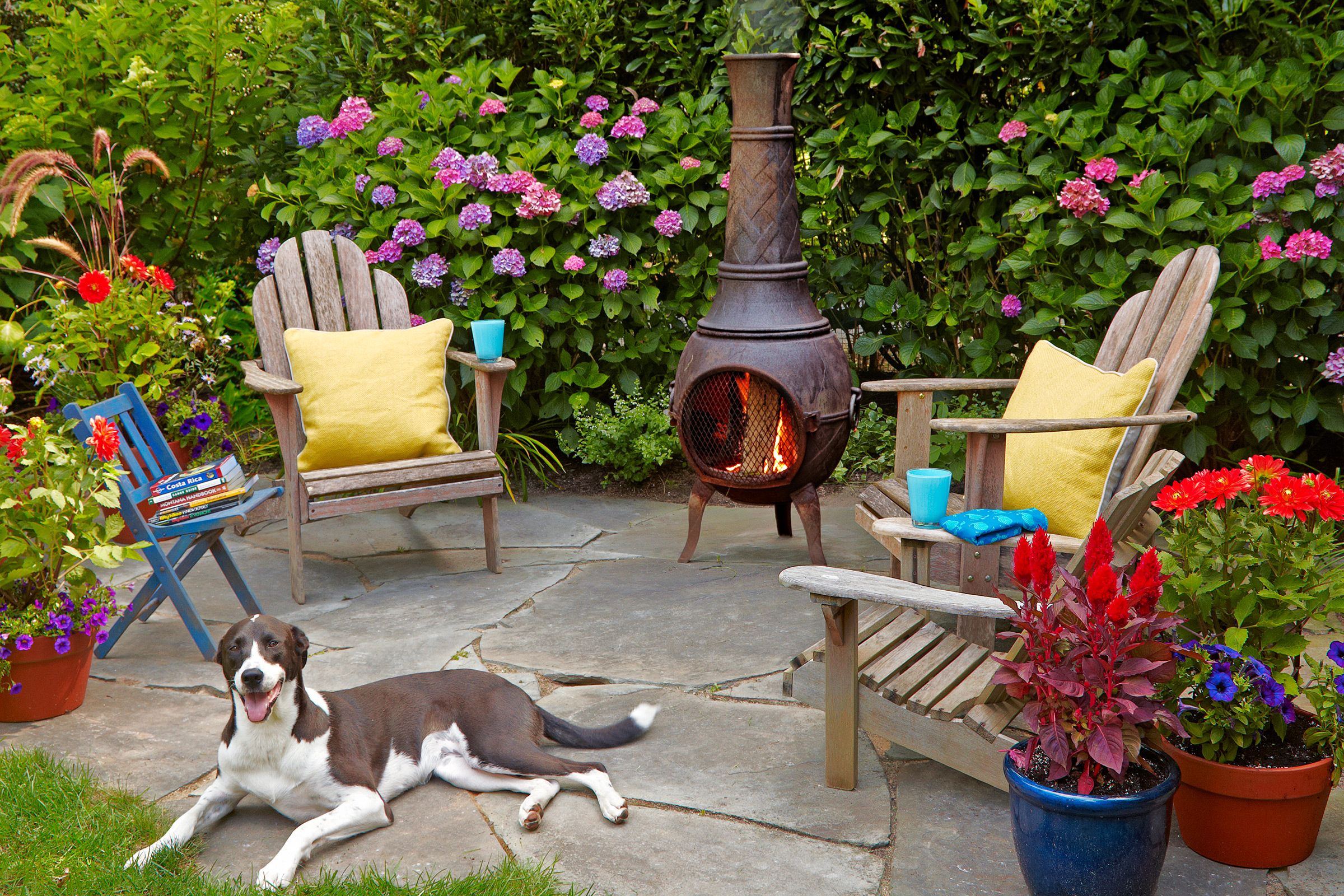 Reminder: Laying an outdoor patio is a great way to define a space. To recreate the bluestone surface shown here, see How to Lay a Bluestone Patio. Then, plop down a store-bought fire pit or a prefab wood-burning chiminea like the one shown here. Amping up cuteness with dog is optional, but highly recommended.
Similar to Shown: Bluestone flagstones, about $4-$7.50 per sq. ft.; at stone yards and cast aluminum Prairie Chiminea, about $430; The Blue Rooster.
Put in a Pond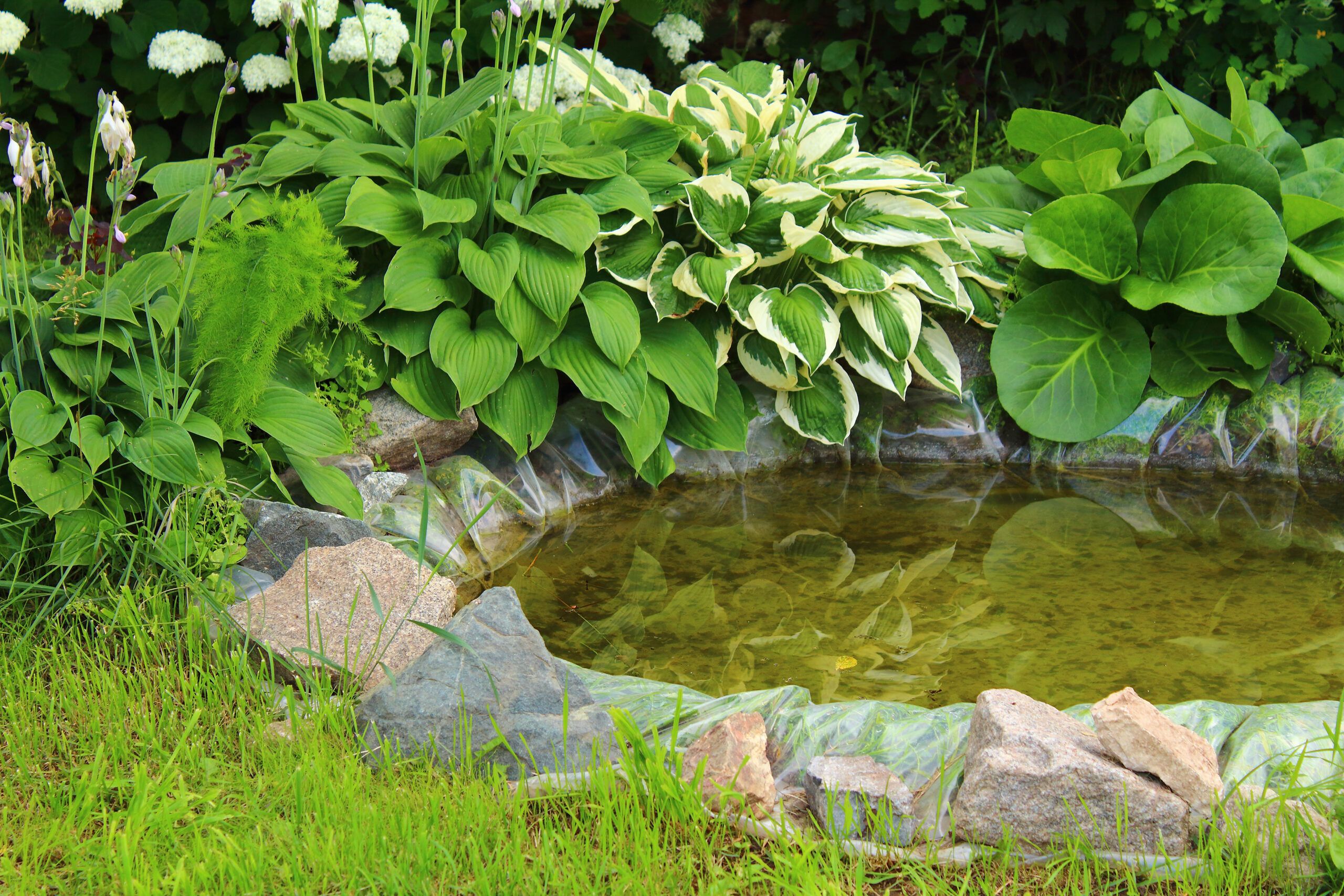 Sure, backyard ponds are beautiful. But they also attract birds and butterflies for your viewing pleasure. You can install a freeform pond yourself in a weekend—digging and all.
Use What You've Got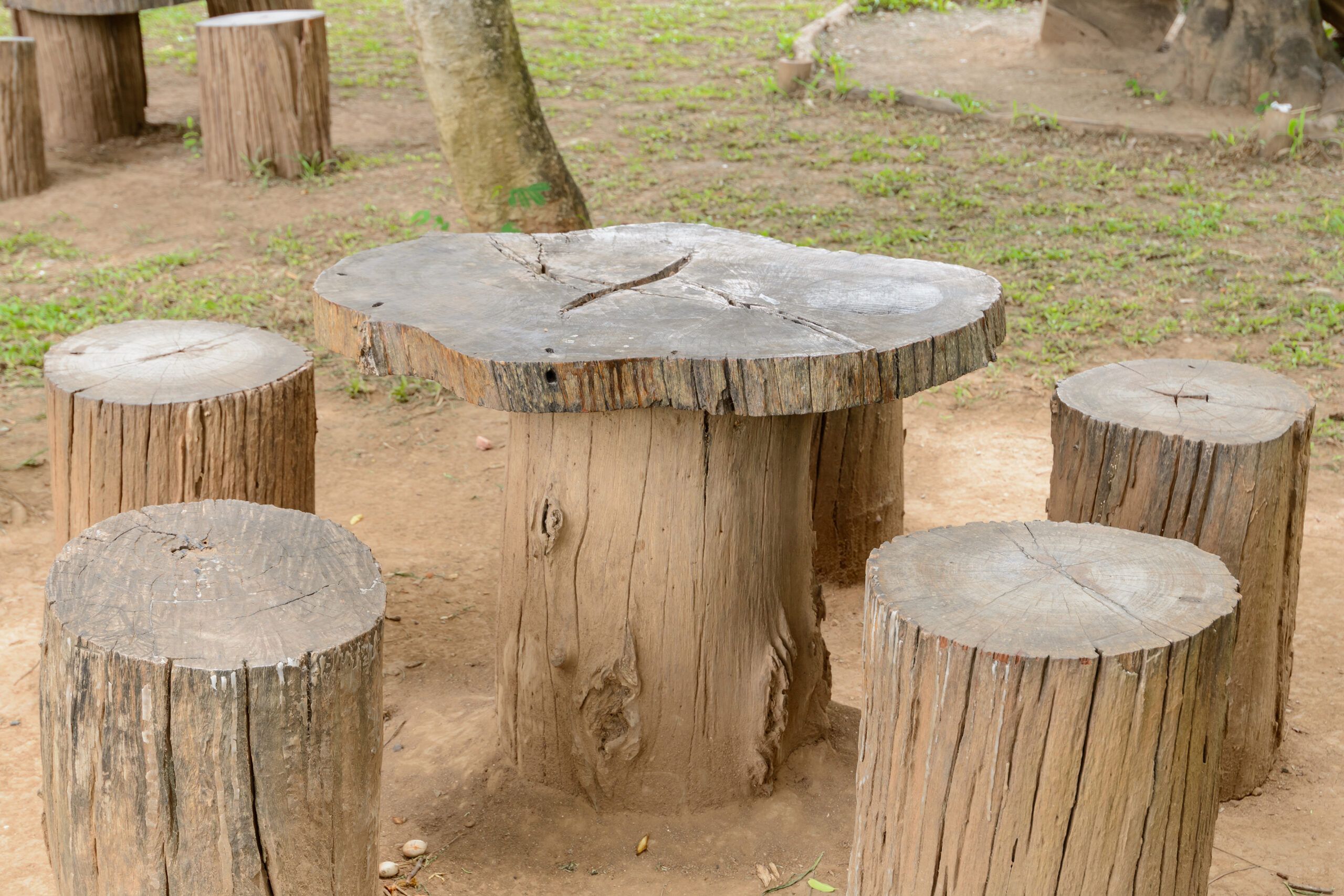 …even if all you've got is a stump. Turn it into a dining table by slicing it level at about 28 inches tall, and crowning it with a DIY poured concrete top.
For a 30-inch-round by 2-inch-thick top, build a plywood mold that's the same diameter, but make the sides 1 inch deeper. Line the bottom of the mold with steel mesh, and pour in a 1-inch layer of wet concrete. Lay a few pieces of steel rebar in the wet concrete to provide extra strength. Top with a second 1-inch layer of concrete. Let cure and remove the sides of the mold, leaving the plywood base intact to help support the tabletop. Then go ahead and hang a decorative chandelier just 'cause.
Make Good Use of Outbuildings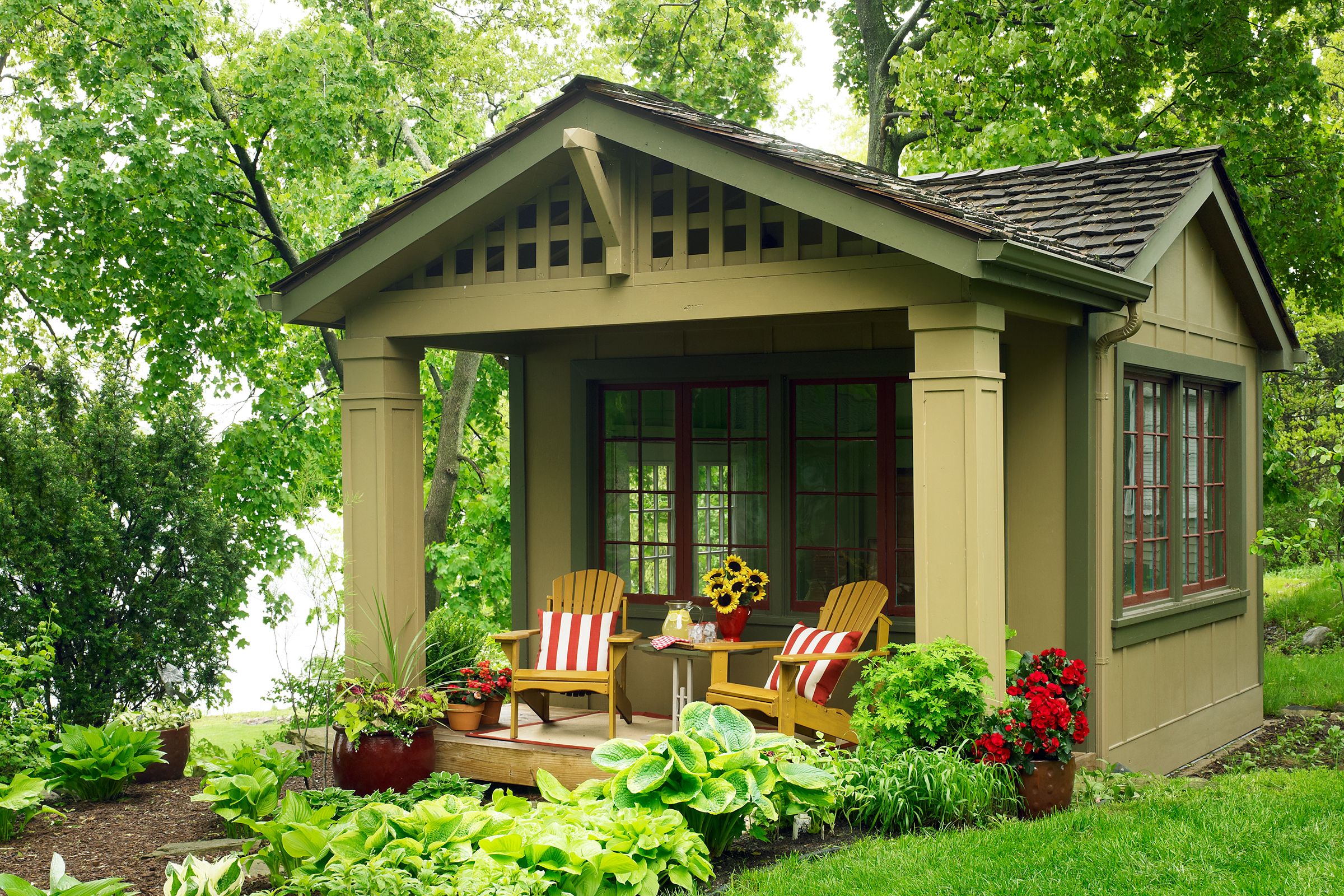 Why use a shed for storage when you could create a playhouse or getaway-for-grown-ups instead? This homeowner made a bright, beautiful room with large, salvaged windows. The miniature porch is a bonus when it comes time for an instant vacation. Take a video tour of this charming space.
Shade and a Shot of Color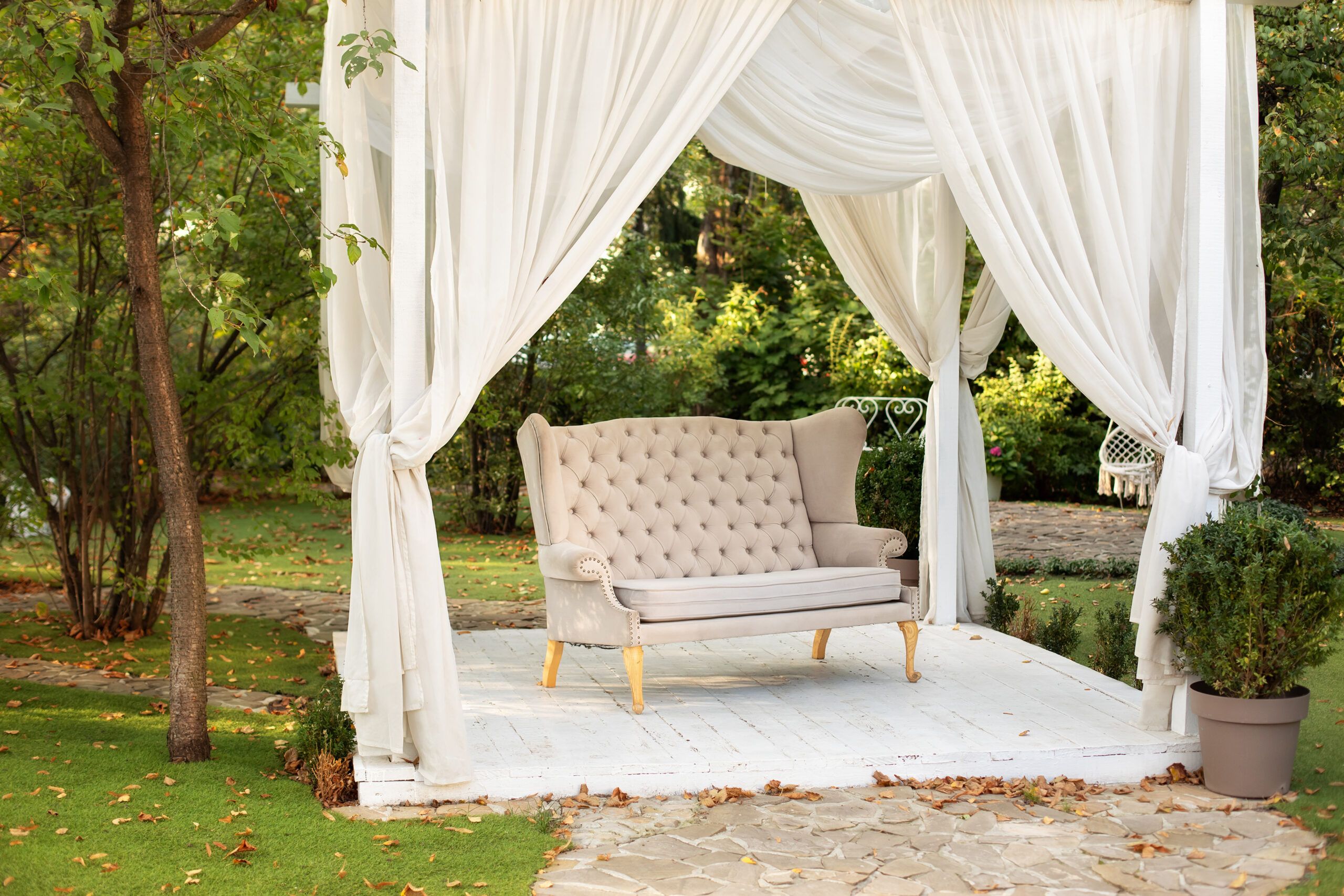 If a super-glam cabana isn't your style, go for this boho-chic canopy instead. Hang long lengths of silk over a clothesline strung between the house and a pole anchored in the backyard. Secure the sides to a fence or a roof overhang with sturdy spring clips.
Similar to shown: Silk Scapes in Sea, about $50 for a 3-by-9-foot piece; sarahssilks.com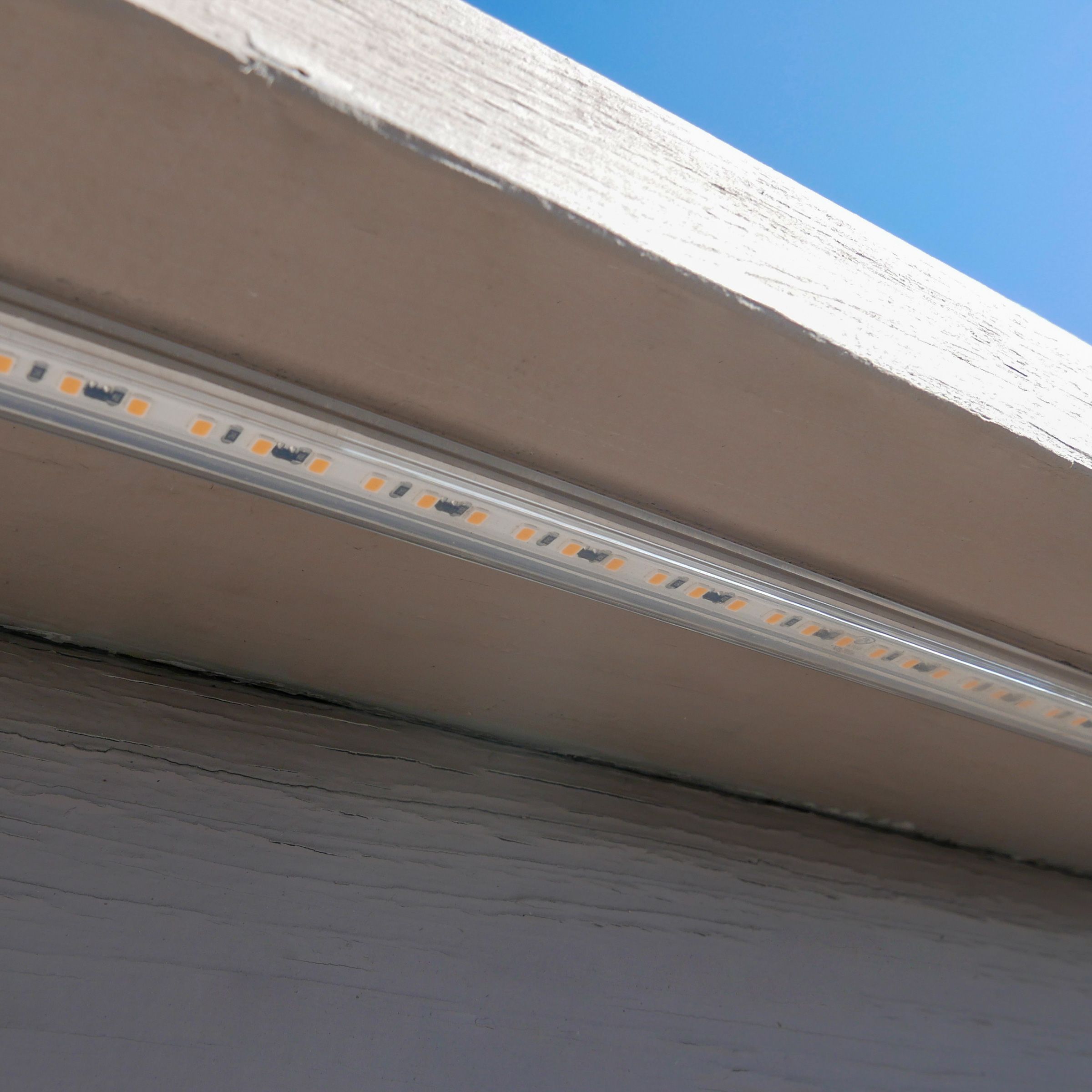 Light Up the Night
Run rope lights under your bottom deck rail for a magical glow.
Similar to shown: American Lighting's indoor/outdoor 50-foot rope lighting kit with mounting clips, about $65; amazon.com