Say "gazebo" and what springs to most people's mind is an octagonal white garden building at the end of a long sweep of lawn. Although many gazebos do fit this traditional gingerbread-trimmed image, today's versions are just as likely to be square, rectangular, or round; have sleek lines; and sit close to the house, to encourage outdoor dining. They can even be built right into a porch or onto a deck, patio, or pool surround.
Building a Gazebo: Before You Begin
Dining and entertaining
If you're planning to use your new gazebo for dining or entertaining, build one that's at least 12 ft. in diameter. Anything narrower than that will be too small to accommodate a table and chairs or more than six people at a time. However, if the gazebo is going to be built in the middle of a garden to serve more as an architectural accent than as a meeting place, an 8 ft. or smaller structure will suffice.
Local codes and permits
Before you erect a gazebo, call the building department to determine whether you need a permit. (In some towns, a permit is only required for structures larger than 10 ft.) The local building code will also dictate the type of foundation needed. Again, it differs from town to town, but in most areas gazebos smaller than 10 ft. can be built on concrete blocks or pressure-treated timbers set right on the ground. Larger ones must be supported by poured-concrete footings dug down to the frost line.
Climate
If you live in a mild climate where frost isn't a concern, dig the footings at least 18 in. deep or pour a 4-in.-thick concrete slab to serve as the gazebo floor.
Location
Siting the gazebo is another important consideration. First, never build at the bottom of a hill where water collects. Pick a level or, better yet, elevated spot that gets some sun; if the gazebo is in shade all the time, mold and mildew will grow on the roof.
Important design elements
Also, clear at least 2 ft. of space around all sides to allow air to circulate and to give you access to make repairs. Trim back low-lying bushes and ground cover from around the base to allow fresh air to circulate under the floor. Damp, stagnant air trapped under the gazebo will attract insects and promote rot.
Most gazebos only require one entrance, but if you're going to build one 15 ft. or larger a second entrance on the opposite side might make sense. That will allow people to come and go freely without having to cut through the main interior space.
Materials
A gazebo is generally defined as a freestanding, open-sided structure with a solid roof and (usually) a floor, though designers are constantly reinterpreting the form. While traditionally made of wood, gazebos also can be built of metal, stone, or even reinforced concrete. Cedar and redwood are top wood choices for their stability and weather resistance, and both can be painted or left unfinished.
Pressure-treated lumber is a less expensive option, but it should be covered with a semitransparent stain. Floors, which are often raised by one or two steps, may be wood, brick, concrete, or stone. Most often, the roof is clad in cedar shakes, though other materials, including copper and slate, may be used, particularly to echo that detail of the main house.
3 Ways to Build a Gazebo
There are three basic approaches to putting up a gazebo: building one from a set of plans, putting together a kit, or commissioning an original design.
Build it from scratch
Building one from scratch requires excellent carpentry skills—and a good set of plans. This Old House master carpenter Norm Abram built a screened 8-foot-wide gazebo suitable for a pair of benches or Adirondack chairs; plans ($15) are available from the New Yankee Workshop.
Use a kit
The most affordable—and time-consuming and difficult—way to put a gazebo in your yard is to buy a set of plans and build it yourself. Constructing any size gazebo is rather complicated. The roof framing alone can take a novice builder several days to complete. This hands-on approach is only recommended for experienced do-it-yourselfers.
Custom build
Going with a custom gazebo usually is the most expensive method. It's also the easiest—your contractor does all the work. Plus, you get the greatest design flexibility because the contractor can custom-build the gazebo to suit your site, desires and personal taste. Expect to pay $2,000 to $3,000 for a 9-ft.-dia. gazebo built of pressure-treated wood; a redwood or cedar structure will nearly double that price.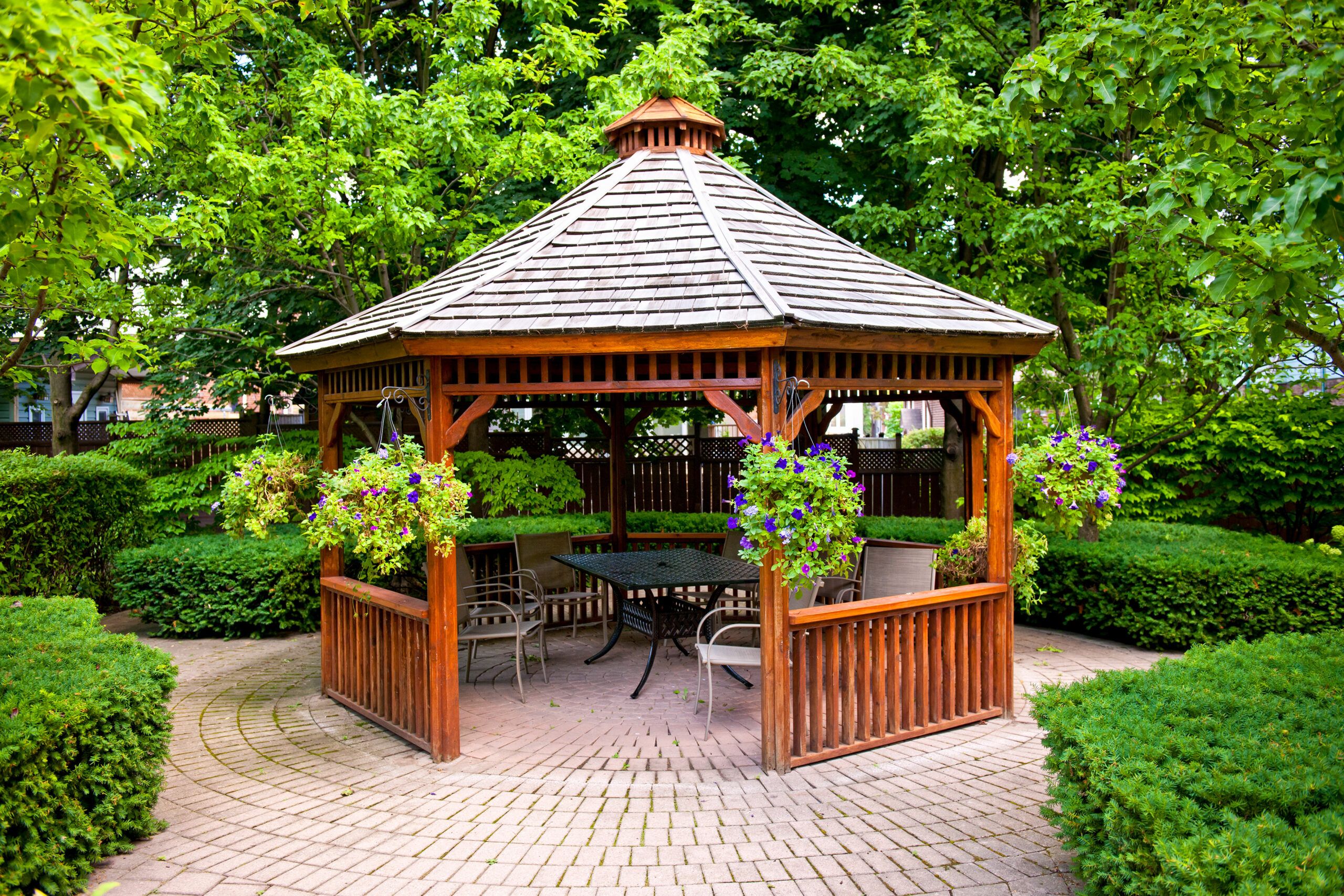 Building a Gazebo: Bells and Whistles
Wiring and electricity
While not every gazebo needs to be wired, it's a popular option. Most homeowners don't want to limit the usefulness of a structure that can serve as a dining room, reading room, or space for entertaining.
When it comes to electrical wiring, consider not only the best way to illuminate the inside of the gazebo, but also what will make it most attractive when seen from a distance. Swimming pool lights installed in the floor can provide uplighting that bolsters the gazebo's role as a garden feature, as can exterior lighting. An outlet can power a reading lamp, a blender for mixing drinks, or a plug-in sound system. An overhead ceiling fan provides a cooling breeze.
Mosquito nets
Screening the sides will deter mosquitoes from joining your dinner parties, while adding removable windows can extend the gazebo's use in cooler weather. Sliding lattice-panel sides provide privacy screening as needed.
Additions for your lifestyle
However you decide to build your gazebo, think about adding some of these accesories that fit your lifestyle and desires: a ceiling fan for cooling breezes (be sure the unit is rated for outdoor use); a ramp, especially if you plan to use a serving cart or if access by disabled relatives and friends is a priority; a cold-water supply pipe to serve a wet bar or whirlpool spa; a cupola or weather vane; louvered shutters for blocking out sun and wind; and a copper or slate roof.
Tips for Building a Gazebo from a Kit
Perhaps the most popular option for putting up a gazebo these days is buying a prefab kit. Pieces come precut, often with the largest components (roof, floor, sides) preassembled in sections, no sawing required. Less expensive kits are made from pressure-treated fir or pine, while higher-end models are made of weather- and rot-resistant cedar. All fasteners (stainless or galvanized steel) should be included. Thanks to precision cutting and fitting, kits can deliver extremely well-engineered structures.
Support columns are typically held by gusset plates bolted directly onto the foundation piers, deck, patio, or concrete floor. Sections bolt together through predrilled holes; smaller pieces screw together. Designs range from simple square latticework structures ($1,500 and up for a 6-footer) to octagons dripping in decorative millwork and capped by a two-tiered, cupola-topped roof ($3,500 to $10,000 for a 12-footer).
Most company literature says that a couple of people can put together a small to midsize model in a day or two with just a cordless drill, a wrench and sockets, and, in some cases, a hammer and a nail set. That time frame may or may not include the groundwork. For most homeowners, the hardest part is the foundation. Typically that requires digging and pouring concrete piers around the perimeter and one in the center — for an octagonal structure, nine footings.
How much skill is required?
Bruce Swallow, a homeowner who lives outside of Pittsburgh and who modestly describes himself as "pretty handy," put together a Dalton Pavilions 13-foot gazebo kit with three friends in five hours after church one Sunday afternoon. "But that was after the footers had been poured and the floor joists bolted down," he points out.
The foundation work took two men eight to 10 hours (they were nice enough to do the job while he was out of town). Though he concedes that he and his pals have more skills than most people—one's a plumber, another a drywall contractor—"none of us had ever done it before. Even with only half as much skill, it wouldn't take twice as long."
The gingerbread-trimmed octagon with a pagoda-style roof, curved balusters, and a ceiling-mount fan was a surprise for his wife's fiftieth birthday. It stands one step up from a corner of their backyard deck, where they use it for casual dinners, gatherings with friends, and reading the morning paper.
"Getting the floor sections completely level, which a lot of people might not even bother with, was probably the most painstaking part," says Bruce. Now it's a perfect spot for many birthday celebrations to come.
History of Gazebos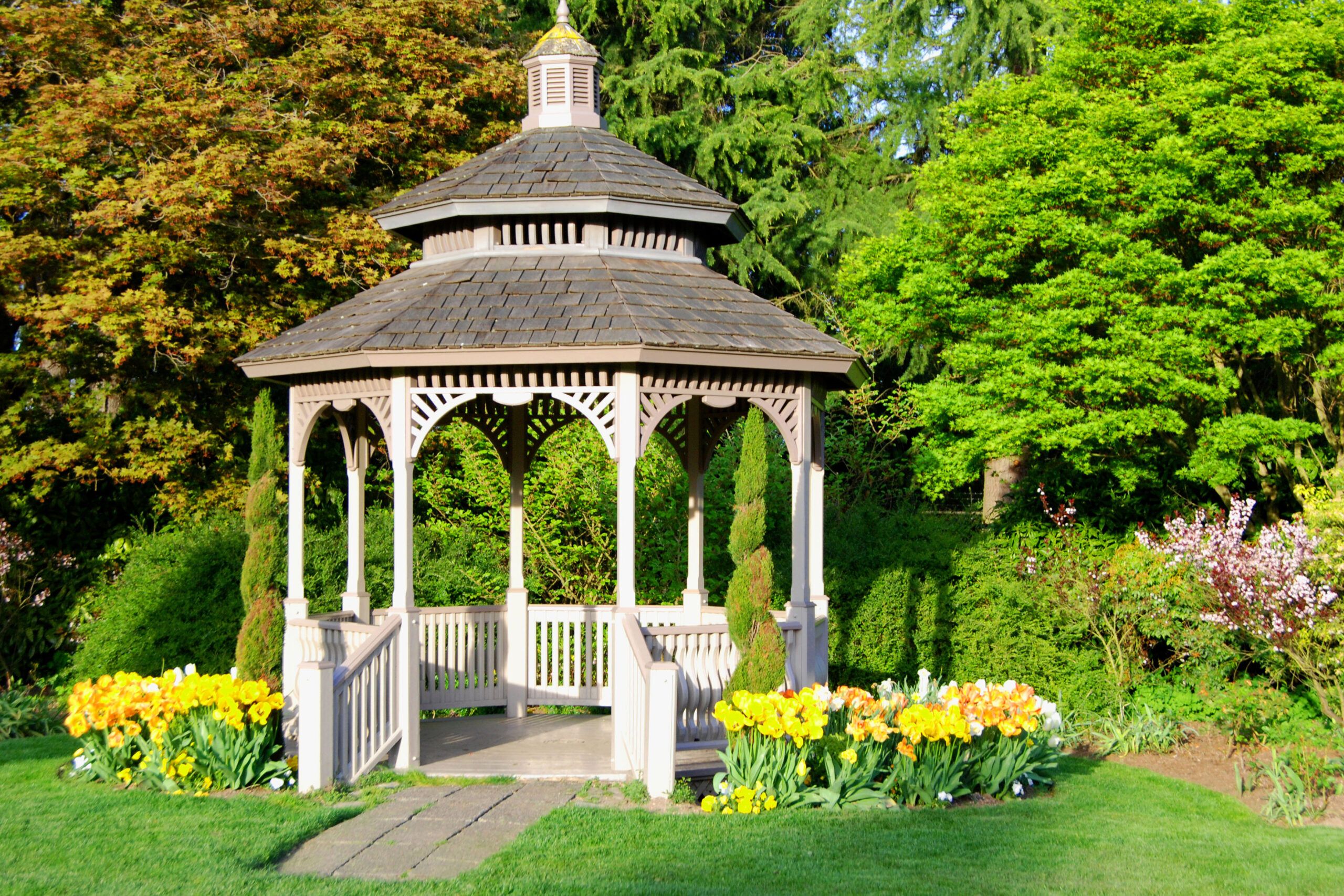 The gazebo's ancestry can be traced back to ancient Japanese teahouses, Chinese garden shelters, and small buildings the Dutch built beside their canals. Some historians believe that the term gazebo (ga-zay-bo), which came into use in the 1700s to describe garden viewing pavilions, may be the result of a linguistic joke, in which "gaze" was altered to make it sound more Latin.
Designer and draftsman Peter Joel Harrison relates another version of the word's origin in his pattern book Gazebos and Trellises: Authentic Details for Design and Restoration (about $50; Amazon). The story goes that at a garden party in 18th-century England, where all things French were in vogue, a guest remarked of the hostess's small teahouse, "Ça, c'est beau!" The Englishwoman then whispered to her friends that the fashionable term for her new teahouse was "gazebo."
---
Resources
Porch gazebo
Gaspar's, Seattle, WA
206-324-8199
www.gaspars.com
Keele's gazebo
Glen Hampton Garden Designs
Pasadena, CA
626-523-9605
Gazebo kits
Vixen Hill
Elverson, PA
800-423-2766
www.vixenhill.com
Dalton Pavilions Inc.
Telford, PA
215-721-1492
www.daltonpavilions.com
Cedarshed
Langley, BC, Canada
800-830-8033
www.cedarshed.com
Summerwood Products
800-663-5042
www.summerwood.com
Bell-shaped gazebo
William Taylor, AIA
The Taylor & Taylor Partnership
Miami Beach, FL
305-534-9862
www.taylorntaylor.com
Our thanks to:
Jordan Honeyman Landscape Architecture
Washington, DC
202-737-0451
Suzman Designs
San Francisco, CA
415-252-0111
Pattern illustrations:
Gazebos and Trellises: Authentic Details for Design and Restoration
Peter Joel Harrison (John Wiley & Sons, 1999)
Bowl and tablecloth
Sur La Table
800-243-0852