Inside the Ask This Old House Workshop
If you've ever watched Ask This Old House, you may have wondered what the inside of our workshop looks like and how it functions to meet our needs. Here's an inside look at how we set up the space to serve four different trades to help answer your home improvement questions.
Carpentry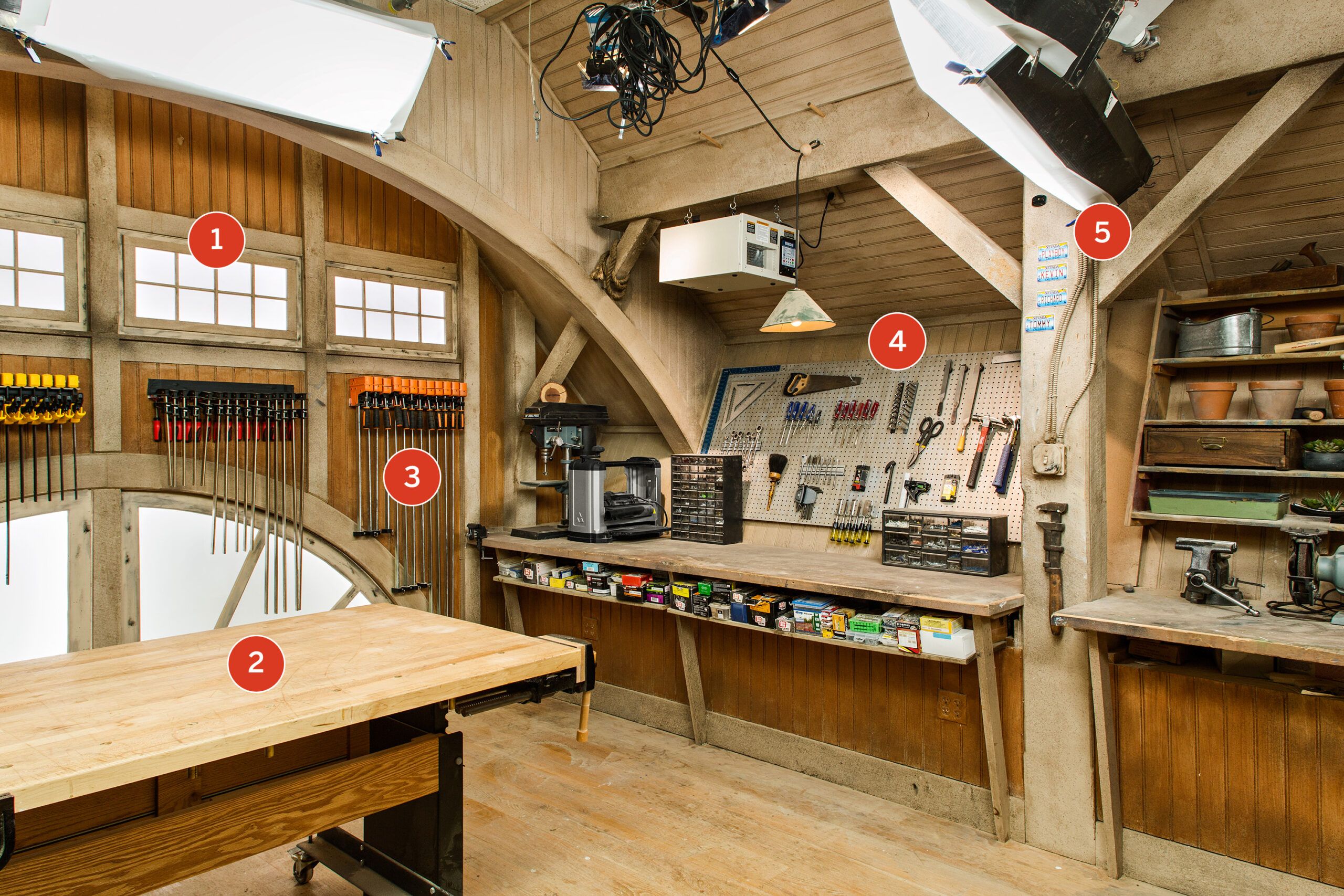 Though they replicate the real windows they replaced, these LED-backlit panes only date to 2016. Not having to rely on the sun is a big help when projects take longer than expected.
It appears to be a standard workbench, but this surface is enviably versatile: The height's adjustable, it's got built-in vises and holes for bench dogs, and, of course, it's easy to roll to wherever it's needed.
As Norm Abram likes to say, you can never have too many clamps! This cascading display is twice as extensive as what you see here.
This pegboard-o'-tools is meant to be set dressing—tools for each project are laid out elsewhere—but the guys often grab (and use) these.
Mini license plates playfully recall a Las Vegas house call in Season 5 where Roger Cook put in a privacy screen: Kevin, Tommy, Richard, and Playboy—Roger's self-appointed tag.
Landscaping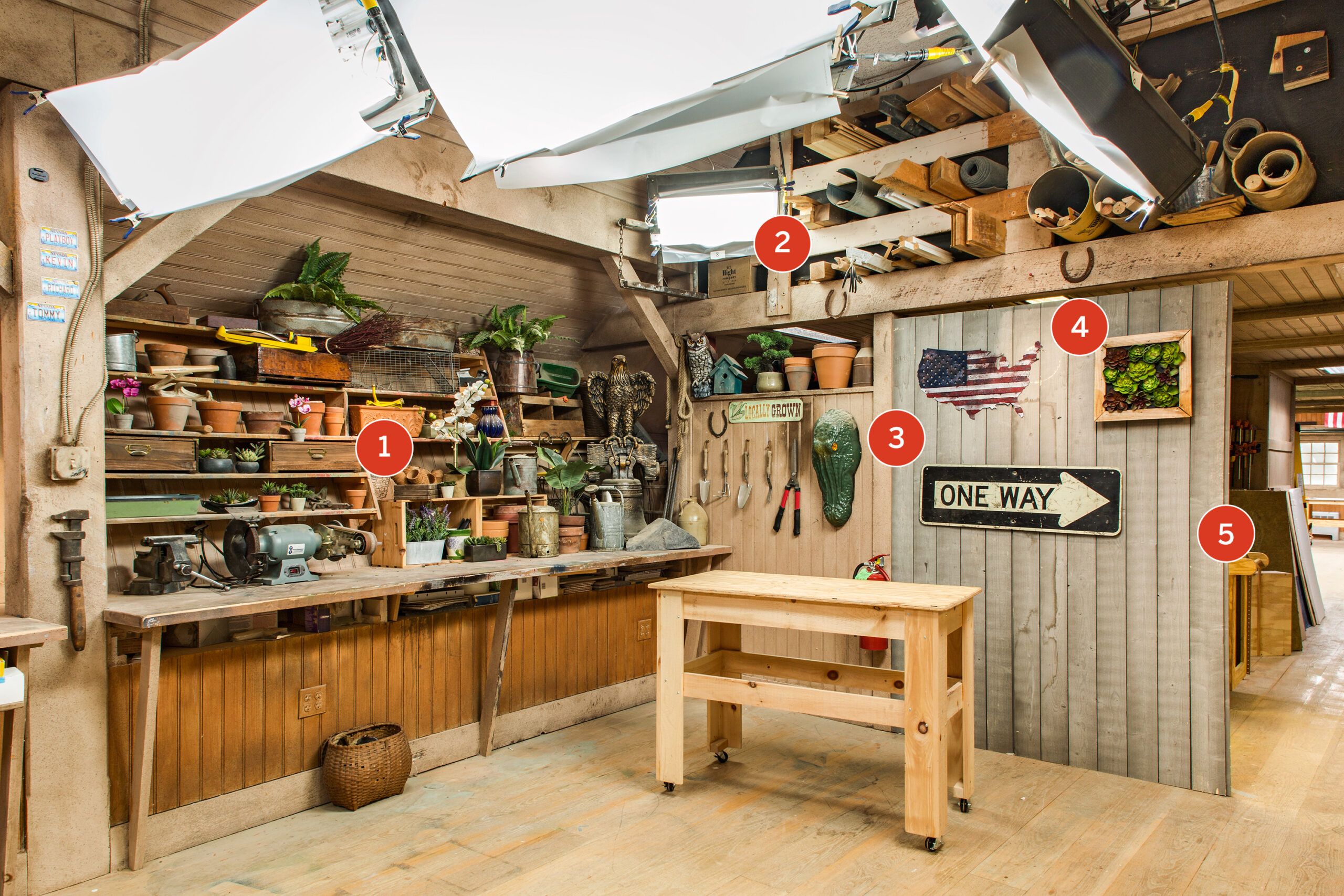 Though the plants on this ersatz potting shelf add color—and the varieties were chosen because they can thrive in low light—they're fakes.
What looks like loft storage for extra materials is actually a cleverly concealed door. The boards and pipes are only about a foot long, and the whole shebang swings out to allow access to the studio's HVAC unit.
The gator head, and the owl on the shelf above, go back to Season 1. They were in a Tom Silva segment on humane pest control.
The succulent art replicates a Season 14 project by landscape designer Jenn Nawada. It's also fake—even easy-care succulents need some natural light.
More faux: the sliding barn door, which was added in Season 15. Originally, the low-ceilinged area behind it (less than ideal for 6-foot-plus Roger) was the landscaping zone.
Plumbing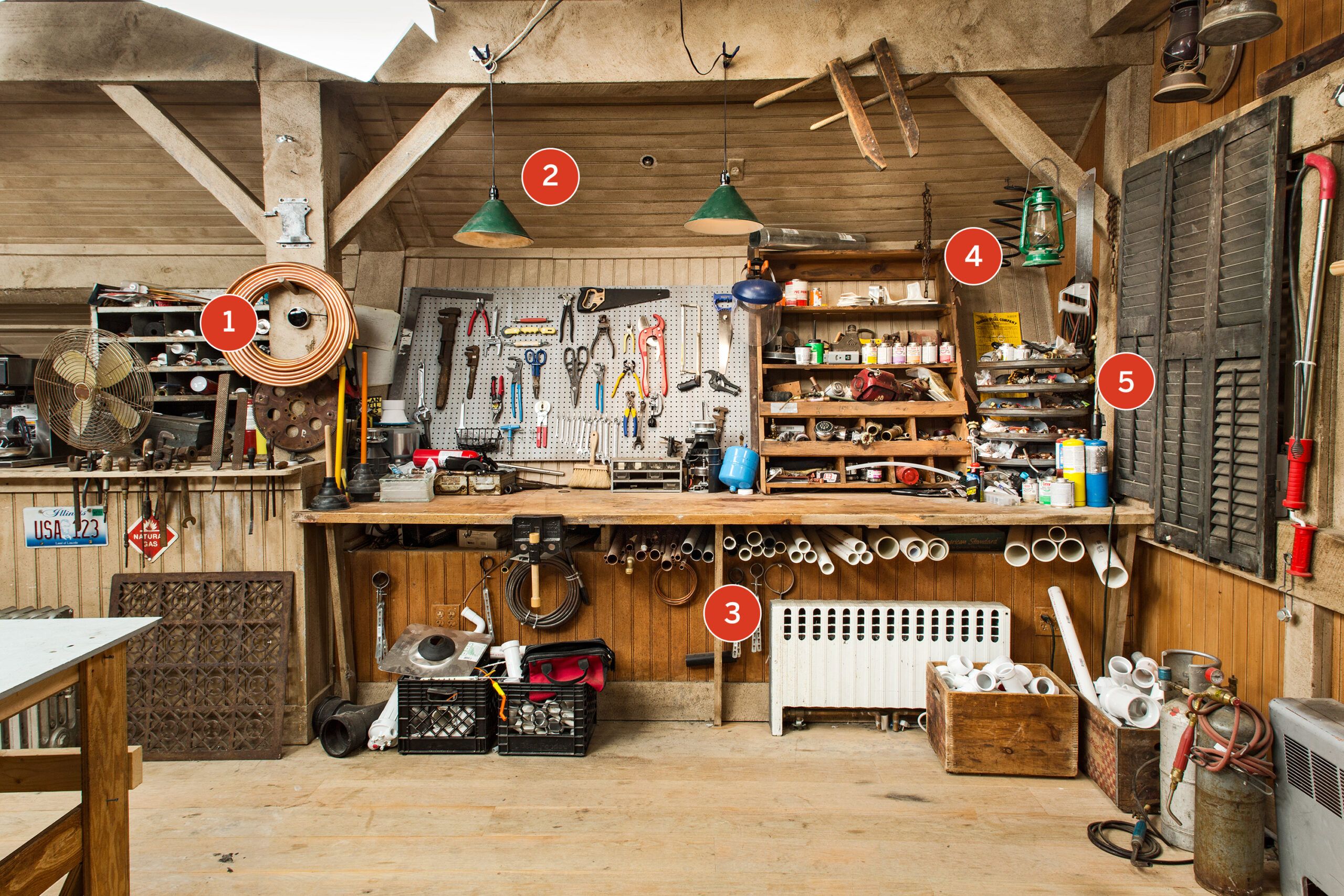 What's that nestled inside the coil of copper wiring? A smart thermostat, just like the one Richard Trethewey installed in a Massachusetts home during a Season 11 house call.
Though the huge TV lights do the heavy lifting during filming, vintage-style (and in some spots, pretty dusty!) pendants hung as task lights amp up the old-school workshop feel.
This storage is shallower than it looks, so these pipes—a mix that includes PVC, galvanized, and copper—are less than 2 feet long. Still, they come in handy!
That yellowed paper almost hidden on the wall is a calendar from 2002—the year Ask This Old House debuted on the air—and it has never been updated.
Similar to the carpentry corner, this section has tools and materials aplenty. The plumbing carousel holds necessities like fittings and flux.
Electrical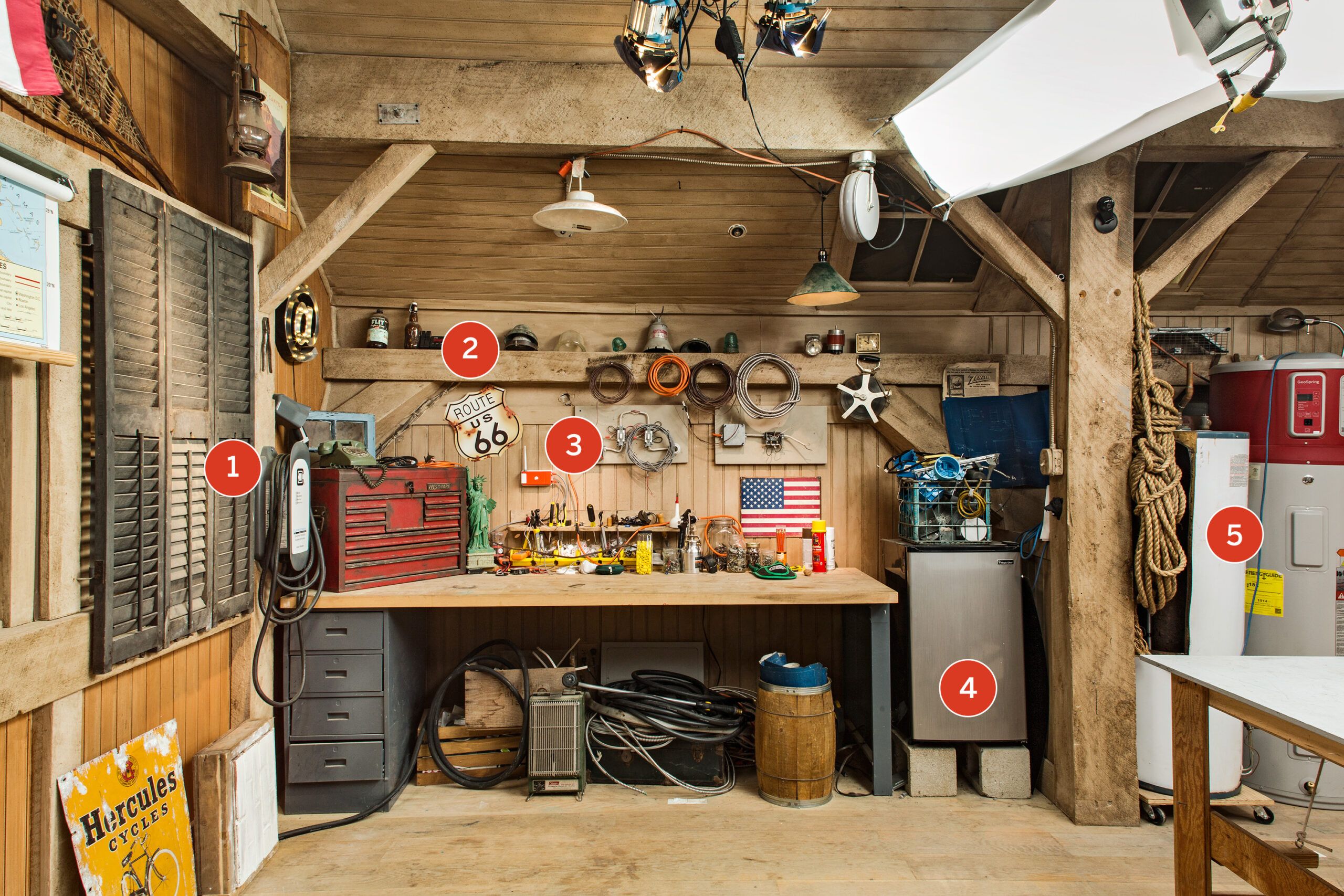 There might not be any parking in the AskTOH workshop, but there is an electric vehicle charger from a segment in Season 13
Collected bits and pieces of Americana—like the route 66 sign and miniature Statue of Liberty seen here—are reminders of Ask This Old House's cross-country adventures.
This whole-house energy monitor first showed up during Season 15; home technology expert Ross Trethewey gave an update on how it's working in Season 16.
Though beers are occasionally brought out of the mini fridge, it's usually full of bottled water.
The studio's up a flight of stairs, so anything heavy has to be carried. Once oversize items like Richard's ever-growing collection of water heaters make it onto the floor, they're there to stay!
Memorabilia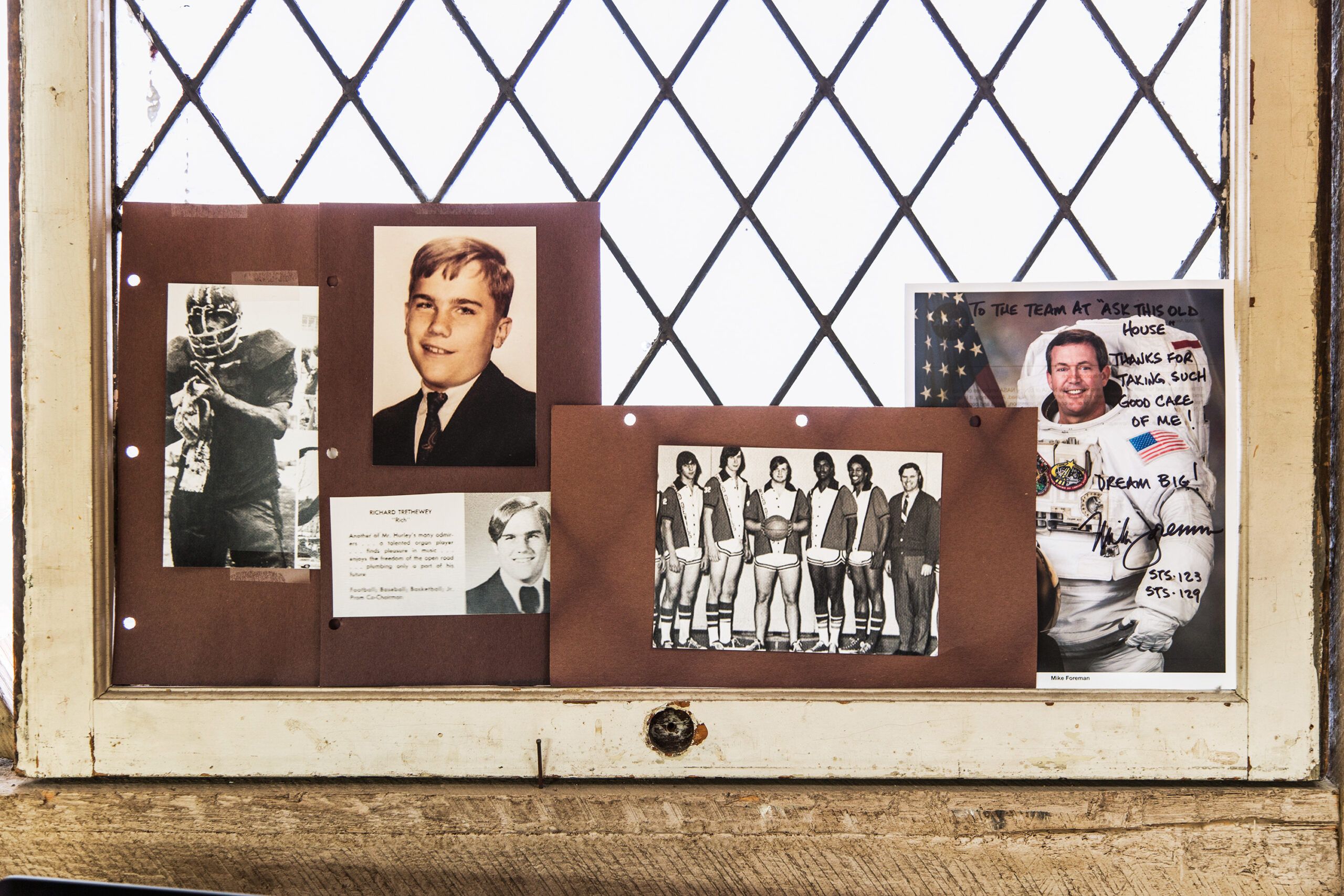 "The Ask workshop is our clubhouse, our family room, our garage. Sure, we film a lot of TV there, but it's also a home base where we can let our hair down and be ourselves."
—Kevin O'Connor, This Old House host
The crew area is decked out with memorabilia from the show—like the autographed photo of NASA astronaut Captain Mike Foreman, who visited the loft during Season 15—as well as some personal photos of the guys. They're on pages from an album put together for a segment in Season 10. The basketball and football pics are of Roger; Richard's senior yearbook write-up (lower left) notes "plumbing only a part of his future." (True, since he's also an HVAC pro!)
Backstage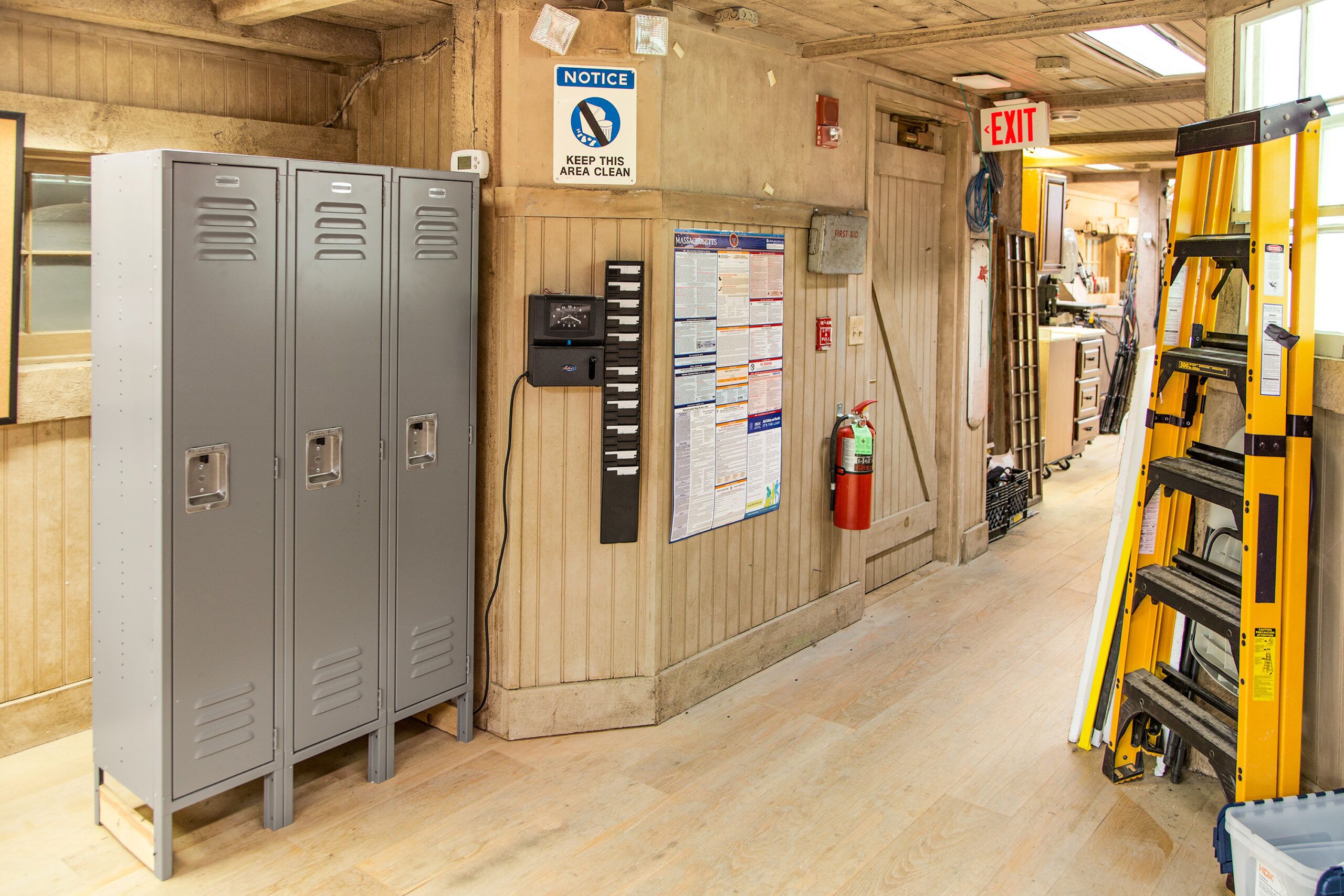 Even in "backstage" areas rarely seen on TV, details like a vintage time clock and punch cards enhance the classic workplace feel. Though they're decorative, the gym lockers are helpful for extra storage.
Ask TOH Table Saw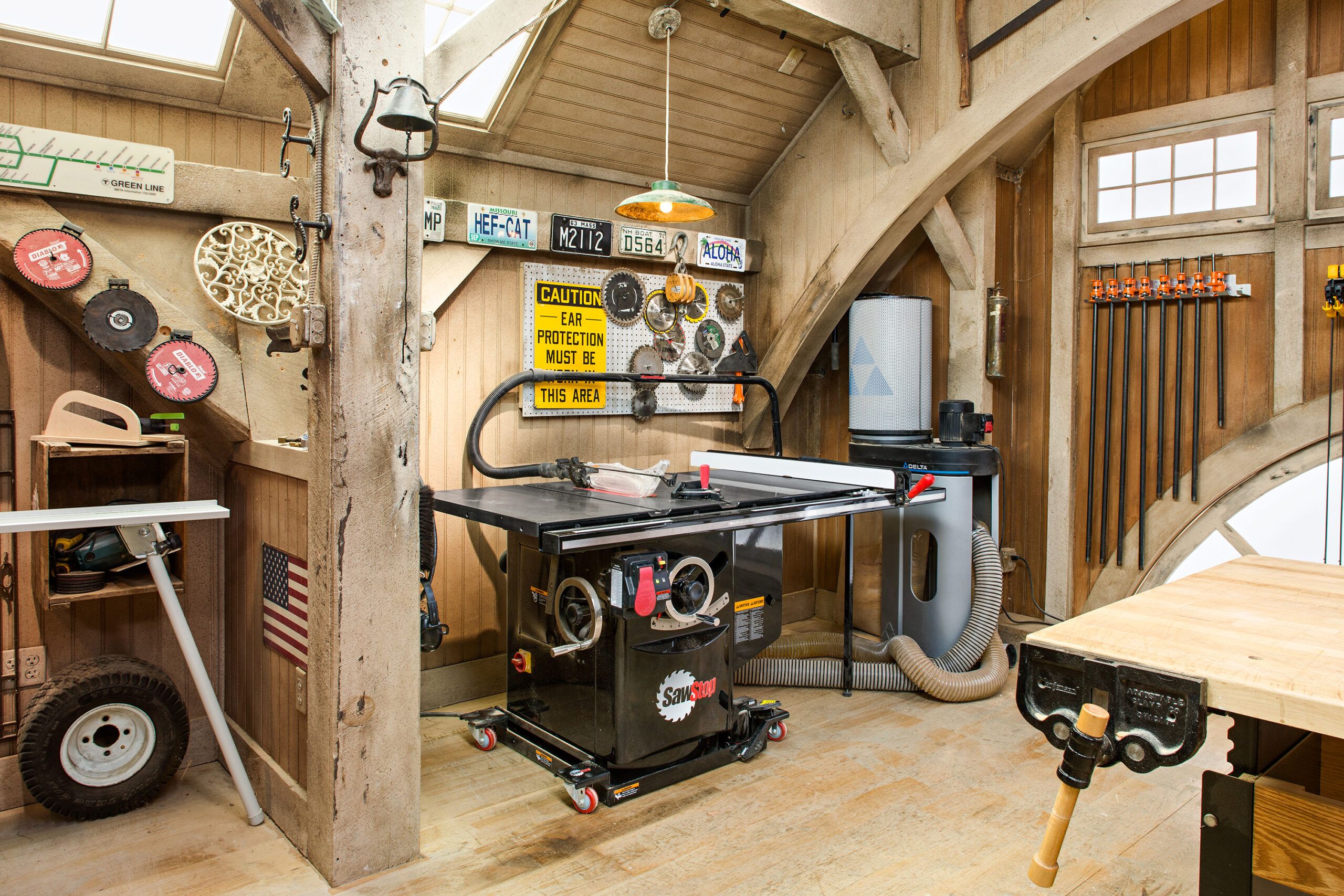 This self-stopping table saw made its first appearance back in Season 5 (remember how it wouldn't cut the hot dogs?). The ear-protection sign continues the safety theme, and nods to an award the show won in 2016 from the National Hearing Conservation Association. The license plates hail from across the country—Hawaii was picked up when AskTOH visited its 50th state in Season 15, Missouri belonged to the show's director and producer, and the others were sent in by fans.
Coffee Station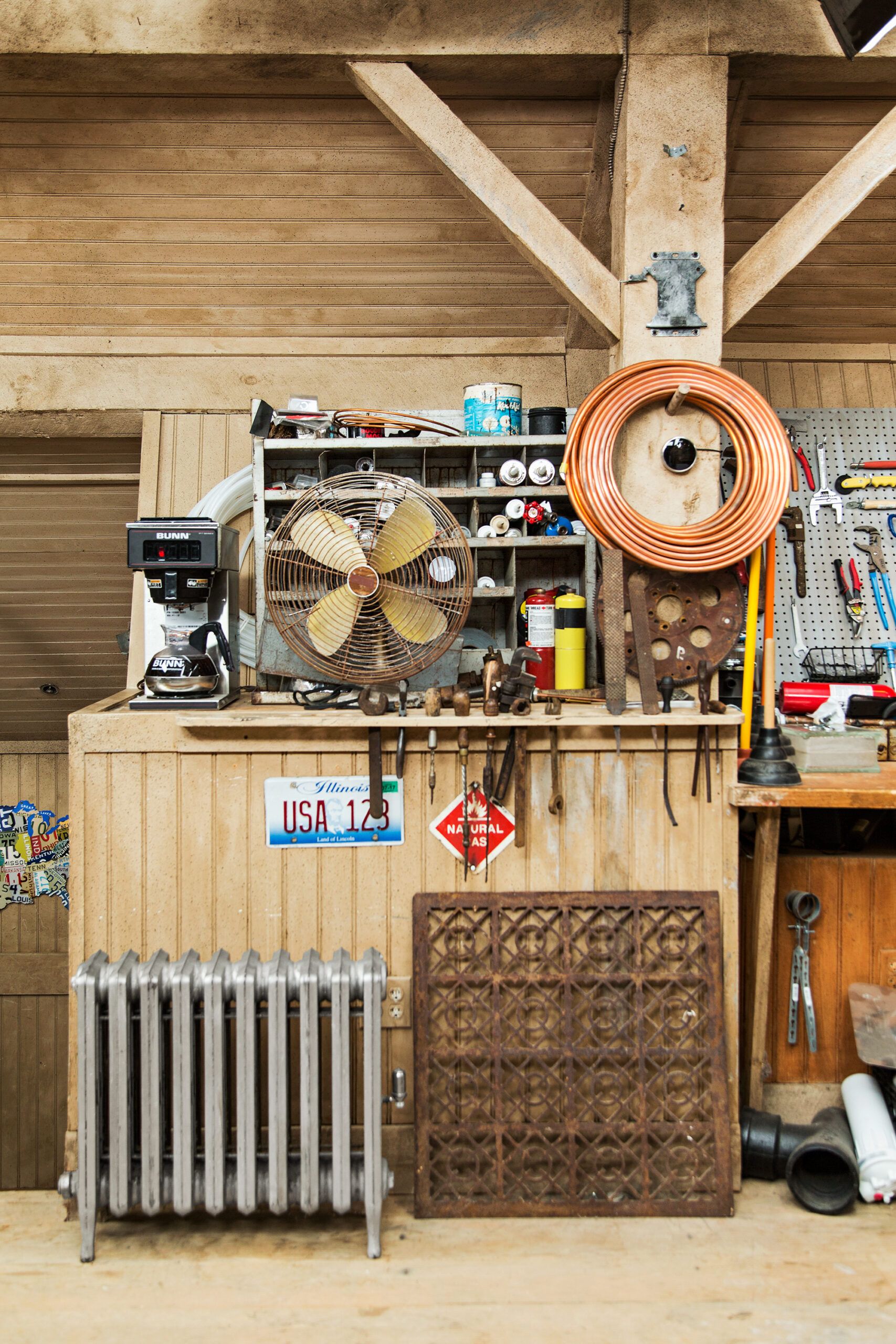 The drip coffeemaker is a classic workshop detail that's not just set dressing. It's no Starbucks, but it does brew coffee—perhaps most notably in an episode from Season 14, when host Kevin O'Connor poured a cup as he made his entrance. (Actually, he poured cup after cup until they got the shot right!)
Trethewey Corner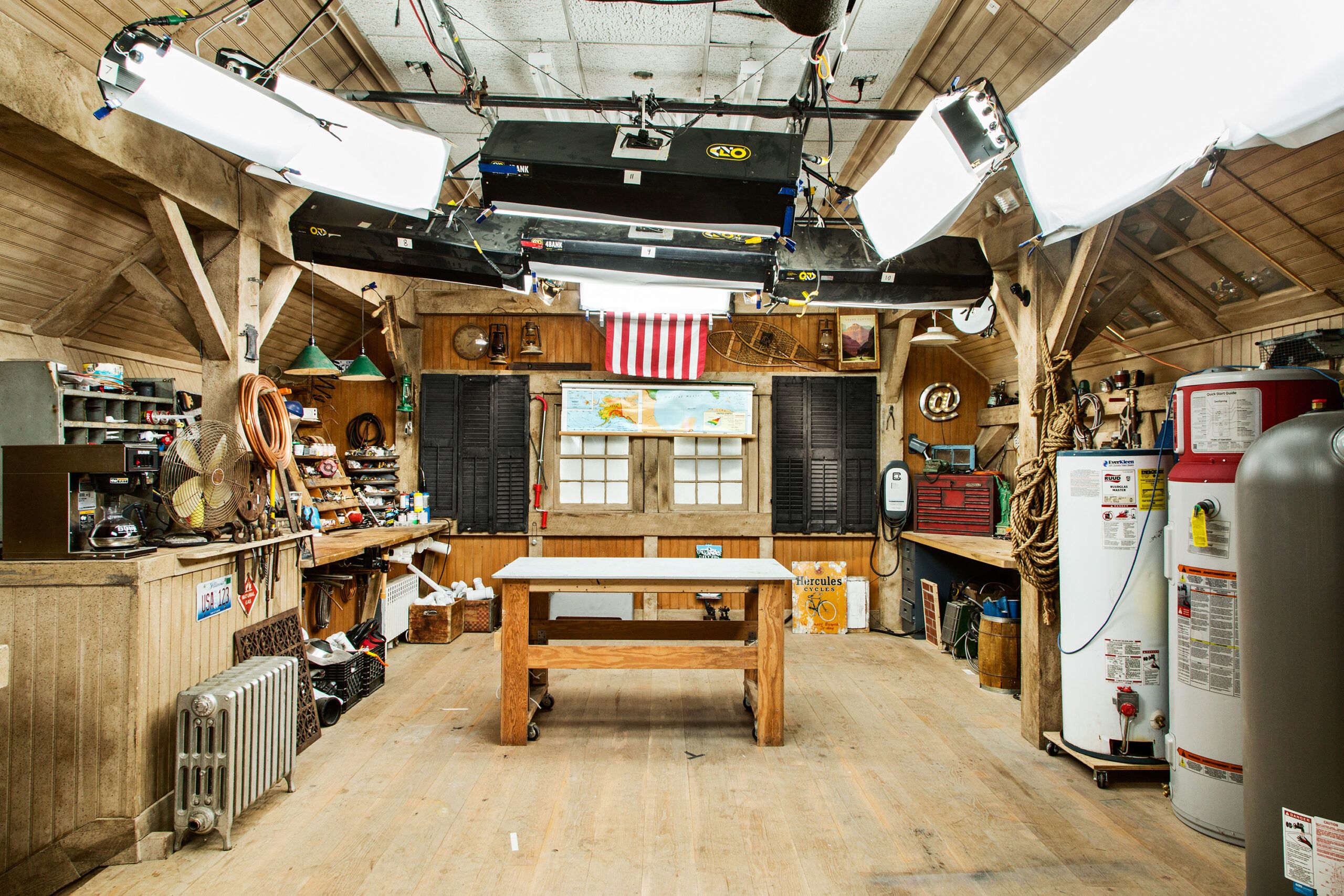 Often referred to as the "Richard" end of the studio (though "Trethewey" might be more apropos, since his son Ross has taken over some of the right side), this area features a pull-down map of the U.S. The map's more than Americana: It's suggestive of the show's educational appeal, plus, on a practical level, it's helpful for talking about issues specific to different parts of the country.
Stairwell Entry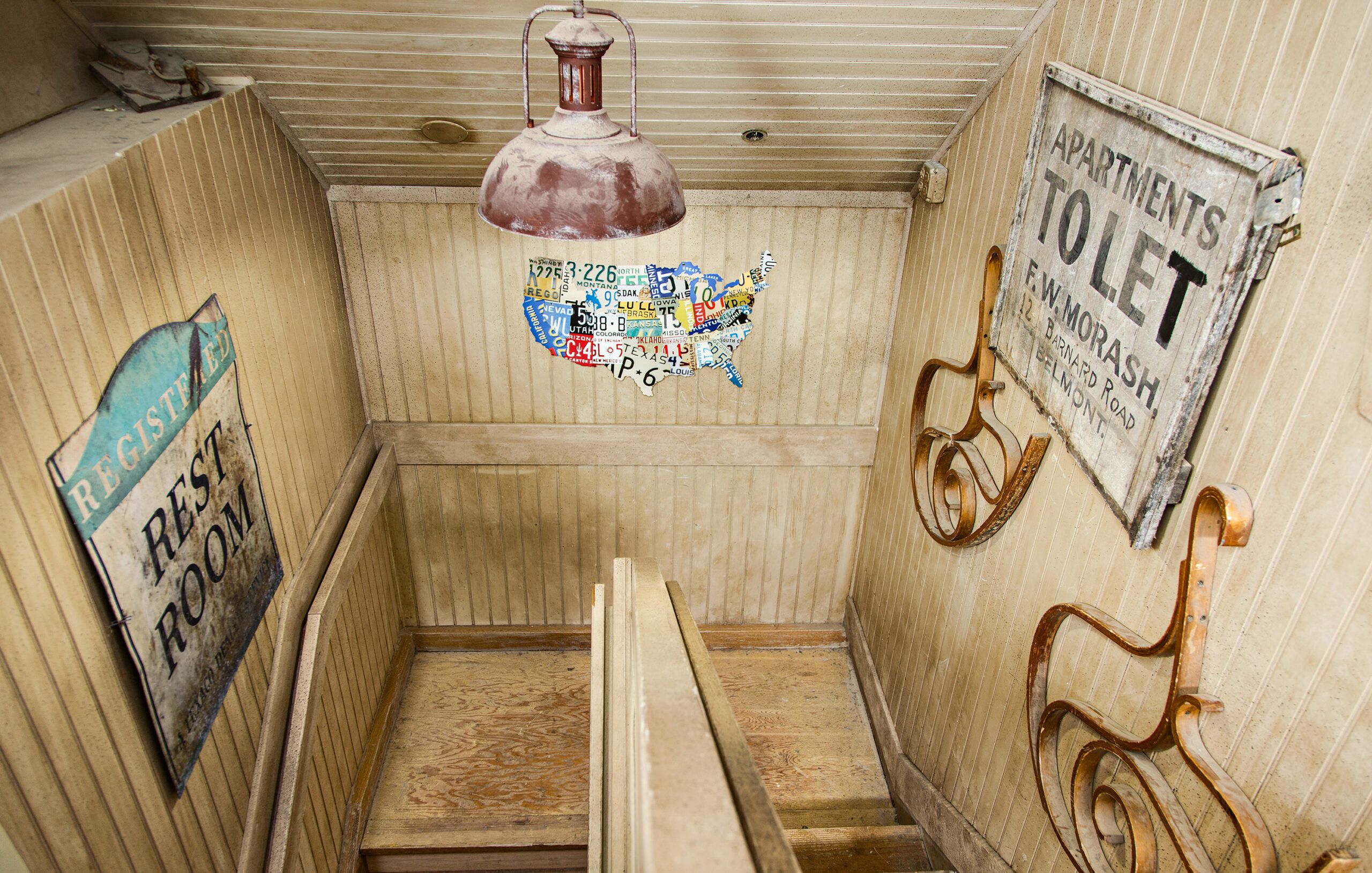 The sign to the right in the stairway isn't just any antique. It dates to about the 1930s, and the "F.W. Morash" renting the apartments was the grandfather of Ask This Old House creator Russ Morash (who also created This Old House and The New Yankee Workshop, among other shows). F.W. Morash was a home builder, but when the Great Depression made it difficult to find buyers, he began renting some of the duplexes he'd built.
Storage Area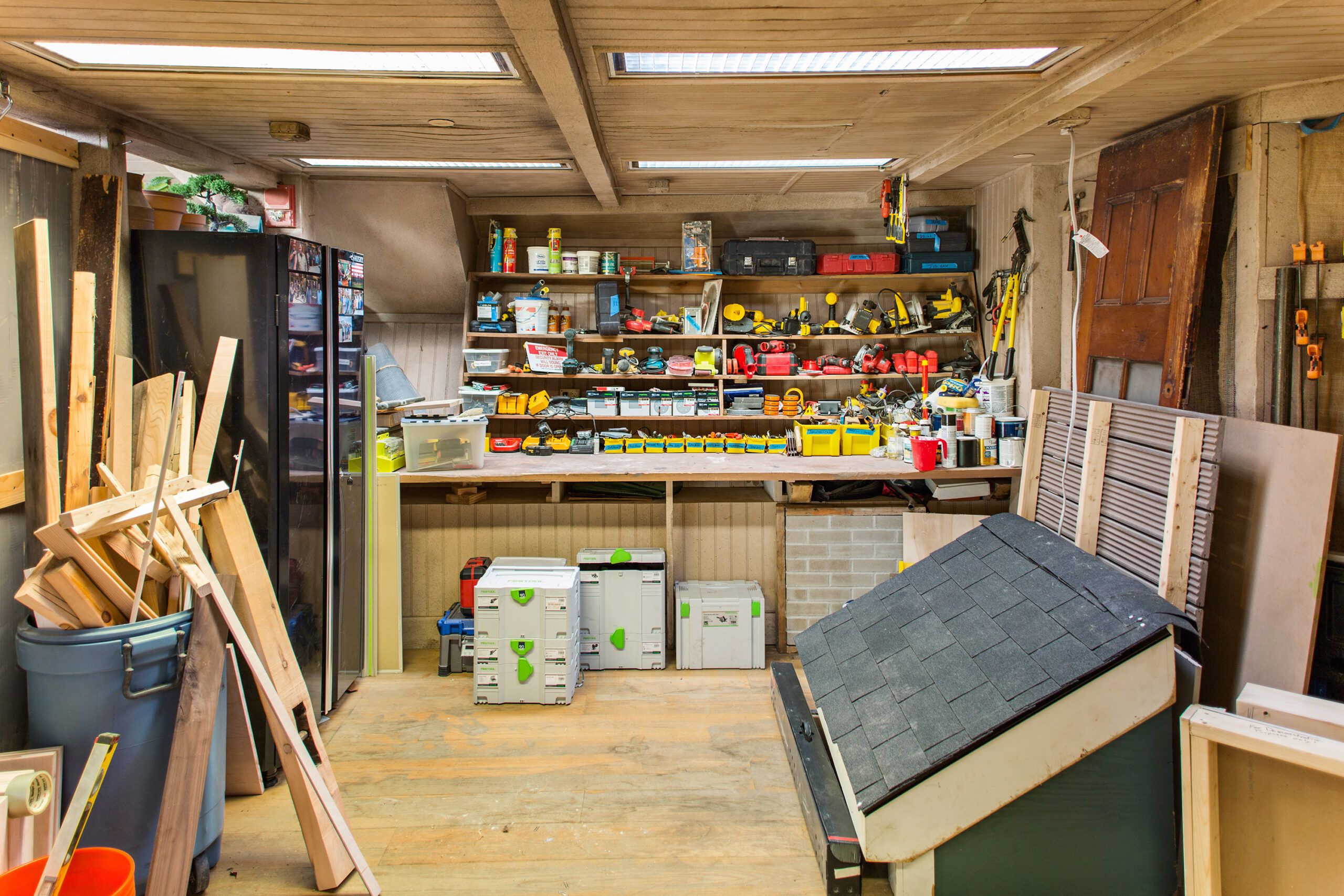 The low-ceilinged center of the workshop boasts extensive storage, from a barrel of scrap lumber for testing tools to a section of roofing that's been used multiple times (most recently in Season 17, when Tommy showed Kevin the right way to install a drip edge). The shelves along the back wall keep a vast assortment of tools, hardware, adhesives, paint, and more at the ready.
Inspiring Details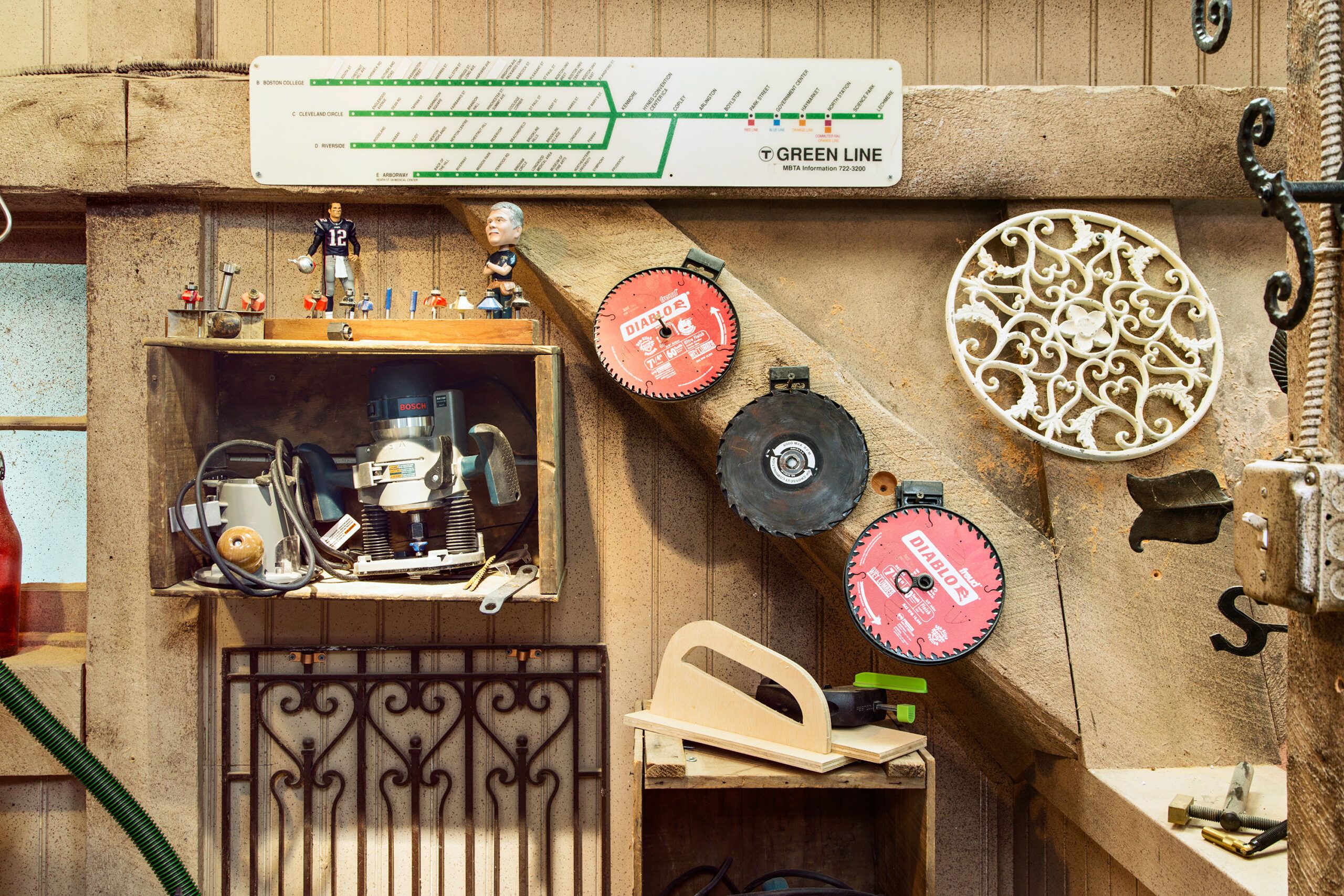 Lots of the loft's decor points up AskTOH 's national scope, but there are locally inspired details, too. To the left of the stairway, among saw blades, shutter dogs, and other old-house miscellany, there's a Boston-centric collection: a figure of New England Patriots quarterback Tom Brady, a bobblehead of our own Tom Silva, and, above them, a salvaged sign from the Massachusetts Bay Transit Authority, better known as "the T."