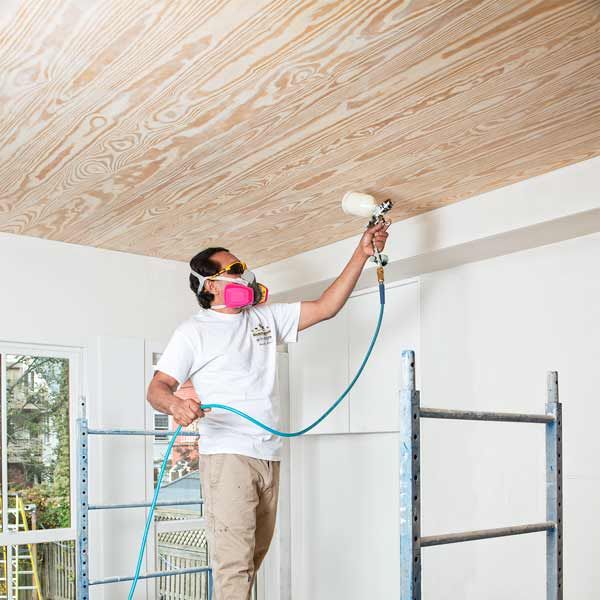 It may look period-perfect from the outside, but the interior of the current TOH TV project house, an 1887 Queen Anne in Cambridge, Massachusetts, is getting a unique look of its own from a completely different era. Since so many of the original decorative details inside the house had been stripped away during previous renovations, owners Sally Peterson and John Stone decided to convert its look to the modern Scandinavian style, pioneered in the 1950s, that Sally had admired for years. "Though I was born in the U.S., my family is Swedish," she says. "I've been to Sweden to visit extended family, and it's where I became drawn to clean, simple, functional design."
Among the many elements the couple is incorporating from this style is whitewashed woodwork, including built-in cabinetry in the dining and living areas, and wood ceilings in the living room and parts of the kitchen and master suite. "Clear-stained or whitewashed wood surfaces are often used to add texture and warmth to the simple white interiors common in Scandinavian design," says Dee Elms of Terrat Elms Design, the project's interior designer. Though the factory-built cabinetry is being finished off-site using a translucent, oil-based stain and sealer, the ceilings and handrail are being finished in place. So TOH general contractor Tom Silva asked painting contractor Mauro Henrique to develop a match for the whitewashed cabinetry finish that Sally and John had approved.
Even experts like Mauro and TOH master carpenter Norm Abram, who has 30-plus years of woodworking and furnituremaking under his tool belt, agree that staining wood involves as much art as science. "You've got lots of variables: the color of the wood, its porosity and graining, the color of the stain, whether it's oil- or water-based," says Norm. "It takes patience to get all these elements lined up to your liking."
Fortunately the first step—finding the right wood for the built-ins, ceilings, and handrail—was straightforward. Oak or birch are more common in Scandinavian design, but here, southern yellow pine emerged as the clear winner for both cost and aesthetics. The pine is not a single type of tree but rather a group of species native to the southeastern United States that are common and easy to mill. It's a popular choice for interior finishes in American homes, says Dee, and Sally and John liked its unique horizontal graining.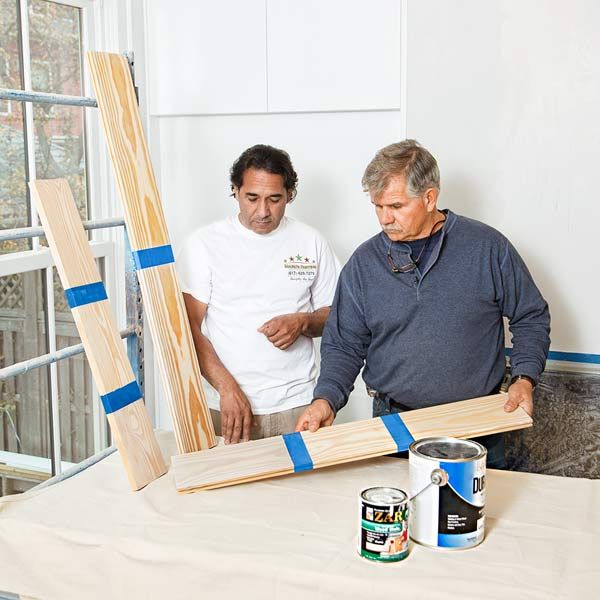 Experimenting With Stains and Finishes
The couple asked Tom and Mauro to highlight the grain and tone down its yellowish cast. Armed with pieces of whitewashed pine from the cabinet manufacturer to match and unfinished sample boards of his own, Mauro got down to business. For his first experiment, he used a water-based white transparent stain followed by two coats of water-based polyurethane clear finish. Too dull, came the verdict. "Water-based stains aren't absorbed as readily as oil-based ones," says Mauro, "so it's possible that the stain sat on top of the wood and obscured the grain too much, as a paint would do."
He got better results when he switched to an oil-based stain, but he paired it with the same water-based clear finish. "An oil-based clear finish can give the wood a slightly yellow tone, which Sally and John didn't want," says Mauro. Only after crafting several samples with more (and fewer) coats of stain and finish did he finally perfect the technique, imparting a subtle milky-white color to the pine that downplayed its yellow and honey undertones and brought the grain into sharp focus.
Now in place, the living room's wood ceiling comes as an unexpected touch that makes this all-white room seem a bit cozier and homier—even unfurnished. "It took us a while to get there, but it has just the effect we'd hoped for," says Sally.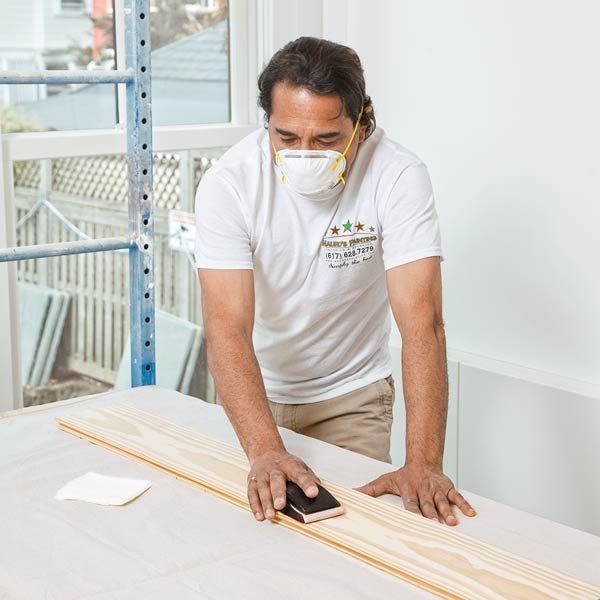 How He Did It
Like the look of the wood ceiling? Try Mauro's technique
1: Using 150-grit sandpaper, Mauro roughed up the pine's surface to open its pores, then wiped away sawdust with a tack cloth. (LEFT)
2: Using a natural-bristle brush, he applied a thin layer of Zar oil-based stain in Country White and let it rest for 2 to 3 minutes so that it could seep into the wood's pores. (BELOW)
3: Working in the direction of the grain, he wiped away the unabsorbed stain with a clean rag. After it dried, he repeated Steps 2 and 3 to give the wood a whiter, brighter look. (BELOW)
4: Using a synthetic-bristle brush, he applied two coats of water-based acrylic finish. (BELOW) (He used a pro-grade product; Minwax's Polycrylic Protective Finish would give similar results.)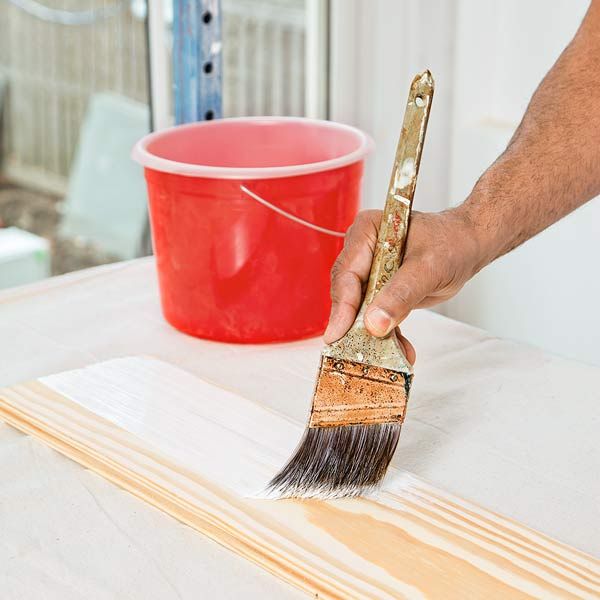 Norm's Top Tips for Staining Interior Woodwork
Follow these rules of thumb when experimenting, and you'll achieve a perfect finish every time
Remove hardware, such as knobs and hinges, before starting. A stain might change the color of the metal, and, unlike paint, you can't just peel it off when it's dry.
Make sure your workspace is well ventilated and relatively dry. Hot, humid days are not ideal for staining, as the airborne moisture interferes with drying. Use a fan or open a window to keep air circulating; if the weather's right, you can work outdoors. When using oil-based products, wear a respirator to avoid inhaling harmful fumes.
Know how water-based and oil-based stains differ. The right pick for your project is largely a matter of preference. Water-based stains are low in odor, clean up with soap and water, and dry a lot faster, so if you're not careful, they can leave lap marks or streaks from application. Plus, you'll need to lightly sand the wood between coats to knock back the grain. Oil-based stains have a longer working time, giving you more control over the finished look, but they release fumes and must be cleaned up with solvents. Both types have to be topped with a protective clear coat to safeguard the wood and the finish.
Always test first. The same stain-and-finish combo can look very different when applied to woods of different species and colors—and even to woods that are prepped with sandpaper of varying grits. "It's a trial-and-error process," says Norm. Test either in a small, unobtrusive area of your project, or make samples of the same species so that you can try out different options side by side. Use the same prep technique on your project and your samples.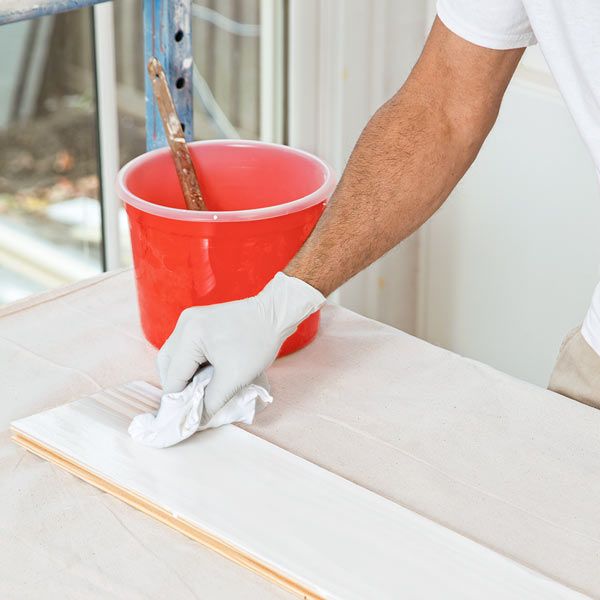 When in doubt, go lighter. Unlike paint, you can't cover up a dark stain with a light one. So if you're not sure if that chocolate-brown tone is really your thing, opt for a medium-brown one first.
Experiment with different application methods—a bristle brush, a foam brush, a sprayer, or even a rag. You can swab on stain with strokes that are parallel or perpendicular to the wood's grain. If using a rag, you can use light or heavy pressure, depending on how much color you want the wood to absorb. Which technique is best? "Whatever method gives you the look you want," says Norm. Keep notes on the techniques you use when making samples so that you can replicate the results when doing the project.
Always wipe off unabsorbed stain in the direction of the grain. Rubbing against the wood's grain or in circles could create uneven swirl marks or blotches. And never let unabsorbed stain dry on the wood, as it will just peel off once the solvent evaporates.
The longer stain sits on wood, the deeper the finish will be. You can also apply multiple coats of stain for the same effect, as Mauro did. To get a consistent look and color, use a timer to make sure you're wiping off the excess after the same interval for each area.
Use a stain and a finish with the same solvent. Oil-based finishes don't adhere to water-based stains if the moisture hasn't fully evaporated from the latter. Adding a water-based finish over an oil-based stain can work if the products are compatible, but it's better to leave this technique to a pro. Err on the safe side by choosing like solvents for both.