A level is a simple tool used to determine whether a surface is horizontal (level) or vertical (plumb). In its most basic form, a level contains a liquid-filled vial with a free-floating bubble on the inside.
When that vial is positioned so the bubble sits between a pair of parallel lines, it means your work is perfectly horizontal, parallel with the horizon and square to the earth's gravitational pull.
How Many Types of Levels are There?
A level's uses go beyond just getting floors horizontal and walls plumb; they are also indispensable for putting a perfect pitch on gutters, drainpipes, walkways, and patios.
A well-made level can do any of these jobs, but most tasks will be easier and the results more accurate when you use the right specialized level for the job.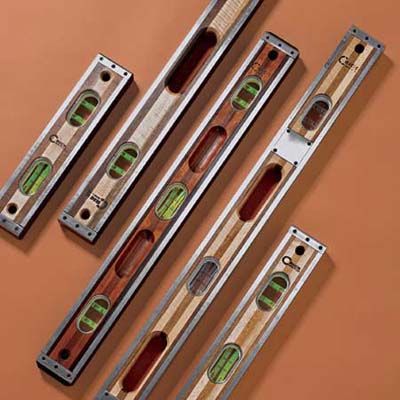 #1 Classic Hardwood Levels
Purists choose wood because they like the traditional look and feel, and masons appreciate that the protective linseed oil seal keeps mortar from sticking to the sides. Stainless steel bindings cradle alternating strips of cherry and maple on these Crick levels, which come in a range of stock lengths, from 8 inches to 8 feet. Custom levels are also available. Approx. $45 to $145, Crick Tool
---
#2 Digital Vial Levels – Great for Solo Jobs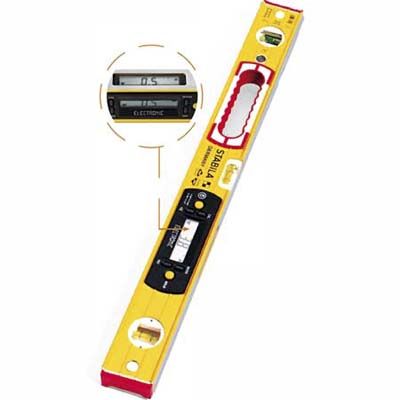 Eyeballing a bubble may seem a little crude once you've used this electronic level's LCD screens, located both on the side and the top edge (INSET). The digital displays, which are accurate to within .01 inch per foot, let you program a pitch into memory to get the angle of a gutter just right or store a measurement of rafter slope until you're ready to write it down. Turn on the "sound" feature, and you'll hear the device beep faster and faster until its shrill scream tells you you've hit level—nice for those solo leveling jobs when you can't see the display. 24 inches; Approx. $279 Amazon
---
#3 Level in a Box – Great for Hands-Free Jobs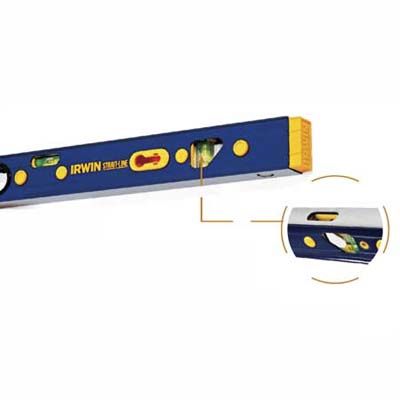 Box-style levels are more resistant to twists or bends than levels of the same weight and length shaped like I-beams. This aluminum one has a built-in mirror (INSET) that lets you check the verticality-testing plumb vial by looking through the level's edge rather than pressing the side of your head against a wall. For hands-free work, fit separately sold hooks and hangers into keyhole slots in the level's sides. 24 inches; Approx. $60 Amazon
---
#4 Six-Footer Level – Great for Installing Windows and Doors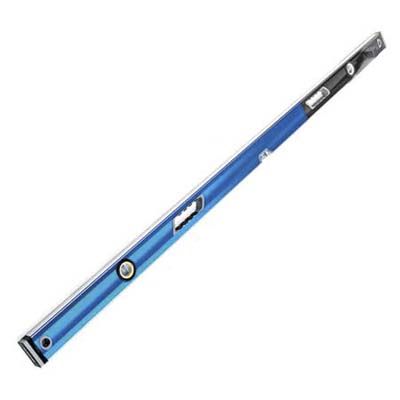 Because longer levels are inherently more accurate, this 72-inch tool is great for jobs that leave little margin for error: installing tall windows, hanging doors, or setting up a new pool table. Its blue vials stay visible in glaring sun, and their accuracy over 6 feet varies by less than ½ inch, or half the thickness of a dime. Accordion-shaped rubber end caps brace the ½-pound aircraft-aluminum frame against shocks. Approx. $63 Amazon
---
#5 Rotating Torpedo Level: Great for Measuring Pitch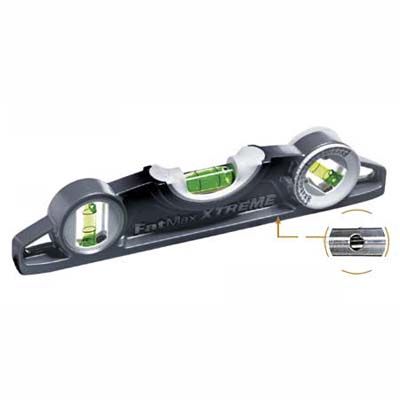 A big, rotating vial on the FatMax Xtreme torpedo level allows you to measure degree-perfect pitches.
Strong rare-earth magnets on a V-groove (INSET) let it grip round iron pipes as you adjust them for pitch or plumb. 12 inches.
Approx. $50 Amazon
---
#6 Post Level – Great for Installing Deck Posts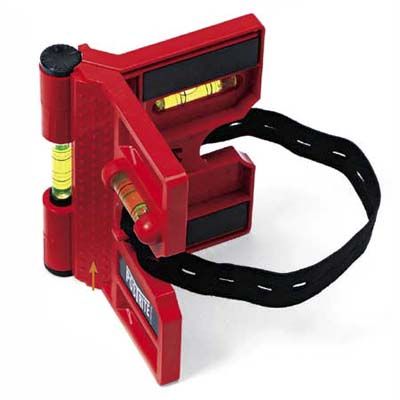 A 90-degree bend and an elastic strap hold the Postrite level against the corners of square-edged fence and deck posts, providing a fast, one-position check for plumb.
Magnets on the face hold it against metal fence posts. The tool also folds onto itself, taco-style, for easy storage. Approx. $10 Amazon
---
#7 Landscape Level – Great for Installing Walls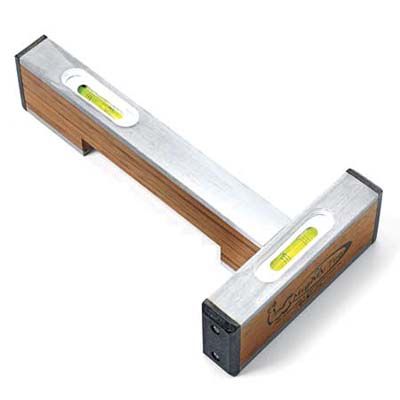 The beefy Mighty Tee has two arms, each fitted with a glass vial. When building, say, a raised planting bed or retaining wall, hook the notched arm over an interlocking masonry block and you can see at a glance if it's level along its length and from side to side.
Available in plastic or mahogany (shown); Approx. $48 Portaustin Level and Tool
---
#8 Line Level – Great for Leveling Patios and Walkways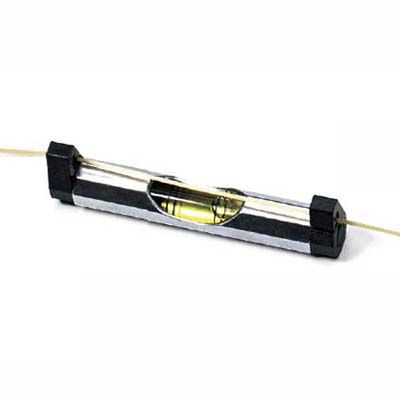 An age-old (and not highly accurate) tool for landscapers and masons, the line level hangs from a taut string to show if a course of bricks is on the level or a patio or walkway has the right slope.
These days, most pros use laser levels, but this one can get the job done and save you about $400 in the process. Approx. $2 Amazon
---
#9 Checkpoint Torpedo – Great for Installing Cabinets or Chair Rails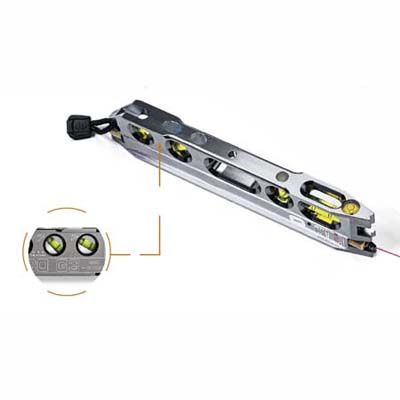 The solid aluminum Checkpoint torpedo is crammed with features, beginning with vials fixed at four different pitches: the usual 90 and 0 degrees, plus 45 and 30 (INSET). A bull's-eye level on top simplifies using it on a tripod to create a level line around a room with the built-in laser when installing cabinets or chair rails. Four rare-earth magnets on the bottom maintain a tenacious hold on ferrous pipes and surfaces. 7 inches; Approx. $70 Amazon
---
#10 – Vial Levels – Great for Gutters, Patios and Drain Pipes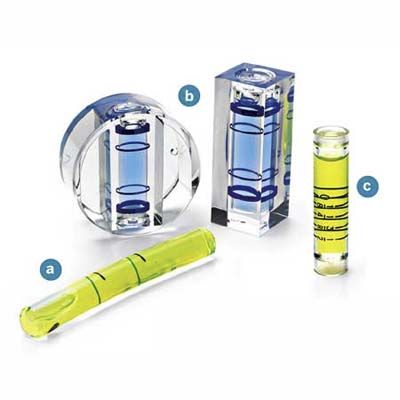 Perhaps it's no surprise that a Frenchman, Melchisedec Thevenot, invented the first spirit vial by filling a glass tube with wine. When he lashed the vial to a flat stone ruler in the 1660s, astronomers had an accurate tool with which to orient their newfangled telescopes. Today's vials are still full of booze, because alcohol doesn't freeze.
Vials these days are made out of glass (a), bored-out blocks of solid acrylic (b), or injection-molded plastic (c). Any one of these can do the job, but acrylic block vials are generally the most accurate and durable.
In addition to a bubble, a vial needs at least two lines approximately one bubble's length apart to show us when the level is, indeed, level. Some vials, such as the the Vari-Pitch (c), have extra lines to show gradations of pitch for spe­cialized applications like drain pipes, gutters, patios, or any other job that requires a precise but nonstandard slope.