Super-Slim Trimmers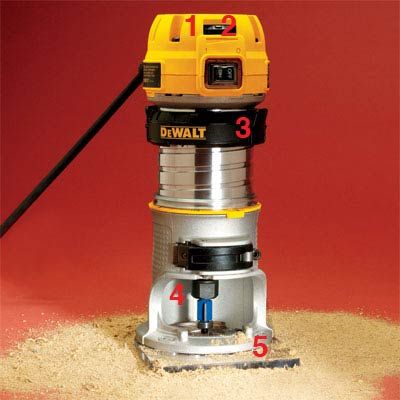 Why lug the work to your shop when you can take your router to the work? Whether you're fluting a fence post or rounding built-in shelves, these one-handed wood detailers make a big impression.
Variable-speed trim routers won't hog out as much material in one go as their big-boy cousins, but they'll handle just as many woods and nearly as many types of cuts. "In general, the larger the bit's diameter, the slower the router's speed should be, to reduce the chance of splintering and burning the wood." -Tom Silva, TOH general contractor
What to look for:
1. A flat top to stand up the router when you're changing bits.
2. Accessible knobs to adjust rpm.
3. Easy-to-use depth controls.
4. A base design with a wide opening to let you see the bit.
5. A choice of interchangeable base plates, such as this clear acrylic one that improves bit visibility.
Using a Router Safely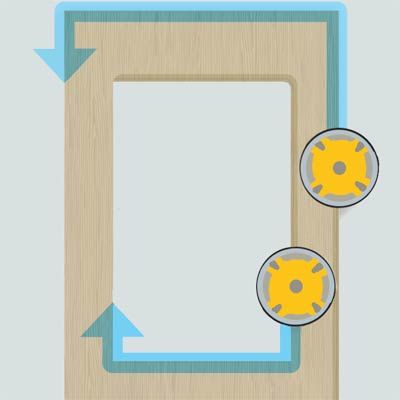 For control, you want the bit pulling itself into the wood and pushing back against you. Since all bits spin clockwise, just keep the work to the left as you push the router along. That means going clockwise for interior profiles. The caveat is, this approach can splinter end grain.
Technique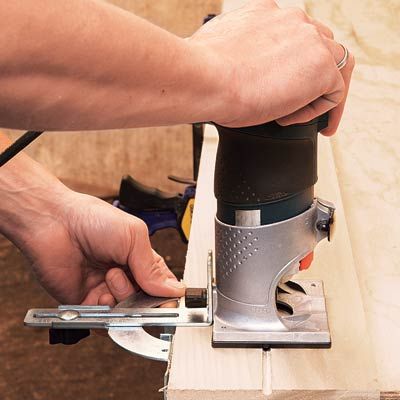 Three must-have skills that will help you get the most out of any router:
1. Fluting
Simply guiding the router's fence along the edge of your workpiece won't deliver pin-straight flutes. Start the cut from the end, then as you rout, keep constant pressure on the section of fence ahead of the bit. This assumes, of course, that the edge is straight.
2. Climb Cutting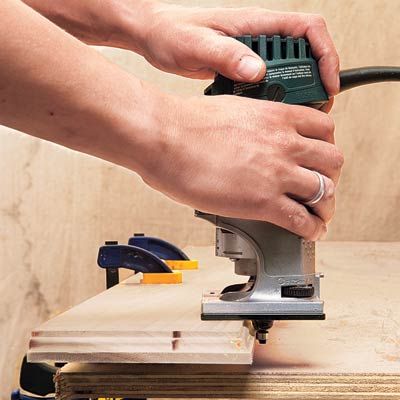 Remember what we said about router direction? True, but you can avoid splintering altogether if you first pull the router along the end grain, then do a traditional pass around the entire piece. Be careful: Use a two-handed grip, and anticipate the tool trying to buck.
3. Rabbeting
Set the bit depth to no more than 1/8 inch so that you don't strain the motor. Then, using the fence, make multiple passes until you reach the L-shaped groove's final depth. A rabbet should be no deeper than one-third of the board's total thickness.
DeWalt DWP611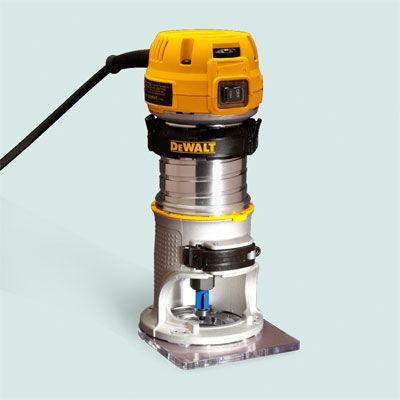 About $150, 4.1 pounds; dewalt.com
An ingenious spiral groove threads the motor housing through the base in precisely controlled increments when you twist the black ring. The result: spot-on depth adjustments. We also love how the silky motor purrs to life when you hit the sealed on/off switch. The aluminum base's textured surface makes for a comfy grip; the large, LED-flooded opening makes it easy to monitor your progress; and a pronounced lip keeps fingers from creeping toward the bit. Profiling edges is easy with the included offset base plate, but, unfortunately, you'll need your own straightedge for interior routing—there's no fence. Bonus: The tool is also available in a $250 kit with a plunge base, which lets you start and stop routs anywhere on a workpiece.
Fine print: 1¼ hp, 7 amps, 16,000-27,000 rpm, 9 11/16-inch-circumference grip, 1½-inch depth range.
Ridgid R2401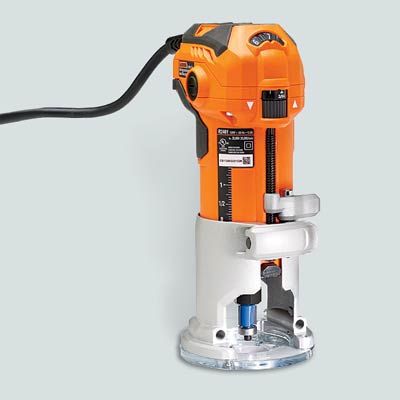 $100, 3.8 pounds; ridgid.com
The shortest, most stable router in the bunch is also the thinnest and surest to handle. A thumb dial moves the motor along a machine screw to easily lock in depth adjustments. Though it jerked a little on start-up, this tool was the best at ushering shavings out of the base as you work, thus maintaining a clear view of what the bit is doing. Kit it out with the sturdy fence and the square base plate (not shown), and it aces straight cuts.
Fine print: 1 hp, 5.5 amps, 20,000-30,000 rpm, 8-inch-circumference grip, 1½-inch depth range.
Bosch Colt PR20EVSK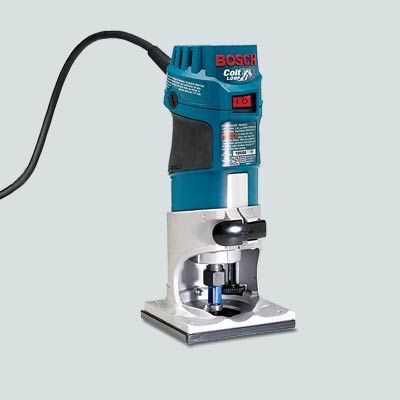 $120, 3.3 pounds; boschtools.com
Hold on tight, because this long-corded cutter bucks a bit when you fire it up. At least the rubber sheathing provides a good grip. Separate macro and micro adjustments facilitate fine-tuning depth. The fixed base is notably wide and stable, but all that metal obscures your view of the bit, and there is no LED. Its sturdy fence makes easy work of cutting grooves, like flutes and dadoes.
Fine print: 1 hp, 5.6 amps, 16,000-35,000 rpm, 8 15/16-inch-circumference grip, 1 3/16-inch depth range.
Craftsman 28212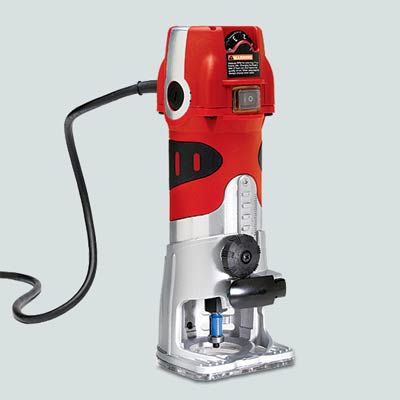 $90, 4.4 pounds; craftsman.com
The only tool here that comes with a two-handed base plate (not shown), this is your choice for inlay work. That said, the base's claustrophobic design obscures the clear acrylic base plate and blocks most of the light from the two LEDs—right along with your view of the work in progress. The motor starts smoothly and runs quietly, but a slightly clunky wheel design makes depth adjustments cumbersome, a serious liability for any router.
Fine print: 1 ¼hp, 6.5 amps, 18,000-28,000 rpm, 8 5/8-inch-circumference grip, 1-inch depth range.
Useful Bits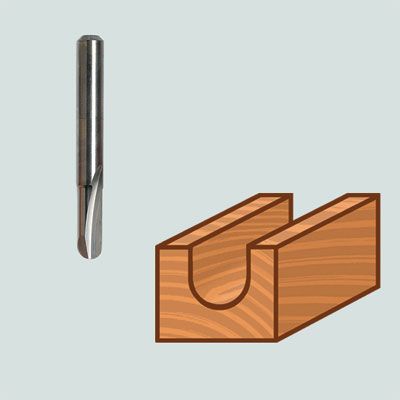 Compact routers take only bits with 1/4-inch shanks, but there's a universe of them out there. Start your collection with these four.
Core box
Use it to mill round-bottomed grooves, called flutes, for sign lettering and casing. 1/8-inch solid carbide, about $25; cmtusa.com
Bead and Cove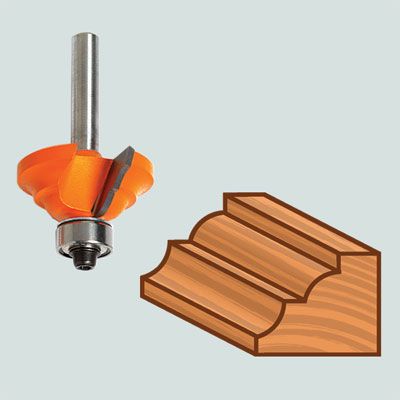 Dress up edges with this classic profile, all in one pass. 5/32-inch radius, carbide-tipped, about $40; cmtusa.com
Rabbet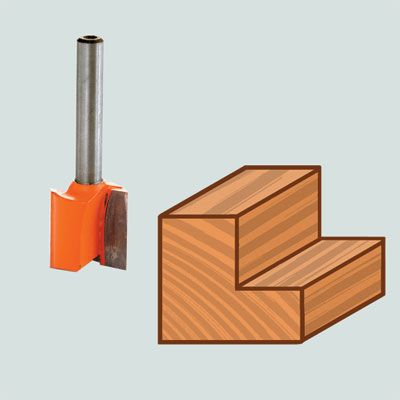 Use this bit to groove the rear edges of casework, creating a lip to glue and nail the back panel in place. 3/4 inch wide, carbide-tipped, about $25; cmtusa.com
Roundover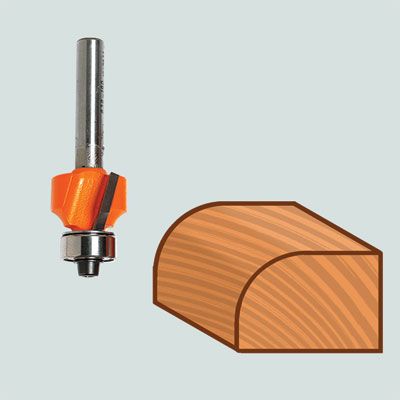 Knock down square edges so that they don't easily splinter using a bit fitted with a bearing that rides along the edge for a consistent cut. 1/8-inch radius, carbide-tipped, about $35; cmtusa.com