A right angle is the standard by which all carpenters build. When corners meet at 90 degrees, drawers fit snugly, windows close tight, and walls stand straight. The key to all this is a square. Most provide a fixed 90-degree angle in various forms, and some can help copy or draw other angles.
"The first square you buy should be a 12-inch speed square," says Tom Silva, This Old House general contractor. "It's versatile and unbreakable. It gives you 45- and 90-degree angles, it's also a ruler, and it's not hard to measure other angles with it, too."
Tom grew up using a traditional L-shaped framing square, which he still prefers for laying out a pattern rafter or a stair stringer. And anytime he's working in the shop, he keeps a combination square, with its sliding head, close at hand for gauging lines. On the job, though, Tom does most routine carpentry with a couple of speed squares. "I use the 12-inch one as a crosscut fence for my saw and router, and the 6-inch one is always in my apron pocket — it's especially handy when I'm up on a ladder."
You'll find many types of squares on the shelf at the home center, but you don't need them all. Use the basic models we show here whenever you measure and cut; add specialty squares, such as a drywall square or a sliding T-bevel, as your current projects require.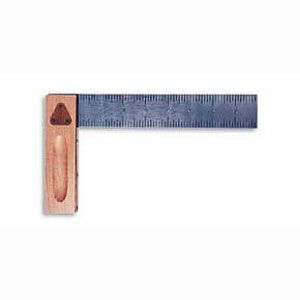 Types of Squares
Sliding T-Bevel
The movable blade allows you to copy an angle and transfer it onto moldings, lumber, or other materials. It won't measure the angle, but that doesn't matter—a match is what you're looking for. You can use a sliding T-bevel together with a compass to bisect angles for mitering,
Drywall Square
With its 4-foot blade, a drywall square is ideal for laying out cut lines on standard-size sheets of plywood, drywall, and other board materials. You can also use it as a guide (fence) when cutting drywall.
Try Square
Cabinetmakers like this fixed square for checking corners and edges, but for most carpentry tasks, a combination square is more versatile.
Framing Square
Consisting of a long blade and shorter, narrower tongue, this L-shaped square comes in handy when marking up wide boards and sheet stock or checking their squareness. It's also good for laying out rafters and stair stringers. Ruler increments (in 1⁄8, 1⁄10, 1⁄12, and 1⁄16 inch) are printed on both the inside and outside edges; be careful to read the correct side and measurement.
Speed Square
The base of this compact right triangle has a flange that you can butt against a workpiece edge, allowing you to draw a perfectly square cut line or 45-degree miter, and to use the square as a fence for crosscutting. The diagonal edge has markings for laying out rafter, roof trim, and stair angles.
Combination Square
Combination squares are good for laying out lines for ripping, crosscutting, mitering, and making notches. The head, with fences at 90 and 45 degrees, slides along the blade and locks, allowing you to transfer a distance accurately and hold it while you draw a line with a pencil.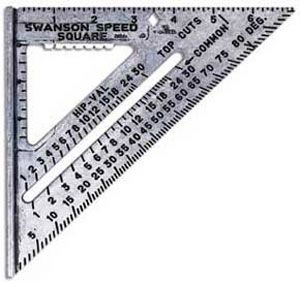 Square Tips and Tricks
Checking a square for accuracy
Before you use a framing square (or a combination square or try square, for that matter), make sure it's accurate. Align the tongue on a straightedge and draw a line down the blade. Then flip the tongue over along the edge, and draw another line down the blade in the same place. If the lines are parallel, the square is true, but if they make a narrow X or V, it's off.
Marking a board along its length
Make quick and straight lines for ripping a board or for locating a line of holes for shelf standards with a combination square. First, adjust the square so the blade projects the correct distance from the head. Then hold your pencil against the end of the blade and slide the body of the square along the edge of the board. This also works with a speed square.
Sawing square
Use a 12-inch speed square to guide your circular saw when crosscutting. With the saw switched off, position it on the layout line, then slide the square up to the saw shoe. Tom holds the square in position with one hand, but if that's not comfortable, you can clamp the square in place to free up both hands for guiding the saw.
Cutting drywall to size
Align the drywall square so the top of the
T rests on the board's edge, and hold the blade with your toe. With a utility knife, score through the paper on the front, snap the sheet back to make a V, and reach over to score the paper in the valley. Now snap the sheet the other way to break it free, and use the square to mark the stud centers.
Bisecting an angle
When mitering trim, you often need to divide an unusual angle in half. Copy the angle onto scrap wood with a sliding T-bevel. Draw an arc with a compass set on the tip of the V. Then draw intersecting arcs from the two points where the first arc hits the angle's sides. Bisect the angle with a line from the V to the intersection, copy it with the sliding T-bevel, and miter away.
Finding the center of a circle
Start by putting the corner of a framing square anywhere on the edge of the circle. Next, mark where the blade and tongue pass out of the circle. Connect these two dots with a straight line, then move the square and do it again. Where these two diameter lines cross is the circle's center.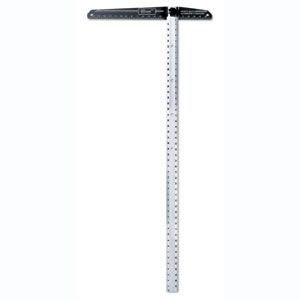 Where to Find It
Siding T-bevel:
7 1/2-inch Rosewood Square
#24N03.02 by Garrett Wade Co., Inc.
New York, NY
800-221-2942
Speed Square
Swanson Tool Co., Inc.
Frankfort, IL
815-469-9453
Drywall Square
Craftsman #39572 by Sears, Roebuck and Co.
Hoffman Estates, IL
800-549-4505
Try Square
8-inch Solid Hardwood Try Square # 46-209
Stanley Handtools
New Britain, CT
800-262-2161
Combination Square
Craftsman 16-inch Combination Square #39681
Framing Square
Swanson Tool Co.