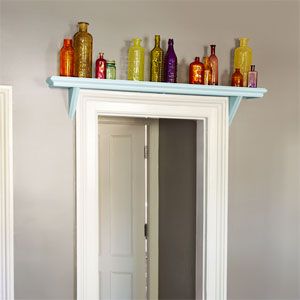 Sometimes a genius solution is right in front of you—all you have to do is look up.
Taking inspiration from shelves spied above thresholds in colonial-era homes, we topped this doorway with a decorative ledge—perfect for showcasing a collection, like these colorful bottles.
We simply cut a 2×8 to length and wrapped it with upside-down base cap for a beefed-up profile that complements the door casing. Then we cut triangular brackets from a 2×6, faced them with astragal molding, and attached them with screws. Screwing the shelf into the door casing from above discreetly secures it.
Voilà—you've got display space that's worthy of admiration all on its own.