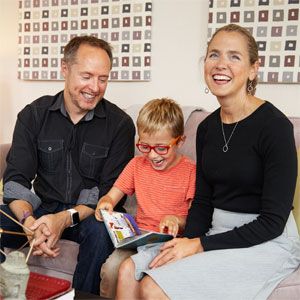 Meet the Johnsons—Jason, Sue, and son Jake—and see how app-controlled gadgets are making life at home easier (even for their dog, Max) while cutting energy costs. What works for them can work for you, too.
See which 14 app-controlled gadgets they are using in their home.
Jason Johnson was at work one day when an app on his smartphone alerted him that his garage door was open. He knew that his wife wasn't home and anyone could easily grab their bikes or even try to break into the house. So he tapped a button within the app, and the garage door—several miles away—closed and locked. He switched apps and checked the live feeds from three different video cameras for intruders in his modest 1907 Edwardian home, switched apps again and made sure the front door was locked. Satisfied, he peeked at another feed to see if his dog was at his food bowl. Too bad: If Max had been there, Jason could have played a remote game of laser tag with him.
Like any decent San Francisco–based tech entrepreneur, Jason owns a smartphone crammed with apps, but 25 of them are dedicated solely to the 1,500-square-foot smart home he shares with his wife, Sue, and young son, Jake.
More: How to Smartify Your Home
Thanks to the apps and the Internet-connected devices they talk to, he can—from anywhere with cell service—control pretty much every system in the house, including locks, lighting, heat, music, motion and smoke detection, plant irrigation, video surveillance, and, yes, canine feeding. Jason is a poster child for the smart-home revolution, and his involvement in tech and zest for tinkering have given him a decade's head start on the rest of us—analog homeowners left to grapple with questions like, Do I really need to control my Crock-Pot with my smartphone? Think of him as a friend from the immediate future. For starters, he can tell us what works and what doesn't.
"He can't resist," says Sue. She's looking at him, not without admiration, across their L-shaped kitchen. "As soon as a device shows up, he opens the box and he's working on it."
He shrugs, pressing a button to make a cup of coffee from a machine he plumbed so that it never needs refilling with water. "First and foremost, it's about convenience," he says. "But then there's whimsy and magic. It's just cool when you come up to your door and it opens for you without a key." Easy for him to say: This is a guy who, when he couldn't find a hands-free dead bolt he liked for his front door, started a company called August that makes smart locks.
More: Smart-Home Door Locks
But aside from whimsy, Jason says he installed most of the smart home electronics to save energy—and money (and you can do the same). Lights that automatically switch off, a thermostat that ramps down when no one is home, and water sensors that monitor plant irrigation are all conservation measures that hark back to Jason's frugal childhood. "When I see a light on, water flowing, or heat coming on, to me, that's money," he says. "It's in my DNA not to waste anything."
Johnson has been tinkering with electronics since he was a child, growing up in Portland, Oregon, with a single mother in a house where if broken things weren't fixed, there was no money to replace them. Repairing and jury-rigging things brought some order and enchantment to a hardscrabble childhood. He says, "I was fortunate to have the grandfather every little boy should have, with a basement crowded with treasures: soldering irons, motors, half-broken things, and millions of tools."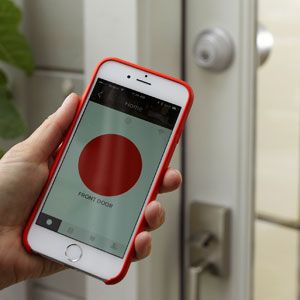 When he and Sue moved in, 10 years ago, Jason immediately set about replacing the 1980s track lighting and installing in-wall speakers, climbing into the attic with a friend to run the wires. "They'd come down covered in black soot, like they'd been crawling in the fireplace," Sue says. Jason figures a coal stove exploded up there at some point.
Though his smart-home journey began with automated lighting, it has branched out to more vital aspects of family life. Like security. Using door locks, an HD video doorbell, and HD cameras all wirelessly connected to the Internet, he and Sue can monitor the house more readily than via a monitored alarm system, while avoiding a monthly fee. They can, for instance, interact with the UPS guy when he rings the doorbell, unlock the front door, watch him set the package inside—thank him—and lock the door after he closes it. "I don't feel particularly at risk in San Francisco, and we don't have any valuable jewelry or fancy art in the house," Jason says. "All I care about is keeping my family safe when I'm not here. I can check that the door is locked from my hotel room, and that gives me peace of mind."
More: How to Hack-Proof Your Smart Home
Until now, to get such functionality, a homeowner would need to hire a pro to install a proprietary system known mostly to the gated-community set, or sign a contract with a security company or cable provider for a subscription-based monitored system. But thanks in part to companies in the mold of August, homeowners can choose à la carte from a marketplace of ever cooler devices, some of which talk to each other (and some of which don't).
Jason created the August Smart Lock when he realized that, between several housekeepers and the contractors renovating the basement, there were lots of keys floating around. With his creation, he or Sue can use their phones to e-mail an electronic key to anyone and also delete it—if, say, their housekeeper ever stops working for them.
One night, despite all the locks and cameras and sensors, the Johnsons did have intruders. Sue heard a ruckus in the kitchen and tiptoed in, her heart pounding—to find four raccoons eyeing the dog's dish like Mafia dons. They'd come in through the dog door, which, she and Jason now observed, was wide enough for a person to crawl through. After anxiously ushering them out with a broom, Jason set about finding a better solution. He installed a kick-proof door that slides up and down with a whoosh, via a sensor in Max's collar, whenever he approaches. Since then, says Sue, "Letting Max out is just one less thing we have to worry about." And if there were ever a fire, they'd know he wouldn't be trapped.
Despite Jason's curiosity to try new gadgets, they keep only those that simplify their lives. That burbling water fountain for the dog, which leaked, damaged the floor, and got moldy inside? Banished to the basement, alongside a collection of other smart-home flops. The gadgets that remain must be intuitive to operate. "It's important that anybody who comes into the house can still use the lock, the lights, and the appliances without having special knowledge or training," Jason says. The light switches and thermostat work like normal ones—they just do more. A visitor can twirl the thermostat up or down without knowing it's on a schedule, monitoring whether anyone's home.
More: Say What? Translating Smart-Home Geek Speak
The one aspect of the household that seems to be immune to the smart-home promise is the media room. The Johnsons' TV console bristles with every kind of over-the-top streaming device, from Apple TV to Roku, yet they still pay good money every month for cable. "It's a source of frustration," Sue says about the array of content sources. Particularly when Jake wants to watch How to Train Your Dragon and nobody can remember how to access it.
"A 6-year-old wants to watch it now," says Jason.
"There's always the laptop," says Sue, sighing.
Jason nods and offers up a radical alternative: "Just grab a book."
He's only half joking. In his role, Jason is acutely aware that whatever the lure of the smart home, if the gadgets don't work, people will be perfectly happy to go on living their lives as they did before. You remember: back when the only thing connected to the Internet was the computer.