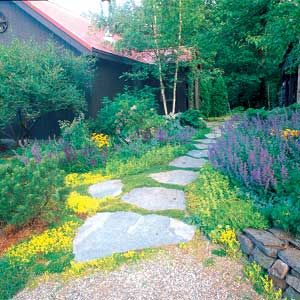 All gardens have paths, planned or otherwise. A well-designed one keeps your feet dry and provides safe, easy access to your house. A great one does more. Whether it directs you and your guests under an archway of jasmine or around a bend to a reflecting pool, a path that works makes the garden more inviting. A successful path also shapes and defines garden areas as it connects unrelated parts to create a coherent whole. "One of the most important functions of a path is to link the house to the garden visually as well as physically," says Vermont landscape designer and author Gordon Hayward.
Here's Hayward advice on routing a path, determining its size and choosing among surface materials that include everything from mulch, which you can get for free, to relatively expensive cut stone.
PLOTTING YOUR PATH
How well a path works depends on how you route it. Hayward suggests starting with the most essential type, the primary path. This kind leads to or from the front and back doors, and often connects with the street or sidewalk.
Hayward advises keeping a path near the house straight to extend the architecture of the building, although this is not a hard-and-fast rule. A straight path is easy to follow and predictable, and produces a formal look, which Hayward believes is appropriate near the house. But you can soften the formality and add interest by planting along the edges of a path once it's completed.
A secondary path branches off from a primary path and usually extends farther into the landscape—perhaps to a vegetable garden or secluded bench. Because a secondary path doesn't see as much foot traffic as a primary path, you can make it narrower and less obtrusive. You can also give it gentle curves to make it more casual and level out a gentle climb. "Be sure curves appear natural and logical, not willy-nilly," Hayward warns. Three ways to do that: Curve the path around an existing tree; set a garden feature, such as a boulder or a shrub, inside it; or follow the dripline of trees—the area that's just outside their branch tips.
Also consider routing a path to create interesting visual illusions:
•A path that curves and disappears around a corner draws attention to what lies beyond. Use a meandering path to alternately reveal and conceal special plantings, a garden sculpture, a striking view and other features.
•A straight, narrow path can make a garden appear longer, especially if the end point is hidden.
•A curving path, or one laid on the diagonal, draws the eye from side to side and counteracts an elongated appearance.
•In a yard dominated by lawn, a stepping- stone path breaks up and adds interest to the expanse of green, and protects the grass from wear and tear.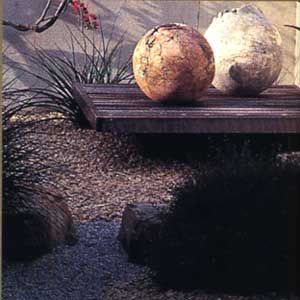 HOW WIDE?
The size of a path should relate to its use. A primary path should be at least 48 in. wide so two people can walk side by side. Hayward also suggests that the width correspond to the dimensions of an architectural element of your house—the combined width of the front door and its trim, for instance. "That helps ensure the house and path relate to each other," he says.
A secondary path is more likely to be used by one person at a time, and should be narrower—30 to 36 in. wide. Narrower still are what Hayward calls tertiary paths, which are the most casual and least traveled. An example is a narrow bark-mulch path leading into a wooded area behind the house. Varying the width of this type of path adds interest to the walk.
Be sure all paths are wide enough to accommodate your outdoor equipment. For example, a lawn mower or garden cart requires about 3 to 4 ft., while a tractor may need 5 ft. or more. When in doubt, err on the wide side to ensure paths are comfortable, safe and easy to follow. Also be sure paths are at least an arm's length away from walls so people don't have to walk right up against them.
THE BEST MATERIALS
Choose the surface next. Soft surfaces include a variety of mulches and turf. Hard surfaces, including brick and stone pavers, offer variety and good looks.
Consider safety, practicality, appearance and cost when choosing a surface material. Hayward's advice:
•Complement your house. A path that fits in visually is made of materials that blend with the style and materials of the house and surrounding structures. That doesn't mean you can't mix contrasting materials to perk up a path. Mixing also lets you blend expensive materials, like cut stone at $3 to $4 dollars per square foot, with less expensive ones, such as brick, at $2 to $3. But too many unrelated materials in the same area tends to look confusing.
•Think purpose and location. A primary path that sees heavy traffic must be made from a material that's set firmly in place and provides an even, nonslip surface. Loose, informal materials, like crushed stone or bark, are often inappropriate near an entryway because people track them inside. They're also hard to shovel when it snows, though they're fine for a casual tertiary path that leads through a woodland or vegetable garden.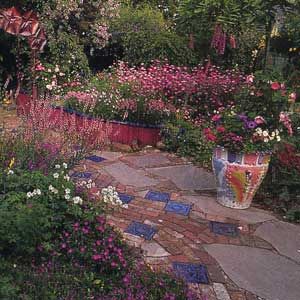 7 PLEASING PATH SURFACES
Gravel and crushed stone provide a low-cost, fast-draining surface. These nonslip materials come in a range of colors and sizes, and are also easy to install. Here, a meandering path of gray stones narrows between small boulders to focus attention on the two urns just beyond. Gravel 3/4 in. in diameter or smaller is easiest on feet. Edging is required to keep the stones from traveling, while occasional raking will keep the surface free of leaves and twigs. Gravel is sold in bags and in bulk by the ton or cubic yard. Bulk stone costs less than bagged, although delivery is usually extra. Prices vary by stone type. You'll pay anywhere from $8 to $80 or more for a ton, enough to cover about 100 sq. ft. at a depth of 1 1/2 to 2 in.
Mixed materials like the brick, ceramic tile and broad stones that compose this bold path, create a unique look. This path is a distinctive feature in itself. Yet the repetition of path colors in garden ornaments, bed edgings and flowers helps all elements work together. More traditional paving combinations include stepping stones and gravel, or brick with pebbles. Test materials you're considering by laying out samples in your garden to see how they work together and with the surroundings.
Brick can be laid in countless patterns, including the intricate herringbone design that makes up the straight path shown here. It's relatively affordable, requires little maintenance and is easy to work with because of its uniform shape. Choose a basic end-on-end pattern like running bond or stack bond for curved paths to avoid extensive brick cutting. And always use paving bricks, not wall bricks. Besides being solid, paving bricks are harder and more durable—especially in cold or wet climates. For safety's sake, choose bricks with a rough surface. And install a stout steel or plastic edging to contain the bricks and prevent them from spreading and shifting under foot. Paving bricks measure about 2 in.thick 5 4 in. wide 5 8 in. long. Costs range from 45 to 65 cents each, or $2 to $3 per square foot.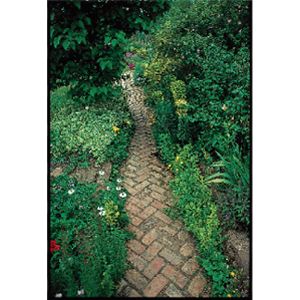 A mulch path, including bark, pine needles or the fresh sawdust shown here, is best for an informal path in low-traffic spots. Mulch provides an earthy, casual look and feel. Choose one that fits its environment—a bark-mulch path in a woodland planting or pine needles through a planting of evergreens, for example. Organic mulches eventually decompose and work into the soil, so you'll need to add more periodically.
Stone is an unusually elegant path surface. It's also expensive and among the most challenging to lay. You can set stones loose in sand or in concrete with mortar joints, as shown. A mortared path should be done by a pro, because it will crack unless properly installed. Stone, sold by masonry suppliers, is available in irregular shapes or cut to uniform size—typically squares or rectangles sized in 6-in. increments. Native stone is most likely to blend well with the surroundings. Expect to pay $3 to $4 per square foot.
A grass path of uniform width, shown here, gives the feeling of walking through a single garden rather than through two separate areas of the yard. The even green color contrasts with adjacent flowering plants. A grass path is inexpensive and easy to install using seed or sod. But regular weeding, watering, feeding and mowing are required. And even with the best of care, grass struggles to grow in deep shade and high-traffic areas with compacted soil as well as beneath trees that compete for water and nutrients. A grass path can be formed to most any size and shape. Just remember to make it wide enough to mow easily.
PUTTING IT DOWN
The same principles apply when installing most solid materials, including brick, concrete pavers and cut stone. Whichever material you choose, keep these essentials in mind:
•Most paths, excluding grass and stepping stones 4 to 5 sq. ft. or larger, require a base of coarse crushed stone to stay level for years to come. Soil type and climate determine how deep to make it. A landscape contractor or stone dealer can provide suggestions for your area. In general, figure on a base 4 in. deep in mild-winter climates with well-drained soil, and 5 to 8 in. deep if you live where the ground freezes.
•Improve drainage in heavy, clay soil by placing a 4-in.-dia. PVC drainpipe down the center of the path, enclosed within the gravel base. Drain holes should face down.
•Prepare your path so water drains off the surface. You have two options: Install the path so the finished surface is 1/4 to 1/2 in. above the adjacent grade, or slope the path away from your foundation or driveway 1/4 in. per foot of path width.
•Apply a leveling course—usually 1 to 2 in. of sand—over the base so you can move a stone or brick around until it's nested just right. An optional layer of landscape fabric between the gravel base and sand prevents sand from filtering through the gravel.
•Use professional-quality masonry edging to hold bricks, concrete pavers and small stones in place. Edgings, which are commonly aluminum, steel or plastic, cost $13 to $15 per 7 1/2-ft.-long section.
•Even if you don't plan on lighting the path now, install electrical conduit just above the base in case you decide to add it later. That allows wires to be retrofitted easily and provides added protection for wires on a low-voltage lighting system.
Building a garden path is mostly common sense. But it does require some skill and a lot of elbow grease. So don't hesitate to seek advice from pros early in the planning process. Check the yellow pages under landscape architects, contractors and designers. These pros will answer questions specific to your site or handle the entire project.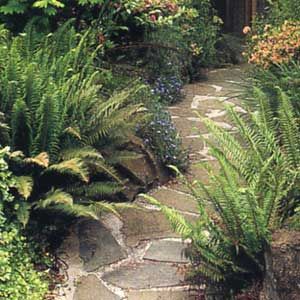 Where to Find it: Halquist Stone
23564 W. Libson Rd.9
Sussex, WI 53089
800/255-8811
Nationwide supplier of stones, including Wisconsin's Lannon limestone Quikrete
Box 2836
Norcross, GA 30093
800/282-5828.
Quikrete offers Walkmaker concrete molds, packaged concrete and cement color Scepter Corp
170 Midwest Rd.
Scarborough, ON, Canada M1P 3A9
800/387-6018.
Scepter offers PathMate concrete molds and Odjob rolling concrete mixer Reference books on paths: Garden Paths: A New Way to Solve Practical Garden Problems
by Gordon Hayward
Houghton Mifflin Co., New York, NY
1998 Garden Paths, Inspiring Designs and Practical Projects
by Gordon Hayward
Camden House Publishing
1993 Resources on materials and construction: Brick Industry Association
11490 Commerce Park Dr.
Reston, VA 22091
703/620-0010 Concrete Paver Institute
2302 Horse Pen Rd
Herndon, VA 22071-3499
703/713-1900 Portland Cement Association
5420 Old Orchard Rd.
Skokie, IL 60077-1083
708/966-6200