Affiliate Disclosure:This Old House's Reviews Team is committed to delivering honest, objective, and independent reviews on home products and services. To support this business model, This Old House may be compensated if you purchase through links on our website.
Crunching leaves, brisk morning air, and vibrant trees are some of the many endearing qualities of autumn that people know and love. To capture that fall magic, The This Old House Reviews Team is here to help you bring autumn's essence into your home. Discover our list of some of the best fall decor items available on Amazon to help create a comfortable and inviting living space that welcomes the fall season.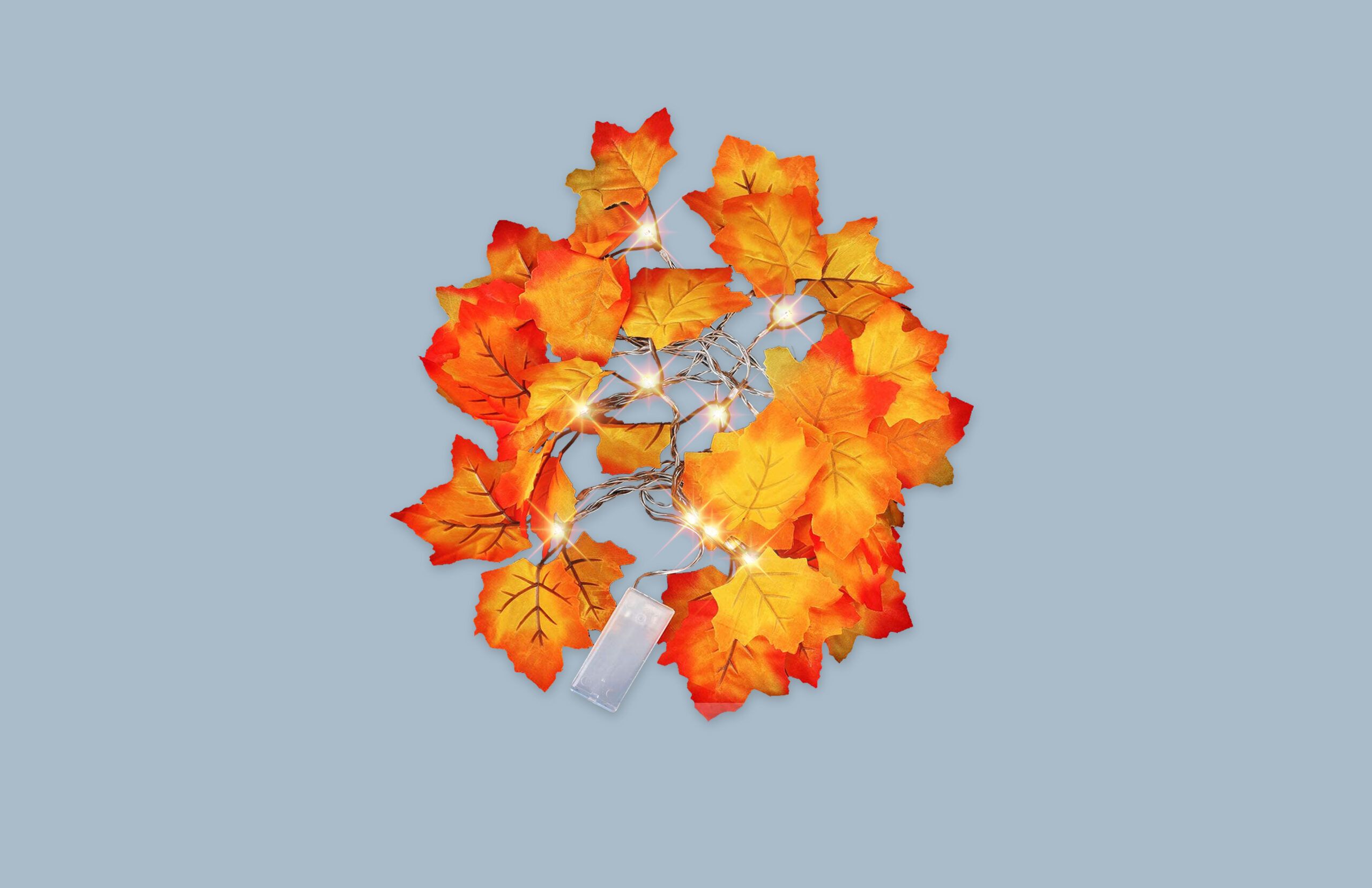 This versatile piece of home decor fits nicely around furniture, on tabletops, railings, doorways, porches, or anywhere else around the home. The 20 bright LED lights spread throughout the 8.2-foot garland strand add a cozy touch to any indoor living area. The lighted garland is also flexible and easy to bend and shape to wrap around furniture, banisters, and more.
---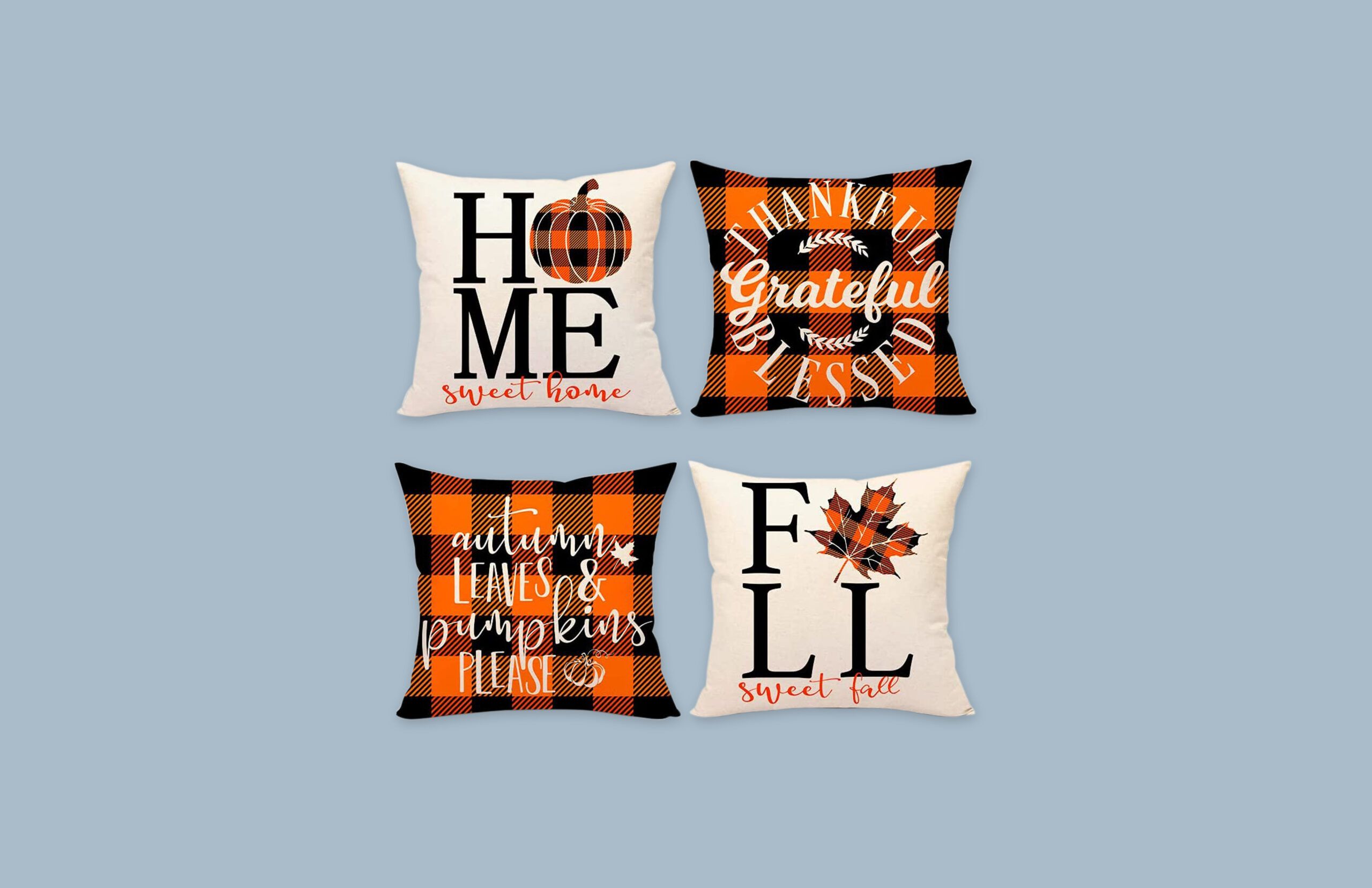 These 18×18-inch pillow covers instantly transform your throw pillows into a functional fall decoration. The set includes four unique pillow covers, each with its own heartwarming message. The 100-percent cotton linen material is machine-washable in cold water using a gentle cycle, so they're easy to care for in case they get dirty.
---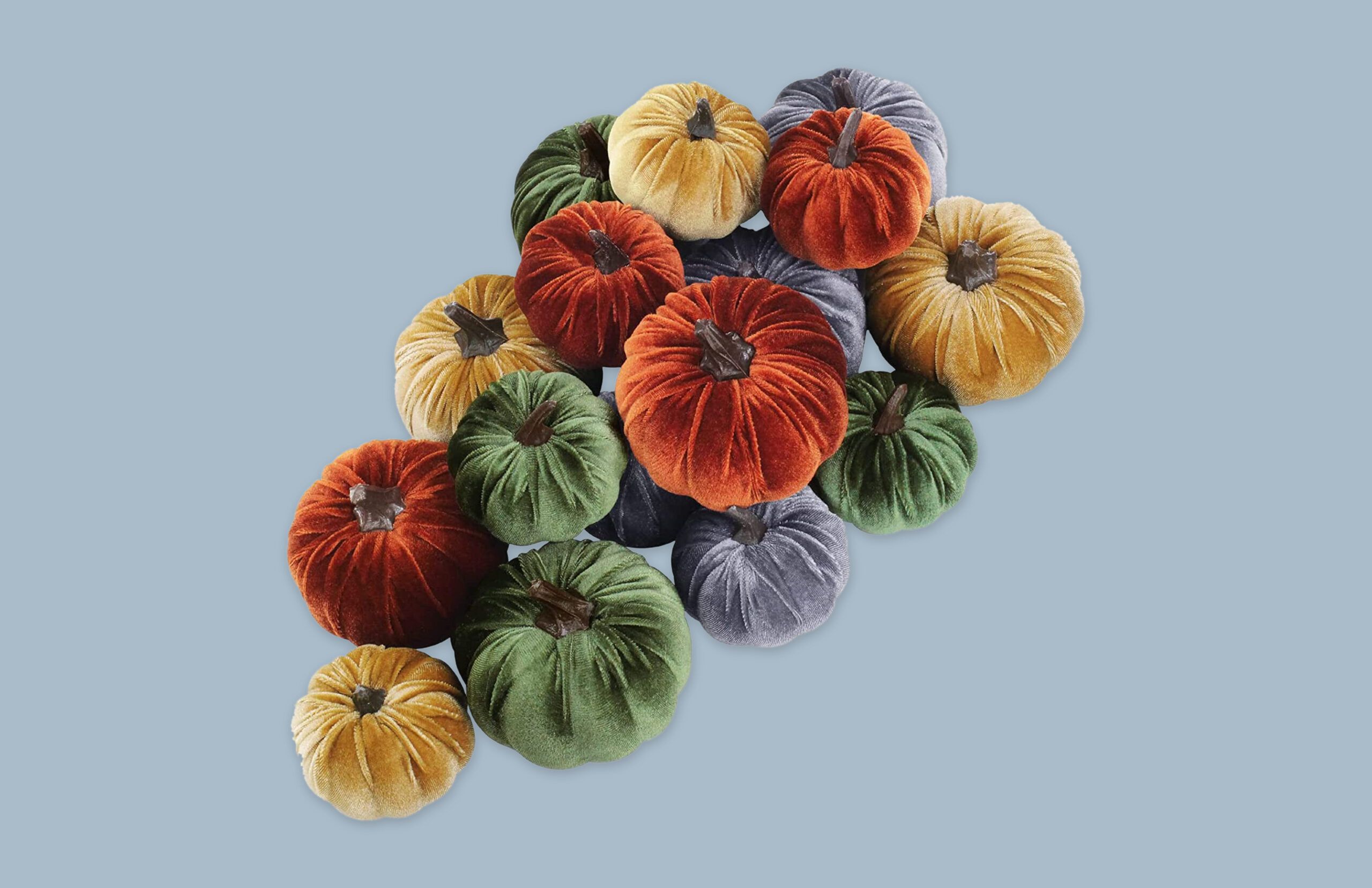 Pumpkins are a popular fall icon, and with this set of decorative velvet-like mini pumpkins, you can tastefully place 16 individual pumpkins in and around your home. The pumpkins come in four different colors, with each color consisting of four similarly-sized pumpkins.
The traditional seasonal colors of rust, gold, olive, and gray match each other nicely and also complement any wreath, table decor, or other fall decorations for versatility.
---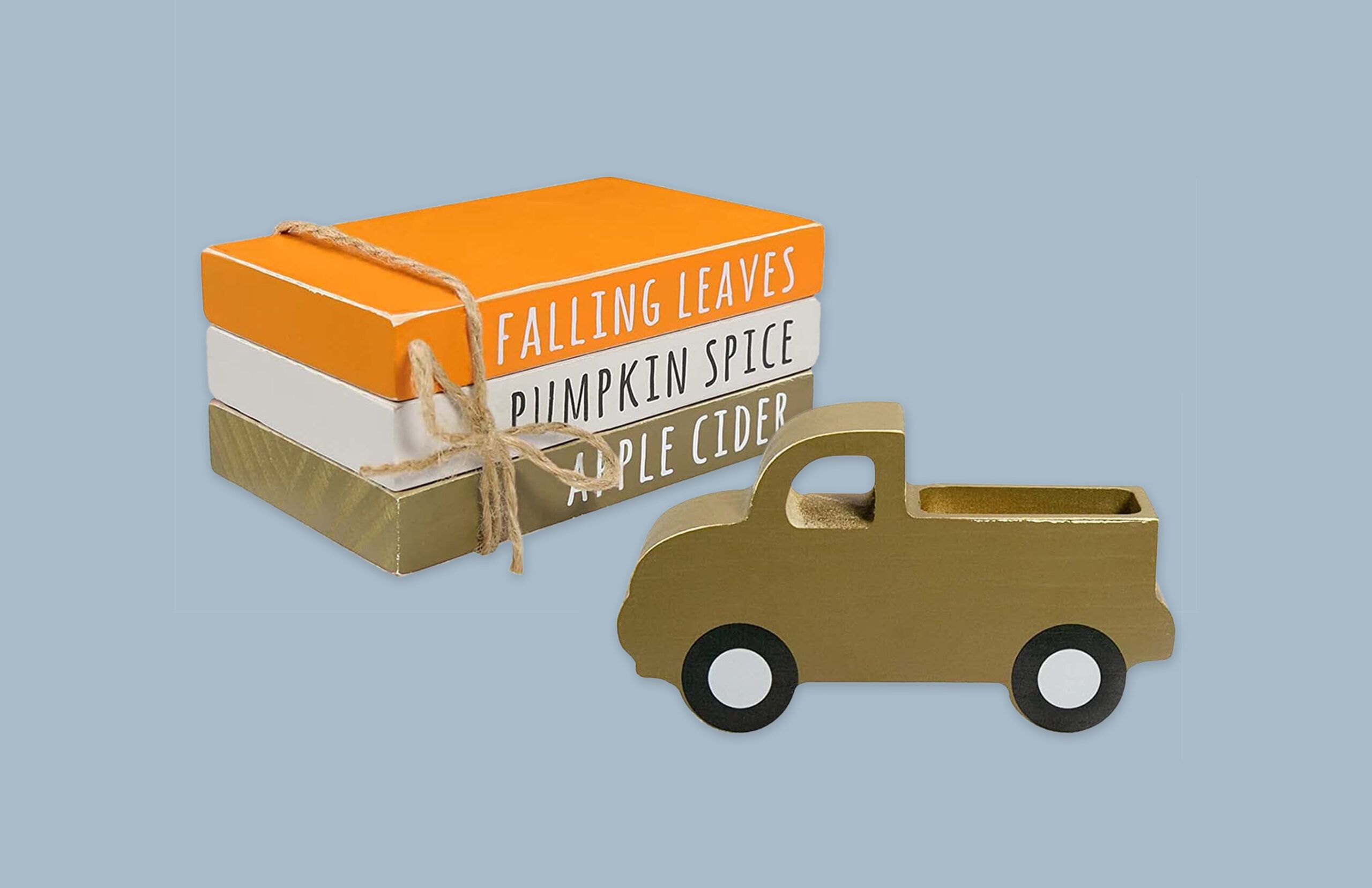 Serving as a paperweight, table centerpiece, or decoration to occupy space on a bookshelf, this charming farmhouse-style decoration is an easy way to make your home feel cozy and inviting throughout the autumn months. The set comes with a mini book bundle, a piece of twine rope, and a pumpkin pickup truck, and each item is made of durable wood.
---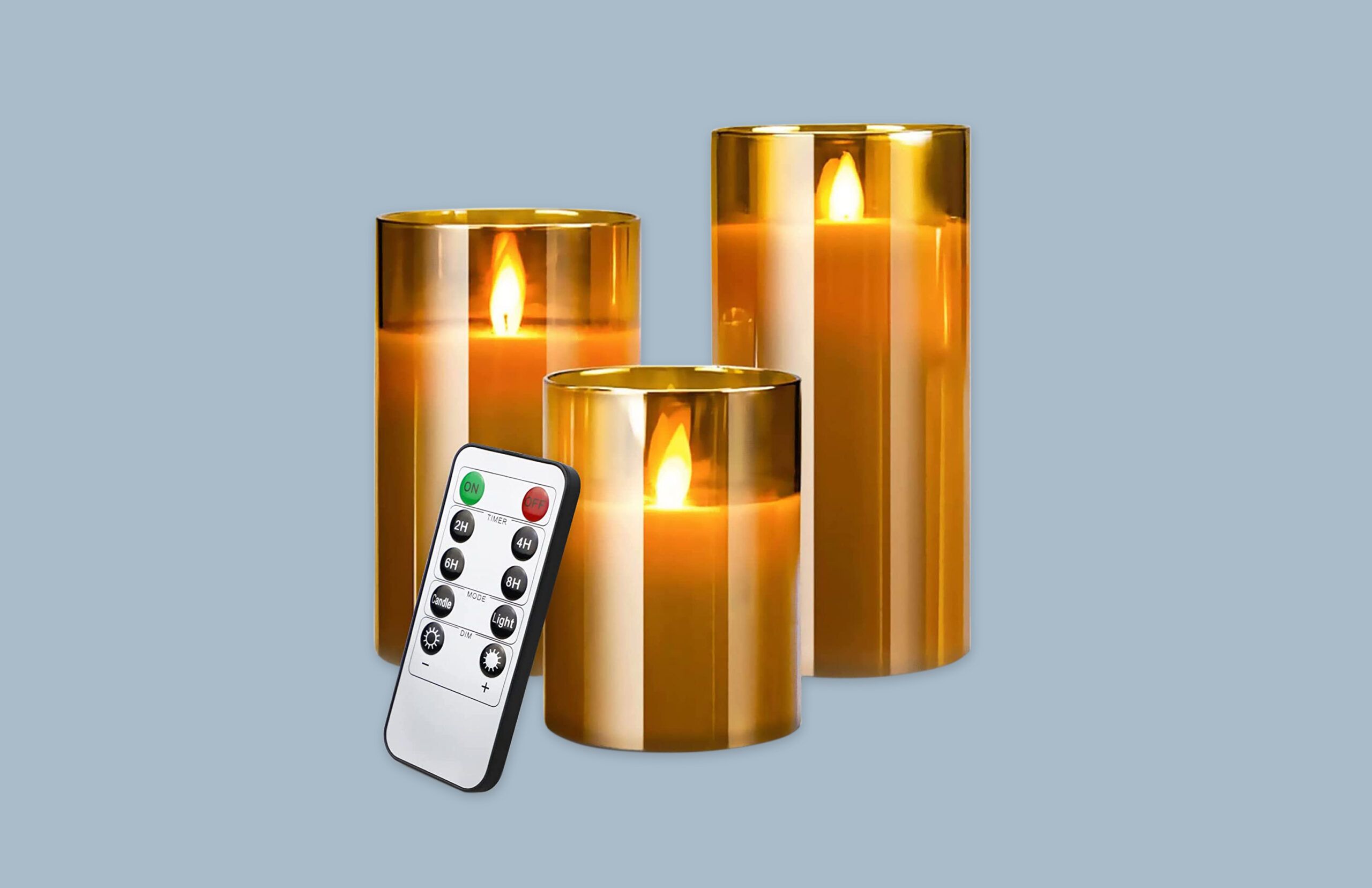 To enjoy the calming ambiance of a lit candle without a flame, we recommend these LED candles dressed in a warm amber-gold color. They're powered by AA batteries and come with a remote control to conveniently turn the candles on and off at a distance. A timer function is also included, so you can host parties or turn the candles on in the evening, knowing they'll turn off when it's time for bed.
---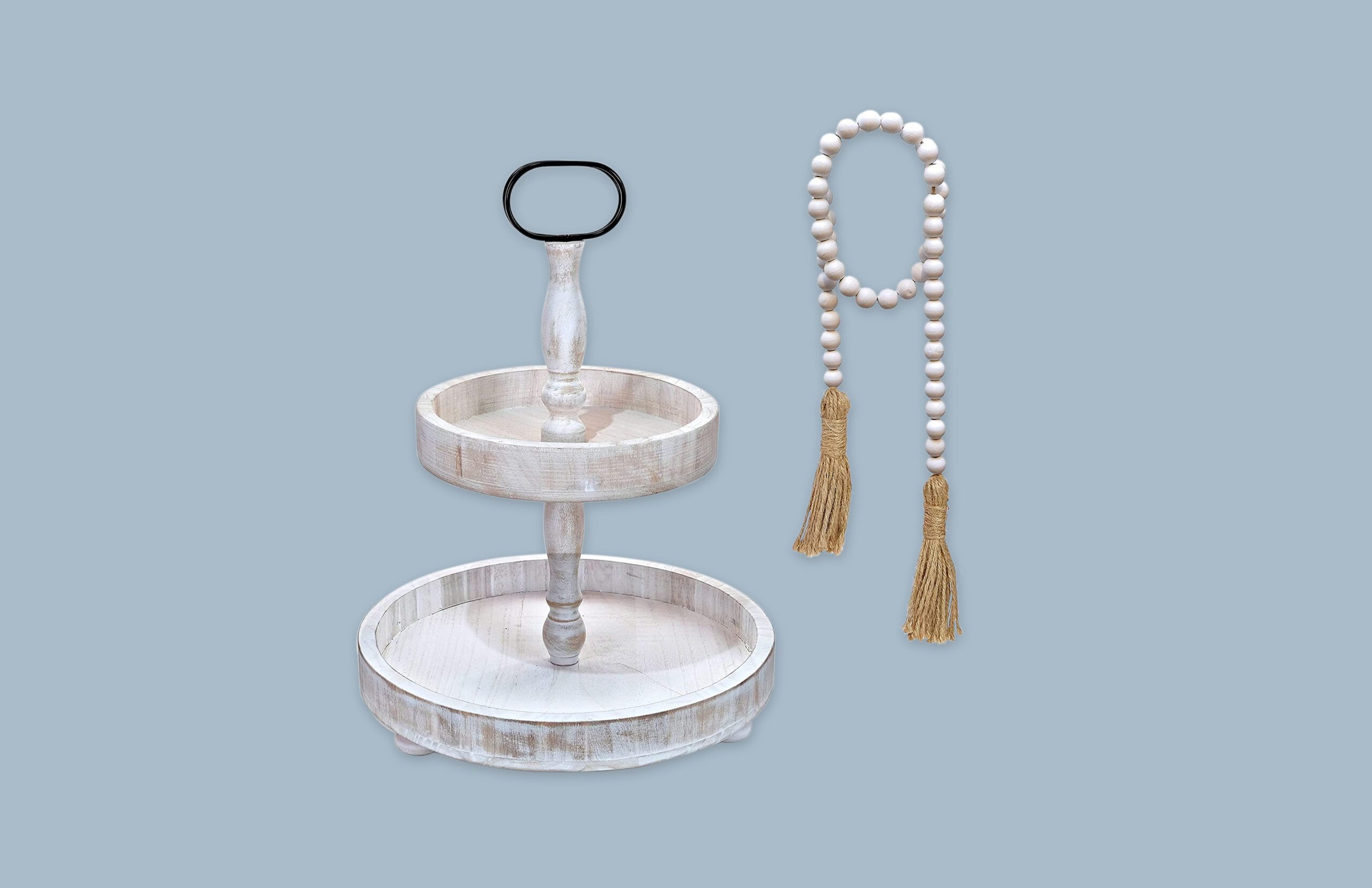 This tiered tray takes on the farmhouse aesthetic and is designed to hold a variety of finger foods, including pastries, other baked goods and desserts, or appetizers. The solid wood and iron construction also makes this tiered tray more durable than plates or serving sets made of glass.
While this tray is ideal for homeowners who love to host parties, it also serves as a table centerpiece or dedicated holder for smaller fall decor items. The included strand of white beads makes the tray itself a decorative item in any home.
---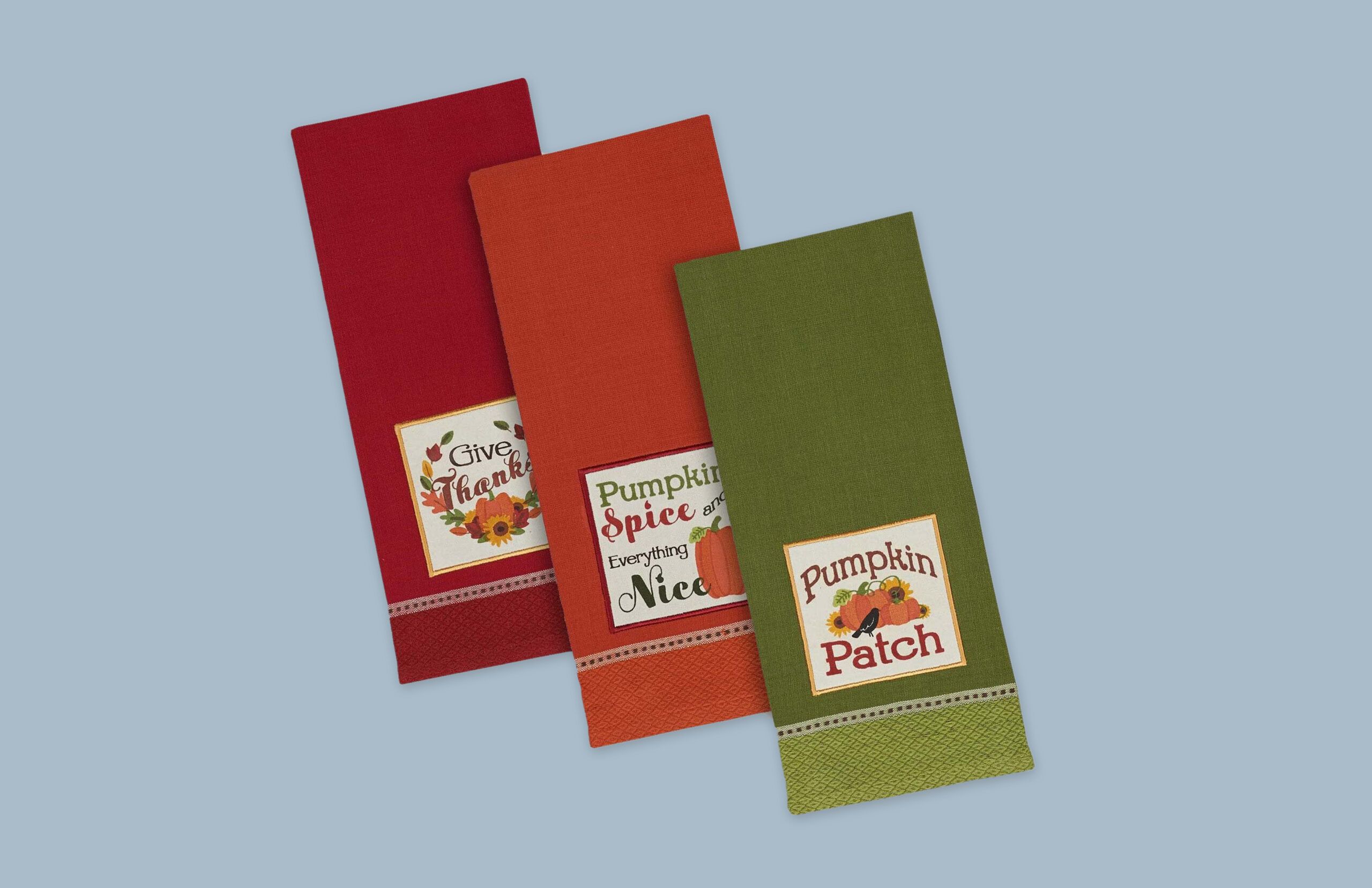 These cotton dishtowels come in a "country pumpkin" style that span the traditional red, orange, and green fall colors. Three unique dishtowels are included in this set, containing the messages "give thanks," "pumpkin spice and everything nice," and "pumpkin patch." The cotton fabric material is also easy to clean using a gentle wash cycle and low tumble dry setting.
---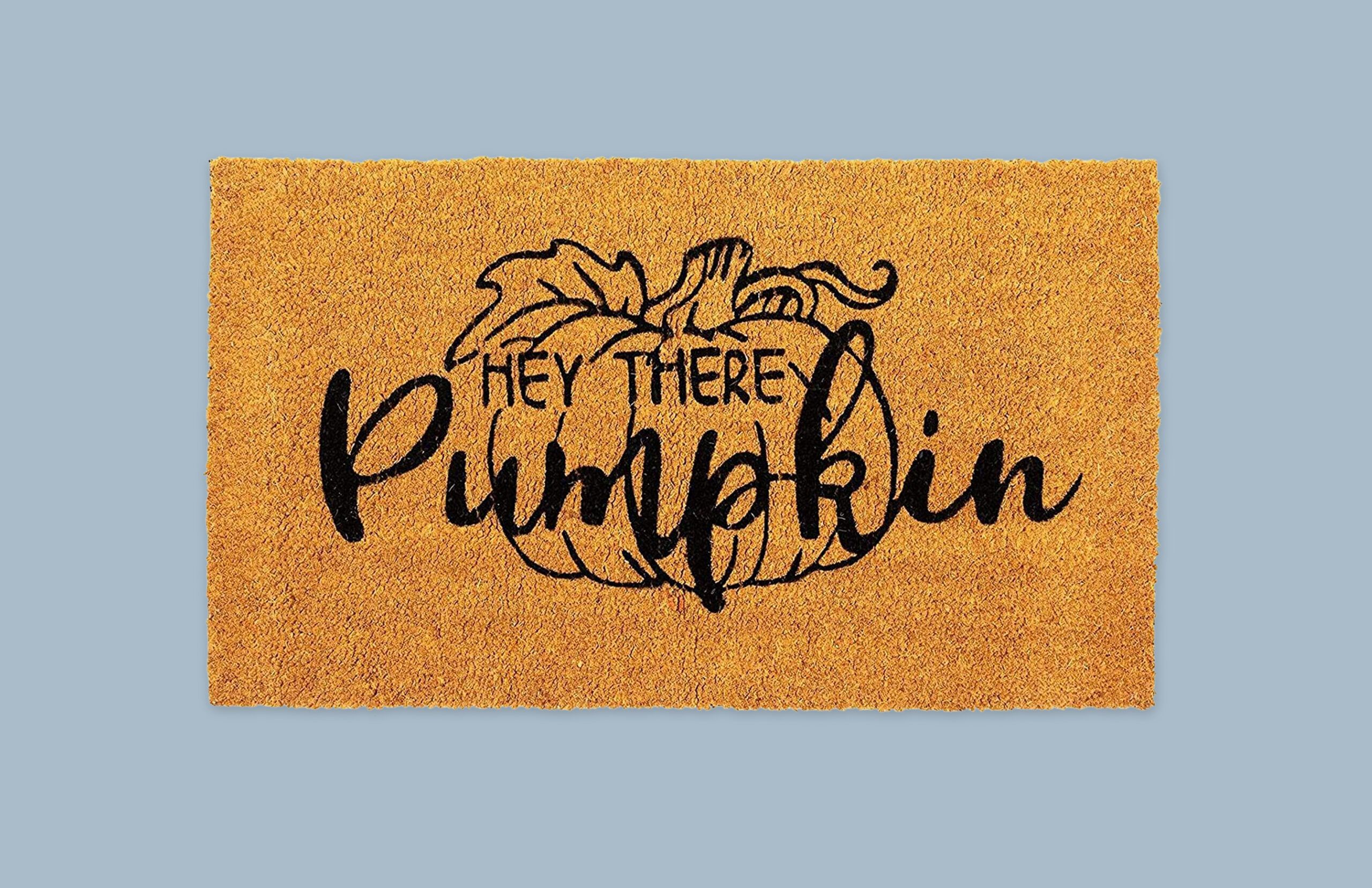 A well-decorated home for the fall starts outside the house. That's why we recommend this coir door mat, which welcomes guests into your home while prompting them to wipe their shoes before they enter. The natural coconut fiber material is easy to maintain with water and a stiff bristle brush, and the rubber backing of the mat means that it'll stay in place while it's being used.
---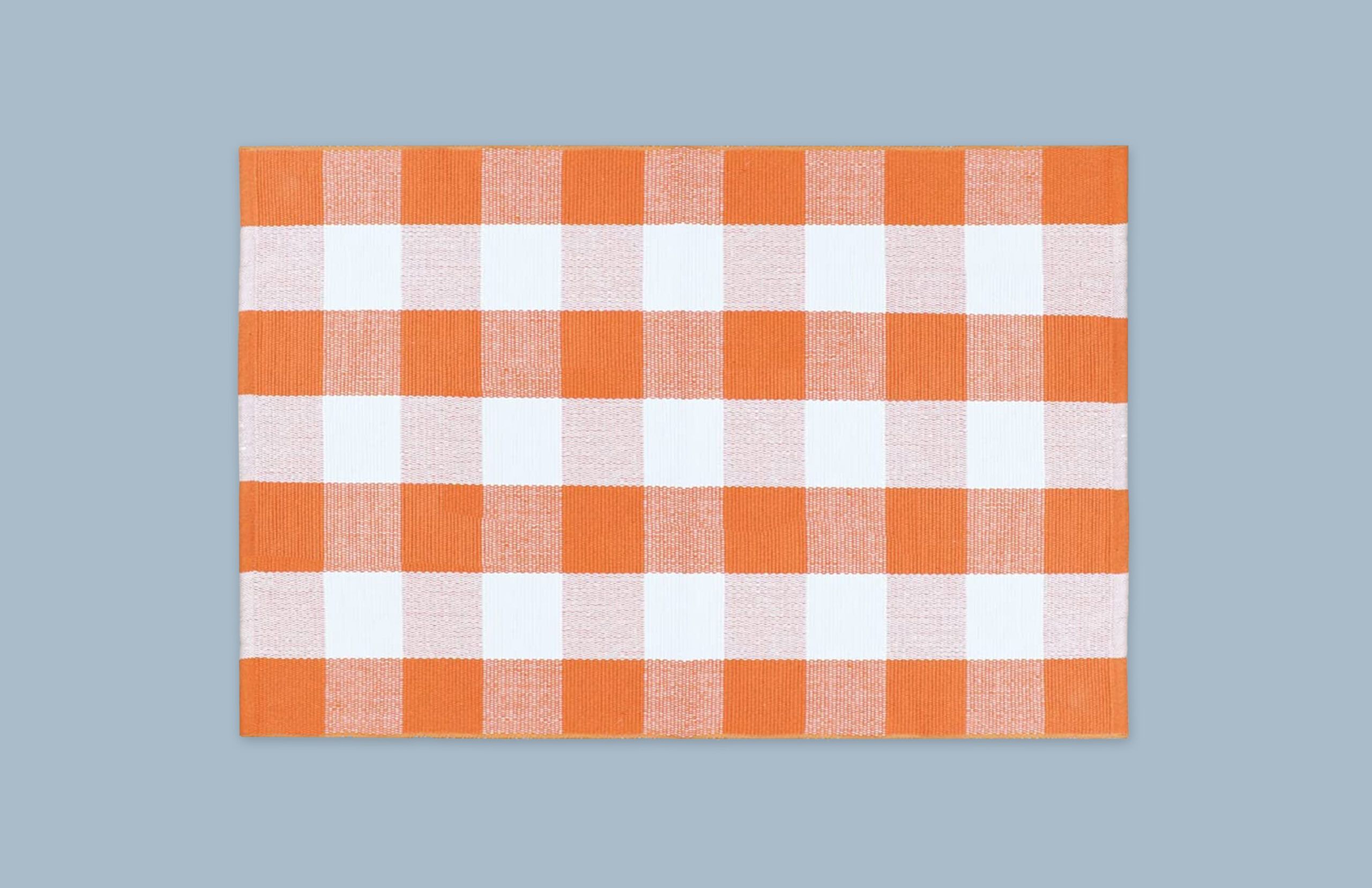 This small outdoor rug is a great complement to any welcome mat, jack-o-lantern, inflatable decorations, or any other decor laid out on a large porch or front door area. The outdoor rug comes in an eye-catching orange and white Buffalo check pattern and is made with an easy-care cotton material that can be machine-washed and even ironed.
---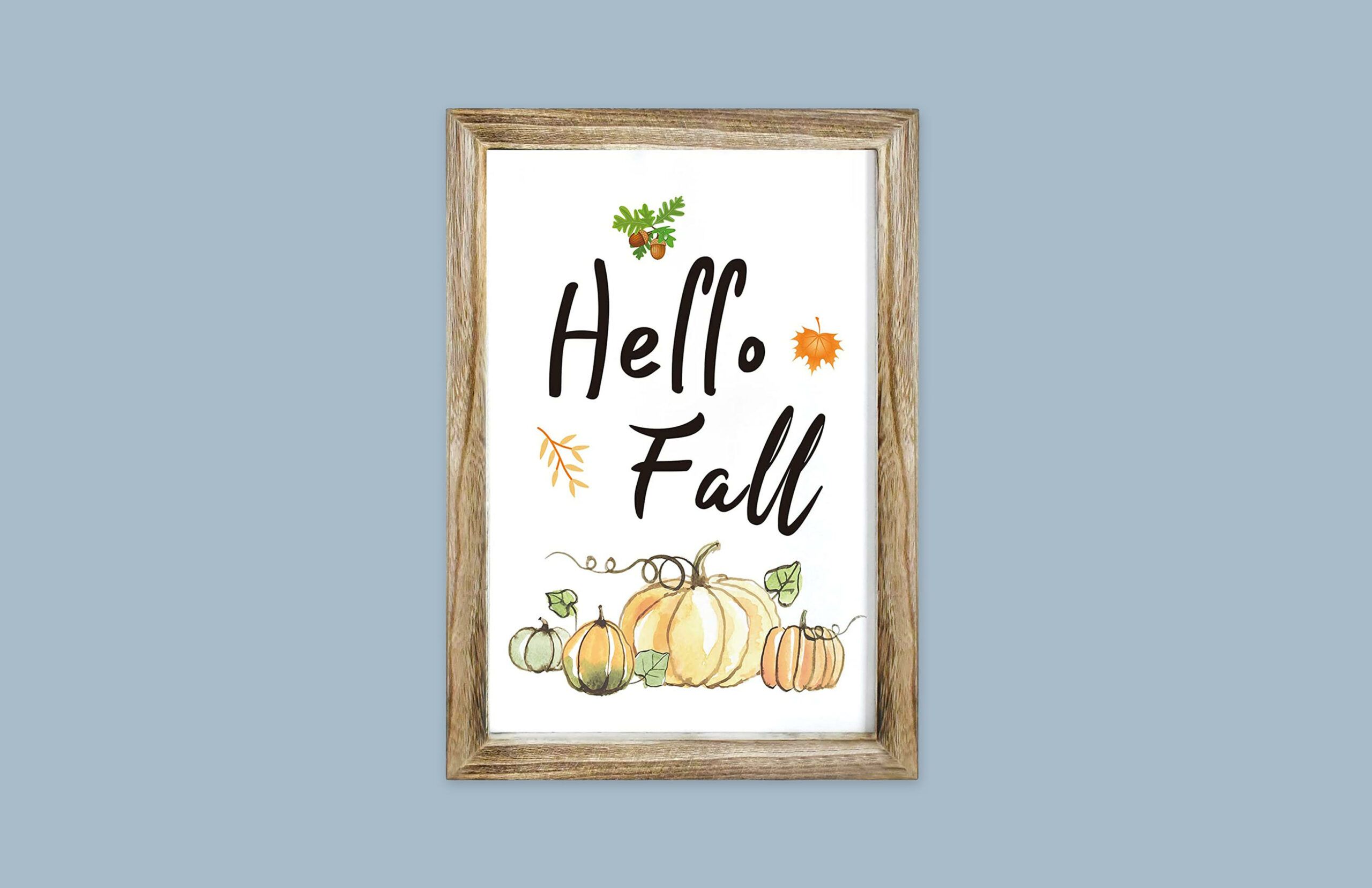 This wooden frame comes with several seasonal inserts for a versatile piece of wall art that looks good no matter the time of year. The farmhouse-style designs span a range of major holidays, including Valentine's Day, St. Patrick's Day, Halloween, and Thanksgiving. A charming "Hello Fall" insert is also included.
---
What to Consider When Buying Fall Decor
Ultimately, how you decide to decorate the inside and outside of your home is up to you. However, if you're looking for a variety of high-quality fall decorations that will last many seasons, we have you covered. From your front porch to your living room, here's what to keep in mind when you're decking out your home.
Material
Many premade fall decorations are made of plastic, rubber, glass, wood, linens, or other textiles. You can purchase items online as part of a DIY fall decor project and incorporate natural elements like fallen leaves and decorative squash.
Longevity
The material of your fall decorations may impact their longevity. If you wish to use your fall decorations for several seasons or longer, consider decorations made of durable materials. Where you place your decorations may also affect their longevity—those placed indoors out of reach are bound to last longer than fall decor placed outside or where children or pets might play with them.
Usefulness
Your fall decorations don't have to be practical; they exist to make your home more beautiful and inviting. However, items like table runners, tablecloths, dishtowels, and welcome mats are both functional and attractive.
Weatherproofing
Outdoor fall decorations should be waterproof, or at least water-resistant. Even if your porch is covered, inclement weather can damage sensitive decorations, or even blow them away due to strong winds. Decor that's weighed down or weatherproof is ideal for outdoor use.
Holiday Items
Autumn spans anywhere from late September to mid-December, overlapping with holidays such as Halloween and Thanksgiving. Some fall decor may be specific to these holidays, but also fit under the umbrella of autumn. Some of these fall decor ideas include:
Decorative napkins with pumpkins or fall leaves
Porch decor, including jack-o-lanterns, lights, and inflatable decorations
Sunflowers, acorns, and mums
Seasonal throw pillows in autumn colors
Turkey-themed items, like pinecone centerpieces
---
Frequently Asked Questions About Fall Decor
What is the most popular color for fall decor?
The most popular colors for fall decor are different shades of orange, gold, white, red, and green—any color that autumn leaves or fall flowers produce is a great color choice to feature in your home. White pumpkins or gourds are also a good way to incorporate white colors as a fall centerpiece.
When should I start decorating for fall?
You should start decorating for fall as the season is beginning. Mid-September is when most homeowners take down their summer decorations and begin decorating for the fall. Some families will transition to fall decor even earlier. The start of the school year or early August for those who live in colder climates may embrace the autumn spirit sooner.
How do I make my house cozy for fall?
To make your home cozy for fall, start decorating from the outside of your home and working your way in. For instance, a colorful fall wreath to decorate your front door provides a welcoming entrance and nicely complements the fall leaves from nearby trees. You can also decorate your front porch area with mini pumpkins, pinecones, or even DIY craft projects that use fall foliage. Inside, you can decorate your entryway, tables, kitchen, living room, and other areas where you and your family frequently spend time with warm fall colors to create a cozy, welcoming atmosphere.
---
Why Trust The This Old House Reviews Team
This Old House has empowered homeowners for more than four decades with top-notch home improvement content in the form of television programs, print media, and digital content on its website and social media platforms. The This Old House Reviews Team focuses on creating in-depth product and service review content to help inform your purchasing decision for just about any item or resource that you might need for your home. The This Old House Reviews Team has written over 1,000 reviews on products in the home space, from cordless drills to kitchen trash cans, lawn mowers, and dining room decorations.
We recommend products in each review using an intensive research process, spending hours combing through the best available models on Amazon. For a product to make our list of top picks, it must hold a solid sales record on Amazon, have consistently positive customer reviews, and offer unique features, among other factors. After narrowing down our list of recommendations, we conduct additional research and sometimes in-person testing to ensure that the products meet our standards. Once we conclude the research phase, we craft a well-rounded, user-friendly article that includes our recommended products and additional information to help homeowners like you make the right purchase.
To share feedback or ask a question about this article, send a note to our Reviews Team at reviews@thisoldhousereviews.com.