Affiliate Disclosure:This Old House's Reviews Team is committed to delivering honest, objective, and independent reviews on home products and services. To support this business model, This Old House may be compensated if you purchase through links on our website.
Bird lovers include those who enjoy watching and feeding birds, filling their home with bird-themed accessories, and everything in between. If you're shopping for someone in your life that can't get enough birds, we have you covered. The This Old House Reviews Team researched Amazon's best gifts for bird lovers and created this roundup.
Homebird Window Bird Feeder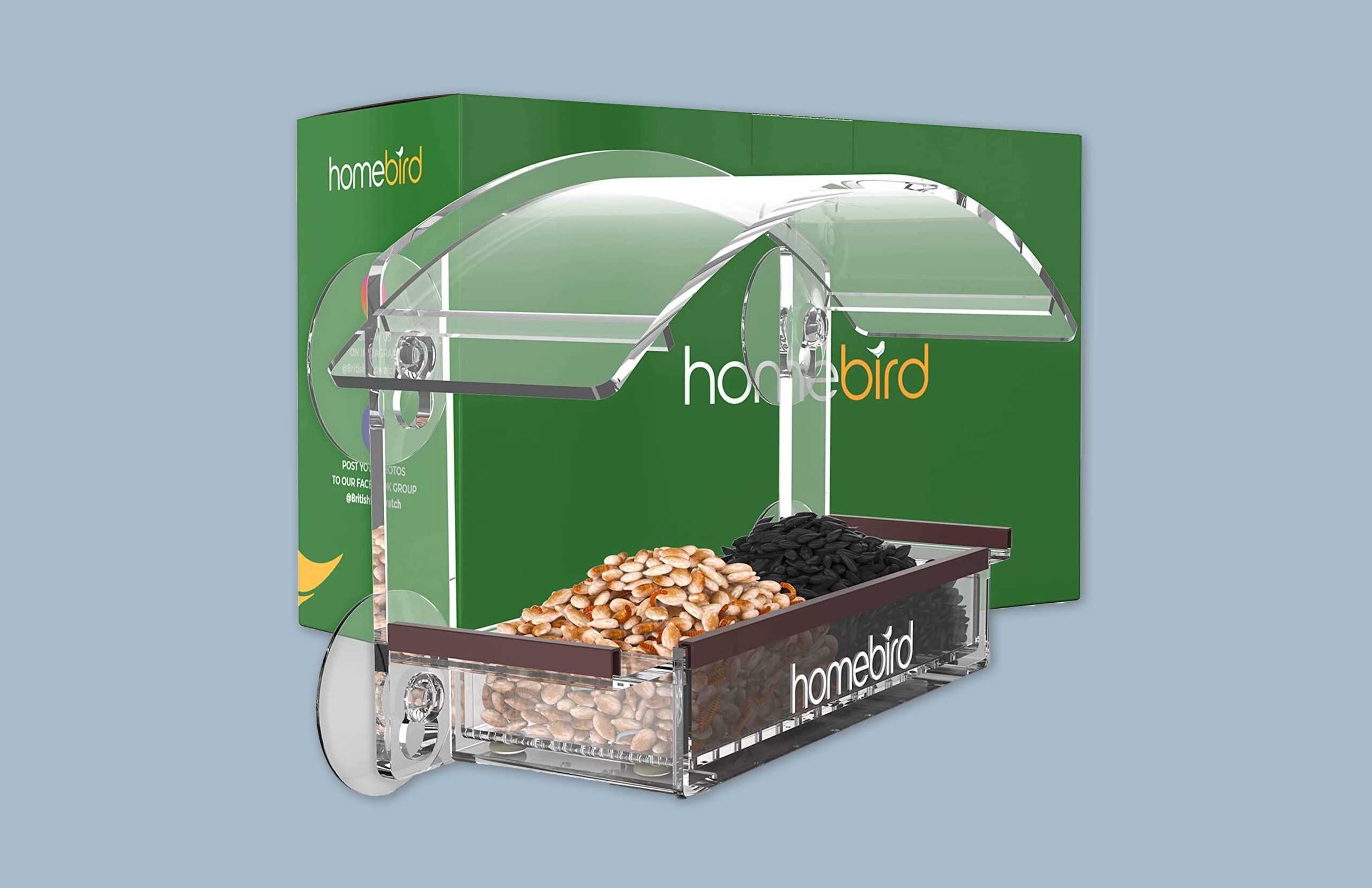 This pre-built bird feeder attaches to your window using four suction cups. It has a large, see-through viewing window, making it easy to observe birds as they feed. It also comes with a removable tray that's easy to fill and clean as needed.
BEAU JARDIN Bird Feeder Pole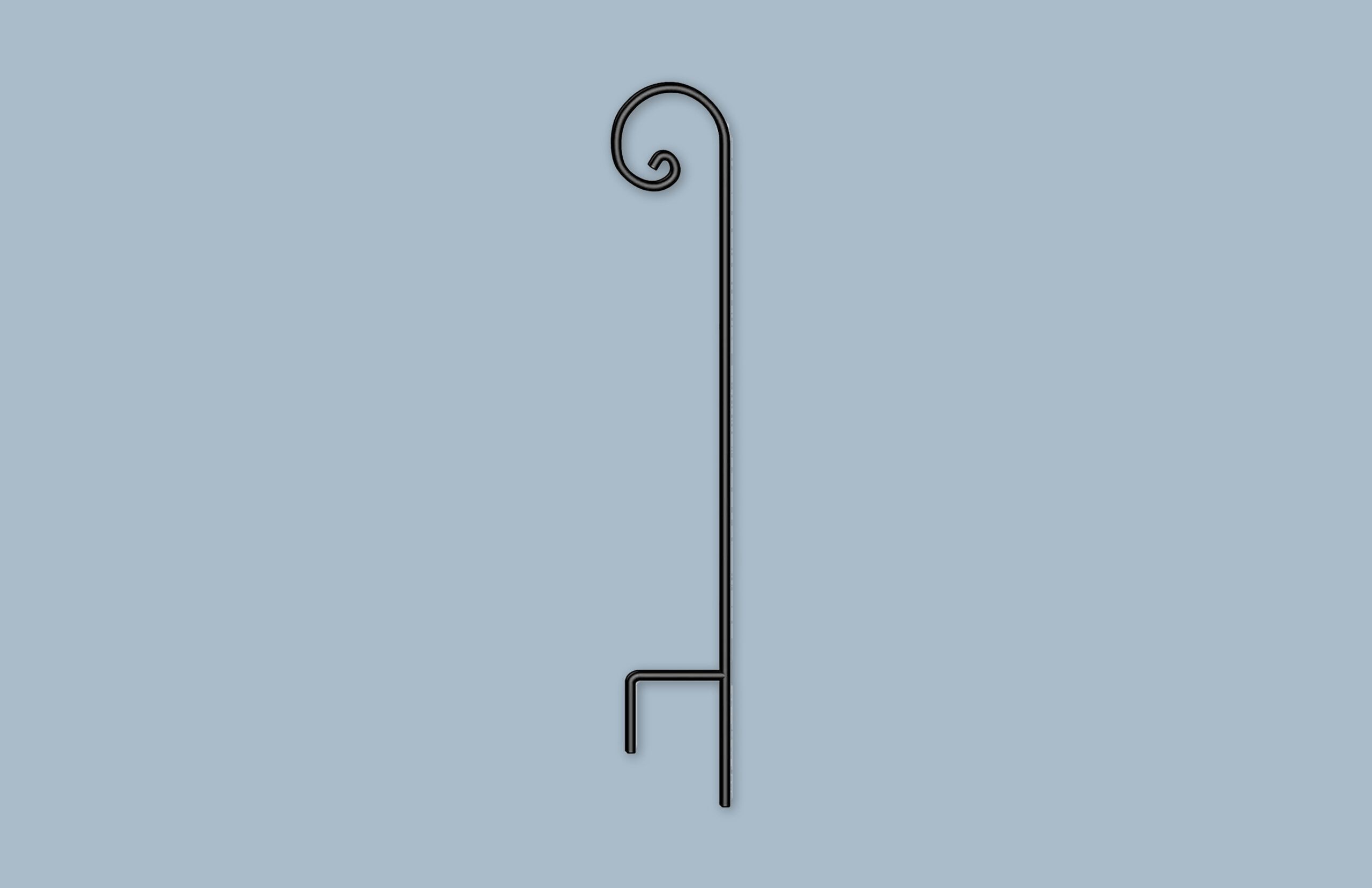 This well-designed bird feeder pole is made from sturdy, thick, rust-resistant metal. It's 92 inches tall to put distance between the feeder and pesky bugs and animals on the ground. It can also hang other items, such as lanterns and plants.
Wagner's Wild Bird Food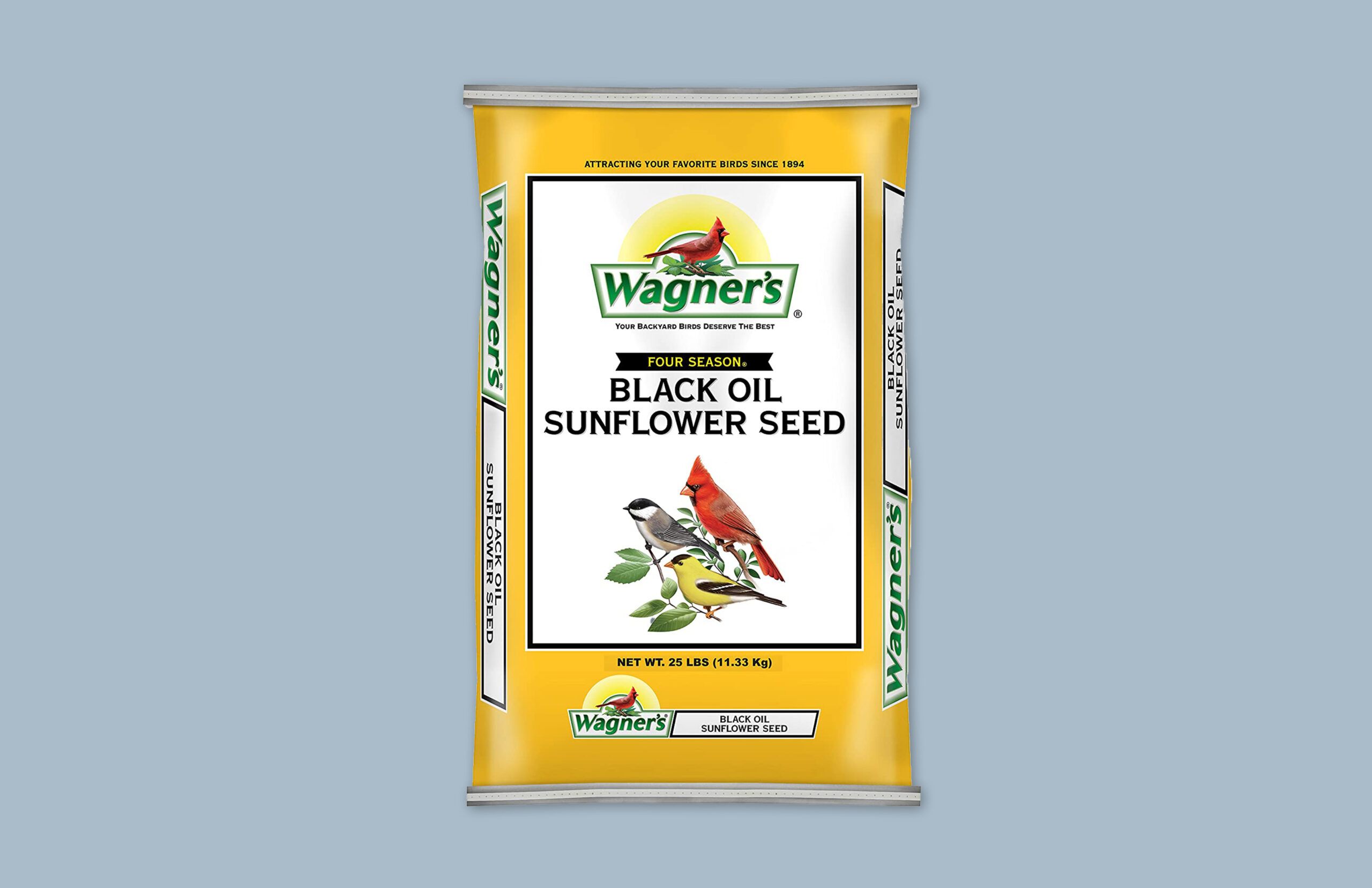 This bird food contains black oil sunflower seed, which attracts a wide variety of birds, including cardinals, chickadees, finches, and woodpeckers. Its small seeds are easy for small-beaked birds to crack and consume. Plus, because it's sold in a large 25-pound bag, it can fill your bird feeder for months to come.
Wagner's Southern Regional Blend Bird Food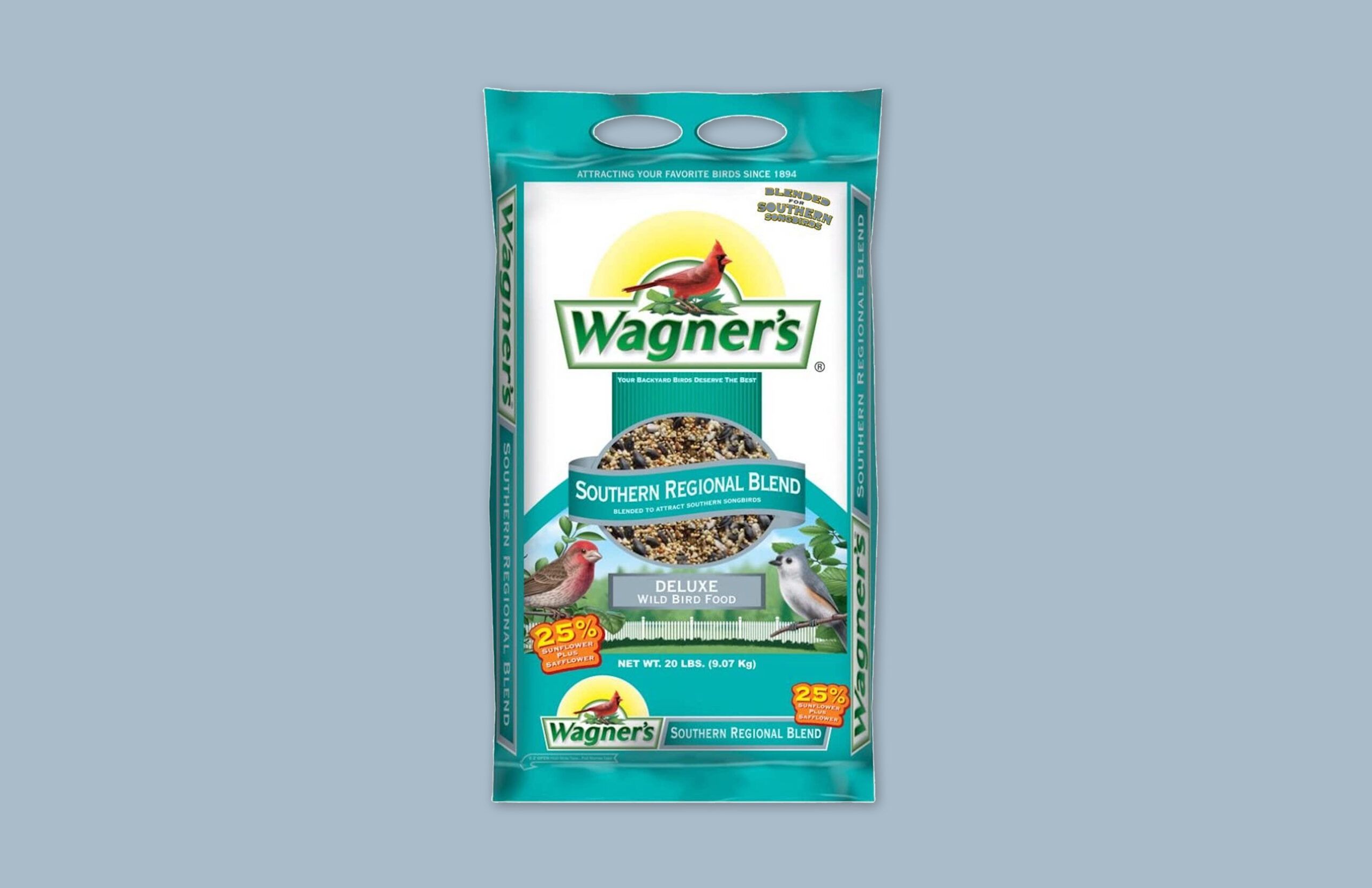 Another solid bird seed option is this regional blend, which is especially attractive to Southern songbirds, such as cardinals and blue jays. This bird food bag contains sunflower and safflower seeds in addition to other yummy grains, and it works in tube, hopper, and platform feeders.
Sunlitec Solar Fountain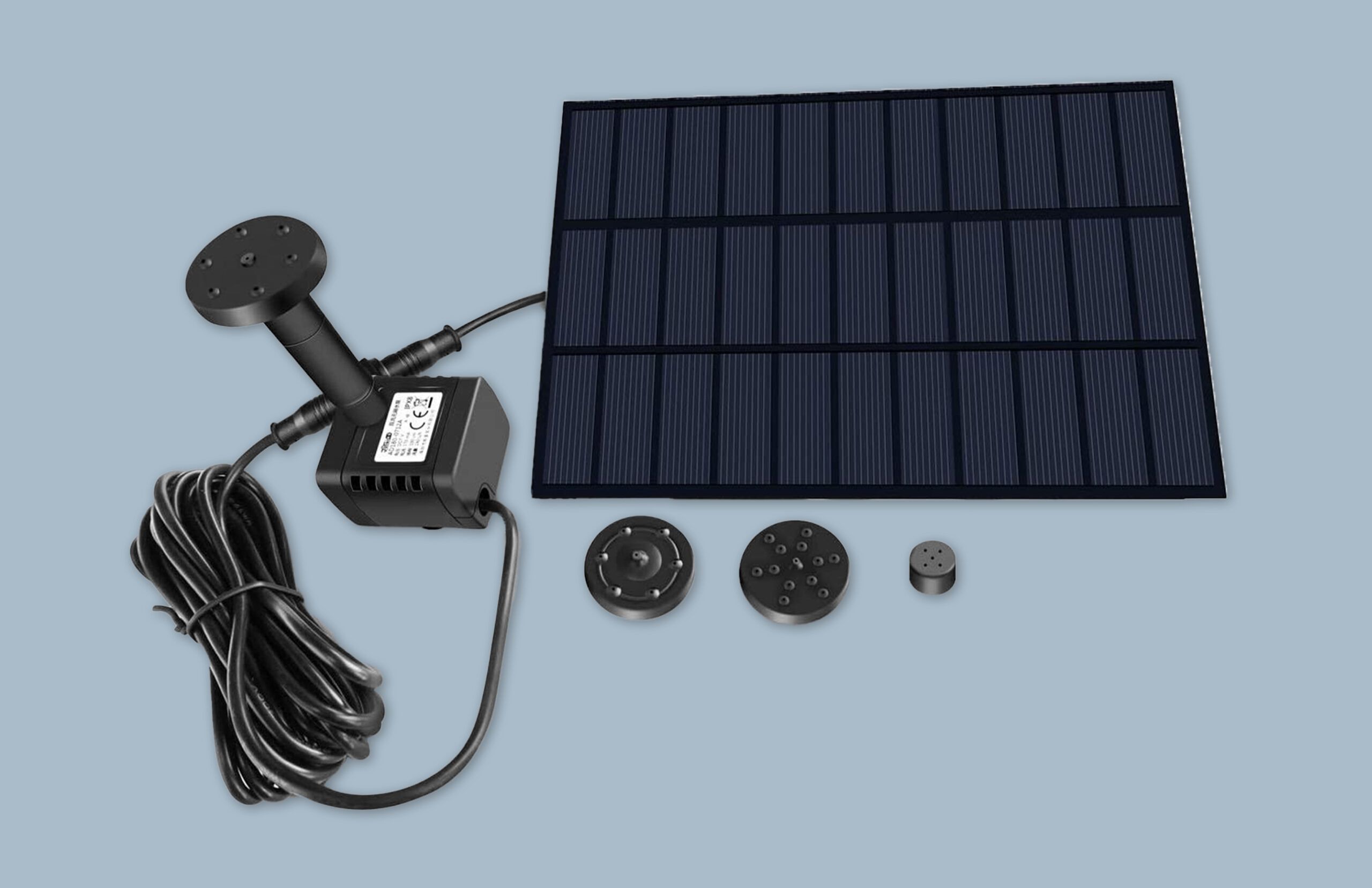 Doubling as a bird bath, this fountain comes with a square solar panel and four sprinkler heads. It can spray water up to 70 centimeters high in sunny weather. With its 20,000-hour lifespan, it cools and cleans birds for years.
VIVOHOME Bird Bath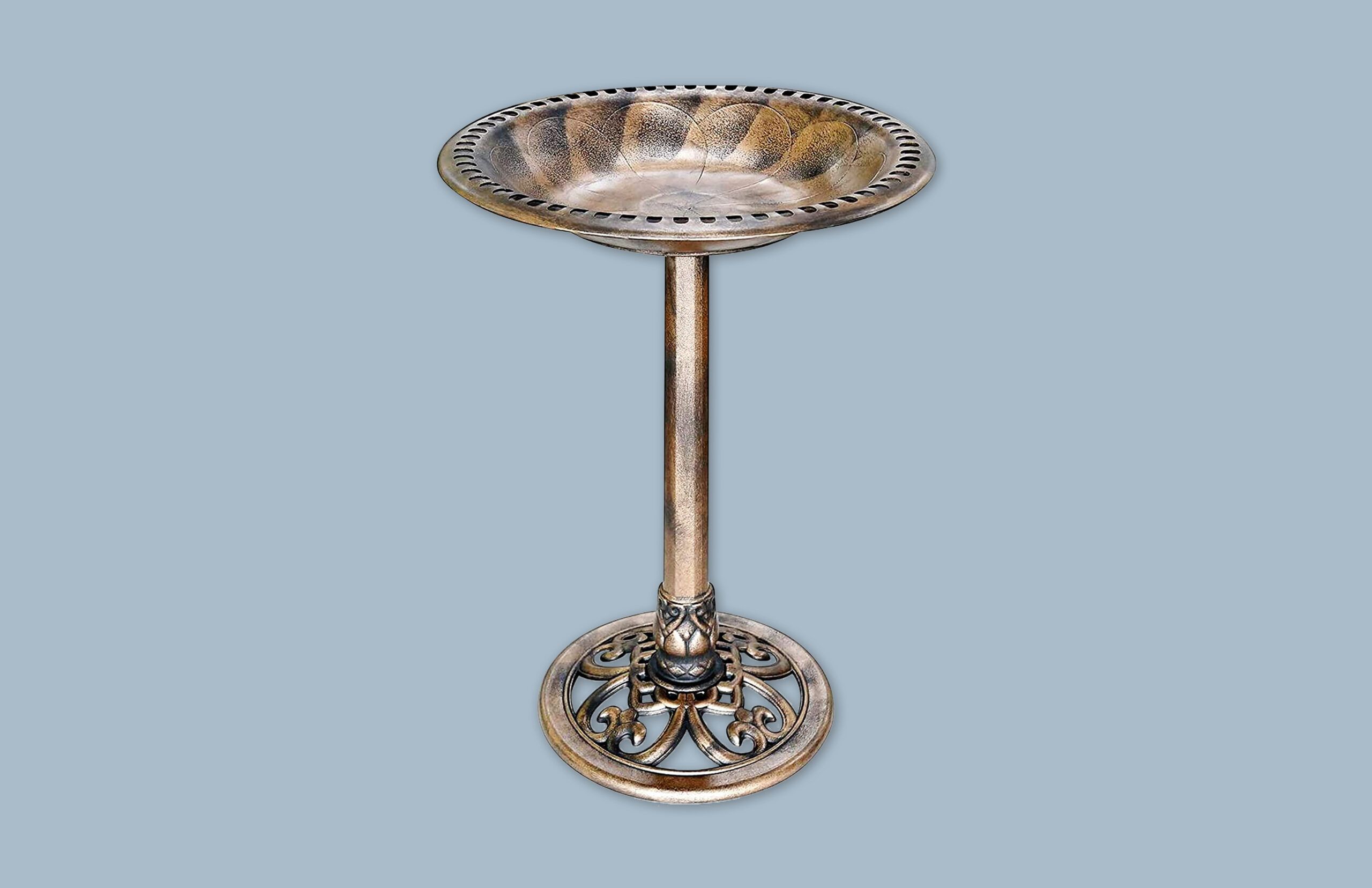 If you prefer a traditional bird bath, this model has a European design and a metal-inspired finish. When empty, it weighs under five pounds, making it easy to pull out for the warmer months and put away during the winter. However, you can choose to leave it out year-round, as its polyresin construction is resistant to heavy precipitation, harsh heat and cold, and intense sunlight.
Heath Outdoor Products Oriole Feeder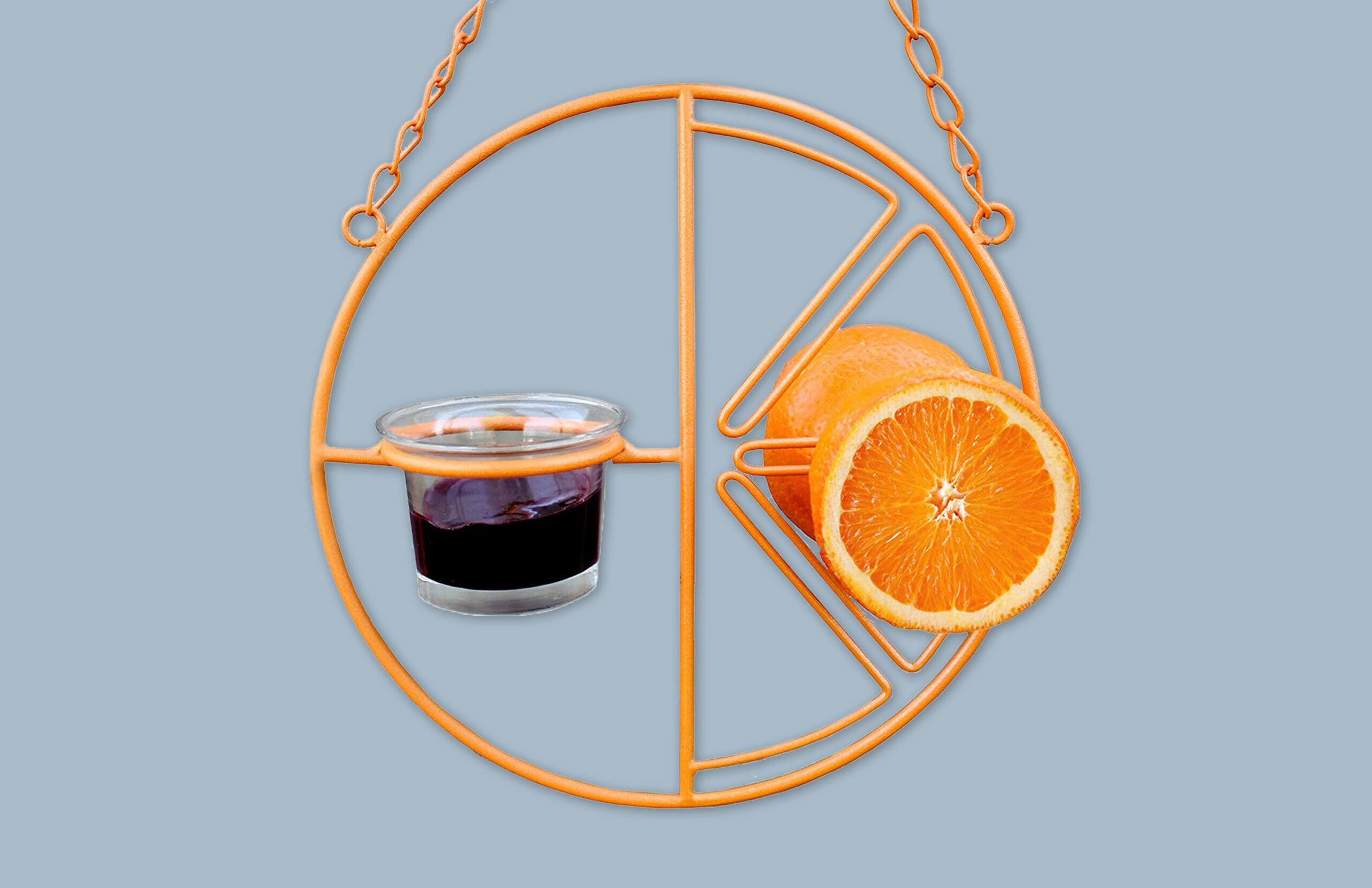 For orioles that love to feed on juices and jellies, this unique feeder keeps birds coming back. It holds two orange or clementine halves on one side and a jelly container on the other. It's made from UV-resistant, powder-coated steel with the exception of its removable glass jelly cup.
Diageng Birdhouse Key Ring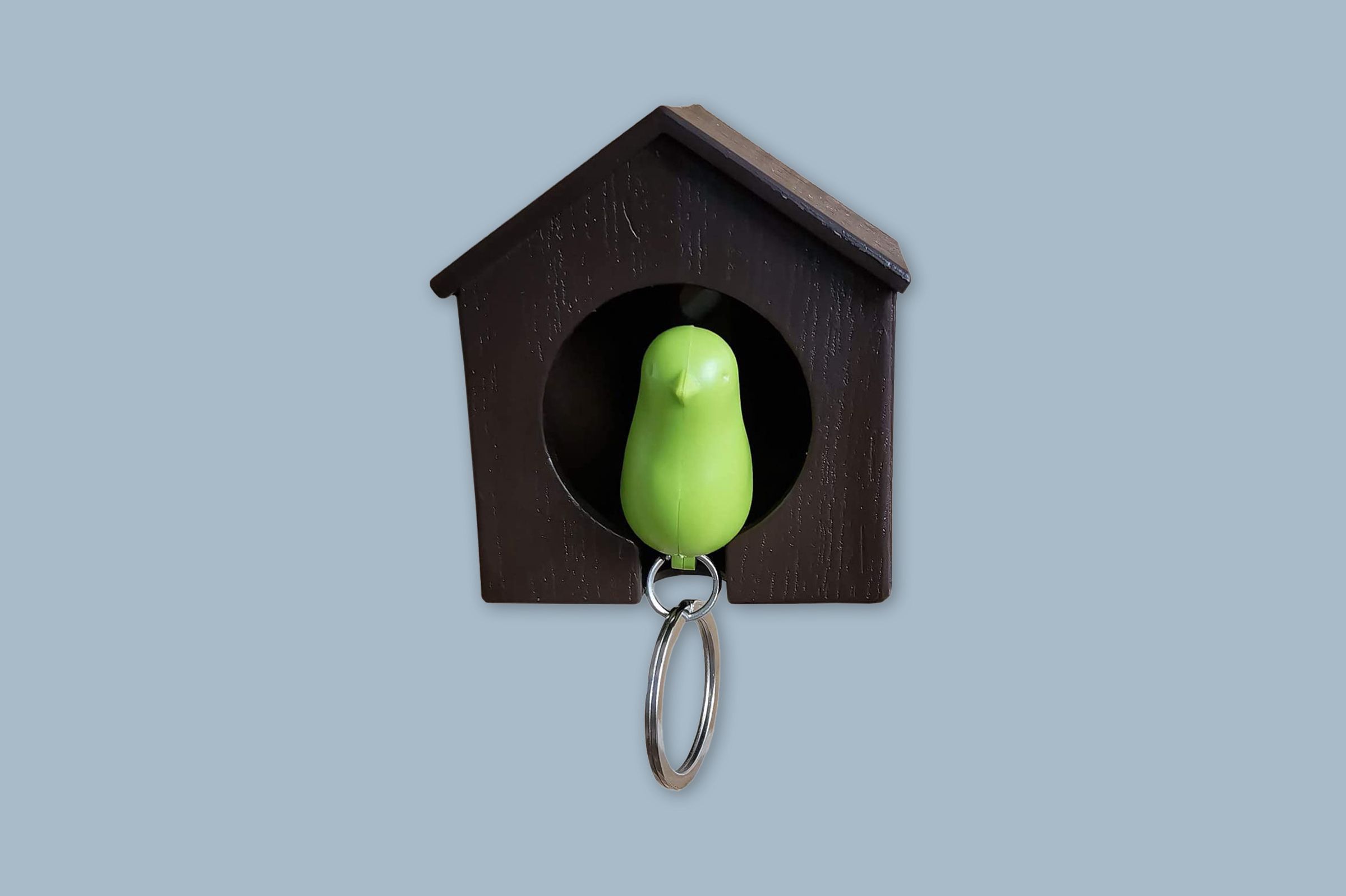 This adorable key ring is made from recycled materials. The bird attaches to your keychain and doubles as a safety whistle. When you're back home, you can place the bird in its house that's mounted on the wall with adhesive backing.
AQUEENLY Hummingbird House Set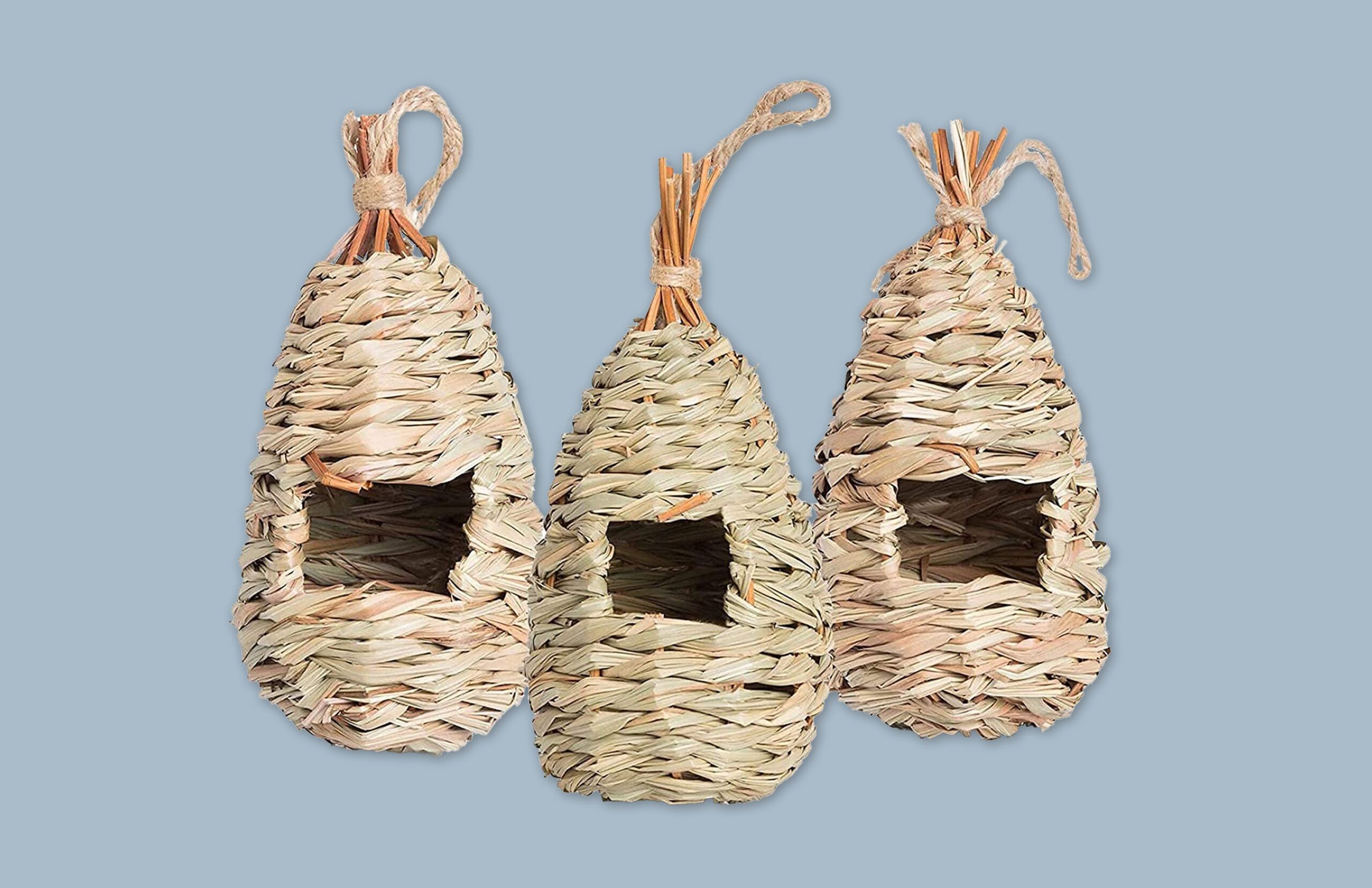 These three houses are hand-woven from all-natural materials, simulating a natural environment to attract birds. In addition to hummingbirds, these houses can also bring wrens, chickadees, titmice, finches, and other species that are small enough to fit in the openings.
Buffalo Games Birds in an Orchard Jigsaw Puzzle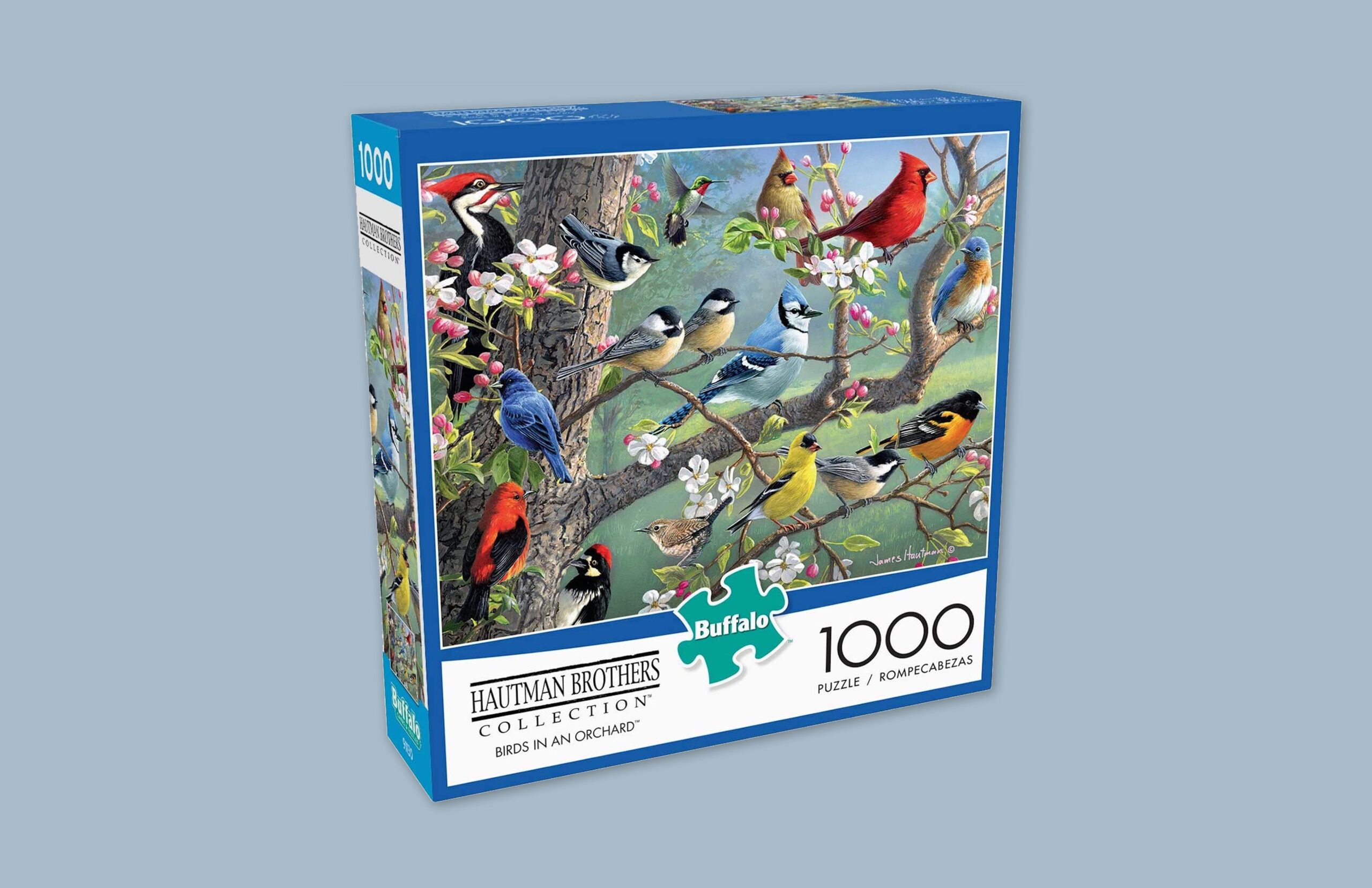 For bird and puzzle lovers, this challenging 1,000-piece jigsaw creates an image of colorful birds. It comes with a large picture of the finished puzzle to guide users on piece placement. With perfect snap technology, each piece firmly attaches to the pieces around it.
Topseeder Hummingbird Wind Chime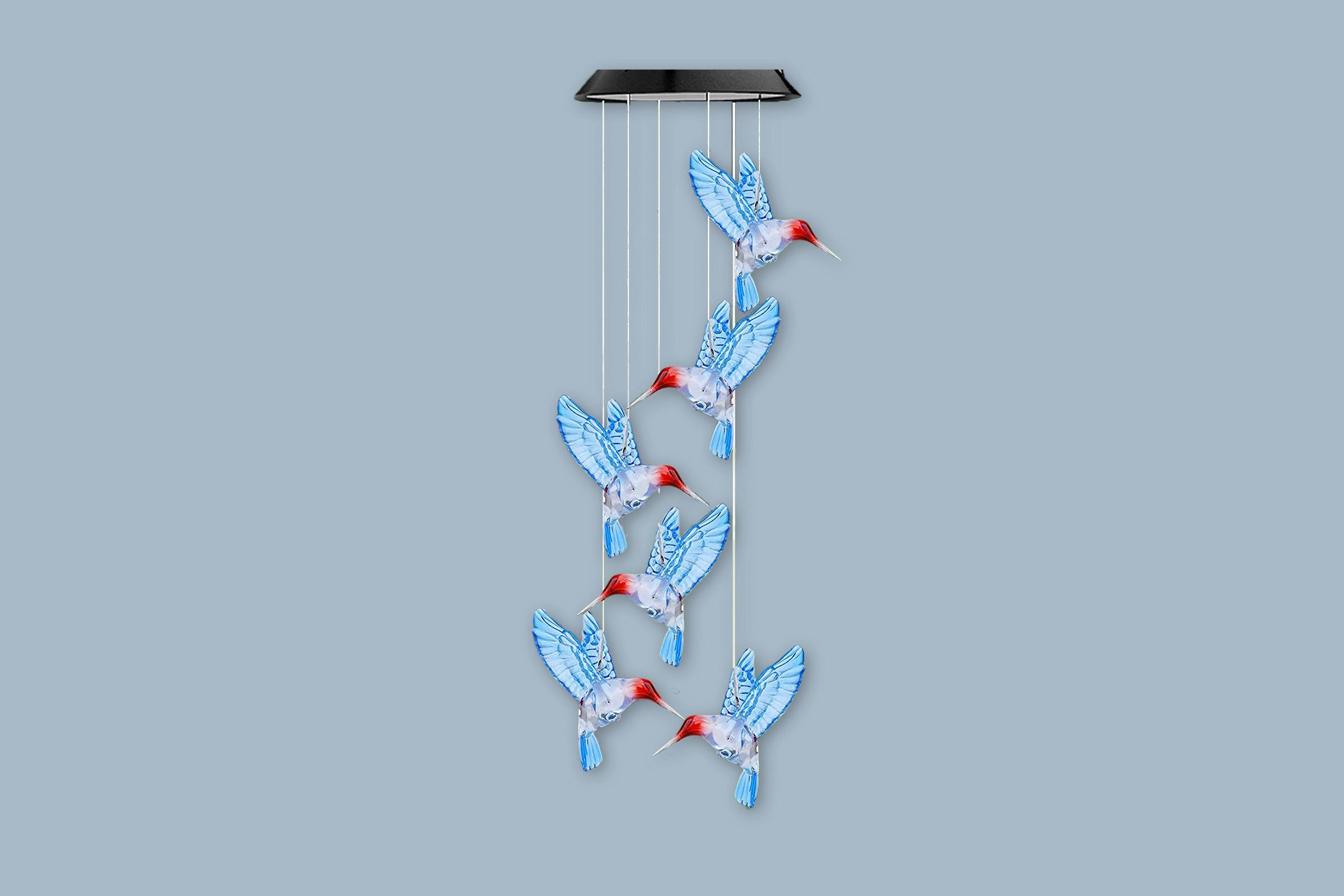 These wind chimes are sure to turn heads at night with their multi-colored, solar-powered LED lights. They automatically change colors and can last for six to eight hours when they're fully charged. They also come in other styles with varying lighted birds and insects if you like the concept but prefer a different nature theme.
Brome Squirrel Solution Bird Feeder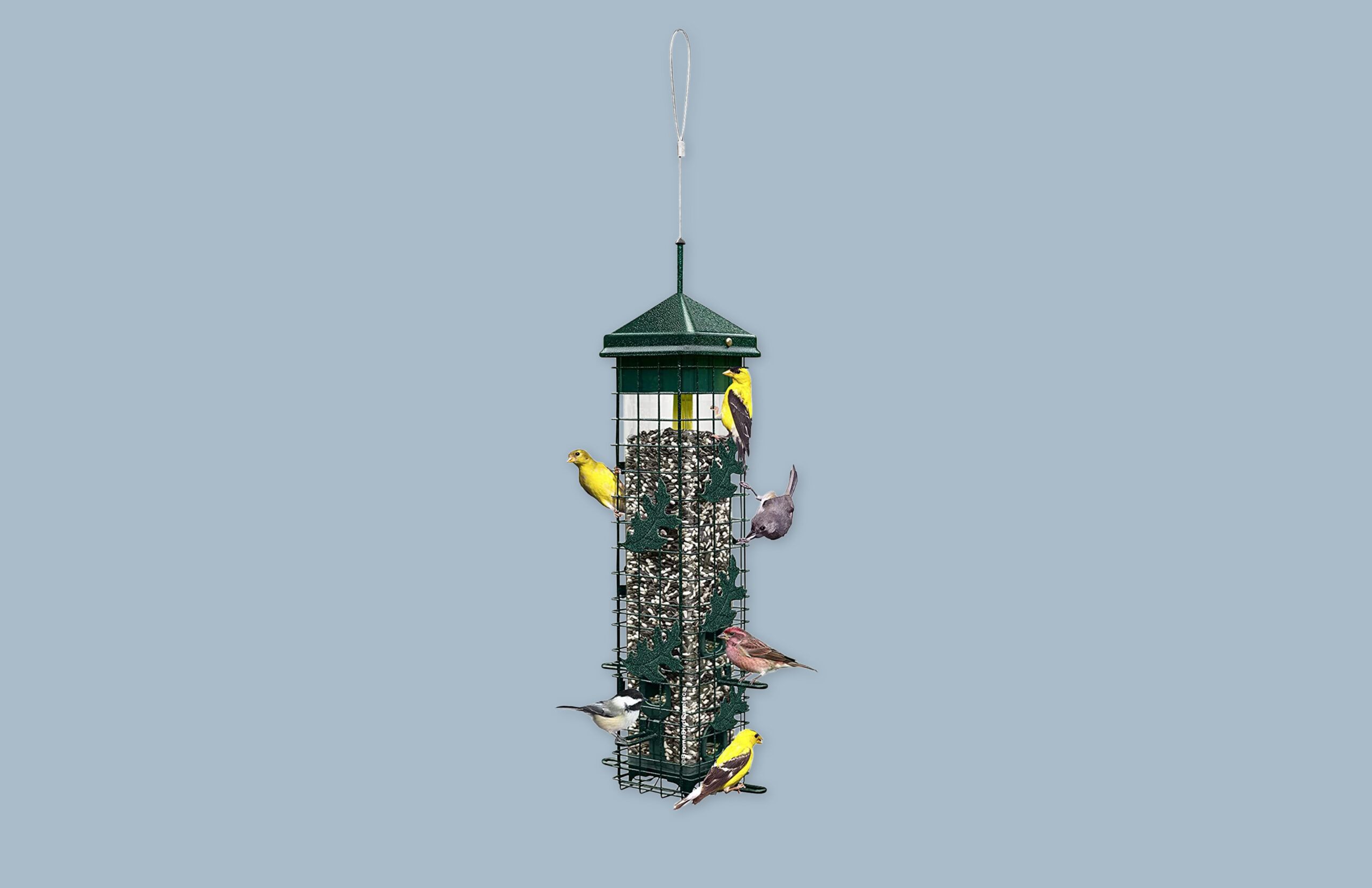 Squirrels are attracted to seeds just like birds, so they often eat the food you put in bird feeders. If squirrels are eating all of your seeds before birds can get to them, consider this squirrel-proof feeder. Its ports automatically shut when the weight of a squirrel is detected.
Mark Feldstein Singing Bird Wall Clock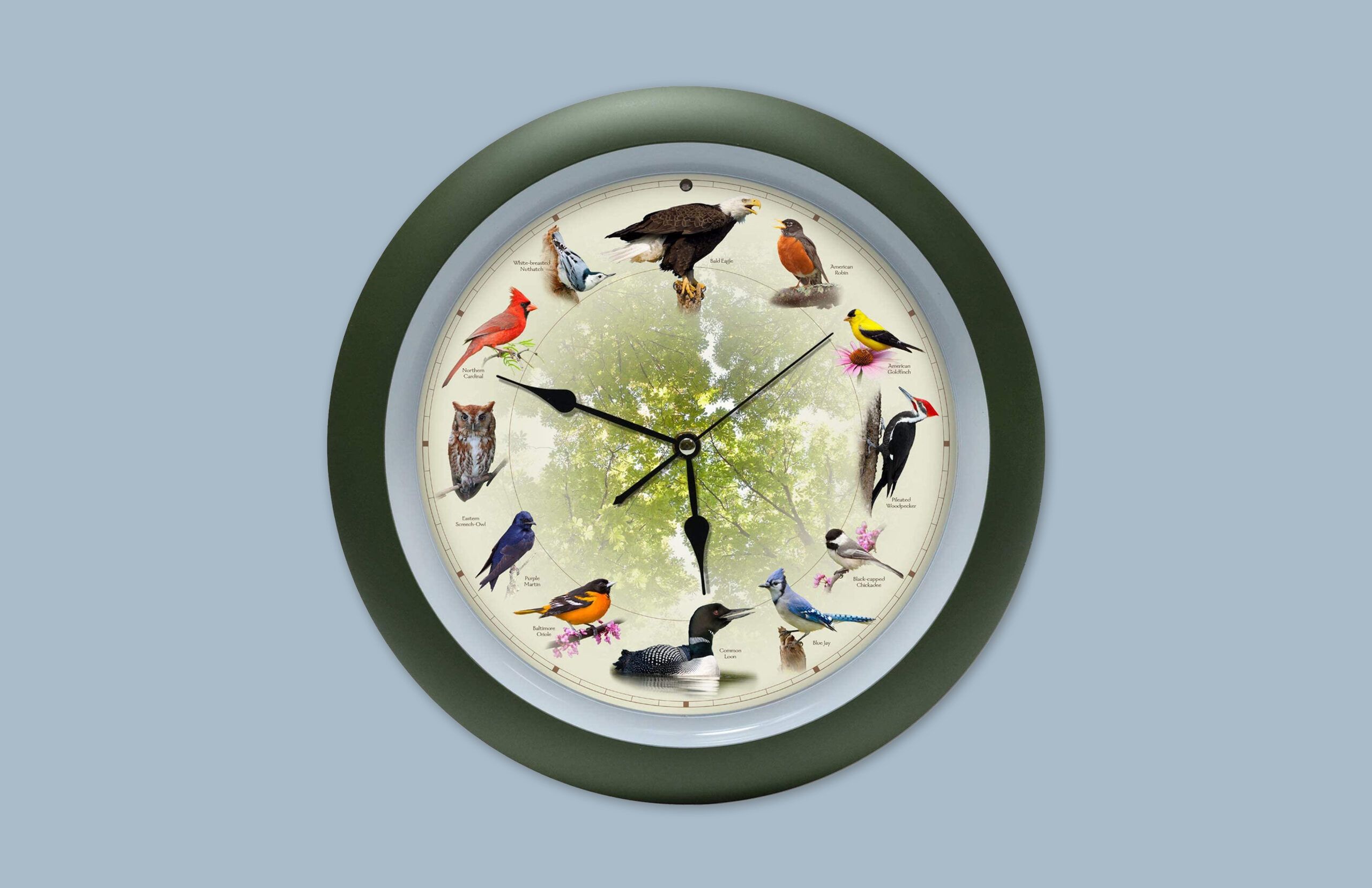 For the bird lover who's looking for some indoor decorations, this wall clock features photos of a different bird at each number. It also announces their own unique songs when the big hand points to them. With a built-in light sensor, this clock automatically deactivates the songs when the room is dark so that you can sleep at night without disturbance.
Adasion High-Definition Binoculars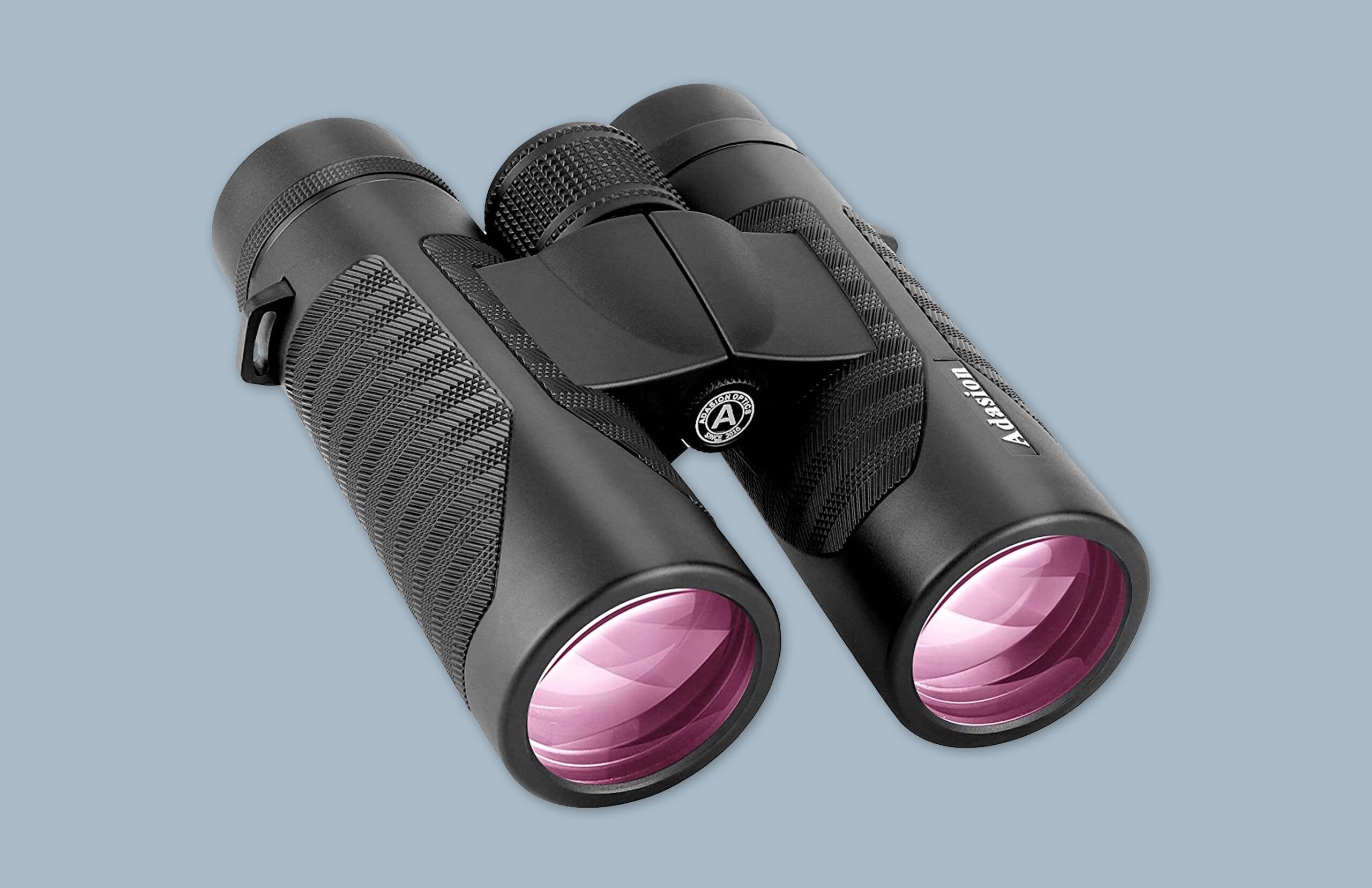 Whether you're looking at birds in your backyard or identifying species in the woods, these binoculars make a useful companion. Their large eyepieces allow for a larger and clearer field of view of up to 1,000 yards. They also have a built-in phone mount to record flying birds in action for later viewing.
ROXANT Blackbird Spotting Scope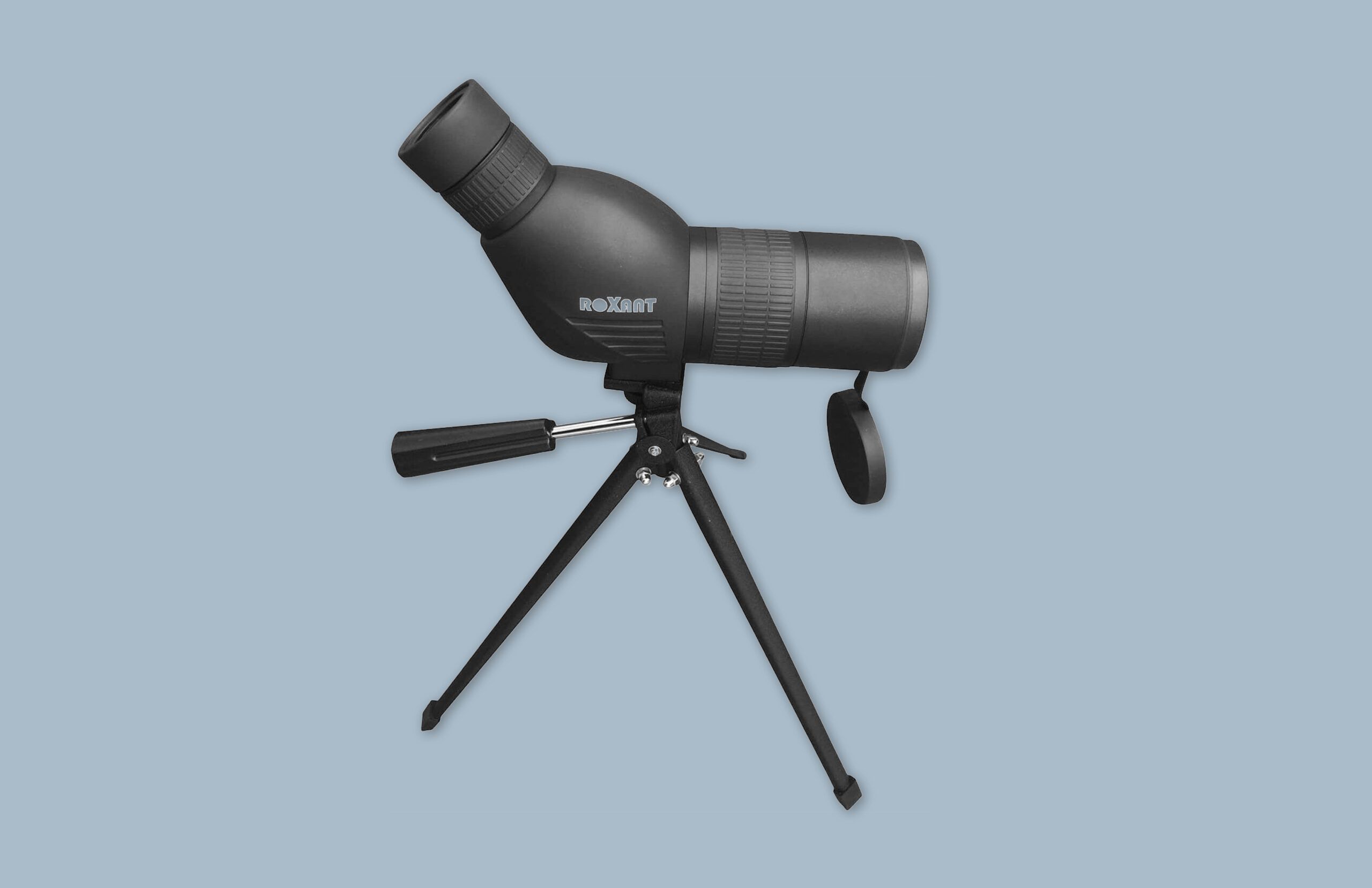 This spotting scope magnifies between 12 and 36 times without losing clarity, giving birdwatchers the ability to discern and study birds from a wide range of distances. It has an all-glass lens that allows for sophisticated light transmission and clear viewing. It also features a 45-degree angled eyepiece that makes viewing easier and more comfortable.
Design Toscano Birdy Welcome Sign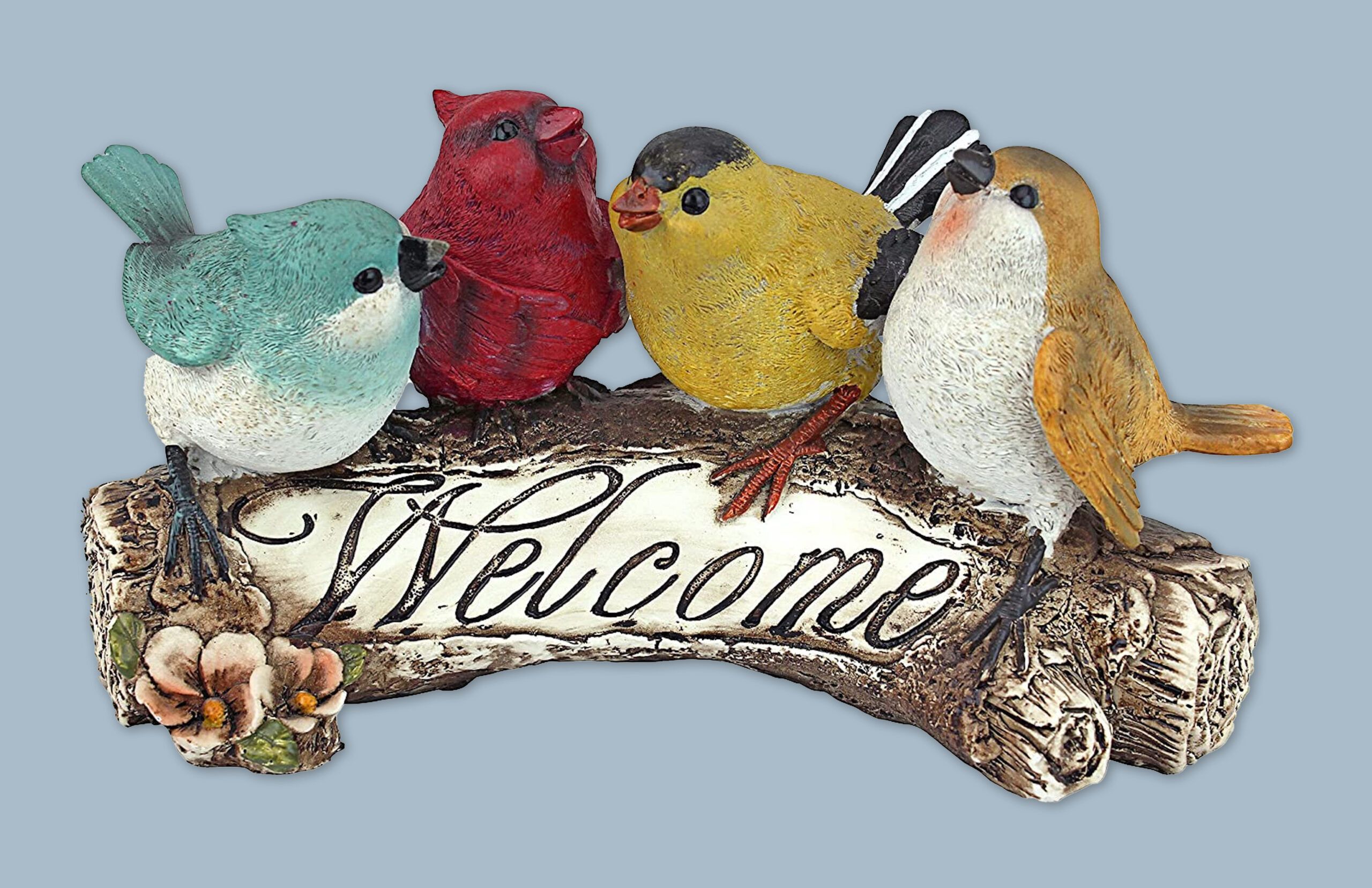 This cute sign welcomes guests into your home with brightly colored, handcrafted bird figurines. It is available in three sizes and has a UV-resistant finish, making it safe for either indoor or outdoor use.
Stonemaier Wingspan Board Game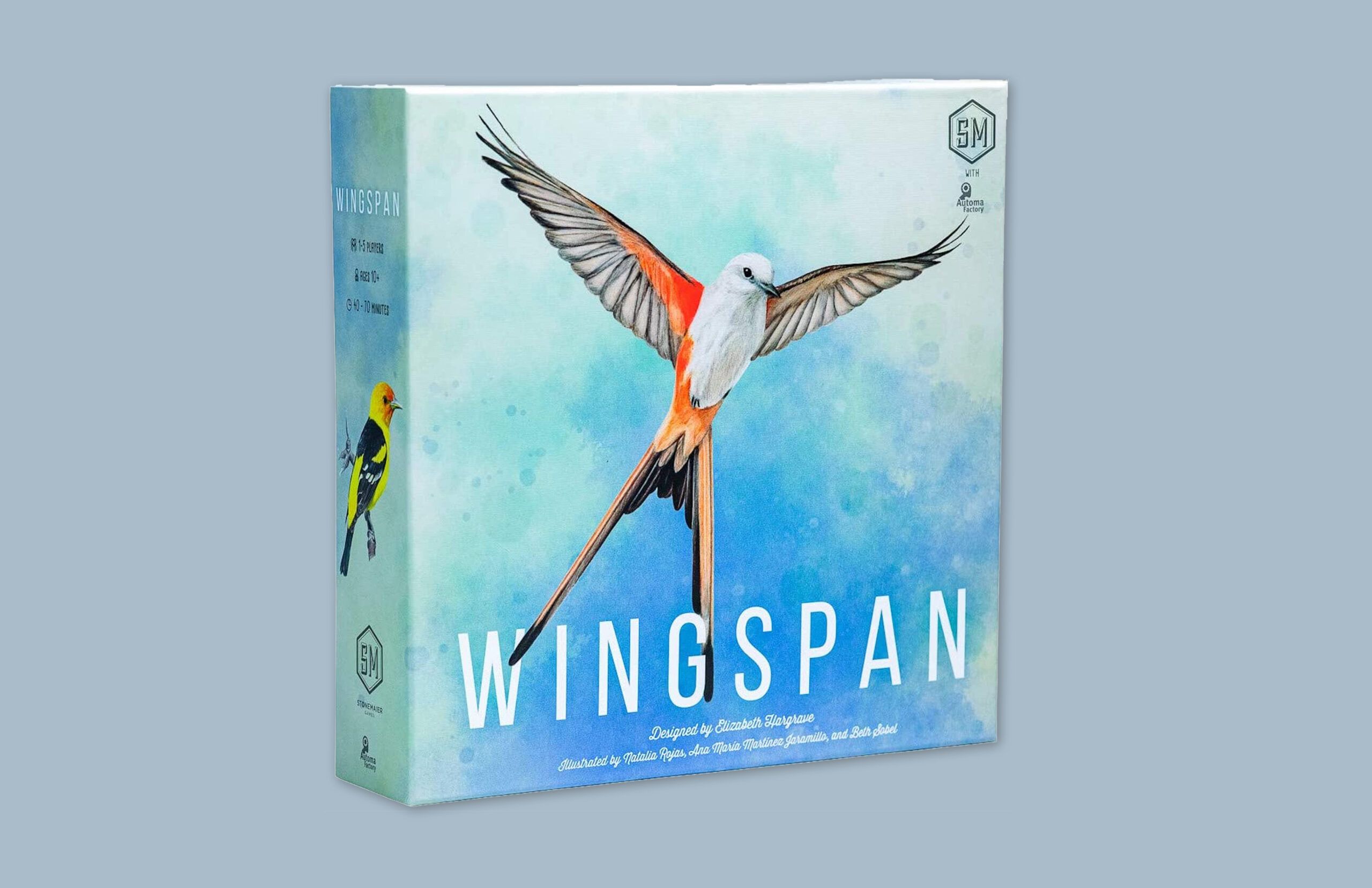 This entertaining board game allows you to play the role of a bird enthusiast who seeks to discover and attract the best birds to their aviary. It features 170 illustrated bird cards and can be played with one to five players.
Jewever Hummingbird Ear Studs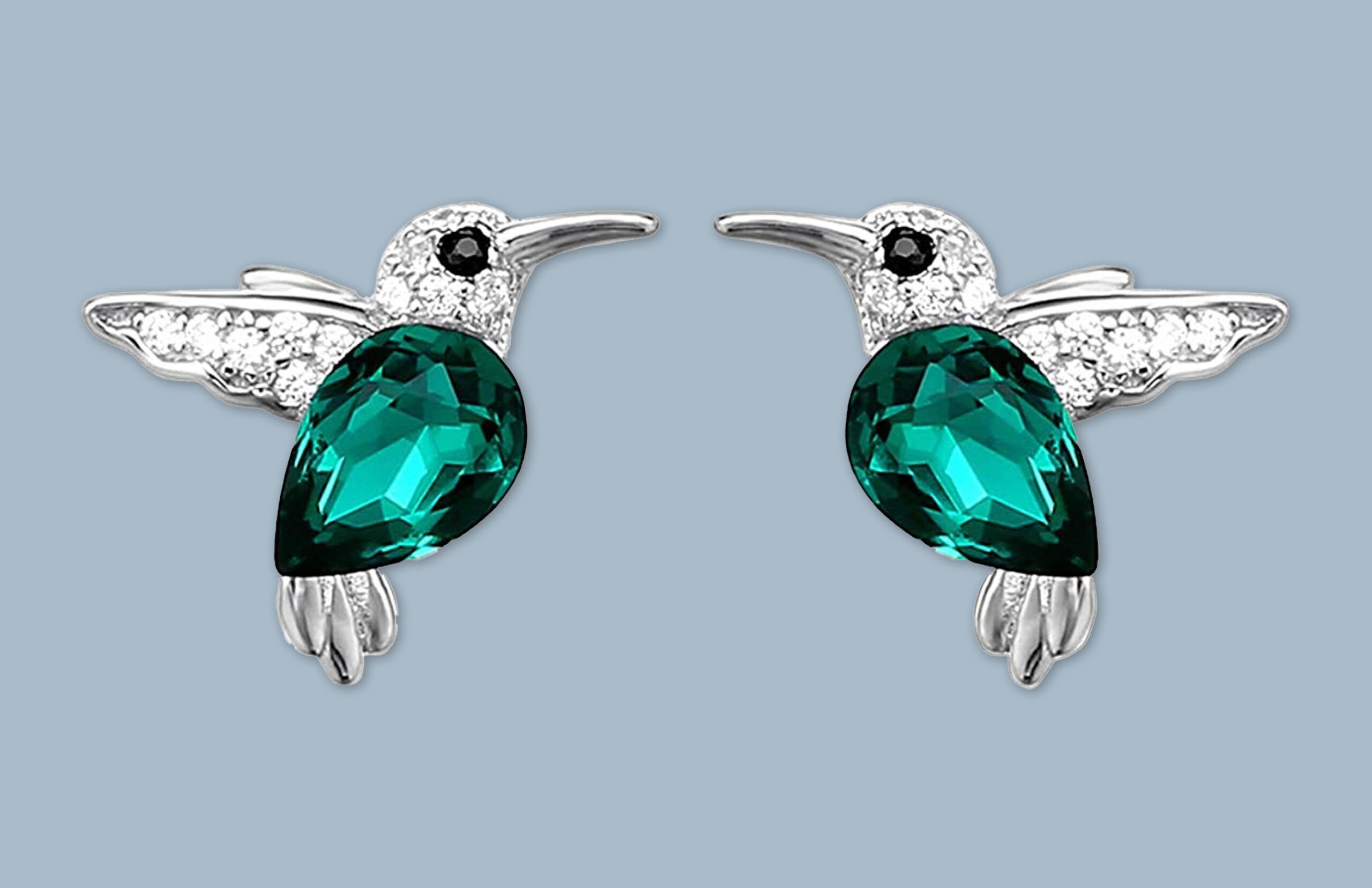 These small earrings have hummingbirds on them with teal-jeweled bodies and cubic zirconia faces and wings. Because they have nickel- and lead-free hardware, they won't irritate sensitive skin. They also come in an elegant blue gift box.
DEMDACO Songbird Watercolor Coasters Set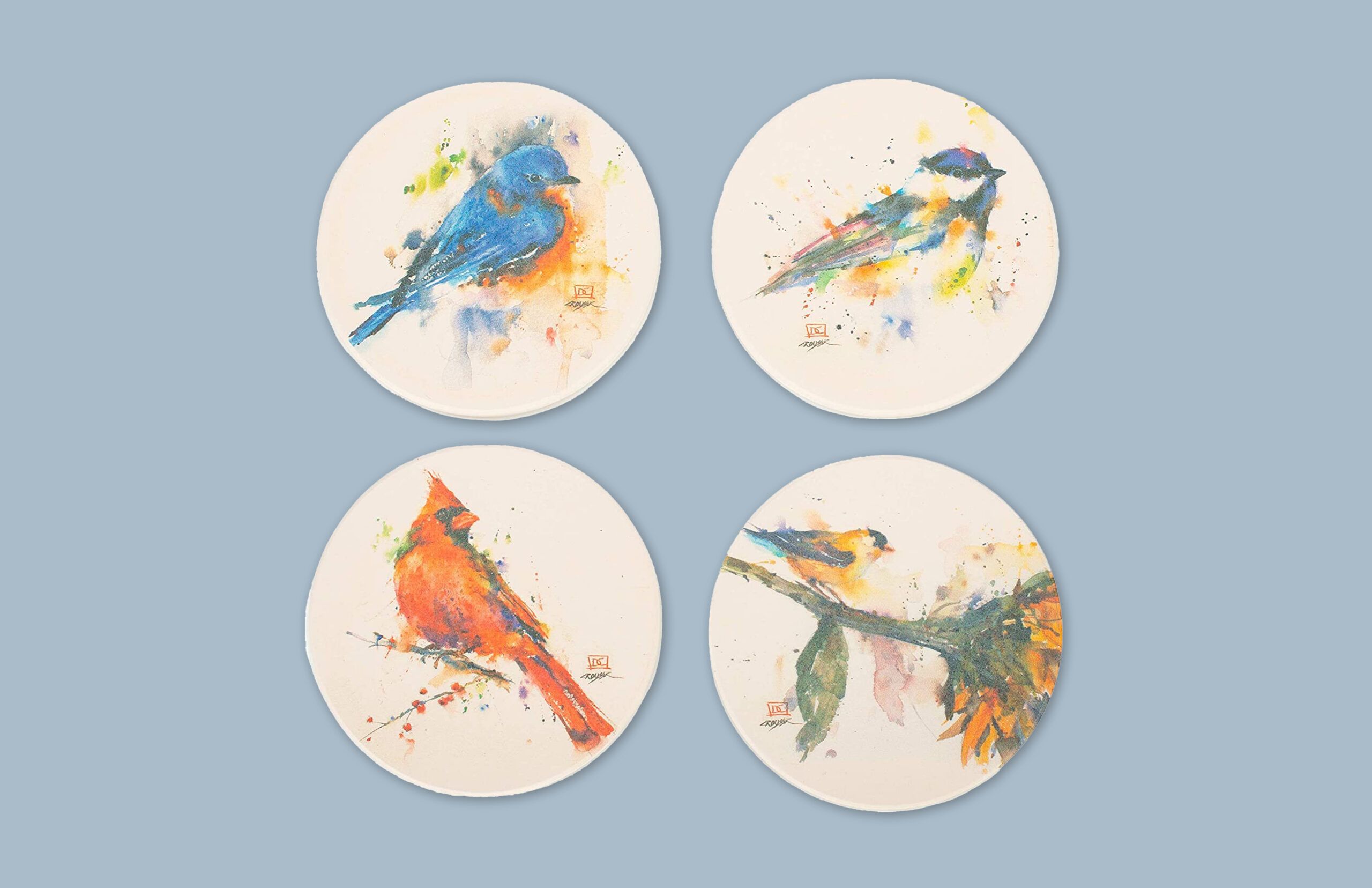 The four coasters in this set feature different watercolor songbirds on their ceramic top with a cork bottom that won't scratch your table. At four inches in diameter, they're large enough to fit most standard-sized mugs, glasses, water bottles, and cups.
LINALL Cocktail Bird Glasses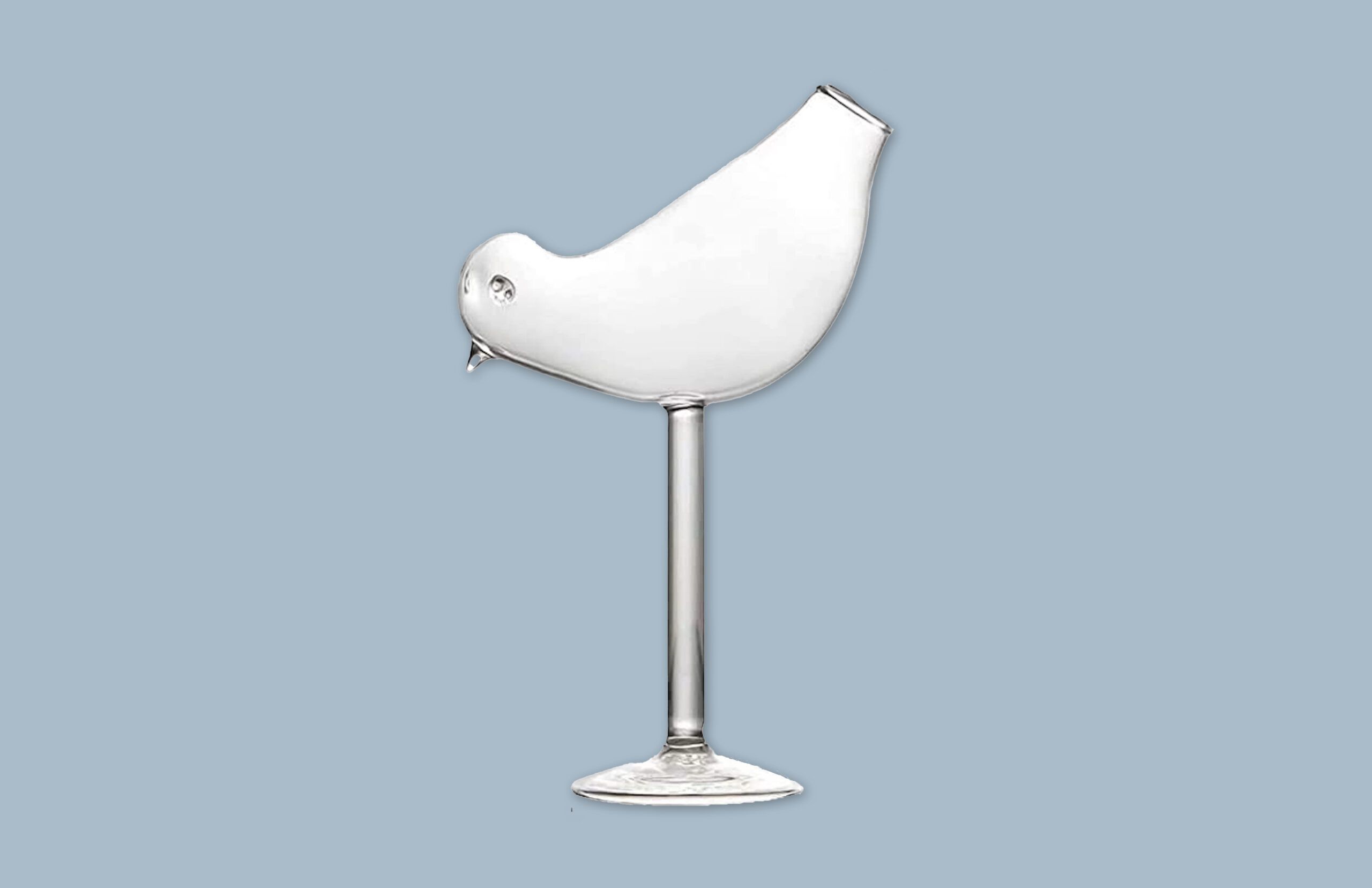 Your bird-loving friend will get a kick out of being able to serve drinks in these bird cocktail glasses. Coming in a set of four, these glasses have a creative shape with the stems acting as bird feet. Made from premium hand-blown glass, these cocktail glasses can hold 150 milliliters of liquid, which is within the normal range for cocktails.
Why Trust The This Old House Reviews Team
This Old House has empowered homeowners for more than four decades with top-notch home improvement content in the form of television programs, print media, and digital content on its website and social media platforms. The This Old House Reviews Team focuses on creating in-depth product and service review content to help inform your purchasing decision for just about any item or resource that you might need for your home. The This Old House Reviews Team has written over 1,000 reviews on products in the home space, from cordless drills to kitchen trash cans, lawn mowers, and dining room decorations.
We recommend products in each review using an intensive research process, spending hours combing through the best available models on Amazon. For a product to make our list of top picks, it must hold a solid sales record on Amazon, have consistently positive customer reviews, and offer unique features, among other factors. After narrowing down our list of recommendations, we conduct additional research and sometimes in-person testing to ensure that the products meet our standards. Once we conclude the research phase, we craft a well-rounded, user-friendly article that includes our recommended products and additional information to help homeowners like you make the right purchase.
To share feedback or ask a question about this article, send a note to our Reviews team at reviews@thisoldhousereviews.com.