Front Exterior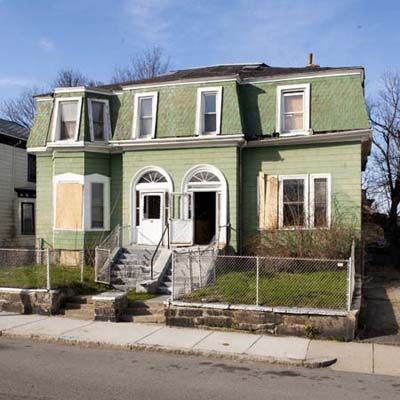 This 1870s Second Empire is located in Boston's Roxbury neighborhood, once a prosperous suburb for affluent Bostonians wary of chaotic city life. Roxbury was an independent city, until it was annexed by Boston in 1868. The foreclosure crisis caused hundreds of houses to be abandoned, including this one, our latest This Old House TV project house. As part of its 30th anniversary season, TOH TV will work with the nonprofit Nuestra Comunidad to renovate this house, then sell its two spacious units separately—at an affordable price—to deserving homeowners. Nuestra Comunidad was formed in the early 1980s to address the lack of affordable housing for Boston's Hispanic population and now serves the entire community.
Roofing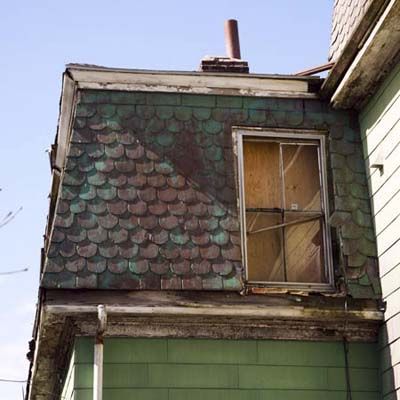 General contractor David Lopes will strive to retain the house's Second Empire character, despite being on a tight-as-a-tightrope budget. The renovation will use materials known for their affordability and durability. For example, the green asbestos siding will be torn off and replaced with fiber cement siding, and the dilapidated slate roofing will be removed (and salvaged), then replaced with recycled rubber architectural shingles.
Rear Addition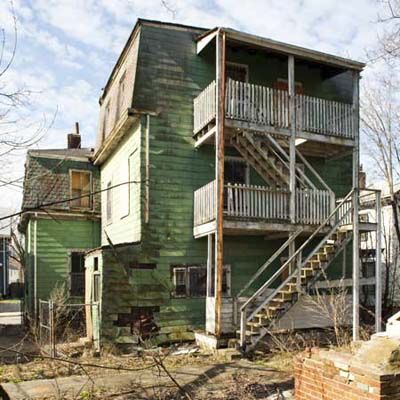 To keep renovation costs as low as possible, this ramshackle three-story addition will be removed, returning the house to its original footprint.
Second-Floor Front Room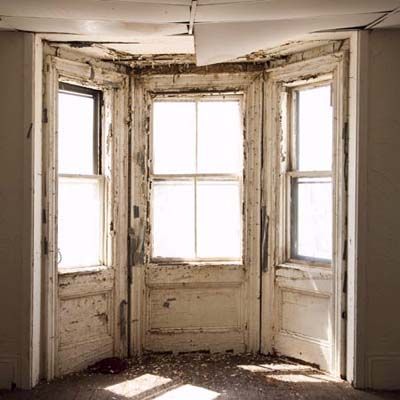 Aging millwork, such as these window casings and panels, will be replaced with replicas featuring the same dimensions and profiles. The old windows will be replaced with money-saving Energy Star–approved versions, and the ugly dropped ceilings will (thankfully) be removed, exposing the house's original lofty ceilings.
Second-Floor Kitchen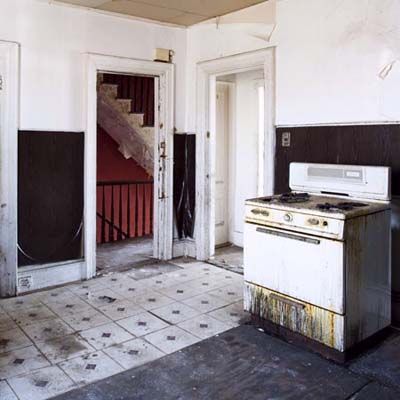 This grimy second-floor kitchen will be transformed into a comfy bedroom. The house's new kitchens will be located in the center rooms of the first-floor levels.
Second-Floor Staircase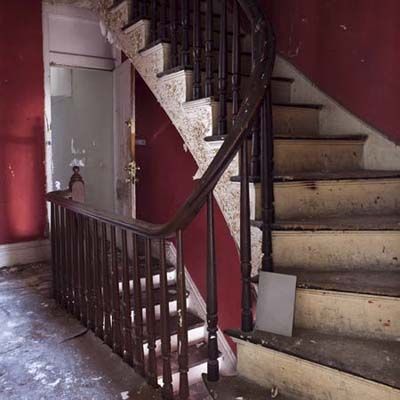 A curved staircase leading up to the addition will be removed and salvaged.
Kitchen in Addition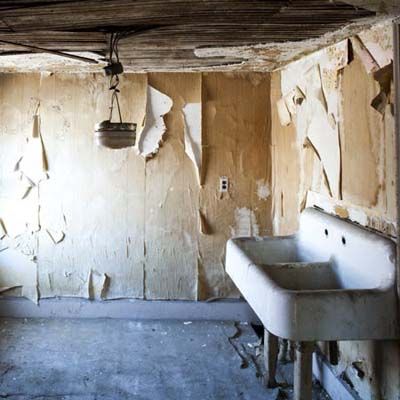 This creepy little kitchen in the house's addition will be removed during the demolition.
Ceiling Medallion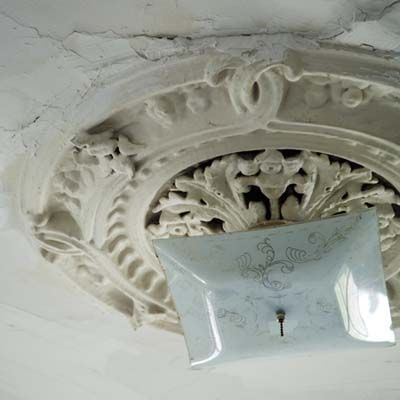 These plaster ceiling medallions, one of the house's most eye-catching attributes, will either be restored or replicated throughout the house.
Front Hall Staircase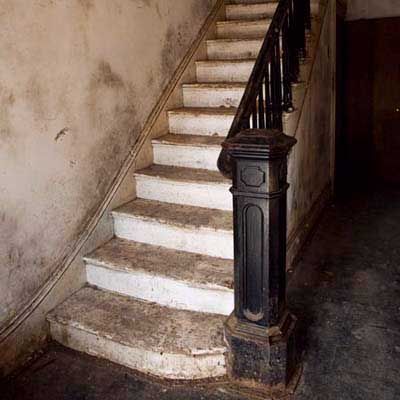 While the treads and risers of this front hall staircase must be replaced to meet building code requirements, the hand-carved wood banister and newel post will be restored.
Rear Bedroom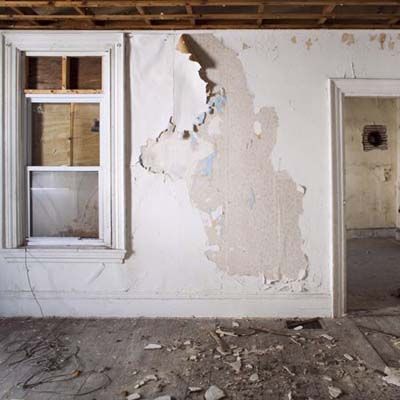 Once the addition is gone, this back bedroom will once again be flooded with sunlight from a previously blocked-off window.
Front Door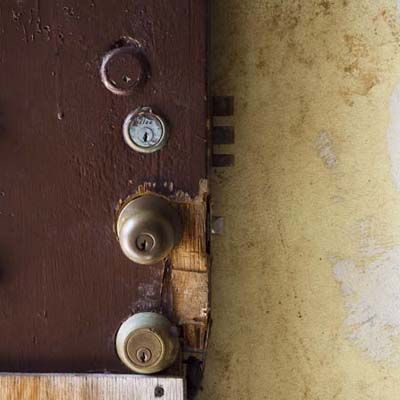 Roxbury has a nefarious reputation as a high-crime area, as evidenced by all the locks on this front door. TOH TV hopes to make the neighborhood safer by restoring this abandoned house and selling it to someone who is truly invested in the neighborhood and its safety.
Fireplace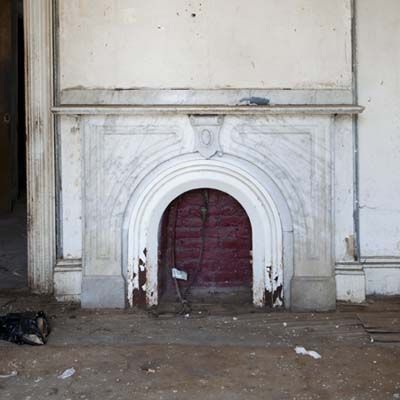 This solid marble fireplace mantel will survive the renovation. The house's other unit had the same type of mantel, but the crew found it—split in half and beyond repair—in the basement. General contractor David Lopes hopes to find a matching one to replace it at a local salvage yard.
Bedroom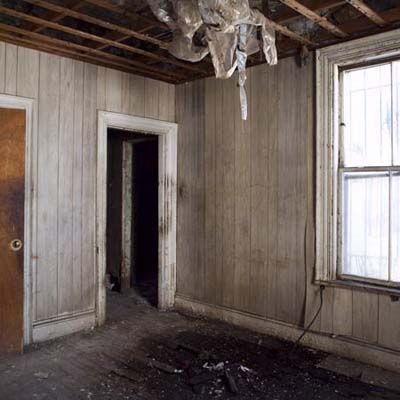 This bedroom will be completely redone. Aging plaster will be removed and replaced with drywall. TOH TV and company will install a forced-air heating system, which will be able to accommodate central air-conditioning, should the new homeowners choose to install it.
First Floor
A middle room on the house's first floor will be turned into a spacious kitchen.
Addition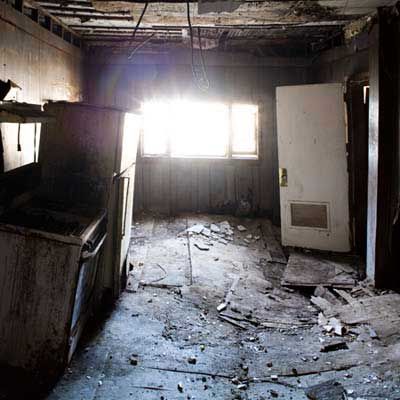 This photograph speaks to the deplorable condition of the soon-to-be-demolished addition.
Backyard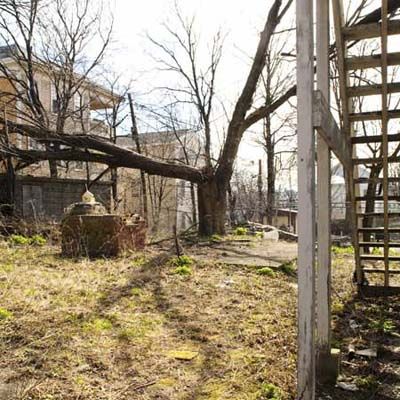 Dead trees and debris will be removed from the backyard, which will be completely re-landscaped to serve as an urban retreat from city living.