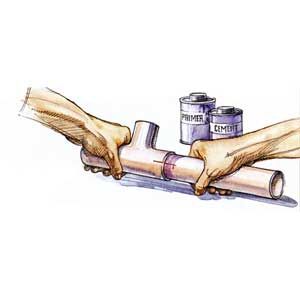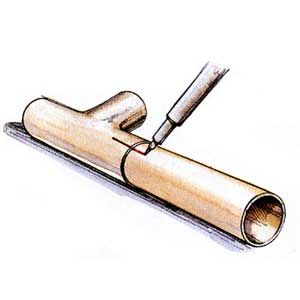 PVC pipe and fittings are lightweight, inexpensive, and easy to cut and assemble. The parts are "welded" together with a simple two-step process that includes a primer and a solvent cement.
There are no special skills or tools required for working with PVC pipe, but alignment of the parts, as with any plumbing material, is critical. Solvent cement sets up almost instantly, and once it does, the joint is permanent. That's why it's important to dry-fit all connections before welding them together.
First, slide the fitting onto the pipe end, twist it to the correct position, then draw a line straight across the joint with a permanent marker, as shown above. Pull off the fitting and spread a coat of primer onto the pipe end and around the inside of the fitting.
Follow up with a coat of solvent cement. Immediately push the fitting back onto the pipe and twist it a quarter turn until the two lines match up.