1. Seek Out Shade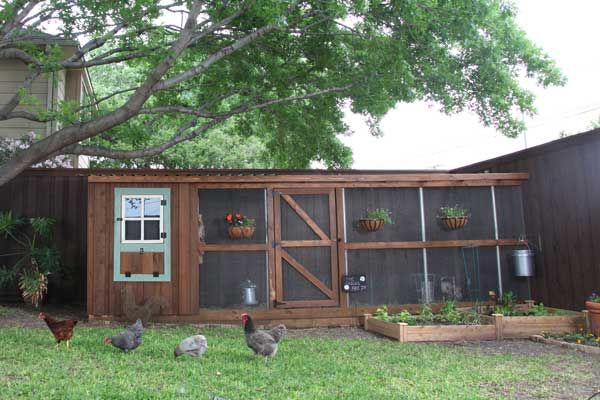 This coop has a prime spot beneath an old shade tree. In summer, the leafy canopy helps keep the flock cool, and in winter, sunlight streams through the bare branches, offering warmth. Rustic brown siding gets gussied up with hanging baskets and a pop of green around the windowed area.
2. Prop It Up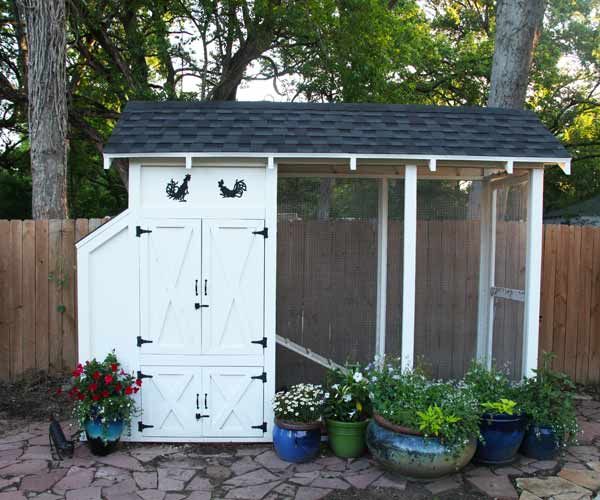 Elevating the nesting area's floor 2 to 3 feet off the ground keeps the flock's feet dry during wet weather. In this design, a ramp lets the chickens move freely between the coop and the run, while stacked double barn doors provide easy access to both spaces for cleaning. The walls of this coop were built tall enough to accommodate an off-the-shelf screen door from the home center.
3. Illuminate The Inside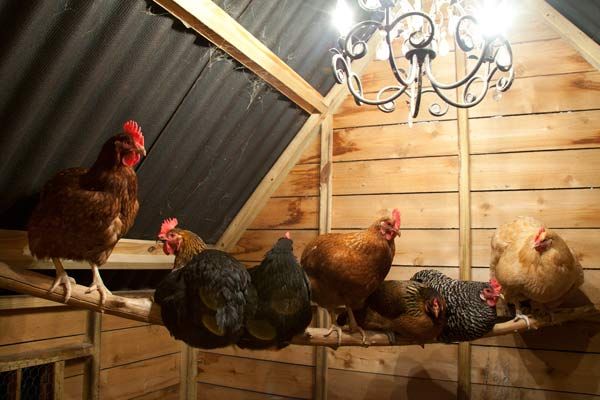 Egg production tapers off when hens don't catch enough rays, which explains why many flocks stop producing completely in winter. A little mood lighting inside their coop, however, can help compensate for the shorter days. Just be sure to select bulbs that cast a warm glow—as the chandelier shown here does—since bluish-white light won't trigger laying.
4. Feather The Nest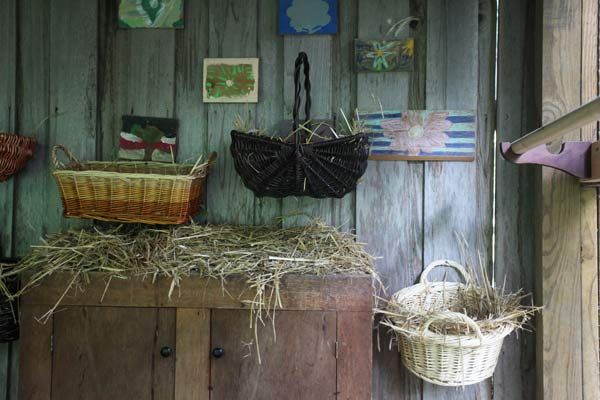 No coop is complete without nesting boxes and roosting perches. Inside this coop, sturdy wicker baskets padded with straw serve as cozy places for hens to lay their eggs, while a wood closet rod acts as a perch for sleeping. Colorful paintings hung on the wall make egg collecting that much more fun.
5. Use Predator-Proof Hardware
Because chickens are easy prey for nocturnal critters, such as raccoons, opossum, and foxes, select metal latches for your coop that can't be flicked open by a paw, and always lock up your flock at night. Here, a barrel-bolt latch safeguards the hens.
6. Create a Safe Outdoor Space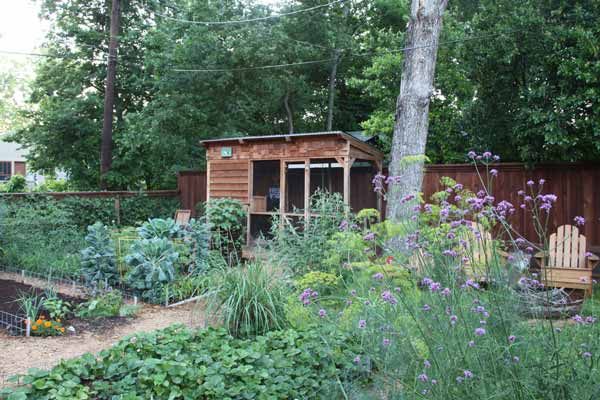 A run screened-in with sturdy hardware cloth is a win-win design: Your feathered friends get to play outside all day while you rest easy knowing that they can't wreak havoc on your veggie patch or get snatched by a neighborhood cat. This cedar coop even has a screened-in tunnel that connects to a fenced section of the yard (not shown), giving the flock a defined free-range space.
7. Install Vents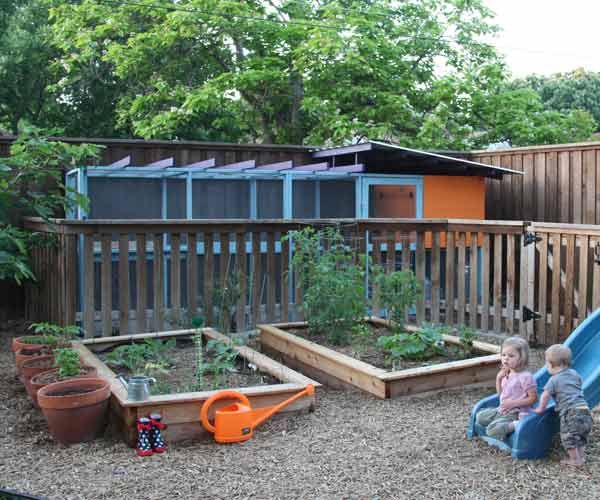 Chickens get sick if the air inside their coop doesn't circulate. The screened-in gap between the walls and slanted roof of this coop lets hot air escape without causing a draft in the sleeping quarters below.
8. Think Convenience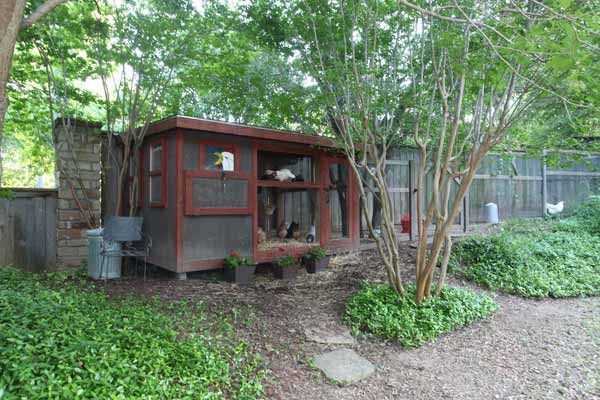 Keep in mind that chickens need fresh food and water daily and their quarters need cleaning regularly. A walk-in design makes scrubbing down the coop's interior less of a chore, while built-in storage and even a rain-collection system can save time. This walk-in setup includes a well-sealed metal trash can, perfect for stashing feed.
9. Repurpose and Reuse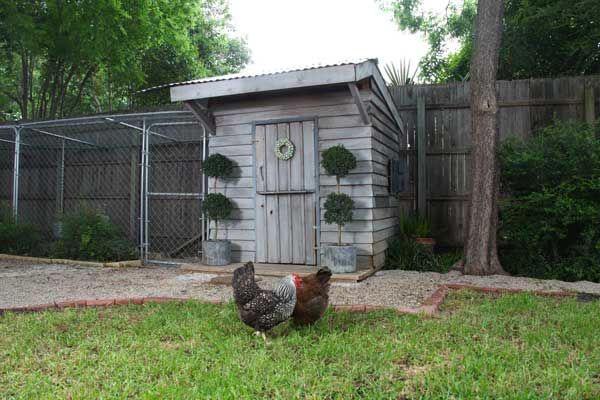 Converting an old outbuilding is sometimes easier than starting from scratch. Before this structure was a coop, it was a playhouse for kids. If you go the salvage route, however, safeguard the health of your chickens by steering clear of lumber that's coated with lead paint or preserved with harmful chemicals.
10. Get Creative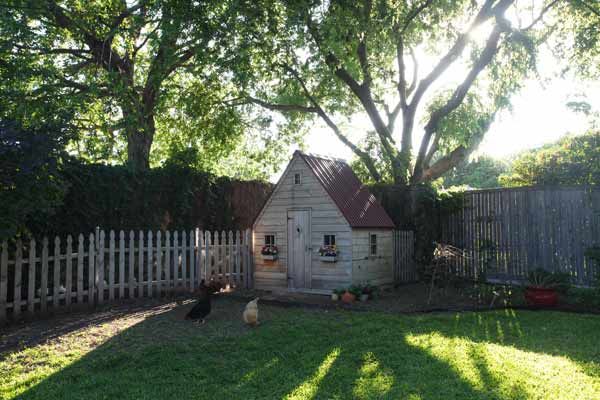 Just a few architectural details go a long way to dressing up a chicken house. Here, embellishments, such as flower boxes in front of divided-light windows and scalloped trim beneath a red tin roof, give the coop cottage charm.