One of the most vital elements to any landscaping layout is the path that parts it, whether that walkway leads straight to the front door or meanders through a back garden. Functionally, a walkway must be level, stable, and otherwise structurally sound for good drainage and to avoid tripping hazards—but that doesn't mean it shouldn't also look great.
Options abound when it comes to materials and patterns, and prices can vary a great deal if you hire a pro to design and install the path. If your budget is more down to earth than sky's the limit, there are plenty of projects, using affordable (even free!) materials, for DIYers with different degrees of skill. Check out these delightful ideas for inspiration and helpful how-to tips, and get going on a walkway that wows!
Not-so-basic brick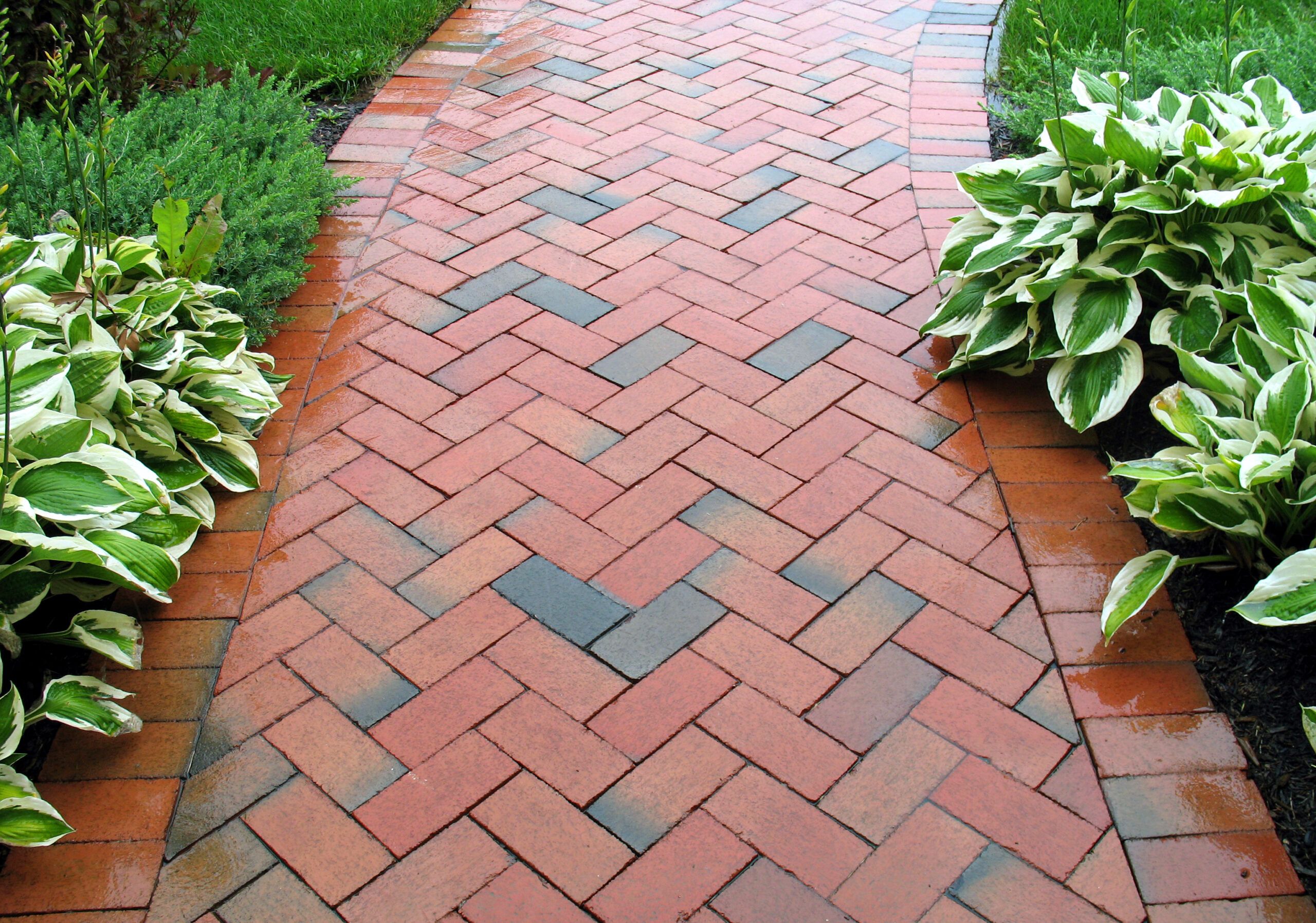 Well-suited to colonial and other styles of traditional architecture, brick walkways are popular—but they needn't be pedestrian. Brick can be laid in several attractive ways, including running bond, stacked bond, basketweave, and bordered herringbone—and brick pairs well with other materials, such as stone and concrete.
Classic red is warm and welcoming, but color choices include white, tan, brown, orange, gray, and black. Note that brick pavers are made especially for walkways, as conventional brick is too soft and porous.
Brick on a budget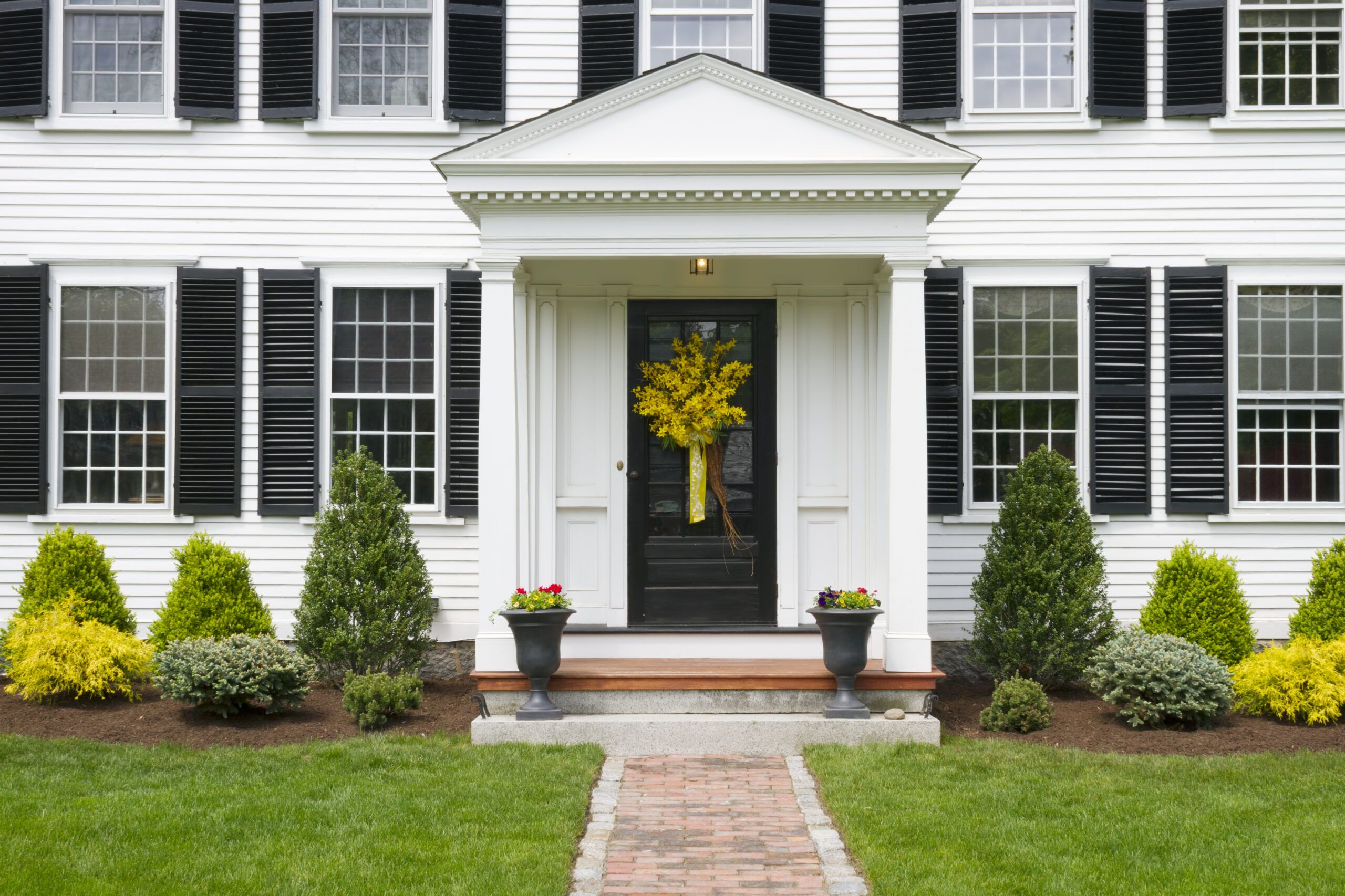 When it comes to pro installation, brick pavers are considered a mid-range option, running between $10 and $25 per square foot. Brick is labor-intensive to cut, so the more intricate the pattern, the more you'll pay.
There are ways to save, however: Start by doing the prep and any demo work yourself, and, if possible, opt for dry-laid installation (brick set over sand) instead of mortar. You can also bank bucks by scoping out salvaged or surplus bricks.
To DIY a brick path, you'd set a layer of gravel and then sand before the bricks. To calculate the necessary amount, determine the area of the walkway and allow five bricks per square foot.
Go with gravel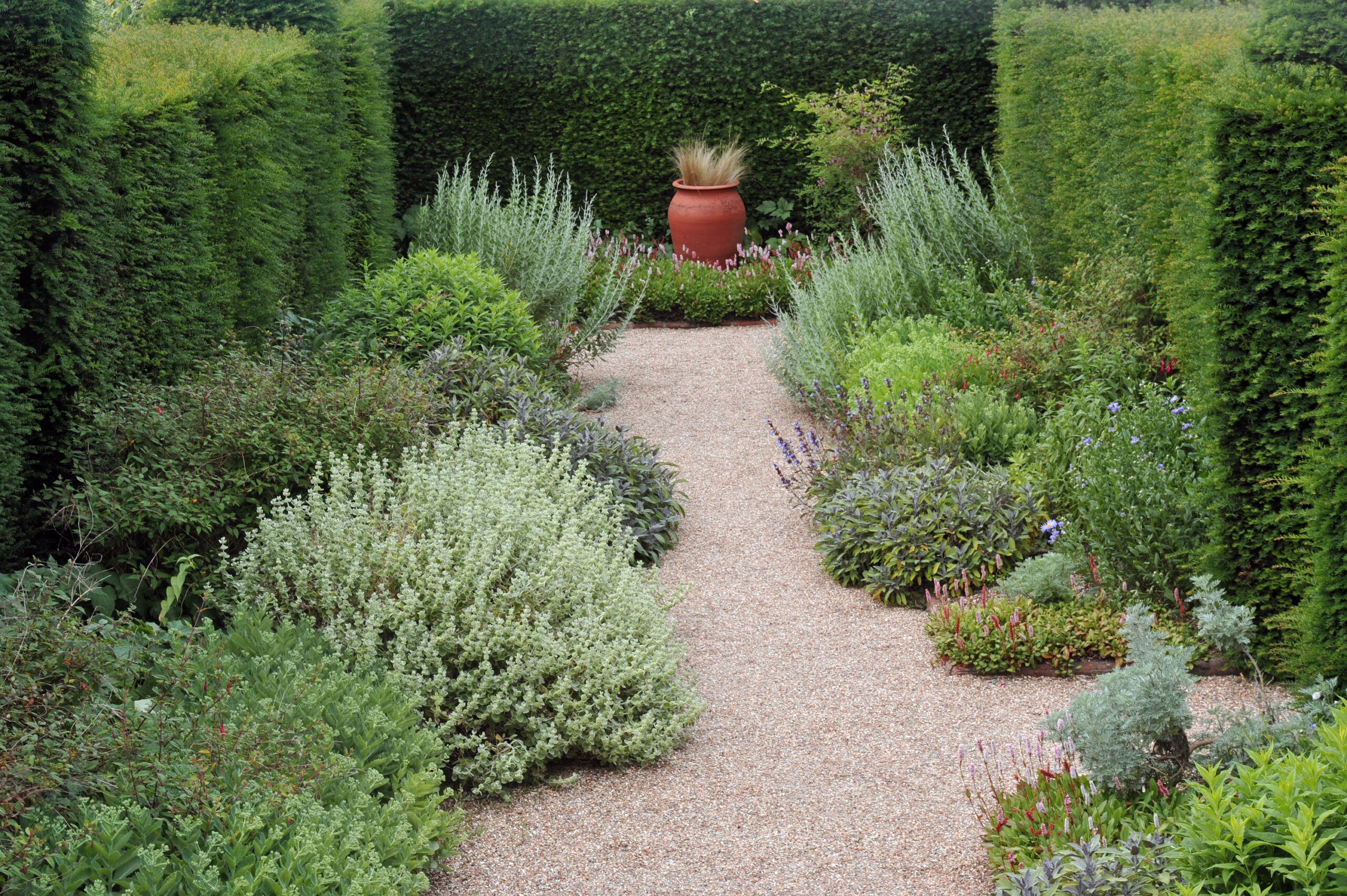 Versatile, inexpensive, and casual, gravel suits a variety of home styles, from quaint cottages to modern ranches, particularly as a backyard walkway. It's available in a spectrum of colors and sizes (though traditional gray has a way of making greenery pop) and it works nicely with other materials like rocks and pavers.
To DIY a straight path, define the perimeter with stakes and string, and in the less common case of a curvy walkway, use a garden hose or PVC pipe to define the edges. Excavate the area levelly, then layer several inches of crushed gravel, followed by a layer of sand, and top with pea gravel (the smallest variety).
Two caveats: Gravel is a poor choice for slopes, and it's challenging to clear of snow, so skip it for a front walk if your area's prone to heavy winter storms.
Pallet path
Snag a few pallets (the budget-conscious DIYers' favorite wood source) and you're on the way to a walk that's virtually free! Disassemble the boards and seal them with polyurethane to withstand the elements and foot traffic.
Dig the path, level the soil, and lay each plank in place, leaving about an inch in between each one. Tip: If the nails are still attached, insert them into the dirt to help anchor the boards.
Creative concrete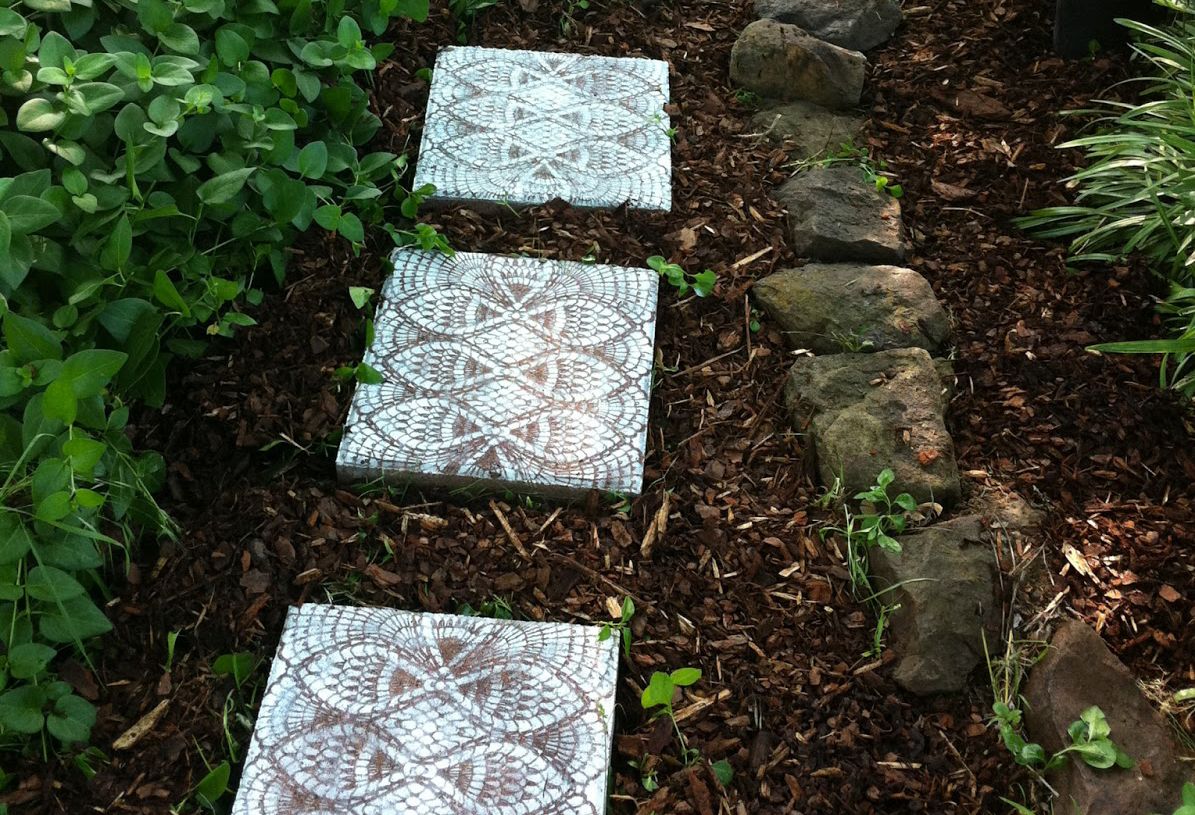 Standard concrete sidewalks can look stodgy, but concrete can be jazzed up big time! You needn't pour it yourself, either.
To pretty up plain concrete pavers with a lovely lacy design, use exterior spray paint and a rubber or vinyl doily to serve as a stencil. Give the pavers a good soap-and-water scrubbing, rinse, and let dry fully before placing on the path. Cut out a cardboard shield and put it around the stepping stones to protect the surrounding area, lay down the doily, and spray away!
Thanks so mulch!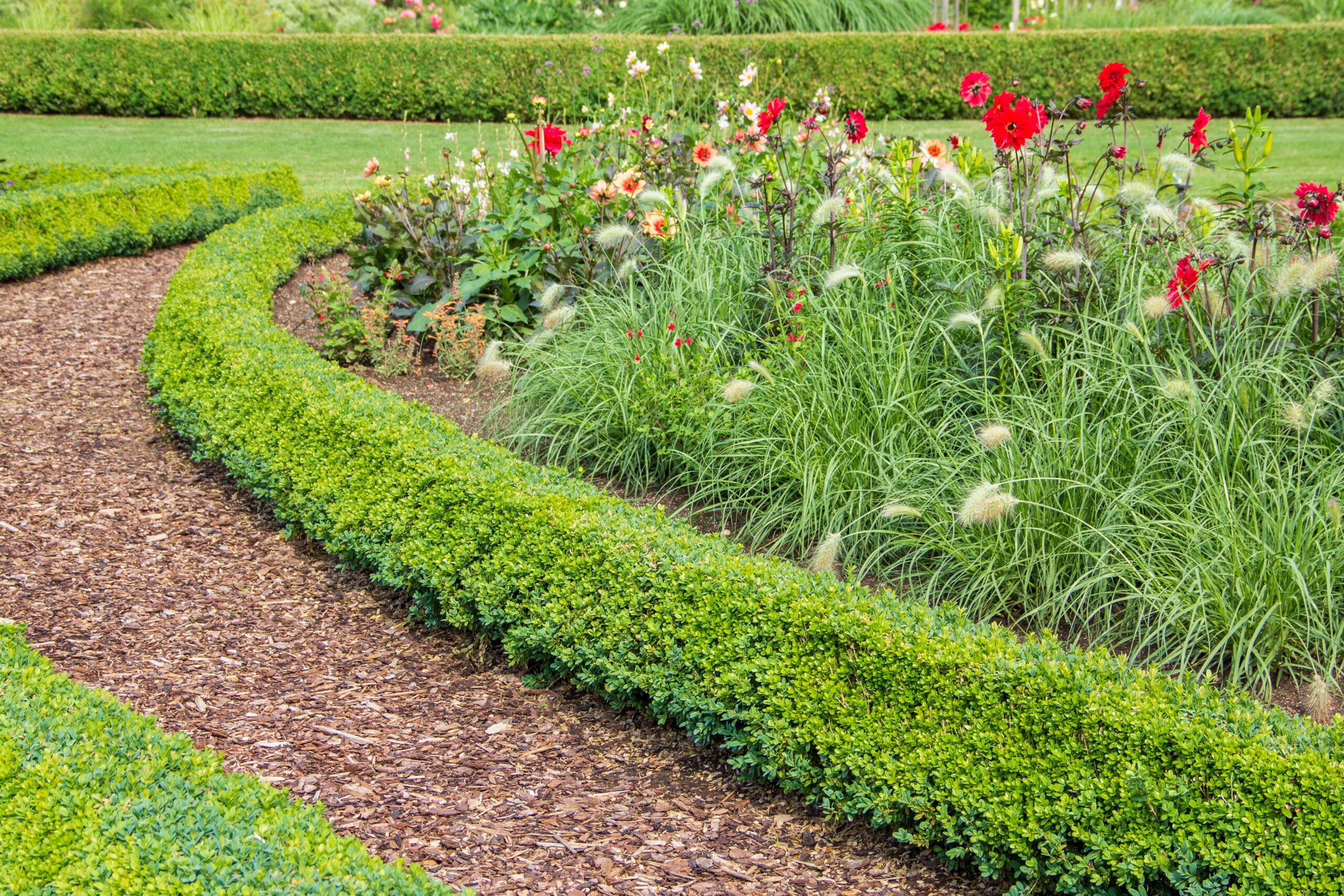 If you live in an area that's warm year-round, organic mulch (wood chips, cocoa bean, cypress bark, or a combination) may make a perfect pathway. It has a casual, natural vibe, feels pleasantly soft underfoot, deters weeds, and is one of the most affordable materials out there.
Delineate the path and dig it out, then line the rim with plastic edging. Add several inches of crushed stone for drainage, and top with mulch chips. Create a tidy border with brick, stones, or plants if desired.
Take a tumble
For a walkway with gleam galore, use tumbled glass. It's made from recycled bottles, machine processed to remove sharp edges, and comes in gem-like tones of blue, green, and amber, as well as translucent. While more expensive than organic mulch, it's durable and low-maintenance; to save cash, try sourcing tumbled glass at local recycling centers.
Lay down logs
A cheap walkway doesn't get any better than free! So should you need to cut down trees or do some major pruning on your property, why let that earthy beauty go to waste? Crosscut logs into rounds a few inches thick, coat with polyurethane, and lay them on level ground to which you've added a bed of sand or pebbles. Fill the gaps between the rounds with gravel, pebbles, or plain old dirt.
Eye-popping pattern
A pebble mosaic in a motif of your own invention makes for a truly unique walkway. Materials may come at no cost if you collect them from a riverbed or beach (they can also be purchased at a stone yard).
But this is a fairly complicated project, requiring you to make a mold, pour concrete, and arrange the stones in a pattern. Fortunately, this garden pro—a true mosaic master!—details his process for you to follow.
Sand and stone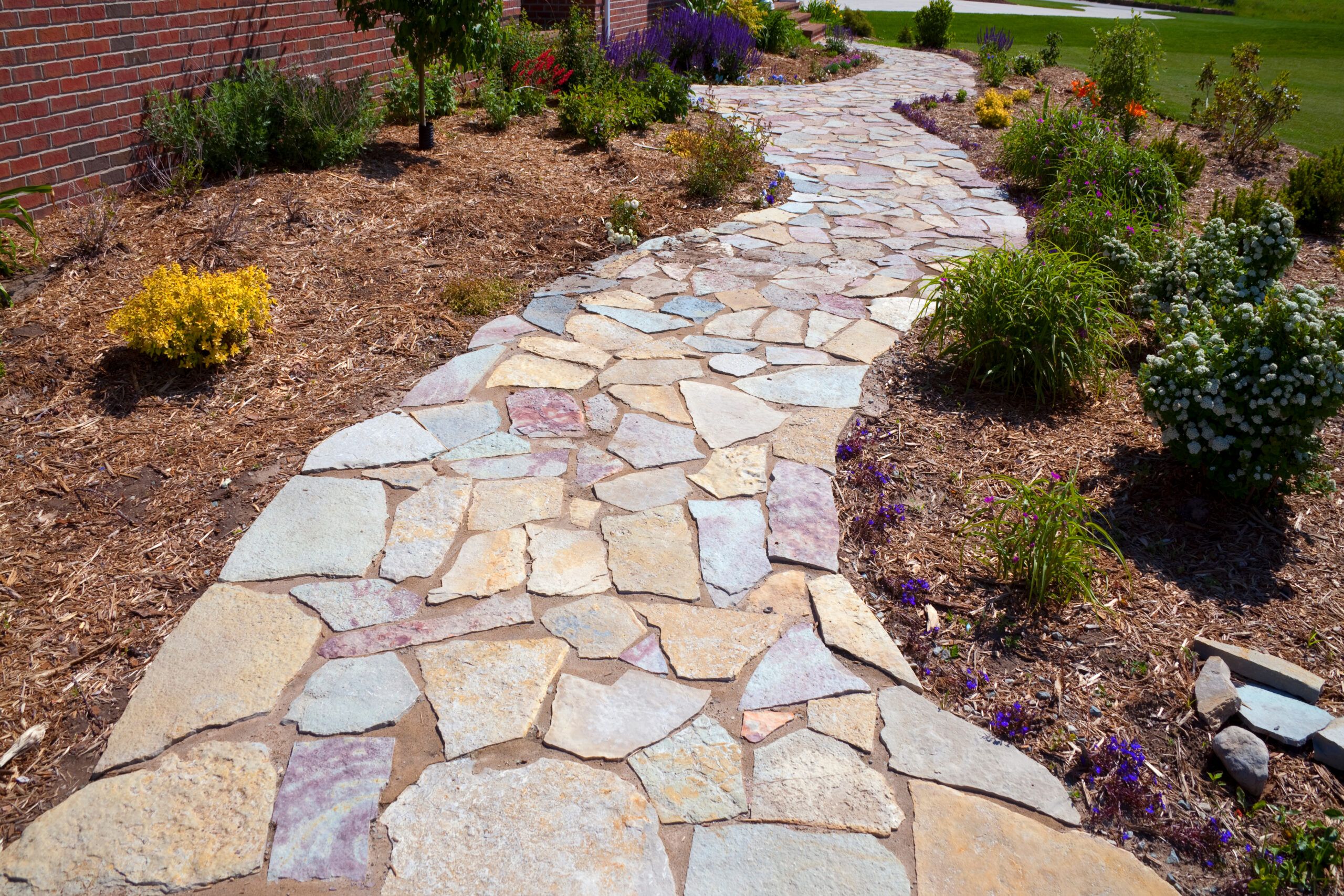 While a professionally installed stone walkway will typically be set in a concrete foundation, a DIY alternative—costing less than $4 per square foot—is to snuggle slabs of stone in paver sand. Two- to three-inch-thick flagstone pieces will be sturdy enough to hold up to foot traffic.
After defining and digging out the area, lay landscape fabric, followed by several inches of paver sand, then insert stone pieces as if putting together a jigsaw puzzle. Fill gaps with more sand or gravel.
At what price pavers?
For more formal homes and landscapes, there may be no substitute for traditional paving stone. The cost for materials—brick, concrete, natural stone, or travertine—and installation can vary widely.
For instance, installing travertine pavers to cover 100 square feet can run between $1,025 and $1,275, depending on location, according to Remodeling Expense. DIY install is possible, but it's an ambitious project involving outlining, excavating, spreading a gravel base and then sand before setting the pavers, filling the gaps, and finally sealing the walk.
Calling all collectors
Might all the seashells, pebbles, and sea glass you've amassed over the years become a part of your landscape? This creative collector did just that, making molds out of plywood and Quick-Tube (a product intended for building columns).
Arrange your collections and fill with concrete; once cured, pop the rounds out of the forms and arrange the stepping stones into a path.