Get Ready for Prime Time
While paint is responsible for delivering the color, the primer's job is to best prepare the surface for painting. Priming helps solve a wide range of issues including a very porous surface (like new drywall or masonry), stains, unwanted odors, surfaces of uneven sheen, porosity, and texture, and adhesion problems.
And when it comes to painting cabinets, it's important to keep in mind that kitchens are naturally exposed to high humidity and moisture; these factors can negatively impact your painted surfaces if they're not properly primed first. Be sure to choose a formula that offers exceptional coverage, excellent adhesion, and resistance to mold and mildew. Always scrub clean any visible mold or mildew and allow surfaces to dry completely before you begin.
Take Your Kitchen from Cream to Green
Slide to see before-and-after transformation.
When you're starting with light cabinetry and planning to go a bit darker, you might be tempted to skip the priming process—don't. For for the best color saturation, prep is the most important step, even when covering lighter shades.
Get This Look: Start with KILZ 3® Premium Primer, a fast-drying, low-odor, and very low-VOC stain-blocking primer that provides a mildew-resistant coating, especially important in high-moisture and high-humidity areas like kitchens. Finish with a fresh topcoat of KILZ® Tribute® satin-finish paint in light and fresh Subtle Celery.
Create a Contrasting Island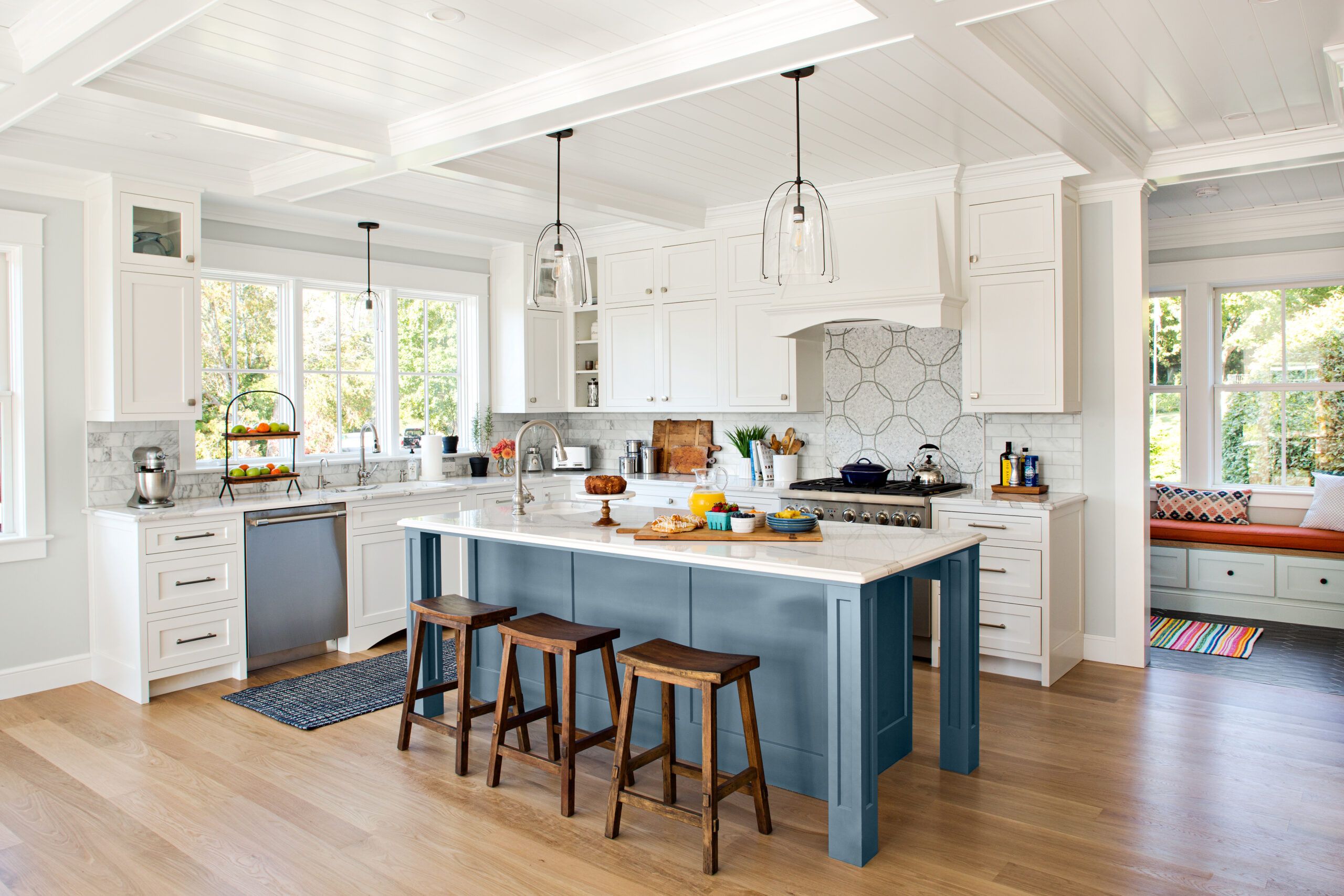 Turn your island into a fresh focal point in an otherwise neutral kitchen, with a coat of deep inky blue.
Get This Look: In moisture-prone areas like kitchens, start with a mildew-resistant primer like KILZ 3 Premium Primer. For your enamel, choose a satin or semi-gloss finish that's durable and scrubbable, like KILZ Complete Coat® in India Ink. Apply paint with a brush or roller, moving in careful strokes in the same direction as the wood grain for a smooth, even finish.
Want to visualize this color in your own space? Use KILZ® COLOR PERFECT™ to upload and virtually paint digital photos of your painting project.
Try Two-Toned Cabinets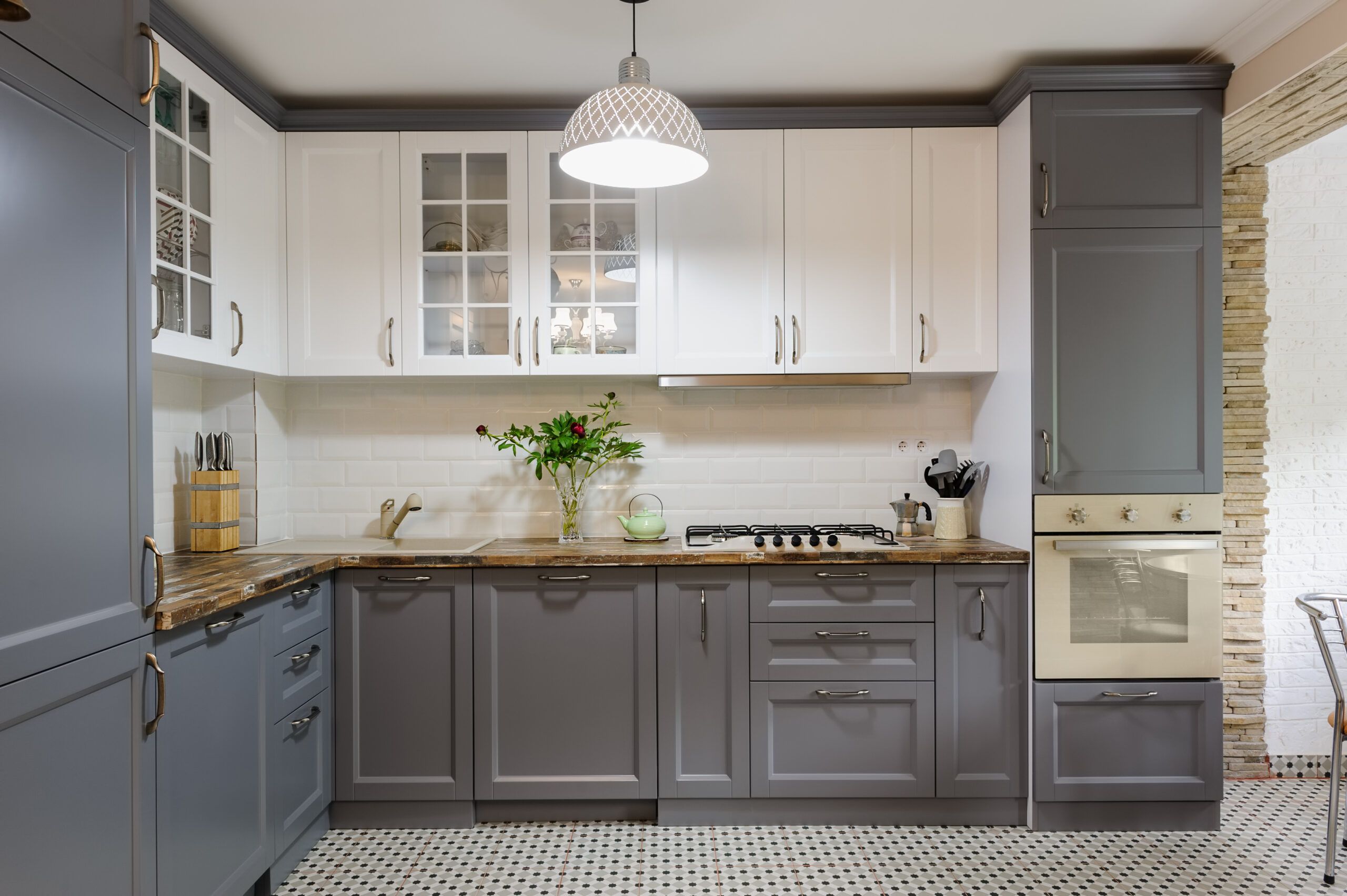 Who says you can't mix and match? Here, two-toned cabinets are pulled neatly together with matching bronzed hardware.
Get This Look: Start with a high-quality primer that promotes adhesion, like KILZ 2® All-Purpose. This formula is designed to help paint adhere to a variety of surfaces, from rough wood to glossy laminate. For an exceptional finish in a low-VOC product, try KILZ Tribute Interior Satin Paint in subtle Contemporary White and Old Lamppost, an antiqued dark blue-gray.
Lighten Up Dark Cabinetry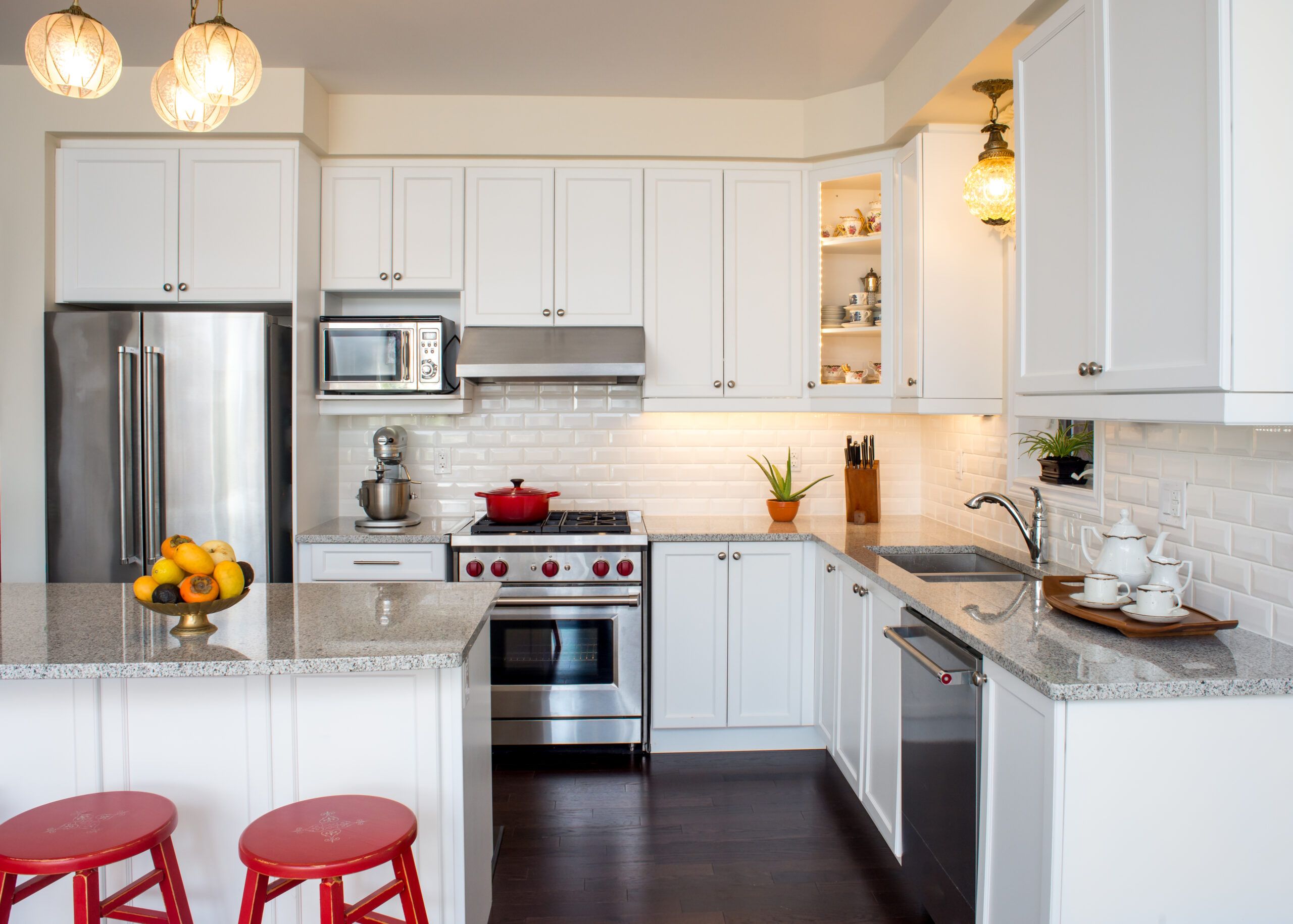 When painting over a darker color with a significantly lighter shade, proper priming is key to preventing the original color from showing through and changing the tone of the new color you selected.
Get This Look: Start with KILZ 3 Premium Primer; it has a thick, high-hide formula that will cover even the darkest tones. Top with KILZ Complete Coat in White Wing, a soft sugary white with a cotton undertone.
Play with Textures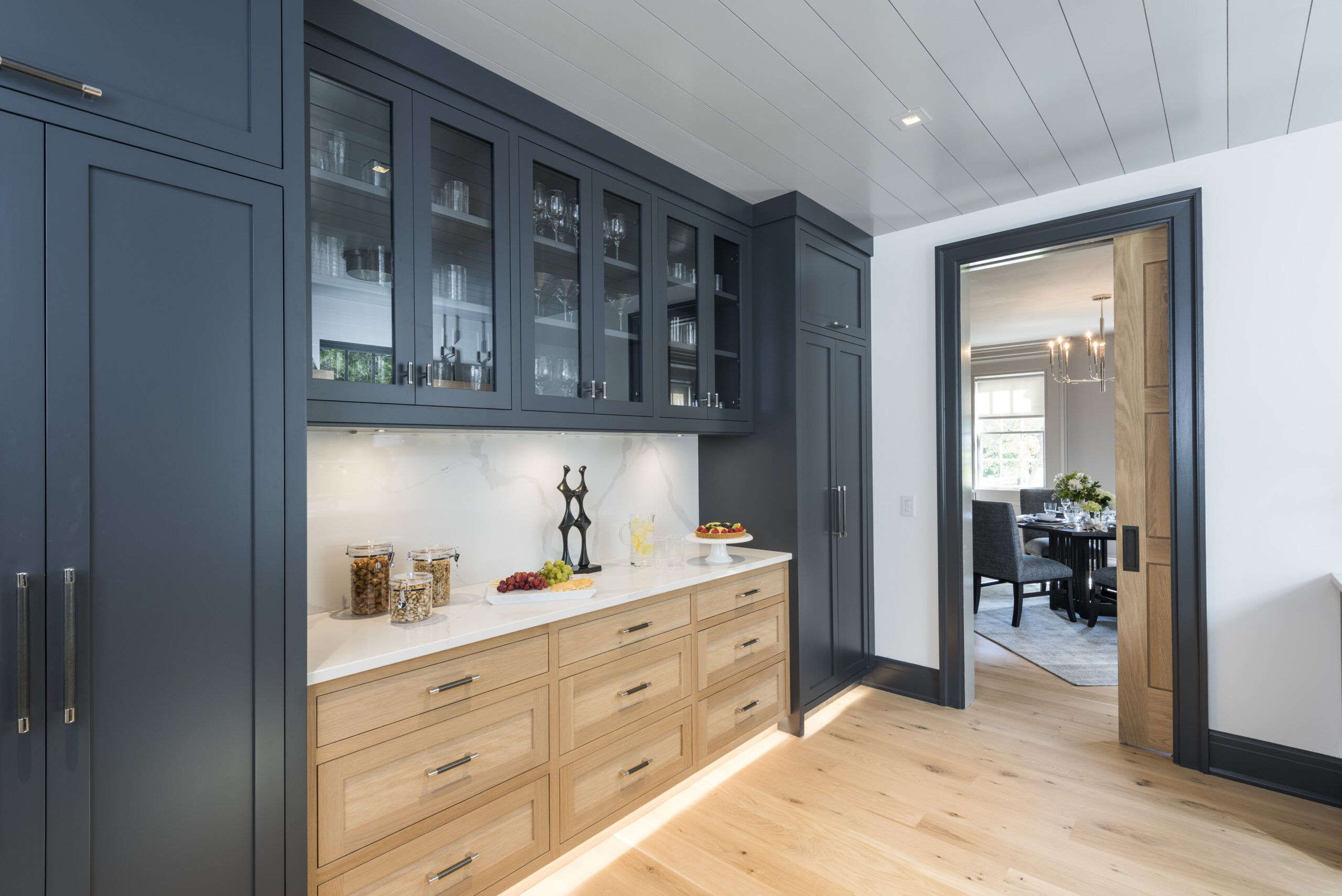 Don't be afraid to mix and match textures; as shown here, natural wood tones shine brightly against deep, saturated colors.
Get This Look: When using a very saturated paint, start with KILZ 2® Gray Primer, a fast-drying, water-based, multi-surface primer-sealer-stainblocker formulated for use under dark, vibrant topcoats. This helps achieve more accurate color with fewer coats of paint, and also improves the hiding of previous colors. Finish with a rich, blue top coat, like BEHR PREMIUM® Interior Cabinet & Trim Enamel in Very Navy.
Go Gray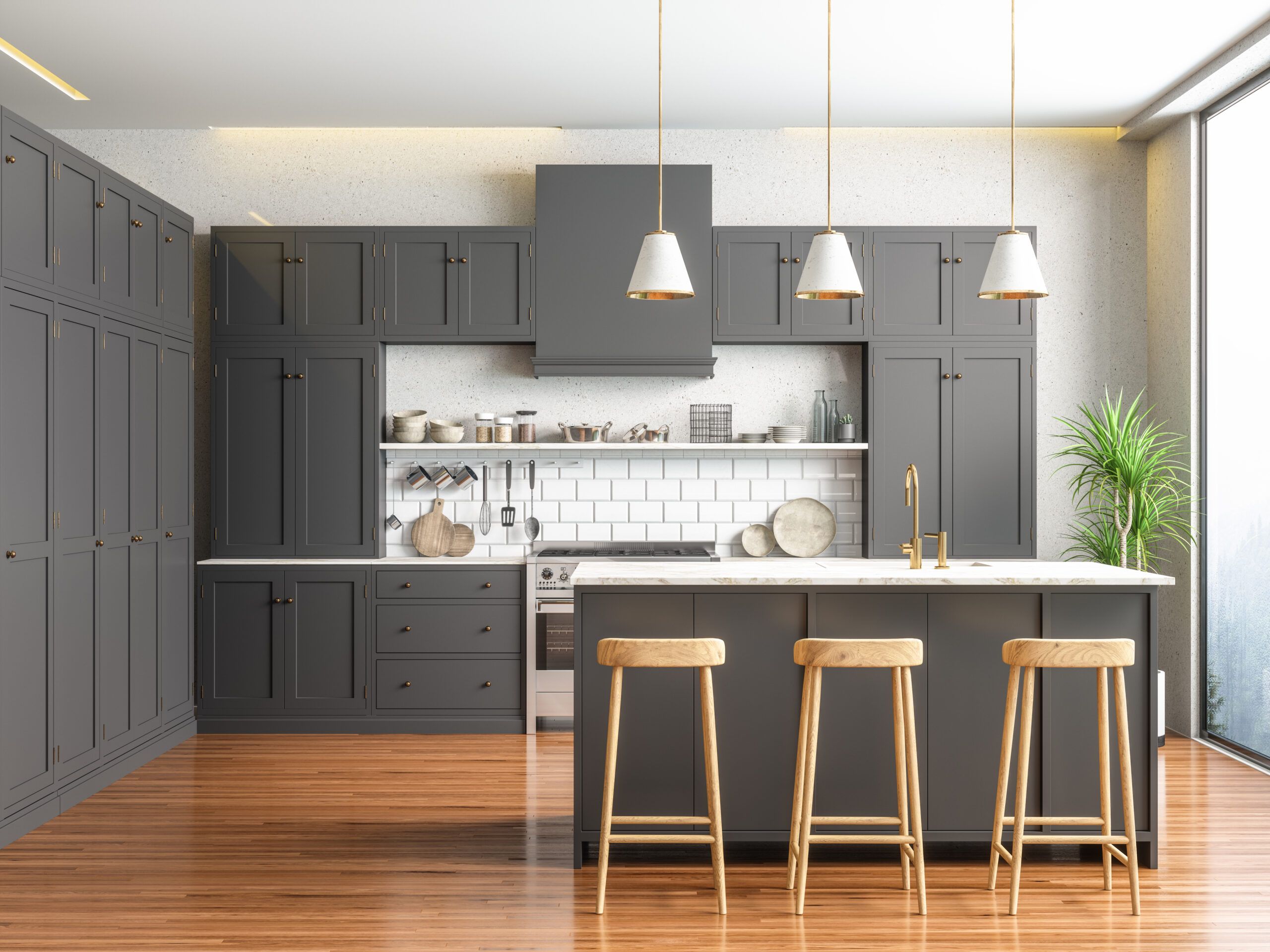 Going gray is here to stay, as gray continues to trend upward as the "third neutral." In this kitchen, nearly floor-to-ceiling gray cabinetry is given an extra boost of warmth from wood floors and white and gold accents.
Get This Look: KILZ® Kitchen & Bath Primer creates a mildew-resistant primer film, and offers excellent adhesion to most interior surfaces. If you're making a dramatic color transition, KILZ primers can be tinted to better achieve color matching to your desired topcoat. Top with KILZ Complete Coat in Graphic Gray, a deep suede-like gray with warm undertones.
Get a Wow-Factor Wall Color
Slide to see wall color transformation.
If you like the rustic finish of natural-wood cabinets but you're looking to add a pop of personality, try painting the walls for a quick-and-easy total transformation.
Get This Look: Start by priming your kitchen walls with KILZ® Mold & Mildew Primer, a water based primer-sealer-stainblocker that is specially designed for residential surfaces in high humidity, moisture, and temperature environments such as kitchens, bathrooms, and laundry rooms. It will block most medium to heavy kitchen stains like those from light smoke, grease, or food spatter, so you'll start your paint job with a perfectly clean slate. Finish with a coat of satin enamel, like BEHR ULTRA™ Interior Paint in North Pole Blue; the satin sheen creates a pearl-like finish that's durable and dirt resistant. It will also resist moisture, fading, and stains.
Add Aqua Accents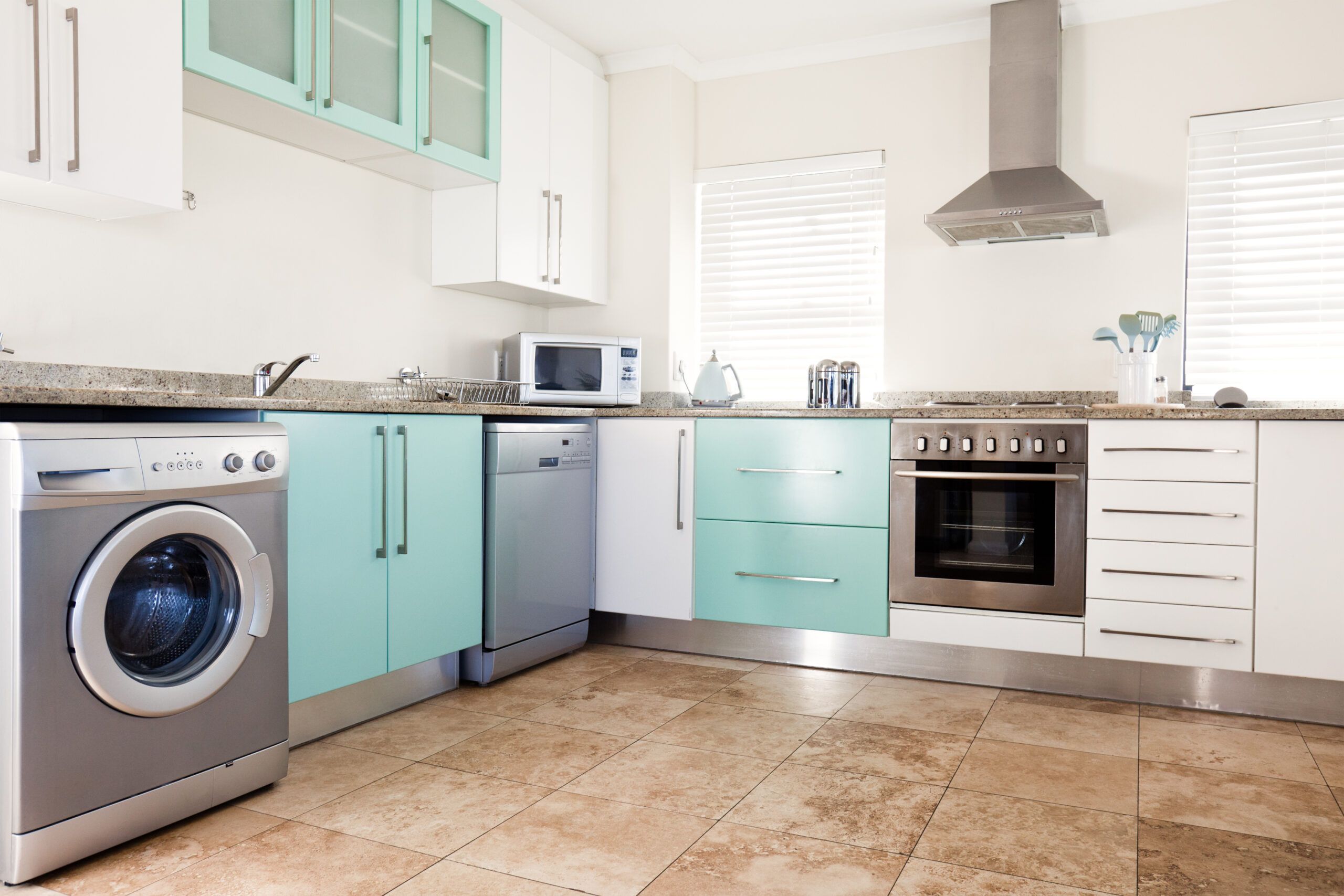 For a fun retro look, alternate white cabinets with just a few splashes of bright aqua and stainless accessories.
Get This Look: When painting slick, glossy surfaces like aluminum or vinyl, using the proper primer is key to paint adhesion. Poor adhesion can cause flaking, cracking, or blistering, making all of your hard work for naught. KILZ 3 Premium grips to surfaces that ordinary paints may not adhere to, helping your topcoat application stick. Speaking of topcoat, try KILZ Complete Coat in Vintage Aqua and White Wing. Instead of stark white walls, try a hint of sandy warmth with Shaved Coconut.
Be Bold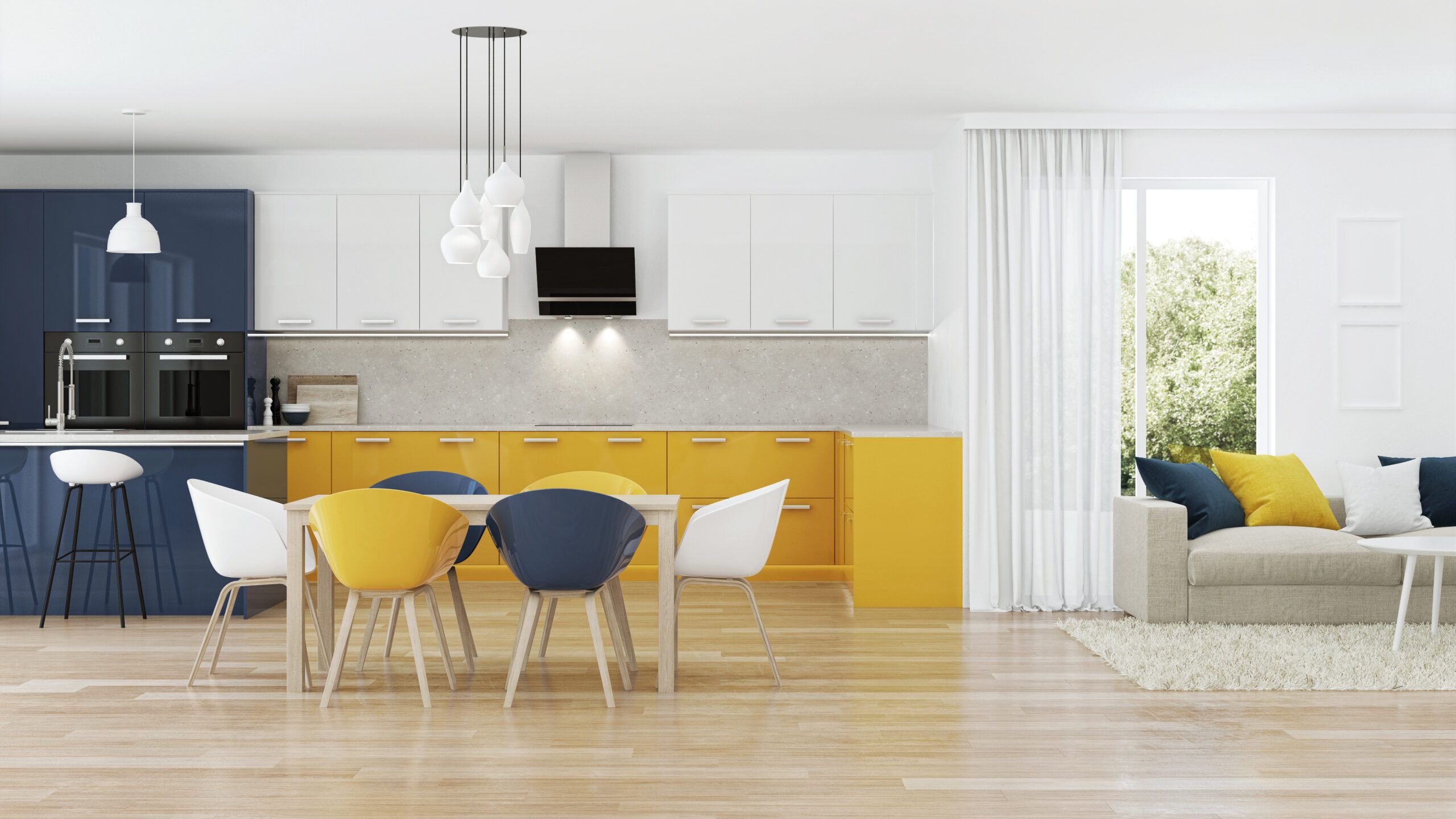 Primary colors become strikingly modern when paired with solid-white accents and contemporary fixtures. Complementary chairs complete the look.
Get This Look: A sleek finish like this one starts with a superbly primed surface; try KILZ Kitchen & Bath Primer. Complete this tricolor combo with KILZ Complete Coat paint in Wake Up and Authentic Navy.
Create a Colorful Island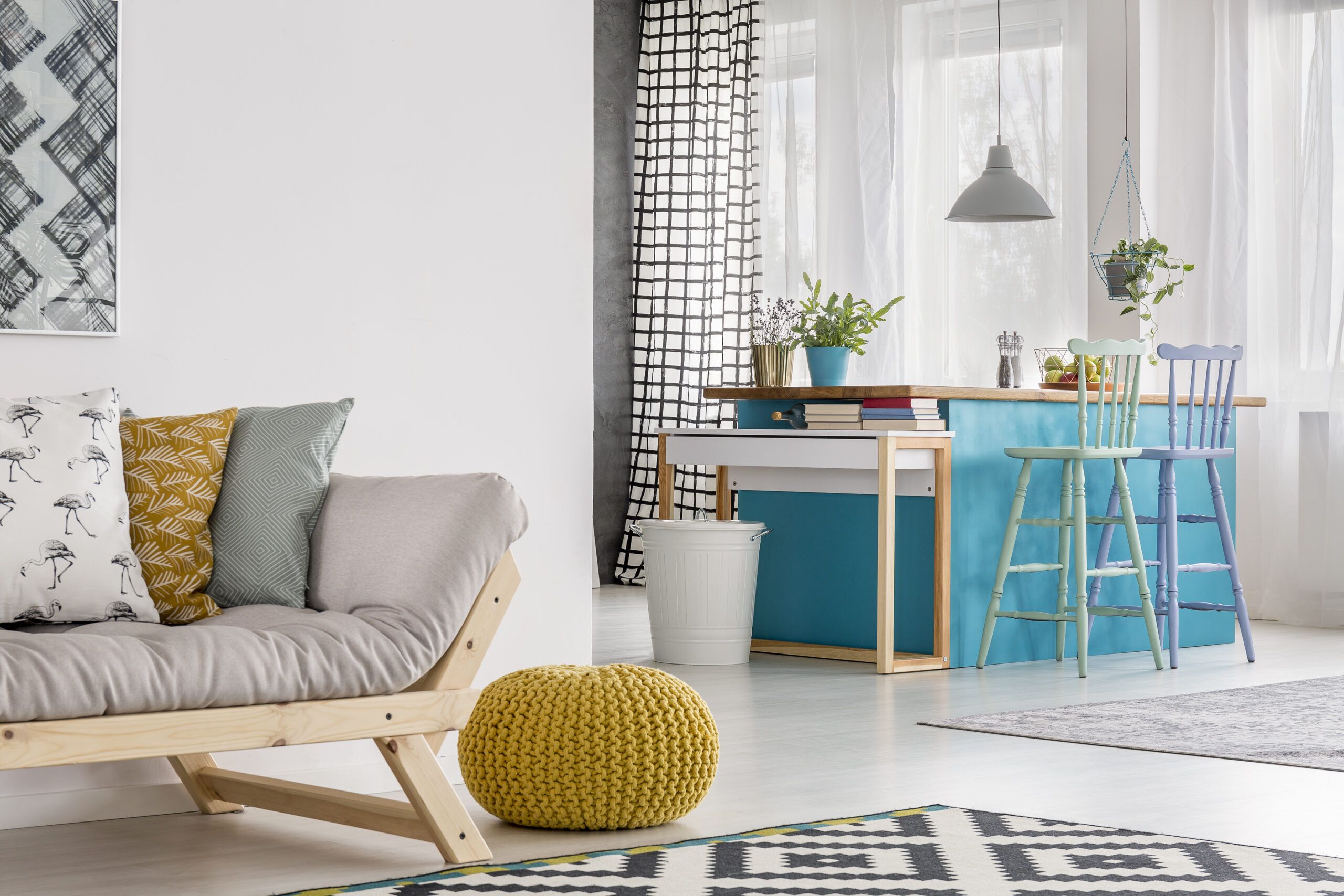 In this modest-sized residence, the island doubles as a dining table and a casual workspace. A coat of cool, Caribbean blue helps define the space and adds a playful punch of color.
Get This Look: Start with KILZ Mold & Mildew Primer, a fast drying, water-based primer that is specially designed for residential surfaces in high humidity, moisture and temperature environments including kitchens. It offers excellent adhesion to both interior and exterior surfaces and provides a sound anchor for paints. Keep your island scuff-free with a tough topcoat like BEHR ULTRA™ Scuff Defense™ Interior Paint in High Dive.
Take Your Kitchen from Dreary to Dreamy
Slide to see before-and-after transformation.
These wood cabinets were in great shape, but the dark finish was outdated and dreary. A coat of creamy white considerably lightened and brightened the space, at a fraction of the cost of replacing the cabinetry.
Get This Look: This incredible makeover started with a little elbow grease and a coat of KILZ 3 Premium Primer. Want to give it a try? Follow along as This Old House contributor Nick Slavik takes you through his best practices for kitchen cabinet refinishing, from prep to photo finish.
From stain blocking to hiding a previous paint color, the KILZ® brand has a primer to solve the most common—and toughest—painting problems. Give your paint the platform it needs, with KILZ.