Three-in-One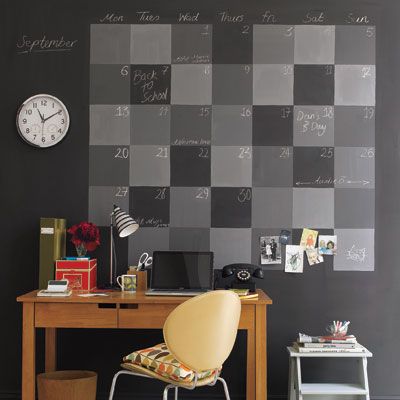 Remember Harold and the Purple Crayon, the book about the kid who liked to draw on walls? You don't have to be a fan of the book—or even be a kid—to share Harold's compulsion to scribble anywhere you like. Luckily, with the right surface and writing tool, you can erase your scribbles and do it again.
Chalkboard paint isn't new, but creative minds keep coming up with new ways to use it. Consider the dramatic wall calendar shown here. It began with a floor-to-ceiling coat of standard gray chalkboard paint. With the help of a yardstick, squares were drawn in pencil, then taped off. Three-fourths were filled in with different shades of light and medium gray, leaving the remaining squares the same color as the wall.
The hardest part is coordinating the taping: After you paint the first set of squares, pull up the tape, wait a day, and put down a new line of tape to do the next set.
Once it's had a couple of days to cure, the chalkboard should last years. It's the kind of project that might inspire a Harold wannabe to paint erasable surfaces almost anywhere, including tabletops and canisters. Can't quite picture it? Click "Next."
Shown:Most chalkboard paint comes in a classic deep gray. A paint store can lighten a quart by adding white colorant. Back home, dark and light can be blended to get a couple of different shades in between.
Message Board
With the addition of chalkboard paint, a wood tray becomes a neatly framed reusable memo pad with a built-in resting place for a stick of chalk.
Scribble While You Wait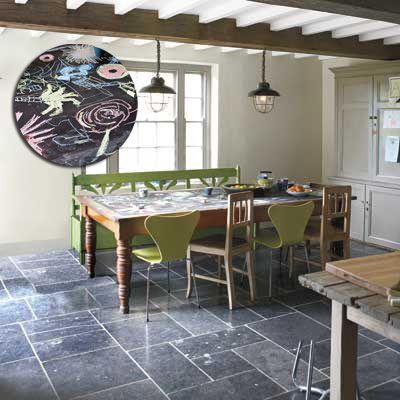 Budding artists can leave their mark on the kitchen table—without etching their name in ink.
Keep Track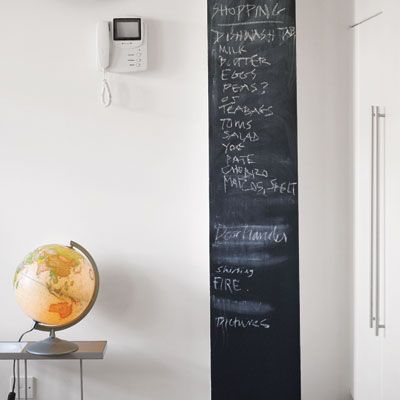 Unfurl your to-do list down the length of the wall with a dramatic strip of blackboard paint.
TOH Pro Tip: "A single coat of chalkboard paint should suffice, but if the surface gets lots of use, keep some handy for touch-ups." —Carl Minchew, director of color technology, Benjamin Moore
Make Labels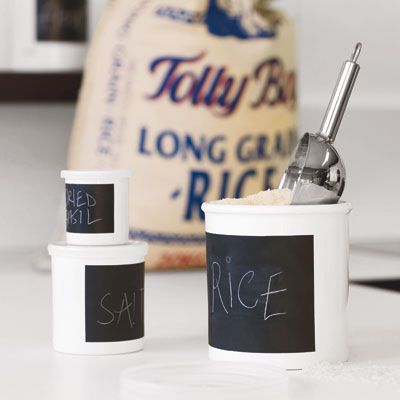 Let opaque canisters reveal their contents with labels that are writ large and easily changed.