Paint-Color Ideas for Ornate Victorian-Era Houses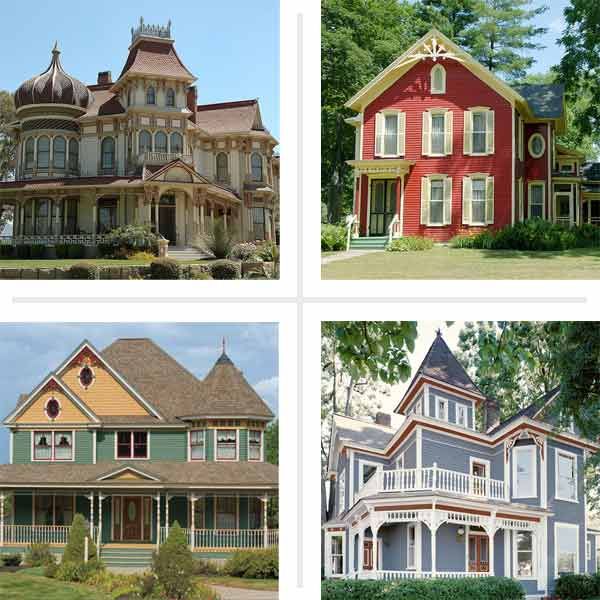 In the mid-1800s, when Italianate and Second Empire houses started dotting America, paint colors were muted and earthy owing to their natural pigments. Reds and browns, for instance, were derived from ferric oxides. By the 1880s, when the exuberant Queen Anne style became popular, synthetic pigments allowed for vivid blues, greens, purples, and yellows; also common were multihue schemes that celebrated the style's diverse architectural details, such as turned porch spindles and fish-scale shingles under the eaves.
Now, modern paint technology allows for an even broader array of colors, including saturated shades that until recently were prone to fading. Homeowners have more choices than ever, giving them the option of sticking with traditional palettes or branching out into something bold. To help you narrow down your preferences, here are some of our favorite schemes for making your Victorian-era house a standout on the street.
Strong Contrast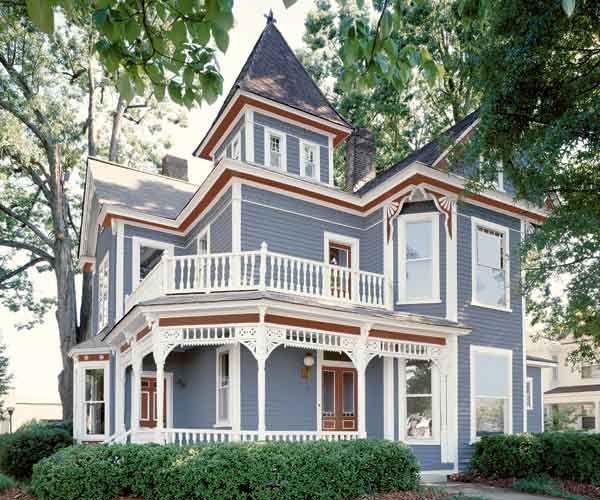 A gray-blue body color, white trim, and rusty red accents on this Queen Anne create a crisp and contemporary three-color scheme that's also rooted in tradition.
Shown: Skipper (body), Divine Pleasure (trim), and Burnished Mahogany (accents). See Behr for dealers
Period Purist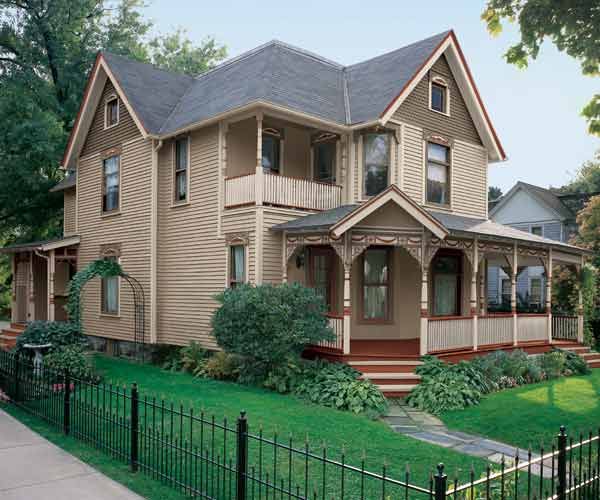 A four-color palette highlights the architecture of this Queen Anne-style house. Two shades of beige on the siding, for instance, set the clapboards apart from the fish-scale shingles.
Shown: Beige (clapboards), Sycamore Tan (shingles), Divine White (trim), and Rookwood Terra Cotta (porch floor and accents), from Sherwin-Williams
Period Purist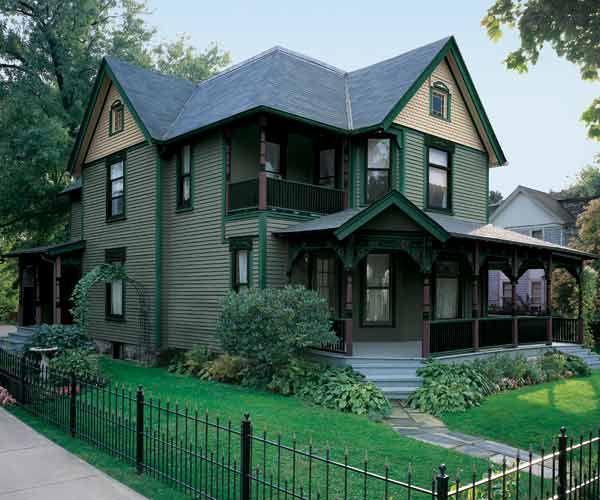 The same Queen Anne pictured in the previous slide is reimagined here in deep, woodsy greens.
Shown: Rookwood Blue Green (clapboards), Renwick Heather (shingles), Rookwood Sash Green (window surrounds and fascias), Rookwood Shutter Green (window sashes and porch spindles), and Plum Dandy (porch posts), from Sherwin-Williams
Warm and Authentic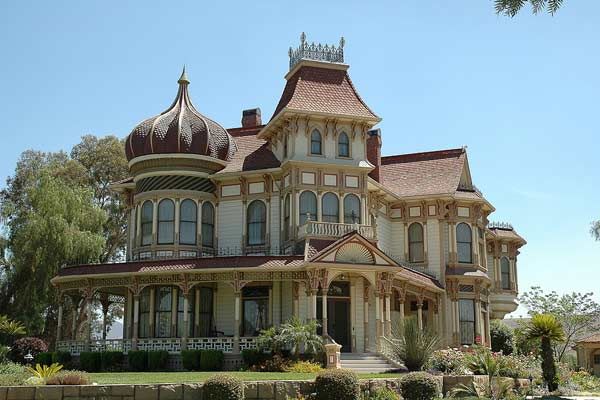 This exotic Italianate from the early years of the Victorian era is finished with natural shades of sand, stone, and brick.
Shown: Apache Tan (body), Sleeper's Entry (trim), Tyson Taupe (window sashes), North Gallery (banding under Turkish-style dome), and Cherry Cola (accents). See California Paints for dealers.
Eye-Catching Trim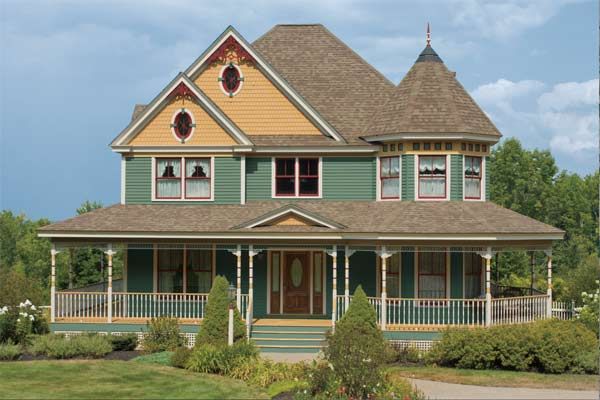 Bright-red and rich-yellow accents highlight this Queen Anne-style home's ornate architectural elements.
Shown: Ivy Wreath (body), Country Lane Red (window sash), Terra Sol (porch floor and fish-scale shingles), and Pavillion (window surrounds, trim, and gingerbread). See Behr for dealers
Five-Color Beauty
Just about every detail of this faithfully restored Queen Anne–style home is called out with a different color, right down to the railings.
Shown: Renwick Rose Beige (clapboards), Rookwood Sash Green (shingles, turret banding, and timber detail in the portico), Classical White (trim), Sycamore Tan (window sashes and railings), and Cerise (entry doors). See Sherwin-Williams for stores.
Light Touch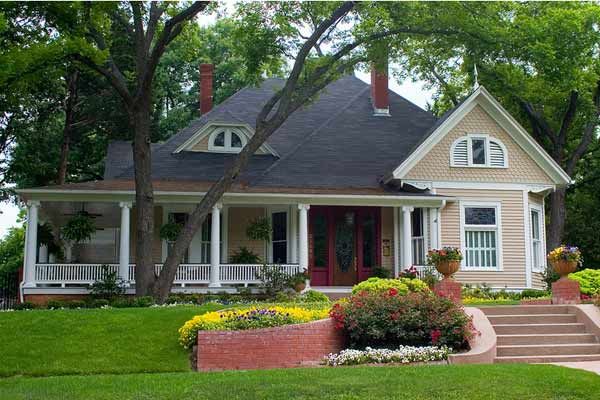 Peach-toned paint on this Folk Victorian cottage ties in with surrounding elements in the landscape, such as a brick retaining wall and large terra-cotta planters.
Shown: Just Pink Enough (body), Shiny Nickel (trim), and Rosewine (entry-door surround). See California Paints for dealers.
Vibrant Body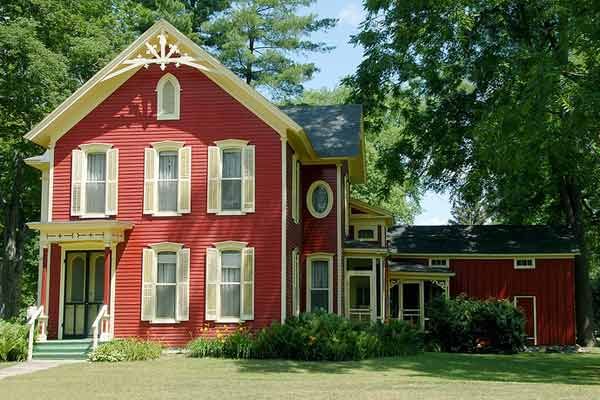 A bright, berry-colored paint is a pleasing departure from the more subdued shades typical of Italianate-style houses, like this one from the mid-1800s.
Shown: Pomegranate (body), Golden Wash (trim), and Succulent (front steps). See California Paints for dealers.
Sky Blue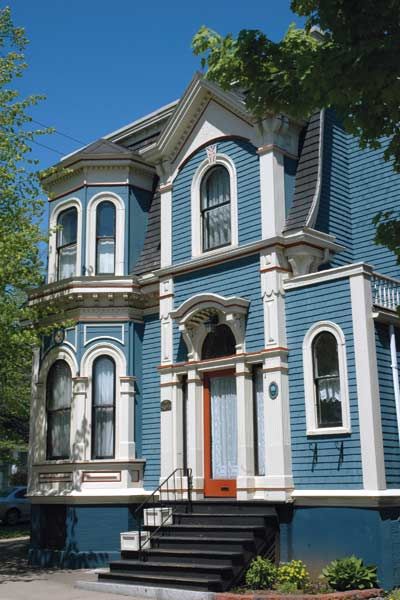 Taking its cue from the surrounding sky and clouds, this blue-and-white-painted Italianate-style house feels cheery and energetic. Subdued shades of red or brown and cream would have been more typical for the home's vintage, but perhaps not as inviting as this updated scheme.
Shown: Georgian Revival Blue (body), Extra White (trim), and Pennywise (accent). See Sherwin-Williams for stores.
Pretty Pastel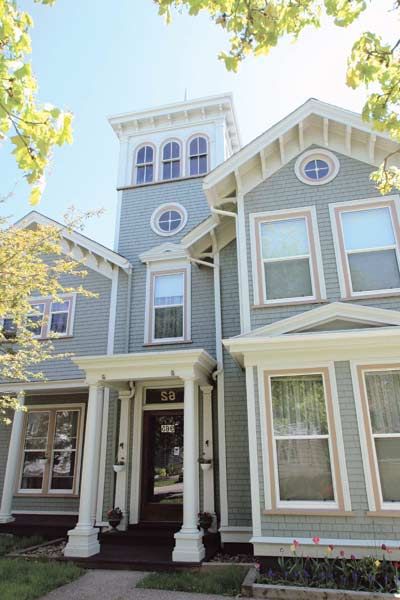 Seaglass-colored shingles, creamy white trim, and pale blush accents give this Second Empire–style home a coastal feel. While untraditional, the three-color scheme is light, bright, and very inviting.
Shown: Watery (body), Classical White (trim), and Renwick Beige (accents). See Sherwin-Williams for stores.
Bright and Cheery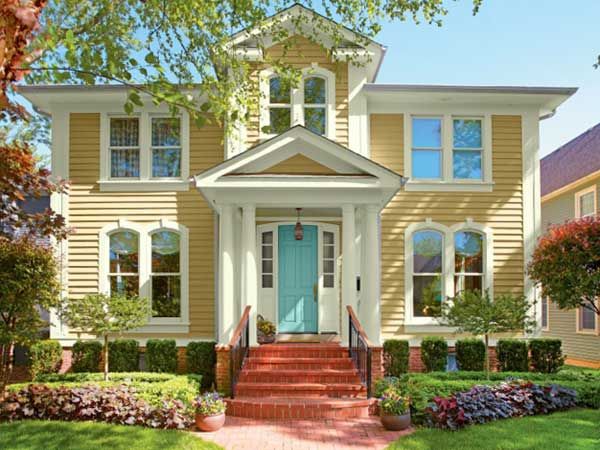 A baby blue door framed by white columns livens up the entry to this butter-yellow Italiante home.
Shown: Churchill Hotel Ivory (body); Betsy's Linen (trim); Lake Breeze (door). See Vaslpar Paint for dealers