Historic Paint Color Replicas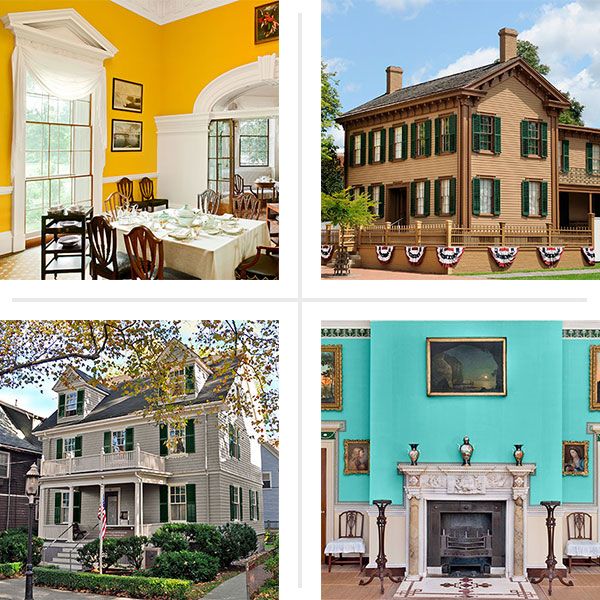 Past heads of state are often viewed in black and white, but that doesn't mean they didn't live colorfully. Far from it: In George Washington's heyday, public rooms in the homes of the elite were often lined in Crayola brights. The eye-popping paint pigments were expensive and required painstaking labor to mix and apply—a perfect way to flaunt your wealth.
These days you don't have to live in a house with a historic pedigree—or have a major stash of cash—to find inspiration in our forebears' decorative choices. Strong interior colors continue to make a statement, and paint companies are replicating even the most brilliant shades to an exact match.
Read on for some of our favorite history-making hues.
Thomas Jefferson: Monticello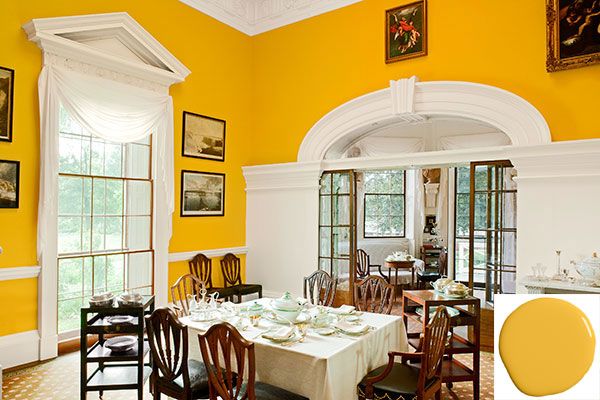 Rumor has it America's third president loved both a good dinner party and the latest fashions, so he had his dining room painted this brilliant yellow in 1815, when it was trending—and extravagant: Each pound of chrome pigment cost $5, more than 33 times the cost of white-lead paint. The walls—repainted using hand-ground pigments matched to the original shade—may look extra-radiant now but were a godsend in the era of candlelight after dusk.
Paint: Monticello Yellow; Ralph Lauren Paint (Discontinued as of press time; bring your copy of TOH to your local paint store to find a close match.)
James Madison: Montpelier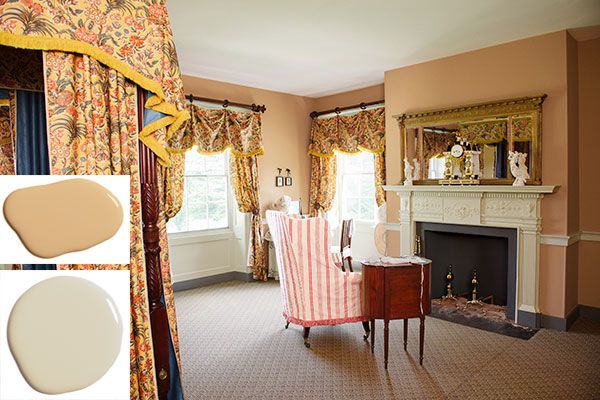 Here's what Dolley Madison ordered in 1820 for the Virginia couple's bedchamber, long known as the Honeymoon Suite: "Lively colours with fringe to suit." The walls of this bedroom in their Georgian-style mansion were recently restored with an 18th-century recipe for "distemper," a paint made from hand-ground pigments and hide glue. Conservators chose the shades below as the next-best thing.
Paint: Acorn Yellow (walls) and Market Square Shell (trim); Benjamin Moore
Abraham Lincoln: Lincoln Home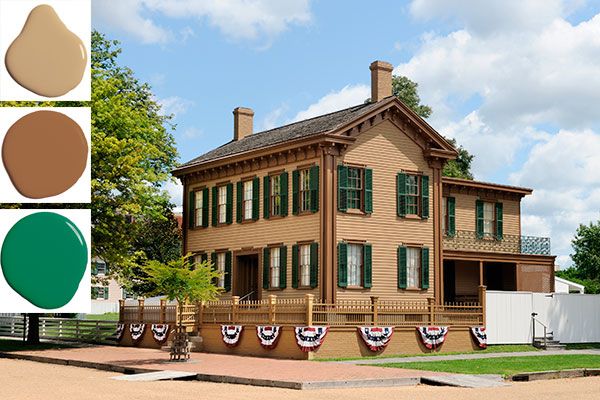 Abraham and Mary Todd Lincoln lived in this Greek Revival home, in Springfield, Illinois, from 1844 until 1861, when they moved to the White House. In 1860 a newspaper described the facade as "a pale chocolate color," and it's just as delicious today. Preservationists used custom Sherwin-Williams formulas to paint the house in 2009, for Lincoln's 200th birthday.
Similar to shown: Tatami Tan (siding), Antiquarian Brown (trim), and Shamrock (shutters); Sherwin-Williams
Download a PDF of the custom color formulations.
George Washington: Mount Vernon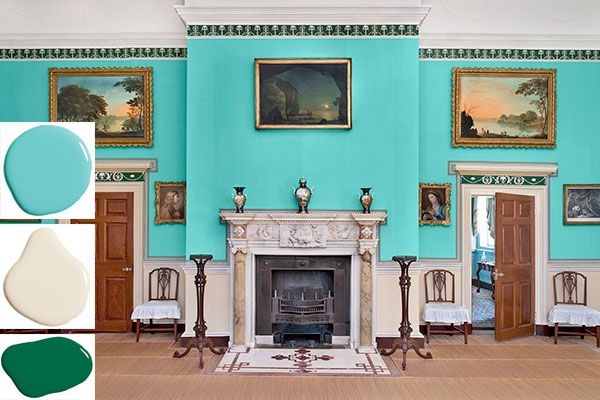 Like many of their late-18th-century counterparts, the Washingtons had a fondness for bold colors at home, as anyone who has visited their Virginia estate—with its kelly-green dining room and Prussian-blue parlor—can attest. Our favorite? What they called the New Room, a blue-green grand salon added to the Georgian-style house in 1787 and used to greet—and impress—guests. Paint conservators used hand-ground pigments to reproduce the original finish. Lucky for us, Fine Paints of Europe has formulated precise matches.
Paint: Porcelain Edge (walls), New Room White (trim and wainscot), and Large Dining Room Green (frieze); Fine Paints of Europe
John F. Kennedy: JFK National Historic Site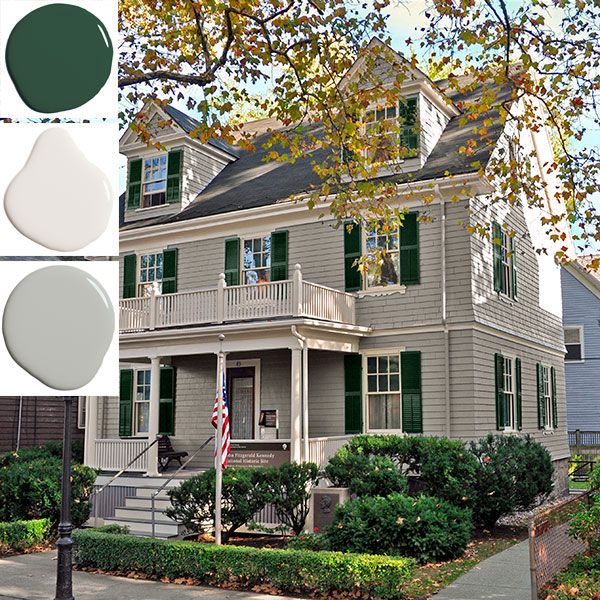 "Jack" was born in the second-floor master bedroom of this Colonial Revival, in Brookline, Massachusetts, in 1917; he lived there for the first three years of his life. After his death, Rose Kennedy repurchased the house, restored it, and donated it to the National Park Service, having it painted in the colors she remembered from the year of JFK's birth. The rich gray siding, ivory trim, and dark-green shutters were in vogue at the time—and look equally handsome today. Benjamin Moore matched the historical hues for the house's recent spruce-up.
Paint: Essex Green (shutters); Benjamin Moore
Similar to shown: Storm (siding) and Navajo White (trim); Benjamin Moore
Download a PDF of the custom color formulations.