From Ho-hum to Hue-tastic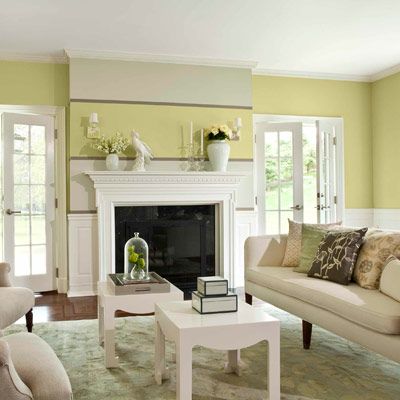 Little spaces have the potential to carry a lot of weight. "A small space can be a wonderful jewel box," says Sonu Mathew, senior interior designer at Benjamin Moore. Foyers, hallways, and mudrooms can establish a mood. Tiny studies, bedrooms, and even baths often serve as retreats.
Before picking a paint color for a small room, ask yourself what effect you're after: Do you want the room to feel light and airy (try a cool color) or warm and cozy (veer toward richer and warmer)? Or maybe you're craving a little drama.
Shown: Castleton Mist, a yellow-green in Benjamin Moore's Historic collection, is a favorite of San Francisco interior designer Arthur McLaughlin, who also stages properties for sale. "This play on celery green has some energy to it," he says. "It can lift the mood, which is what you want in a small space that might otherwise be overlooked."
Read on for more of our experts' favorite small-space-enhancing shades and strategies.
For a Light and Airy Feel, Go Cool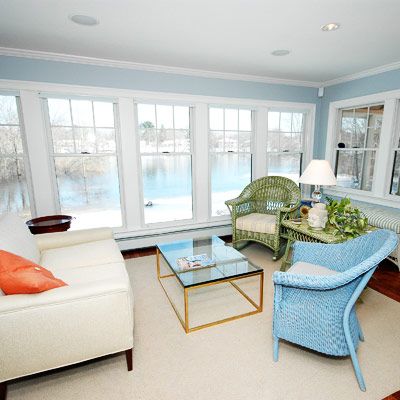 Conventional wisdom holds that pale colors expand a space visually by making the walls recede, and it's true. But white can feel bland, and pastels can lack nuance. There's also a huge range of pale shades, both in terms of color intensity and temperature.
Blues and greens, and grays, browns, and lavenders with blue or green undertones, can make walls recede and a small space seem larger. Examples include grayed-down Atmosphere Blue from Restoration Hardware, which is among architectural color consultant Bonnie Krims's top picks because of the way it establishes a tranquil mood.
Bring the Outdoors Indoors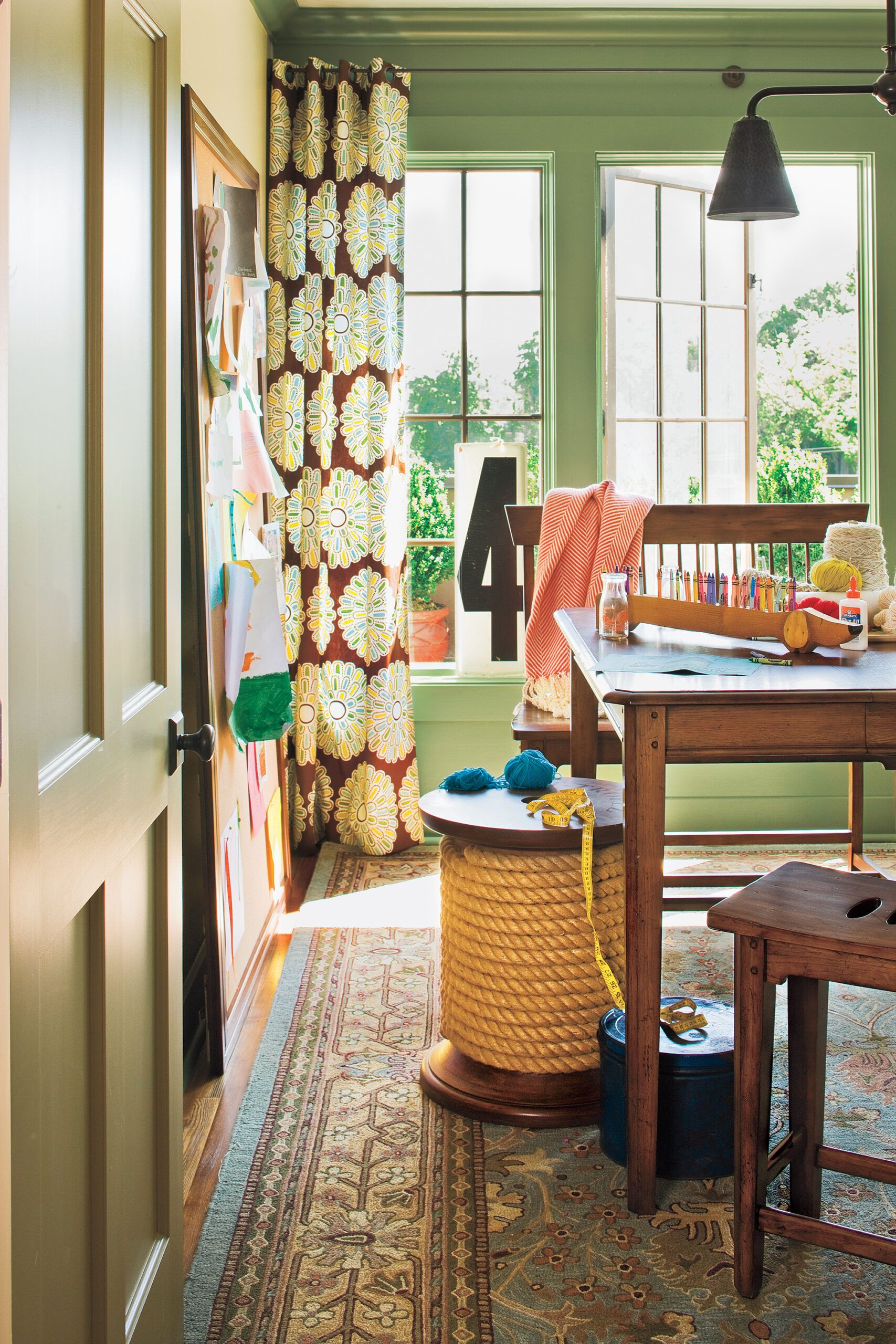 Pittsburgh Paints' Dill would also do well in a foyer or mudroom as a transition from the outside, or in a windowed room where yellowish green can make a space feel as if it extends outdoors. "It looks great with white trim, and it works well with any amount of natural or artificial light," says Dee Schlotter, who tracks research on color and design for PPG Pittsburgh Paints. "Unlike some neutrals, it's saturated enough to not take on other colors when the light changes."
Shown: A saturated green, Pittsburgh Paints' Dill wakes up a small crafts room and expands the space, in part by leading the eye to the greenery outside.
For a Cozy Glow, Choose a Warm Hue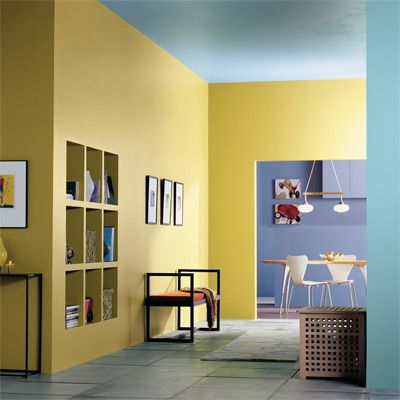 A bright or deep color in a diminutive space offers a chance to enjoy a hue that might seem over the top in, say, the living room. Strong colors also can give a small room a distinct identity, helpful if the space has no strong architectural elements.
To emphasize the intimate feeling of a foyer, alcove, or den, consider warm colors—yellows, reds, oranges, and reddish purples and browns—which colorists describe as making walls advance. Painting the ceiling with a related hue will make the space even more encapsulating. Sherwin-Williams's June Day is a great choice for an entry or home office, Krims says, because this sunny yellow is "optimistic, welcoming, and cheerful"—in other words, a friendly greeting for visitors or a nice reward for paying bills. It's also a yellow that underscores the natural warmth of wood floors and furniture.
Spice Up Your Living Space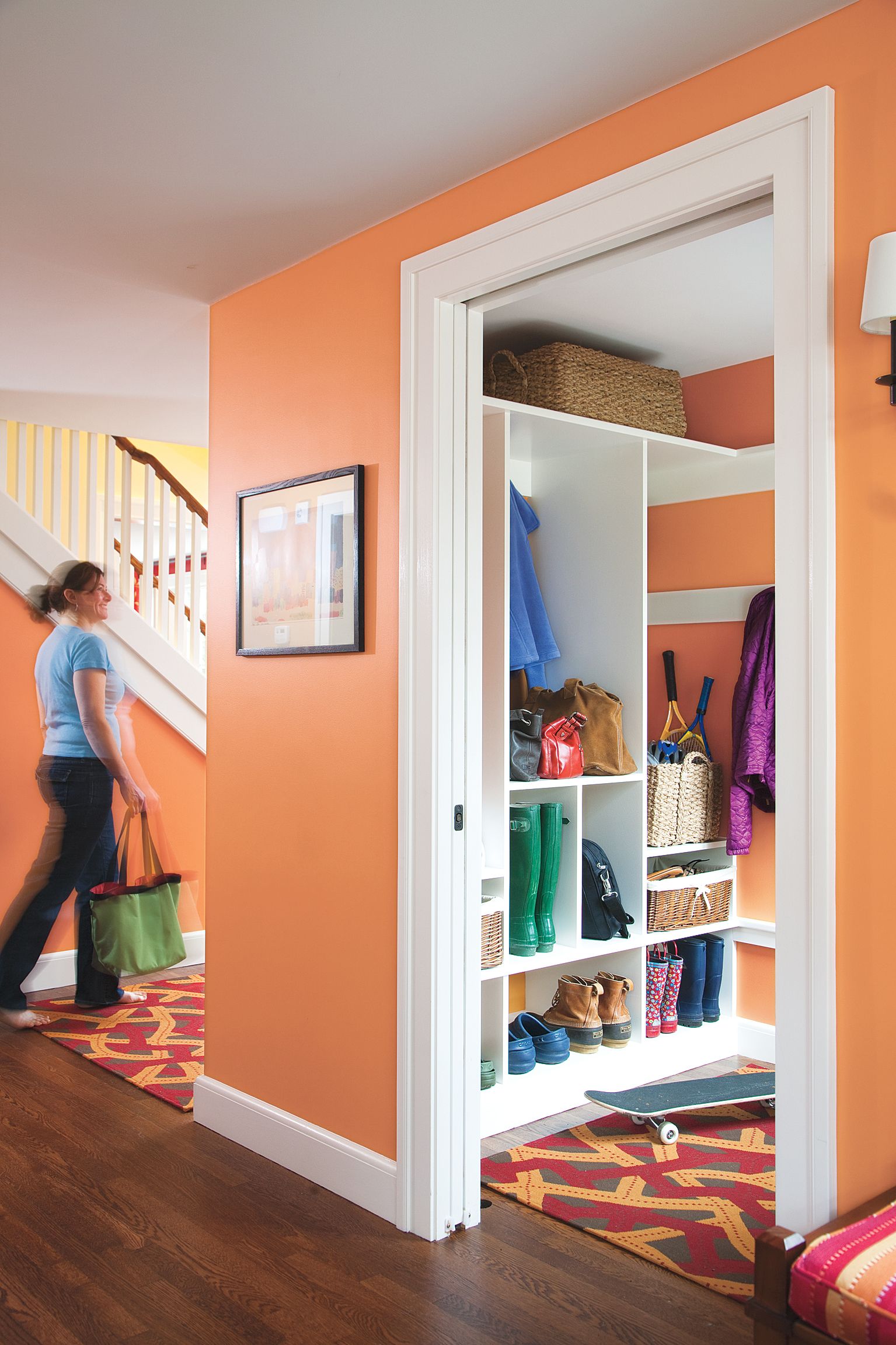 C2's Live Wire, a fresh, clean orange, is another logical candidate for small spaces. This warm hue feels friendly and intimate, making it a perfect fit for an entryway or mudroom where guests will gather.
Shown: C2's Live Wire draws the eye to the walls and the backs of cubbies rather than the stuff stowed inside.
Go for Rustic Reds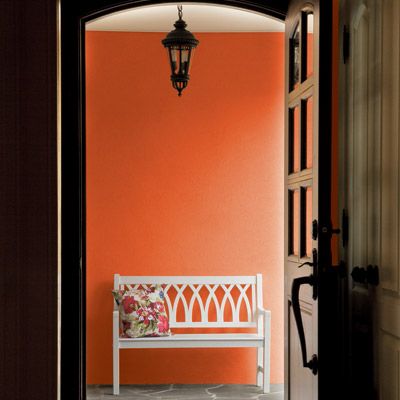 Veering more to a red, Pittsburgh Paints' Orange Vermillion would also be a great choice in a foyer or mudroom, where "big colors" can not only raise the temperature but also draw the eye away from clutter, says Schlotter.
To Add Volume, Make It Seamless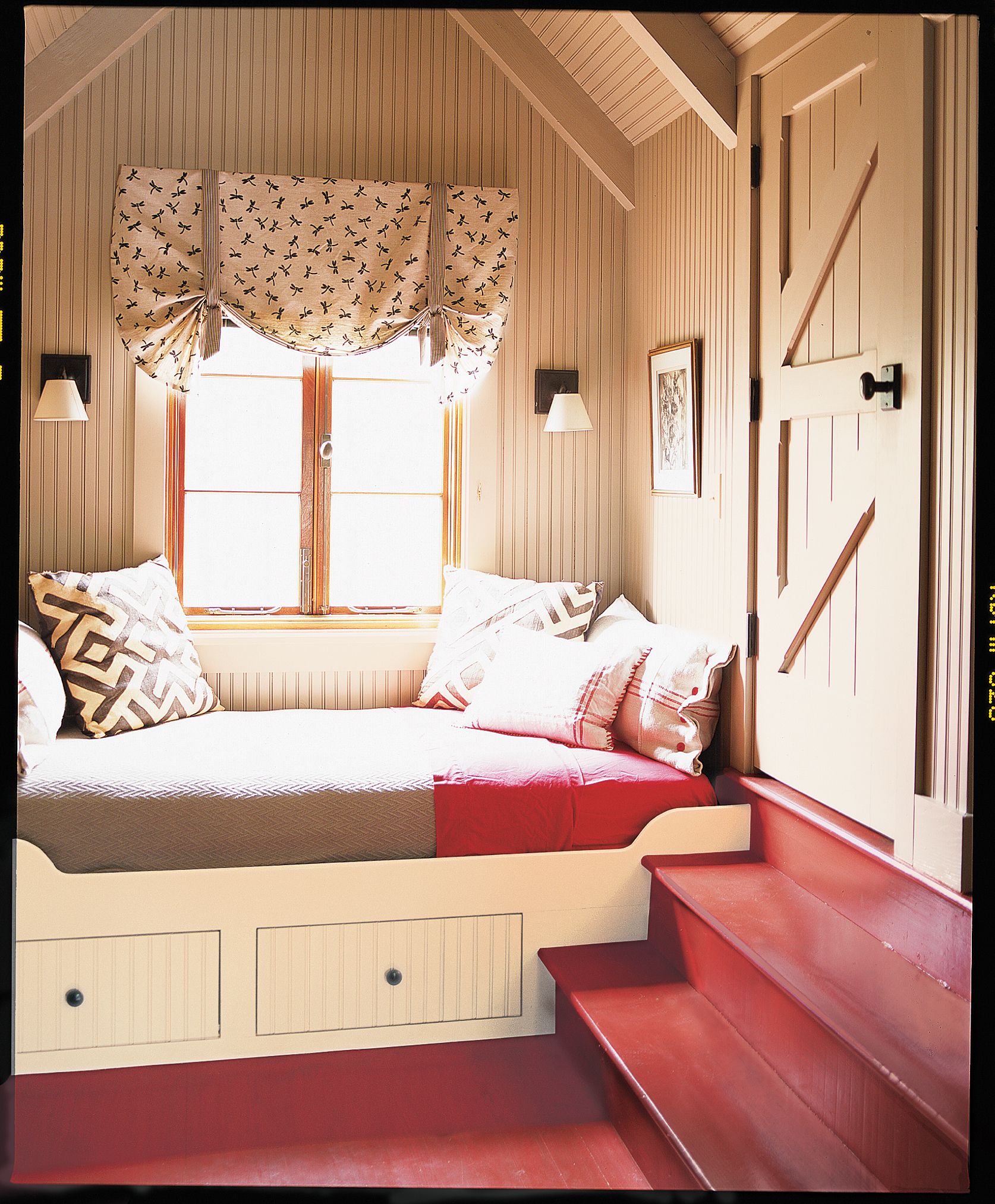 "Paint walls and ceilings the same color; it allows your eye to travel around the room without stopping and makes a small space seem bigger," says color consultant Doty Horn. Think about proportions, too: "Anytime a room is higher than it is wide, a good option is painting the ceiling the same color as the walls," says Walker. "It makes the room feel better proportioned, yet cozy." Even with a white ceiling, you can create a continuous flow by painting baseboards and trim the same color as the walls. Behr's Calm Air is a warm natural shade that can enhance this effect; plus, it creates a nice transition from outdoor spaces to interiors, says Erika Woelfel, an expert in color and design at Behr.
Shown: Painting walls, doors, trim, and ceiling a single warm neutral, such as Behr's Calm Air, creates a spacious feel.
Streamline the Space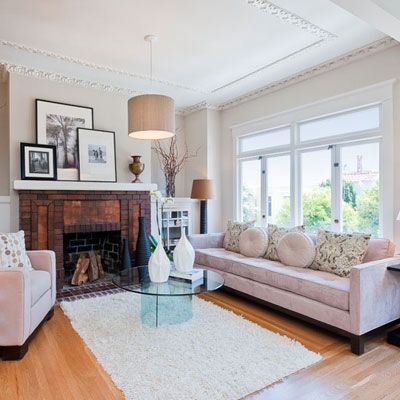 Similarly, "Fine Paints of Europe's AR19 is a creamy off-white that can soften the lines in a room while picking up the qualities of hues in adjoining spaces," says Krims.
To Widen a Narrow Room, Break It Up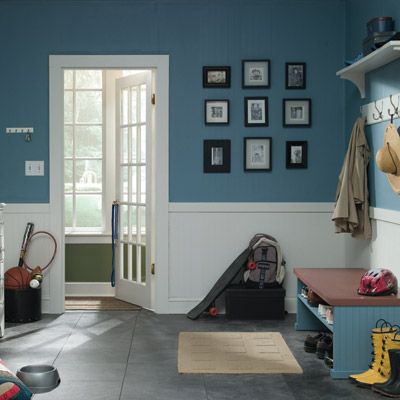 There are also ways to trick the eye by covering every surface with a single color—or just the opposite, by treating one or more walls differently.
To make a skinny space, such as a converted sunporch, appear squarer, Schlotter suggests painting one side a different color from the other; cool colors, especially, can make opposing walls feel as if they were moving apart. For tight passageways, she offers another trick: "Paint the wall at the end of a hall an entirely different color. It creates a destination and erases the tunnel effect."
For a small entryway, consider a single saturated shade, like Behr's Waterscape, "which makes a transition area more interesting because it's bold and unexpected," says Woelfel.
Go Against the Grain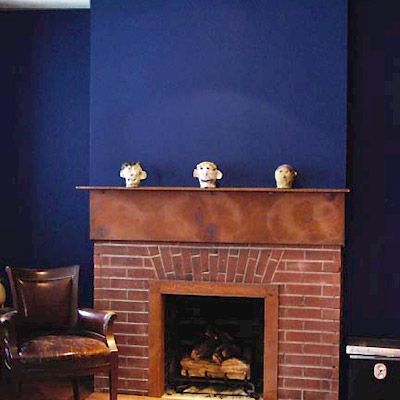 A bright, rich blue that looks great with both dark wood and white-painted millwork is Pittsburgh Paints' Blue Tang, says Schlotter—it would make a nice choice for a cozy TV room, powder room, or bedroom.
If you're worried that such a strong color won't transition well to other parts of the house, rely on the paint collections that manufacturers assemble; those color groupings will help you create a cohesive palette based on the first color you choose. "The great thing about a small space is that it is such a doable project," says Mathew. "It's a nice way to start."