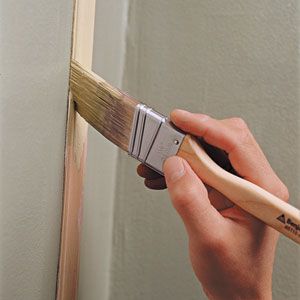 You could paint a wall in your sleep, (though we wouldn't advise it). But when it comes to trim, there are other factors to consider, like durability, coverage, and sheens. Harriette Martins, brand manager of Benjamin Moore, let us in on a few pro secrets about painting trim that will come in handy for your next project and may even make the final look last longer.
Pick your perfect paint sheen
Your desired paint effect isn't the only thing to consider when choosing a sheen level; the surface you plan to cover will impact your paint choice, as well. "The higher the gloss level, the more you'll accentuate imperfections in the wall," says Martins. So, paint durability aside, a matte finish—which will give a soft, velvety look—may do a better job covering up kid and pet dings on your stair's baseboard than a gloss finish will. But if the high-gloss look is what you desire for your baseboard and balustrade, the paint will hold up. Just prep the marred surface before taking a paintbrush to it by sanding down imperfections and wiping away the dust with a damp cloth.
Use different paint formulas for exteriors and interiors
Making your front door's sidelights and transom pop with a coat of paint means investing in a formula that differs from the one on your living room's crown molding. "For exterior trim, you will need a paint that withstands the elements—one that is durable with outstanding coverage," says Martins. She recommends Benjamin Moore Aura Exterior or Regal Select Exterior. As for interior trim, she suggests choosing a premium latex available in a semigloss finish, like Benjamin Moore Aura, Regal Select, Natura, or ADVANCE.
Invest in trim brushes
Don't reach for your trusty standard paintbrushes just yet. Martins suggests investing in a few smaller brushes designed for painting trim. Keep the new purchases in good shape for future projects by cleaning them out with an old fork.
Paint the trim last
Unless you're touching up a dinged doorframe, trim should always be the last surface of a room to get the new paint treatment. For interior projects, Martins suggests starting with the ceiling, then moving on to the walls and trim. Unless you're touching up a dinged doorframe, trim should always be the last surface painted, she says; save the trim for last when it comes to exterior painting projects, too.
Plan your repainting timeline
There are several factors to consider in how often you'll repaint trim. For exterior trim, Martins says local weather conditions will dictate. Circumvent some paint touch-ups indoors—where there's more wear and tear—by choosing a paint formula that's washable so that you can clean it instead of repainting it.
Give your interior walls a new, pro-level coating with our steps for how to paint a room, and salvage damaged exterior trim with steps for filling rotted trim with two-part epoxy.