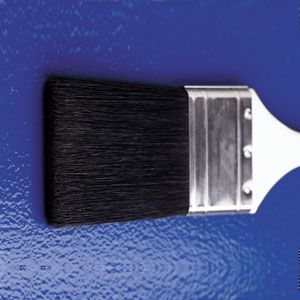 "Without a good brush, it doesn't matter how experienced a painter you are," says painting contractor John Dee. "You can't control the paint."
According to Dee, who has painted a number of This Old House projects, the search for a good brush starts with knowing exactly how it will be used.
A thick, 4-inch-wide brush with long bristles would be perfect for coating clap-boards but useless on narrow window muntins.
For windows, Dee chooses a thin, 2-inch-wide brush with a long handle and shorter, more easily controlled bristles. "I'm always trying to strike a balance between precision and productivity," Dee says. "The more you have of one, the less you get of the other."
A brush's performance depends on its bristles, which carry the liquid finish to a surface, distribute it evenly, and smooth out the imperfections.
The old rule about never using natural-bristle brushes — meant for oil-based paints — with water-based formulas still holds; natural bristles soak up the water and go limp.
But the newer blends of synthetic filaments can handle both types of paint with equal finesse. "More than anything," says Dee, "it's essential to use the best brush money can buy." That said, there are still times — small jobs where the cleanup would take longer than the work — when a throwaway foam or cheap bristle brush will do.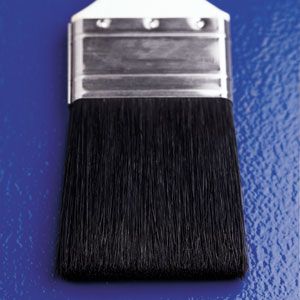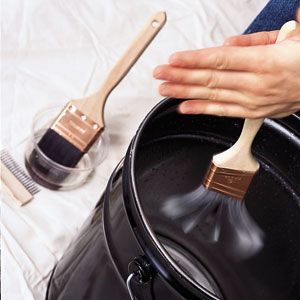 Cleaning and Storing
Cleaning with Solvents
Solvents are toxic — wear rubber gloves.
For the first rinse of your brush, it's fine to re-use old, dirty solvent. (See below for directions on saving solvents.) Use about a half-cup, working the solvent through all the bristles and up into the ferrule, then drain and spin dry.
Next, rinse the brush in a half-cup of clean solvent, drain, and spin dry. Do this at least twice more, reserving the dirty solvent each time in a separate container.
Water-based exterior paints need a solvent rinse too; the paint leaves a residue on bristles that soap and water won't remove. Before the final rinse, run clean paint thinner through the filaments. Store this solvent separately.
To save dirty solvent for reuse, let it sit for about a week and the solids will settle out, leaving a decantable liquid that's clean enough for second, third, or fourth rinses. Store the solvent in sealable cans or jars — well labeled — in a cool, safe place.
Quality Bristles
Solid — synthetic filaments won't deform easily. Bend a filament at the base, and solid springs back, hollow doesn't.
Densely packed bristles that taper to a chisel edge, help with painting straight lines, cutting in, or tipping off.
"Split ends", or "flags," hold more paint and spread it more smoothly.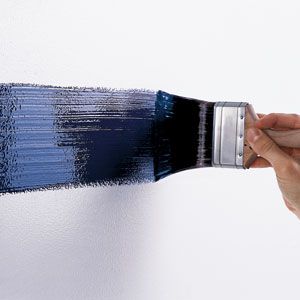 Where to Find It
2 ½-inch black China bristle #CB-FS
J.R. Edwards Brushes & Rollers
Kankakee, IL
815-933-3742
Natural bristles
2-inch white China bristle #CB-WRU
J.R. Edwards Brushes & Rollers
2 ½-inch black China bristle Duke #10470
Corona Brushes Inc
Tampa, FL
800-458-3483
2½-inch angled sash brush with China bristle/ox-hair blend #PTOXA25
The Painter's Trademark Ltd
a private label of J.R. Edwards Brushes & Rollers
Synthetic filaments: 2 ½-inch polyester angled sash brush #PT-FA25
The Painter's Trademark Ltd
2 ½-inch nylon brush #GNFS25
J.R. Edwards Brushes & Rollers
2 ½-inch angled sash brush XLGLIDE #152325
Purdy Corporation
Portland, OR
503-286-8217
John Dee's must-have brushes: all from Purdy Corp